Spotlight Schools Newsletter Oct. 13, 2023
Hate incidents spiked at O.C. schools in 2022 // Signatures submitted in Orange Unified recall effort // 🍔Reading could score kids a free In-N-Out burger
We have a jam-packed newsletter this month covering many aspects of what is happening at schools in Orange County.
From the sobering statistics about hate incidents on campuses, to six O.C. schools receiving National Blue Ribbon honors, and finally, how a principal delivered on a promise that could make him the G.O.A.T.
We hope these stories inform you, move you, and help you better navigate the TK-12 educational experience.
Remember to check out our website at SpotlightSchools.com. And be sure follow us on Instagram and X for more coverage of local schools.
And if you're not a subscriber to this email newsletter --> Sign up here.
Yours in knowledge,
Jeannette Andruss, Co-founder and Chief Editorial Officer
---
Hate incidents spiked at O.C. schools last year
Report documented 103 hate incidents at local campuses with 85% of them occurring at TK-12 schools
Read the full story here
In March 2022, students were hanging out at the lunch tables at an Orange County school. One student uttered a racial slur demeaning to a Black person and also said "ching chong bing bong," words insulting to people of Asian heritage.
This is one example of a hate incident documented at an Orange County school last year and it's part of a reported spike in such cases on local campuses.
That's according to the 2022 Orange County Hate Crimes Report which shows a 178% increase in "bias-motivated hate activity in schools" between 2021 and last year. Incidents at local middle schools accounted for most of the activity.
The report was released on September 21 by the Orange County Human Relations Commission and the Santa Ana-based nonprofit Groundswell, formerly known as O.C. Human Relations.
Overall, the latest report documented 450 hate crimes and hate incidents across Orange County in 2022. That breaks down to 162 hate crimes and 288 hate incidents in an increasingly diverse county of more than 3 million residents.
Of these, 103 hate incidents were reported at local schools last year with 85% of them occurring at TK-12 campuses.
According to the report, a hate crime is an unlawful act committed against a person, group, or property that is motivated by the victim's "real or perceived protected social group" such as their nationality, race, gender, sexual identity, or religion. A hate incident is an act that is motivated by bias, but does not meet the level of a crime.
Of the 103 hate incidents reported at local schools in 2022, 60 were motivated by a bias involving race, ethnicity, or national origin, according to the report. Seventy-nine were verbal or involved name calling.
In 2021, 41 hate incidents were reported in a school setting in Orange County. In 2022, that number jumped significantly with 50 hate incidents documented at local middle school/junior high campuses alone. An additional 32 hate incidents were reported at high schools and six were recorded at elementary campuses.
The statistics are based on data submitted voluntarily by seven of the county's 28 TK-12 public school districts and six institutions of higher education. Specific districts and campuses were not identified in the report.
With just 25% of the TK-12 public school districts in O.C. submitting data for the report, researchers say what's happening at local schools is not being fully captured and worry many hate incidents are going unreported.
At the September 21 public release of the hate crimes report, a senior at a high school in the Garden Grove Unified School District shared his personal experiences with intolerance on campus during a panel discussion.
Asher Belshe described himself as a "very openly queer student" and "less openly," a transgender male. He said he's been targeted on campus including one time in a school bathroom when a group of boys he didn't know threw a trash can into the stall he was in.
"I don't want to go to school a lot of the days," Asher told attendees at the event, adding that he often wonders, "Will I be attacked again today? Will I hear something in the hallway? Will I have to leave early because I just don't feel safe?"
Asher said he wishes teachers and adults were more vocal with kids about the importance of being respectful.
"And I truly don't understand, and I just wish there was more education. I wish parents were teaching their kids, if [others] look different, sound different whatever, they are people too and they deserve simple respect," he said.
Read the full story on SpotlightSchools.com.
Correction: This post was updated to correct the last name of student Asher Belshe. An earlier version of the story identified him as Asher Blake.
---
Orange Unified recall organizers submit signatures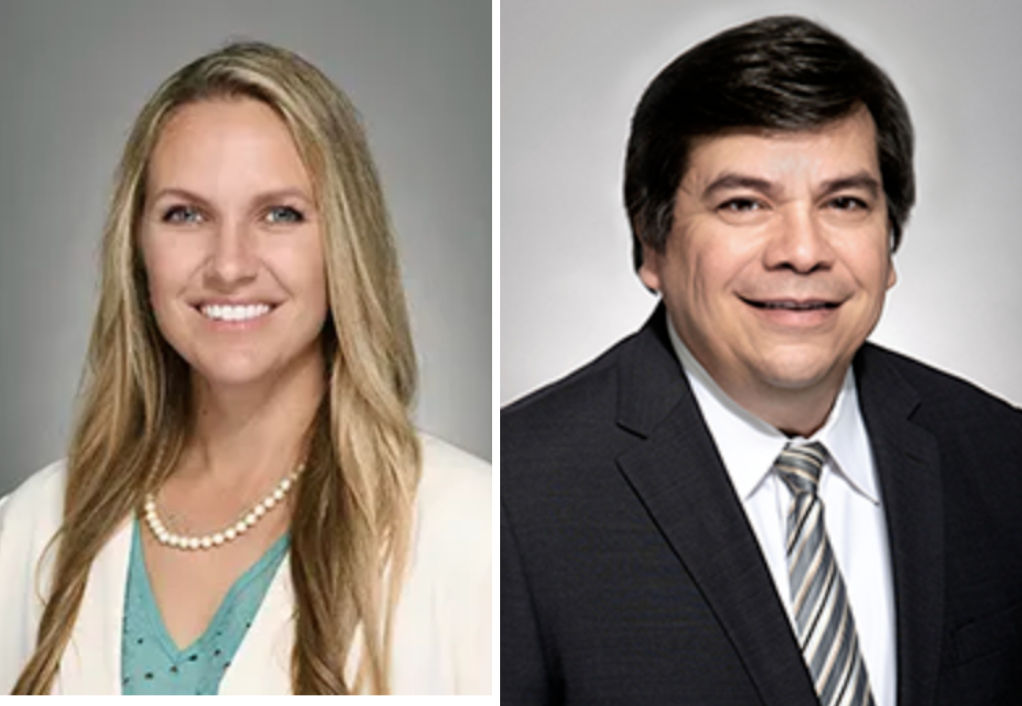 The recall effort targeting two conservative trustees on the seven-member Orange Unified School District Board of Education has entered a new phase.
Organizers seeking to oust Board President Rick Ledesma and board member Madison Miner have submitted more than 36,000 total signatures to the Orange County Registrar of Voters office in a bid to get the recalls on a future ballot.
Recall supporters needed to collect roughly 13,000 signatures from registered voters living in the OUSD boundaries for each recall effort. They say they gathered 18,370 signatures supporting a recall of Ledesma, who has been on the board for more than a decade, and 18,311 signatures against Miner, who was elected in 2022 when she defeated longtime trustee Kathy Moffat in a close race.
The Registrar's office told Spotlight Schools it has until Nov. 9 to review the signatures and determine whether there are enough valid signatures to trigger a recall election. While recall organizers say they want to consolidate the recall with the March 5, 2024 ballot to "save taxpayers nearly a million dollars," the date of an election would be set by the OUSD Board of Education.
You can read more about the OUSD recall effort on BallotPedia.
---
Six O.C. Schools earn National Blue Ribbon honors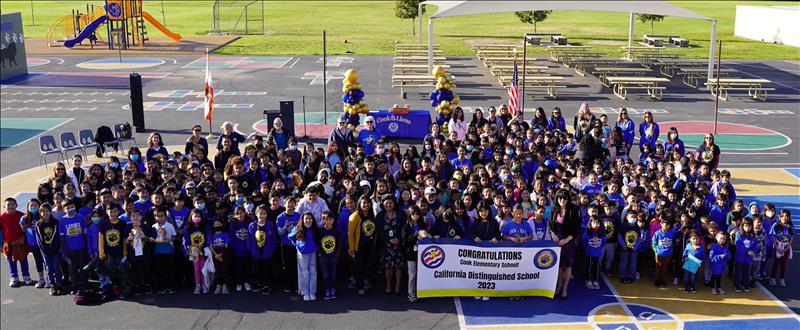 Six schools in Orange County have been chosen as 2023 National Blue Ribbon Schools by the U.S. Department of Education for their "exemplary" academic achievement.
Half of the honorees in O.C. are elementary schools in the Garden Grove Unified School District.
A. G. Cook Elementary School in Garden Grove, Thomas Paine Elementary School also in Garden Grove, and Susan B. Anthony Elementary School in Westminster all earned the honor.
Read the whole story at SpotlightSchools.com.
---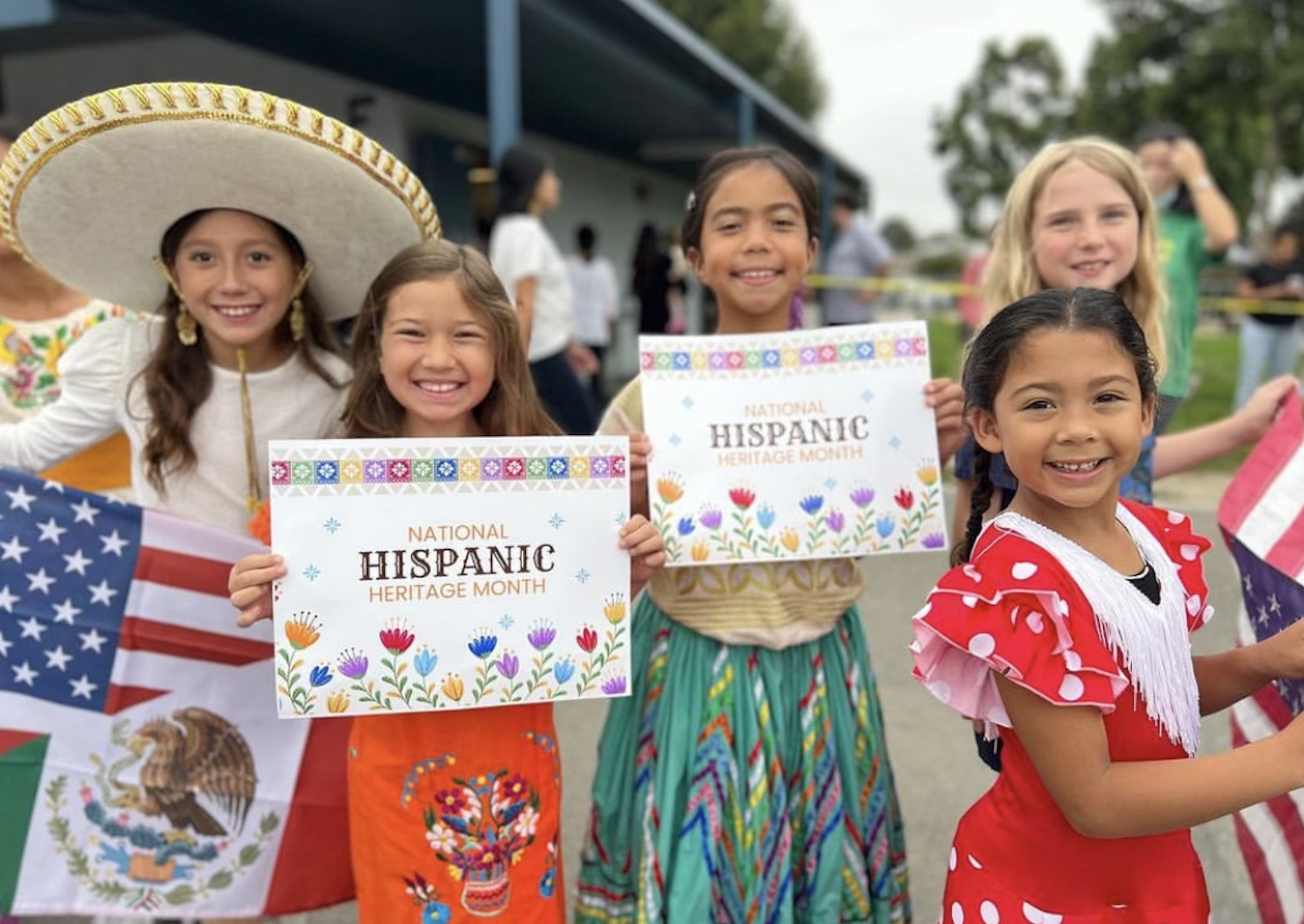 Schools celebrate Hispanic Heritage Month
The month highlighting the contributions and influence of Hispanic Americans goes from Sept. 15 - Oct. 15
Orange County campuses marked Hispanic Heritage Month to highlight and honor the contributions of Hispanic Americans.
At Weaver Elementary School in the Los Alamitos Unified School District, the school held a ceremony for the entire campus and parents and families were invited to attend.
The celebration featured a performance of Mexican dances and a "Parade of Nations" where students marched around campus holding flags from around the world including from Costa Rica, Argentina, Puerto Rico, and more.
The event fell on Costa Rica's Independence Day so students in the parade carried Faroles (lanterns) which is a Costa Rican tradition, according to Weaver parent Erica Bawek, who helped organize the event. Students also received Costa Rican candies and were able to look at Costa Rican artifacts.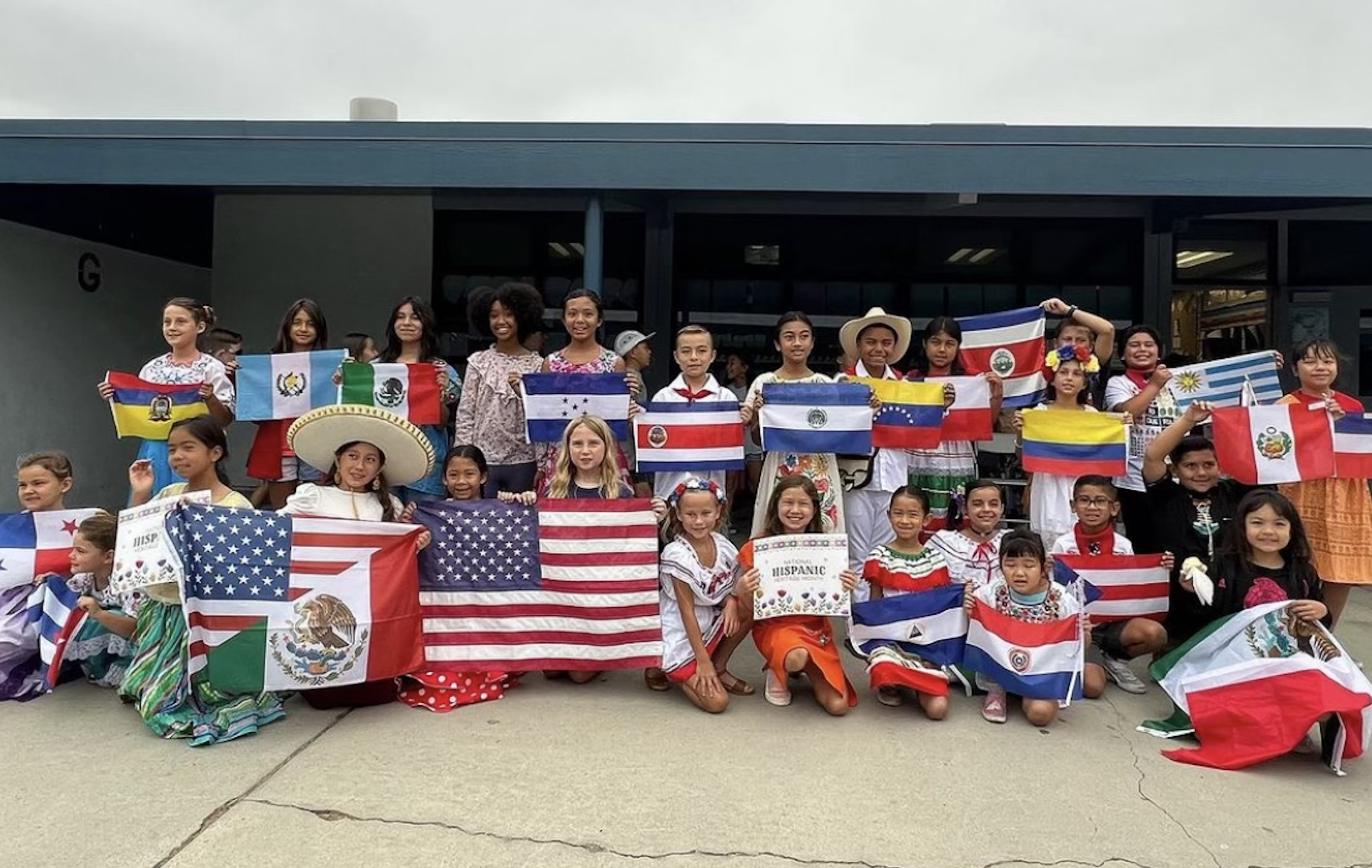 "I think it's a reflection of the student body so first and foremost, I think that's the most important piece is that it's relevant to who students are," said Bawek, who also took part in the performance as a dancer. "And when you see something done to that level ... you can't help but feel excited and want to participate and learn more."
The Garden Grove Unified School District posted a series of Hispanic Heritage Month messages on social media stating: "GGUSD is proud that nearly 55% of our student population and a large number of our employees are of Latino/a descent. Throughout the year, we frequently host cultural events that celebrate our district's diversity. We are proud to celebrate Hispanic Heritage Month by spotlighting our students and staff."
In one post, Dereck, a student at Russell Elementary Language Academy, was quoted as saying, "Hispanic Heritage Month is important to me because it's a time to celebrate my culture and our Hispanic community."
✏️ Is there something you want Spotlight Schools to cover at your campus? Email hello@spotlightschools.com and let us know.
---
Other stories worth checking out...
Find out more about the FSD's Tiny Home Project here.
---
Principal's promise kept with a kiss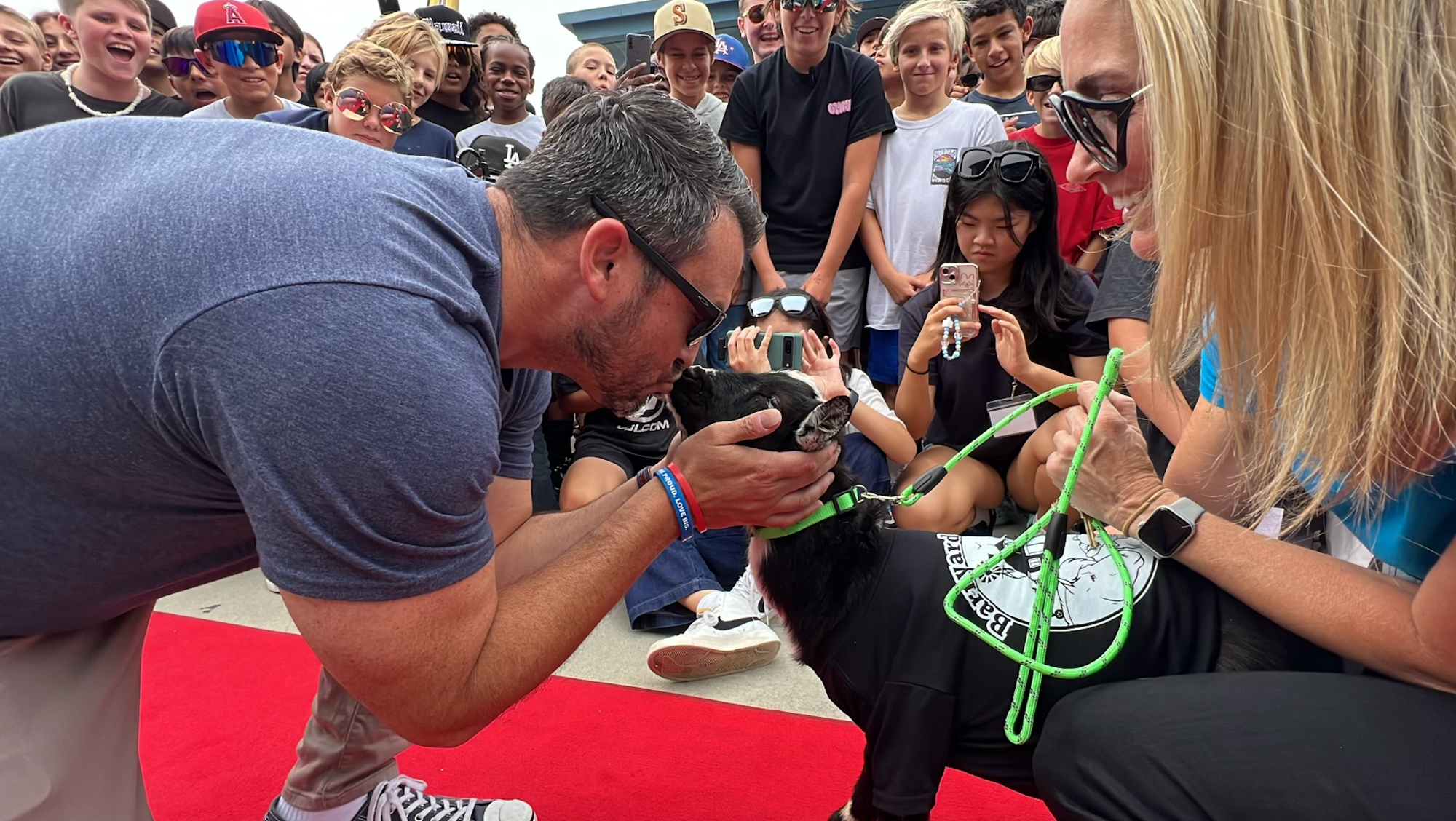 There's something about principals at McAuliffe Middle School in the Los Alamitos Unified School District. They go above and beyond to motivate their students. (Full disclosure: I'm a Los Alamitos USD parent.)
Case in point – last month, Principal Eddie Courtemarche locked lips with a tiny goat. (See the video here.) The kiss was Courtemarche delivering on a promise to his 6th, 7th, and 8th grade students. He challenged them to raise $50,000 as part of their school fundraiser. And they did it.
Does this smooch make this principal the G.O.A.T.? McAuliffe's former principal who kissed a pig last year in a school fundraising challenge might have something to say about that. Let us know what you think by responding to this email.
🍔 One more thing...
From now until Nov. 18, kids in O.C. can get a free In-n-Out cheeseburger just by reading books! Find out how here.
---
Thanks for reading!
Since you made it this far, why not forward this to a friend and encourage them to sign up for the Spotlight Schools newsletter?
And... Please send us your thoughts, story ideas, and tips by responding to this email.