Report shows hate incidents spiked at O.C. schools in 2022
Last year, 103 hate incidents were reported at local schools with 85% of those occurring at TK-12 campuses.
In March 2022, students were hanging out at the lunch tables at an Orange County school. One student uttered a racial slur demeaning to a Black person and also said "ching chong bing bong," words insulting to people of Asian heritage.
This is one example of a hate incident documented at an Orange County school last year and it's part of a reported spike in such cases on local campuses.
That's according to the 2022 Orange County Hate Crimes Report which shows a 178% increase in "bias-motivated hate activity in schools" between 2021 and last year. Incidents at local middle schools accounted for most of the activity.
With just 25% of the TK-12 public school districts in O.C. submitting data for the report, researchers say what's happening at local schools is not being fully captured and worry many hate incidents are going unreported.
The report was released on September 21 by the Orange County Human Relations Commission and the Santa Ana-based nonprofit Groundswell, formerly known as O.C. Human Relations. They have been publishing an annual hate crimes report since 2003.
Overall, the latest report documented 450 hate crimes and hate incidents across Orange County in 2022. That breaks down to 162 hate crimes and 288 hate incidents in an increasingly diverse county of more than 3 million residents.
Of these, 103 hate incidents were reported at local schools last year. Eighty-five percent of the 103 occurred at TK-12 campuses.
"This alarming upward trend in hate activity doesn't just impact the individuals and communities directly involved or targeted, it affects everyone in Orange County because Hate Hurts Us All," reads a portion of the report.
According to the report, a hate crime is an unlawful act committed against a person, group, or property that is motivated by the victim's "real or perceived protected social group" such as their nationality, race, gender, sexual identity, or religion.
Graffiti/vandalism followed by physical assault or battery were the most common hate crimes documented countywide in 2022. The hate crimes recorded were "primarily motivated by anti-Black (52%), antisemitism (43%), anti-Christian (34%), and anti-Latino(a) (19%) bias," according to the report.
A hate incident is an act that is motivated by bias, but does not meet the level of a crime. Examples of hate incidents include someone handing out non-threatening antisemitic flyers in a public place or demonstrators holding signs with messages against the Lesbian, Gay, Bisexual, Transgender, Queer (LGBTQ) community.
Of the 103 hate incidents reported at local schools in 2022, 60 were motivated by a bias involving race, ethnicity, or national origin, according to the report. Seventy-nine were verbal or involved name calling.
The statistics are based on data submitted voluntarily by seven of the county's 28 TK-12 public school districts and six institutions of higher education. Specific districts and campuses were not identified in the report.
In 2021, 41 hate incidents were reported in a school setting in Orange County. In 2022, that number jumped significantly with 50 hate incidents documented at local middle school/junior high campuses alone. An additional 32 hate incidents were reported at high schools and six were recorded at elementary campuses. Another relevant finding – youth under the age of 18 made up 58% of the offenders in hate incidents in 2022.
Stories behind the numbers
At the September 21 public release of the hate crimes report, researchers presented some of the stories behind the numbers.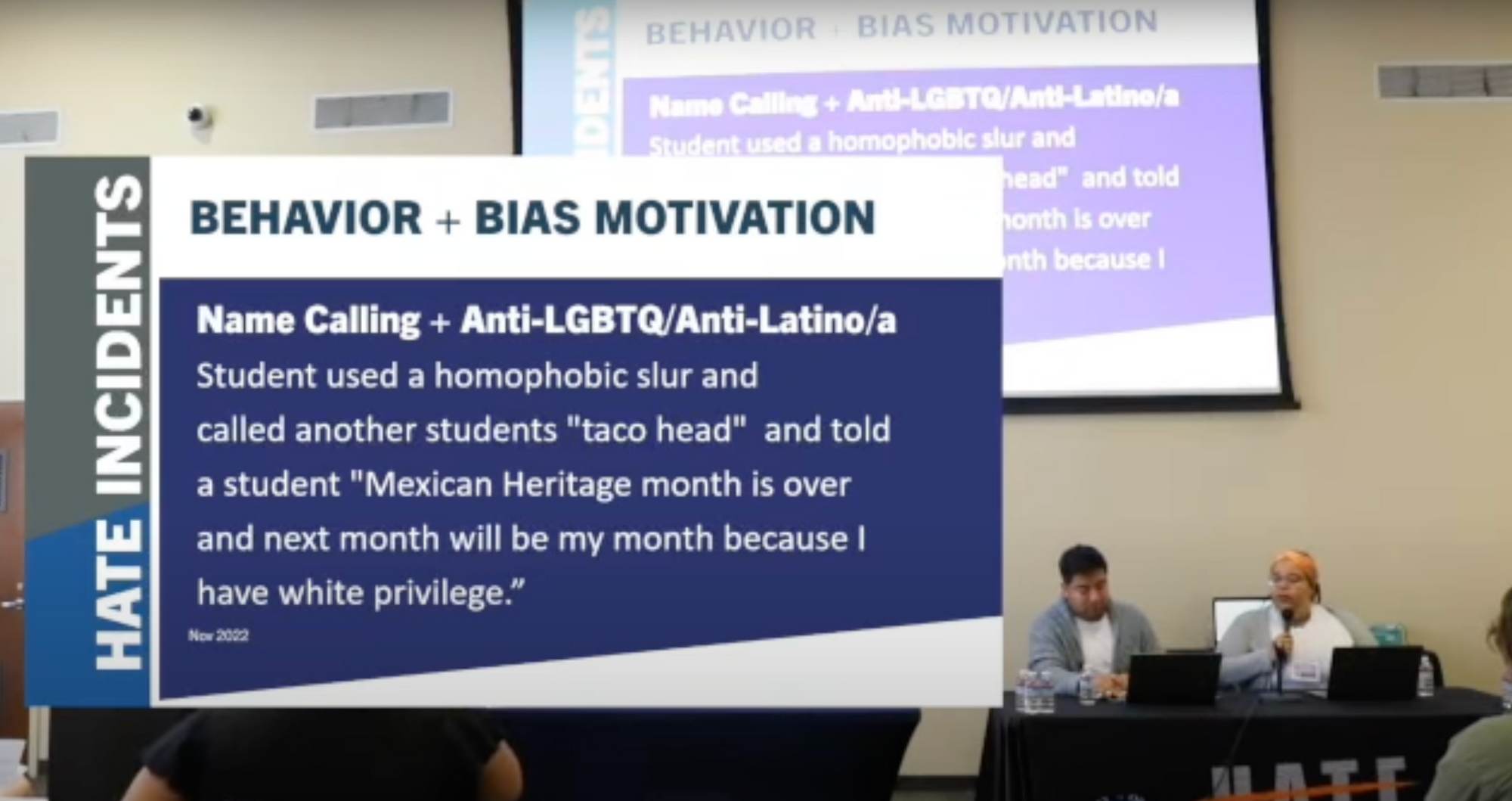 One hate incident mentioned involved a student using a homophobic slur. The offender then called other students "taco head" and told a student, "Mexican Heritage month is over and next month will be my month because I have white privilege."
That wasn't the only example presented at the event. Asher Belshe, a senior at a high school in the Garden Grove Unified School District, was part of a panel discussion and shared his personal experiences with intolerance on campus.
Asher described himself as a "very openly queer student" and "less openly," a transgender male. He said he's been targeted on campus including one time in a school bathroom when a group of boys he didn't know threw a trash can into the stall he was in.
"I don't want to go to school a lot of the days," Asher told attendees at the event, adding that he often wonders, "Will I be attacked again today? Will I hear something in the hallway? Will I have to leave early because I just don't feel safe?"
Asher pointed out that he has support from school staff, including his band instructor. He said that administrators responded promptly when he reported incidents. But he said that a lot of his classmates just don't seem to care. He wishes teachers and other adults would be more vocal with kids about the importance of treating people with respect.
"And I truly don't understand, and I just wish there was more education. I wish parents were teaching their kids, if [others] look different, sound different whatever, they are people too and they deserve simple respect," Asher said. "You shouldn't be going about your day planning the next thing you're going to be doing to this kid who looks different."
Even before the numbers were compiled for the latest hate crimes report, there were signs of problems arising at local schools.
Last May, Groundswell (then known as Orange County Human Relations) hosted a webinar titled "Addressing Racial Slurs and Harmful Language at School." Around 100 people including educators, administrators, parents, and counselors tuned in.
Groundswell staff shared that they had seen a huge uptick in calls from local schools about kids using racial slurs on campus. Oftentimes, students did not understand the gravity of their language and the harm it caused, speakers said.
Groundswell is routinely contacted by districts and schools to help in their response to bias-motivated incidents. It offers a variety of programs for youth and schools such as the Bridges program which is aimed at building "campus environments that are respectful of diversity, where all students, staff and parents feel safe, welcome and respected."
The nonprofit works with around 28 campuses in Orange County, according to a May interview with April Van Ligten, Groundswell's Director of Youth & Education Programs. It also holds public events and is set to hold another webinar on addressing racial slurs at schools on October 25.
What's next?
The report itself, and speakers at the report's release, emphasized that the purpose of documenting bias-motivated hate activity is to "understand the scope and nature of these offenses, identify trends, and develop strategies to prevent and address them."
To achieve such goals, more schools need to participate in the data collection, according to Norma Lopez from Groundswell.
She encouraged all local school districts to submit information about hate incidents on their campuses to provide researchers with a better picture of what is happening in school communities.
Lopez noted that some districts may be reluctant to submit data out of a fear of being labeled as a "problem district." Lopez, however, was adamant that educators should not fret about participating. "It's confidential," Lopez said, explaining that schools and districts are not identified. "We're not calling districts out."
Lopez also stressed that to prevent hate crimes and incidents, it's going to take cooperation between schools and their families. "It's not just about what happens at the schools. What are [students] getting at home from their families?" Lopez encouraged districts to connect with parents by sharing with families values and programs at their schools that promote mutual respect.
For senior Asher Belshe, his hope is that hate incidents can be prevented with more education starting at younger grade levels.
"I believe love should be taught in elementary school," Asher wrote in an email to Spotlight Schools. "That no matter what anyone looks like or identifies as, they are human. We all are different from one another, but we are connected by our humanity. Respect for one another should be taught."
Correction: This story was updated to correct the last name of student Asher Belshe. An earlier version of the story identified him as Asher Blake. Spotlight Schools regrets the error.
---
Resources