Spotlight Schools Newsletter Nov. 17, 2023
Tustin Unified schools closed for days after fire at historic blimp hangar // Ocean View School Board votes to consolidate one middle school // 🎥 5th grader films part of her debut movie at her O.C. elementary school
We're just days away from Thanksgiving and I want to take this moment to express my gratitude for all of you. Thank you for reading Spotlight Schools and engaging with hyperlocal news. Our mission is to deliver accurate reporting that helps you better navigate Orange County's education system.
As we did last year, Spotlight Schools will participate in GivingTuesday which falls on Nov. 28. GivingTuesday is a day when nonprofits worldwide seek donations from supporters to ensure they can continue doing important work in service of their communities.
This GivingTuesday we plan to offer some fun items to encourage your support. Please stay tuned to your inbox and our social media accounts for more details.
Remember we're on Instagram and X . And don't forget to visit our website SpotlightSchools.com regularly.
And if you're not a subscriber to this email newsletter --> Sign up here.
Yours in knowledge,
Jeannette Andruss, Co-founder and Chief Editorial Officer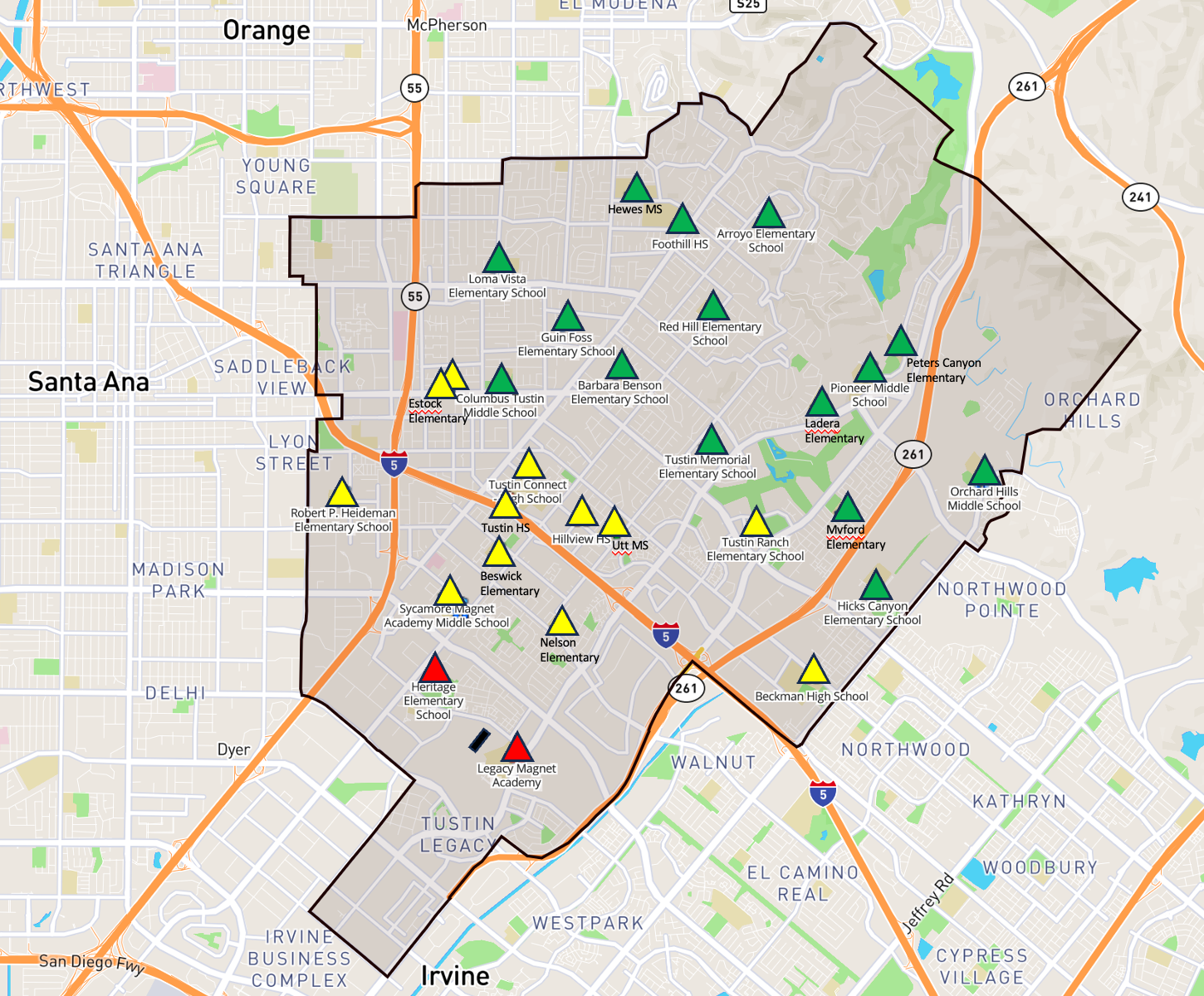 Fire at World War II-era blimp hangar shuts down local schools
Thousands of Tustin Unified students were not allowed on their campuses this week due to toxic debris and poor air quality from the blaze.
READ THE FULL STORY HERE
It's been a week marked by uncertainty for the families of the nearly 22,000 students in the Tustin Unified School District and things may not be completely back to normal until after next week's Thanksgiving recess.
The upheaval started in the early hours of November 7. That's when a fire erupted at a massive World War II-era wooden airship hangar at the former Marine Corps Air Station in Tustin.
"I saw smoke outside," TUSD parent Kimiya Maghzi said in a recent phone interview with Spotlight Schools, recalling the early hours of Nov. 7.
Later that same morning, Maghzi said she dropped her two kids off at Sycamore Magnet Academy, a K-8 Spanish dual language immersion school in Tustin, and immediately wondered how safe it was for them to be outdoors because of the air quality.
By Nov. 9, Sycamore Magnet and the other 29 TUSD campuses were shut down after the district learned that tests revealed asbestos in the toxic debris from the fire.
"This heartbreaking situation has understandably caused a range of emotions across our community," TUSD Superintendent Mark Johnson, Ed.D., wrote in a message posted on the TUSD website late on Nov. 8 announcing the closures.
In messages posted on the TUSD website and on social media, the district repeatedly assured families that it was working with local health and air quality agencies and EnviroCheck, a "certified asbestos consulting firm," to expedite the reopening of schools.
"Our top priority remains getting our students and staff safely back on campus," Dr. Johnson wrote.
As the hangar fire smoldered and had flare ups, local officials declared a state of emergency. Meanwhile, the district tried to implement a reopening plan. The goal was to assess and remediate each campus based on its proximity to the burn site and whether hangar debris had been found at the school.
Schools were color-coded "green," "yellow," or "red" based on this criteria, as shown in the map above.
Two TUSD schools given the "red" designation were Heritage Elementary School and Legacy Magnet Academy. They are both located on the site of the former Tustin Marine Corps Air Station.
Chunks of what are believed to be hangar fire debris were found on about half of the district's campuses, according to TUSD. According to the plan, each school would be inspected and cleaned before students or staff would be allowed to return to campus. TUSD posted a list that would be updated when a campus was "cleared."
On Monday, Nov. 13, all TUSD schools remained closed to students. A handful of schools were expected to reopen on Tuesday, but the district had to pause those plans and all campuses were instead instructed to shift to virtual learning.
According to ABC7, Allyson Muñiz Damikolas, the vice president of the Tustin Unified School District Board of Education, told City News Service that the reopening was delayed because of air quality concerns. "Nobody wants to close schools,'' Damikolas was quoted as saying. "I want schools opened as fast as possible and as safely as possible."
More schools were cleared for reopening on Wednesday and Thursday. By Friday, Nov. 17, thousands of TUSD students were back learning inside their classrooms, but ten campuses and the district's adult education programs remained closed for in-person instruction.
That includes Tustin Ranch Elementary School, where the nine-year-old son of Denise Harkless is in fourth grade.
"I think that TUSD has done a pretty good job in response to the hangar fire," Harkless said in a phone interview on Thursday. "I think once they were made aware that the Tustin Legacy area tested positive with asbestos, they have been keeping us updated with emails," she explained.
Harkless praised her son's teacher and the Tustin Ranch principal for keeping kids connected throughout the hangar fire ordeal.
"The school has been wonderful in just encouraging the students all along," she said adding, "The principal and teacher have been trying to rally the students."
For Kimiya Maghzi and her kids, a second grader and third grader at Sycamore Magnet, being in virtual learning this week has created what she called a "stressful situation" at her house.
Juggling her work as a professor and assisting her kids with their Spanish-language lessons has been a challenge since Maghzi does not speak Spanish. Her daughter, who is on an Individualized Education Program, is doing packets at home and has not been offered virtual learning. Maghzi said she wasn't sure why.
"I don't get why my daughter's not online. I just don't understand the rationale. The thing is, we also get special [education] services. We're not getting our services right now," Maghzi said.
Spotlight Schools reached out to the TUSD communications office through email and phone and has yet to hear back.
TUSD schools are closed for Thanksgiving recess next week and the district is hopeful that it will be able to use that time to clear more campuses "to allow more students and staff to safely return to on-campus instruction following the break."
Read the whole story on SpotlightSchools.com
---
Consolidation Plan: Ocean View School District to close Spring View Middle School; keep three elementary schools open
Trustees vote against closing Golden View Elementary School after families speak out
After months of discussion and numerous meetings, the Ocean View School District Board of Trustees took its first votes in a school consolidation plan aimed at dealing with the district's declining student enrollment.
At its meeting on Nov. 14, the board voted 3-2 to consolidate Spring View Middle School next school year. Spring View students will be relocated to one of the district's other three middle schools in the 2024-25 school year.
Board President Patricia Singer, clerk Jack Souders and trustee Morgan Westmoreland voted to close Spring View. Vice President Gina Clayton-Tarvin and trustee Norm Westwell voted against closing the school.
The plan is to turn the Spring View campus into the new district office but an exact timeline for that transition was not presented. The consolidation is projected to save the district an estimated $5.8 million by the year 2030, according to the report from the superintendent on Tuesday's agenda.
Once under consideration for closure, Golden View Elementary, Village View Elementary, and Circle View Elementary will not close after trustees decided in three unanimous votes to keep the campuses open.
Ocean View School District currently serves just under 7,000 students at 14 campuses in Huntington Beach, Westminster, and Midway City. It has faced declining enrollment for years. It lost around 2,600 students in the last ten years and has already shuttered or repurposed 11 school sites since the 1980s, according to the district.
The latest consolidation plans were first discussed last school year and were met with resistance from the community. In response, leaders launched the Superintendent's Schools Task Force made up of parents, school staff, community members, and others. The task force had been meeting regularly since April to come up with ideas for dealing with declining enrollment.
Golden View families beg school board to keep their campus open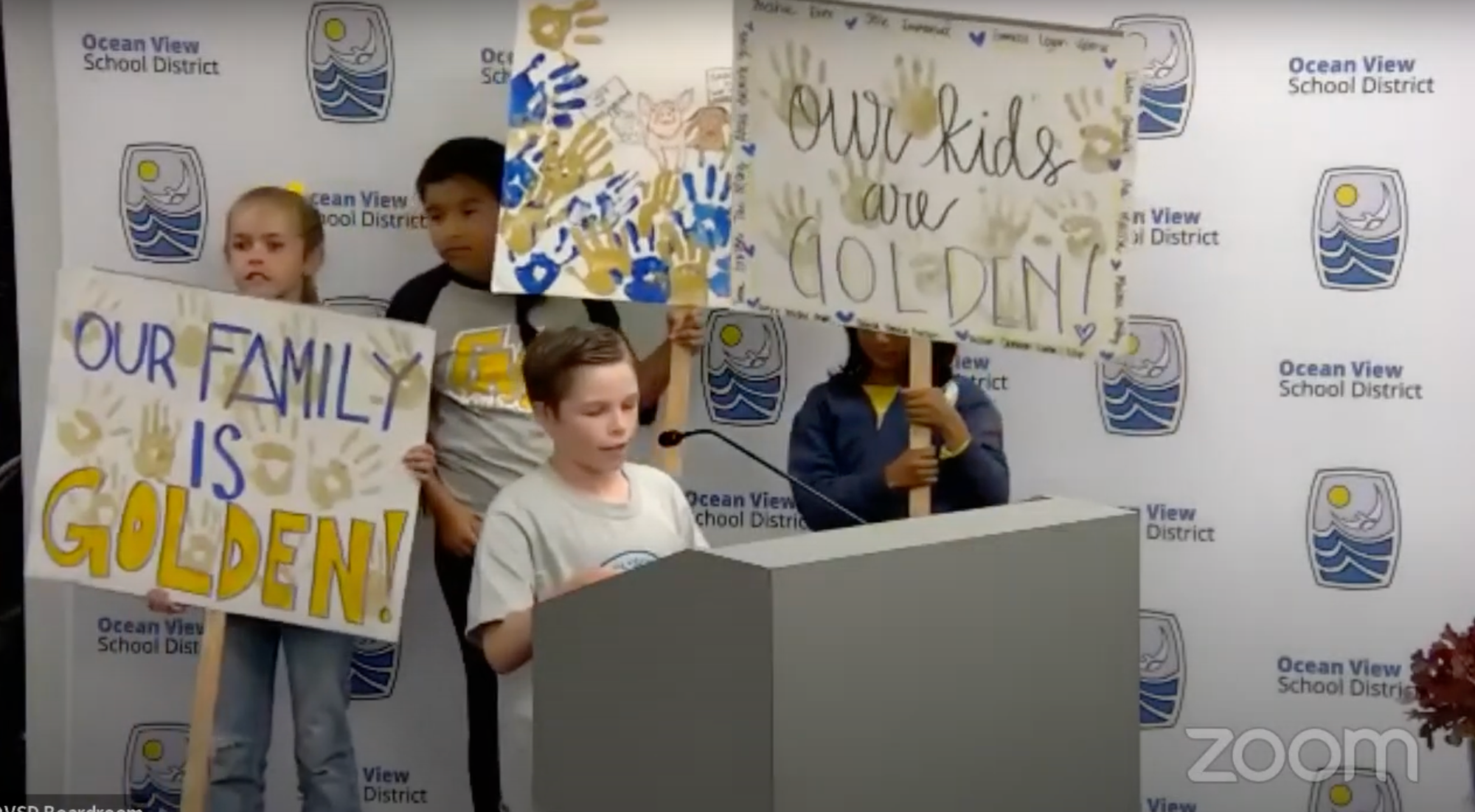 At Tuesday's meeting before the board voted, around 50 speakers addressed the trustees during the public comment period. The vast majority of them were students, parents, and staff members from Golden View Elementary School. Even the school's mascot, Goldie, a baby goat (also known as a kid) was there.
The speakers all pleaded with the board to keep Golden View open, arguing that it was the most unique campus in OVSD.
One mother wiped away tears as she spoke to trustees against closing the campus.
"I moved from Norwalk to Huntington Beach just to go to Golden View. And I have three boys in school now and they love the school. And I mean, it just shows, you know, it's like everyone said, we're a family," she said.
One fifth grader outlined ten reasons why the campus should stay open. Number two on his list? The farm.
"Golden View has an amazing farm," the student said. "The farm makes the school even better than it already is. We take care of sheep, goats, pigs, chickens, and turkeys ... and an 18-year-old tortoise."
Bobby Guillen, Golden View's Parent Teacher Organization President, and the parent of one student at the school, was also among the speakers at Tuesday's meeting.
In a phone interview on Friday, Guillen said he was so proud of the students and families for coming out and supporting the school.
When asked to describe how he felt after the vote Guillen responded: "Ecstatic, overjoyed, relieved."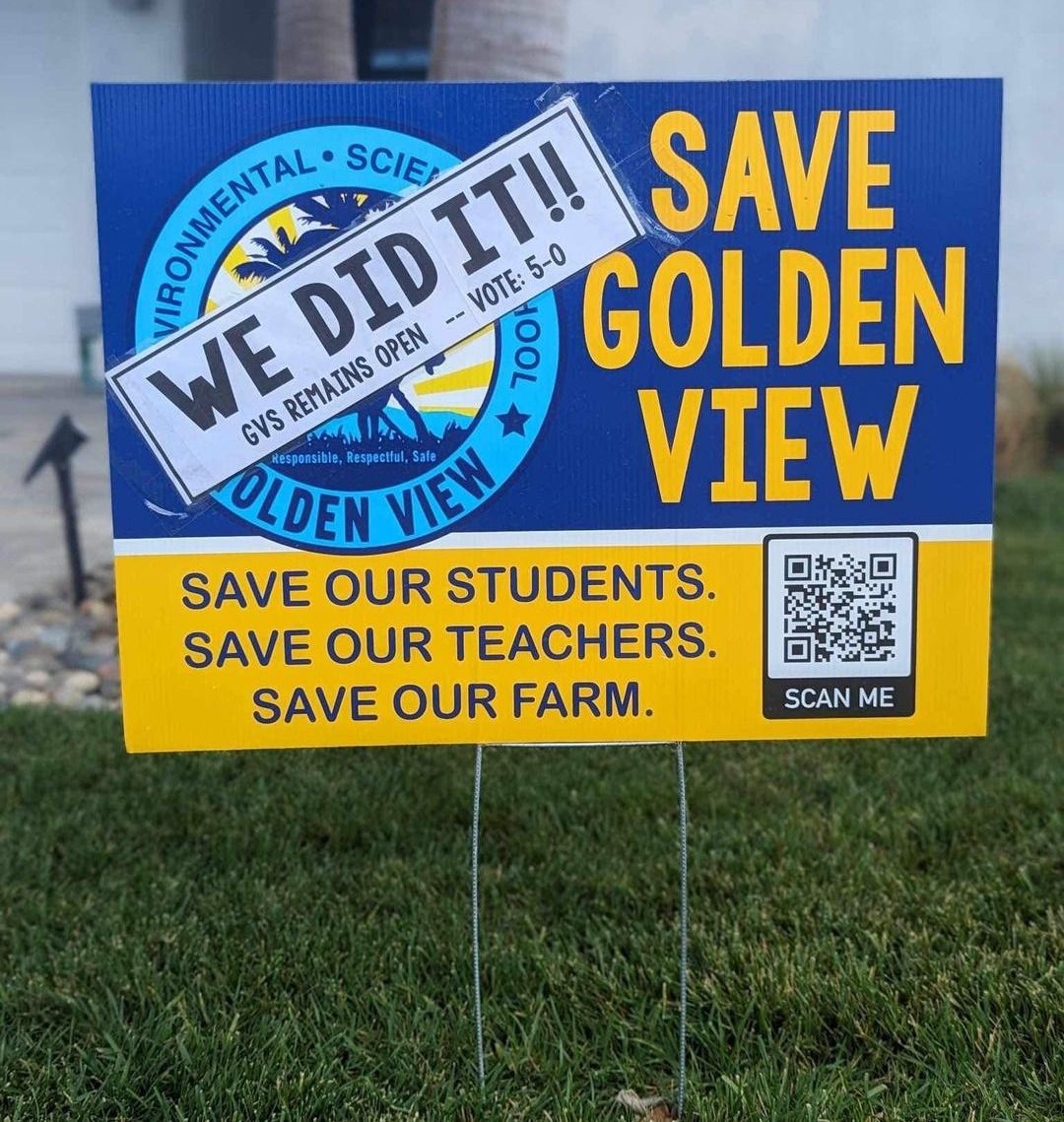 Guillen shared that the morning after the vote, the joy was palpable on the Golden View campus. "It was all cheers and smiles and tears and joy and hugs," he said adding that he could hear kids screaming in the classrooms after teachers shared the news that the campus would remain open.
"There were lots of high fives and fist bumps from the kids," Guillen said.
Read more from: The Orange County Register (subscription required) // L.A. Times
Are you a student, parent, or staff member in the Ocean View School District interested in sharing your perspective on the school consolidation plan? Email us at hello@spotlightschools.com.
---
Orange Unified Board of Education takes no action to schedule recall election
The Orange Unified School District Board of Education took no action on the scheduling of a recall election targeting two of its board members at the Nov. 16 board meeting.
Now it appears the Orange County Registrar of Voters (ROV) will likely end up deciding when voters will decide whether to remove OUSD board member Madison Miner and Board President Rick Ledesma from office.
Recall proponents successfully gathered thousands of signatures from registered voters living within the district's boundaries to trigger recall elections.
California's election code states the the board needs to set a date for the recall election by Nov. 30; or within 14 days of the Nov. 16 meeting where "the certificate of sufficiency" of the recall petition was on the agenda as an information/discussion item.
If the OUSD Board of Education does not take action, the ROV must calendar a recall election date by December 5, according to election code.
Although it is not certain, it's likely the ROV will schedule the recall to coincide with the California Presidential Primary happening on March 5, 2024. The cost to consolidate the recall with the primary is estimated to be about $376,700. Holding the recall as a special election could cost more than $1.2 million. The district must pay for the cost of the recall election.
---
California passes dozens of new laws impacting schools, kids, & education in 2023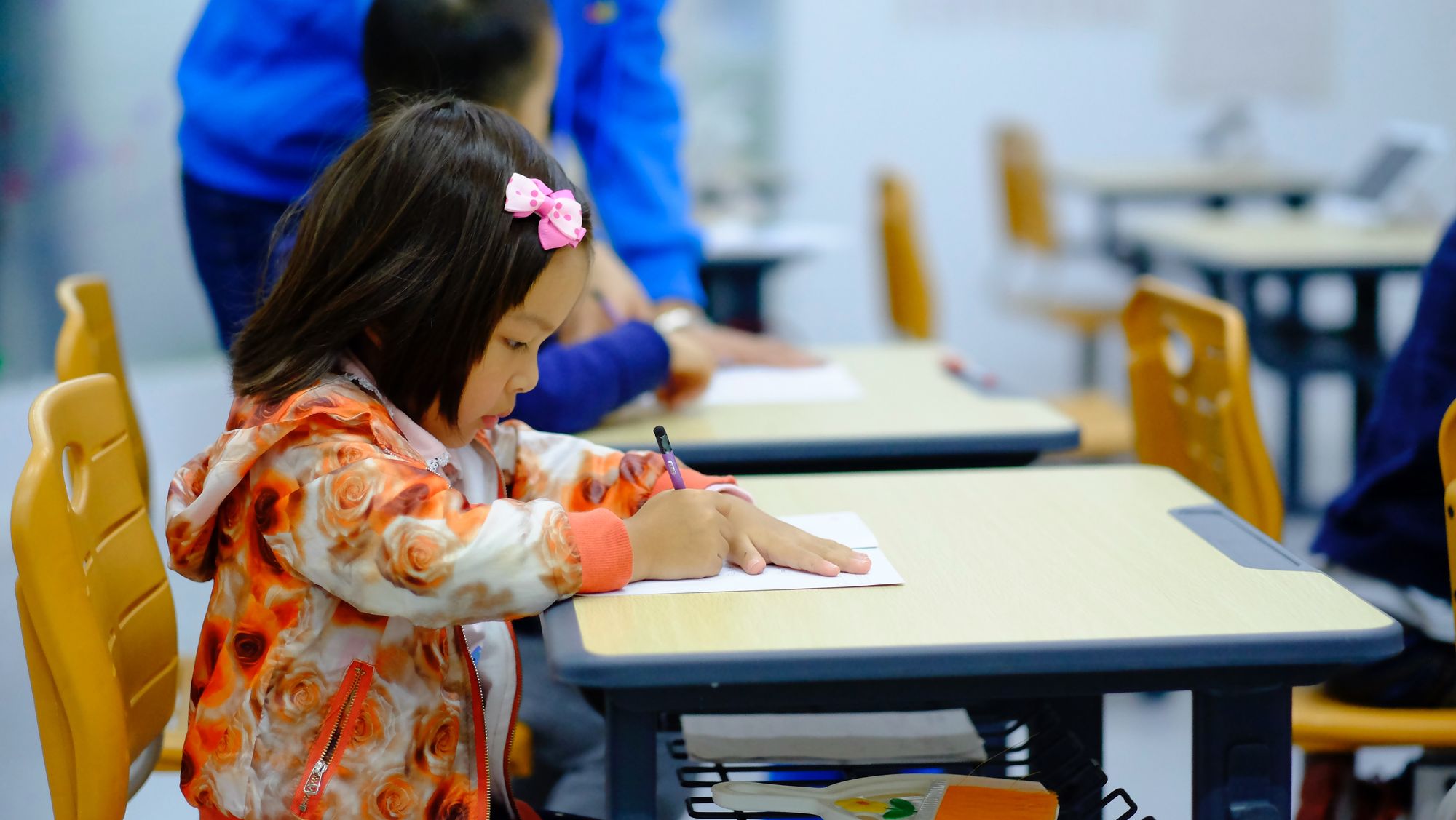 California lawmakers introduced a total of 1,947 bills in 2023 (not including resolutions) and 891 were signed into law, according to Ed100. Many of these new laws will impact students, parents, and educators.
Here's a sampling of what's new:
Right to Recess: Starting next school year, all TK through 8th graders at California public schools will be guaranteed a 30 minute daily recess, after the signing of SB291. The law also states that students cannot have recess taken away from them as a form of punishment. >> Read more from KQED.
Mandatory Cursive: AB446 will require students in grades first through 6th to have handwriting instruction in cursive or joined italics. >> Read more from KTLA.
Media Literacy: To be rolled out gradually starting in 2024, AB873 requires California to add media literacy lessons to its educational frameworks for several subjects including English language arts and history-social studies, as the frameworks are updated. >> Read more from CalMatters.
Firearms Tax for School Safety: AB28 places an 11% tax on firearms and ammunition sold by gun manufacturers and dealers in California to fund school safety and violence prevention programs. >>Read more from the Associated Press
Ban on "Willful Defiance" Suspensions: SB274 prohibits suspending or expelling public school students enrolled in 6th through 12th grade on the basis of "willful defiance," or low-level behavioral issues until July 1, 2029. Such suspensions are already prohibited against kindergartners through fifth graders. >> Read more from CBS News.
Check out an extensive list of California's new laws impacting education from Ed100.
---
U.S. News & World Report releases new ranking of Elementary and Middle Schools
This week, U.S. News & World Report released a new ranking of the nation's elementary and middle schools based on how a school's students performed on state assessments in math and reading/language arts. (See more on the methodology here.)
Here's how Orange County schools fared:
---
Other Stories We're Reading...
---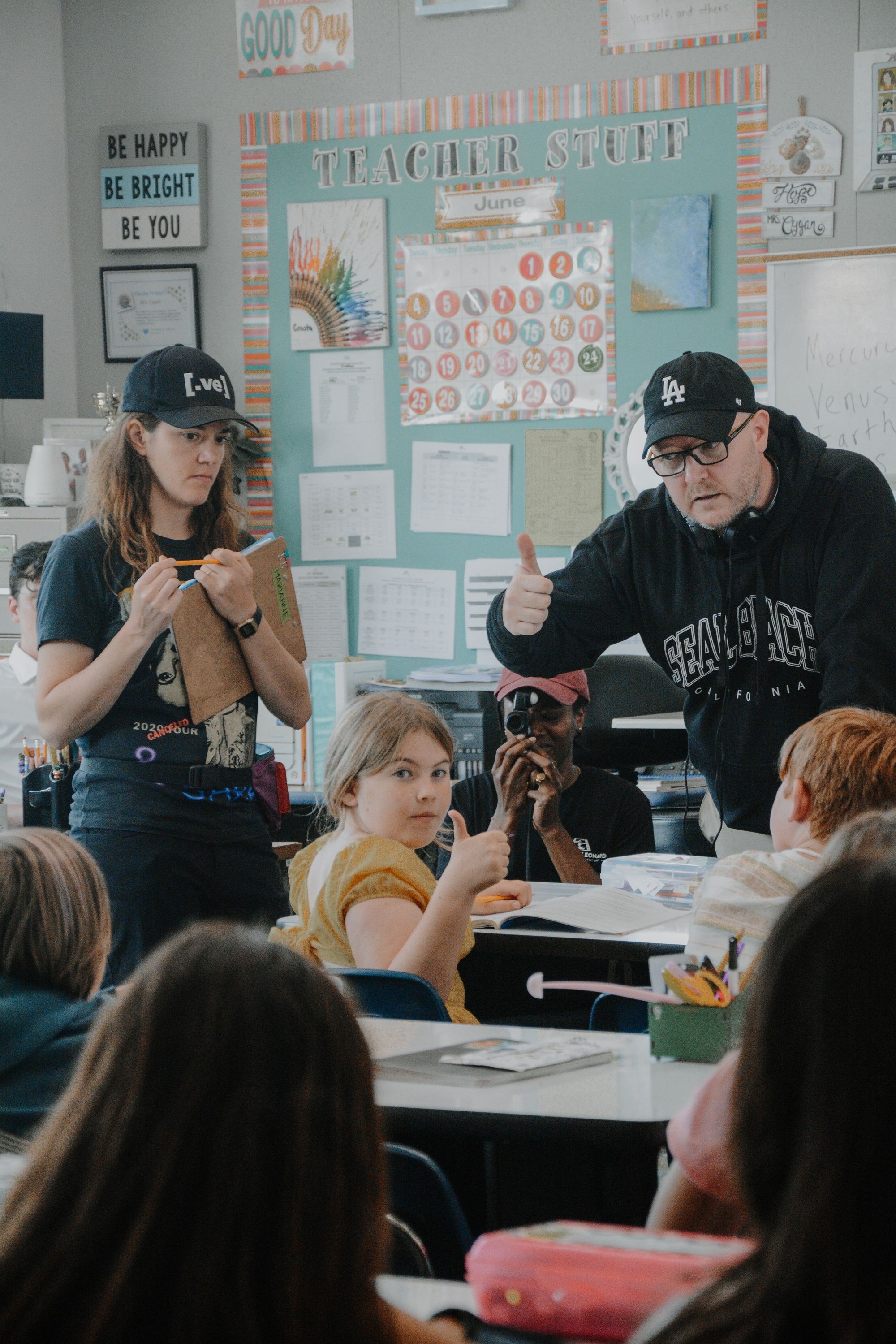 5th grader films part of her debut movie at her Seal Beach elementary school
London Houghton's short film tells the story of children dealing with the emotions of divorce.
London Houghton has memories of being very young and being on a movie set, looking over her filmmaker father's shoulder, into a lens, watching him make things in a camera.
"I was on one of his sets in England with him," London recalled in an interview. "And I think I was, like six, at the time when he was shooting From Under the Bridge. And I just thought, it was really inspiring and cool how you could make this story on a piece of paper come to life," said the bright-eyed fifth grader who attends J.H. McGaugh Elementary School in Seal Beach.
London is the eldest daughter of Paul James, the founder of Dreamotion Studios in Seal Beach, and Caitlin Houghton, M.D., a surgeon, also of Seal Beach.
"When she was on set with us in London, she just hung out there all day," said James. "London was literally there by the monitor all day when we did a police station scene in England. She was just like, hanging out with the script supervisors, the crew, always asking questions," he said.
James, originally from England, made a name for himself in scriptwriting, grabbing Hollywood's attention when he sold his first screenplay in 2006.
Not long ago, London came to her dad with an idea for a movie. James showed her how to use some scriptwriting software and said if she finished the script, he would help her make the movie.
She did.
Read how London created her debut film Breaking Plans at SpotlightSchools.com.
This article was written by David N. Young
---
Thanks for reading!
Since you made it this far, why not forward this to a friend and encourage them to sign up for the Spotlight Schools newsletter?
And... Please send us your thoughts, story ideas, and tips by responding to this email.