Some Tustin Unified schools remain closed all week after massive hangar fire
While most TUSD campuses reopened this week, concerns about air quality and the ongoing process to clean up toxic debris from the fire kept students from 10 schools at home in virtual learning.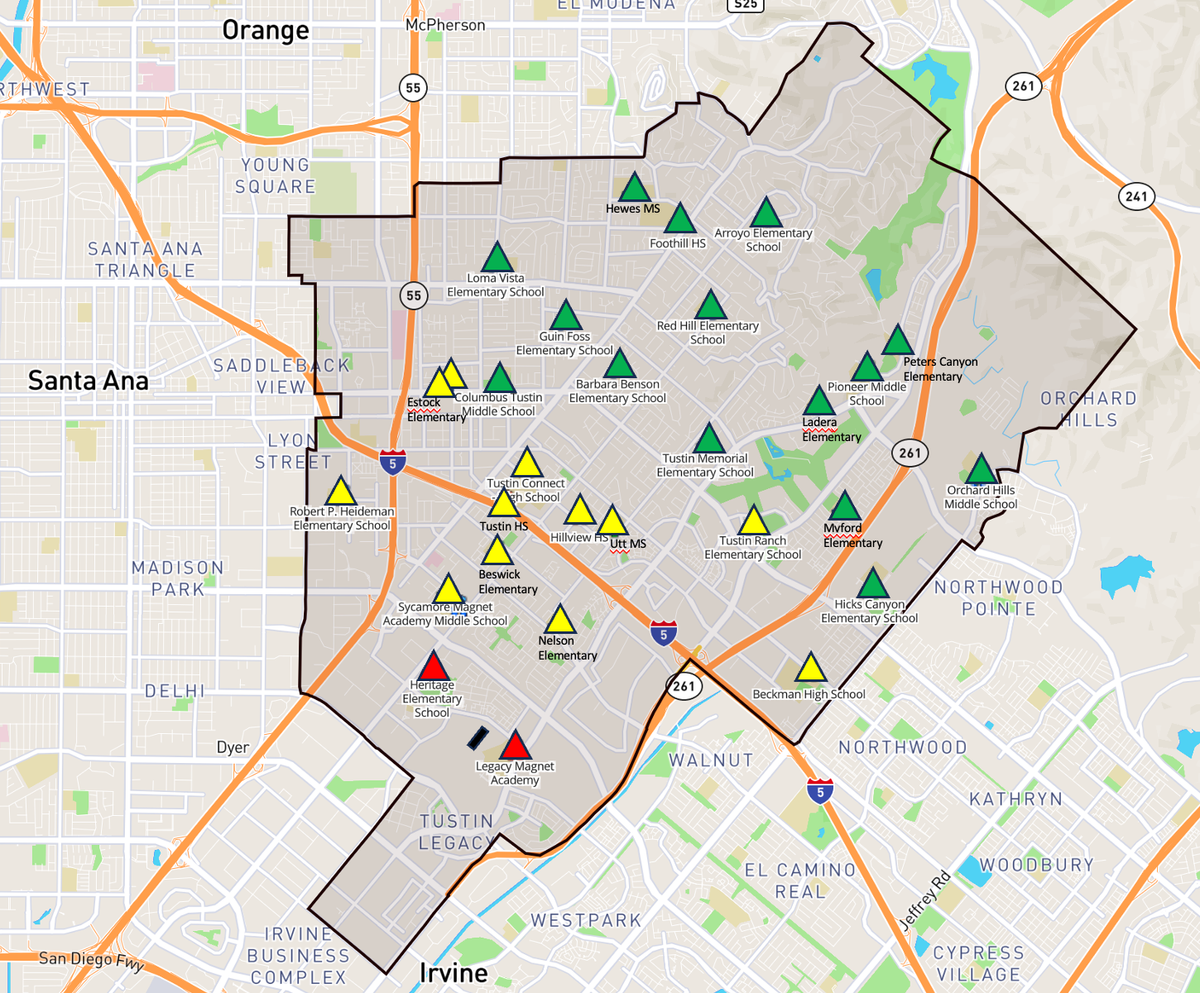 It's been a week marked by uncertainty for the families of the nearly 22,000 students in the Tustin Unified School District and things may not be completely back to normal until after next week's Thanksgiving recess.
The upheaval started in the early hours of November 7. That's when a fire erupted at a massive World War II-era wooden airship hangar at the former Marine Corps Air Station in Tustin.
"I saw smoke outside," TUSD parent Kimiya Maghzi said in a recent phone interview with Spotlight Schools, recalling the early hours of Nov. 7.
Later that same morning, Maghzi said she dropped her two kids off at Sycamore Magnet Academy, a K-8 Spanish dual language immersion school in Tustin, and immediately wondered how safe it was for them to be outdoors.
"I called [the school] and told them there's asbestos in the air," Maghzi said. The mother of a second grader and third grader asked if Sycamore's students were going to be kept indoors due to the potential for unhealthy air from the fire. Maghzi said she ended up on the phone for hours, speaking with school staff, district administrators, and local emergency responders trying to find answers.
According to Maghzi, students were ultimately kept indoors at Sycamore, but she wondered what was happening at other schools.
By Nov. 9, Sycamore Magnet and the other 29 TUSD campuses were shut down after the district learned that tests revealed asbestos in the toxic debris from the fire.
"This heartbreaking situation has understandably caused a range of emotions across our community," TUSD Superintendent Mark Johnson, Ed.D., wrote in a message posted on the TUSD website late on Nov. 8 announcing the closures.
In almost daily messages posted on the TUSD website and on social media, the district repeatedly assured families that it was working with local health and air quality agencies and EnviroCheck, a "certified asbestos consulting firm," to expedite the reopening of schools.
"Our top priority remains getting our students and staff safely back on campus," Dr. Johnson wrote.
As the hangar fire smoldered and had flare ups, local officials declared a state of emergency. Meanwhile, the district tried to implement a reopening plan. The goal was to assess and remediate each campus based on its proximity to the burn site and whether hangar debris had been found at the school.
Schools were color-coded "green," "yellow," or "red" based on this criteria.
Two TUSD schools given the "red" designation were Heritage Elementary School and Legacy Magnet Academy. They are both located on the site of the former Tustin Marine Corps Air Station.
Chunks of what are believed to be hangar fire debris were found on about half of the district's campuses, according to TUSD. According to the plan, each school would be inspected and cleaned before allowing students and staff back onto campus. TUSD posted a list that would be updated when a campus was "cleared."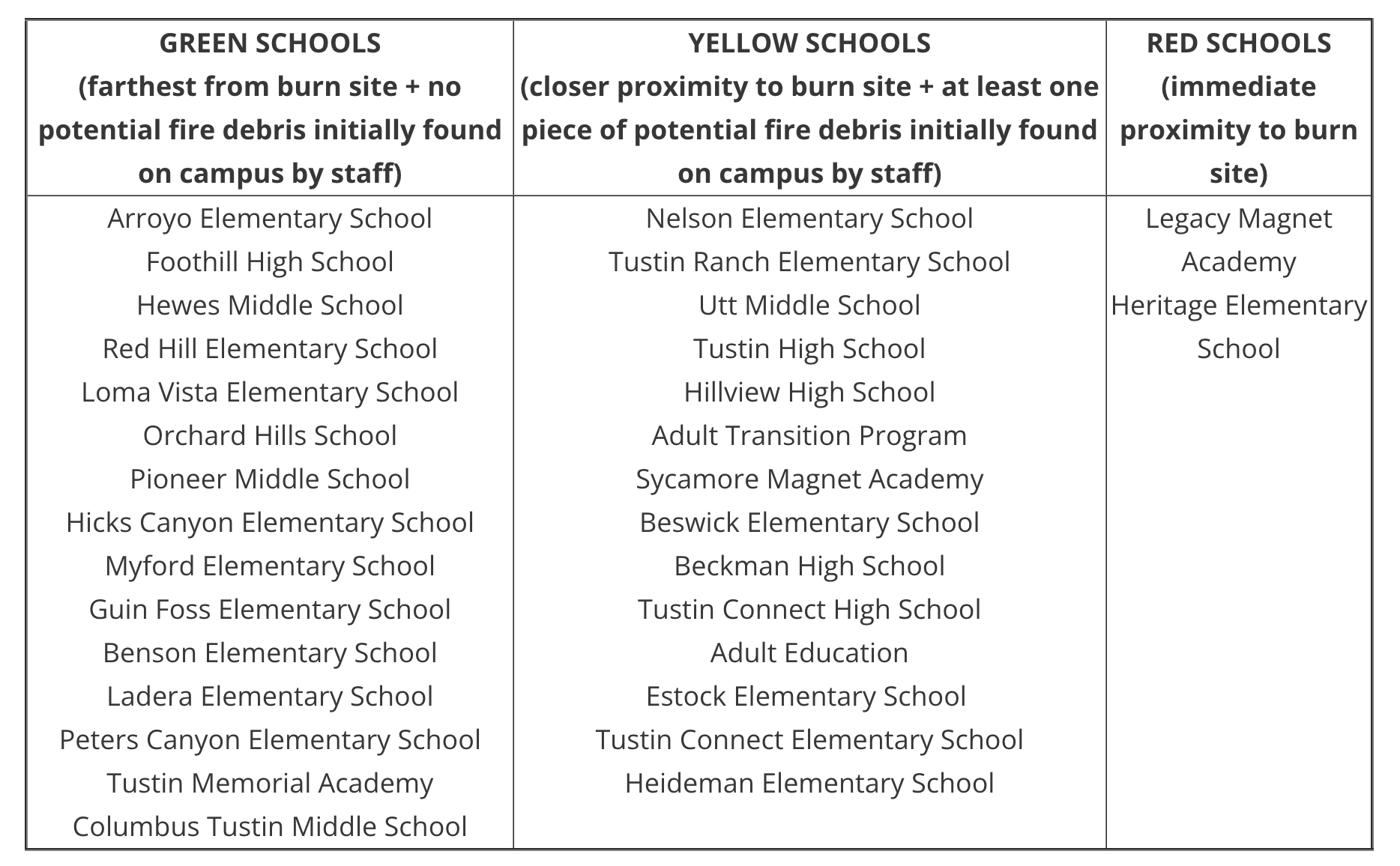 On Monday, Nov. 13, all TUSD schools remained closed to students following a three-day weekend for the Veterans Day holiday. A handful of schools were expected to reopen on Tuesday, but the district had to pause those plans and all schools were instead instructed to shift to virtual learning on Nov. 14.
According to ABC7, Allyson Muñiz Damikolas, the vice president of the Tustin Unified School District Board of Education, told City News Service that the reopening was delayed because of air quality concerns. "Nobody wants to close schools,'' Damikolas was quoted as saying. "I want schools opened as fast as possible and as safely as possible."
More schools were cleared for reopening on Wednesday and Thursday, but many TUSD students stayed in virtual instruction from home. On Friday, Nov. 17, thousands of TUSD students were back learning inside their classrooms, but around ten campuses and the district's adult education programs remained closed for in-person instruction.
That includes Tustin Ranch Elementary School, where the nine-year-old son of Denise Harkless is in fourth grade.
"I think that TUSD has done a pretty good job in response to the hangar fire," Harkless said in a phone interview on Thursday. "I think once they were made aware that the Tustin Legacy area tested positive with asbestos, they have been keeping us updated with emails," she explained.
Harkless praised her son's teacher and the Tustin Ranch principal for keeping kids connected throughout the hangar fire ordeal.
"The school has been wonderful in just encouraging the students all along," she said adding, "The principal and teacher have been trying to rally the students."
The situation reminded Harkless of 2020 and the upheaval and shift to remote learning during the Covid-19 pandemic.
She said she and her husband were able to figure out their work schedules to accommodate the change. They've been helped by a local after-school program and her mother, who is a retired teacher.
Harkless said her son misses being at school, but he's been able to get back into a routine of learning online for a couple of hours a day.
"I think he's frustrated because he loves school, but he's getting used to the virtual [instruction] again," she said and noted that while he's missing his friends, he has enjoyed seeing their faces online.
"My perspective is that it's been inconvenient but I think we have felt well- informed. I just think we have a very good connection to our school community," said Harkless.
For Kimiya Maghzi and her kids, a second grader and third grader at Sycamore Magnet, being in virtual learning this week has created what she called a "stressful situation" at her house.
Juggling her work as a professor and assisting her kids with their Spanish-language lessons has been a challenge since Maghzi does not speak Spanish.
She said she also struggled to log her son into his Google Meet session. Her daughter, who is on an Individualized Education Program, is doing packets at home and has not been offered virtual learning. Maghzi said she wasn't sure why.
"I don't get why my daughter's not online. I just don't understand the rationale. The thing is, we also get special [education] services. We're not getting our services right now," Maghzi said. She said she worried that not all students and campuses are being treated equally in response to the hangar fire.
"Is it equitable that some schools get to go back right now and some schools don't?" she asked.
Spotlight Schools reached out to the TUSD communications office through email and phone and has yet to hear back.
While not shuttering any of their campuses like TUSD, The Santa Ana Unified School District and Irvine Unified School District both posted updates about how they responded to the hangar fire.
"We have conducted thorough inspections of our school facilities," SAUSD wrote in an Instagram post earlier this week which also noted: "We have determined that our schools have not been affected by the incident."
Officials say they are working on a plan to dismantle the remnants of the historic hangar, but the timeline for that has not been made public. Last night, area residents took part in a virtual town hall with some people asking for evacuations to be ordered, according to Voice of OC.
TUSD schools are closed for Thanksgiving recess next week and the district is hopeful that it will be able to use that time to clear more campuses "to allow more students and staff to safely return to on-campus instruction following the break."
Harkless was optimistic that things will work out that way and that the district will ensure schools are safe for students and staff the Monday after Thanksgiving.
But she wasn't sure what the dismantling of the charred hangar would mean for her son's school. "My hope is that they try to take the systemic approach so that people are prepared for the impact on the surrounding community."
You can find the latest updates from TUSD on the hangar fire here.