UPDATED: Schools warn about dangers of deadly drug; New date for release of California's students' scores; ? 100x100 In-N-Out burger part of a math lesson kids were eating up!
🏆 New school rankings released; 🏈 Top-ranked transfer cleared to play for Griffins; State Supt. hosting Parent Town Hall
🏆 New school rankings released; 🏈 Top-ranked transfer cleared to play for Griffins; State Supt. hosting Parent Town Hall

Helping you better understand, navigate and participate in the TK-12 public school experience in Orange County.
In this week's newsletter...
September 27, 2022
FIRST BELL 🔔 Schools taking action regarding fentanyl overdoses.
SECOND BELL 🔔 After report of delay, CA Dept. of Education says statewide tests results from 2021-22 will be released in October. Plus, new school rankings released.
EXTRA CREDIT 📌 CA Superintendent hosting Parent Town Hall this week.
RECESS 👏🏼🍔 Weaver students devour math lesson featuring a 100x100 In-N-Out burger!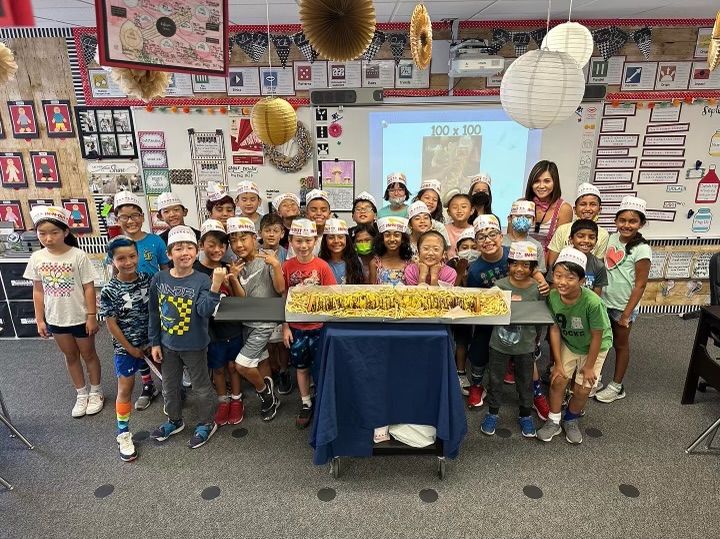 Weaver Elementary school teacher Catherine Nguyen and students in her math class pose with a 100x100 In-N-Out burger which was part of their lesson. Courtesy photo.
Spotlight Schools is a nonpartisan, hyperlocal newsroom covering education in Orange County and this is our weekly newsletter.
If you haven't signed up for our newsletter, click here. And be sure to visit the Spotlight Schools website to read more local education news, check out past editions of our newsletter, learn more about our newsroom and even become a supporter of our journalism. Follow us on Instagram and Twitter for news and updates.
Please send feedback/story ideas/questions to hello@spotlightschools.com.
Yours in knowledge,
Jeannette Andruss, Co-Founder and Chief Editorial Officer
FIRST BELL
This Week's Top Story
Schools step up response to fentanyl overdoses among kids
Overdose treatment medicine may be available at campuses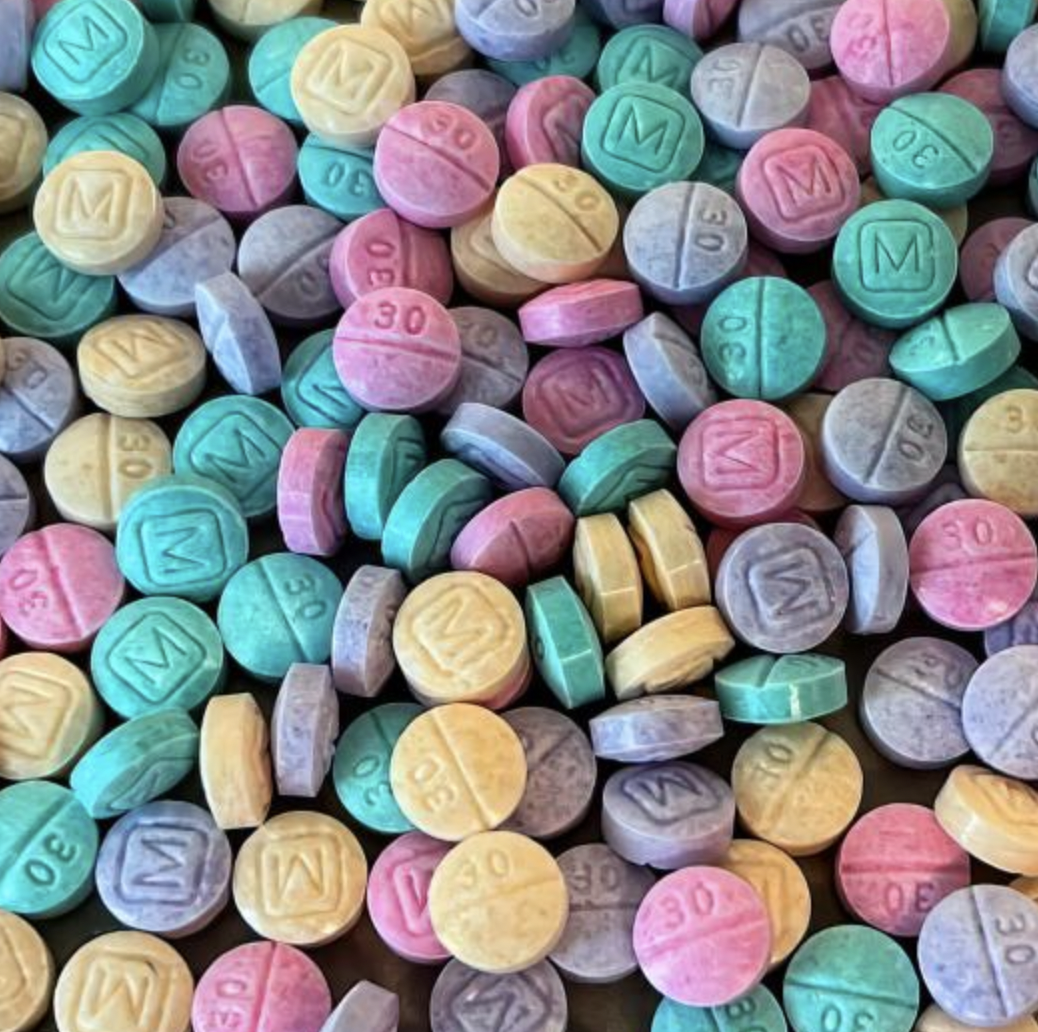 'One Pill can Kill:' Federal and state health officials are warning parents and students to be aware of the danger of pills sold via social media that contain the deadly synthetic opioid fentanyl. Photo courtesy of the DEA.
Educators, public health officials and law enforcement agencies are warning parents and students about the threat of the potentially deadly illegal drug fentanyl that has been linked to numerous overdoses among young people.
The Los Angeles Unified School District recently reported that seven of its students had overdosed this school year and one 15-year-old died.
In a press release from Sept. 21, the California Department of Public Health stated that fentanyl-related overdose deaths in Californians aged 10-19 have recently increased by 625%, jumping from 36 in 2018 to 261 in 2020.
Fentanyl is a synthetic opioid that is 50 times more potent than heroin and 100 times more potent than morphine, according to the Drug Enforcement Administration. If too much is taken, it can severely depress a person's drive to breathe.
Right now fentanyl is being found in illicit pills being sold via social media. Advertised as prescription medicine such as Percocet or Xanax, the pills are not what they claim to be and instead contain lethal amounts of fentanyl.
The DEA recently warned about the emergence of "Rainbow Fentanyl," brightly colored pills made to look like candy. The warning is that just one pill can kill.
"It's virtually impossible to tell what is counterfeit, so if you're buying something off somebody, you're not going to be able to tell what it is," Stephen Lambert, coordinator of prevention education in the Orange County Department of Education's Student Achievement and Wellness Unit, said in a story from the OCDE Newsroom.
In an email sent to families yesterday, the Los Alamitos Unified School District warned about the threat of fentanyl.
"Unfortunately, this deadly drug is present among our youth population. We want you to be informed of the dangers and partner with us to create awareness," the message read.
It said the district was working to determine the feasibility of having an opioid overdose treatment available at school sites. Called naloxone, it can save a life by reversing the effects of an opioid overdose. Law enforcement agencies, including Seal Beach Police officers, already carry the treatment. Last week, the Los Angeles USD announced it would have the naloxone at its campuses, ABC7 reported.
Other tools being utilized at Los Alamitos USD to combat drug abuse include drug sniffing dogs that visit secondary campuses, the ability to have your middle or high school student take part in random drug testing, monitoring of students' internet searches when using devices connected to the school WiFi on campuses, as well as education workshops for parents on how to protect their children from drugs. Workshops are planned for next month.
The upcoming drug-free themed Red Ribbon Week, which takes place October 24-28 will have an emphasis on the DEA's "One Pill Can Kill" campaign.
Spotlight Schools previously reported on the fentanyl issue in a newsletter last April. You can read more about Los Alamitos USD programs from that issue here.
SECOND BELL
Other Stories We're Following
After report of delay, California Dept. of Education says test results to be released in October
Los Al USD Supt. warns of potential drop in students' scores
The California Department of Education is reassuring local school districts that students' results from the first statewide standardized tests given since the Covid-19 pandemic disrupted public education will be released sometime in October.
In a Sept. 23 email sent to county and district superintendents and charter school administrators, officials wrote that the department is anticipating districts will submit their reviewed, corrected and updated California Assessment of Student Performance and Progress and English Language Proficiency Assessments for California data by Sept. 30.
"Our goal is to review statewide data and release it when it is finalized, which is expected to occur sometime in October," reads the letter from CDE officials Cheryl Cotton and Mao Vang.
The statement came after EdSource reported on Sept. 22 that the release of statewide test results was being delayed following a denial of EdSource's request for the statewide data through a Public Records Act request.
If you have a student who was in 3rd-8th or 11th grade last year, you may recall getting their individual student scores from your district over the summer. While individual scores were released, the statewide, countywide, and most districtwide, and campus-wide results have not been released. (Some school districts have released their scores.)
CDE told Spotlight Schools earlier this month that it planned to release the statewide data to coincide with an upgrade to its California Schools Dashboard sometime before December.
EdSource questioned the timing of that release date saying it would happen after the November 8 election, meaning the results "won't surface as an election year issue – both for local school board races and for State Superintendent of Public Instruction Tony Thurmond, who runs the California Department of Education and is facing re-election this year."
But in an email this week, the CDE confirmed the shift saying "that the statewide public release will occur sometime in October."
Supt. warns of potential decline in students' scores
A lot of attention is being paid to these test scores. Last school year marked the first required administration of statewide testing in California since the pre-pandemic 2018-19 school year. Testing took place in May of 2022 for 3rd through 8th and 11th graders and measured students' knowledge of math and English language arts/literacy.
So far, other test results have shown that American students suffered learning losses following disruptions to education during the Covid-19 pandemic.
The National Assessment of Educational Progress (NAEP) benchmark tests for the nation's nine-year-olds reported an average 5 point dip in reading scores and a 7 point drop in mathematics scores compared to 2020.
"This is the largest average score decline in reading since 1990, and the first ever score decline in mathematics," reads the National Center for Education Statistics website which administered the NAEP test.
Los Alamitos Unified School District Superintendent Andrew Pulver, Ed.D, said we could see a similar decline here during his speech at the State of the District on Sept. 23.
"From conversations [I've had] with other superintendents as well, they share they see similar trends in their own data. We have as well," Pulver said and continued, "So we cannot be immune to the fact that what happened during the pandemic and our staff did their very best job."
Ian Hanigan, spokesman for the Orange County Department of Education, said the county is ready to respond to the results when they are officially released.
"We look forward to conducting a thorough analysis of Orange County's data and collaborating with educational leaders at all levels to address any challenges while building on our core strengths," Hanigan wrote in part of an email message to Spotlight Schools.
Once released, the results will be posted on the state's test results reporting webpage and will give us more insight into how the pandemic has impacted students in Orange County.
'Forward Focused' theme touted at Los Alamitos Unified's State of the District
Supt. says students shouldn't have to choose between 'doing well and being well'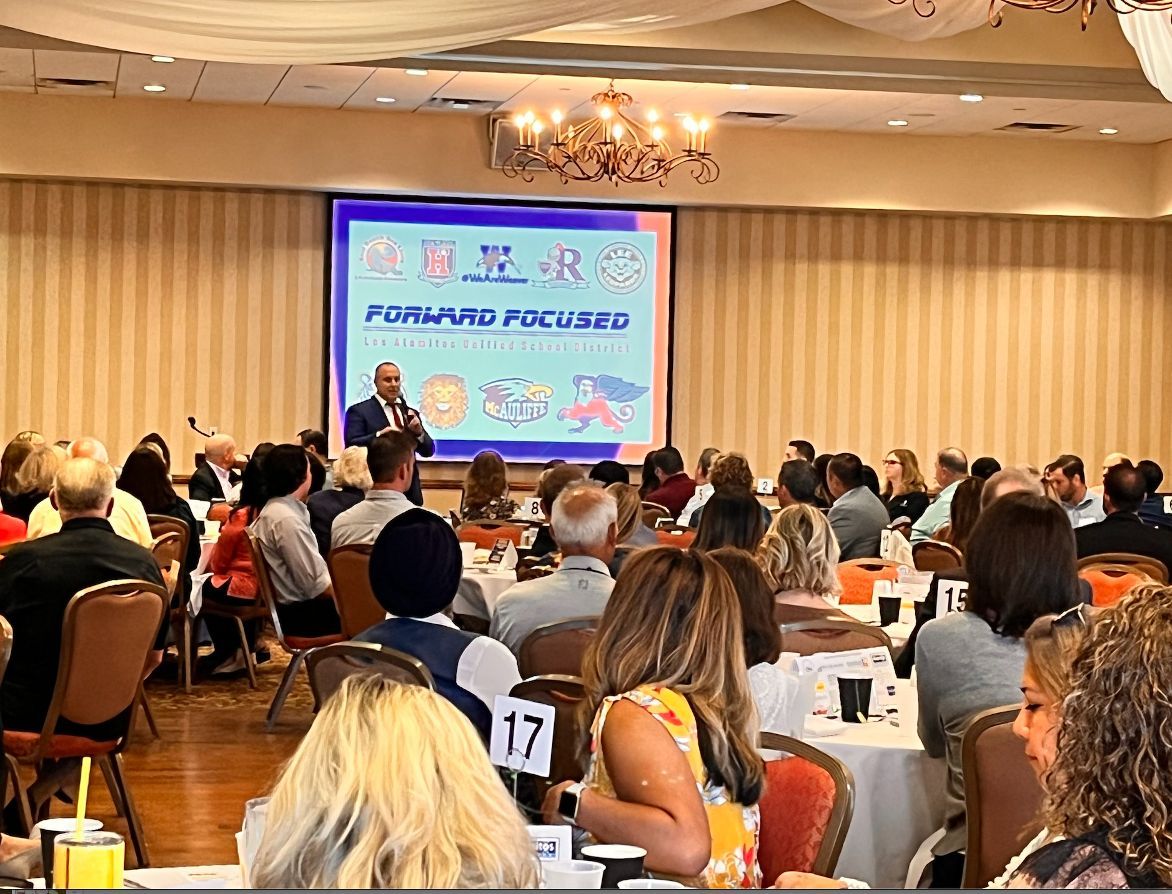 Los Alamitos USD Supt. Andrew Pulver, Ed.D., speaks during the annual State of the District held Sept. 23. Photo by Jeannette Andruss.
In an hour-long State of the District address on September 23, the superintendent of the Los Alamitos Unified School District painted a picture of a changing school system that is responding to a rapidly evolving educational environment to create better outcomes for the 9,000 students at its nine campuses across Los Alamitos, Rossmoor, and Seal Beach.
"We've been very cautious to not want to necessarily change," Andrew Pulver, Ed.D., said to a room packed with educators, parents, administrators, and school district partners.
"But as we look at the last few years, as we've come out of this pandemic, we also know it is critical that we be forward focused and that our kids remain forward focused," said Pulver.
Students' growing mental health needs and a focus on social and emotional programs have become a major factor in education, he said, and the district simply must adapt.
"Our schools must work for all kids, not just some kids," said Pulver at the annual event which is sponsored by the district's nonprofit partner, the Los Alamitos Educational Foundation and was again held at On the Greens at the Navy Golf Course in Cypress.
Pulver noted that the district's hiring of the Stanford University-affiliated program Challenge Success has, among other suggestions, made it clear that "a solution is to really embrace a broader definition of success by transforming the student experience."
Challenge Success surveyed the district's 6 through 12 graders and found that 95% reported being sleep-deprived, 77% were experiencing stress-related health symptoms and 63% were constantly worried about academics.
"I think this is what we have to be about," the superintendent said. "We believe that all students are valued in their own interest. That they shouldn't have to choose between doing well and being well."
Pulver's metaphor for students' experiences was the weight of a glass full of water; his point illustrated in a video he shared.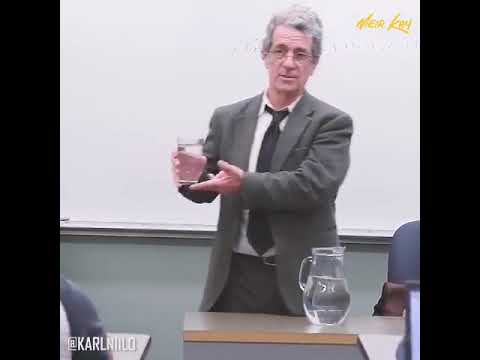 In the video, a man holding a glass full of water asks students in a classroom, "How much does it weigh?" At first, he said, there was no problem holding firm the glass of water with arm extended.
However, if one were forced to hold it for hours, like a full day, he said, the water-filled glass would soon feel heavier and heavier with each passing hour until the weight was no longer bearable.
Pulver then asked the audience to imagine a student with a stressor in their life that they were forced to hold inside without relief all day, every day. Pretty soon, the weight would impair their ability to learn.
"You can start thinking about the students [carrying burdens] all day long," he said, "you're paralyzed, incapable of doing anything."
"How do we put this glass down?," Pulver asked the crowd.
Recent changes in homework policy were an example of this new effort to help, said Pulver. The new policy adopted this past summer focused on balancing academic rigor with student wellness.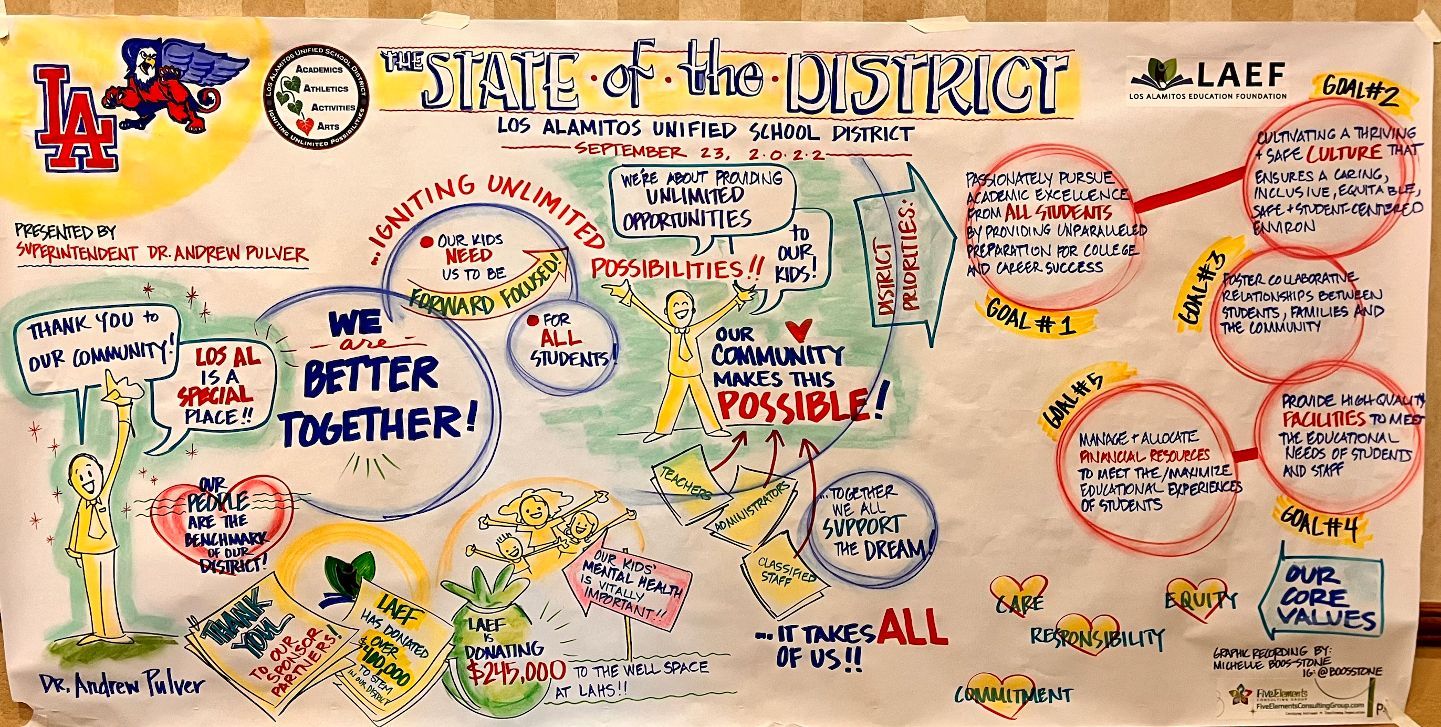 Pulver's speech is represented in an illustration by artist Michelle Boos-Stone. Photo by Jeannette Andruss.
"We have to get rid of this notion that we're all about the academics," said Pulver, saying "safe spaces" to learn will only elevate the district's standards of educational excellence, suggesting you can no longer have one without the other.
Students, he said, "are going to remember the connections they made with other kids, the connections they made with adults in the classroom. That's going to be their legacy."
"If we don't treat kids well, if we simply are all about wanting to be number one, and if being number one comes at the expense of kids being well, we have failed," said Pulver.
This story was written and reported by David N. Young. Read the entire story on the Spotlight Schools website here.
Los Alamitos football player T.A. Cunningham cleared to play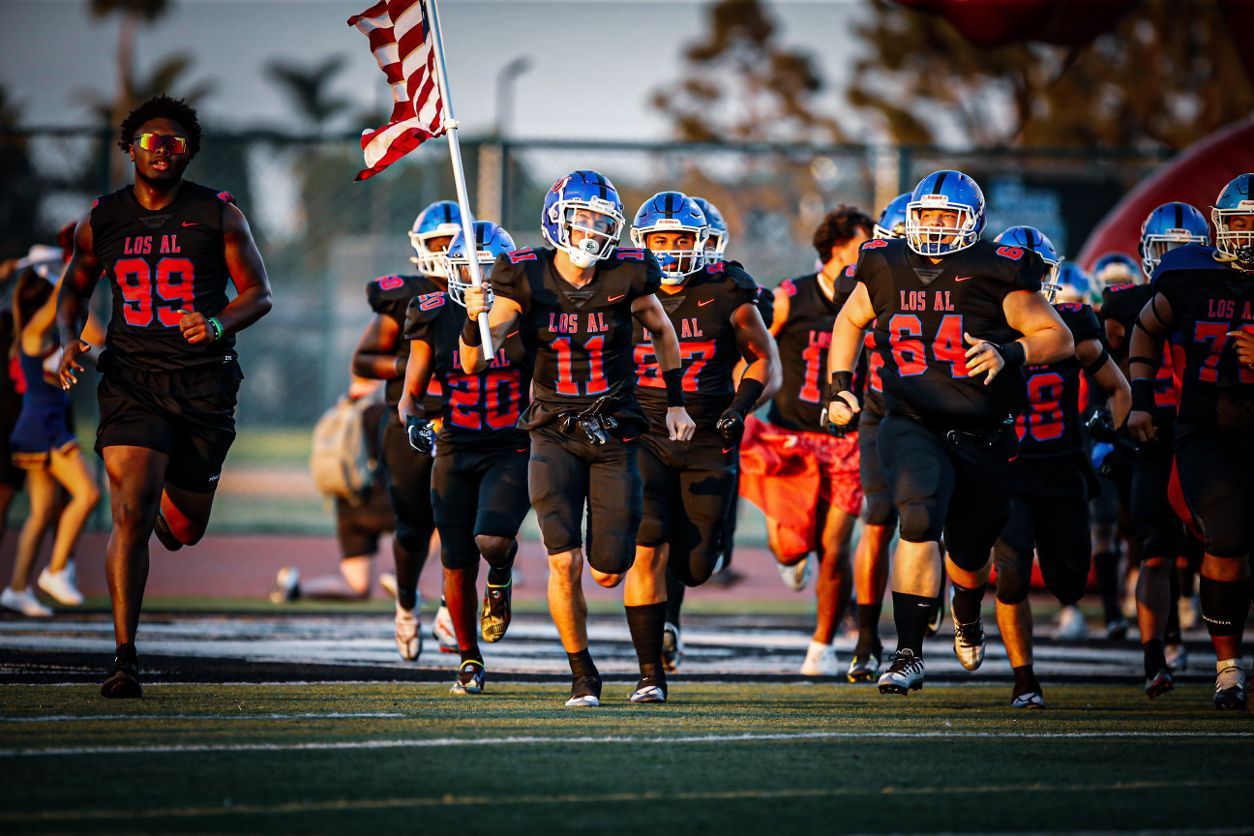 After weeks of legal wrangling, #99 T.A. Cunningham has been cleared to play varsity football for Los Alamitos High School. Photo Marja Bene.
The highly anticipated debut of high school football player T.A. Cunningham has finally arrived, as he will make his first appearance this season after being released by CIF-SS.
Alex Cunningham, also known as "T.A." is a 6-foot-6, 268-pound junior defensive end at Los Alamitos High School that moved to California this summer under some very complicated circumstances.
He played his freshman and sophomore years at Johns Creek High School, a suburb located northeast of Atlanta, Georgia. He was so dominant, he has already accumulated more than 50 scholarship offers from schools such as Florida State, Alabama, Georgia, and USC.
After relocating to California, Cunningham completed his transfer paperwork to attend Los Alamitos High School and play football. However, CIF bylaw 207(B)(5)b(ix) states: "The Sit Out Period will be 50% of the total number of days in that particular season of sport. The number of days in a season is determined by each Section in accordance with their first allowable competition date through the final regular season competition date. If the total number of days in a season is an odd number, then the Sit Out Period would be 50% plus one additional day."
Given the CIF regulation, Cunningham applied for a hardship waiver to enable him to play immediately. However, CIF denied Cunningham's request and stated he could play junior varsity football in 2022, but would not be cleared to play varsity football until 2023.
Cunningham retained the services of litigation attorney Michael Caspino, who filed for an injunction against CIF-SS and CIF State to declare Cunningham immediately eligible. Judge Layne Melzer denied the request and stated that CIF had until Sept. 27 to complete their investigation.
On Sept. 26 Cunningham was notified that he was cleared to play, making him eligible for the Griffin's next game. Cunningham released a statement via social media, "THEY CLEARED 99!!!", #99 being Cunningham's jersey number.
The Los Alamitos Griffins will be at Newport Harbor High School on Friday, Sept. 30 at 7p.m. if you would like to see Cunningham play for yourself.
This article was written and reported by Michael Claborn. Claborn is the Chief of the Los Alamitos Police Department and a self-described football fanatic. He's agreed to give readers of Spotlight Schools a sideline view of the high school football season.
📩 Forwarded from a friend? Subscribe to the FREE Spotlight Schools newsletter here.
Other Stories We're Reading
📌 For the record: Due to an editing error in this section in last week's newsletter, the surname of the newest O.C. Board of Education trustee was misspelled. It is Jorge Valdes, not Valdez.
EXTRA CREDIT
Meetings // Events // Opportunities // Resources
MEETINGS
SPECIAL EDUCATION MEETINGS: The Los Alamitos USD is hosting campus-specific ZOOM meetings for parents interested in learning more about Special Education programs. See list below.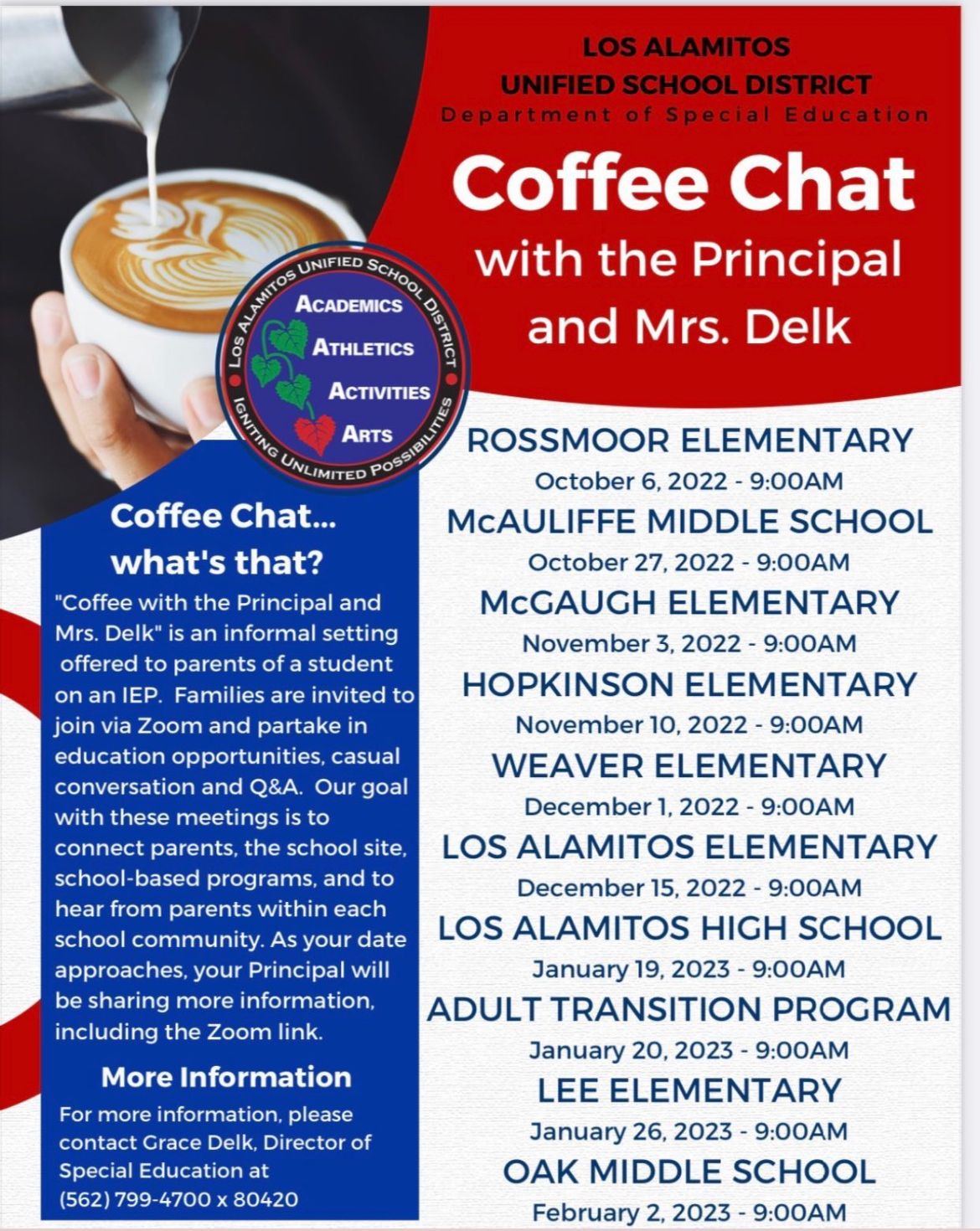 EVENTS
HAPPENING TOMORROW: California State Superintendent Tony Thurmond is hosting a virtual Parent Town Hall tomorrow. Parents are invited to share their concerns. You can watch it live tomorrow from 6-7:30p.m. on the California Department of Education's Facebook page. Learn more here.
HAPPENING THURSDAY, SEPT. 29: The Westminster School District is celebrating its 150th anniversary and the public is invited to attend an event at district headquarters starting at 5 p.m. Details here.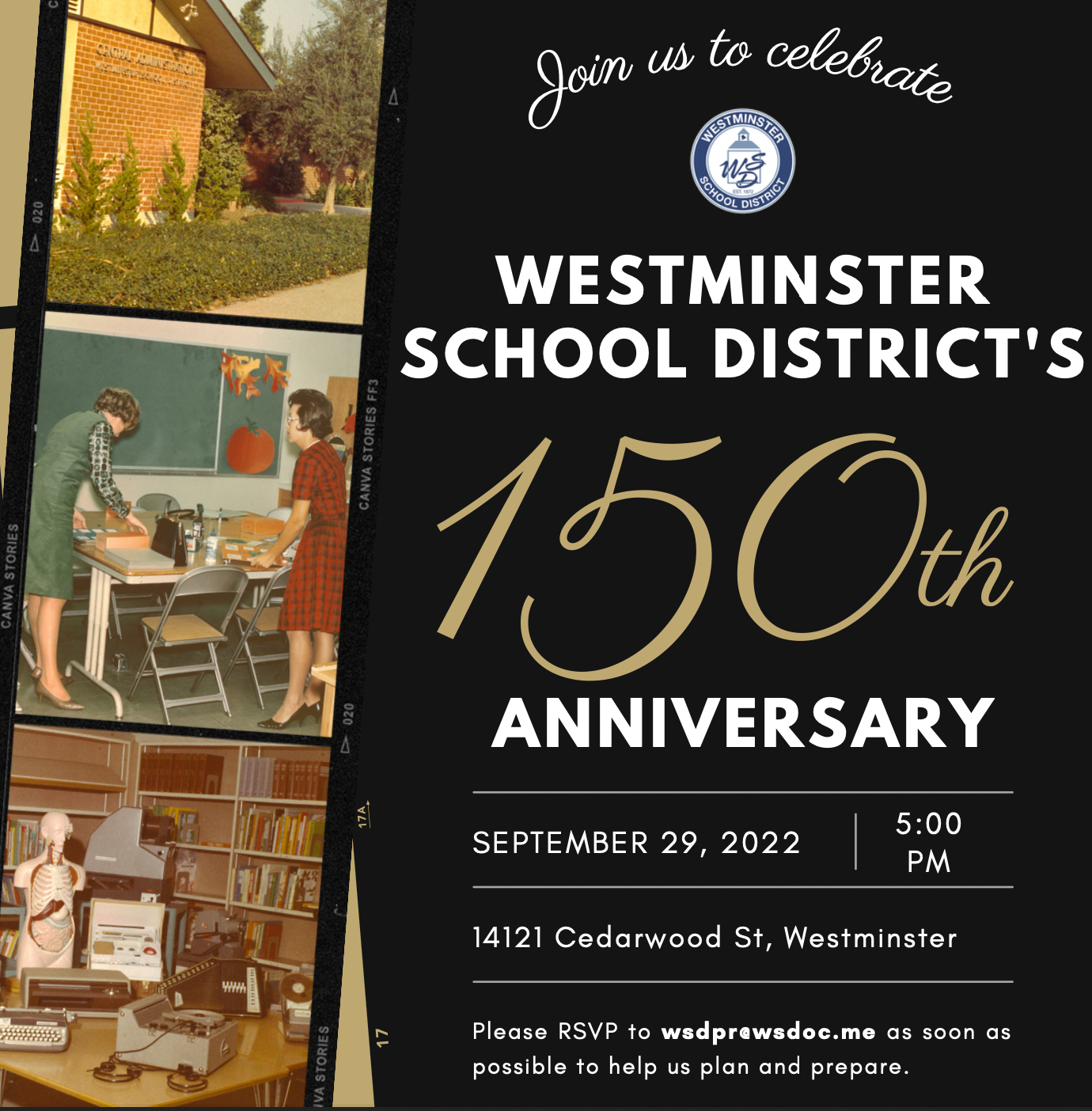 RECESS
Your Dose of Good News
Delicious lesson brings math to life for Weaver Elementary students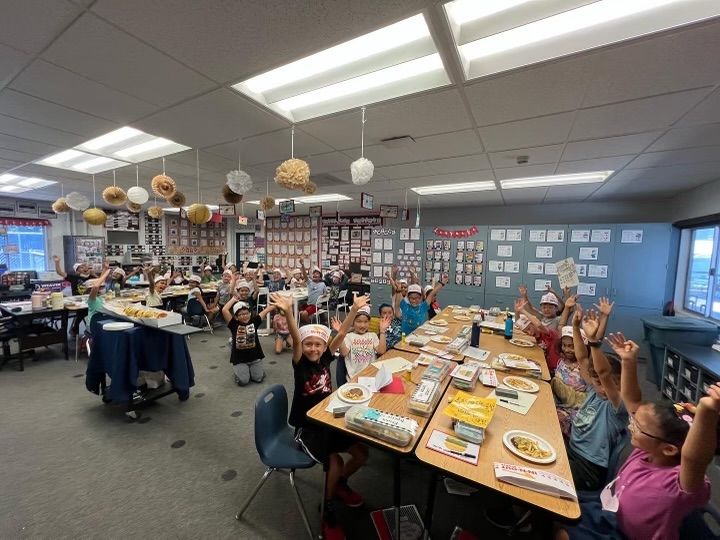 Third graders in Christine Nguyen's math class at Weaver Elementary eat part of a 100x100 burger from In-N-Out after completing a lesson where they were challenged to figure out the cost and calorie counts for items on the fast-food chain's secret menu. Courtesy photo.
The third graders in Christine Nguyen's math class at Jack L. Weaver Elementary school were hungry for a challenge. Fortunately, Nguyen had the perfect lesson to satisfy their appetites and probably give them food for thought for a lifetime.
"I want students to see the real-world connections and importance of math in our everyday lives," Nguyen said in a recent phone interview. She's spent twelve of her sixteen years teaching at Weaver located in Rossmoor.
Perhaps her most mouth-watering math lessons are the ones she's been teaching for years that are focused on In-N-Out burgers. Earlier this month, Nguyen told her students about the iconic fast-food chain's so-called secret menu which features burgers of different sizes, including a 3x3 consisting of three meat patties and three slices of cheese on a bun. The kids were excited to learn this secret menu would be the basis of their math lesson.
"Students' eyes were wide open when I mentioned that we were going to do an In-N-Out investigation," Nguyen wrote in a message to Spotlight Schools.
Their delicious assignment was to figure out the cost and calories of different sized burgers including a 3x3, 20x20, and even a 100x100. They were given some of the information from the regular In-N-Out menu to figure it out.
"The challenge was to come up with two expressions or equations, one that would allow anyone to find the cost of any sized burger and one that would allow anyone to calculate the calories for any sized burger, the nxn," Nguyen explained.
An animated class got to work. "If you could have been there and seen their excitement and felt the buzz in the classroom … they did not want to stop," Nguyen said, sharing that the students were working together and encouraging one another. "It was so rich. They were all talking about different observations, different patterns."
When math class was due to end, the students made the unexpected request to not be told the answers. "They didn't want me to give them any clues. They wanted to discover it on their own," Nguyen said.
Fueled by the students' love for the lesson, Nguyen stretched the In-N-Out investigation into three sessions. But she had an idea to add something new this year. With the past two years of Covid-19 restrictions and rules on her mind, she thought it would be extra special to get a real 100x100 burger into the classroom.
"You know what, I want them to be able to see it because how memorable and how cool would that be?," Nguyen recalled thinking at the time.
🍔 To find out how Nguyen got the 100x100 burger, read the entire story on the Spotlight Schools website by clicking here.
One more thing....
ICYMI: 🥶 See the staff at McAuliffe Middle School take part in the ice bucket challenge as a reward for their recent FUNdraiser!
Thanks for reading!
Forwarded from a friend? Subscribe to the Spotlight Schools newsletter here.
Follow us on Instagram @SpotlightSchools.
Our mailing address:
P.O. Box 164
Seal Beach, CA 90740

Copyright © 2022 Spotlight Schools, All rights reserved.