Retiring principal, school board & others honored by PTA; O.C. kids are dying from drug overdoses. What you can do to prevent drug abuse. Plus, student-made rainbow appears at LAE.
What's on tonight's agenda for the Los Al USD school board meeting; Enrollment in public school drops across CA; Plus, the LAHS Drama program shines at thespian festival
What's on tonight's agenda for the Los Al USD school board meeting; Enrollment in public school drops across CA; Plus, the LAHS Drama program shines at thespian festival

In this week's newsletter...
April 12, 2022
FIRST BELL 🔔School board members, retiring principal, students and others honored with 2022 PTA Council awards.
SECOND BELL 🔔More kids in O.C. are overdosing on fentanyl. We have tips and resources for preventing student drug abuse.
EXTRA CREDIT 📌Find out what's happening at today's Los Alamitos USD Board of Education workshop & meeting.
RECESS 👏🏼Los Alamitos High School Drama students wow at state festival.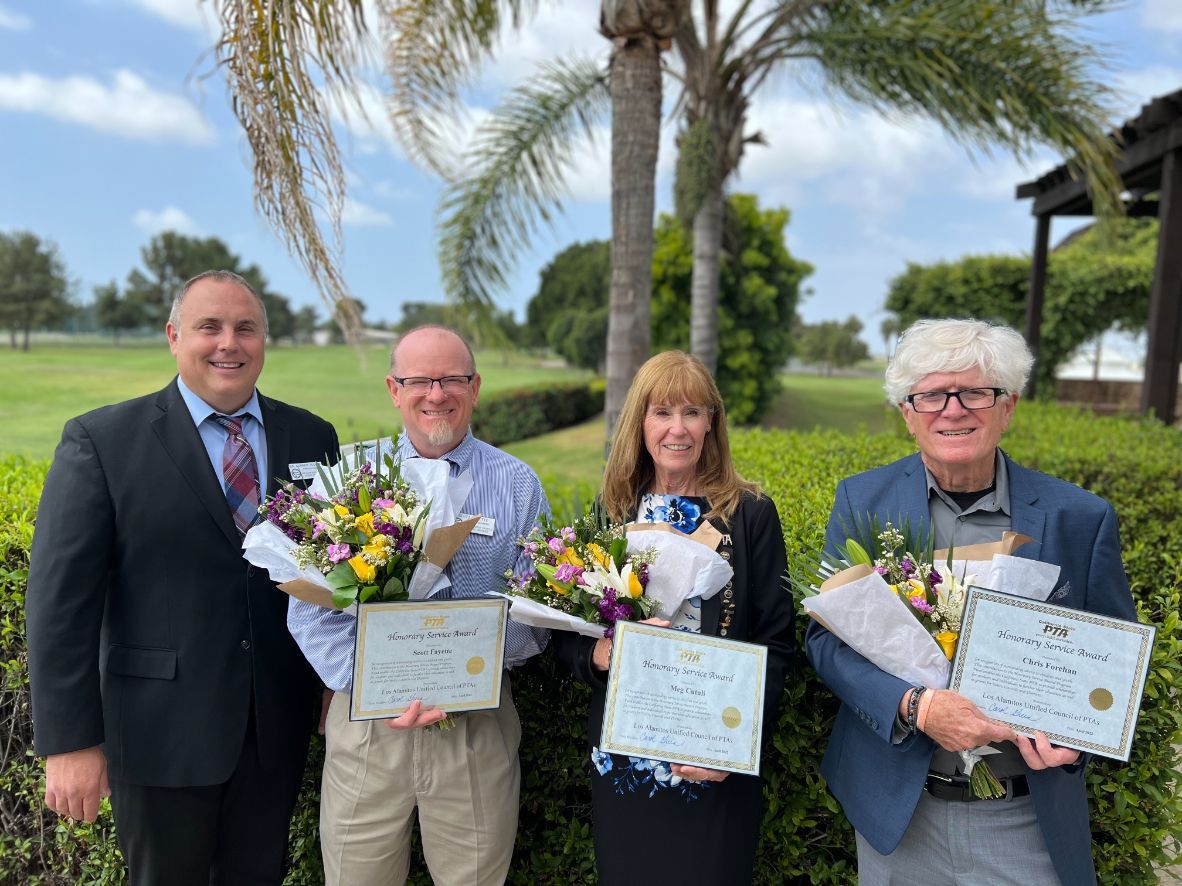 Los Alamitos Unified School District Supt. Andrew Pulver, far left, with Board of Education members Scott Fayette, Megan Cutuli and Vice President Chris Forehan after the trustees received PTA Council Honorary Service Awards for their 'hard work and perseverance' during the Covid-19 pandemic. Courtesy photo.
Spotlight Schools is here to help you better understand, navigate and participate in the TK-12 public school experience in Orange County.
Editor's Note: No newsletter during Spring Break. School is out next week for the Los Alamitos Unified School District and the Spotlight Schools newsletter will take the week off.
Be sure to follow us on Instagram for news and updates.
Please send feedback/story ideas/questions to hello@spotlightschools.com.
Yours in knowledge,
Jeannette Andruss, Spotlight Schools Founder and parent of two students in the Los Alamitos Unified School District
FIRST BELL
This Week's Top Story
Board of Education Members, Retiring Principal Honored in PTA Awards Ceremony
All five members of the Los Alamitos Unified School District Board of Education, retiring Oak Middle School Principal Erin Kominsky, and four Los Alamitos High School seniors were among honorees at an awards breakfast yesterday.
On April 11, the Los Alamitos Unified School District Council PTA held its Honorary Service Awards Breakfast for the first time since 2019. In-person events were not held in 2020 or 2021 because of the ongoing Covid-19 pandemic.
The event at On the Greens at the Navy Golf Course in Cypress brought together parents, staff and administrators from all nine of the district's campuses to honor recipients of awards from the past few years. Among those recognized for various awards are PTA volunteers, community members, staff, teachers, local businesses and nonprofit organizations.
A program listed award recipients from 2019-2022 and the following awards were announced at the breakfast.
Retiring Principal Receives Top Honor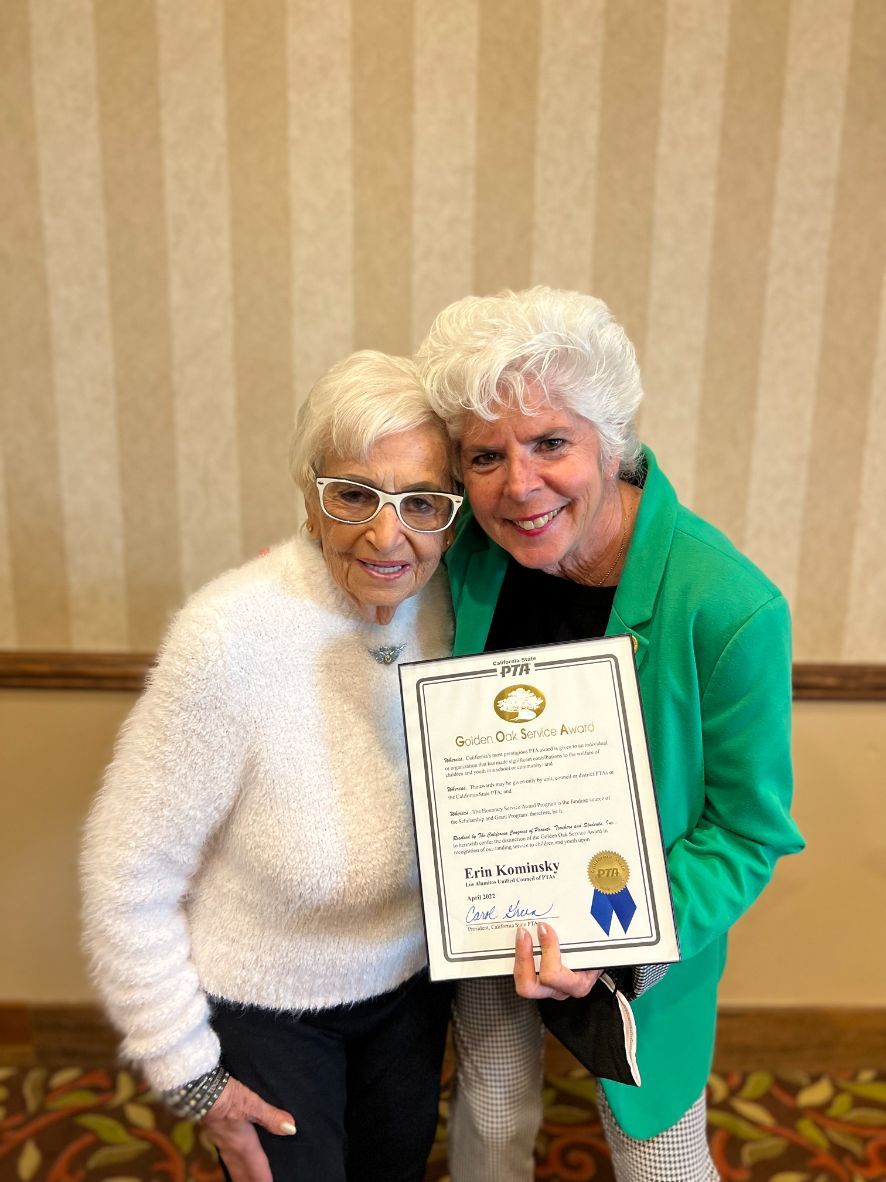 Retiring Oak Middle School Principal Erin Kominsky poses with her mother after receiving the Golden Oak Service Award at the PTA Council awards breakfast on April 11.Courtesy photo.
Oak Middle School principal Erin Kominsky earned the Golden Oak Service Award, described as the "most prestigious" of the Honorary Service Awards bestowed by PTA.
"The love and joy she has poured into her job is so clearly evident and has had such a positive impact on all of us," PTA Council President Jennifer Steece told attendees.
In a letter sent to Oak Families on March 23, Kominsky announced that after 38 years in education, 27 of them in Los Alamitos USD, she will retire on June 30 to spend more time with her family.
At Monday's breakfast, Kominsky pointed to former Los Alamitos High School principal Gregg Stone who was in the room as inspiration, calling him her "idol."
"I hope that I can come back and do it like you after I retire because I just can't imagine my life without this work," she said.
Kominsky was previously principal at Weaver Elementary and was named a National Distinguished Principal of the Year in 2012.
Also receiving the Golden Oak Service Award, longtime PTA parent volunteer Kara Cruz.
Board of Education Recognized for Pandemic Response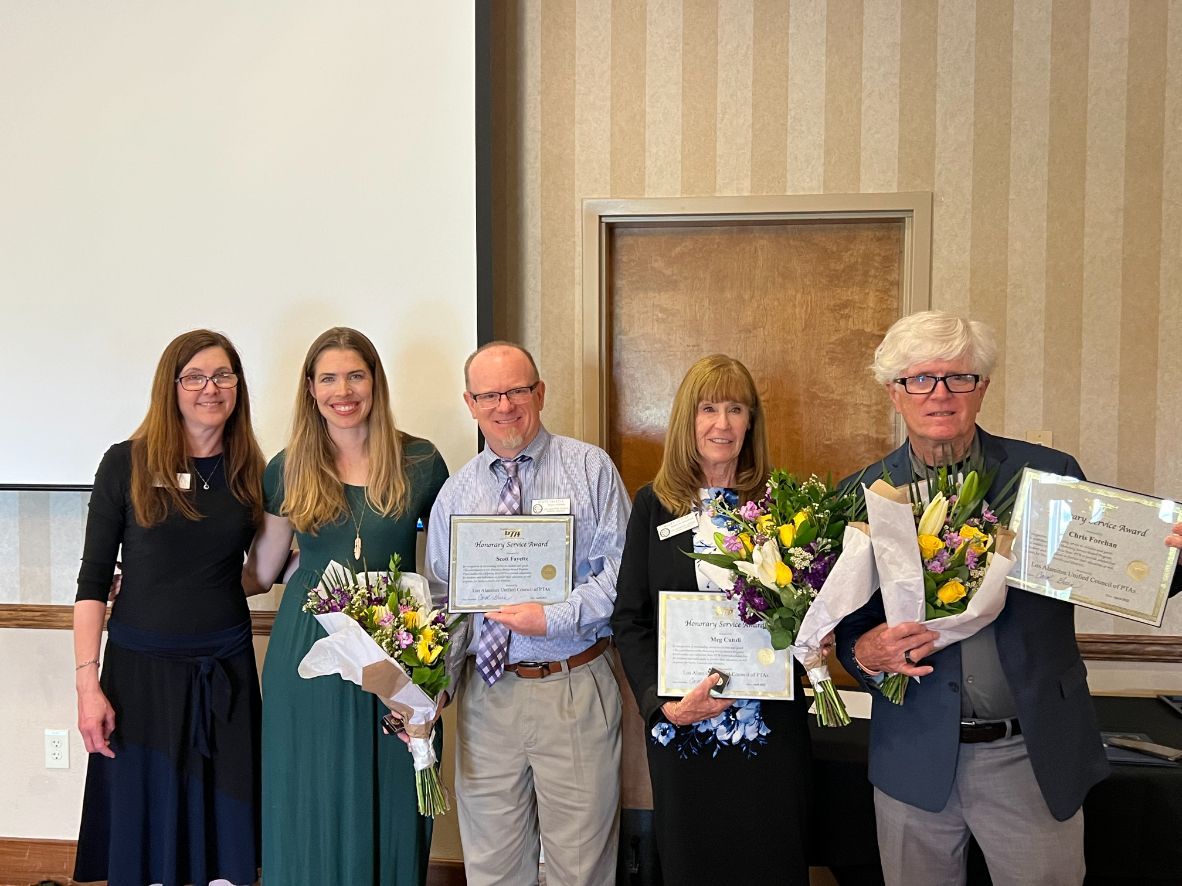 From left to right: Council PTA Executive Board members Janet Murphy and Jennifer Steece. Board of Education trustees Scott Fayette, Megan Cutuli and Chris Forehan. Courtesy photo.
Citing their work during the last two years of "unprecedented and extremely challenging times," the five trustees of the Los Al USD Board of Education were given Honorary Service Awards. The award is for "outstanding service to children and youth in your community, going above and beyond what is asked of them."
Vice President Chris Forehan, Megan Cutuli and Scott Fayette were there to accept the honor. Board President Diana Hill and Marlys Davidson were not able to attend.
"The Los Alamitos School District has led the way in Orange County and in the state in keeping children, teachers and staff members safe while giving families quality educational options. It has taken a very dedicated group of leaders to guide us through all of the changes we have endured. In addition to dealing with the effects of the pandemic, our district has also been at the forefront of education on diversity, equity and inclusion," PTA Council Parliamentarian Janet Murphy said.
"Well, I'm shocked," Forehan said when accepting the honor saying he appreciated the recognition for his work since being elected in 2020. "I tell everybody I find an ounce of happiness every day and so today, because boy, it's been tough."
School board meetings have become heated over the past two years. Public comments reflect a community divided over the district following state-mandated Covid-19 safety protocols as well as the board's adoption of social justice standards and an ethnic studies elective at the high school. In 2021, at least two meetings were moved online over safety concerns.
While some parents praise the district, parents and community members in a vocal opposition group regularly lob personal attacks at administrators and board members at meetings. Tensions reached a boiling point last November after then-president Davidson was heard cursing under her breath at a critical parent during public comment. Davidson publicly apologized.
Forehan, Cutuli and Fayette were targeted in a failed recall effort last year. A nascent second recall effort is now targeting Fayette.
"It has been very challenging," Cutuli said after thanking everyone for the honor. Cutuli stressed that there is a lot of joy in the job she said was about delivering "the best education for every single one of our kids."
She said the board does get emails "saying thanks for what you're doing, you're doing a good job, not everyone is mad at you…"
Fayette also expressed gratitude when accepting the award. "Thank you so much for all that you do and know that you're greatly and deeply appreciated by myself and everyone at the district," he told attendees.
The Youth Center Executive Director/CEO Lina Lumme also received an Honorary Service Award for her many years supporting children in the community.
"Our school district is amazing," Lumme told the audience. "It's really easy to raise our kids in this community and just thrive so thank you so much."
Students Receive Scholarships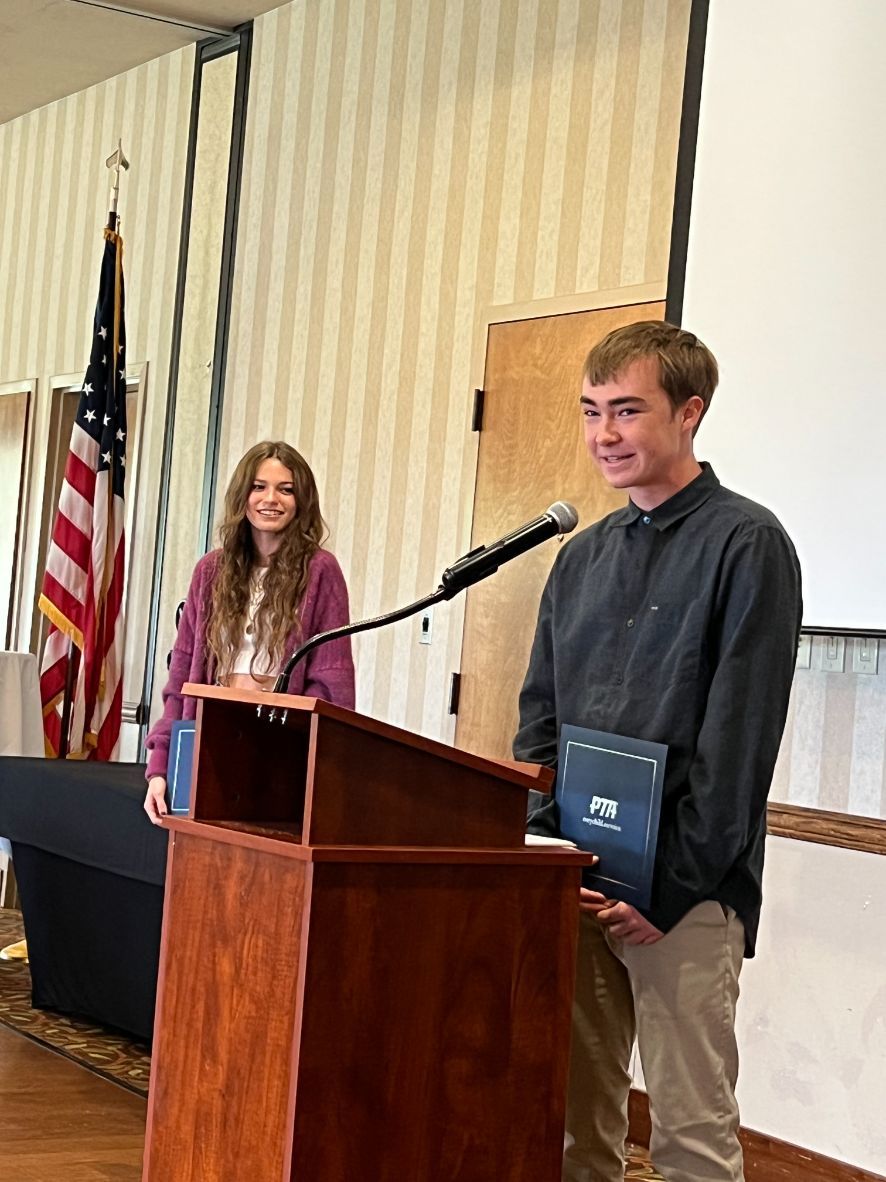 Los Alamitos High School senior Luke Goldade speaks as fellow senior Savannah Smith looks on. The students are among four that received a $500 PTA Council Scholarship. Courtesy photo.
Four Los Alamitos High School seniors received $500 PTA Council Scholarships including: Summer Drake, Luke Goldade, Katelyn Loh and Savannah Smith.
Savannah and Luke were at the breakfast and both thanked the PTA Council for the scholarship. Savannah said she would use it toward expenses when she attends UC Berkeley next year as a student in the College of Chemistry.
Luke is deciding between UC Berkeley, UC Irvine and Cal Poly San Luis Obispo for where to pursue a mechanical engineering degree.
The breakfast concluded with a lively performance by the award-winning Los Alamitos High School show choir Soundtrax.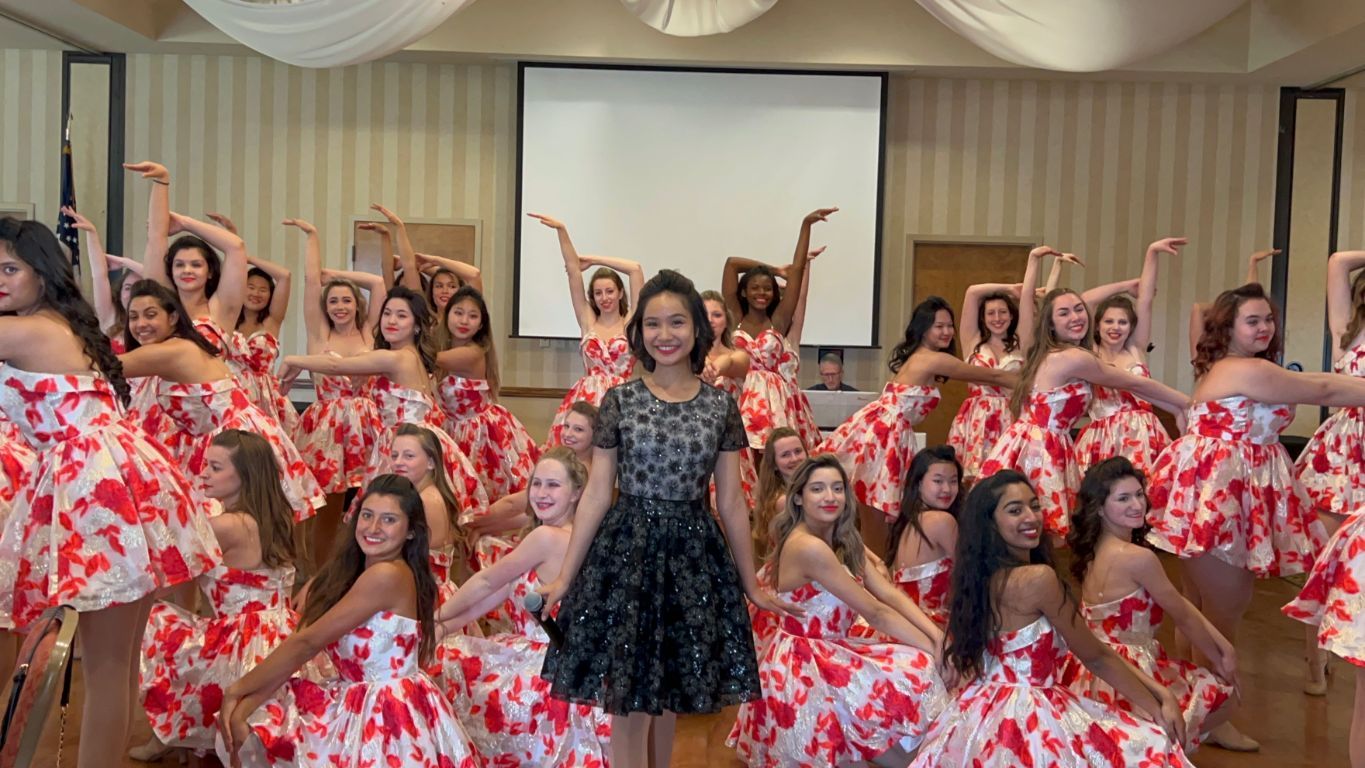 Los Alamitos High School Show Choir Soundtrax performs at the PTA Council Honorary Service Awards breakfast on April 11. Courtesy photo.
SECOND BELL
Other Stories We're Following
Drug-Abuse Prevention Resources and Programs
Last month, Orange County leaders shared that poisonings from the synthetic opioid fentanyl are the leading cause of death for children 17-years-old and younger, reports CBSLA.
"Fentanyl poisoning is real … and it's leaving a lot of people without their kids," Orange County mother Amy Neville said in a video from the O.C. Sheriff's Department that tells the story of her son's death in 2020.
Fourteen-year-old Alexander Neville died after taking one pill he bought on social media that turned out to contain enough fentanyl to kill three people, his mother said.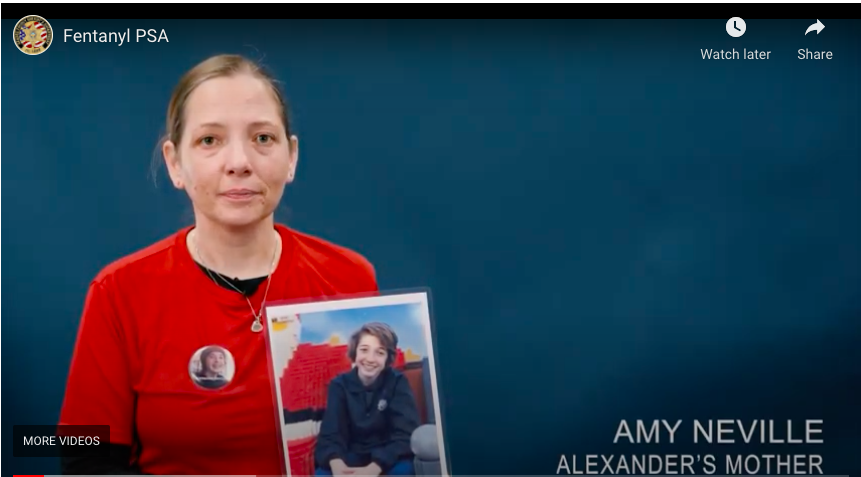 Orange County mother Amy Neville discusses her 14-year-old son's death in 2020 from fentanyl poisoning.
What can parents and guardians do to prevent tragedies like this?
Parents in the Los Alamitos Unified School District are being offered expert advice through free workshops. In addition, the district offers resources to help prevent, identify and treat drug and alcohol use among students.
Parent Education Workshops
The district, in conjunction with the Orange County Health Care Agency, "Alcohol Drug Education and Prevention Team" (ADEPT) has hosted two in-person workshops for parents and guardians, discussing how to support today's students in helping prevent high-risk behaviors.
The final workshop is set for Monday, April 25 at McAuliffe Middle School from 6 to 7 p.m.
The most recent free workshop was held at Oak Middle School where parents and guardians were provided resources and tools to help and support families with challenges in an ever-changing world.
You can see the slides from the presentation here, including the final page that offers more resources.
One of the greatest gifts a parent can give their child is "time," said Health Educator Sherryl Ramos, with ADEPT. The importance of quality-time with children has a life-long impact.
"Recognize the major role a parent has in preventing youth substance use," said Ramos. "You matter because you can help your child or loved ones, avoid drugs and get them help if they need it."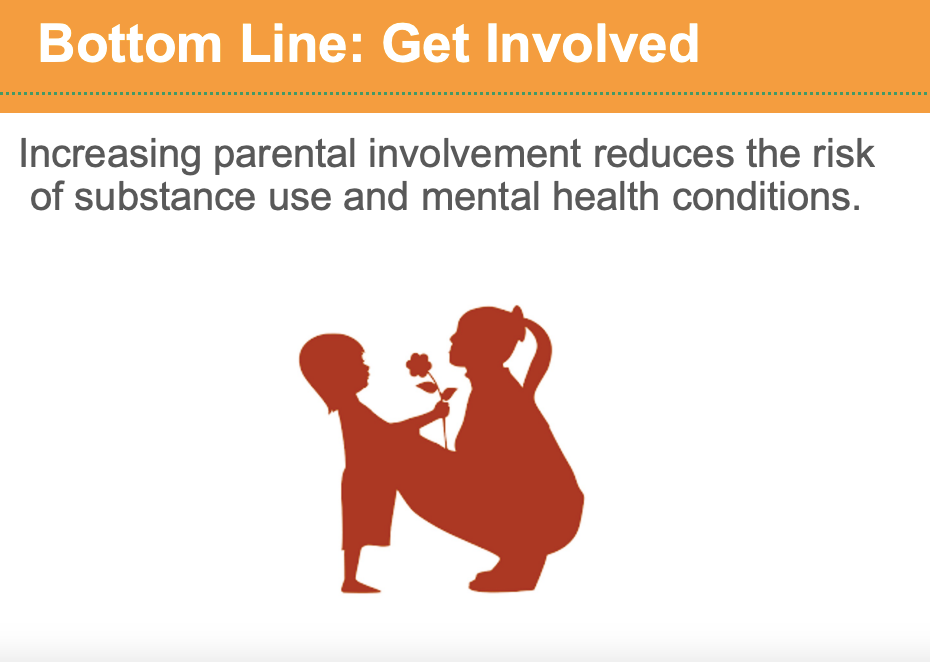 Holly, a high school teacher in a different school district, and a parent of three children, was in attendance because, "With drugs and alcohol, there are always new items that come along," she said, noting by attending the meeting, she was seeking new information. "In the past two-years, there have been massive changes with mental health and kids not being able to adjust to the changes and the environment."
Ramos emphasized that preventing drug and alcohol abuse in students now, means a better chance for a healthier future.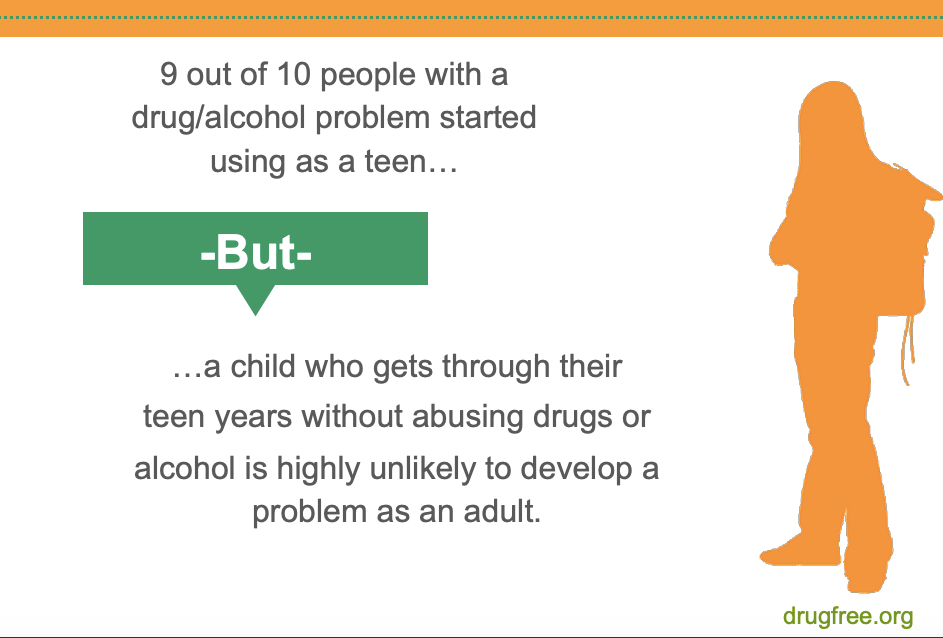 Another section discussed some of the possible reasons students start using drugs or alcohol. That includes stress at school, family problems or pressures, relationships and the transitions of fitting it and the availability of drugs/alcohol.
The presentation warns how prescription medication, especially opioids, can easily be abused by kids if they are found in the house.
Parents are advised to take inventory of medications, secure and lock medications to reduce access to them and destroy unwanted/expired medications.
There's increased danger with drugs sold online.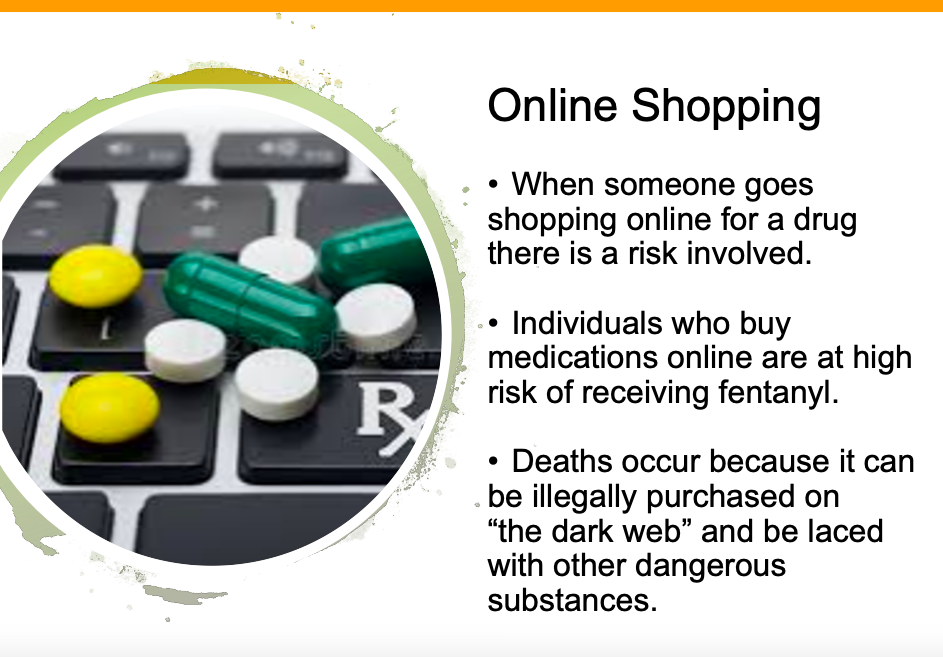 Again, the next workshop is April 25. For more information contact Dr. Jerry Friedman, Director of Safety and Student Services, at JFriedman@losal.org or (562) 799-4700 ext. 80411 or Pauline Stauder, ADEPT Program Supervisor, at Pstauder@ochca.com or 714-834-2094.
District Drug-Abuse Prevention Resources and Programs
At the March 22 Board of Education meeting, Board President Diana Hill discussed the district's numerous drug-abuse prevention programs.
Hill said the focus of most of the programs is on education, not punishment.
"We're looking to do this to be able to identify and then to be able to help those students be able to get to healthier places," Hill said.
RED RIBBON WEEK: In elementary schools, students participate in Red Ribbon Week, held the last week of October, to learn how to live a healthy, drug-free lifestyle.
RANDOM DRUG TESTING: Parents of middle and high school students can sign up their kids for free random drug testing. Screenings are conducted by trained professionals from California Youth Services. Positive results are only shared with the parents or guardians, who are also given referrals to resources.
CANINE DRUG DETECTION: At the middle and high schools, drug-detection dogs are brought onto campuses unannounced to detect any illicit substances.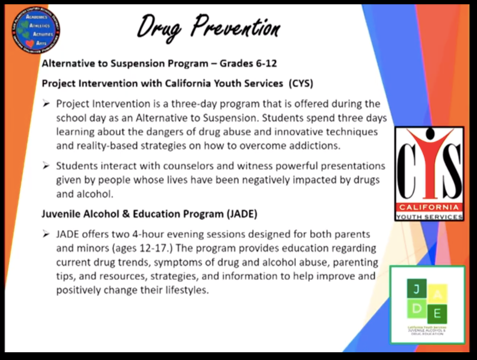 Slide shared at March 22 Board of Education meeting covering drug-abuse prevention programs in the district.
INTERVENTION PROGRAM: California Youth Services provides a 3-day Project Intervention program as an alternative to suspension for secondary school students. Students learn about the dangers of drug abuse, strategies for overcoming addiction and hear from people whose lives have been negatively impacted by drugs and alcohol.
EDUCATION PROGRAM: Juvenile Alcohol & Drug Education Program (JADE) offers two four-hour evening sessions for parents and children ages 12-17 for education on drug trends, symptoms of drug and alcohol abuse, parenting tips and more.
VAPE EDUCATION: The district also offers a VapeEducate program to help students avoid becoming hooked on vaping.
Loreen Berlin contributed reporting and writing to this story.
Schools Celebrate Diversity and Inclusion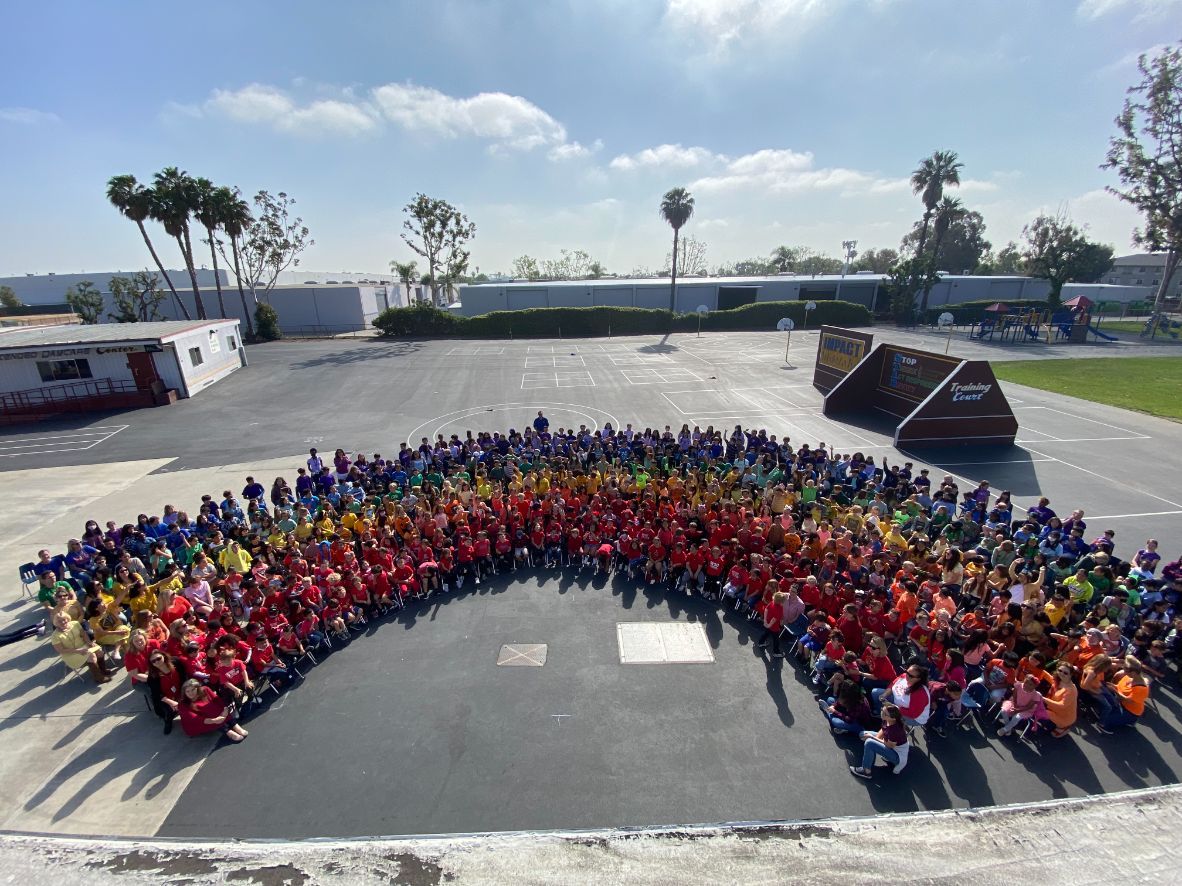 Students at Los Alamitos Elementary school come together to make a rainbow as part of Neurodiversity week. Courtesy photo.
Students at Los Alamitos Elementary and McAuliffe Middle school took part in activities to raise awareness about inclusion and diversity last week.
In part of LAE's Neurodiversity Week, each grade level wore the same color to come together and make a rainbow to showcase the "beauty in the diverse spectrum of the human mind!"
At McAuliffe, Abilities Awareness Week featured dress-up days and activities as part of the school's #McAuliffeInclusionRevolution.
See more from both campuses in the April 8 edition of the Los Al USD's weekly video The Wrap-Up.
Other Stories Worth Reading
EXTRA CREDIT
Meetings // Events // Opportunities // Resources
MEETINGS
HAPPENING TONIGHT: The Los Alamitos Unified School District Board of Education is scheduled to hold a workshop at 4:00p.m. and regular meeting at 6:30p.m.
Here's what's on the agenda for the workshop:
Weaver Elementary school will presentation to the board and give the "Hero of the Heart" award to Stacey Russell.
The district's supervisory employee of the year, Tiffany Penick, and the district's classified employee of the year, Armando Gomez, will be recognized.
The Orange County Superintendent of Schools, Al Mijares, PhD, will make an official presentation to Lee and Los Alamitos Elementary schools, both named 2021 National Blue Ribbon Schools.
You can watch the 4:00p.m. workshop on YouTube here.
Here's what's on the agenda for the 6:30p.m. meeting:
You can watch the 6:30p.m. meeting on YouTube here.
EVENTS
HAPPENING TONIGHT: Workshop on Facilitating Play, Fun and Friendships at 6:00p.m. This virtual workshop will support parents in learning key strategies and skills to build their child's play skills and to structure and facilitate successful play date experiences for their child and peers. RSVP to the Greater Anaheim SELPA office via Jennifer Cox: jcox@gaselpa.org. A Zoom link will be provided after registration.
HAPPENING TOMORROW, APRIL 13: The Well-Balanced Student presentation from 6-7p.m. at Los Alamitos High School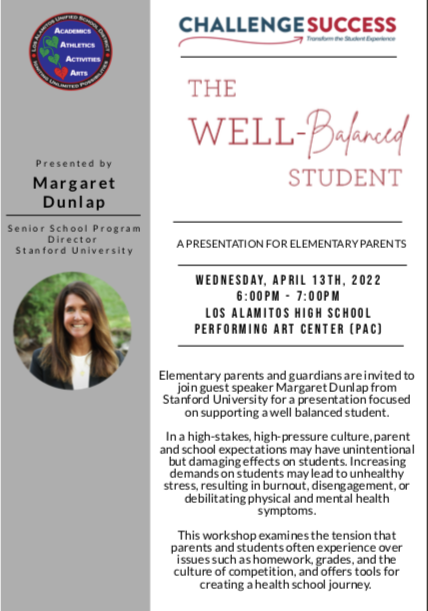 HAPPENING SATURDAY, APRIL 16: The Spring Carnival will feature four egg hunts, face painting, carnival games, bounce houses, photo area with Peter Rabbit and more.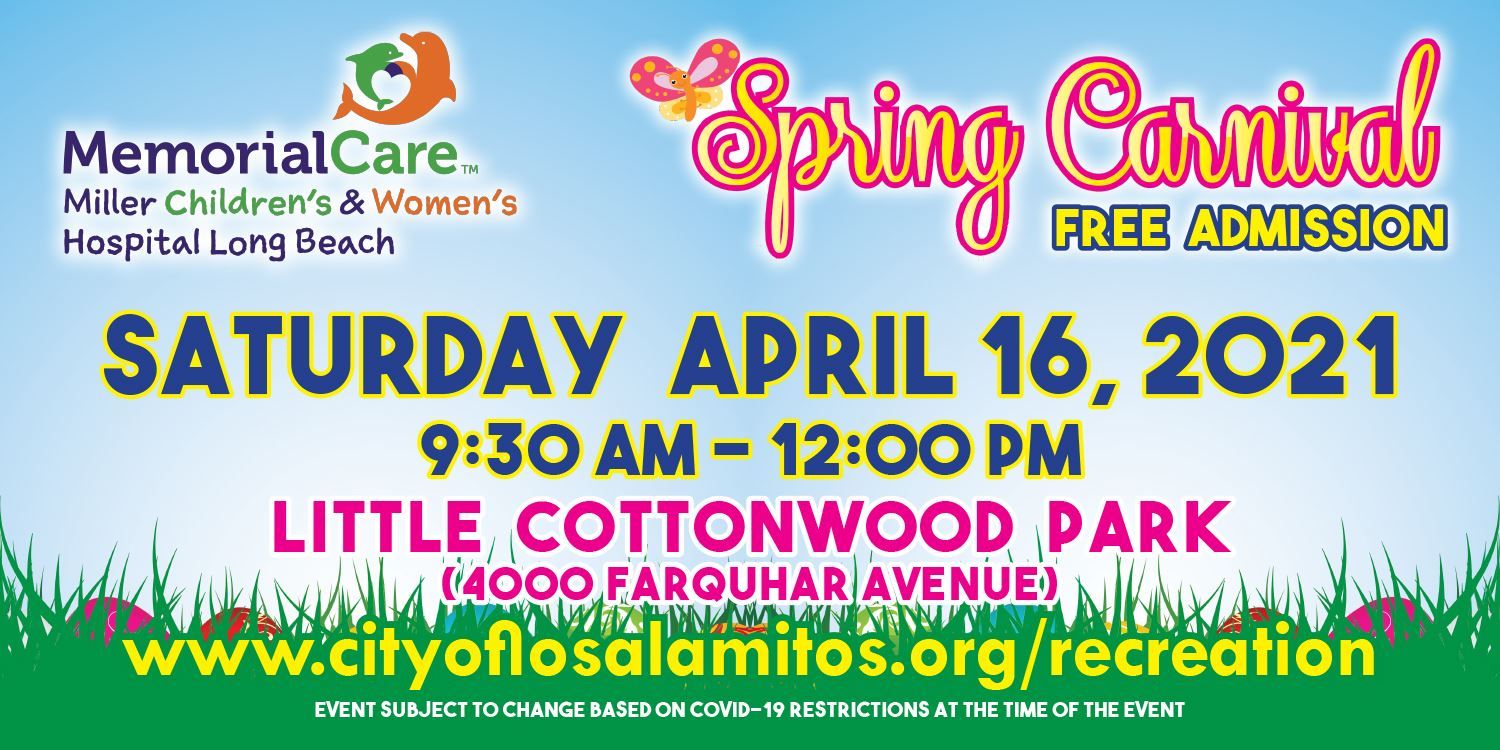 RESOURCES
ICYMI: Important dates for the 2022-23 and 2023-24 school years are now online on the district's calendar page.
RECESS
Your Dose of Good News
Los Alamitos High School Drama Program Wows at Thespian Fest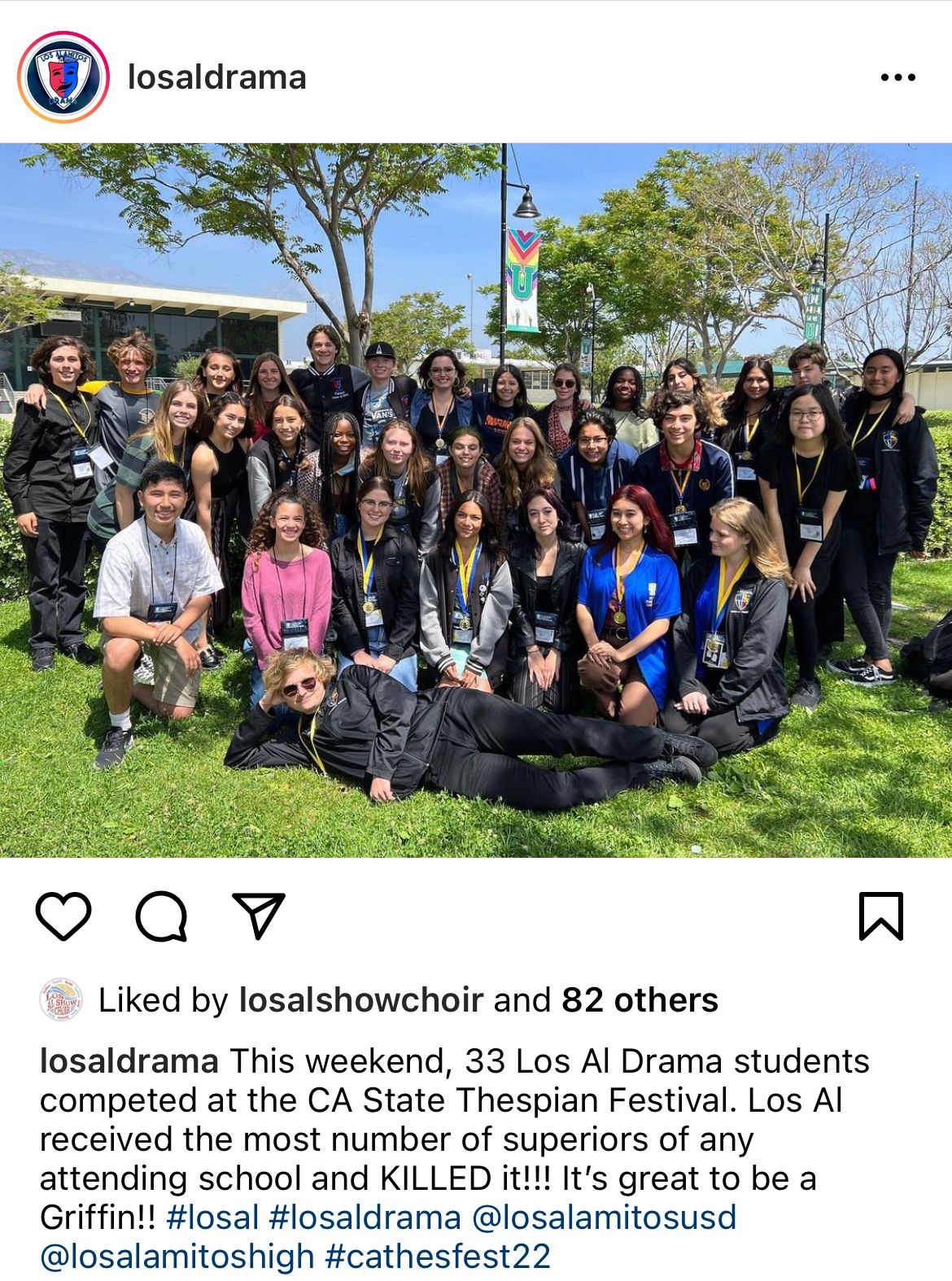 The Los Alamitos High School Drama program deserves more applause. A group of 33 drama students earned 21 "superiors," more than any other school attending last weekend's California State Thespian Festival, according to the program's Instagram page.
At the April 8-10 festival, 1200 students performed, took part in workshops, competed for scholarships and more.
The program also placed first place in Film. It had second place finishes in Duet Acting, Group Acting, Musical Theatre Dance, and Stage Management, and 3rd in Theatre Marketing.
Six Los Al students were selected to perform in the "All State Show" which featured a medley from the musical "Head Over Heels."
Student Sophie Littig earned an undergraduate scholarship, Best of Fest for Film and First Place in the state for Short Film.
You can find out more about the talented students on the drama program's Instagram page.
BOOSTER DOSE: LAHS Senior Brandon DeMarco collects another 1K books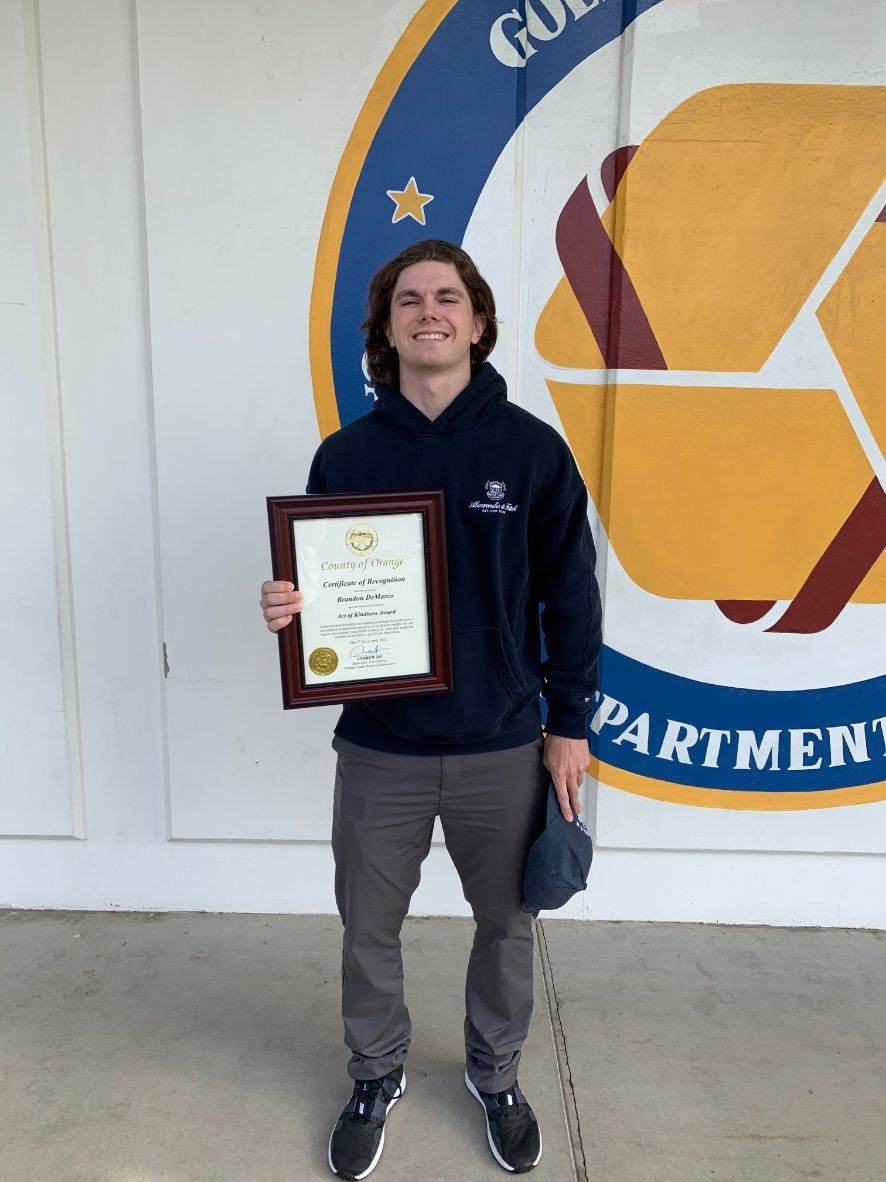 LAHS senior Brandon DeMarco received an Act of Kindness award from the office of O.C. Supervisor Andrew Do. Brandon was recognized for collecting and donating more than 1,000 books to an East L.A. school. He's now collecting books for another school. Courtesy photo.
You may remember Los Alamitos High School senior Brandon DeMarco collected more than 1,000 books which were donated to an elementary school in East Los Angeles.
Well now, he's at it again! In his latest effort, Brandon has already collected 1,296 books, breaking his previous record.
Brandon and his family in Rossmoor are collecting more books for the next week or so. They will be donated to 109th Street Elementary in Watts.
If you have any new or slightly used K-5 grade books you'd like to donate, email Rachael DeMarco at Rldemarco@aol.com
One last thing...Check out the student winners from The Youth Center's 10th Annual Ceremony for A Night Among the Stars.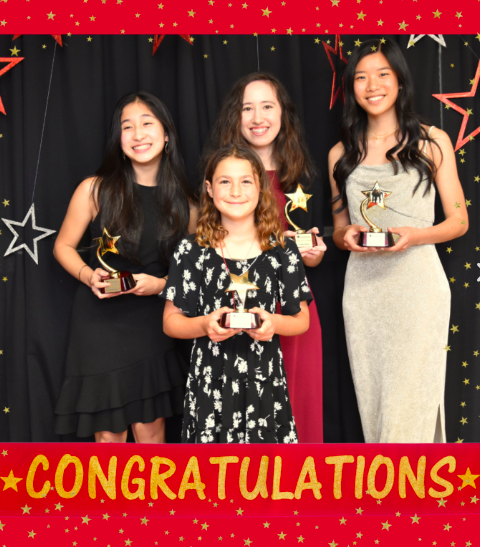 Thanks for reading!
Forwarded from a friend? Subscribe to the Spotlight Schools newsletter here.
Follow us on Instagram @SpotlightSchools.
Our mailing address:
P.O. Box 164
Seal Beach, CA 90740

Copyright © 2022 Spotlight Schools, All rights reserved.