What's an 'inappropriate' classroom display? O.C. Board of Ed weighing new policy 🤧 O.C. declares health emergencies as more kids hospitalized with RSV; 🚸 Crossing guard honored
🗳 The dynamics shaping races for Los Alamitos School Board 📰 Student journalism returns to Los Alamitos High School
🗳 The dynamics shaping races for Los Alamitos School Board 📰 Student journalism returns to Los Alamitos High School

Helping you better understand, navigate and participate in the TK-12 public school experience in Orange County.
In this week's newsletter...
November 2, 2022
FIRST BELL 🔔 🗳 Election 2022: The dynamics shaping the races for Los Alamitos School Board.
SECOND BELL 🔔 O.C. declares health emergencies over respiratory viruses as children's hospitals fill up. Plus, check out the rebooted student newspaper at Los Alamitos High School.
EXTRA CREDIT 📌 O.C. Board of Education to consider detailed new policy governing what can be displayed; discussed in schools it oversees.
RECESS 👏🏼 🚸 Crossing guard named school's 'Hero of the Heart."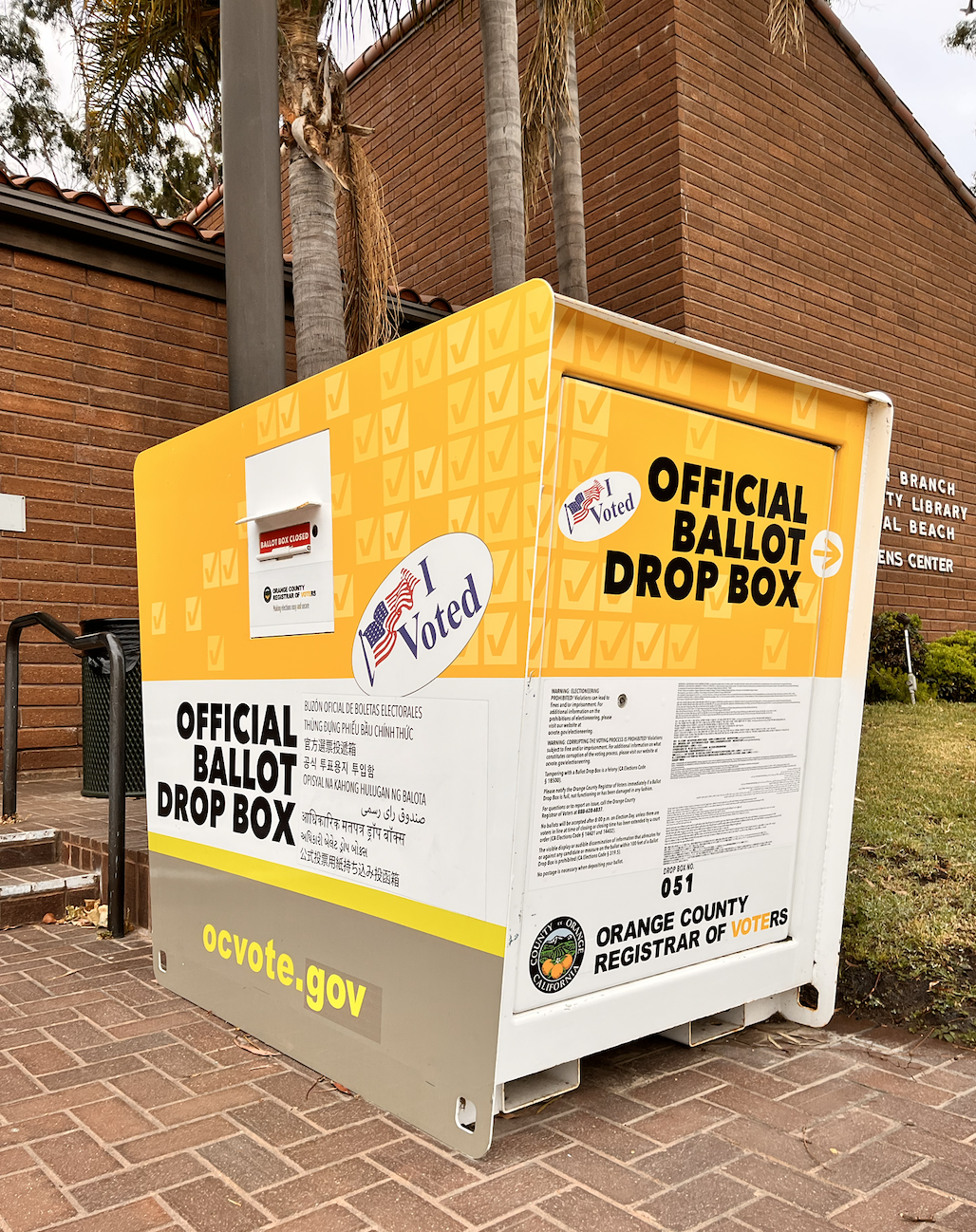 Orange County voters have less than one week to cast their ballots in the Nov. 8, 2022 General Election. Photo by Jeannette Andruss.
Spotlight Schools is a nonpartisan, hyperlocal newsroom covering education in Orange County and this is our weekly newsletter.
If you haven't signed up for our newsletter, click here. And be sure to visit the Spotlight Schools website to read more local education news, check out past editions of our newsletter, learn more about our newsroom and even become a supporter of our journalism. Follow us on Instagram and Twitter for news and updates.
Please send feedback/story ideas/questions to hello@spotlightschools.com.
Yours in knowledge,
Jeannette Andruss, Co-Founder and Chief Editorial Officer
FIRST BELL
This Week's Top Story
🗳 Election 2022: A look at the dynamics shaping the races for the Los Alamitos USD School Board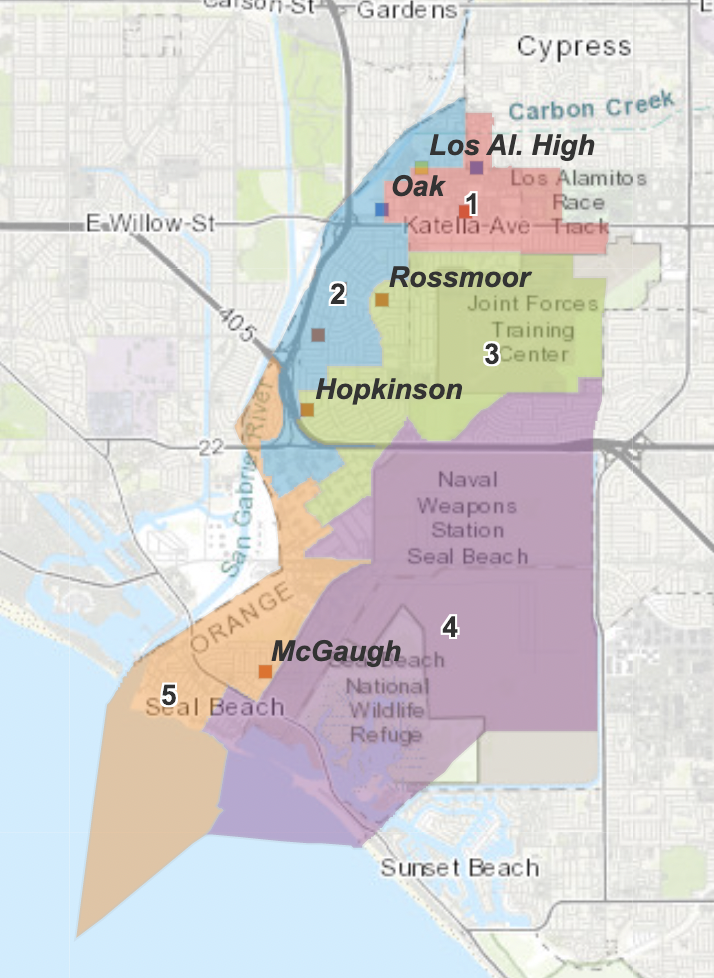 A map of the Trustee Areas for the Los Alamitos Unified School District Board of Education. For the first time, seats for Trustee Areas 1 and 3 are on the ballot. Courtesy Los Alamitos USD website.
In a matter of days, the final votes will be cast in the Nov. 8, 2022 General Election. As of Oct. 30, more than 231,000 vote-by-mail ballots had already been returned to the Orange County Registrar of Voters. (Find out where you can vote at ocvote.org/voting.)
That likely includes ballots for candidates running for the Los Alamitos Unified School District Board of Education. Voters will decide who will fill two of the five seats on the board that governs nine schools, with roughly 9,000 students, in Seal Beach, Rossmoor and Los Alamitos.
For the first time, the seats for Trustee Area 1 and Trustee Area 3 are on the ballot. In Trustee Area 1, incumbent and retired longtime district teacher Marlys Davidson is facing Colin Edwards, a parent of young children and former staffer for elected officials.
In Trustee Area 3, current Board President Diana Hill, a former district parent and active volunteer who was first elected to the board in 2010, is facing Rona Goldberg, a former teacher in L.A. and parent of children currently attending district schools.
Much has happened since the 2020 election for the Los Al USD school board. Even more has changed since the two incumbents running for reelection won their races in 2018.
That includes:
Spotlight Schools conducted in-person and phone interviews with each of the candidates lasting between 30 - 60 minutes and followed up with emails. We asked candidates about the new election system, campaigning and governing in a hyper-partisan environment, and more.
With this election, Los Alamitos USD will complete its transition from an at-large voting system to one based on trustee areas.
As the table shows below, party affiliation of voters in a trustee area might differ from the school district at-large which could impact campaigns.

A table shows the breakdown in party affiliation for registered voters in the Los Alamitos Unified School District as of Sept. 12, 2022. Image from Orange County Registrar of Voters' office.
This shift has influenced how candidates have approached campaigning and brought up new questions about how they will govern. Click here to see how the candidates feel about the shift in how board members are elected.
✏️ Not your school board? Be sure to visit the Spotlight Schools website for a full list of all of the candidates running for school boards across Orange County.
SECOND BELL
Other Stories We're Following
Health emergencies declared as O.C.'s pediatric hospitals fill up
Orange County health officials declared two local emergencies this week as the number of patients with respiratory illnesses grows, specifically children hospitalized with Respiratory Syncytial Virus (RSV).
RSV is common during winter months and usually triggers mild cold-like symptoms for most people, according to the Centers for Disease Control and Prevention. But it can be dangerous for some infants and children and older adults, causing pneumonia or inflammation of the lung's small airways.
The two facilities of Children's Health of Orange County (CHOC), are seeing a surge of pediatric patients suffering from RSV with an increasing number needing to be hospitalized. For the past two weeks, CHOC in Orange has seen more than 400 patients visiting almost every day, reports Voice of OC.
As of Tuesday afternoon, CHOC had 65 kids hospitalized with RSV, and 11 of them were in the intensive care unit, according to Dr. Jasjit Singh, a pediatric infectious diseases subspecialist at CHOC quoted in the Orange County Register.
"We do have a large number of RSV-infected children in the hospital right now, much more than we would normally have at this time of year," Dr. Singh was quoted by Voice of OC.
"Our best shot at protecting ourselves and our children from respiratory illnesses continues to be the same things we practiced throughout the pandemic including the use of masks when indoors around others and staying home when you are sick," Dr. Regina Chinsio-Kwong, O.C.'s Health Officer, said in a press release announcing the emergency declarations.
The declarations will allow for more state and federal resources to be used if children's hospitals are faced with staffing issues with the increasing number of patients.
Parents are advised to seek medical attention immediately if a child is having trouble breathing, showing signs of severe dehydration or has a persistent or high fever.
For more information on prevention and treatment of RSV click here.
Griffin Gazette is the new student newspaper at Los Alamitos High School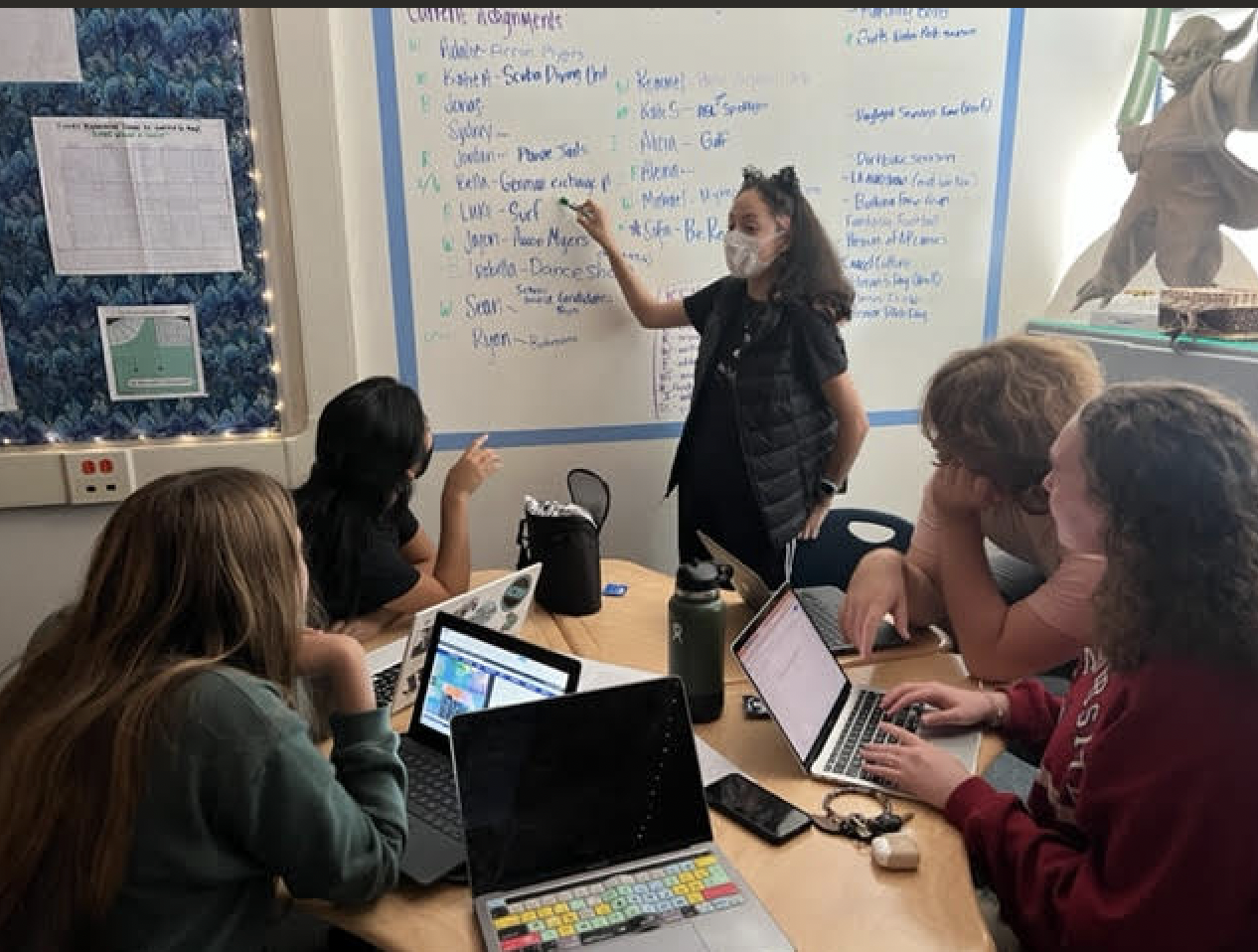 Students discuss story ideas in Lori Franzen's journalism class at Los Alamitos High School on Oct. 31. Photo courtesy of Lori Franzen.
Student journalism is back at Los Alamitos High School.
High schoolers reporting news for other students had been part of the culture at the Los Alamitos campus since 1969. But during Covid-19, the student newspaper, the Griffin Chronicle, went on hiatus and never came back.
Now in 2022, there is a new source for student news with the birth of the Griffin Gazette. The online newspaper features articles written and reported by the 19 students in the LAHS elective journalism class taught by teacher Lori Franzen.
"The school newspaper offers the opportunity to give voice to student perspective and experience; students offer a unique lens which can't be accurately portrayed by administrators or teachers," Franzen wrote in an email to Spotlight Schools.
Franzen and her students have hit the ground running in launching the Griffin Gazette this school year.
From debates about school dress codes, to student performing arts and athletics, to coverage of the local school board election, to tips on tutoring, student journalists have churned out dozens of stories on topics and issues affecting the campus and surrounding community. In most articles you'll read quotes from students and teachers.
The students are already making an impact with their work. Seniors Alicia Tan and Sean Macdonald won the news outlet's first "Best of SNO" award for their September article on the heat wave and changing climate. SNO is the platform that hosts online student newspapers across the country. "Our goal is to be recognized as a 'Distinguished Site' by the end of the 22-23 school year," Franzen said.
In an email to Spotlight Schools, Macdonald shared that he decided to join the journalism class to improve his writing skills. He hopes students and parents check out the website for information about what is happening in their own neighborhoods.
"Local news is as important if not more than national news, so I hope that our current and prospective student readers get a better sense of their school and local community by reading the Griffin Gazette," he wrote.
Senior Sofia Youngs, an editor for the Griffin Gazette, stressed that she and her fellow student journalists are committed to reporting news accurately, as explained in the newspaper's Mission Statement.
"We really pride ourselves on not being biased and telling it how it is and not glorifying one side and demonizing the other," Youngs said in a phone interview.
You do not have to be in Franzen's class to get your name in the Griffin Gazette. The newspaper accepts guest submissions for stories, artwork, feedback and more at lahsgriffingazette.com/submissions/.
"We would love the support of the community. Please visit our site often to 'like' stories and leave comments for our writers," Franzen wrote.
You can also follow Griffin Gazette on Instagram @lahsgriffingazette.
Read the full story on the Griffin Gazette on the Spotlight Schools website.
🏈 Los Alamitos to face Long Beach Poly in playoffs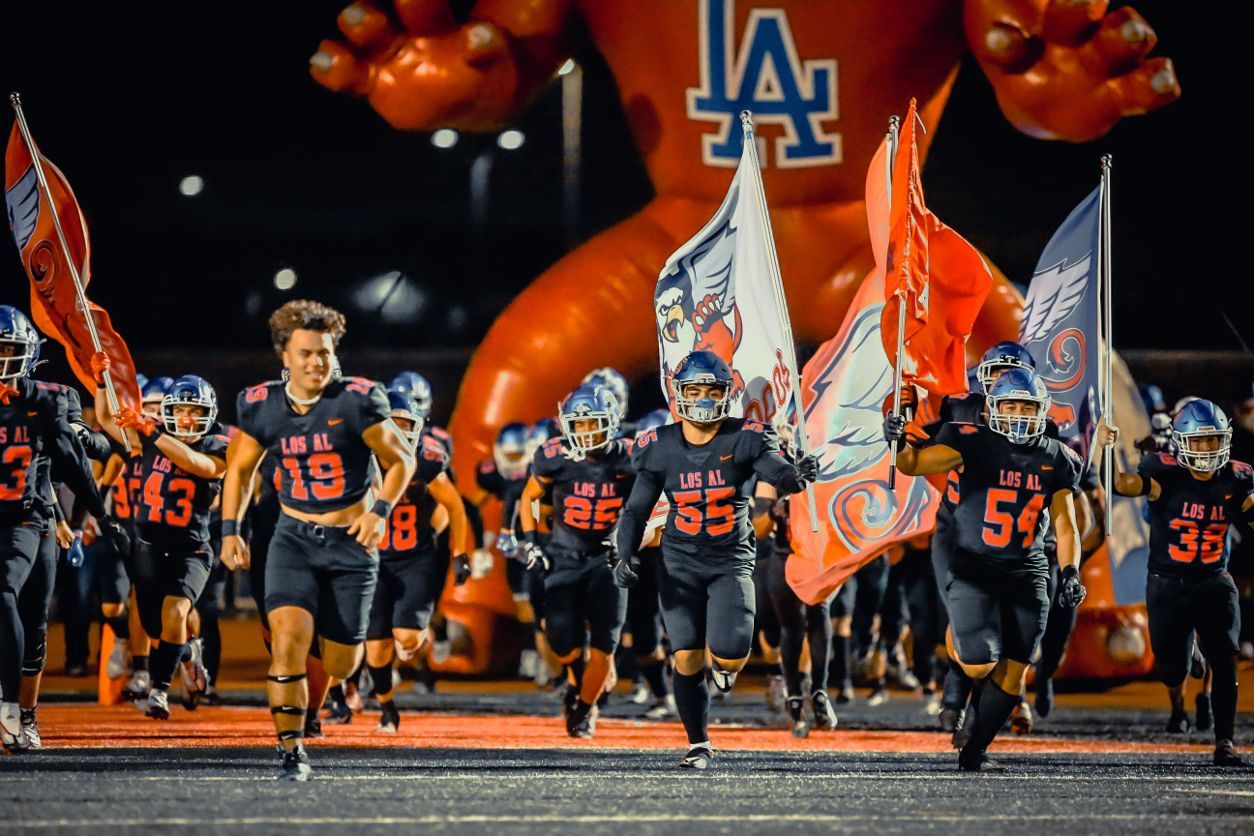 The Los Alamitos High School varsity football team is heading to the playoffs after ending its regular season with an 8-2 record and a 68-0 win over Fountain Valley High School. Photo by Marja Bene.
The Los Alamitos Griffins are preparing for the playoffs.
The varsity football team ended its regular season with an 8-2 record after a lopsided 68-0 win against the Fountain Valley Barons on Oct. 27.
The game at Veterans Memorial Stadium in Long Beach was Los Alamitos High School's senior night, marking a remarkable era for the Griffins. Quarterback Malachi Nelson and wide receiver Makai Lemon are two of the most prolific offensive weapons to ever don a Griffins uniform. Not only is Nelson the career passing leader in school history, but these two USC commits have led the Griffins to three straight undefeated seasons in the Sunset League, which has not been done since 1953.
Sunday morning, CIF – Southern Section released the ten-team playoff brackets. The Los Alamitos Griffins will be the 4th seed in Division 1 and will get a first-round bye. On Friday November 11 at 7 p.m., the Griffins will host a quarterfinal game against the 5th seed Long Beach Poly Jackrabbits at Veterans Memorial Stadium.
The Los Alamitos Griffins star running back, Damien Henderson, is a transfer from Long Beach Poly High School. The Griffins hope that his desire to beat his old team will be the added motivation needed to propel the Griffins past the Jackrabbits and into the semi-final game.
This article was written and reported by Michael Claborn. Read more of his coverage of high school football here.
🏈 Details on how to get tickets for playoff games here.
🧠 Get educated about O.C. schools! Sign up for the free Spotlight Schools newsletter here.
Other Stories We're Reading
EXTRA CREDIT
Meetings // Events // Opportunities // Resources
MEETINGS
HAPPENING TODAY: The Orange County Board of Education is scheduled to meet today at 4:00p.m. at 200 Kalmus Drive in Costa Mesa. The meeting can be streamed live on YouTube here.
On the agenda:
NEW BOARD POLICY ON "CONTROVERSIAL" CURRICULA: Revision to Board Policy 400-4 covering Education Materials and Curricula submitted by trustee Ken Williams. (See current 400-4 policy here on page 49).
The new four-page policy (it starts on page 52 of the agenda) lists new guidelines for what should be discussed or posted inside classrooms in schools governed by the OCBE. (Note: That does not include schools governed by local school boards.)
The policy includes a 14-point-list of examples of "unproven and controversial curriculum" that "shall be avoided." (See list in images below).
The policy also lists "potentially inappropriate displays" for the classroom which includes "flags or posters that are not related to the instructional content."
The policy was first discussed at last month's OCBE meeting, but was tabled for discussion after board members had questions about the policy. (See trustee discussion here.)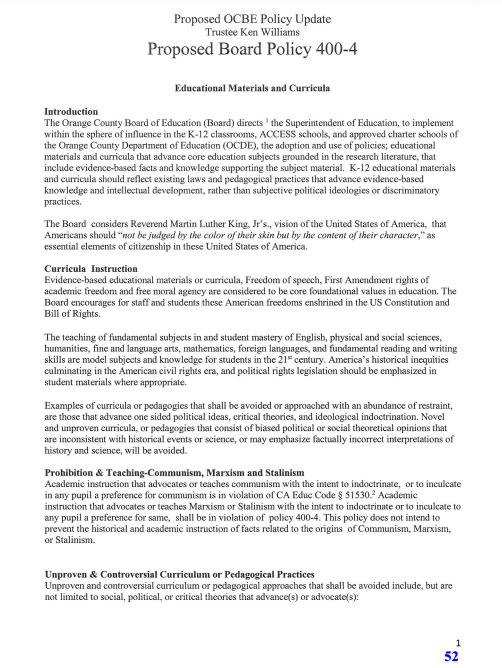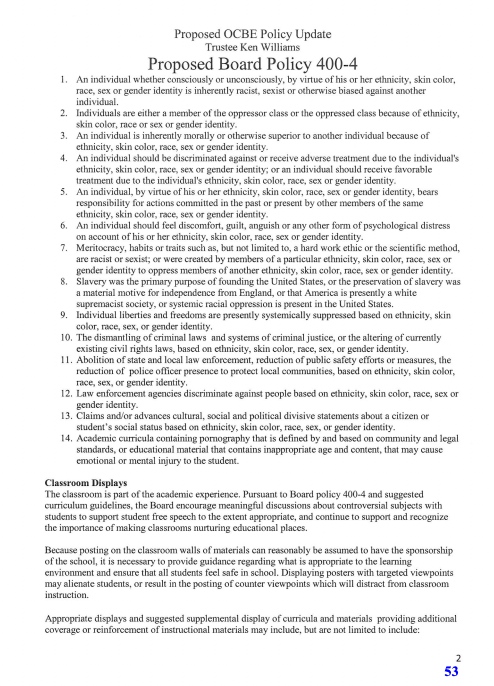 The first two pages of a four-page proposed Orange County Board of Education policy governing curriculum at schools OCBE oversees lists examples of instruction that 'shall be avoided."
COVID-19 VACCINE RESOLUTION: Resolution to express opposition to the possibility of adding the Covid-19 vaccine to those required for California students to attend school. (It is not currently required and the earliest it could be is July 2023, according to the California Dept. of Public Health)
PROFESSIONAL DEVELOPMENT FUND: A resolution to establish a professional development/continuing education fund for board members.
RECESS
Your Dose of Good News
Crossing guard named Rossmoor Elementary's 'Hero of the Heart'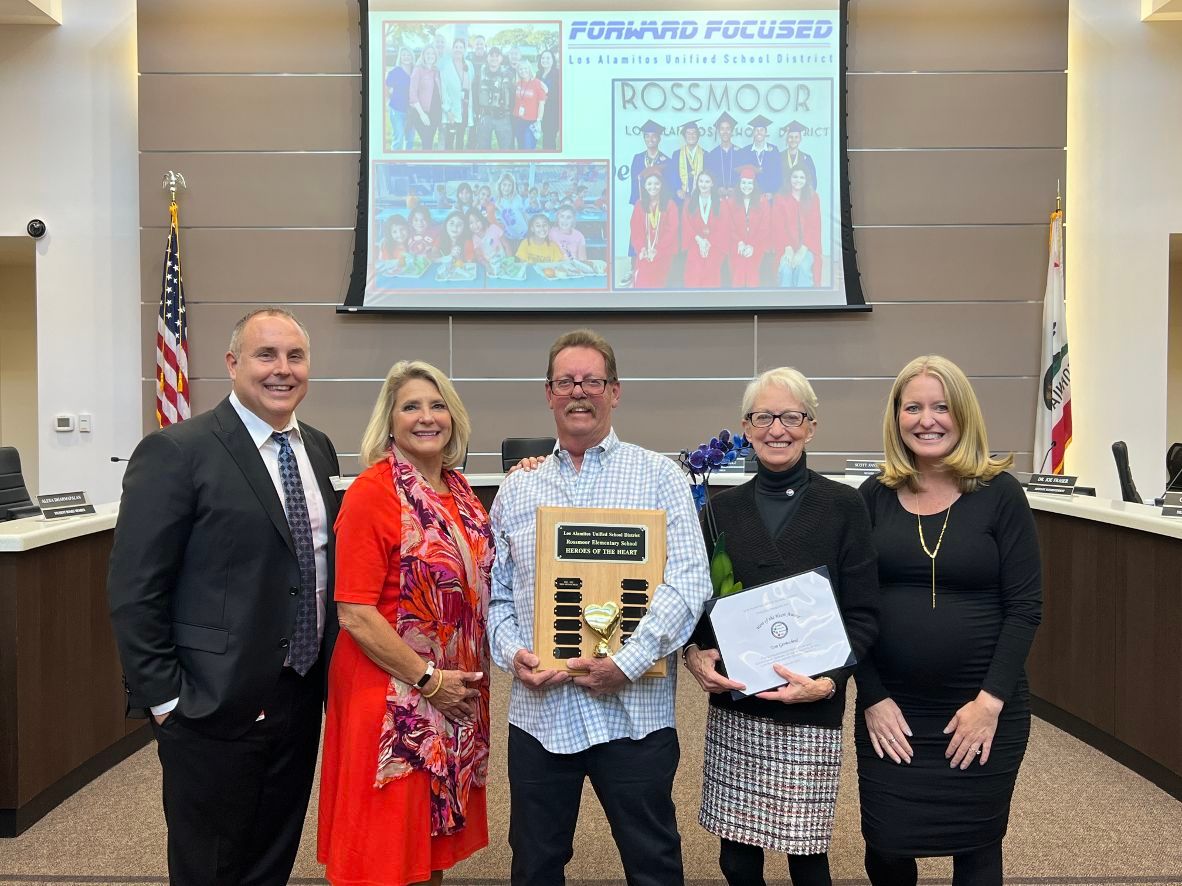 Rossmoor Elementary school crossing guard Tom Germscheid was given the 'Hero of the Heart' award at the Oct. 25 Los Alamitos USD Board of Education workshop. Pictured from left to right: Los Al USD Supt. Andrew Pulver, Ed.D., Board President Diana Hill, Tom and his wife, Jan, Rossmoor Principal Amy Coltey. Photo by Nichole Pichardo, Los Al USD.
For the past eight years, Rossmoor Elementary School crossing guard Tom Germscheid has been a fixture at the intersection of Montecito Road and Shakespeare Drive. On school days, Germscheid makes sure Rossmoor families get to and from campus safely and with a smile.
"Tom's presence is a positive staple in our community. Everyone looks forward to seeing him in the morning," Rossmoor Principal Amy Coltey said, noting that he is the first person she sees most mornings when she drives to campus.
Now Germscheid is being recognized for his commitment to keeping students safe. He was named the 2022-23 "Hero of the Heart"' for Rossmoor Elementary, one of the highest honors awarded by the school. The presentation of the award came during Rossmoor Elementary's annual report to the Los Alamitos Unified School District Board of Education on October 25.
"He's all about the heart and his goal is to spread happiness and joy to everyone he encounters," Coltey said, speaking during the workshop before a crowd of students, parents and staff that filled the board's meeting room.
One of the ways he spreads joy and happiness is by greeting the students by name. According to Coltey, Germscheid has memorized the names of many Rossmoor students. "And if he doesn't know a name, he writes it down and he figures it out but he's got it next time," Coltey shared.
"I'm grateful to both the staff at Rossmoor Elementary, and the parents who put their trust in me to get their little ones to and from school safe each day," Germscheid said after accepting the award last week. It's a job that takes his full attention, but he feels rewarded in the greetings and smiles he sees daily from students.
"It's a responsibility … I take and accept seriously," Germscheid said, and added, "And it's not just a job to me anymore. It's who I've become, it's who I am. It's who the kids say I am, Mr. Tom, the crossing guard."
🚸 Read the entire story on the Spotlight Schools website.
One more note on a special school crossing guard...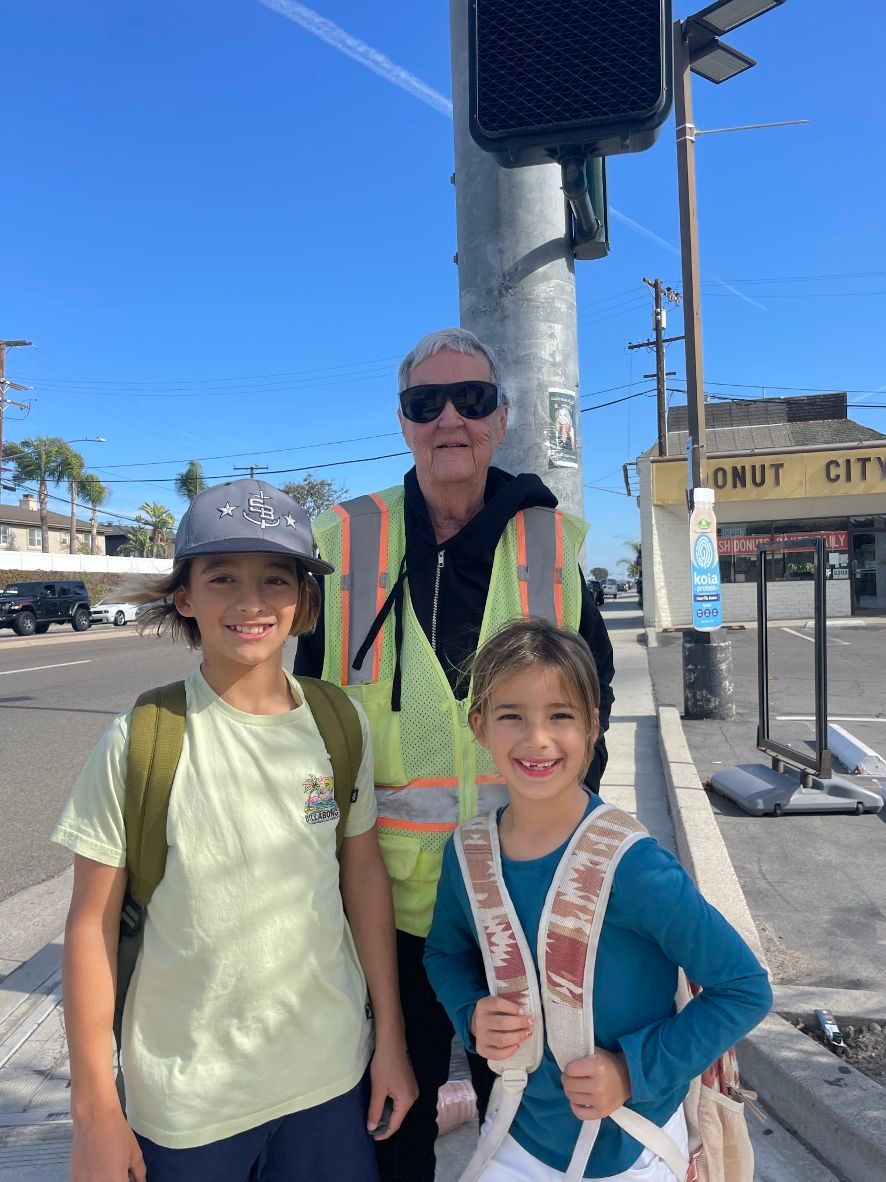 Last week, McGaugh Elementary school crossing guard Ms. Betty had her last day covering the very busy intersection at 12th Street and Pacific Coast Highway in Seal Beach. She had to move out of the area recently. Thank you for keeping Sea Lions safe over the years, Ms. Betty! Photo by Ashley Stevens.
Thanks for reading!
Forwarded from a friend? Subscribe to the Spotlight Schools newsletter here.
Follow us on Instagram @SpotlightSchools.
Our mailing address:
P.O. Box 164
Seal Beach, CA 90740

Copyright © 2022 Spotlight Schools, All rights reserved.