Westminster School District starts 2022-23 school year
District also celebrating its 150th anniversary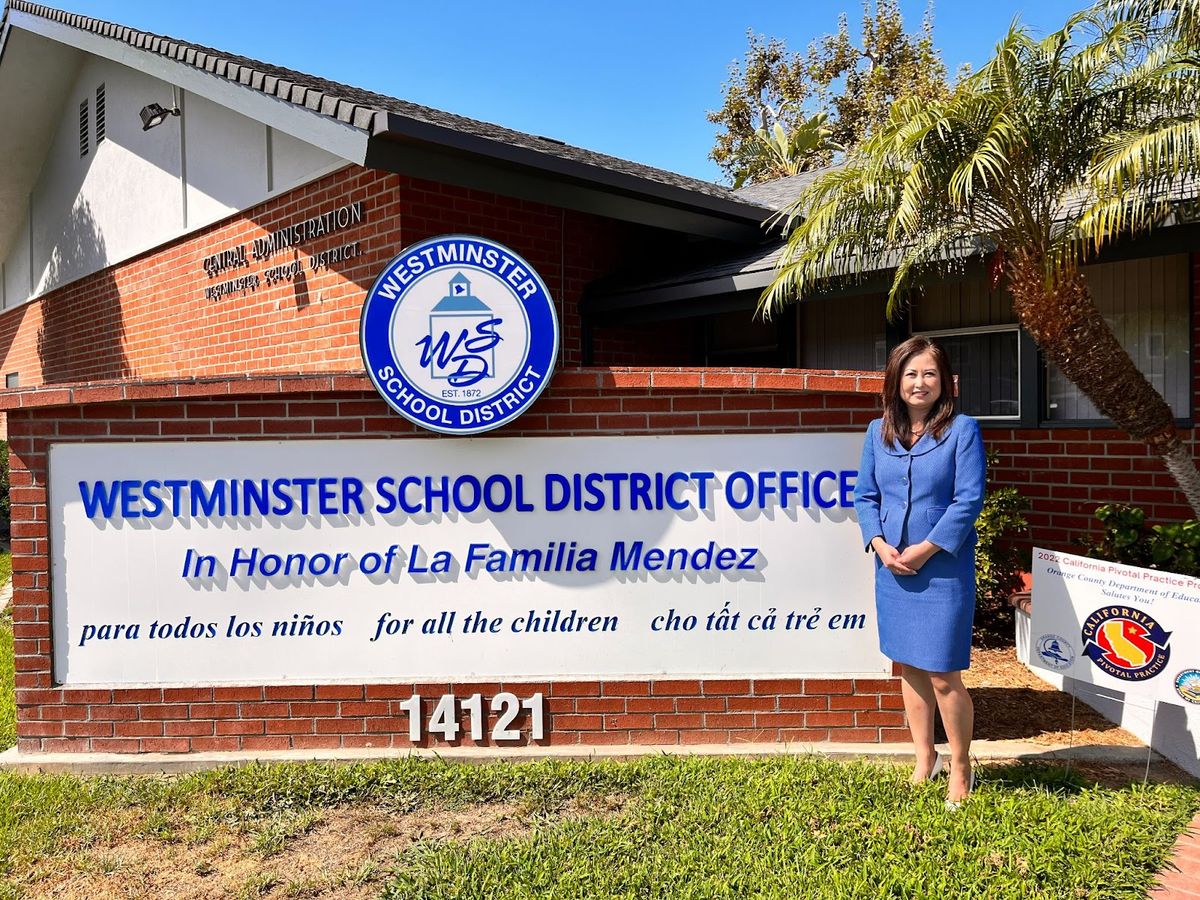 Thousands more Orange County students will be starting the 2022-23 school year this week, including the roughly 8,200 TK-8th graders in the  Westminster School District which has campuses in Westminster, Garden Grove, Huntington Beach and Midway City.
It's not just the beginning of classes at WSD's 17 schools, but this year also marks the district's 150th anniversary.
The district's history includes being home to the landmark court case  Mendez vs. Westminster , which, when it was finally decided in 1947, desegregated public schools in Orange County and laid the legal groundwork for the 1954 U.S. Supreme Court decision in Brown vs. Board of Education , which ruled racial segregation in U.S. public schools was unconstitutional.
More recently the school district  made history for its first-in-California  Vietnamese dual language immersion program.
"There's a huge evolvement and a remarkable difference between how we're serving our students now from what Sylvia Mendez had experienced," Westminster School District Superintendent Cyndi Paik, Ed.D., said in an August 23 interview.
"We have many different types of options for families, so that our students have access to a variety of services and programs like computer science. We have [Vietnamese and Spanish]  dual language immersion [programs] to ensure that they're learning biliteracy. … We also have a  GATE magnet for the high achievers to enhance their education. We also have just launched a school to be an environmental school, so they'll be focusing on scientific studies and inquiry to help them prepare for their college and career."
The public is invited to celebrate the 150th birthday during an event on September 29. It's taking place from 5:00 p.m. to 8:00 p.m. at the district's headquarters on Cedarwood Street in Westminster.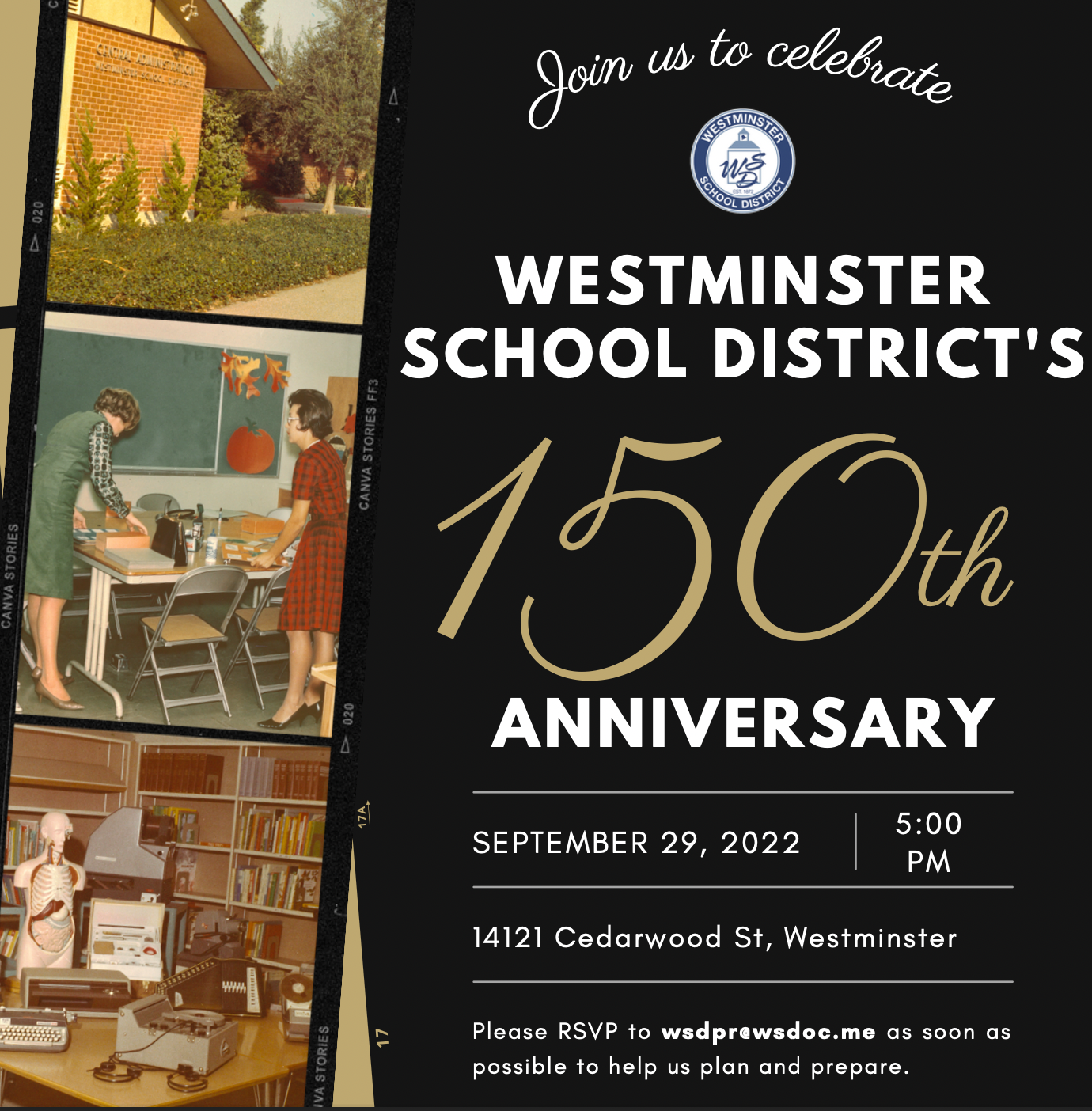 Last week, Dr. Paik sat down with Spotlight Schools co-founder Jeannette Andruss for an interview to talk about the anniversary and the  upcoming school year which starts today. Some of the questions discussed in the interview were emailed to Dr. Paik in advance. This interview has been lightly edited for length and clarity.
What are your hopes for the upcoming school year?
"I think we could really start off with a little more normalcy than before. Of course, COVID hasn't gone away completely. We're still going to have to learn to navigate through COVID times. But I am prioritizing, just making sure that we provide a positive and an inclusive learning environment for all of our students and families. As I mentioned, the pandemic really tested our students, staff and families. And this year, we hope for more normalcy." You can find out more about the district's safety measures in its  Covid-19 Safety Plan for 2022-23.
What are you excited about?
"I'm really excited about the 150 year anniversary celebration in September. Also, we are receiving … a California Department of Education dual language grant. There was $10 million available to school districts to apply for a portion of that. And we applied for that and we were just selected. We found out last month that we're getting about $400,000 to further enhance our dual language programs that we have in our district.".
What are some of the challenges?
"Challenges I see this year, of course, COVID, you know, because COVID still exists and we're gonna have to learn to navigate through the upticks and the downtimes of it. We're hoping that we won't have a huge rollercoaster ride as we did last year, that the upticks won't be so huge and that there isn't any kind of an outbreak at schools. We're hoping that we're going to continue to message all families to keep their children at home if they exhibit any COVID-like symptoms, but at the same time, we're going to make school life fun and interesting. And we want to encourage all of our families to really take [advantage] of all the programs and services that we'll be offering such as social emotional needs assistance. … A lot of our students have some emotional and social needs so we're hoping to meet their needs to see that arena."
Dr. Paik noted that the district hired three additional counselors at the end of last school year to help students and staff in WSD.
School districts across California have been dealing with declining enrollment. What's happening in Westminster SD?
"I think across the state, as you know, many districts are seeing a decline [in enrollment] and that's the same for the Orange County schools as well as our district. However, we're unique in that we're seeing an uptick in our transitional kindergarten enrollments. … So we're hoping to regain students and increase our declining enrollment through enrolling younger students because they will end up being here until eighth grade. So there's a bit of an interest … for our TK programs in our schools."
One thing the community can anticipate this school year is no changes to the Westminster School District Board of Trustees. The  incumbents in Trustee Area 2 (Tina Gustin-Gurney), Trustee Area 3 (Khanh Nguyen) and Trustee Area 5 (Jeremy Khalaf) were the only people to file paperwork to qualify as candidates for the Nov. 8 election. Therefore, the contests will not appear on the ballot and these candidates will be appointed to the seats per  election law , according to the O.C. Registrar of Voters.
And if you're looking for a way to get involved, the district is seeking a parent representative for its School Safety Task Force. The deadline to apply is Sept. 16. More details here.