Weaver Elementary School writers make a splash with school newsletter
4th grader starts publication that is 'for the students, by the students'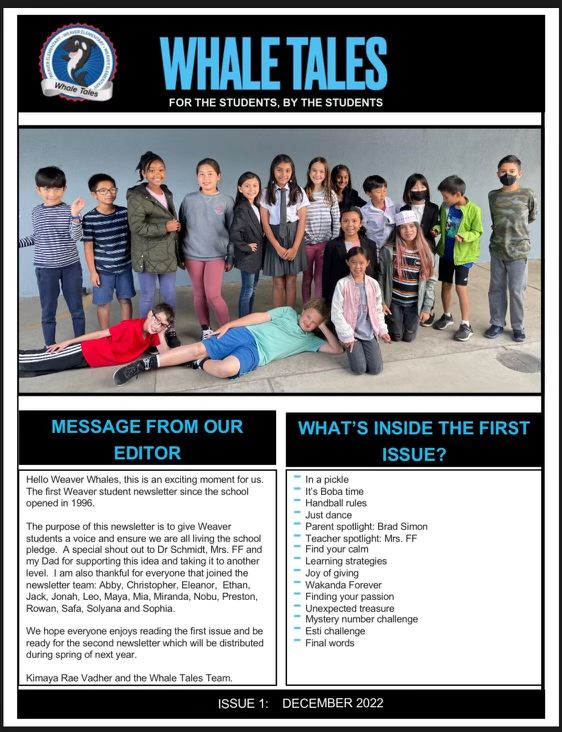 Kimaya "Kimi" Vadher loves to write. Last year, when she was in third grade at Weaver Elementary School, she asked her friends if they wanted to create a school newsletter with her.
"They burst out laughing [saying,] 'Kimi, it's not gonna happen,'" the ten-year-old recalled recently.
Kimi was not deterred. A few months later, she announced that she spent part of her summer vacation creating Weaver Elementary School's first student publication.
"I remember that day vividly. I told them, 'Guess what I did this summer? I came up with the newsletter, and I worked on it with my dad,'" Kimi, now in fourth grade, shared. "I love writing so much, [I thought] I could share my stories with the school."
"I am someone who supports creativity and drive. When Kimi approached me, I was happy to support her. We need more female leaders," third-grade teacher Ruth Freedman-Finch, known as "Mrs. FF" to her students, said. She now serves as the teacher representative for Kimi's creation known as "Whale Tales," and advises the more than a dozen students working on it. Weaver's mascot is an orca or killer whale. The TK-5 campus is located in Rossmoor in the Los Alamitos Unified School District.
Kimi designed "Whale Tales" from the ground up, almost entirely by herself. She had support from Freedman-Finch, Weaver Principal Todd Schmidt, Ed.D., and her dad, Sandy Vadher. Mr. Vadher acts as the final editor for "Whale Tales."
"In all honesty, all I did was host the group by providing my room, classroom management to keep the chaos to a minimum, and passion. The rest was all Kimi, her dad, and the kids who chose to be a part of it," Freedman-Finch said.
"One of the things that most impressed me was the sheer grit and determination that went into putting this newsletter together," Dr. Schmidt wrote in an email message to Spotlight Schools. "It would have been easy for Kimi to give up, but she stuck with it, and the result was an absolutely extraordinary creation!"
Including Kimi, "Whale Tales" currently has a team of 17 students, all in fourth and fifth grade. While the students mostly write at home, last year they held multiple lunch meetings to plan and discuss story ideas in Freedman-Finch's classroom.
"We're learning to work collaboratively because you have many people interested in the same thing," she said. During the first meeting, the students brainstormed a name for their paper.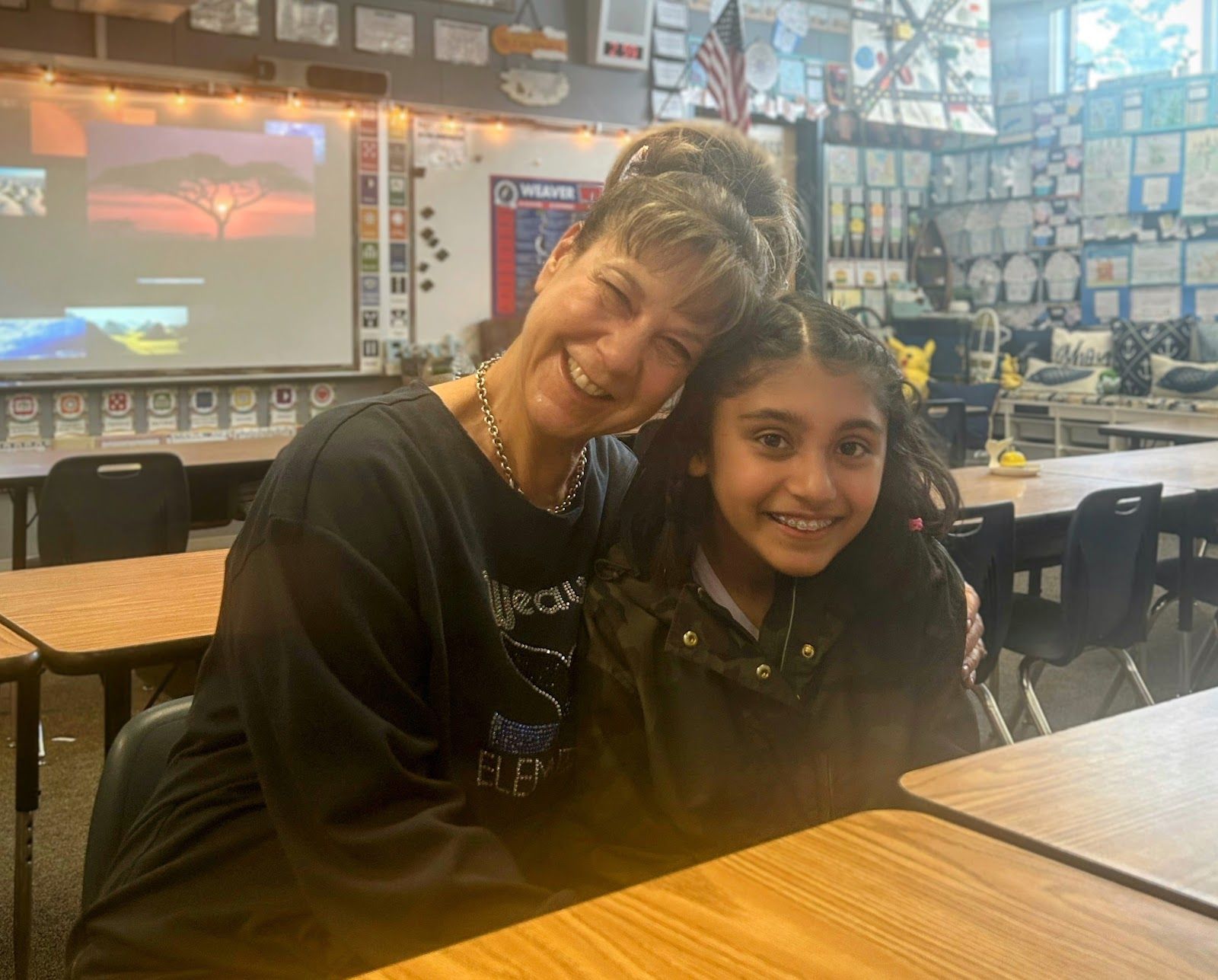 "'Whales Tales' stood out the best. We thought it was really catchy," Kimi said. Fourth-grader Jonah Simon came up with the name. They also created a mission statement: "For the students, by the students."
"When first talking with Kimi about this endeavor, we really wanted something that has never been done and for it to strictly be by the kids, for the kids," Freedman-Finch said. "She did a tremendous job putting her vision into action."
To prepare for producing her own paper, Kimi studied professional publications for inspiration.
"Whale Tales" was first released in December 2022 before winter break. Students wrote mini-articles on topics they felt passionate about, including sports spotlights, jokes, a parent profile, a profile on Freedman-Finch, tips for staying calm at school, and a movie review on "Black Panther: Wakanda Forever."
They also published an "Esti-Mystery," a math estimate, after seeing puzzle sections in other papers. Students distributed the first edition of "Whale Tales," a pamphlet, to the whole school and sent copies to the district office.
"I thought paper would be better because it feels like an actual newspaper, but maybe we want to put it online so parents can see it as well," Kimi said.
So far, only one edition of "Whale Tales" has been published. Freedman-Finch said they're starting small and plan to publish one issue per semester. The spring edition of "Whale Tales" is in the works and will contain answers to the "Esti-Mystery" from the first edition.
In the future, Kimi plans to add photographers, artists, and possibly a podcast to "Whale Tales."
"Right now, what we're focusing on is getting the concept together [and] finding out what you really want to write about," Kimi said.
"Writing is another thing they have to work on. And [how] it comes together as a final product because it is time-consuming," Freedman-Finch.
"I like the idea of students taking control of their own learning and being students teaching students," Freedman-Finch said. "We all have voices and perspectives that need to be seen and heard."
Kimi mentioned that she and other students might be interested in pursuing journalism in middle school and high school. McAuliffe Middle School has the student-run news website the Birdwatch. Los Alamitos High School currently offers a journalism class where students contribute to the Griffin Gazette.
Through "Whale Tales," Kimi is giving her fellow Weaver Whales an outlet for their creative voices, setting a new generation of young journalists off on a wave that could carry their stories far beyond their campus.