Student enrollment projections; 🏈 LAHS QB Malachi Nelson on what's next; Plus, how an O.C. student made history at Angel Stadium
Recall effort faces July 18 deadline; New hire at Los Alamitos Elementary; Free wellness workshop for O.C. parents
Recall effort faces July 18 deadline; New hire at Los Alamitos Elementary; Free wellness workshop for O.C. parents

Helping you better understand, navigate and participate in the TK-12 public school experience in Orange County.
In this week's newsletter...
July 12, 2022
FIRST BELL 🔔A future with fewer students? Enrollment projections for Los Alamitos USD.
SECOND BELL 🔔Recall effort faces deadline. Plus, 🏈 LAHS Superstar QB Malachi Nelson on the 2022-23 season & beyond.
EXTRA CREDIT 📌Safe Schools Conference being held in O.C. this week
RECESS 👏🏼 Joyous moment for O.C. student at Angel Stadium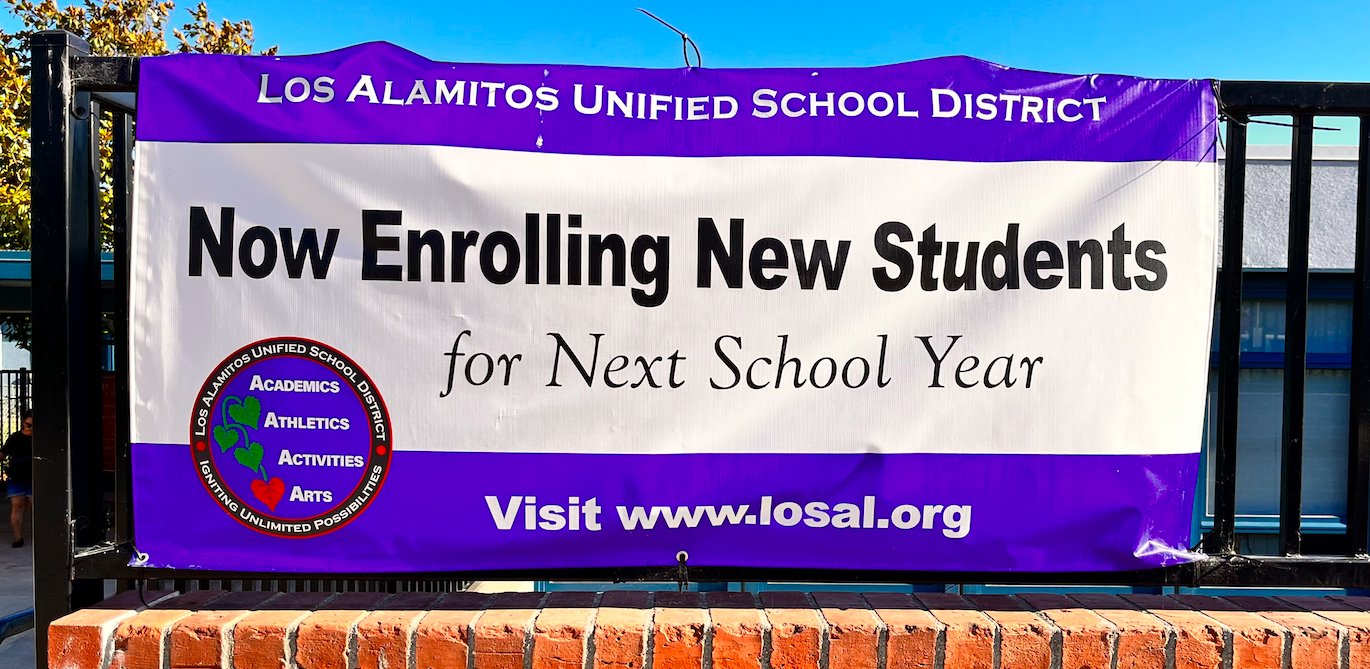 A banner announcing enrollment for the Los Alamitos Unified School District hangs outside McGaugh Elementary school in Seal Beach. A new projection predicts McGaugh will see a 9% drop in student enrollment over the next 5 years.
Spotlight Schools is a nonpartisan, hyperlocal newsroom covering education in Orange County. Due to the summer break, we're publishing the newsletter twice a month.
Be sure to follow us on Instagram and Twitter for news and updates.
Please send feedback/story ideas/questions to hello@spotlightschools.com.
Yours in knowledge,
Jeannette Andruss, Spotlight Schools Founder and parent of two students in the Los Alamitos Unified School District
FIRST BELL
This Week's Top Story
A future with fewer students?
Los Alamitos USD looks at enrollment projections
Declining enrollment is impacting K-12 campuses across California. For the first time in two decades, overall enrollment statewide dropped below 6 million students in 2021, EdSource reported.
Fewer students are attending public schools in coastal counties. In Orange County, enrollment dropped by more than 45,000 students over the last twenty years. And while Covid-19 shut down some schools and disrupted attendance starting in 2020, the trend of declining enrollment predates the pandemic.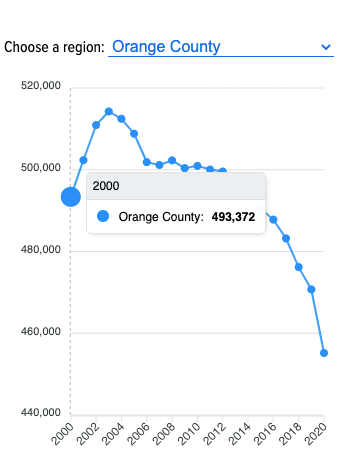 A graph from EdSource shows the decline in public school enrollment in Orange County from 2000 to 2020.
Why does declining enrollment matter? Fewer students could mean less funding for public education. For example, the Long Beach Unified School District has had a 3% drop in student enrollment each of the past two years, reports The Long Beach Post, with each percentage drop translating to a loss of $7-$8 million. For Inglewood Unified, declining enrollment led to the closure of an elementary school this year.
At the June 14 Los Alamitos Unified School District Board of Education workshop, board members and the public got a closer look at what student enrollment may look like at the district's nine schools over the next ten years.
In a roughly 30-minute presentation, Ron Van Orden of the firm PowerSchool discussed the big-picture influences on enrollment.
"The overarching factor is there's just fewer school-age children," Van Orden said, explaining that less people are having children and the people who do are waiting longer to start families and having fewer kids.
He also said fewer people are migrating to California. He quoted the California Department of Finance's prediction that there will be an 11% drop in the number of school-age children living in the state by the 2029-30 school year.
Van Orden said in addition to demographics, his predictions for Los Al USD also factored in two residential housing developments in the area (The Los Alamitos Luxury Apartments and a project on Lampson Avenue) which could draw new families to the area, kindergarten and the expansion of Universal Transitional Kindergarten (UTK), inter-district transfers and the aging of grade cohorts through the system.
What are the enrollment projections?
Van Orden offered a conservative projection, which reflects fewer students overall and a moderate, or more optimistic prediction. The conservative projection showed a dip of 422 students over five years from 9,102 students in 2021 to 8,680 in 2026. The moderate projection showed decreases in the first few years and then a slight increase with enrollment at 9,134 students in 2026.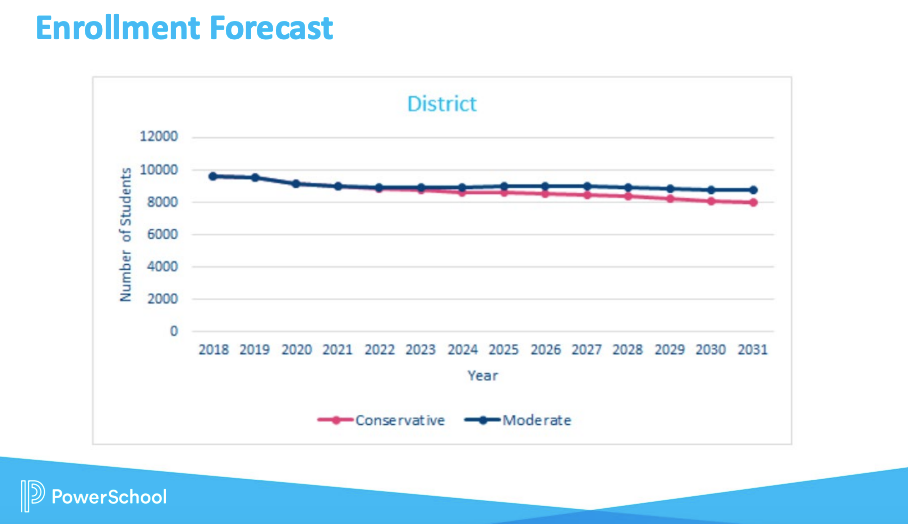 A slide from the PowerSchool presentation at the Los Alamitos USD Board of Education June 14 workshop that shows projections for student enrollment in the district for the next ten years.
Which schools are most impacted?
In his closing slide Van Orden showed which of the district's nine campuses could see the biggest enrollment declines over the next ten years. According to the PowerSchool projections, Hopkinson Elementary in Rossmoor would see the biggest drop with a 31% decrease in enrollment in ten years. Hopkinson had 638 students according to its 2021 School Accountability Report Card.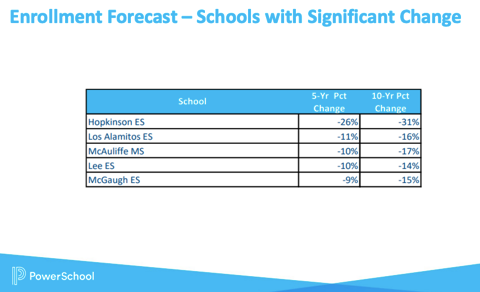 Slide from Los Alamitos USD Board of Education June 14 workshop that shows which campuses will have the biggest projected enrollment declines.
At the June 14 workshop, Superintendent Andrew Pulver, Ed.D, noted that Rossmoor Elementary is the smallest school in the district. It had 541 students according to its 2021 School Accountability Report Card.
To help balance enrollment, especially as new housing developments emerge, Dr. Pulver brought up possibly changing the district's school attendance boundaries. He suggested no longer allowing Weaver Elementary to have no boundaries while still letting all parents basically be able to choose which school they would like their child to attend.
"But it could help try to equalize the number of residents within each school to help all schools be successful or balance out the home attendance," he said.
👀You can find the entire PowerSchool slide presentation on the Board Meeting Highlights or watch it here.
SECOND BELL
Other Stories We're Following
Recall effort faces July 18 deadline to turn in signatures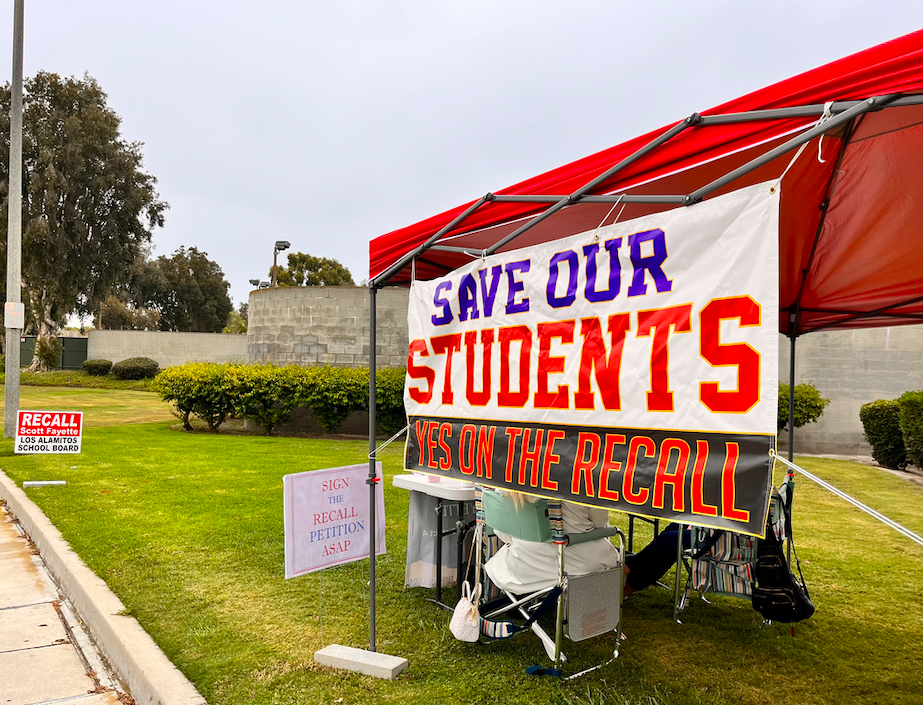 Supporters of an effort to recall Los Alamitos USD Board of Education member Scott Fayette outside the Seal Beach Tennis & Pickleball Center on July 11, 2022. Photo by Jeannette Andruss
A deadline is approaching for organizers of an effort to recall Los Alamitos Unified School District Board of Education member Scott Fayette.
The effort was first launched in March. Now the pro-recall group has until July 18 at 5:00p.m. to turn in valid signatures from 25% of the registered voters in Fayette's district, Trustee Area 4, which covers the College Park East and Old Town neighborhoods in Seal Beach. To qualify for a future ballot, they need to deliver at least 1,800 valid signatures on a petition supporting the recall to the Orange County Registrar of Voters' office.
This week a recall organizer said that the campaign was "on track" to gather the needed signatures by the deadline but did not say how many signatures had been collected so far.
A July 6 email message sent to some residents of Old Town stated the recall effort needed "a few hundred more" signatures.
The unsolicited email message from Dorothy Ferrell, a parent in the district, asked for recipients to contact her to sign the petition stating "you can make a difference in restoring some of the conservative values back into our school district."
Fayette has been in office less than two years. He was the only person who filed qualifying paperwork to run in the 2020 election for the seat and, per campaign law, his name did not appear on the ballot.
The recall supporters are aiming to get the recall on the upcoming November 2022 ballot. That's also when two other board members, Marlys Davidson (Trustee Area 1) and Diana Hill (Trustee Area 3), are up for re-election. Recall supporters state their goal is to recall Fayette and run candidates to defeat the incumbents. "After we win those three seats, we will have a conservative, curriculum based, school board majority," the recall website reads.
A previous effort to recall Fayette and two other board members failed last December.
🏈LAHS Griffins take part in Battle of the Beach
QB Malachi Nelson talks about the future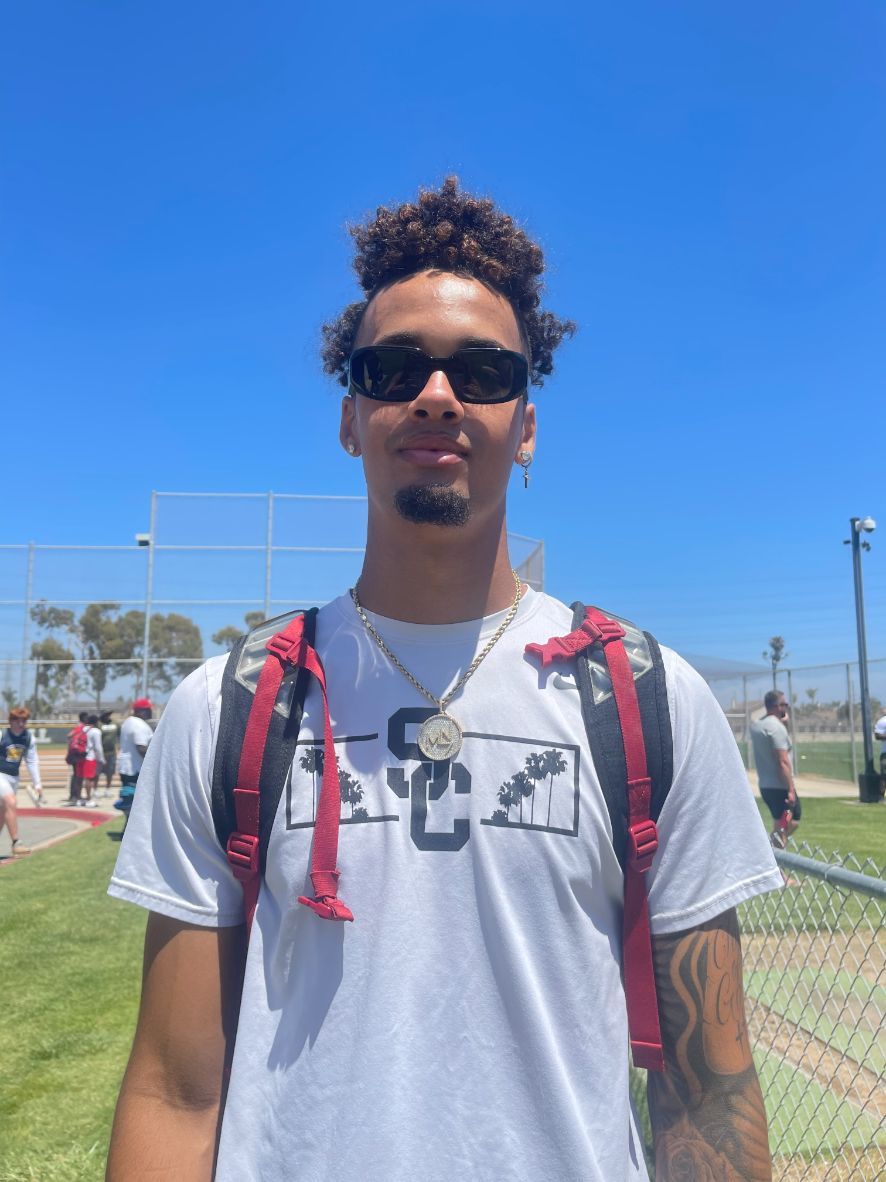 Rising Los Alamitos High School senior and quarterback Malachi Nelson at the July 9 Battle of the Beach at Edison High School in Huntington Beach. Photo by Macy Meinhardt
Los Alamitos High School's lucky number 7 quarterback, Malachi Nelson, was among the group of top Orange County football players bringing heat to the Battle of the Beach tournament at Edison High School last weekend.
During the 7-on-7 passing tournament held July 9 in Huntington Beach, Nelson, a rising senior, led the Griffins to a 3-1 record in the pool division. But the team's run ended in the quarterfinals with a 27-14 loss to red hot Mission Viejo, boosting the Diablos to eventually win the title of 2022 Battle at the Beach Champions.
The defeat was not the comeback the Griffins were hoping for. However, in a tournament meant to provide a low pressure atmosphere for teams to have fun and build camaraderie before buckling down for fall season, the powerhouse team didn't mind taking a mellow loss.
"You know, sometimes it's good to lose. It's good to lose now and not later," Nelson said in an interview after the tournament, stressing his focus is on carrying his team to victory this fall for his last football season at LAHS. "So we got some things to clean up, but we'll, we'll be alright," he said.
After picking up a host of transfers, including a top-ranked defensive lineman, Nelson believes LAHS has crafted a "solid team" of players for this year's run.
"I think we're at a good point now, you know, we're gonna be able to have a good solid team. It's gonna be exciting, you know, to put together a season right," Nelson said.
Nelson reportedly signs NIL deal
While the attention is on this upcoming season, which includes a nationally-televised game in Florida next month, there's also a lot of focus on the superstar's future after graduation.
Nelson is the #2 high school recruit for his class in the nation and has already committed to playing next year at the University of Southern California under the guidance of USC head coach Lincoln Riley. (Teammate Makai Lemon is also committed to USC next season).
Nelson is also poised to earn money before he ever wears his Trojan uniform. Last month ESPN reported that Nelson signed a name, image and likeness (NIL) deal with The h.wood Group, a Los Angeles-based global hospitality firm.
"With California the first state to allow high school athletes to profit off their name, image and likeness, (NIL) Nelson is emerging as the face of a new generation of football recruits, for whom endorsements can come long before the first college practice," ESPN reporter Pete Thamel wrote in the June 22 story.
The L.A. Times reports that current USC quarterback Caleb Williams and his father Carl have been writing the playbook for how to land lucrative NIL agreements. The article states Carl "speaks weekly" with Nelson's father.
In April, LAHS Coach Ray Fenton discussed how this new world of name, image, likeness deals could transform high school sports during a speech to the Los Alamitos Chamber of Commerce covered by Spotlight Schools. Fenton recognized how the newfound opportunity could be a life-changing financial boon for a student-athlete's family. On the other hand, the introduction of so much money at the high school level could also change how games are played.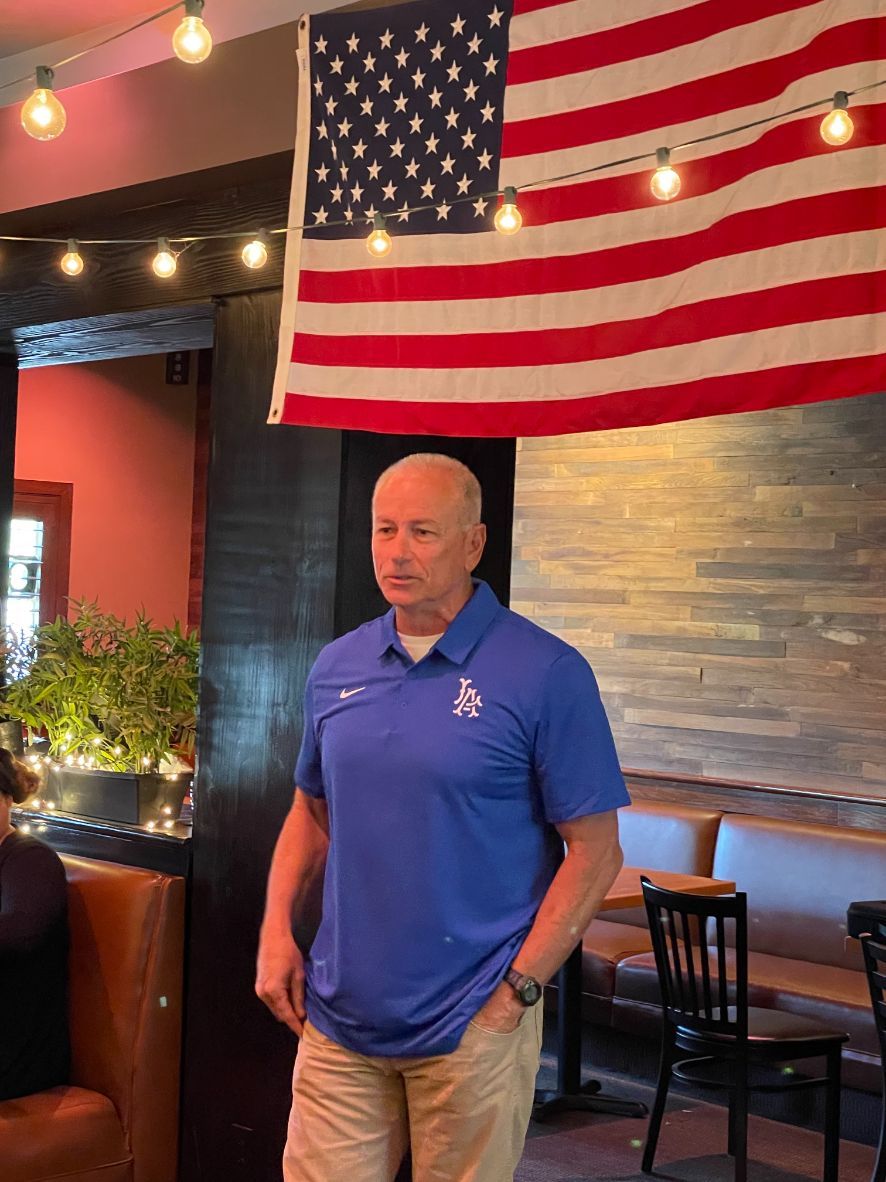 LAHS Coach Ray Fenton speaks at the Los Alamitos Chamber of Commerce breakfast on April 1, 2022. Courtesy photo.
While 18-year-old Nelson is focused on enjoying his senior year, and time at USC, he's also looking at the end goal—which is the National Football League.
"Yeah, really making the NFL and that's what I'm using college for. That's just a stepping stone to the NFL," he said.
Before he makes the pros, you can watch Nelson and the Griffins play in the upcoming season. See the fall schedule here.
Macy Meinhardt contributed writing and reporting to this story.
New Asst. Principal named at Los Alamitos Elementary
Nadia Williams, a former teacher at Los Alamitos Elementary and McGaugh Elementary, and a Teacher on Special Assignment (T.O.S.A) for Diversity, Equity and Inclusion in Los Alamitos USD, has been named the new assistant principal at Los Alamitos Elementary school.
"Mrs. Williams is a caring, supportive, and inclusive leader who has a passion for ensuring all students feel safe, loved and respected. She works diligently to nurture relationships with staff, students and families and is extremely committed to igniting unlimited possibilities for all children," LAE Principal Gary Willems wrote in an email message to campus families.
Williams was one of the key district educators that helped develop Social Justice Standards aimed at helping staff and students deal with incidents of intolerance. The standards were adopted in a unanimous vote by the Board of Education amid heated public debate in May 2021. Shortly after, she left Los Alamitos USD and had been working in the Fullerton Unified School District since July 2021.
✏️ Forwarded from a friend?Subscribe to this free newsletter here.
Other Stories We're Reading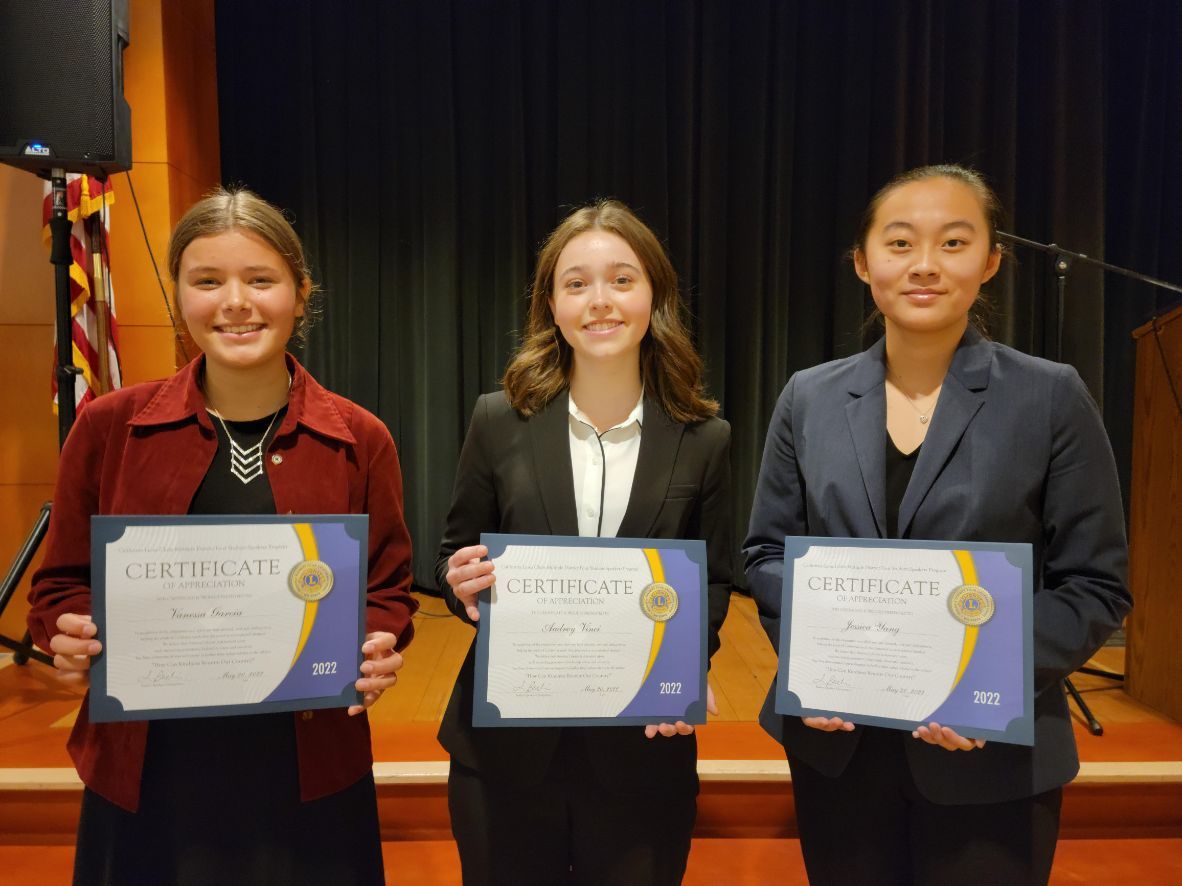 Buena Park students (L - R) Vanessa Garcia, Audrey Vinci and Jessica Yang were honored for their speeches about how kindness can reunite Americans. Photo by Loreen Berlin
EXTRA CREDIT
Meetings // Events // Opportunities // Resources
MEETINGS
HAPPENING TODAY: The Los Alamitos Unified School District Board of Education is scheduled to meet for a workshop at 4:00p.m. and regular meeting at 6:00p.m at 10293 Bloomfield Street in Los Alamitos.
On the agenda for the workshop:
An update on the STEM building under construction at Los Alamitos High School. The new three-story 86,000 square foot building is slated to open for students in the upcoming 2022-23 school year. It has a budget of $67 million and is being paid for with bond money.
You can watch the workshop streaming live at this YouTube link.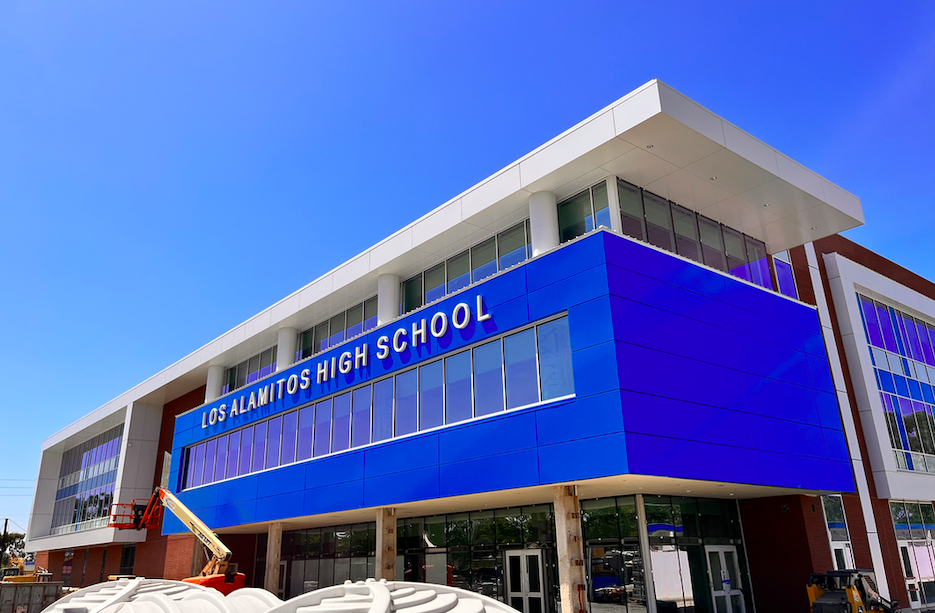 Exterior of the STEM building under construction at Los Alamitos High School on May 7, 2022. Photo by Jeannette Andruss
On the agenda for the regular meeting:
Approval of a contract to use Cerritos College Football Stadium for Los Alamitos High School football games.
Approval of Local Performance Indicators that are required by California and will appear on the Los Alamitos Unified School District Dashboard.
On the closed session agenda: a performance evaluation for Superintendent Andrew Pulver, Ed.D.
You can watch the regular meeting streaming live at this YouTube link.
EVENTS
HAPPENING JULY 13 - 15: The Orange County Department of Education and The O.C. Sheriff's Department are helping present the 13th Annual Safe Schools Conference in Garden Grove. It features 50 workshops on everything from bullying, student wellbeing, active shooter responses, social media threats and more. Tomorrow will feature speaker Kyler Erickson. At 18 he witnessed a school shooting by one of his classmates and will look at mental health, suicide prevention and campus shootings. More information here.
HAPPENING JULY 16 & 17: Shakespeare by the Sea offers free performances at Rush Park in Rossmoor (3021 Blume Drive) at 7:00pm. This year you can see "Romeo & Juliet" on Saturday and "Much Ado About Nothing" on Sunday. For more information, click here.
RESOURCES
HAPPENING JULY 14: Parenting OC Magazine is hosting a free online wellness series for parents. The first event takes place this Thursday from 3:00p.m. - 4:00p.m. and focuses on art therapy. More information here.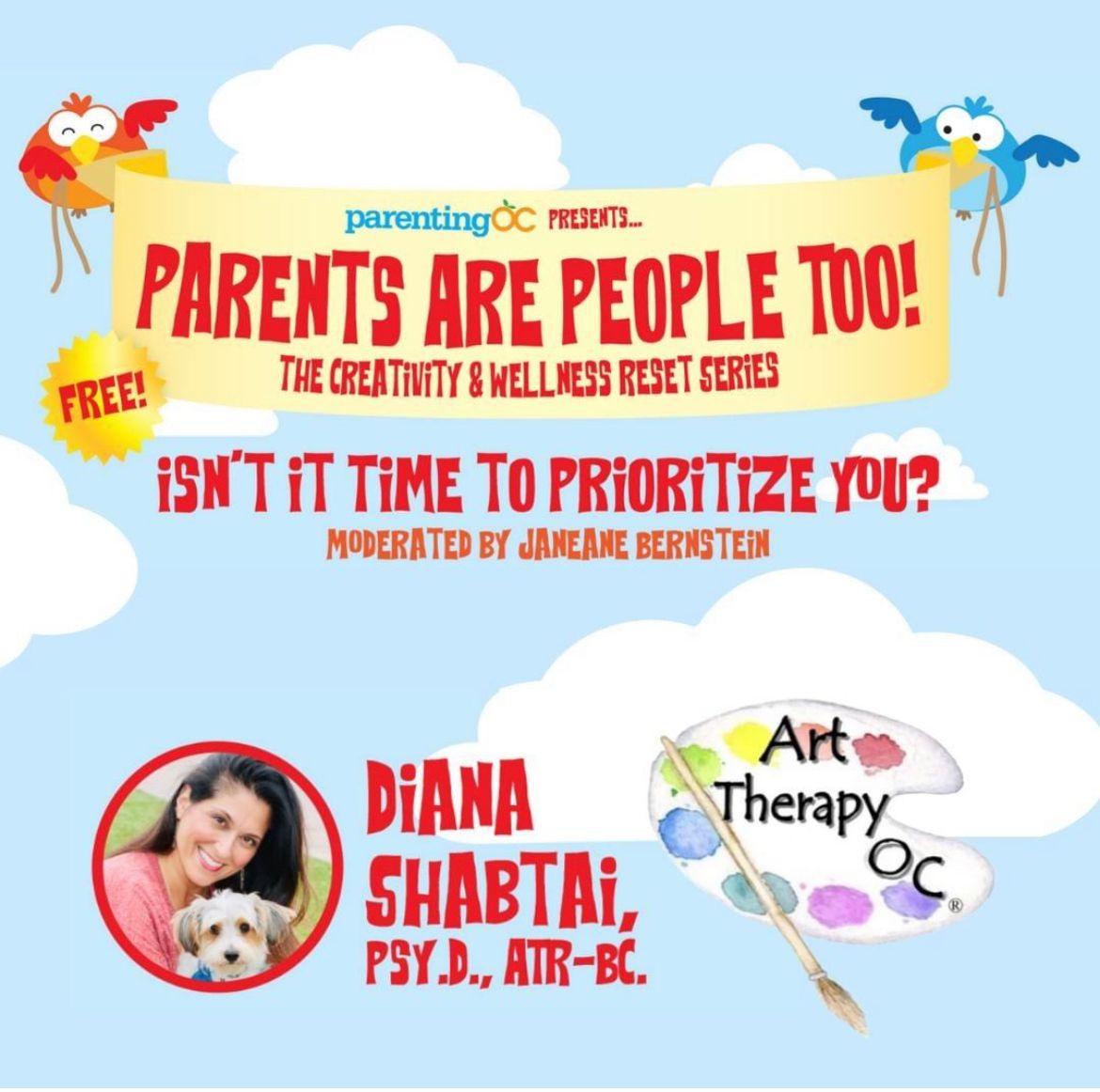 RECESS
Your Dose of Good News
O.C. student makes history at Angel Stadium
17-year-old uses speech-generating technology in "Play ball!" proclamation
Greyson, a student at OCDE's Harbor Learning Center, was selected for the ceremonial "Play ball!" announcement at an Angels home game on May 6. He was joined by Duey Luu, a staff member from his group home, along with OCDE Speech and Language Specialists Art Marmelejo and Paul DePerry. Photo courtesy of the Orange County Dept. of Education.
It was a first at Angel Stadium. In May, before the Los Angeles Angels faced off against the Washington Nationals, Orange County student Greyson Belles had the honor of telling everyone at the ballpark two important words:
"Play ball!"
But it's how he did it that made history.
The 17-year-old is enrolled in the Orange County Department of Education's Special Education program. The Huntington Beach resident has been diagnosed with Cerebral Palsy and a severe developmental display which means he relies on a speech-generating device to communicate, reports OCDE Newsroom. His teachers at Harbor Learning Center say with a lot of practice, he's become very skilled at expressing himself with the technology.
On May 6, before thousands of baseball fans, wearing a Mike Trout #27 jersey and a huge smile on his face, Greyson tapped on an iPad which generated the "Play ball!" proclamation.
"He's believed to be the first student to use this technology to start a game at Angel Stadium," reports OCDE.
Speech and Language Specialist Paul DePerry, a season ticket holder at Angel Stadium, knew Greyson was a big Halos fan, noting he wears his Trout jersey to school once a week. DePerry worked with Angel Stadium staff to help get Greyson the chance to have his moment in the spotlight on the field. "It took a lot of coordination and little bit of luck to get it done, but we did it," DePerry said.
Read more about Greyson's big moment at the Big A, and see the video, on the OCDE Newsroom website.
Thanks for reading!
Forwarded from a friend? Subscribe to the Spotlight Schools newsletter here.
Follow us on Instagram @SpotlightSchools.
Our mailing address:
P.O. Box 164
Seal Beach, CA 90740

Copyright © 2022 Spotlight Schools, All rights reserved.