Los Alamitos High School 🏈 Coach wants you to D.I.G. it; New NCAA policy could mean big money for high school athletes; Plus, McGaugh's Pageant of the Arts is Back!
College and Career Fair Preview; Details on Summer School & Enrichment Programs; HS Baseball Players take the field at Angel Stadium
College and Career Fair Preview; Details on Summer School & Enrichment Programs; HS Baseball Players take the field at Angel Stadium

In this week's newsletter...
April 5, 2022
FIRST BELL 🔔Los Alamitos High School 🏈Coach Ray Fenton on motivating student-athletes. Plus, the new NCAA policy that could change high school sports.
SECOND BELL 🔔How families with students of all ages can take part in tonight's College & Career Fair.
EXTRA CREDIT 📌Details on summer school, enrichment programs & a camp enrolling now.
RECESS 👏🏼McGaugh Elementary School's Pageant of the Arts returns!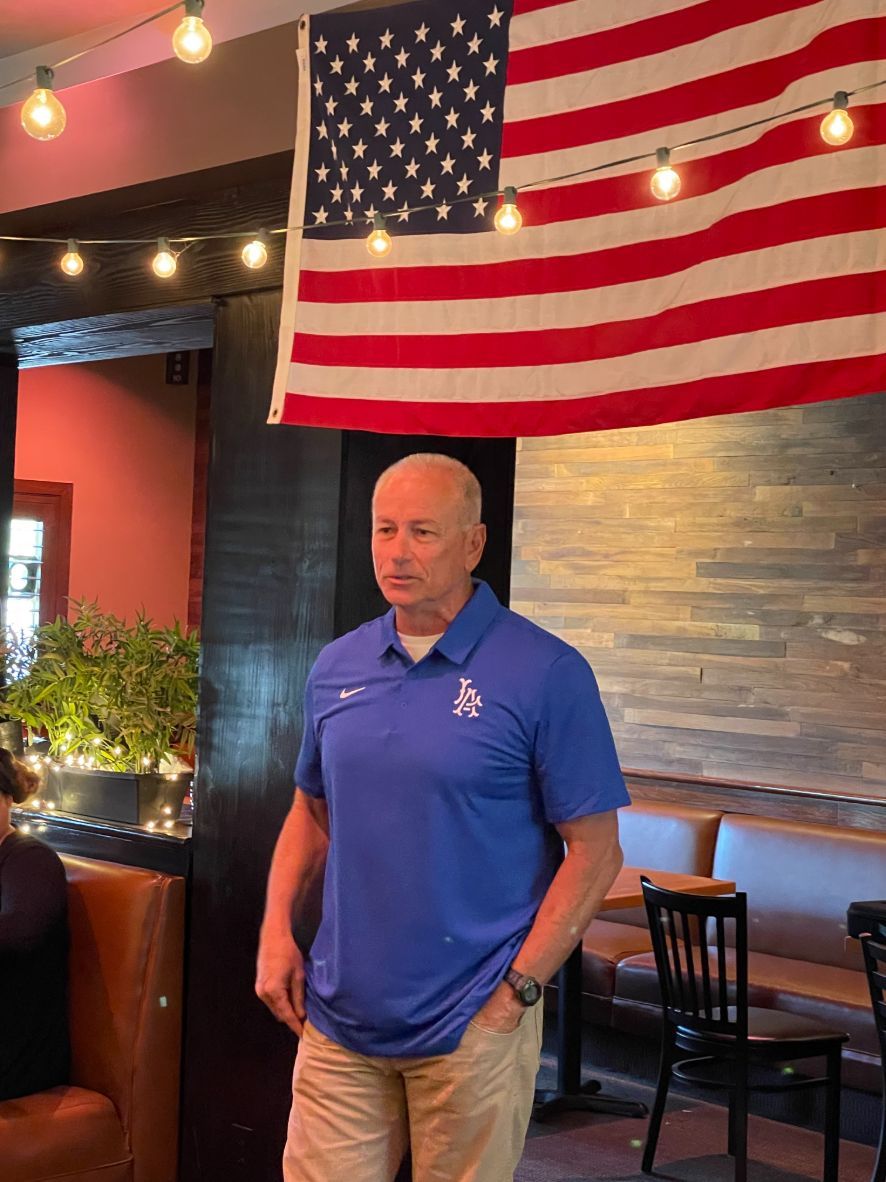 Los Alamitos High School football coach Ray Fenton speaks at the April 1 Los Alamitos Chamber of Commerce monthly breakfast meeting. Courtesy photo.
Spotlight Schools is here to help you better understand, navigate and participate in the TK-12 public school experience in Orange County.
Please send feedback/story ideas/questions to hello@spotlightschools.com.
Yours in knowledge,
Jeannette Andruss, Spotlight Schools Founder and parent of two students in the Los Alamitos Unified School District
FIRST BELL
This Week's Top Story
Dignity, Integrity and Grace Guide LAHS Football Coach
Los Alamitos High School football coach Ray Fenton has a question for his student-athletes: Can they D.I.G it?
For Fenton, the question offers a chance for some life lessons because of what it represents. The "D" stands for dignity, the "I" for integrity and the "G" for grace. He incorporates these values into his coaching and teaching.
"It's what we hang our hat on in our program," Fenton said, his message to athletes is: "Your actions as a football player dignify our program."
For example, Fenton shared how his juniors are organized into teams earning points in a friendly competition off the field. If a player gets a note of praise from a teacher, his team gets points. On the other hand, a negative email from a teacher could detract from the team's score.
There's also some fun competitions like a dance-off judged by the Los Alamitos High School Song team.
"We compete physically, we compete fun-wise and we compete with real-life behavior," Fenton said.
He also said he projects an attitude of gratitude, encouraging players to ask themselves: "What if tomorrow we wake up in the morning with only the things we gave thanks for today?"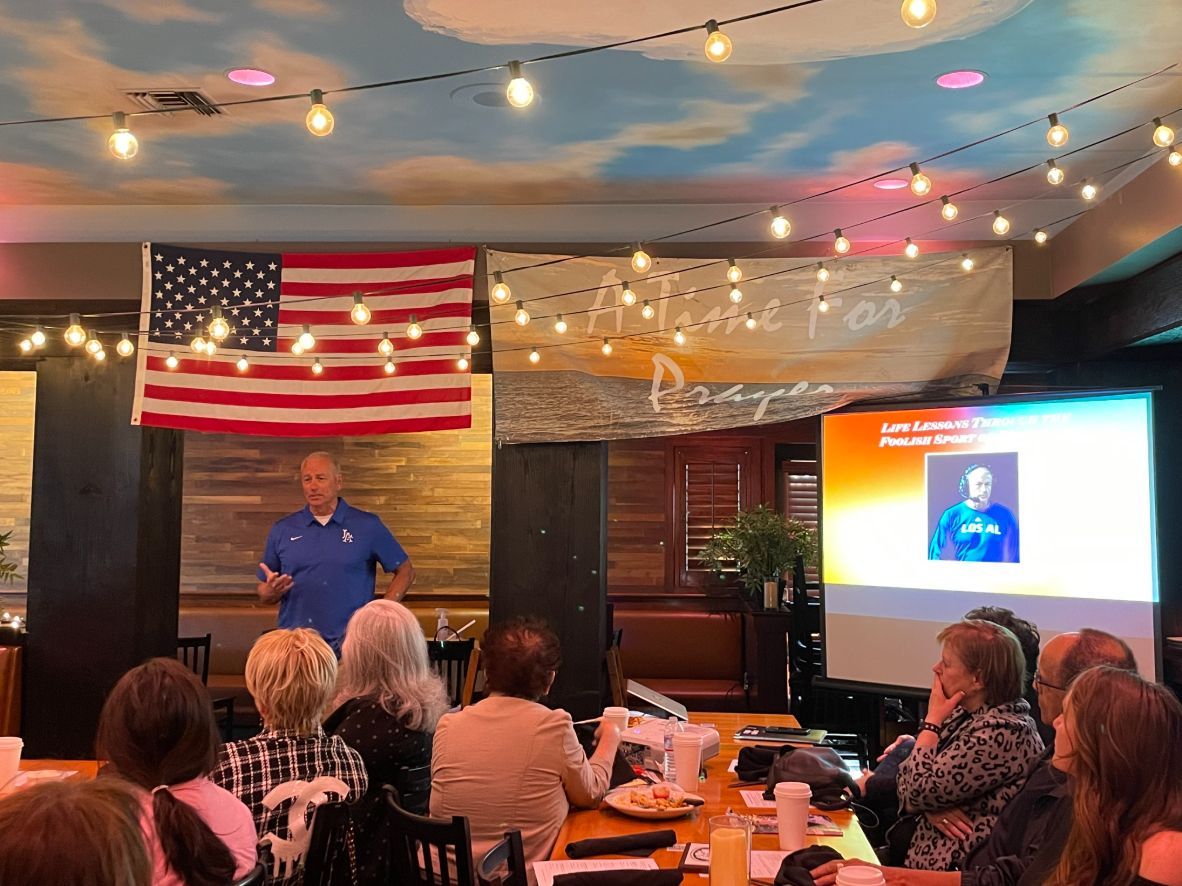 LAHS Football Coach Ray Fenton speaks at the Los Alamitos Chamber of Commerce breakfast on April 1. Courtesy photo.
Fenton shared his motivational messages as the featured speaker at the Los Alamitos Chamber of Commerce monthly breakfast held April 1 at Madera's Steakhouse. A coach for more than 30 years, Fenton started at Los Alamitos High School in 2016 and has led the Griffins to two Sunset League Titles and the CIF Semifinals.
Fenton's roughly 20-minute talk, infused with humor and warmth, covered many topics. He talked about his bout with Covid-19 and how his parents also survived the coronavirus. He talked about "foolish" minimum measurements (Fenton's talk was on April Fool's Day), like the size of a player's hands, that can sometimes exclude talented athletes from the National Football League.
Fenton also touched on a new policy for college athletes that he said could transform high school sports.
The NCAA now allows college athletes and recruits to be paid for the use of their name, image and likeness (NIL) with endorsements, products, appearances and more, similar to professional players.
Adopted last June, the interim policy has already led to lucrative deals for college athletes, according to ESPN. Last month, an unnamed five-star high school football player reportedly signed an NIL deal with a school's collective worth $8 million and he's only a junior.
This unnamed player stands to make $350,000 before he finishes high school. According to Fenton, the player is ranked lower than junior Malachi Nelson, the star quarterback for LAHS who has committed to USC.
"Welcome to high school football," Fenton said with a knowing look that acknowledged the potential pros and cons of this new policy.
Fenton recognized the newfound opportunity could be a life-changing financial boon for a student's family. On the other hand, the introduction of so much money at the high school level could change how games are played.
Fenton discussed a possible scenario where one of his players is competing with another player across the country to boost his NIL profitability. What happens during a high-scoring game when you would normally pull your star athlete out and give playing time to another kid who has also put in the time and effort?
"I have to pull this kid out and it's gonna hurt him financially to put this kid in because he deserves to play. Tough decisions," Fenton said, torn with the prospect of such a dilemma.
Los Alamitos Police Chief Michael Claborn poses with LAHS football Coach Ray Fenton. Fenton gave Claborn a football signed by star LAHS quarterback Malachi Nelson at last week's Los Alamitos Chamber of Commerce meeting where Fenton was the featured speaker. Courtesy photo.
Fenton said his program will keep looking to the D.I.G. acronym to face the future. He said grace is the biggest part of the program.
"High school kids, they're gonna make mistakes. I make mistakes every day," Fenton said. He stressed that if players and coaches can sit down and talk about the mistakes, not make excuses but commit to making up for them, then that will lead to better outcomes.
"We come out with not just a better football player, but we come out with a better person and not just a better person in general, but a better person better equipped for life."
SECOND BELL
Other Stories We're Following
What you need to know about tonight's College and Career Fair

Years ago at the Child Development Center at McGaugh Elementary, students took part in "College Day." Preschool students and staff decked out in college gear would march around the schoolyard chanting, "We're going to college! We're going to college!"
It's never too early to think about the future if only to see what opportunities are available.
That's the aim of the Los Alamitos Unified School District's first College and Career Fair happening tonight from 5 p.m. to 9 p.m. at McAuliffe Middle School.
If you haven't registered yet, you can do so here.
The event is free to district families and parents and students of all grade levels are welcome. You can drop-in or plan to attend some of the scheduled panel discussions. A TK Burgers food truck and Italian ice dessert truck will be there.
What to expect:
Representatives from more than 60 colleges and universities.
An NCAA representative who can discuss playing sports in college.
Representatives from community colleges to discuss career education programs covering automotive, biotech, real estate, business, engineering and digital media arts.
Businesses representing 15 career pathways.
Three panels with experts sharing advice on how to get into careers in medicine, engineering and computer science. (See flyer👇🏼)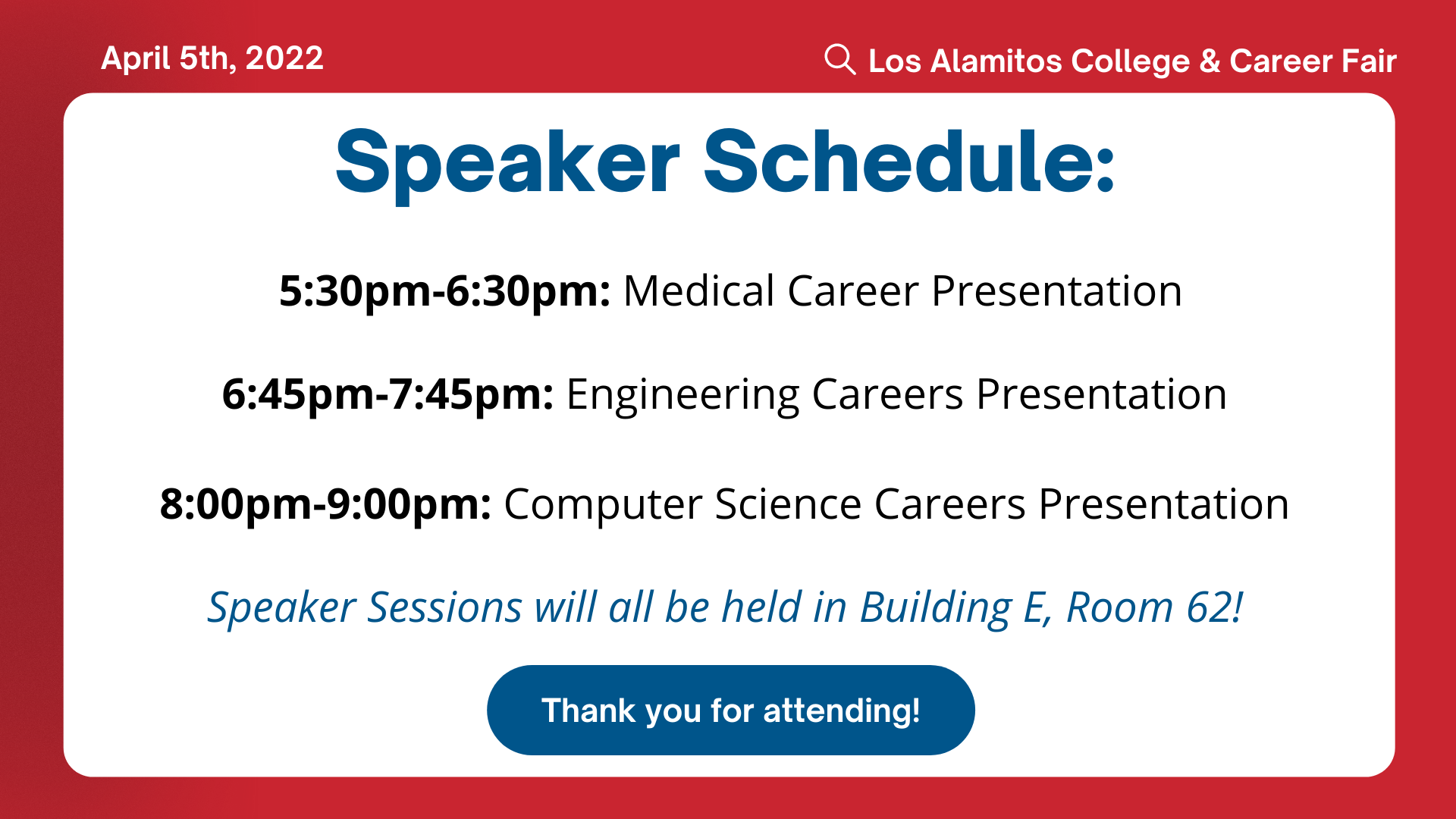 A flyer shows the speaker schedule for tonight's College and Career Fair being held at McAuliffe Middle School.
What about younger kids?
This event isn't just for the families of middle and high school students. For the TK-5th graders, there will be three hands-on displays for kids to explore careers in robotics, medicine and digital media arts.
"It's never too early for our elementary-aged students to get excited about college and careers," Nichole Pichardo, Los Alamitos Unified School District spokesperson, wrote in an email.
Can't make it in person? There is a virtual option. 💻📱 Once you register you'll get emailed a link to access an online platform that will connect you to some of the fair's resources.
For more information on tonight's event click here or reach out to the Instagram account @LosAlCollegeandCareer.
Other Stories Worth Reading
EXTRA CREDIT
Meetings // Events // Opportunities // Resources
MEETINGS
HAPPENING TOMORROW, APRIL 6: Orange County Board of Education meeting. The OCBE is scheduled to meet at 2:30p.m. at 200 Kalmus Drive, Costa Mesa. The meeting can be viewed on YouTube.
On the agenda:
Budget study session.
A public hearing is scheduled on Vista Charter Public Schools' application for countywide status to operate Vista Meridian Global Academy, serving 9 to 12 graders, starting in the 2023-24 school year. It notified Garden Grove Unified, Irvine Unified, Newport-Mesa Unified and Santa Ana Unified of its intentions to expand.
Tabled at their last meeting, the board is scheduled to discuss altering the salary of the Orange County Superintendent of Public Schools.
EVENTS
HAPPENING TOMORROW, APRIL 6: Los Al USD Universal Transitional Kindergarten Information Night takes place at 6:30p.m. at the district office at 10293 Bloomfield Street in Los Alamitos. For the 2022-23 school year, children who turn five years old between September 3, 2022, and February 2, 2023, are eligible for Universal Transitional Kindergarten.
HAPPENING SATURDAY, APRIL 9: Spotlight on the Next Generation of Jazz Fundraiser takes place this Saturday at 7:00pm at the Los Alamitos High School Performing Arts Center. It features performances from students from McAuliffe Middle School, Oak Middle School, Los Alamitos High School along with guest artists. Buy tickets and find out more at www.losaljazz.seatyourself.biz.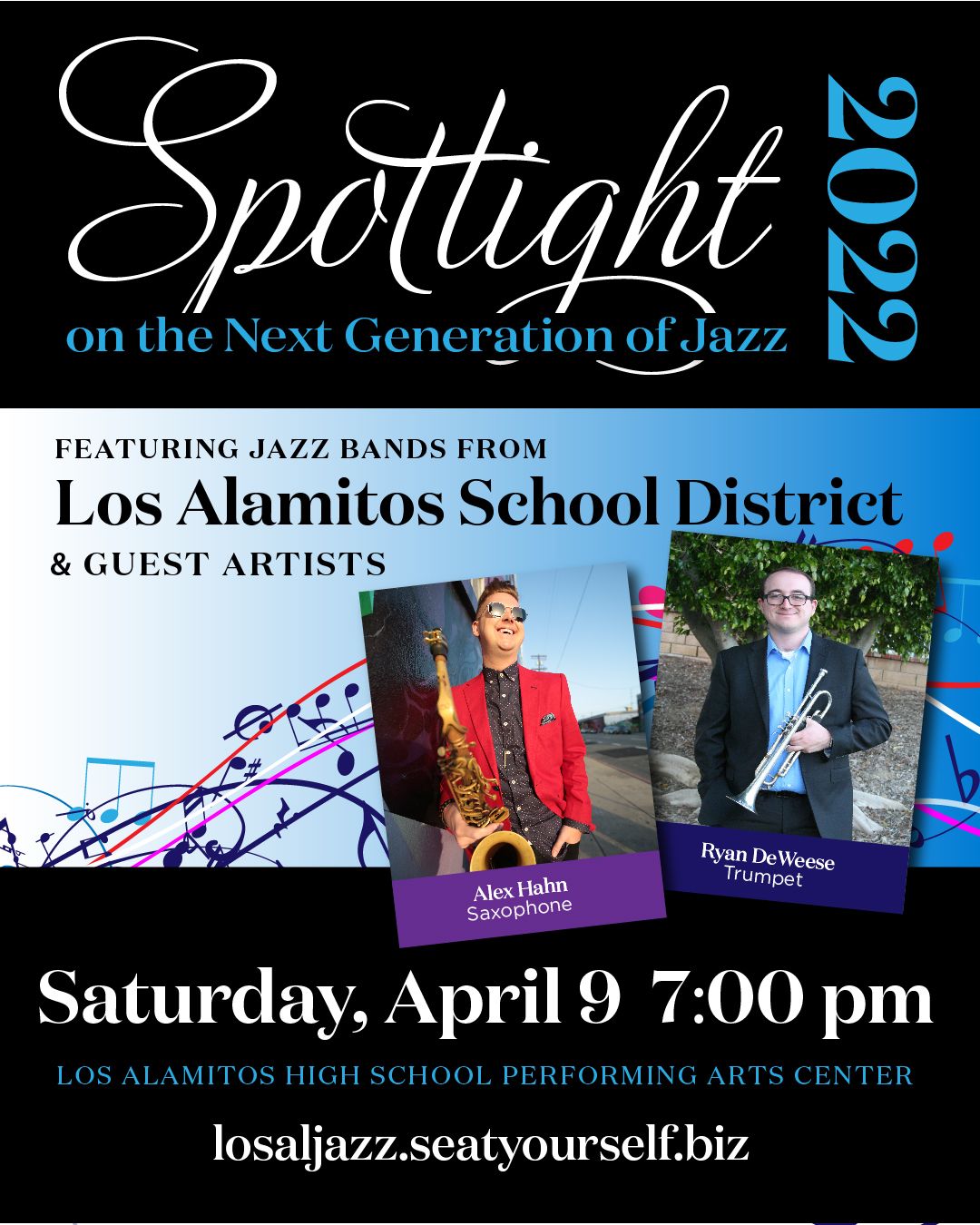 HAPPENING TUESDAY, APRIL 12: Workshop on Facilitating Play, Fun and Friendships. Happening at 6:00p.m., this virtual workshop will support parents in learning key strategies and skills to build their child's play skills and to structure and facilitate successful play date experiences for their child and peers. RSVP to the Greater Anaheim SELPA office via Jennifer Cox: jcox@gaselpa.org. A Zoom link will be provided after registration.
OPPORTUNITIES
SUMMER PROGRAMS
The Los Alamitos Unified School District will offer the following programs during the summer of 2022.
(K-4) Elementary Summer Academy
Location: Hopkinson Elementary School
Dates: June 20 – July 15, 2022
Time: 8:00AM– 11:45AM
(5-7) Middle School Summer Bridge
Location: Oak Middle School
Dates: June 20 – July 15, 2022
Time: 8:00AM-12:00PM
LAHS Credit Recovery & 9th Grade Summer Bridge Program
Location: Los Alamitos High School
Dates: June 20 – July 22
Time: 7:25AM – 12:50PM
Griffin Connections (online)
Semester I Dates: June 13 – June 30, 2022
Semester II Dates: July 11 – July 29, 2022
Griffin Connections is an online summer learning opportunity for current 9th, 10th and 11th grade students who have impacted schedules for the 2022-2023 school year. For more information, visit the district's website or watch this recorded presentation.
Los Alamitos Education Foundation Summer Enrichment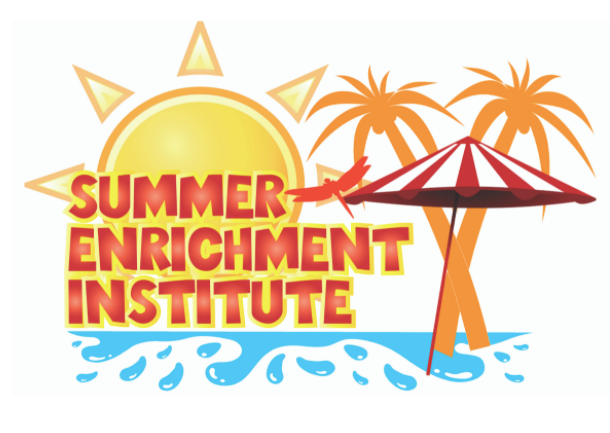 LAEF is offering summer enrichment opportunities for all school-aged children and enrollment is now open.
Locations: Lee Elementary School and Oak Middle School
SEI Session 1: June 20 - July 1
SEI Session 2: July 5 - July 15
The Youth Center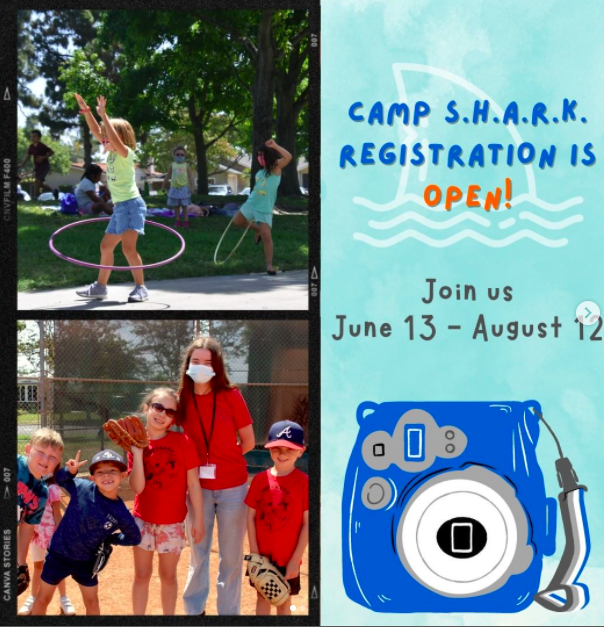 The Youth Center's Camp S.H.A.R.K. (Science, Hands-on, Art, Recreation, Knowledge) is now enrolling students.
Runs June 13- August 12
Located at 3232 Hedwig Road in Rossmoor
Camp runs weekdays 9 a.m. - 4 p.m. but extended hours (7 a.m.-7 p.m.) are available.
RECESS
Your Dose of Good News
McGaugh's Pageant of the Arts Returns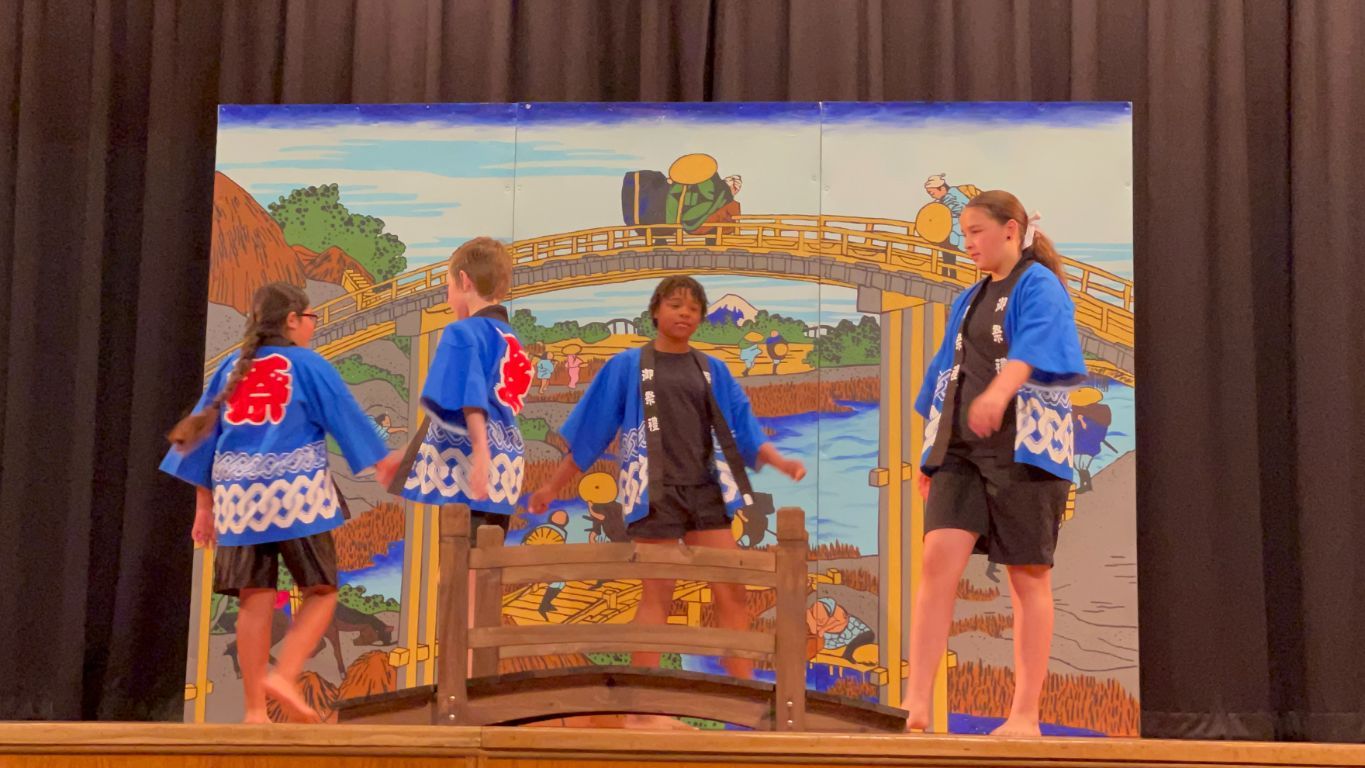 McGaugh fifth graders perform during the 39th Pageant of the Arts in the school's auditorium in front of the student-made replica of the painting 'Fuji with Seven Bridges in One View' by Katsushita Hokusai. Courtesy photo.
After two years of cancellations due to the Covid-19 pandemic, the Pageant of the Arts at McGaugh Elementary returned to the stage for the 39th time.
The beloved tradition at Seal Beach's only public school features student-made replicas of world-famous paintings. The works are paired with student performances and dancing, which serve to educate and entertain. It's inspired by the Pageant of the Masters in Laguna Beach.
Dating back decades, McGaugh's tradition brings the world of art to life for students for the whole year. Each year, students study a chosen artist during weekly Art Lab classes on campus. That's also where they work on painting the giant canvas to create a masterpiece.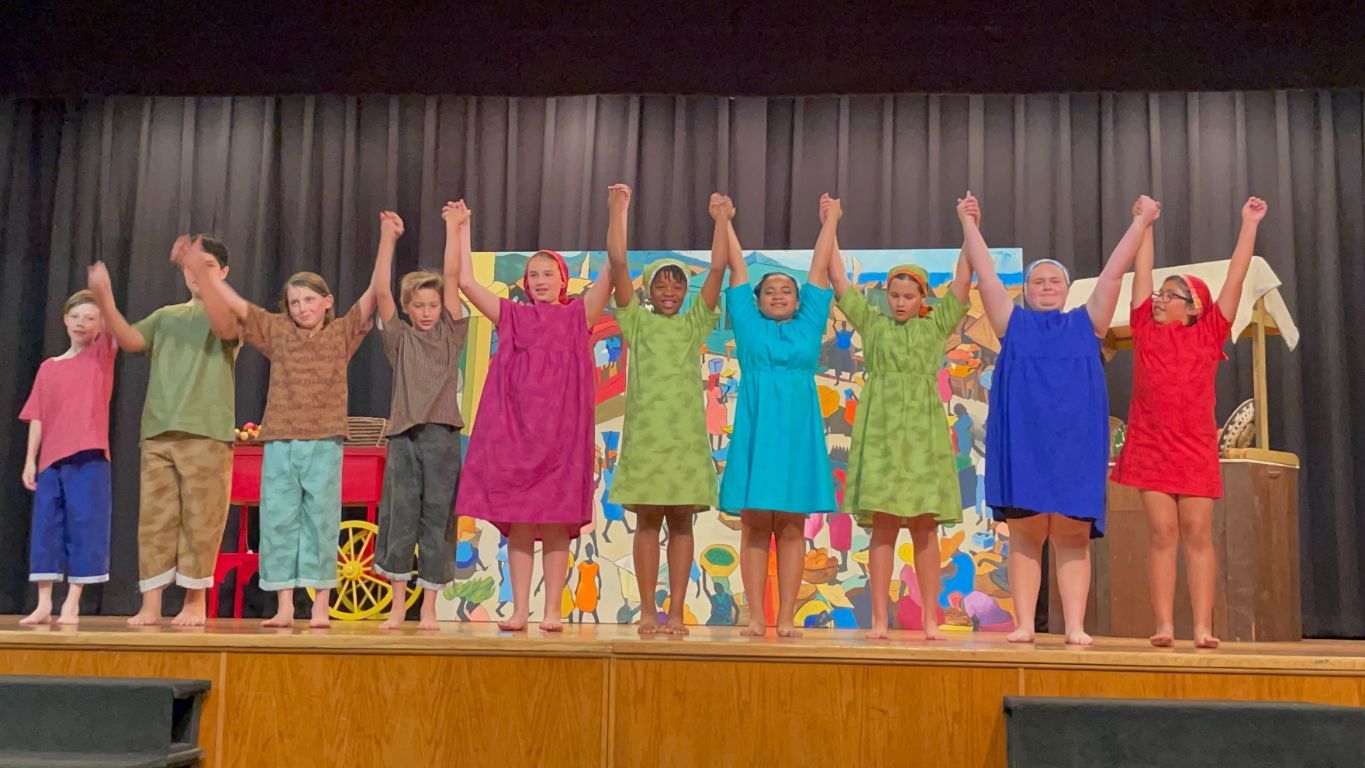 Fifth graders bow after their performance in front of this year's featured replica artwork, 'Bazar Du Quai, Port Au Prince, Haiti' by Loïs Mailou Jones. Courtesy photo.
This year's featured artist was Loïs Mailou Jones (1905-1998). She influenced the arts as a painter, designer and educator. Her piece "Bazar Du Quai, Port Au Prince, Haiti" is the featured painting which closed out the show.
"The support of the community in funding an art teacher who is dedicated to a yearlong study of one particular artist allows the art teacher to introduce all McGaugh students, TK-5, to various media and styles of the chosen artist," McGaugh third grade teacher and Pageant program director Leslie Obert wrote in an email to Spotlight Schools.
The Art Lab teacher position is funded by the fundraising efforts of the volunteer-run Project SEEK and the Los Alamitos Education Foundation.
"After missing the past two years, it was extremely important for us to educate the students again about the past history of ALL the artists and masterpieces that are included in the show," Obert added. She said there are more than 30 student-made canvases that have been created over the years. Nine were featured this year.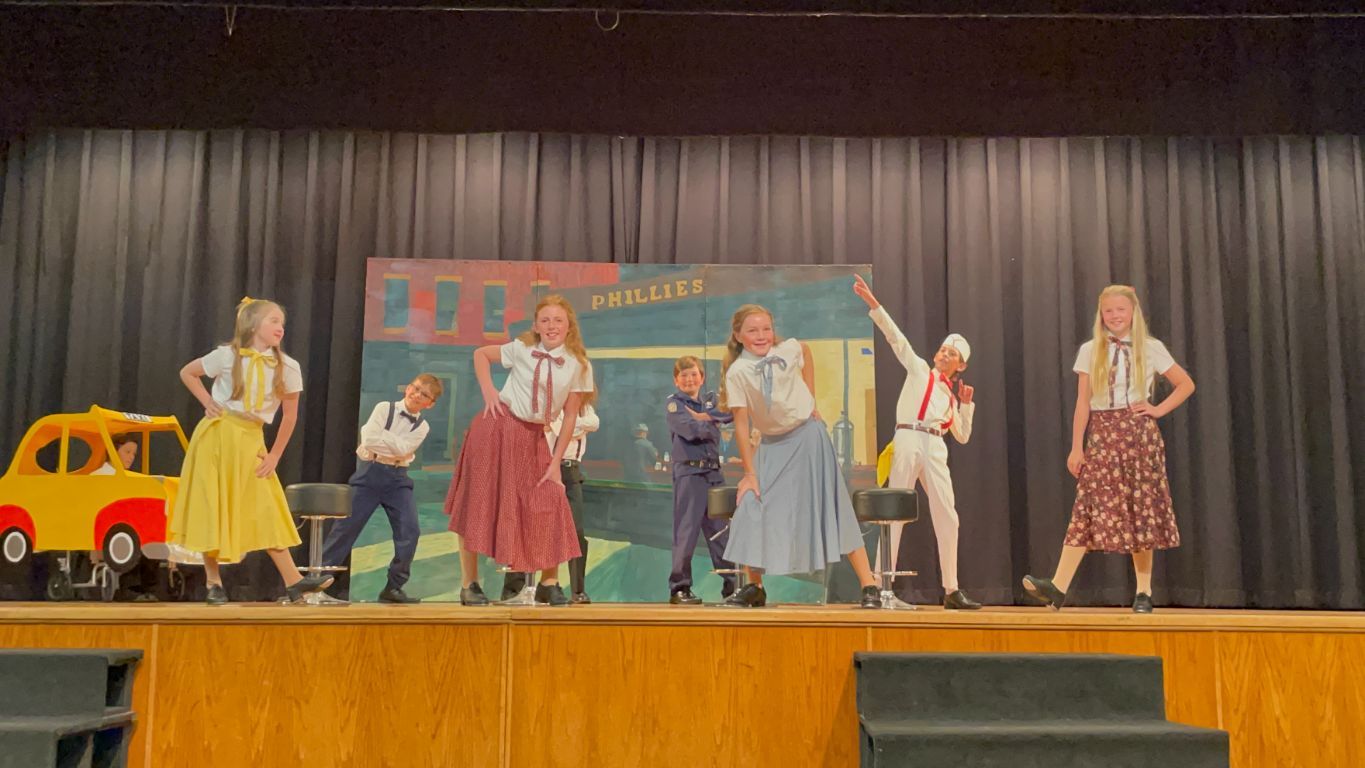 McGaugh fifth graders dance in front of the student-painted replica of Edward Hopper's 'Nighthawks." Courtesy photo.
Eighty-two students, fourth and fifth graders, performed in this year's pageant, spending a total of 21 hours rehearsing with teachers after school and during recess.
McGaugh students saw the show during the school day last week and family, friends and community members were able to see performances on April 1 and 2. Around 450 people filled McGaugh's auditorium each night last weekend, Obert said.
On Saturday night, Los Alamitos Unified School Board of Education President Diana Hill was in the audience along with former Sea Lions, children and adults, who had once been in the Pageant themselves.
Parents Connor and Shayla Matt were thrilled to have their students participate this year.
"It was a wonderful experience for them as they learned about art and learned about life," the Matts wrote in a letter to Obert.
You can watch past performances from McGaugh Elementary students on the Seal Beach Public Television station website. This year's show should be online this summer.
BOOSTER DOSE: Athletes Play at Angel Stadium
See how the Los Alamitos High School baseball team played at Angel Stadium on Wednesday, March 30.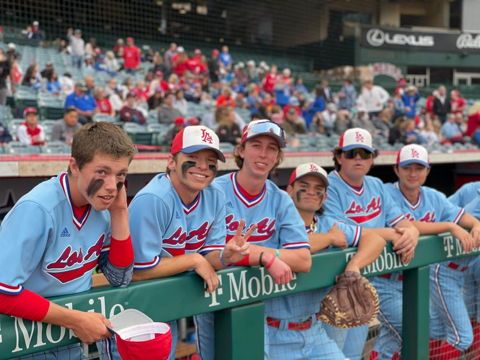 Los Alamitos High School baseball players in the dugout at Angel Stadium where they played Esperanza High School in a game that ended in a 3-3 tie. Courtesy photo.
More highlights are on the district's Instagram and this YouTube highlight video.
Thanks for reading!
Forwarded from a friend? Subscribe to the Spotlight Schools newsletter here.
Follow us on Instagram @SpotlightSchools.
Our mailing address:
P.O. Box 164
Seal Beach, CA 90740

Copyright © 2022 Spotlight Schools, All rights reserved.