Spotlight Schools Newsletter: Nov. 9, 2021 Covid-19 Vaccines for Kids in OC; Update on Recall Effort; Former Principal's New Book Pays it Forward
Reporting to help you navigate and participate in the TK-12 public school experience.
Reporting to help you navigate and participate in the TK-12 public school experience.
Spotlight Schools
In this week's newsletter:
Covid-19 vaccine for 5-to-11-year-olds available in Orange County
Update on recall effort against three Board of Education trustees
Why is Los Al USD hiring Physical Education aides?
Former LAHS Principal publishes book that Pays it Forward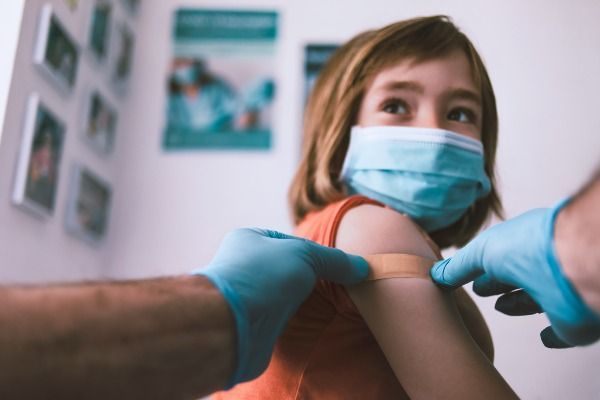 Covid-19 vaccines for children ages 5-to-11-years-old are now available including in Orange County. Photo: iStock
This is the weekly newsletter from Spotlight Schools, a hyperlocal newsroom covering education in Orange County. Our goal is to help you better navigate, understand and participate in the TK-12 public school experience. This is Jeannette Andruss, founder of Spotlight Schools and parent of two students in the Los Alamitos Unified School District.
Thoughts? Suggestions? Story ideas? Please send them to: hello@spotlightschools.com.
FIRST BELL
This Week's Top Story
Covid-19 Vaccines for 5-to-11-year-olds now Available in Orange County
A Covid-19 vaccine is now FDA-approved for emergency use in kids ages 5-to-11-years-old and it is available in Orange County.
Pediatric Covid-19 vaccine basics
The lower-dose version of the Pfizer-BioNTech vaccine for kids is administered in two shots given three weeks apart, according to the website for the Orange County Health Care Agency (OCHCA).
The pediatric dose (10 micrograms) is one-third the amount of an adolescent/adult dose (30 micrograms).
Pfizer's clinical trial of roughly 3,100 kids showed its mRNA-based vaccine was nearly 91% effective at preventing symptomatic illness in elementary school-age kids with no serious side effects.
Where can I get my child the vaccine?
Local public health officials suggest contacting your health care provider or pediatrician's office to see if they are offering vaccinations.
California's vaccine website MyTurn.ca.gov also offers appointments.
The Orange County Department of Education will not host vaccination clinics for students but check with your local school and district for more information. Santa Ana Unified is exploring options, reports Voice of OC.
Is a Covid-19 vaccine required for students to attend school?
Right now, there is no mandate in effect statewide but some school districts in California are implementing a vaccine requirement.
California Governor Gavin Newsom did announce plans to require Covid-19 vaccinations for students to attend in-person classes once the vaccines receive full approval from the U.S. Food and Drug Administration. That could possibly take effect for 7th to 12th graders by July 2022.
Medical and personal belief exemptions to the mandate would be allowed under current rules.
If my child already had Covid-19, should they get the vaccine?
"Yes," says Dr. Angela S. Dangvu on the Children's Hospital Orange County (CHOC) website. "We don't know how long the immunity lasts from natural illness, and the vaccine is made to create a longer-lasting immune response."
What's happening with Covid-19 cases in Orange County right now?
"Statewide and locally, we are beginning to see a slight increase in COVID case numbers and I want to remind everyone to please continue being proactive about protecting our loved ones and neighbors," Dr. Regina Chinsio-Kwong, Deputy County Health Officer said in a Nov. 5 press release.
View current case counts and more via OC Register.
Want to Learn More?
Q&A on Covid Vaccines from CHOC (Children's Hospital Orange County)
Fact Sheet from the American Academy of Pediatrics
Detailed vaccine information, including on FDA approval process, from FactCheck.org
RELATED: Now that vaccines for younger kids are approved, parents ask: when will masks in school be optional? via SF Chronicle
SECOND BELL
Other Stories We're Following
Crowd Expected at Tonight's Board of Education Meeting
Tonight, the Los Alamitos Unified School District Board of Education meets. It's the first meeting since Board President Marlys Davidson was heard on a hot mic cursing under her breath at a parent after the mother spoke during public comment at the Oct. 26 meeting. Davidson has since apologized saying, "Not only do I apologize to the speakers I offended, but also to every student, parent, and community member who gets up to speak their truth on behalf of our children."
"[Resignation] is the only acceptable apology for parents," the mother Lauren Roupoli said. Others are also demanding Davidson resign but the Board President said she has no plans to step down. Fellow trustee Diana Hill said Davidson's behavior was "not acceptable" but is advising forgiveness.
You can read more in this week's print edition of the Event-News Enterprise published on Wednesday. (See more on the agenda for tonight's meeting in EXTRA CREDIT)
Recall Organizers Awaiting Word from Registrar of Voters' Office
It's been six weeks since the Los Al USD Board of Education trustees Megan Cutuli, Chris Forehan and Scott Fayette were handed notices of intention to circulate recall petitions.
As of today, the petitions are still under review.
In an email last week, the Orange County Registrar of Voters' office said organizers filed the second draft of the petitions on Nov. 4. The office has ten days to review them.
The ROV must approve the petitions before signatures can start being gathered. Once approved, recall organizers have 90 days to collect a total of roughly 6,000 signatures from registered voters living in the three targeted trustee areas to get a recall on the ballot.
In an interview on KFI AM 640 last month, recall campaign spokesman Robert Aguilar, Jr. said the recall election would likely be a special election in 2022, held after the June primary and before the November midterms.
The ROV estimated the cost for such an election would be up to $192,948 plus about $3.40 per signature for verification. It would all be paid for by the school district.
The recall campaign has also formed a committee to raise money for its efforts.
Meanwhile, Ballotpedia has a new page on the attempt to recall Los Alamitos Unified trustees and notes it's one of 84 efforts against school boards taking place this year.
Recall organizers are also circulating an online petition demanding Davidson resign. She is not part of the recall because she is up for re-election in 2022.
New Playgrounds paid for by Bond Funding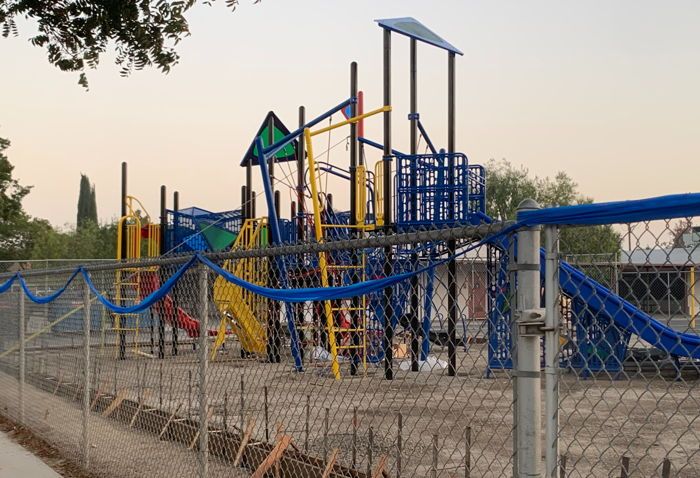 New playground under construction at Lee Elementary school last week.
Last month at a workshop, the public got an update on the projects being financed by the district's two voter-approved bond measures, Measure G and Measure K.
Several schools are getting new playgrounds including Lee Elementary, which is being installed now. Equipment for playgrounds at Weaver Elementary and Los Alamitos Elementary, is being shipped. There were delays due to a fire at the manufacturer's factory.
Other projects still under construction or planned for construction include:
A multistory STEM building now being built on the Los Alamitos High School campus which should be completed by the Summer of 2022. (You can take a virtual tour of renderings of the STEM building: see the lobby, media center, a classroom and a lab.)
A second gymnasium at Los Alamitos High School
An aquatics center at LAHS that opened up last year was also financed with bond money.
District Hiring P.E. Aides to help support Student Learning
We know there's a shortage of substitute teachers. Now the Los Alamitos Unified School District is also looking for Instructional Assistants for Physical Education for the district's six elementary schools.
A job posting went up last week for the part-time positions which pay up to roughly $25 an hour.
Hiring P.E. aides is part of an effort to give teachers more time to engage in small-group learning inside classrooms, according to Deputy Supt. Ondrea Reed.
Groups of students will rotate outside for P.E. time with an aide and another classroom's certified teacher, while some students stay inside the classroom for reading intervention or for assessments, for example.
The district received a $500,000 Expanded Learning Opportunity Grant that must be spent on new instructional aides to support student learning, Reed said in an interview last week. The district also sought Instructional Assistants in math, science and college prep classes for the secondary schools.
Students in first through fifth grades are required to participate in 200 minutes of Physical Education activity every ten days. So this approach works to meet that mandate and create "targeted time to provide support for all students," Reed said.
Applications are open through Nov. 30. More information here.
Other Stories We're Reading...
EXTRA CREDIT
Meetings // Events // Opportunities
HAPPENING TONIGHT: The Los Alamitos Unified School District Board of Education meets tonight in the Board Meeting Room at 10293 Bloomfield Street. The Board will hold a workshop at 4:30pm and then convene its regular meeting at 6:30pm.
The 4:30pm workshop will feature a presentation on the Educator Effectiveness Block Grant which offers one-time funding for professional learning for teachers and other classified staff. Learn more about the grant here.
You can watch the 4:30pm workshop via YouTube.
On the agenda for the 6:30pm meeting:
A presentation on the Houghton Mifflin Harcourt Into Reading textbooks for English and Language Arts for grades K-5. "Following extensive analysis and piloting, elementary school teachers have selected this publisher," reads the agenda.
Approval to purchase a refrigerated truck for approximately $112,000 to transport food for Oak and McAuliffe Middle Schools paid for with Covid-relief funds.
Memorandum of understanding with Anaheim Regional Medical Center 1-866-NEW LUNG to conduct cessation classes for students as alternative/reduction to suspension for tobacco/nicotine related incidents that occur during the school day.
Reports from Board President, Superintendent and Student Board member.
You can watch the 6:30pm regular meeting via YouTube.
PARENT EDUCATION OPPORTUNITIES
HAPPENING TONIGHT: Supporting Your Child During Times of Crisis -- 6:00pm-7:30pm via webinar (View Flyer here.)
"This workshop will facilitate understanding of the common reactions of children in crises, identify risk factors and warning signs, and explore supportive practices that helpers can immediately incorporate into their work with children, students, parents, and communities." A Zoom link will be provided following registration via RSVP to Jennifer Cox at jcox@gaselpa.org.
HAPPENING THURSDAY, NOV. 11: Optimizing Sleep in Children and Adolescents -- 5:00pm-6:00pm
A CHOC Pediatric Psychologist specializing in sleep medicine will discuss the importance of sleep and identify common issues with sleep in children as well as advice on how to implement healthy sleep habits. Click here to register.
Find out about more upcoming parent education events here.
RECESS
Your Weekly Dose of Good News
Former Los Alamitos High School Principal's New Book Pays it Forward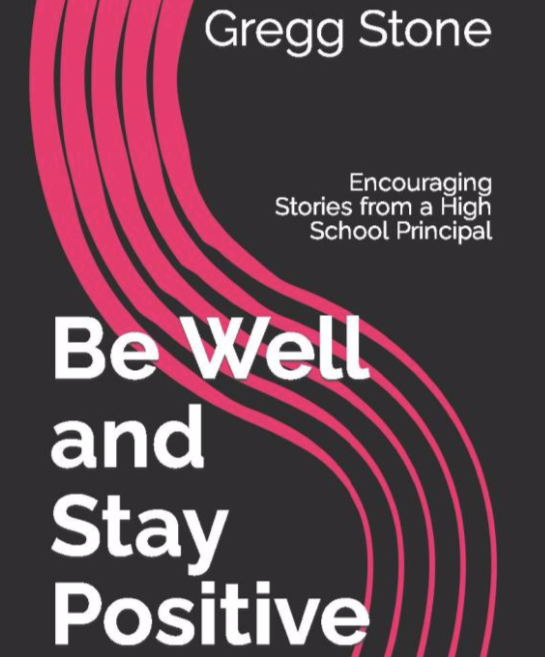 It's not surprising the past few years of Dr. Gregg Stone's life have inspired a book.
In June 2019, Stone retired as principal of Los Alamitos High School, after many years in the district. Then one year later, in August 2020, he was asked to return as the interim principal as schools across the country faced the challenge of providing an education to students during a once-in-a-lifetime pandemic.
And it was that year, and his determination to get families through it, that are the basis of his book, Be Well and Stay Positive: Encouraging Stories from a High School Principal.
Available online now, the book is a collection of the "Thought-for-the-week" messages and reflections he sent to the Los Alamitos High School families as they experienced a year marked by hybrid learning, quarantine, social isolation and more due to the Covid-19 pandemic.
"Each message was meant to be a positive statement of encouragement for the school community," reads the book description on Amazon. Now 43 of the messages are compiled into the book which also include "personal experiences in conveying the lessons of each passage."
Stone marked his second retirement in July, as reported by The Event-News Enterprise. But thanks to this book, he's still making an impact in Los Al USD.
Not only will his words continue to be shared, but the net proceeds of the book will go to the Los Alamitos Education Foundation to provide a senior scholarship to "someone who shows determination or has a positive approach to whatever life throws their way."
ONE LAST THING: It's Native American Heritage Month. Help Los Al HS junior Andrew Baldwin with his Eagle Scout Project! He's bringing donated supplies to Navajo Nation families hit hard by the pandemic. He's making the deliveries this week but you can still support him via his GoFundMe page.
Thanks for reading!
Forwarded from a friend? Subscribe to the newsletter here.
Copyright © 2021 Spotlight Schools, All rights reserved.
Our mailing address:
P.O. Box 164
Seal Beach, CA 90740