Spotlight Schools Newsletter Sept. 8, 2023
Orange Unified passes parental notification policy // Students can now serve on the O.C. Board of Education // Military family's BIG surprise at school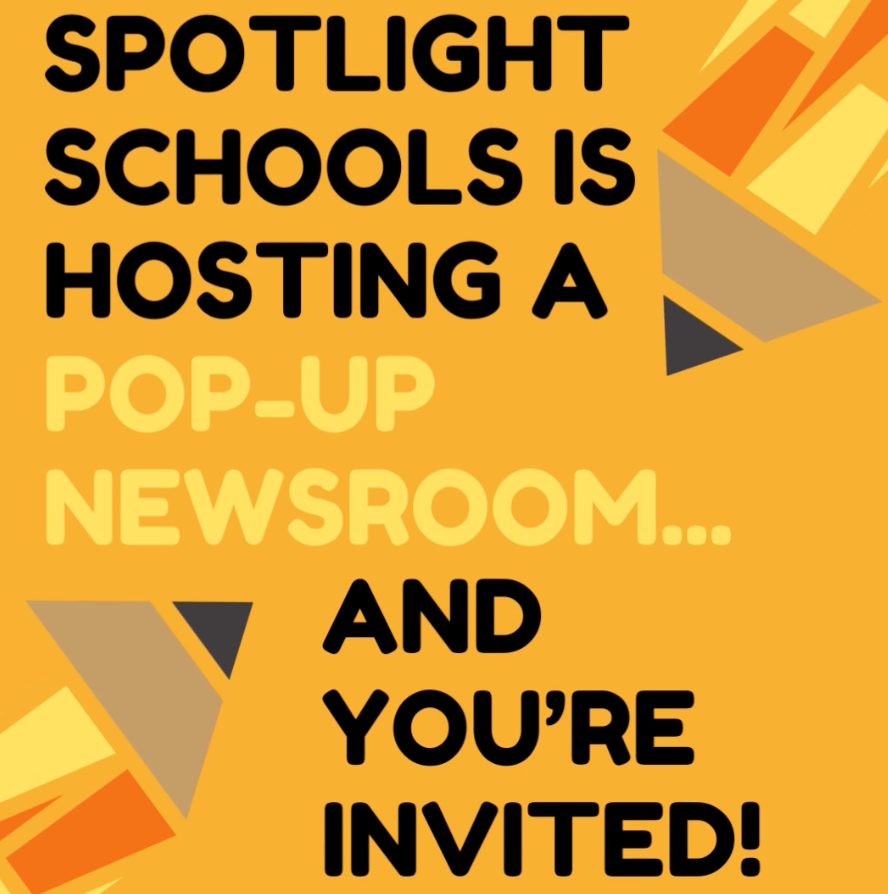 ✏️ Come visit us in the community!
The 2023-24 school year is officially back in session for all public schools in Orange County. Spotlight Schools is excited to continue to deliver hyperlocal coverage that helps you better navigate and understand the TK-12 public school experience.
To help us in that mission, we want to meet you! Please visit our pop-up newsroom at the Rossmoor Family Festival happening tomorrow, Sept. 9, at Rush Park from 2:00 p.m. - 8:00 p.m. We'll have a booth set up at the event which will also feature food trucks, a kids zone, live music, a farmers market and more!
Stop by our pop-up newsroom to:
✏️ Get freebies from Spotlight Schools;
📝 Share your opinion about what stories and topics you think we should be reporting on;
🧠 Learn more about our newsroom and how you can support our work.
We hope to see you there!
Not a subscriber to this email newsletter? Sign up here. Be sure to follow us on Instagram and X for more coverage of local schools. And check out our new and improved website, SpotlightSchools.com.
Have thoughts about our coverage? Send us your feedback by responding to this email.
Yours in knowledge,
Jeannette Andruss, Co-founder and Chief Editorial Officer
---
Students can now serve on the O.C. Board of Education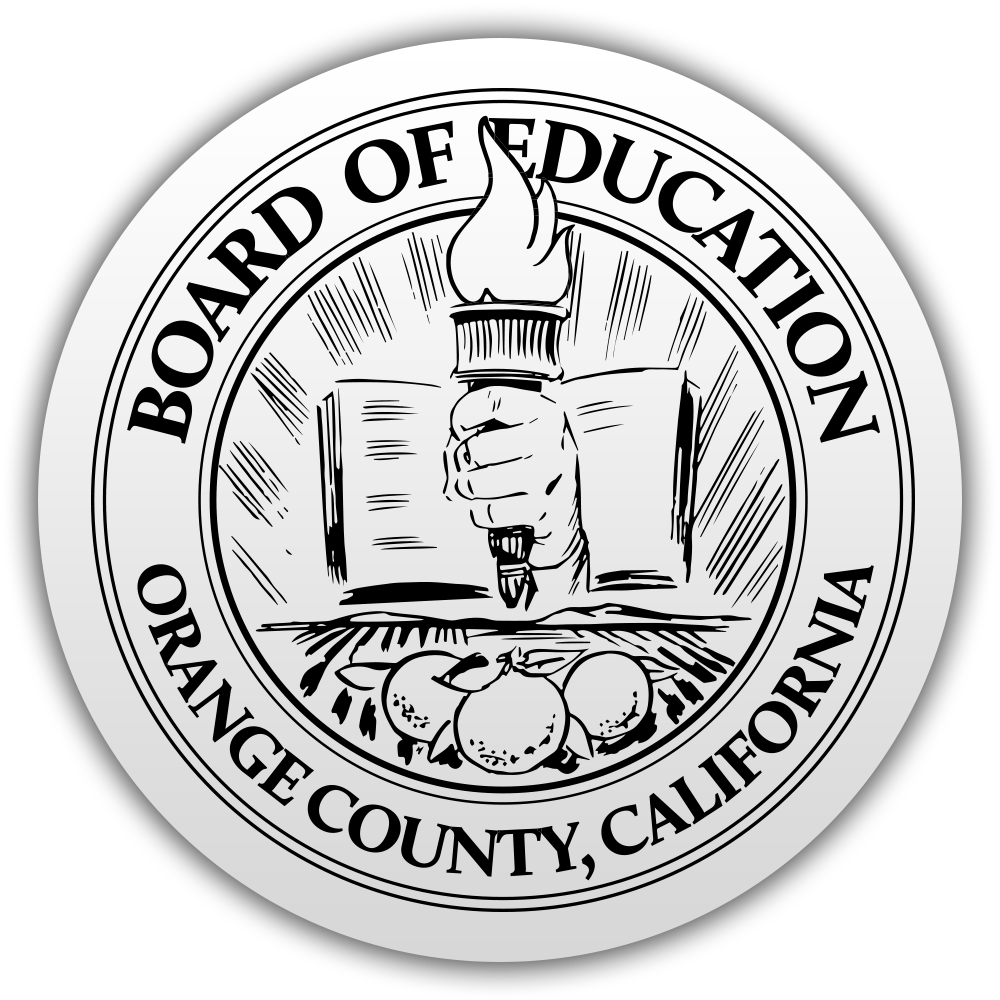 ---
Students could soon be sharing the dais with trustees on the Orange County Board of Education.
On July 1, 2023, California Assembly Bill 824 took effect, allowing student representatives to serve on county boards of education. Before, students could only serve on their local school district's board of education.
Now, certain students attending a high school under the jurisdiction of the Orange County Board of Education can petition to be its student representative.
"All of us on the board have children," said Mari Barke, five-year member on the OCBE, "so I feel like we might get a little bit of a student perspective. But the more information we have the better, so to see it through the lens of students is great."
In addition to being able to give reports at meetings, the student board member would have preferential voting rights. That means the student board member or members could state their opinions and preferences on open-session agenda items before the elected trustees vote. However, the student's vote would not count toward the final numerical outcome.
Troy Flint, of the California School Boards Association, which supported AB 824, compared the student board member position to Washington D.C. and U.S. territories like Puerto Rico, which elect non-voting members to the House of Representatives and don't have representation in the Senate like the 50 states.
A student petitioning to be their county board's representative can be of any high school grade. They would need 500 signatures of pupils enrolled in a high school under their county board of education's jurisdiction, or 10% of the number of pupils enrolled in a high school under their county board's jurisdiction, whichever is less.
"I love the idea of government involvement by students because it gets them to understand governance from an actual experience versus just reading about it," Barke said.
Read more about how California students can now serve on county boards of education at SpotlightSchools.com.
This story was reported and written by Spotlight Schools Editorial Intern Bella Kim.
---
Orange Unified adopts parental notification policy regarding transgender students
The Orange Unified School District Board of Education has become one of a handful of public school districts across California to pass a parental notification policy for when a student shows signs of being transgender at school.
Rather than review what happened last night at the sometimes raucous meeting that attracted overflow crowds of activists from opposing political viewpoints (I watched it on a YouTube livestream), Spotlight Schools will focus on the adopted policy and how it could impact the district's 28,000 students.
The four-page policy was first brought forward by Board President Rick Ledesma and trustee Madison Miner last month. It was revised three times before it was approved late last night following hours of public comment from more than 100 people.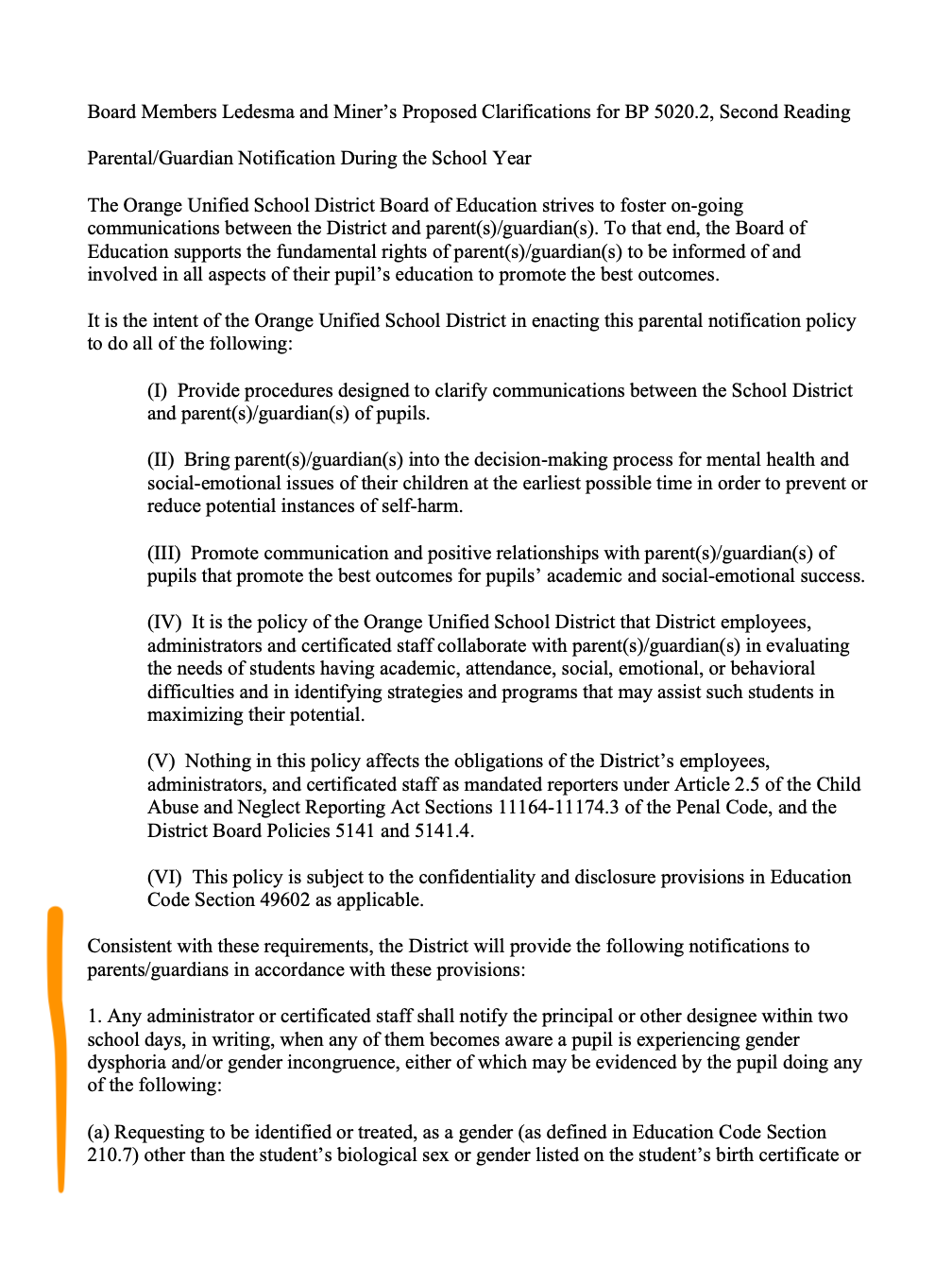 What does the policy do?
OUSD now requires any administrator or certificated staff to notify the school principal in writing within two school days if they become aware of a student "experiencing gender dysphoria and/or gender incongruence."
The policy states examples of that could include when a student:
Requests to be "identified as or treated as a gender … other than the student's biological sex or gender listed on the student's birth certificate or any other official records";
Asks to use a name that differs from their legal name;
Asks to "use pronouns that do not align with the student's biological sex";
Accesses "sex-segregated school programs and activities" including athletic teams and competitions;
Uses a bathroom or changing facility that "does not align with the student's biological sex or gender listed on the birth certificate or other official records."
Asks to change any information in their official or unofficial records.
How would OUSD parents be notified?
A school's principal must contact the parents or guardians of a student within five school days of being notified by staff if any of the above situations is observed.
If the pupil is under 12 and does not "engage" in any of the listed "behavior" but reveals to a school counselor or school psychologist a desire to be treated as a gender other than the gender listed on the student's birth certificate, the counselor/psychologist must notify the parents within five school days.
If the above scenario involves a student who is 12 or older, the school counselor/psychologist must determine whether "reasonable cause exists to believe that disclosure of the pupil's gender identity to the parent(s)/guardian(s) is necessary to avert a clear and present danger to the health, safety, or welfare of the pupil…"
If the counselor or school psychologist has a "reasonable belief that informing the parents(s)/guardian(s) creates a clear and present danger to the pupil, no disclosure is required." But the "specific basis" for this belief must be recorded in writing.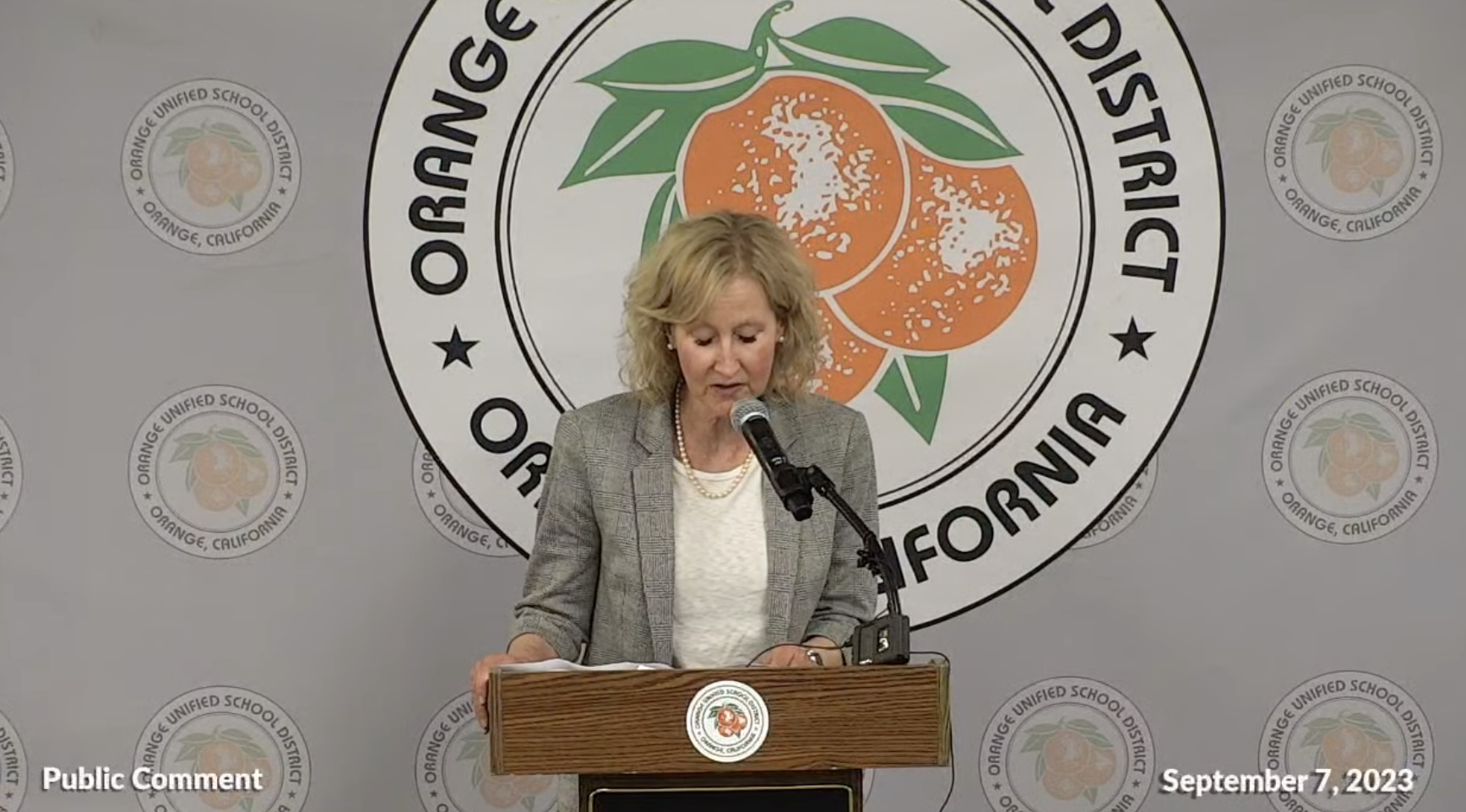 The policy passed 4-0-3. Board trustees Kris Erickson, Andrea Yamasaki, and Ana Page left their seats after a disturbance in the crowd briefly shut down the meeting. They did not return for the vote citing safety concerns outlined in a statement issued Friday.
Read more about what happened at the Sept. 7 meeting in The O.C. Register, Voice of OC and EdSource.
---
Faced with declining enrollment, the Anaheim Union High School District Board is exploring options
After more than ten years of declining student enrollment, the Anaheim Union High School District is considering consolidating a few campuses.
Read more at SpotlightSchools.com.
---
Other stories we're reading
---
Back from deployment, dad surprises daughters at O.C. school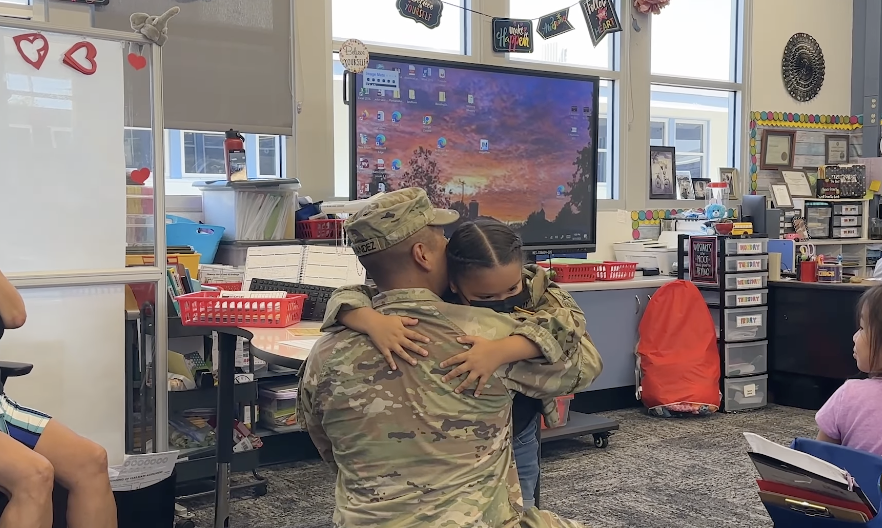 An emotional scene recently played out at a Westminster School District campus for one local military family.
After being deployed for seven months with the Army National Guard, Spc. Alberto Hernandez surprised his two daughters while they were at school.
You can watch the heartwarming reunion video on the Westminster School District Instagram account.
---
Thanks for reading! We'd love it if you forwarded this to a friend and encouraged them to sign up for the Spotlight Schools newsletter!
And... Please send us your thoughts, story ideas, and tips by responding to this email.