Los Alamitos High School Quarterback Malachi Nelson on What's Next
Nelson talks about the upcoming 2022-23 football season, his last as a Griffin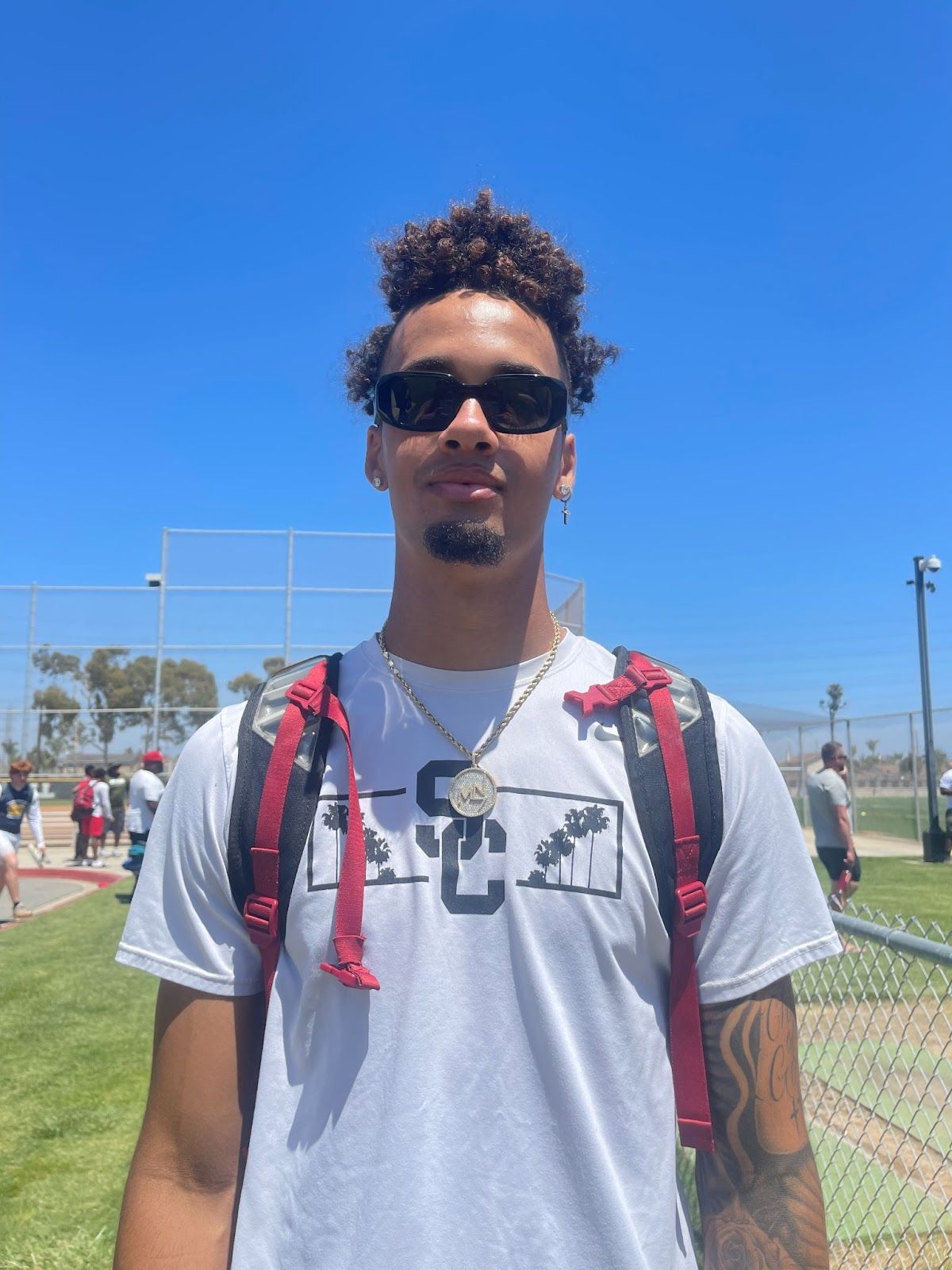 Los Alamitos High School's lucky number 7 quarterback, Malachi Nelson, was among the group of top Orange County football players bringing heat to the Battle of the Beach tournament at Edison High School last weekend.
During the 7-on-7 passing tournament held July 9 in Huntington Beach, Nelson, a rising senior, led the Griffins to a 3-1 record in the pool division. But the team's run ended in the quarterfinals with a 27-14 loss to red hot Mission Viejo, boosting the Diablos to eventually win the title of 2022 Battle at the Beach Champions.
The defeat was not the comeback the Griffins were hoping for. However, in a tournament meant to provide a low pressure atmosphere for teams to have fun and build camaraderie before buckling down for fall season, the powerhouse team didn't mind taking a mellow loss.
"You know, sometimes it's good to lose. It's good to lose now and not later," Nelson said in an interview after the game, stressing his focus is set on carrying his team to victory this fall for his last football season at LAHS. "So we got some things to clean up, but we'll, we'll be alright," he said.
After picking up a host of transfers, including a top-ranked defensive lineman, Nelson believes LAHS has crafted a "solid team" of players for this year's run.
"I think we're at a good point now, you know, we're gonna be able to have a good solid team. It's gonna be exciting, you know, to put together a season right."
Nelson reportedly agrees to NIL deal
While the attention is on this upcoming season, which includes a nationally-televised game in Florida next month, there's also a lot of focus on Nelson's future after graduation.
He's the  #2 high school recruit for his class in the nation and has already committed to playing next year at the University of Southern California under the guidance of USC head coach Lincoln Riley. (Teammate Makai Lemon is also committed to USC next season).
And it's apparent Nelson is poised to earn a lot of money before he ever wears his Trojan uniform. Last month  ESPN reported that Nelson signed a name, image and likeness (NIL) deal with The h.wood Group, a Los Angeles-based global hospitality firm.
"With California the first state to allow high school athletes to profit off their name, image and likeness, (NIL) Nelson is emerging as the face of a new generation of football recruits, for whom endorsements can come long before the first college practice,"ESPN reporter Pete Thamel wrote in the June 22 story.
The L.A. Times  reports that c urrent USC quarterback Caleb Williams and his father Carl have been writing the playbook for lucrative NIL deals. The article states Carl "speaks weekly" with Nelson's father.
In April, LAHS Coach Ray Fenton  discussed how this new world of name, image, likeness deals could transform high school sports during a speech to the Los Alamitos Chamber of Commerce. Fenton recognized how the newfound opportunity could be a life-changing financial boon for a student-athlete's family. On the other hand, the introduction of so much money at the high school level could also change how games are played.
While the 18-year-old Nelson is focused on enjoying his senior year, and time at USC, he's also looking at the end goal —which is the National Football League.
"Yeah, really making the NFL and that's what I'm using college for. That's just a stepping stone to the NFL," he said.
Before he makes the pros, you can watch Nelson and the  Griffins play in the upcoming season. See the fall  schedule here .
Macy Meinhardt contributed reporting and writing to this story.