Recent graduates look back on their time at Los Alamitos High School and forward to the future
'We never had a normal high school year because of Covid until this senior year'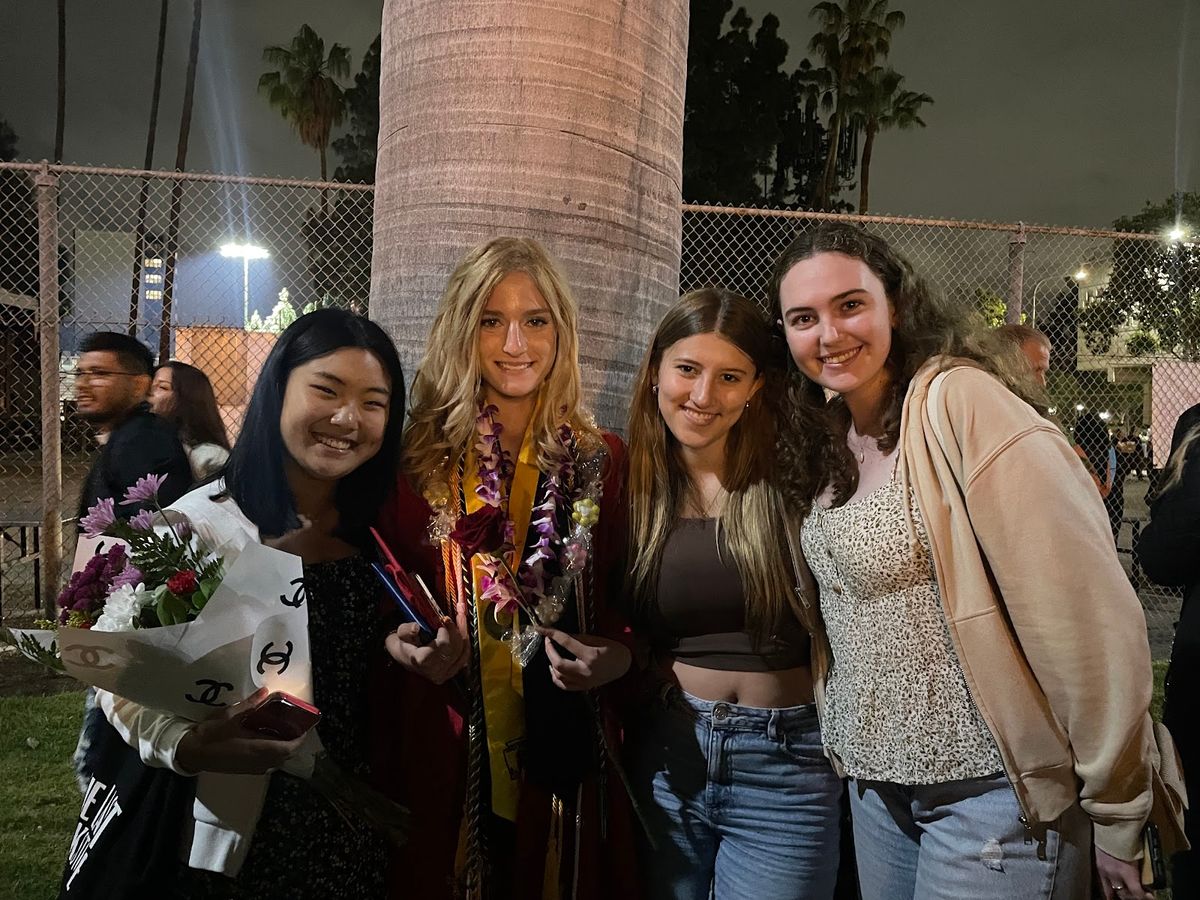 Every high school experience is unique. But between a historic worldwide pandemic, construction on campus, and the rebooting of many school programs, the Los Alamitos High School class of 2023 arguably had a more eventful four years than most.
"You could call us the Los Al quarantine babies since the pandemic hit during our freshman year," senior Adalie Landa said. "We learned a lot through these four years of finding ourselves."
"We never had a normal high school year because of Covid, until this senior year, so we all made the best of our high school career in the ways we could," said 2023 graduate Taryn Clements, whose favorite senior activity was prom. The dance that is considered a rite of passage for teens was canceled in 2020 due to the pandemic.
During the last four years, Clements and her classmates experienced hybrid learning, Covid-19 isolation protocols, limits to activities due to pandemic rules, as well as plenty of campus construction.
Using bond money, a  new aquatics facility was completed in 2020, a three-story science, technology, engineering, and math building was constructed in 2022, solar panels were erected over the student parking lot last year, and classroom modernization projects impacted the end of the current school year.
Despite the disruptions, the class of 2023 achieved a 100% graduation rate, which hasn't happened in the Los Alamitos Unified School District in more than 23 years.
This seems a fitting statistic for the class's motto: "Level Up."
Other examples of leveling up include: LAHS and the Los Alamitos Education Foundation launching a new  WellSpace on campus, students attending classes in a new STEM building, and the creation of an academic student mentor program. LAHS also brought back Link Crew, Griffins With A Mission, and "Every 15 Minutes," the program that raises awareness about the dangers of drunk driving.
It was also during this time that Los Alamitos High School implemented an  ethnic studies elective course which spurred passionate debate from supporters and opponents.
The performing arts programs, including show choir, drama, improv, orchestra, band, marching band, and jazz band, achieved state and national recognition. Visual arts classes at LAHS presented their work at multiple showcases during the school year. The dance program performed two successful  shows and a student choreography showcase.
Landa, class of 2023, was a four-year member of the dance program. She performed in all the shows with Advanced Dance last year, along with being a part of  Griffin News and journalism.
"My goal for next year is to hone in on my writing and filming skills. I plan to be ambitious about networking as well," said Landa, who will major in creative writing at UC Riverside next year.
In the athletics department, Griffins reached 14 league championships, with many sports making it far into CIF and state and over 50 student-athletes signing National Letters of Intent. The  LAHS "Locos" were also named the #1 student section in Orange County.
In other accomplishments, the First Robotics Competition (FRC) club at LAHS emerged victorious from the Beach Blitz competition. In December, LAHS's Model United Nations team traveled to New York for the EmpireMUN conference. A couple months later, the debate team qualified for nationals and attended the State Championship. Journalism  came back strong last year at LAHS, with the online newsroom the Griffin Gazette winning two Best of School Newspaper Online awards.
Jonas Corliss, a staff writer on the Griffin Gazette last year, will continue with journalism at Cypress College. His favorite senior memory is helping create Filipino History Night with Ethnic Studies club, which he was president of.
"It was a lot of fun and incredibly satisfying to bring so many people together to bring attention to the history of Filipino people," Corliss said.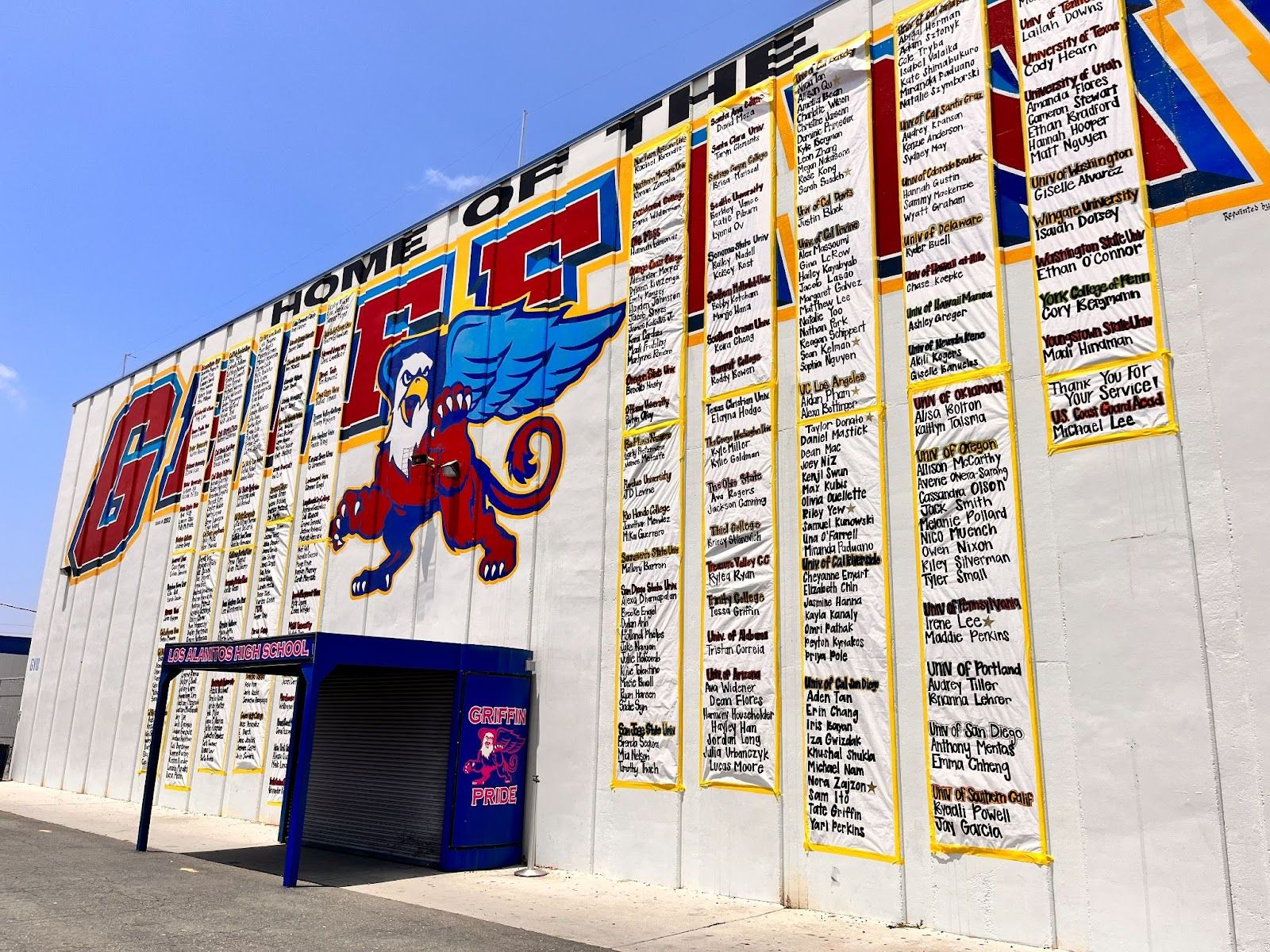 Alicia Tan, a former  Griffin Gazette editor and staff writer, will also continue writing by majoring in media studies and minoring in creative writing at UC Berkeley.
"Next year I really want to meet lots of new people and have a ton of new experiences. I want to learn about so many new things about others and about myself," Tan shared.
Studying political science, Sean Macdonald will join Corliss at Cypress College. After traveling to Japan this summer, Macdonald plans to get a part-time job.
"The extra cash and the experience in a workplace will add oodles under my belt," he said. "Otherwise, I want to continue traveling and planning for my future endeavors. I might even try some new things; I've always wanted to master cross stitching."
Before the class of 2023 got to accept their diplomas, they participated in many senior activities leading up to graduation. This included prom, awards night, baccalaureate, senior sunset, the senior car parade, visiting their elementary schools, and Grad Nite at Disneyland.
"I loved visiting my elementary school," Tan said. "Even after the official event ended, I stayed for hours after visiting all of my old teachers' classrooms. It's an experience I'll never forget."
For Landa, end-of-the-year banquets were the most enjoyable. "A lot of memories were made throughout the year, and knowing that I get to relive them through banquets with my favorite people is special," she said.
"From spring break to graduation, everyone slowly realizes that this group of people will never be in the same place again," graduate Michael Warren said. "I lived it up with my people and made a lot of new friends, especially during those senior activities." Warren will major in English education at Cal Poly, San Luis Obispo next year.
"My favorite end-of-the-year senior activity was definitely Disney Grad Nite," Natalie Szymborski said. "It was really fun going to the park with my friends and going on all of the rides."
Grad Nite signified the end of the class of 2023's journey as Griffins together and the start of a new adventure.
But first – summer!
"My plan for the summer is mostly working, hanging out with my friends, and traveling a bit," Sofia Youngs said. Youngs will attend Chapman University Dodge College next year, majoring in broadcast journalism and documentary. She was part of Griffin News at LAHS, which recently filmed its third annual short film, "Time's Up."
"I'm taking a two-week trip to Costa Rica as a part of a youth program with an organization called [Global Leadership Adventures]. It's going to include surf lessons, environmental projects, cultural immersion, etc.," Clements said.
Clements played softball for LAHS, and she's also traveling for club softball to prepare for playing at Santa Clara University, where she will major in neuroscience.
After a roller coaster of a high school career, members of the LAHS class of 2023 reflected on what made their class special.
"For current Griffins, it gets better as you go along. Looking back, [high school] went by pretty fast," Warren said. "Listen to yourself, learn about who you are, what you value, find people [who] will elevate and support you, but also realize that there is a lot you don't know yet, so be eager to learn."
"My most valuable takeaway is to always take every advantage, whether it's an AP class or an extracurricular. It will really add to your college applications," said Szymborski, who will study economics and accounting at UC Santa Barbara.
"My advice to current Griffins," Youngs said, "would be: Enjoy the time you have now, but also look forward to the future and make good choices."