Elementary School Principal resigns; Cypress teachers ratify deal; ?A chair creates a full circle moment at McGaugh Elementary.
Forum on Charter Schools tonight; Update on second gym project expected;✌🏼 It's P.E.A.C.E. Week!
Forum on Charter Schools tonight; Update on second gym project expected;✌🏼 It's P.E.A.C.E. Week!

Helping you better understand, navigate and participate in the TK-12 public school experience in Orange County.
In this week's newsletter...
September 20, 2022
FIRST BELL 🔔 Leadership change at Lee Elementary School.
SECOND BELL 🔔 Cypress teachers ratify contract deal; Students celebrate P.E.A.C.E. Week.
EXTRA CREDIT 📌 O.C. Board of Education's forum on charter schools tonight.
RECESS 👏🏼The full circle moment for a school board member and teacher at McGaugh.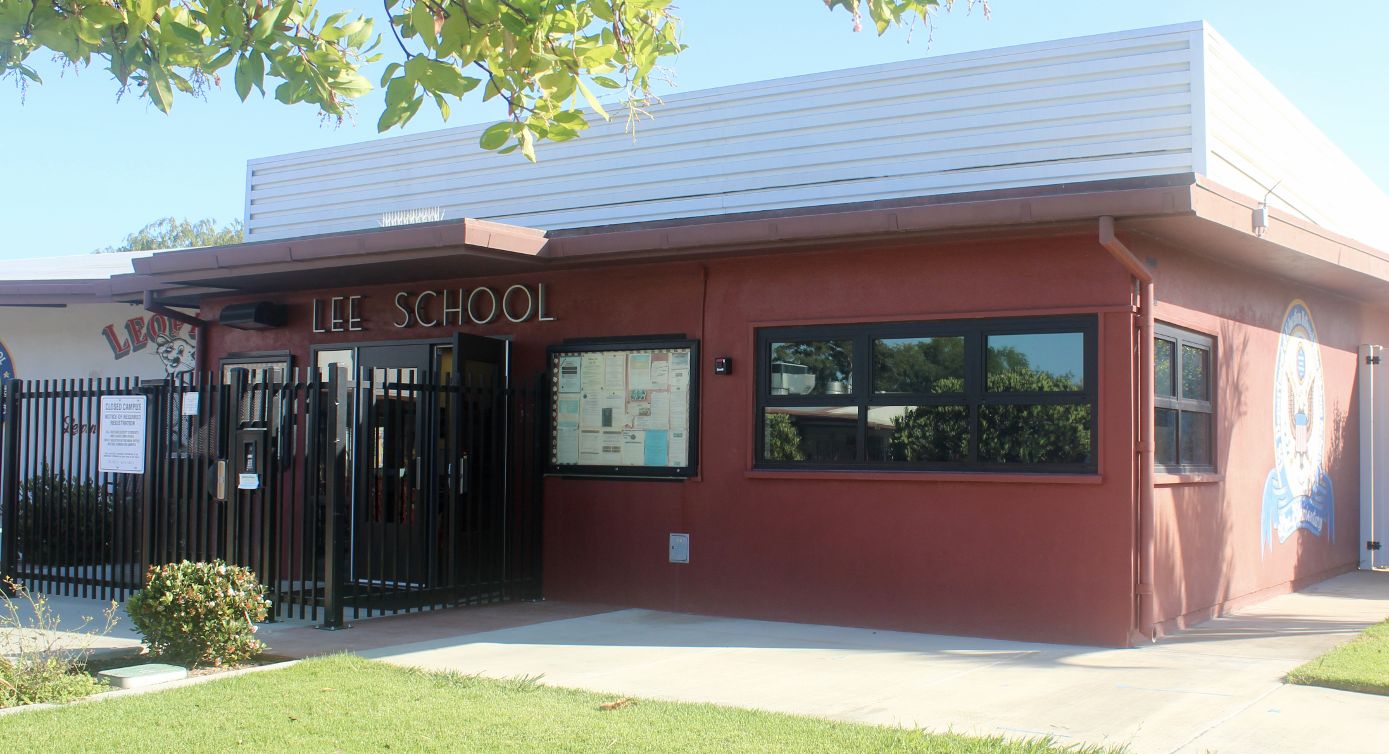 Lee Elementary School in Rossmoor has a new interim principal after the resignation of long-time administrator Amy Vento. Photo by Jeannette Andruss.
Spotlight Schools is a nonpartisan, hyperlocal newsroom covering education in Orange County and this is our weekly newsletter.
If you haven't signed up for our newsletter, click here. And be sure to visit the Spotlight Schools website to read more local education news, check out past editions of our newsletter, learn more about our newsroom and even become a supporter of our journalism. Follow us on Instagram and Twitter for news and updates.
Please send feedback/story ideas/questions to hello@spotlightschools.com.
Yours in knowledge,
Jeannette Andruss, Co-Founder and Chief Editorial Officer
FIRST BELL
This Week's Top Story
Lee Elementary School Principal Resigns; Interim leader named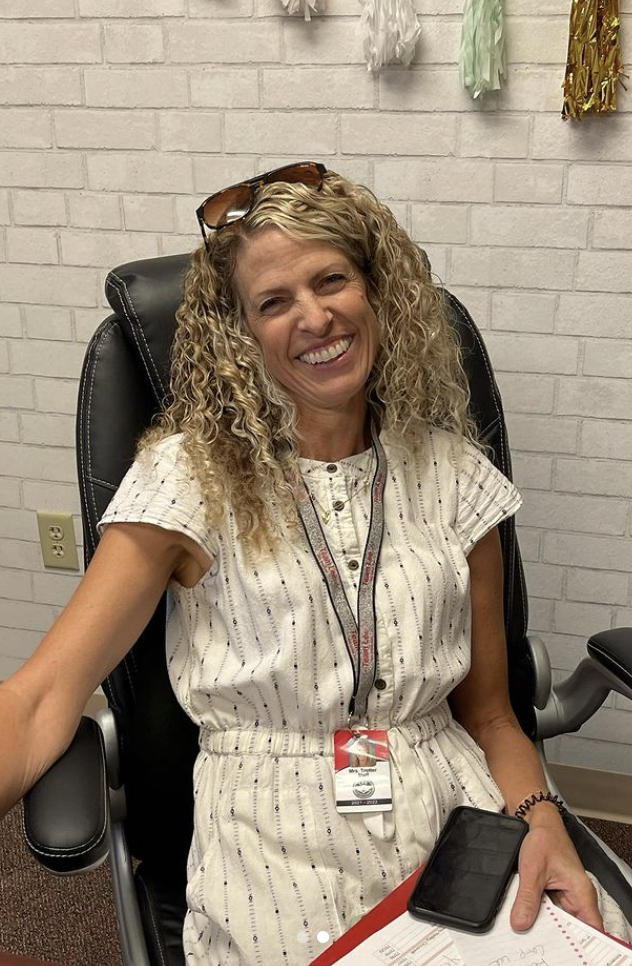 Lee Elementary School Interim Principal Laura Trotter pictured on her first day in the position, Sept. 19. Photo courtesy of the Lee Leopards Instagram account.
Lee Elementary School has a new interim principal after the school's top administrator stepped down earlier this month, just a few weeks into the 2022-23 school year.
Laura Trotter, a kindergarten teacher at Lee, was named interim principal and started in her new position this week. She was described as "a caring, hard-working and collaborative leader who is a true champion for children and seeks to do what is best for them," in an email sent to Lee families from the Los Alamitos Unified School District.
Trotter replaces Amy Vento who had been the top administrator on the Rossmoor campus for the past seven years including last year when Lee was one of two campuses in the district named a National Blue Ribbon School.
"This school has my heart -FOREVER! I've been so blessed to have these kids, staff, and families as my family for 7 years. BEST SCHOOL EVER. much love to my Leos," Vento wrote in a public post on her personal Facebook page on September 9. (Capitalized words are from the original post.)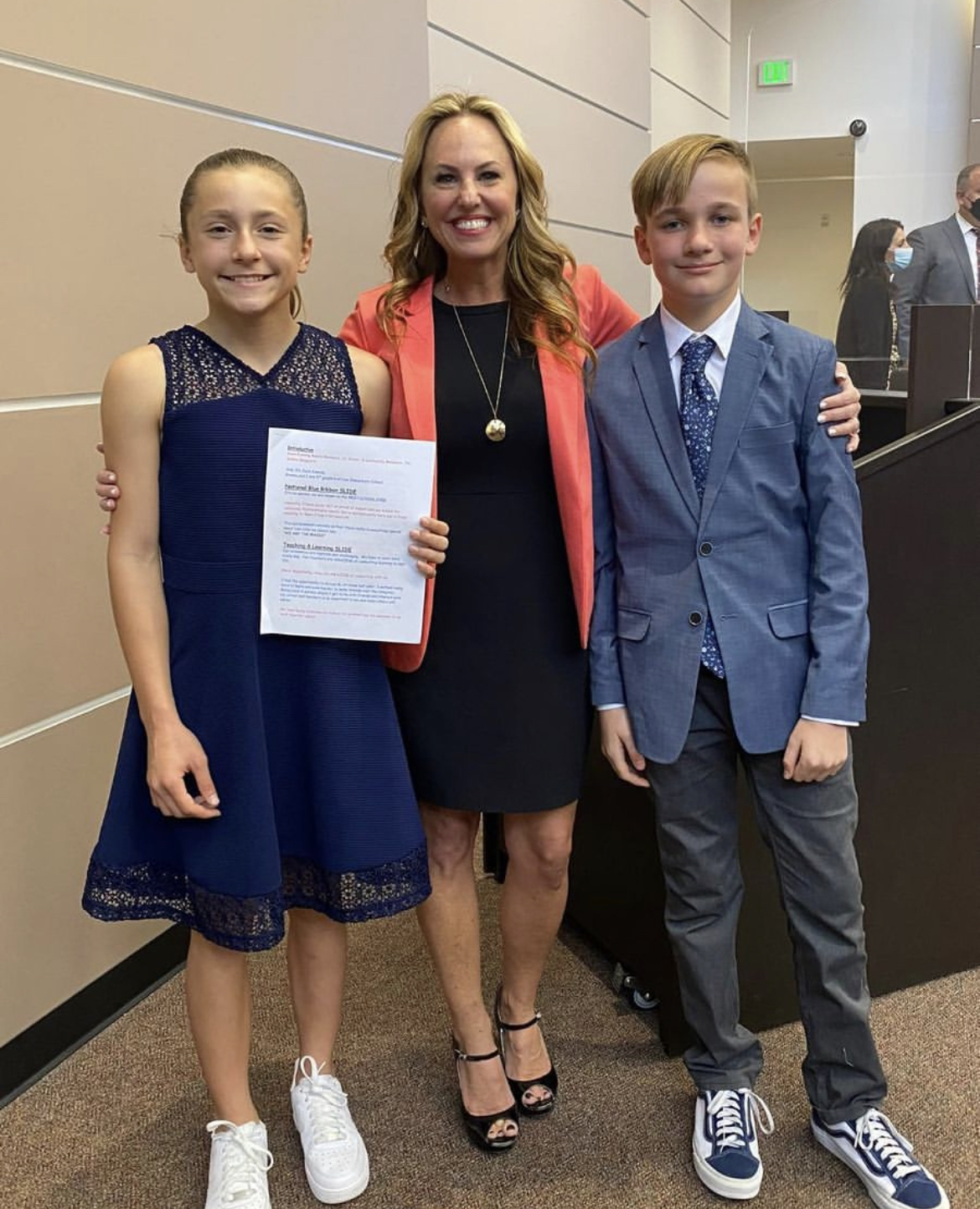 Former Lee Elementary Principal Amy Vento pictured with students at the school's presentation to the Board of Education in March. Photo from Lee Leopards Instagram account.
Vento did not write about her reasons for leaving on her Facebook page. Spotlight Schools reached out to Vento but we were unable to connect by the newsletter's deadline.
On Vento's Facebook posts, parents and others responded with words of support and disappointment.
"This is such a shocker, what a great loss for Lee, you will be greatly missed," one person wrote.
Another commenter wrote: "Oh Amy, you have put your heart and soul into Lee Elementary and I am grateful that my 5 grand kids and my daughter got to experience your magic. We will miss you!"
In a text message to Spotlight Schools sent last week, the district's Public Information Officer, Nichole Pichardo, wrote that Vento had resigned "for personal reasons."
Trotter's first day was yesterday. In an email message to Lee families, Los Alamitos USD Superintendent Andrew Pulver, Ed.D., said Trotter "is very familiar with the traditions and successful practices at Lee and looks forward to working with students, staff and families to continue to support the Lee community and its thriving culture."
"I'm behind you all the way," Los Alamitos Unified School District Board of Education Vice President Chris Forehan wrote in a comment on an Instagram post from the school's parent volunteer group announcing Trotter's appointment.
A message circulating on social media suggested some parents were upset by the circumstances surrounding Vento's departure and planned to speak at tonight's Los Alamitos Unified School District Board of Education meeting. Vento's resignation is on the meeting's open session agenda at item 11.h. in the Administrative Personnel Report.
In his message to Lee families announcing Trotter's appointment, Dr. Pulver wrote: "I want to thank and acknowledge the professionalism and dedication the Lee staff continue to model during this time. They have remained focused on being exceptional educators and a strong team during this transition."
The district said it will start an in-depth recruiting and hiring process in early spring of 2023 to find a permanent principal at Lee.
Are you a Lee parent or staff member wishing to share your perspective? Please email us at hello@spotlightschools.com.
SECOND BELL
Other Stories We're Following
Cypress Teachers ratify contract deal granting 9% salary increase
Cypress Board of Trustees to consider agreement at next meeting
Just days after the Association of Cypress Teachers struck a contract deal with Cypress School District during a mediation session, the union's members have approved it.
The teachers voted to ratify the agreement that will raise their salaries by a total of 9%. The Cypress School District Board of Trustees is expected to consider the deal at its meeting next month, according to Elizabeth Dunagan, a teacher and lead negotiator for ACT.
In an email to Spotlight Schools, Dunagan wrote that "salary and benefits are settled until the 2023-24 school year," but teachers would "go back to the table around January to address Special Education, class size and work hours in order to make a few things better for our students."
"The district is excited to learn that the teachers have just ratified the tentative agreement," Tim McLellan, Ed.D., Assistant Superintendent for Business Services wrote in an email. "The ratification means a lot! It means that our collective efforts in working with teachers is appreciated."
After months of working on contract negotiations, including an impasse and turn to mediation, the final agreement includes "a 3% retroactive salary increase for 2021-22, and a 6% salary increase for the current 2022-23 school year."
The Cypress Board of Trustees will need to give the deal final approval which is expected to happen at their October 13 meeting.
"Once approved, the district will work to process retro payments to all teachers before the end of the year," McLellan said.
David N. Young contributed reporting to this story.
Schools celebrate P.E.A.C.E. Week
Events promote compassion and kindness on campuses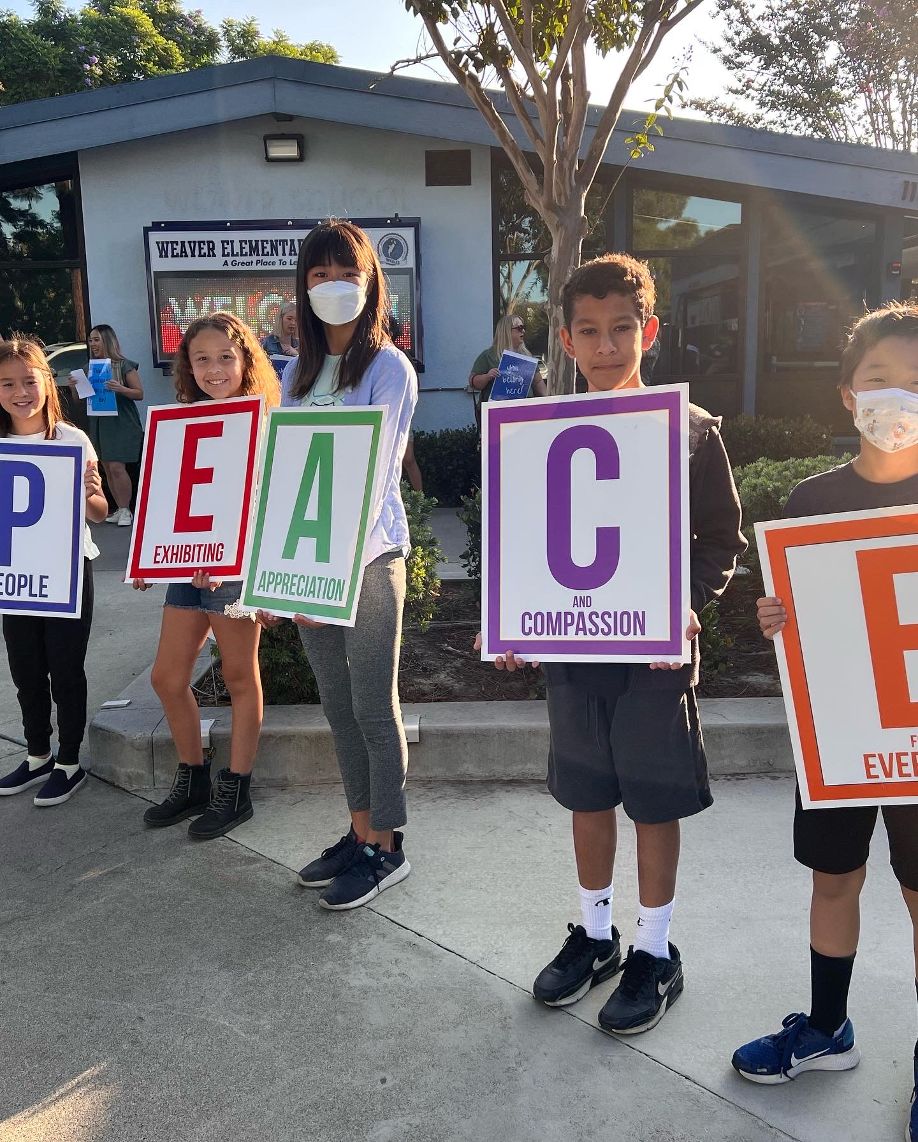 Students at Weaver Elementary school in Rossmoor mark the beginning of P.E.A.C.E. Week. Photo courtesy of Los Alamitos USD.
At Oak Middle School students are making friendship bracelets and sharing a video about the importance of thinking before you speak.
At McGaugh Elementary, students wore name tags for "Say Hey Day" to connect with new people.
At McAuliffe Middle School, kindness grams are being written and sent.
These are just a few examples of the ways students in the Los Alamitos Unified School District are marking P.E.A.C.E. Week. Taking place from Sept. 19 - 23, it stands for People Exhibiting Appreciation and Compassion for Everyone. Schools plan their own ways to celebrate P.E.A.C.E. Week but the overarching theme is to foster a school environment that promotes kindness and acceptance so that everyone wants to be there.
See more examples at Los Alamitos Elementary, Rossmoor Elementary, and districtwide.
Student in Need
Los Alamitos Elementary student facing serious medical challenge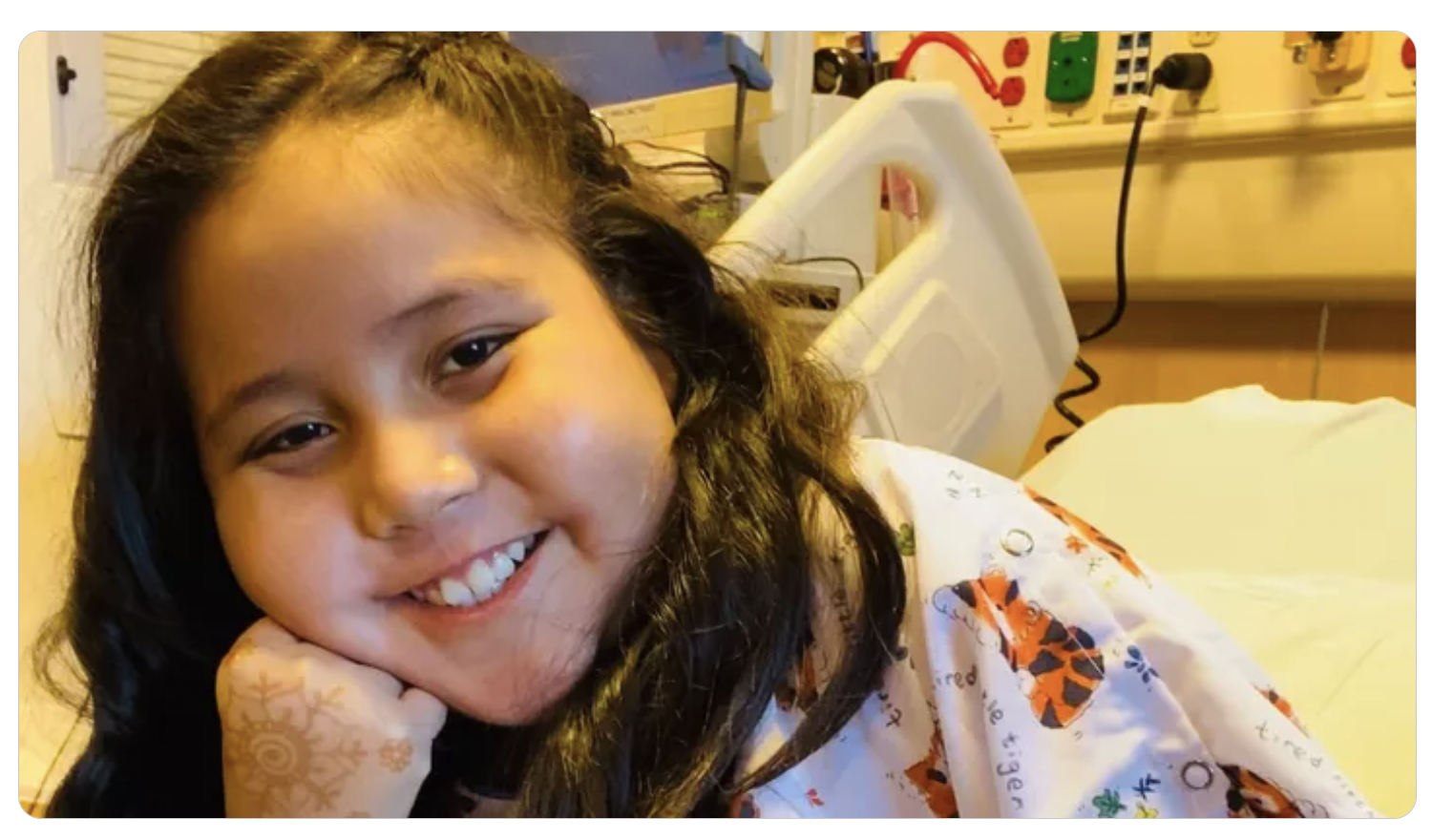 Los Alamitos Elementary school student Juliette Mendez has been in and out of the hospital since July after being diagnosed with two auto-immune disorders. Photo courtesy of GoFundMe page.
A third grader at Los Alamitos Elementary School is facing a serious medical challenge and her school community is stepping up to help. Over the summer, 8-year-old Juliette Mendez started experiencing severe health problems and was diagnosed with two auto-immune disorders, according to a GoFundMe page set up for Juliette and her mother. Juliette ended up hospitalized for a month and is continuing to undergo treatments. Juliette's mother Betsi had to quit her job to take care of her daughter full-time. "Juliette is a vibrant and caring student who is deeply loved by our LAE students, staff and community," read part of a message in the school's weekly email newsletter. If you want to help Juliette and Betsi, please visit this link.
Griffins win scorefest against Santa Margarita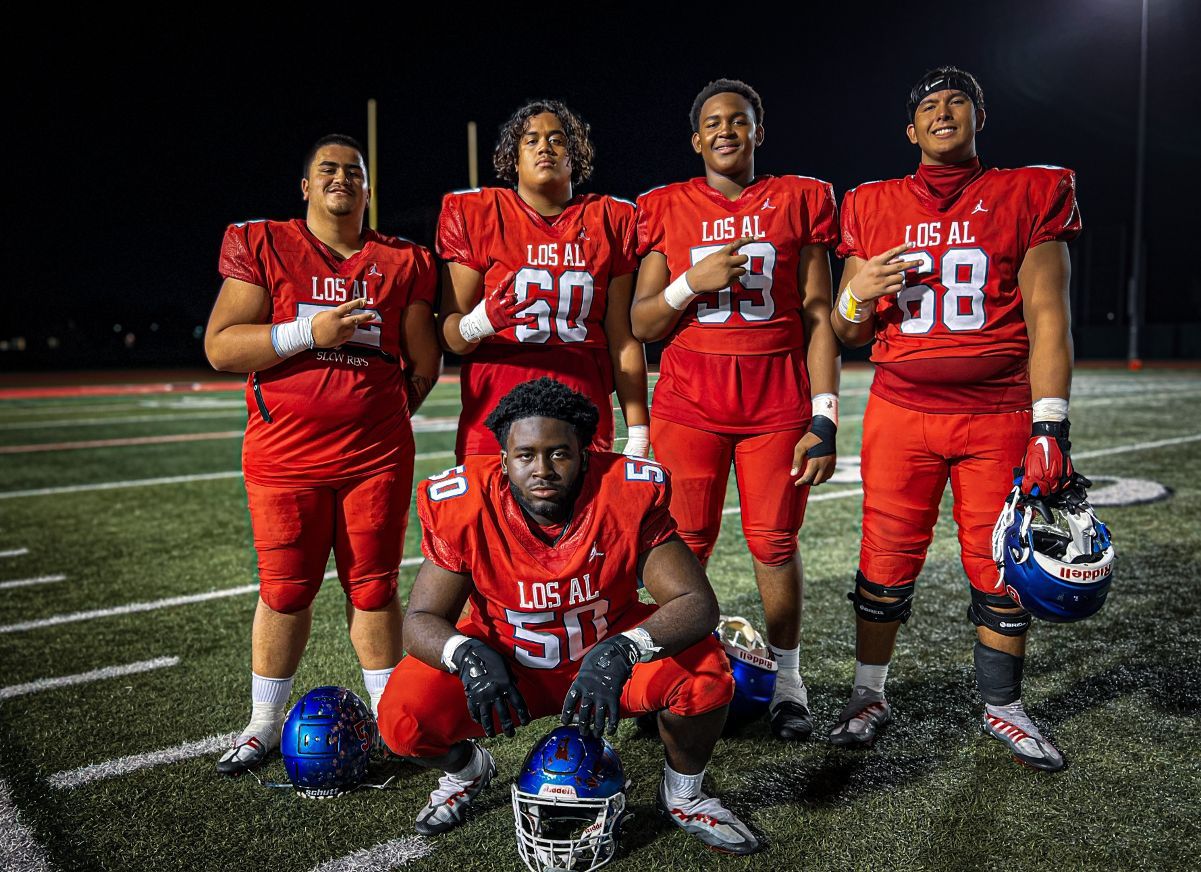 The Griffins' offensive line was key in Sept. 15 victory over Santa Margarita. Pictured standing from left to right: center #52 Kapono Mao (So.), left guard #60 Fonz Leomiti (Sr.), left tackle #59 Maki Stewart (So.), right guard #68 Rudy Montalvan (Sr.), and squatting in front, right tackle #50 Zion Scrivens (Fr.). Photo by Marja Bene.
The points kept on coming during last week's football game between Los Alamitos High School and Santa Margarita.
The Griffins and Eagles faced off last Thursday at Veterans Memorial Stadium in Long Beach. The Eagles were flying high with a 4-0 record, ranked #44 in the nation and tied for #5 in the state. The Griffins came in with a 2-2 record, ranked #59 in the nation and #7 in the state.
Santa Margarita won the coin toss and started the game off with a bang, scoring on a 70-yard pass play on the first play of the game. Los Alamitos, not wanting to be outdone, marched methodically down the field and scored a touchdown of their own.
After each team had the opportunity to possess the ball, everyone knew they were in for a high-scoring affair, and it did not disappoint.
The Los Alamitos Offensive Coordinator T.J. Fenton called a masterful game. The up-tempo offense had the perfect mix of run and pass, allowing their offensive line to control the line of scrimmage. Los Alamitos went into halftime with a 35-30 lead. The second half was just as explosive as the first, with the game culminating in a 69-49 Los Alamitos victory.
🏈 Read Michael Claborn's complete write-up of the game, including the record set by QB Malachi Nelson, on the Spotlight Schools website here.
The Youth Center raising funds to build new facility
70-year-old Los Alamitos nonprofit hosts event in Anaheim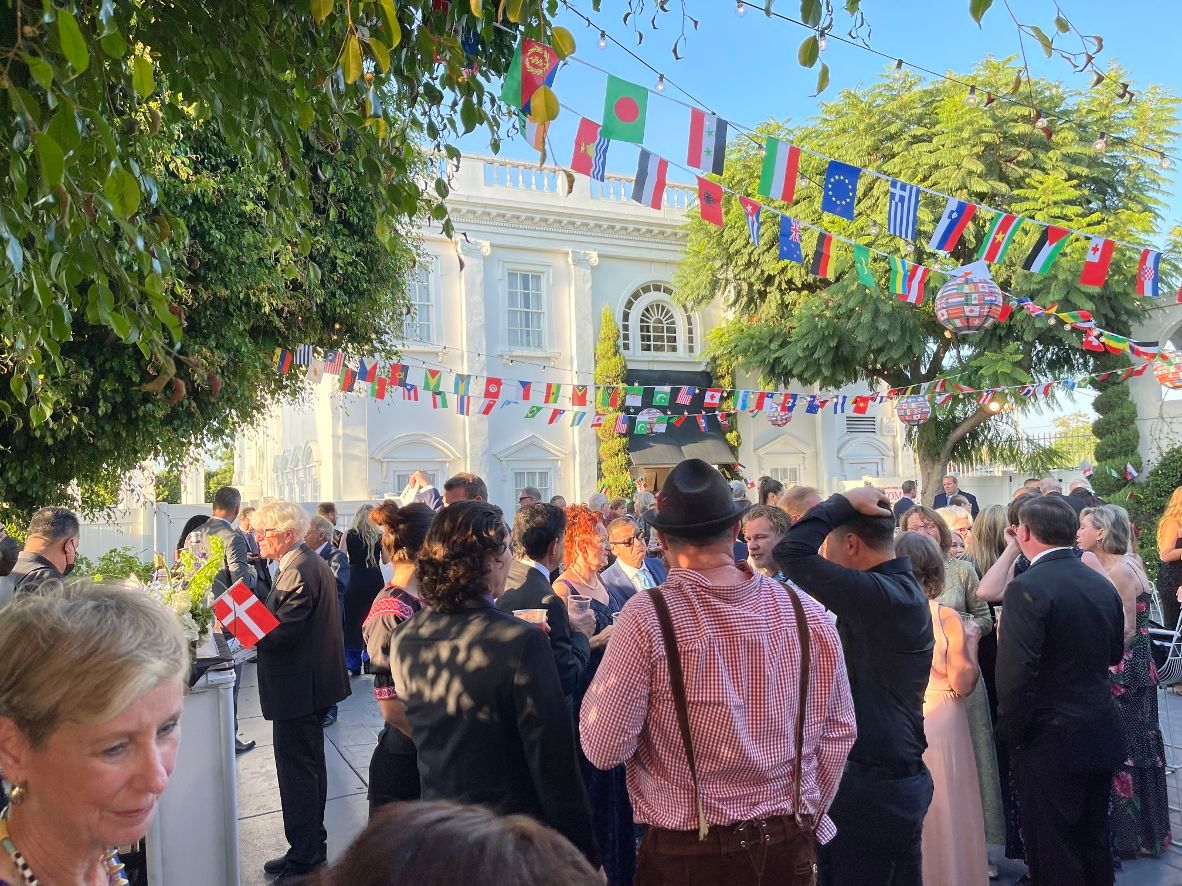 Attendees at The Youth Center's 'Explore the World' fundraiser at the White House in Anaheim on Sept. 17. Photo by David N. Young.
Flags from around the world flew outside the White House meeting hall in Anaheim Saturday as The Youth Center held its "Explore the World" fundraiser. The Los Alamitos nonprofit hosted a full house of supporters at the event to raise funds to build a new facility.
After 70 years of helping more thousands of students and children, The Youth Center is on the move again, Executive Director Lina Lumme told the overflow crowd. The Youth Center is also participating in tomorrow's Igniting Potential Giving Day fundraiser to help build its new facility.
Lumme said The Youth Center has taught music skills, sponsored a Leadership Academy and offered scholarships and various assistance to families in need since 1952. In all those years, she said The Youth Center has never said no to a single request.
The group also stood in silence in a solemn tribute to the late Los Alamitos City Council member Ron Bates, a longtime supporter of The Youth Center, as his wife Marilyn looked on. Lumme also thanked local businessman Tom Lent for serving as Chairman of the most recent fundraising campaign. With multi-national flags flying everywhere, Lumme told their supporters, "You mean the world to us."
This story was reported and written by David N. Young
📩 Forwarded from a friend? Subscribe to the FREE Spotlight Schools newsletter here.
Other Stories We're Reading
EXTRA CREDIT
Meetings // Events // Opportunities // Resources
MEETINGS
HAPPENING TODAY: The Los Alamitos Unified School District Board of Education is scheduled to hold a workshop and meeting today at 10293 Bloomfield Street in Los Alamitos.
On the agenda for the 4:00 p.m. workshop:
LAHS Gymnasium Project: Presentation on the plan to build a second gymnasium at Los Alamitos High School using bond money. See background on this project here.
You can watch the workshop streaming live on YouTube here.
On the agenda for 6:00 p.m. meeting:
Developers' Fees: Public hearing on proposal to increase fees on developers to $4.79 a square foot as allowed by California law to pay for the reconstruction of school facilities.
Human Relations: Agreement with Embassy Consulting for 2022-23 school year to "employ restorative practices, build awareness, and educate students and staff to affect positive change in student behavior and eliminate further incidences associated with bullying, harassment, and/or various forms of insensitivity relating to race, religion, gender, sexual orientation and/or disability."
School Safety: Agreement with American Tactical Defense LLC to provide Violent Intruder Response training to School/District staff at a cost to not exceed $55,000.
You can watch the regular meeting streaming live on YouTube here.
HAPPENING TODAY: The Orange County Board of Education is hosting a special meeting at 6:00 p.m. consisting of a forum focused on charter schools. The goal of the event entitled "Strengthening California's Charter Schools at a Local and State Level" is to educate parents and community members about charter schools and "demonstrate how charter schools empower parents with educational choice and directing the upbringing of their children." More information here or by clicking on the flyer made by the OCBE below.
You can watch the forum live on YouTube here.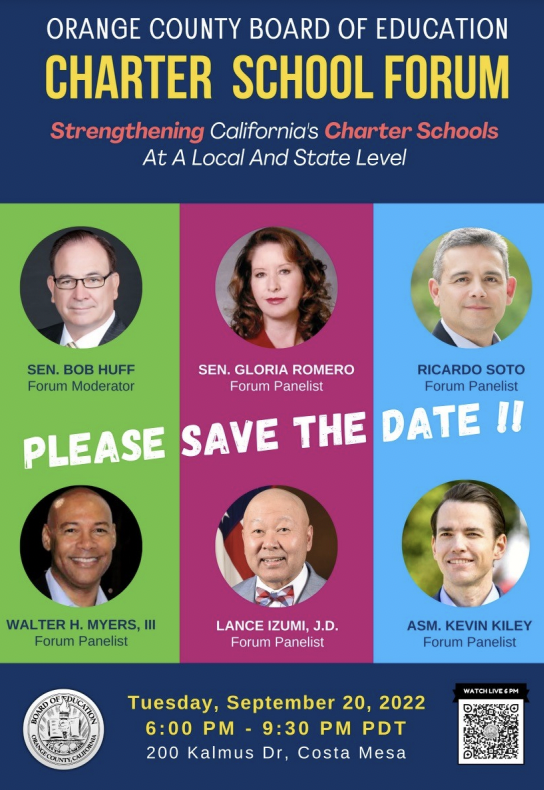 EVENTS
HAPPENING TODAY: At 6:00p.m. today, the Orange County Health Care Agency is hosting a special episode of its YouTube series Your Health Matters OC to show how it's lighting up iconic landmarks, like the Huntington Beach Pier, in teal and purple to symbolize suicide prevention awareness. "The campaign of colorful lights is to spark meaningful conversations and to save lives by raising awareness that suicide is preventable," reads a press release. For more information on the campaign, click here or on the image below.
For more resources about preventing suicide, visit the American Foundation for Suicide Prevention.
If you are having suicidal thoughts, help is available. Dial or text the Suicide and Crisis Lifeline at 988 or Orange County's Warmline at (714) 991-6412.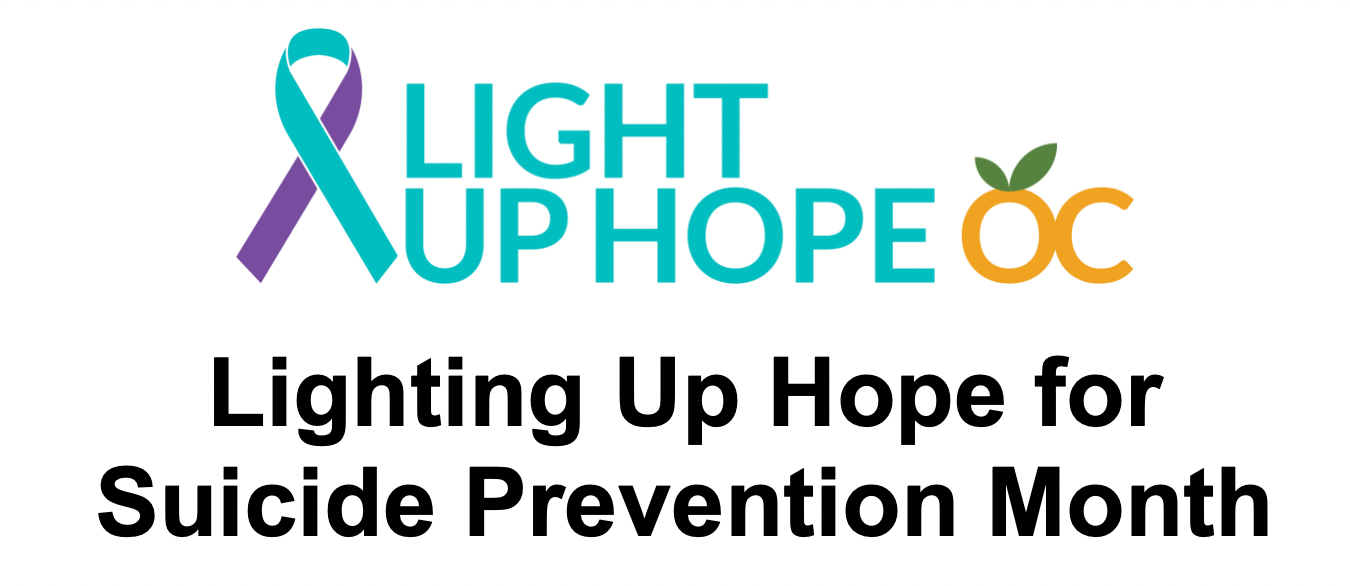 RECESS
Your Dose of Good News
A full circle moment for board V.P. and teacher at McGaugh Elementary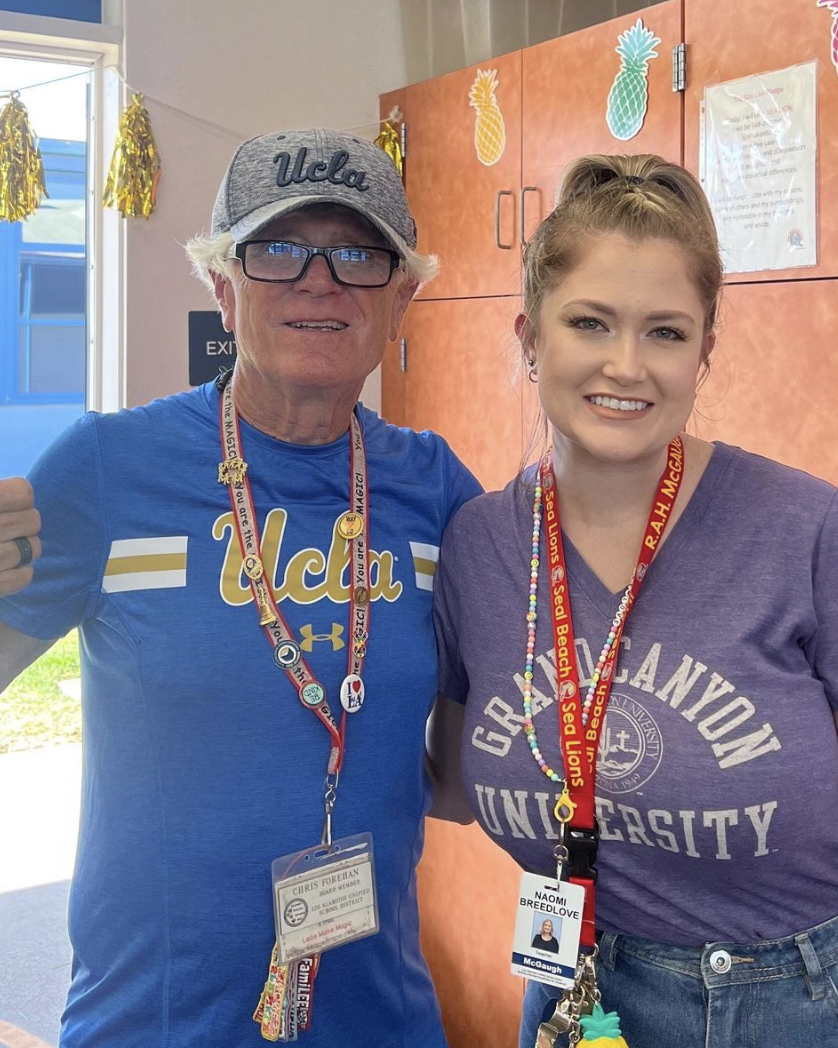 Los Alamitos Unified School District Board of Education Vice President Chris Forehan poses with 5th grade teacher Naomi Breedlove in her classroom at McGaugh Elementary. Forehan was a mentor and friend of Breedlove's late father, also an educator. Courtesy photo.
Naomi Breedlove's classroom at McGaugh Elementary School was the setting for a full circle moment earlier this month.
Chris Forehan, Vice President of the Los Alamitos Unified School District Board of Education, is known for his frequent visits to the district's nine campuses.
On this day he was in Breedlove's classroom in Seal Beach reading the book "Giraffes Can't Dance."
"Having Mr. Forehan in my classroom reading to my fifth graders was overwhelming!" Breedlove wrote in an email to Spotlight Schools.
Forehan is more than just a school board member to Breedlove, who is in her first year teaching in the district. He's also the person who hired and mentored Breedlove's father, Rob Williams, a beloved teacher in the Norwalk-La Mirada Unified School District who passed away at the prime of his career.
"I hired Rob Williams to teach second grade for our school," Forehan, who was principal at Chavez Elementary school in Norwalk at the time, wrote in an email. "He was an exemplary teacher."
In 2012, one year after being named teacher of the year in the district, Williams died after a brief illness, according to a news story written at the time. Williams was just 50 years old. Breedlove was 18.
A meaningful reminder of Williams' legacy is a desk chair Forehan created for him while the two worked together. The chair is bright blue and covered in decoupage featuring images Forehan cut from calendars.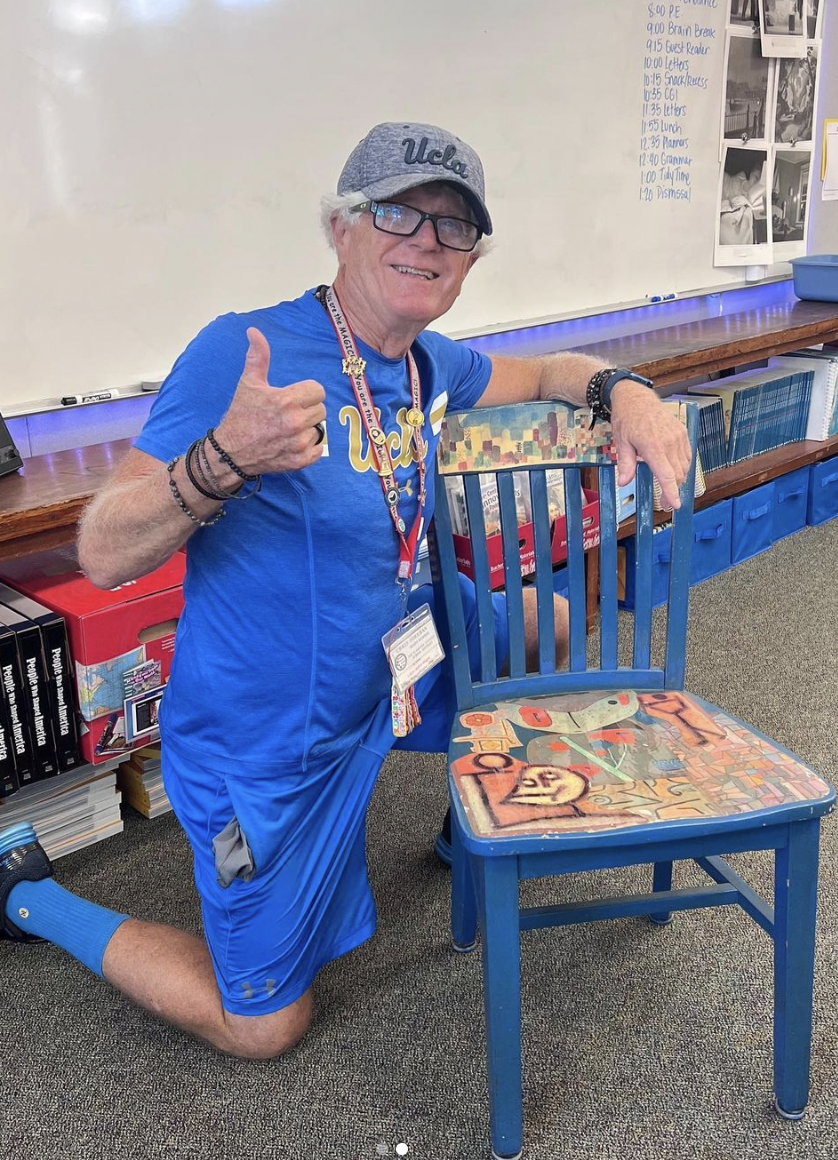 In Breedlove's classroom at McGaugh, Forehan poses with the chair he created for her late father, educator Rob Williams. Courtesy photo.
"I remember my dad talking about 'the chair' growing up," Breedlove said. "My dad was a lover of the arts and always worked so hard to incorporate that into his teaching." The chair sits in Breedlove's classroom today.
Click here to read the full story about how Forehan ended up sitting in that chair and reading to Breedlove's students and what the experience meant to him and Breedlove.
Thanks for reading!
Forwarded from a friend? Subscribe to the Spotlight Schools newsletter here.
Follow us on Instagram @SpotlightSchools.
Our mailing address:
P.O. Box 164
Seal Beach, CA 90740

Copyright © 2022 Spotlight Schools, All rights reserved.