Cypress teachers' union & district strike deal; ? Lessons from the Heat Wave; Principal kisses a pig!
New CalKIDS program gives money to students for college; Host a mock election for students; Questions to ask your child about school to spark conversations
New CalKIDS program gives money to students for college; Host a mock election for students; Questions to ask your child about school to spark conversations

Helping you better understand, navigate and participate in the TK-12 public school experience in Orange County.
In this week's newsletter...
September 13, 2022
FIRST BELL 🔔 Cypress teachers' union and school district agree to pay raises & contract terms.
SECOND BELL 🔔 🥵 Lessons from the heat wave. Plus, free tutoring program for Los Alamitos USD middle and high school students.
EXTRA CREDIT 📌 New California program offers free money for students to pay for college and career training.
RECESS 👏🏼Principal kisses a pig... and is due for an ice bucket challenge!
Bonjour from France!
Spotlight Schools is a nonpartisan, hyperlocal newsroom covering education in Orange County and this is our weekly newsletter.
This week I'm writing from Paris so that is why the newsletter is coming out a little later than usual. Thank you for understanding!
If you haven't signed up for our newsletter, click here. And be sure to visit the Spotlight Schools website to read more local education news, check out past editions of our newsletter, learn more about our newsroom and even become a supporter of our journalism. Follow us on Instagram and Twitter for news and updates.
Please send feedback/story ideas/questions to hello@spotlightschools.com.
Yours in knowledge,
Jeannette Andruss, Co-Founder and Chief Editorial Officer
FIRST BELL
This Week's Top Story
Cypress School District reaches deal with teachers' union
Agreement still needs to be ratified by union's 200 members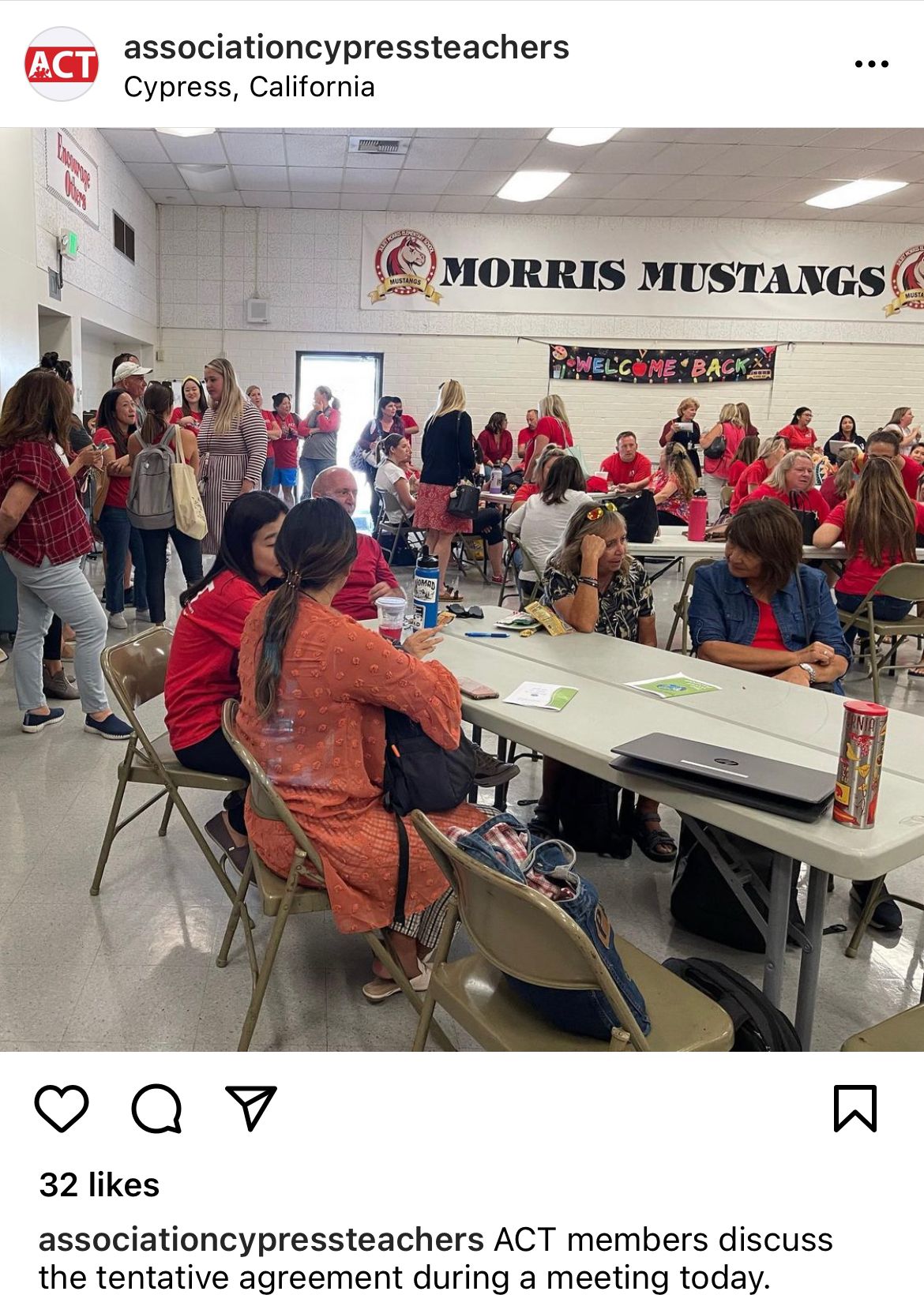 Post from Sept. 12, 2022 on the Association of Cypress Teachers Instagram account.
In only a second meeting with state mediators, both the Cypress School District and the Association of Cypress Teachers (ACT) have confirmed that the two sides have finally agreed on terms for pay raises for the district's nearly 200 teachers.
"Success! A tentative agreement has just been reached," wrote Assistant Superintendent for Business Services Timothy McLellan, Ed.D., in an email on Sept. 9.
"I'm happy to announce we have reached a tentative agreement with the district for salary for the 2021-22 and 2022-23 school years," said a similar email statement from Elizabeth Dunagan, a teacher and the ACT's top negotiator.
The agreement marks a major achievement in an effort that dates back to January, with an impasse being declared in May.
A five-member team from both sides, the district, and the ACT, have been trying to hammer out a contract agreement for the 2021-22 school year. Sticking points included pay raises and health care benefits.
"Our final agreement was for 3% retroactive for the 2021-22 school year and another 6% that was effective July 1, 2022," said Dunagan and confirmed by McLellan.
"This is a total increase of 9% on our salary schedule, which is a step in the right direction to making sure Cypress teachers are compensated comparably to surrounding districts," she said.
She said that while the agreements were approved by both negotiating sides, it still has to be ratified by the ACT membership of nearly 200. "We will have a general meeting this week and then will vote to ratify after that," she said.
Further, Dunagan said there are still a few housekeeping items that need cleaning up.
"We will return to the table in a few months to address some ongoing concerns regarding working conditions with the district but anticipate those meetings to be productive and beneficial for our students," she said.
"It might appear otherwise, but we love our teachers," said McLellan, who said the district was extremely happy with the outcome.
In May, the district ended the negotiations for 2021-22, calling for mediation from the Public Employees Relations Board, citing a lack of progress in negotiations. Both the district and its teachers' union are compelled to accept the power of PERB given to it by the state to mediate any unresolvable disputes.
The group's first meeting with a mediator from PERB was in July. They did not reach an agreement but agreed to meet again Sept. 8.
Although they were not able to reach an agreement on the first day of their second negotiating session with PERB, they apparently agreed to meet again the next morning, after which both sides announced a settlement had finally been reached.
David N. Young wrote and reported this story.
Read the full story on the Spotlight Schools website here.
SECOND BELL
Other Stories We're Following
Lessons from the Heat Wave
Preparing for a future with more sweltering school days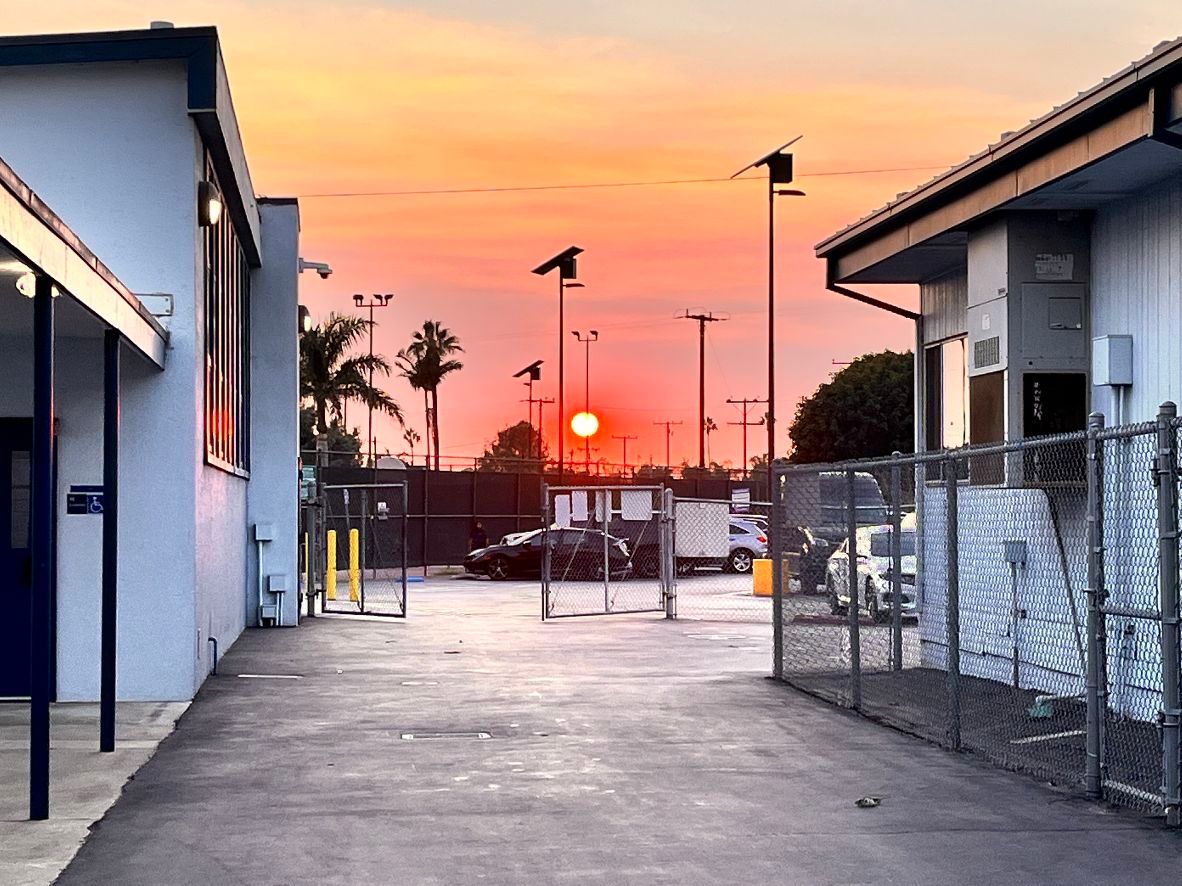 The sunset on Wednesday, Sept. 7, 2022 taken from the McGaugh Elementary School campus. Photo by Jeannette Andruss.
Temperatures are (thankfully) expected to be cooler this week across Southern California. As extreme heat could become a more common part of the school year, educators, parents and students have potential lessons to learn from the last two weeks of scorching weather.
The latest heat wave, which was longer and more intense than most, baked the region with thermometers reading above 100 degrees in some areas. The sweltering days in September caused disruptions and discomfort at some campuses, especially those with limited air conditioning and shade. Some high school sporting events were canceled or practices modified, reports The Orange County Register.
On Friday, students in the Westminster School District, which has many classrooms without AC, were dismissed early on a modified day schedule to avoid temperatures that were forecast to be near 100 degrees in the afternoon.
The night before, the district's Board of Education approved a timeline to install air conditioning at its campuses. The process will take a matter of weeks at some schools, and for some campuses, installation of AC units won't begin until next summer.
The move came after parents stepped up to cool down classrooms, bringing in portable AC units at Eastwood Elementary, or creating more shade outdoors with tents at DeMille Elementary, reports The O.C. Register.
We know extreme heat can cause severe illness and even death. According to the California Department of Public Health (CDPH), more than 700 people die from extreme heat every year in the United States and the third leading cause of death for teenage athletes was heat illness.
On September 6, as temperatures soared and heat records fell, the CDPH issued interim guidance on how to keep students safe during physical activity.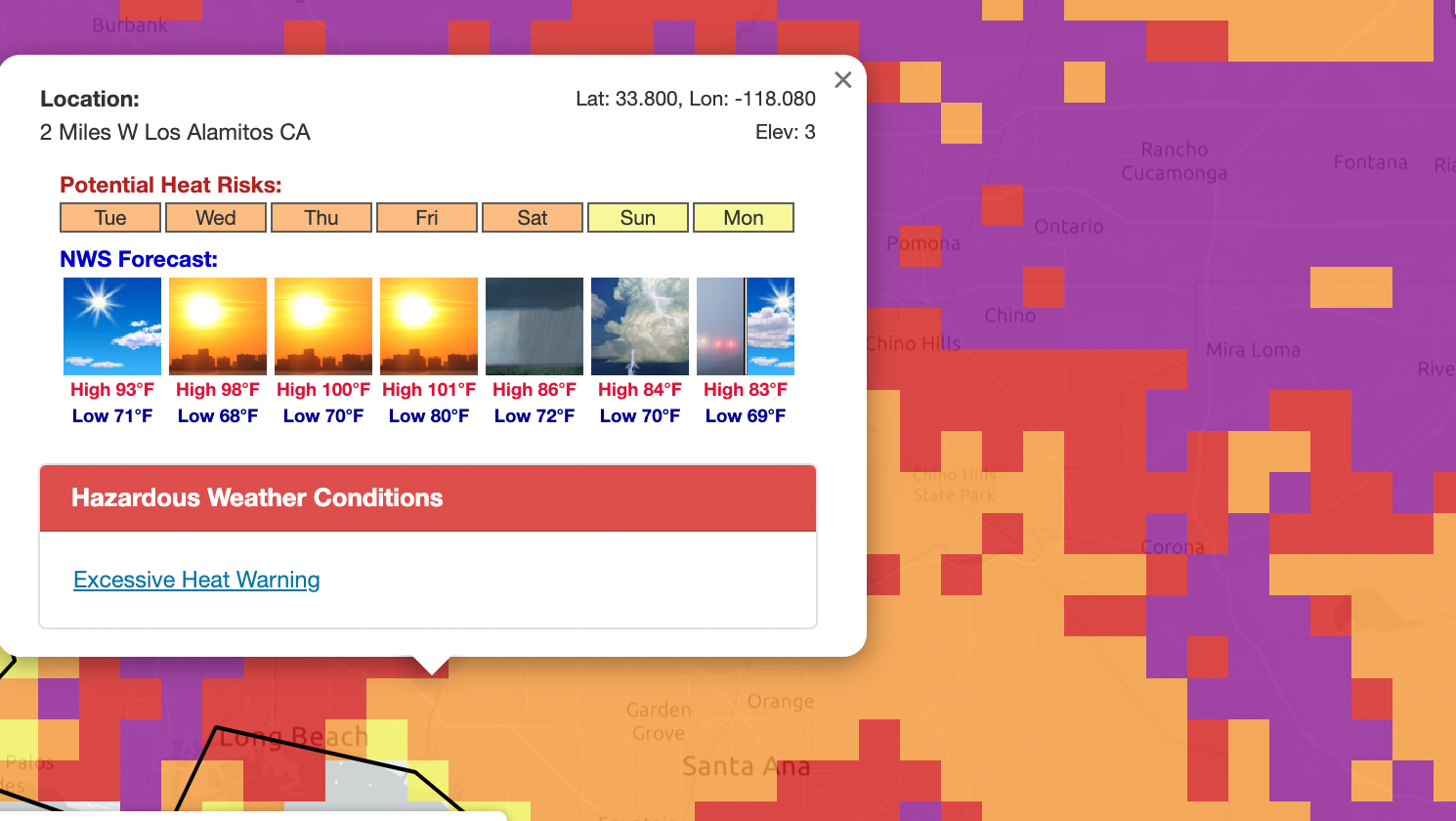 Screenshot from the National Weather Service HeatRisk calculation website from last week.
The focus was on determining your area's HeatRisk. Using a map from the National Weather Service, you can search to see how extreme temperatures could be impacting your campus. You can then refer to a color-coded graph to find out which precautions to take.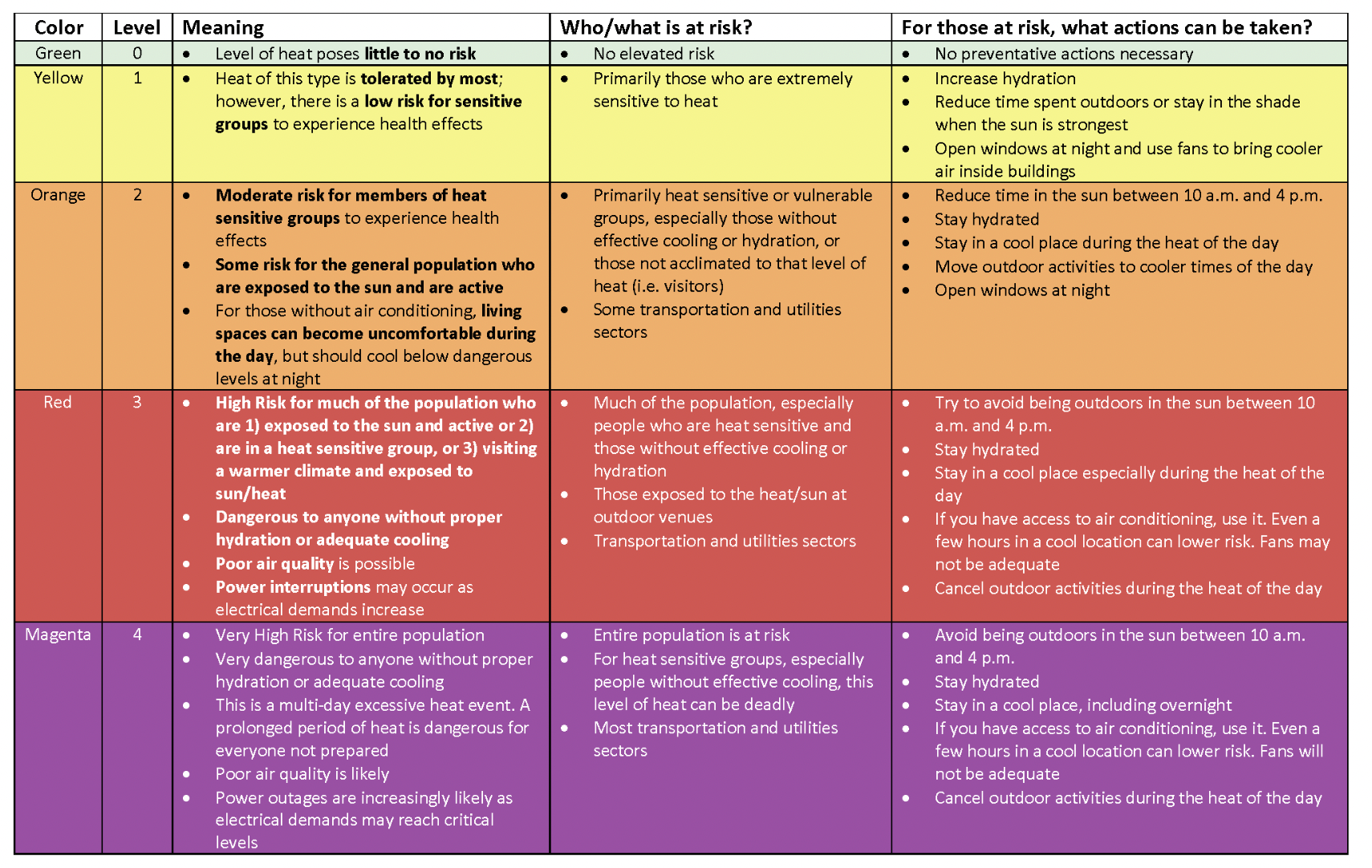 A graph shows what actions to take depending on the HeatRisk of your area. Courtesy: California Dept. of Public Health
For instance, if your school's HeatRisk is deemed "Very High," you're advised to avoid being outside between 10 a.m. and 4 p.m. and to cancel outdoor activities during the heat of the day.
For more information, visit the Orange County Department of Education.
Three things from the last Los Alamitos Unified School District Board of Education Meeting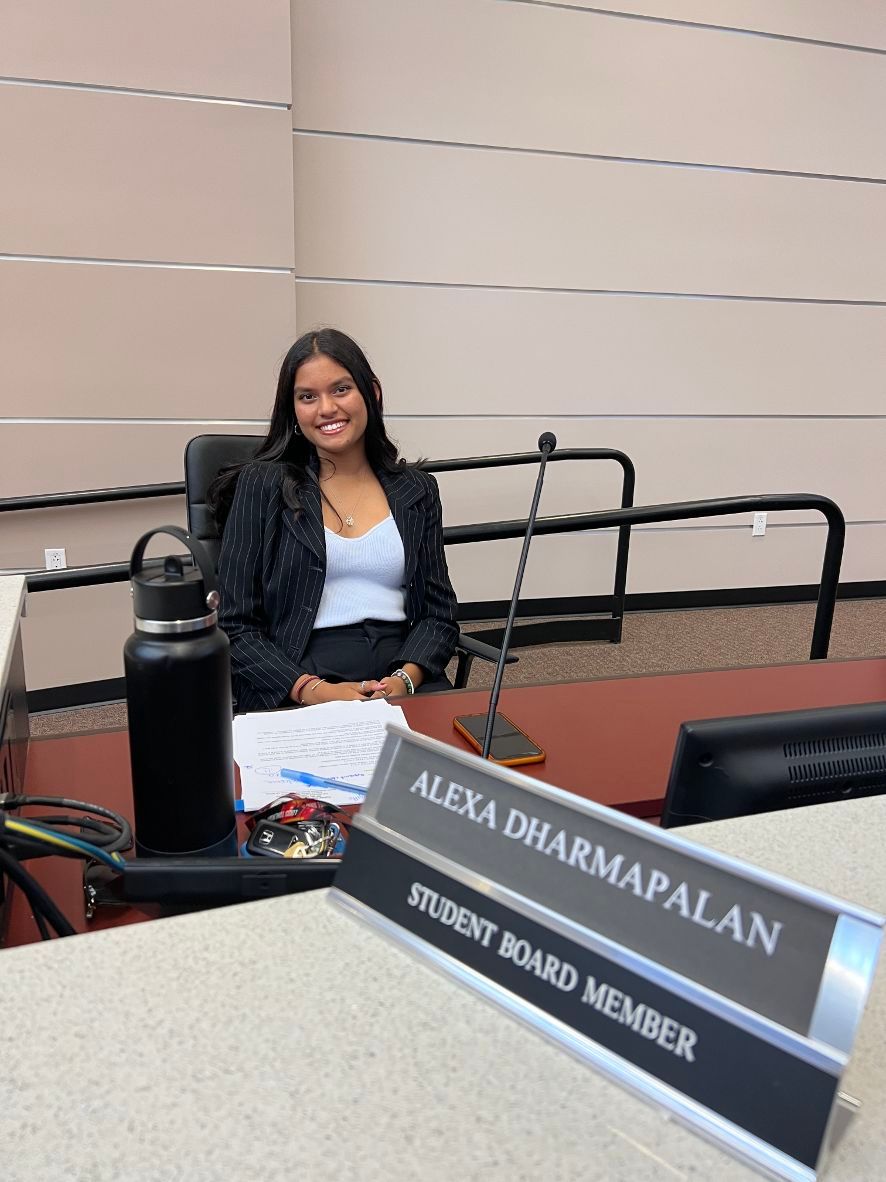 Los Alamitos Unified School District Student Board Member Alexa Dharmapalan delivered her first report to the Board of Education on Sept. 6,2022. Photo by Nichole Pichardo, Public Information Officer for Los Alamitos USD.
Student Board Member Alexa Dharmapalan delivered her first report to the Board of Education. The 16-year-old is a senior at Los Alamitos High School and is also a member of the Associated Student Body (ASB), part of the the LAHS show choir SoundTrax, an active volunteer with Girls, Inc. and one day hopes to work for the U.S. Government as an intelligence officer. In her job as a student board member, she is responsible for delivering reports at every Board of Education meeting covering the academics, arts, activities, and athletics of LAHS.
You can watch Alexa's first report here starting around 3:10.
NEW FREE ONLINE TUTORING FOR 6-12 GRADERS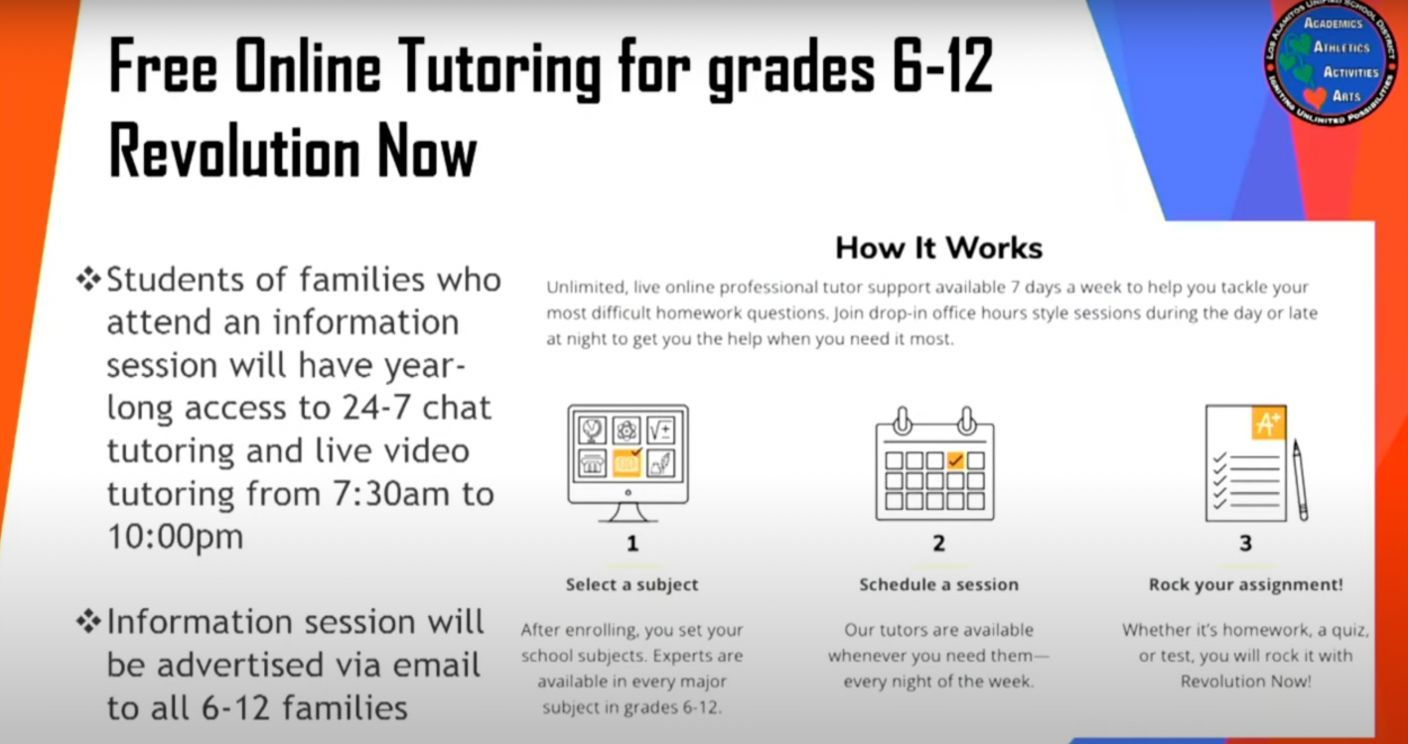 The Los Alamitos USD board voted to approve an agreement with Revolution Prep, an online tutoring service. This will be free for Los Al students grades 6 to 12 and will feature tutoring in more than 60 academic and test preparation subjects. It will offer online chat tutoring 24/7 and live video chat tutoring from 7:30 a.m. until 10:00 p.m. More information will be emailed to families of 6 to 12 graders, according to the district.
BOARD APPROVES 2023 MEETING SCHEDULE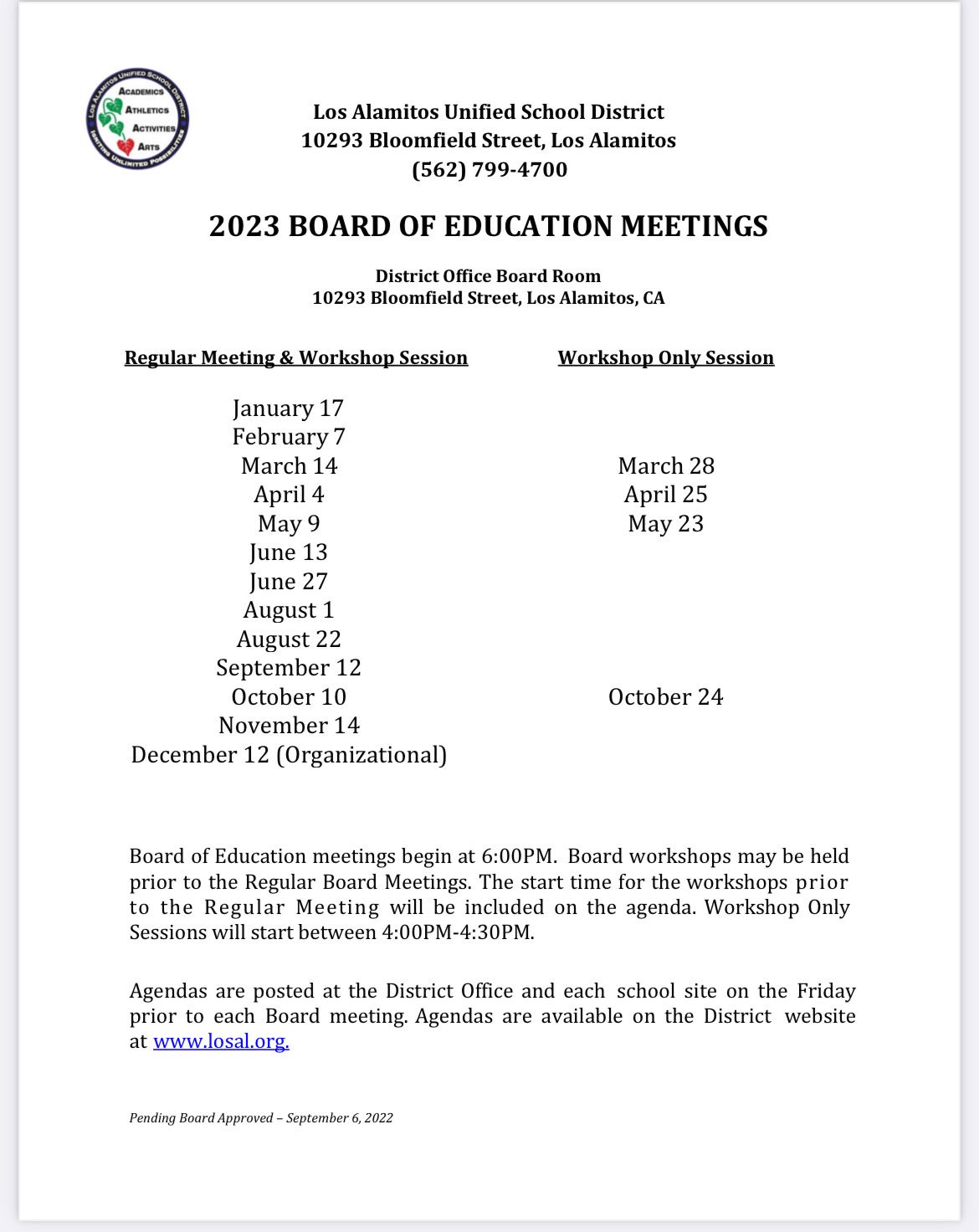 Mark your calendars! The board approved its meeting schedule for 2023. Currently the Board holds regular meetings on the second and fourth Tuesday of each month. In 2023, that will be slightly reduced to around one meeting per month but additional workshops will be held. Meetings start at 6:00 p.m. and workshops may start at 4:00 or 4:30 p.m.
📌 Read more in the district's Board Meeting Highlights.
Rain couldn't stop Griffins in win over Servite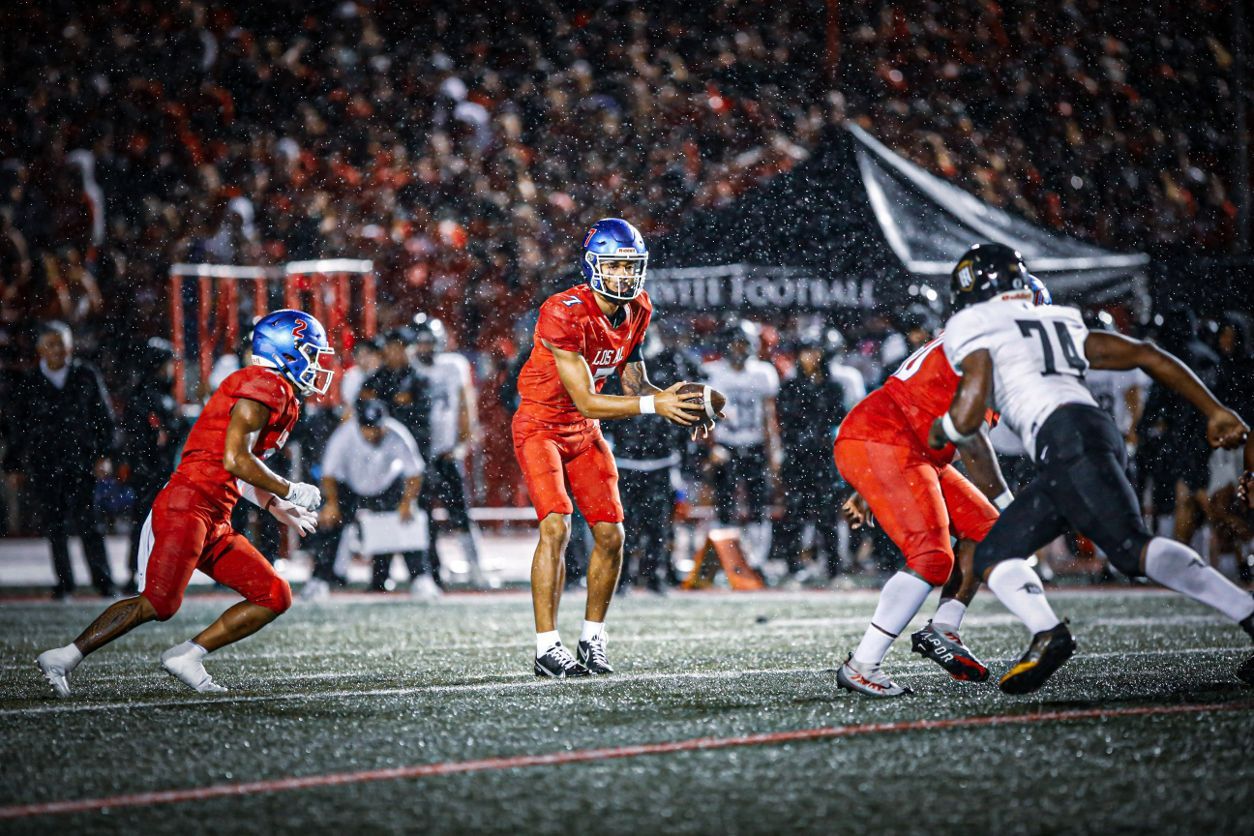 Quarterback Malachi Nelson threw for more than 300 yards and four touchdowns in win over Servite on Sept. 9. Photo by Marja Bene.
Los Alamitos High School hosted Servite on Friday, Sept. 9 at Veterans Memorial Stadium in Long Beach. Despite the torrential rain, LAHS Head Football Coach Ray Fenton and his staff had the Griffins ready to play.
The first quarter was like a heavyweight boxing match, with each opponent feeling the other out as they adjusted to the rain.
However, with six minutes left in the second quarter, it would become painfully obvious who the better team was. The Los Alamitos Griffins scored three touchdowns in a row and went into halftime with a 20-0 lead.
The third quarter started pretty much how the second quarter ended. Los Alamitos scored quickly and never looked back. The final score was 47-14, but I assure you the game wasn't that close.
Quarterback Malachi Nelson finished the contest with 306 yards and 4 touchdowns, quietly bringing his season totals to over a thousand yards passing, 15 touchdowns, and one interception.
His fellow USC commit, Makai Lemon, continues to put up eye-popping statistics. He hauled in another 229 yards on just five catches, two of which were for touchdowns. Lemon continues to prove that the only person that can stop him is himself.
Los Alamitos was finally able to get its running game going in the second quarter, which helped keep the Friars on their heels. Damien Henderson rushed for 202 yards and three touchdowns.
"Once the first run popped, I started feeling it. The O-line was doing their job, which made it easier for me to do mine," the Colorado State commit said.
This was by far the best team effort by the Griffins this year. This Thursday, Sept. 15 at 7 p.m., the Griffins host the Santa Margarita Eagles at Veterans Memorial Stadium in Long Beach.
This story was written and reported by Michael Claborn.
📣 The rain didn't dampen the spirits of the Griffins student section! The Los Al Locos were chosen as O.C. Student Section of the week by The O.C. Register. See the hundreds of students in action here!
FOR THE RECORD: Due to an editing error in last week's newsletter, the incorrect date was listed for the football game between Los Alamitos and Basha. It read Sept. 2 and should have been Sept. 3. We try to be accurate in all of our reporting but I am human. I will always issue a correction when I know an error has been made.
📩 Forwarded from a friend? Subscribe to the FREE Spotlight Schools newsletter here.
Other Stories We're Reading
EXTRA CREDIT
Meetings // Events // Opportunities // Resources
EVENTS
HAPPENING MONDAY, SEPT. 19: Orange County Superintendent of Schools Al Mijares, Ph.D., is hosting a virtual colloquium to mark Hispanic Heritage Month. It will be held online from 2-3:30p.m. and will feature several panelists who will share their stories and perspectives. For more information, click here.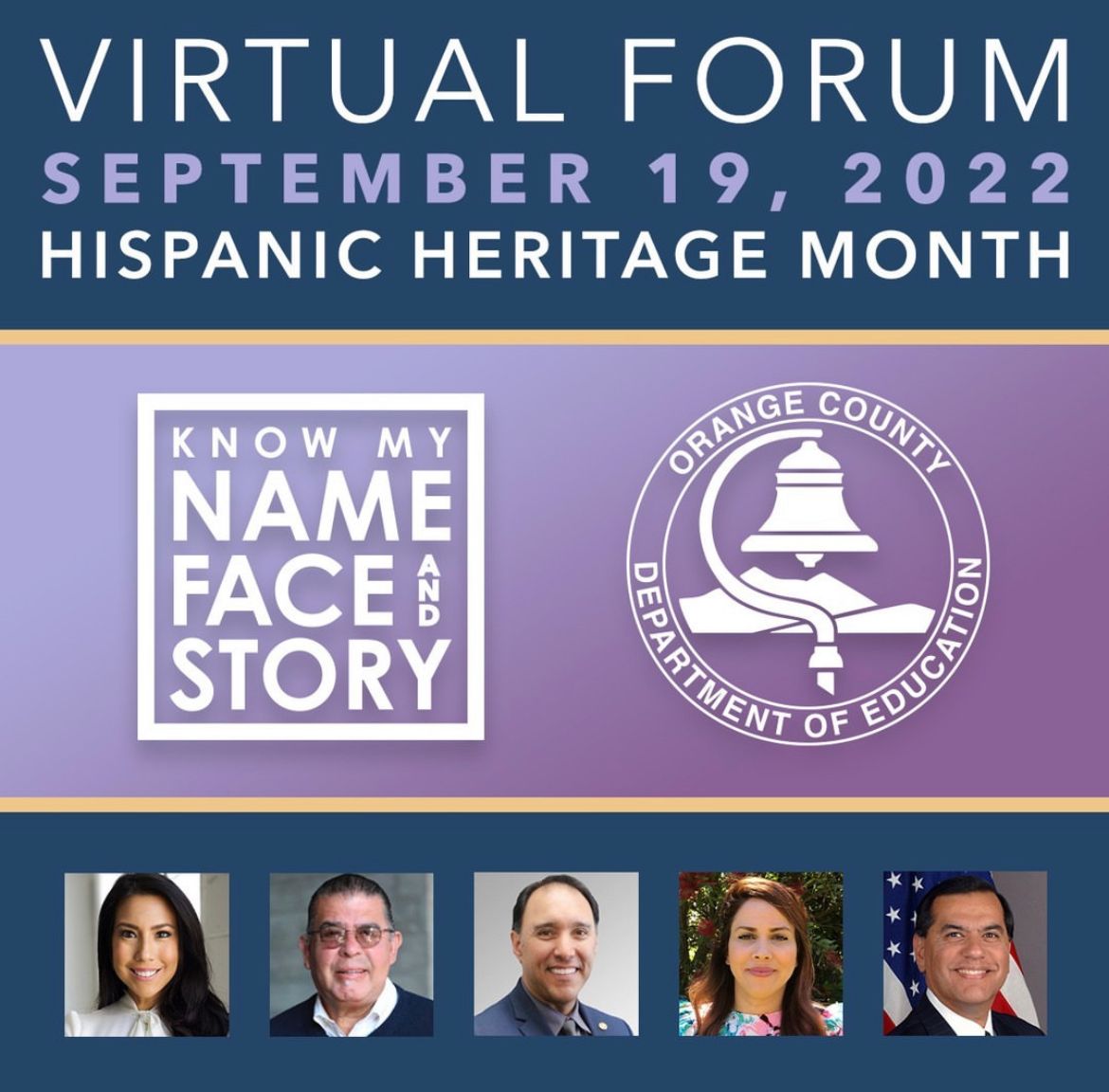 OPPORTUNITIES
🗳 SCHOOLS CAN HOLD A STUDENT MOCK ELECTION: The California Secretary of State's office is helping middle and high school students learn the importance of participating in democracy. It's helping schools set up a Student Mock Election which is due to be held October 11, 2022.September 19 is the last day to register your school to receive a Student Mock Election Supply Kit in the mail. For more information, click here or watch the video below.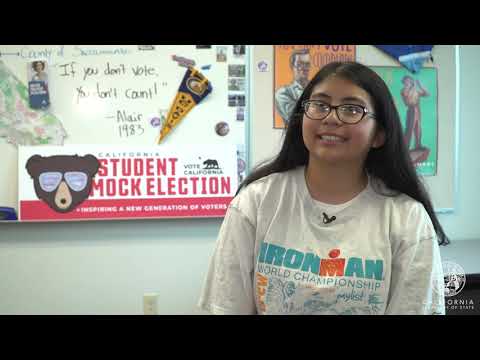 FREE MONEY FOR COLLEGE AND CAREER TRAINING: CalKIDS is a new government program that aims to kick-start saving for college for California students. Students can receive up to $1500 based on eligibility. The goal is to help families take the first step toward saving for college or career training. Find out more information here or by clicking the image below.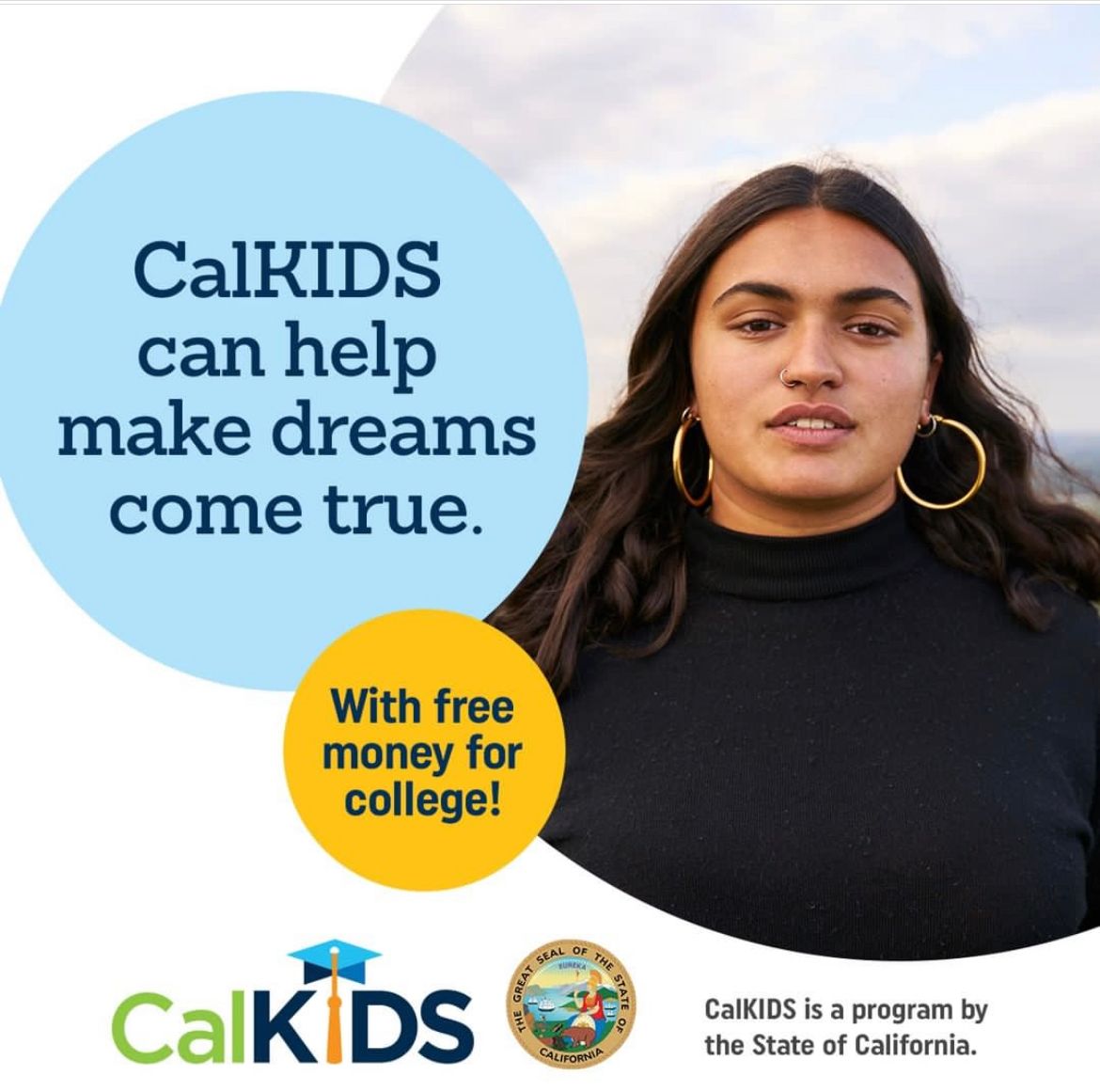 RECESS
Your Dose of Good News
Principal Kisses Pig as Reward for student fundraiser
Up Next? An Ice Bucket Challenge 🥶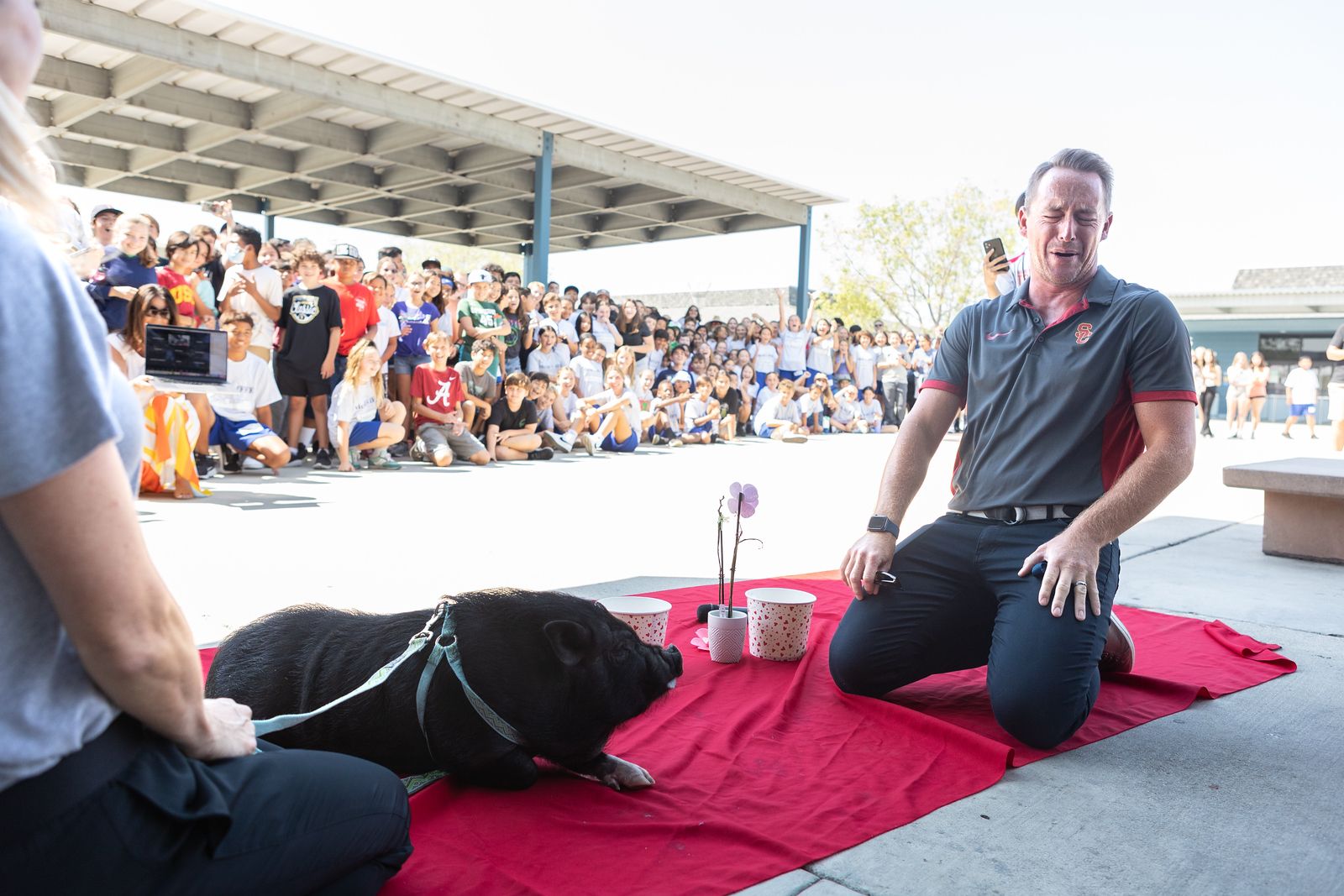 McAuliffe Middle School Principal Ryan Weiss-Wright, Ed.D., reacts after he kissed a pig as a reward for students reaching a milestone for their FUNdraiser. Photo by Andrew Ficke.
McAuliffe Middle School's principal keeps outdoing himself and it's all for a good cause.
As part of his school's annual FUNdraiser, Ryan Weiss-Wright, Ed.D., is personally stepping up to motivate students and families to reach their $75,000 goal. The incentives and challenges usually involve Dr. Weiss-Wright doing something no one would want to do.
For example, when the campus reached the $15,000 goal, Dr. Weiss-Wright dressed up as the Pillsbury Dough boy and let a student throw a pie in his face. For raising $35,000, students were rewarded by watching him kiss a pig on campus during the school day. (Watch the video here!)
For the $50,000 milestone, Dr. Weiss-Wright and other school administrators will endure getting doused with a bucket brimming with ice water AKA the ice bucket challenge. And the top 20 students who raise the most money get to have a water fight with their teachers.
"I don't particularly love any of the challenges we've done, but I love kids getting excited about student activities and campus life so it's worth it!" Dr. Weiss-Wright wrote in a text message to Spotlight Schools.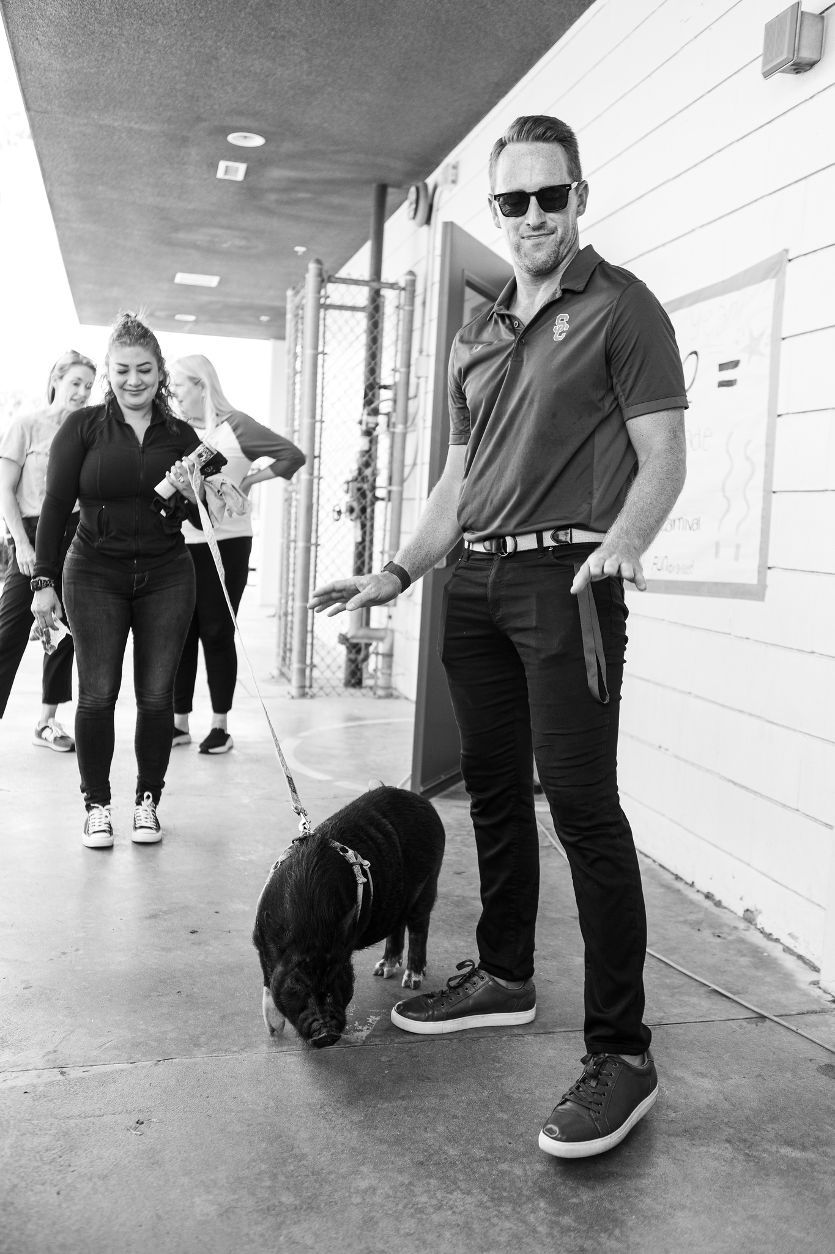 McAuliffe Principal Dr. Weiss-Wright poses with 'Piglet' after giving the animal a kiss as a reward for students reaching a fundraising goal. Photo by Andrew Ficke.
The annual McAuliffe Fall Fundraiser uses a third party service called 99 Pledges that directs 100% of the funds back to the school. That means every dollar donated goes back to McAuliffe.
The fundraiser will pay for student activities for the more than 1,000 6th through 8th grade students at the Los Alamitos campus. That includes events like school dances, an annual film festival, intramural sports, field trips and more.
"There are many opportunities for students to connect at McAuliffe!," reads an email message sent to families about the fundraiser. "While we strive to create connecting points, we can't do it without the help from our community!"
And the community has stepped up. The fundraiser was at more than $71,500 as of Monday afternoon, just hours before it was due to close.
More information here.
Thanks for reading!
Forwarded from a friend? Subscribe to the Spotlight Schools newsletter here.
Follow us on Instagram @SpotlightSchools.
Our mailing address:
P.O. Box 164
Seal Beach, CA 90740

Copyright © 2022 Spotlight Schools, All rights reserved.