Charter school enrollment increasing in O.C.; CA schools could be required to have opioid overdose treatments; Salary hikes expected in Cypress School District
🚸 Heroine of PCH: Praise for retiring school crossing guard; 🔔 O.C. districts earn 'Golden Bell Awards;'
🚸 Heroine of PCH: Praise for retiring school crossing guard; 🔔 O.C. districts earn 'Golden Bell Awards;'

Helping you better understand, navigate and participate in the TK-12 public school experience in Orange County.
In this week's newsletter...
December 13, 2022
FIRST BELL 🔔Charter school enrollment slowly and steadily rising in O.C.
SECOND BELL 🔔 Parents told to 'Run, Hide, Fight' to survive gun violence.
EXTRA CREDIT 📌 Security cameras could soon be installed at some Los Alamitos USD schools.
RECESS 👏🏼 🚸 A heroine on Pacific Coast Highway: Crossing guard honored for 28 years of service.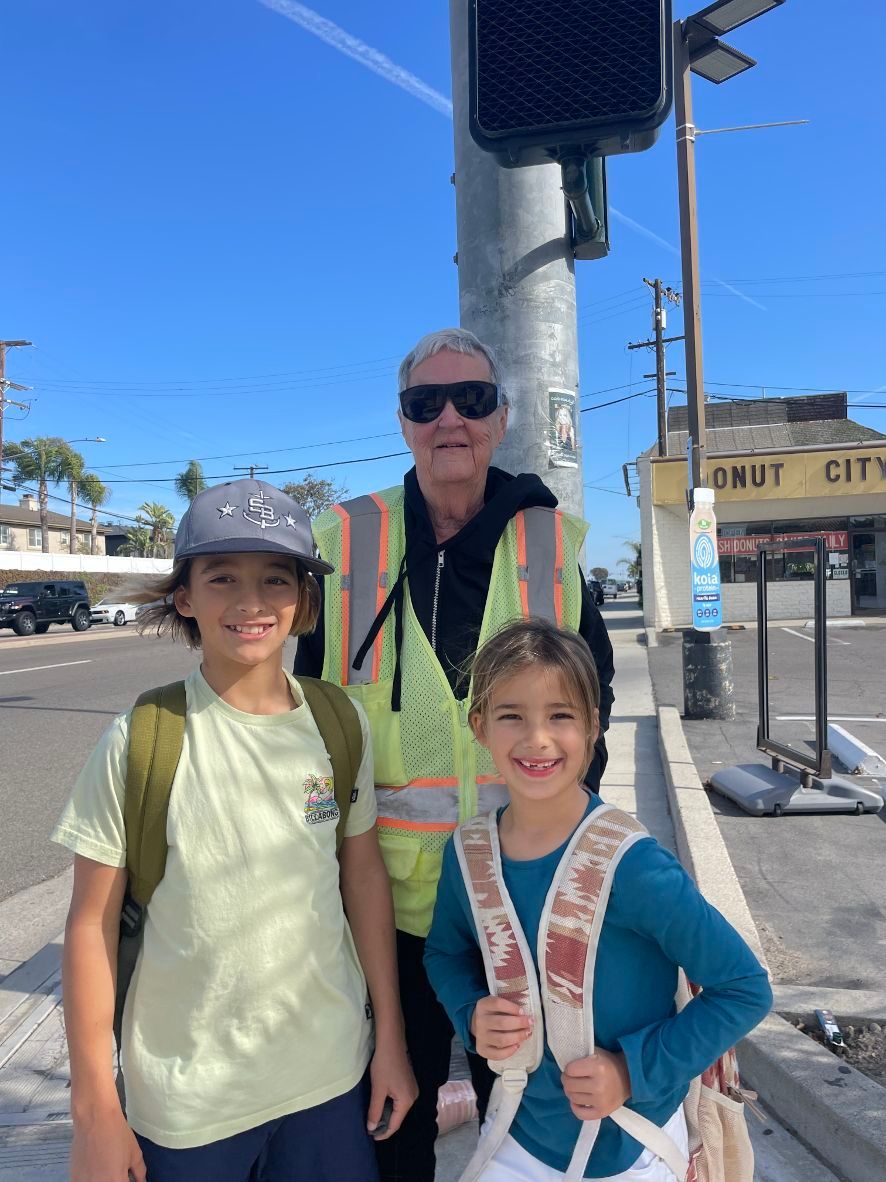 Recently retired crossing guard Betty Camacho helped J.H. McGaugh Elementary school students cross a busy intersection at Pacific Coast Highway in Seal Beach for more than 20 years. Photo by Ashley Stevens.
Spotlight Schools is a hyperlocal independent newsroom dedicated to covering education in Orange County. This is our weekly email newsletter.
If you haven't signed up for our newsletter, click here. And be sure to visit the Spotlight Schools website to read more local education news, check out past editions of our newsletter, learn more about our newsroom and even become a supporter of our journalism.
Like social media? Be sure to follow us on Instagram and Twitter for news and updates.
Please send feedback/story ideas/questions to hello@spotlightschools.com.
Yours in knowledge,
Jeannette Andruss, Co-Founder and Chief Editorial Officer
FIRST BELL
This Week's Top Story
Attendance grows at O.C. charter schools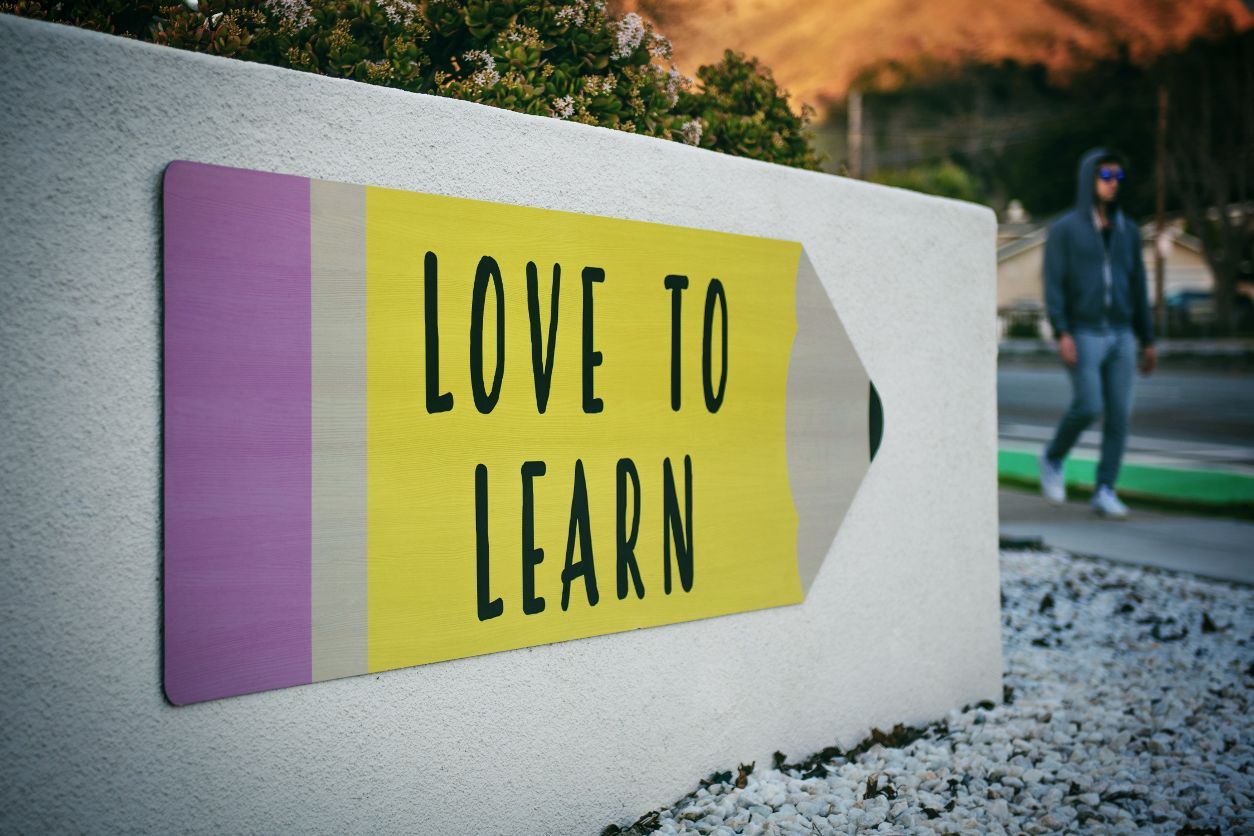 Photo by Tim Mossholder on Unsplash
California's K-12 public schools have been registering fewer students for the past five years. Last school year, statewide enrollment dropped by 110,000 students, according to the California Department of Education as the forces of rising housing costs, people having fewer kids, the disruption of the Covid-19 pandemic and other factors converged.
Charter schools statewide also saw a 1.8% dip in enrollment in 2021-22. But there is a slightly different story playing out at some campuses in Orange County.
Public charter schools have actually been slowly but steadily gaining students in O.C. since 2014, according to CDE data.
Charter schools are taxpayer funded but are able to operate independently and with more flexibility in their curriculum than traditional K-12 public schools. They are subject to increased local oversight. They are granted a charter to operate by boards of education at the local, county or state level.
Although a small fraction of the total number of students in Orange County attend charter schools, their numbers are growing. Last school year, charter school students accounted for 5% of the total number of students in O.C. public schools. That's up from 2.4% in 2014-15.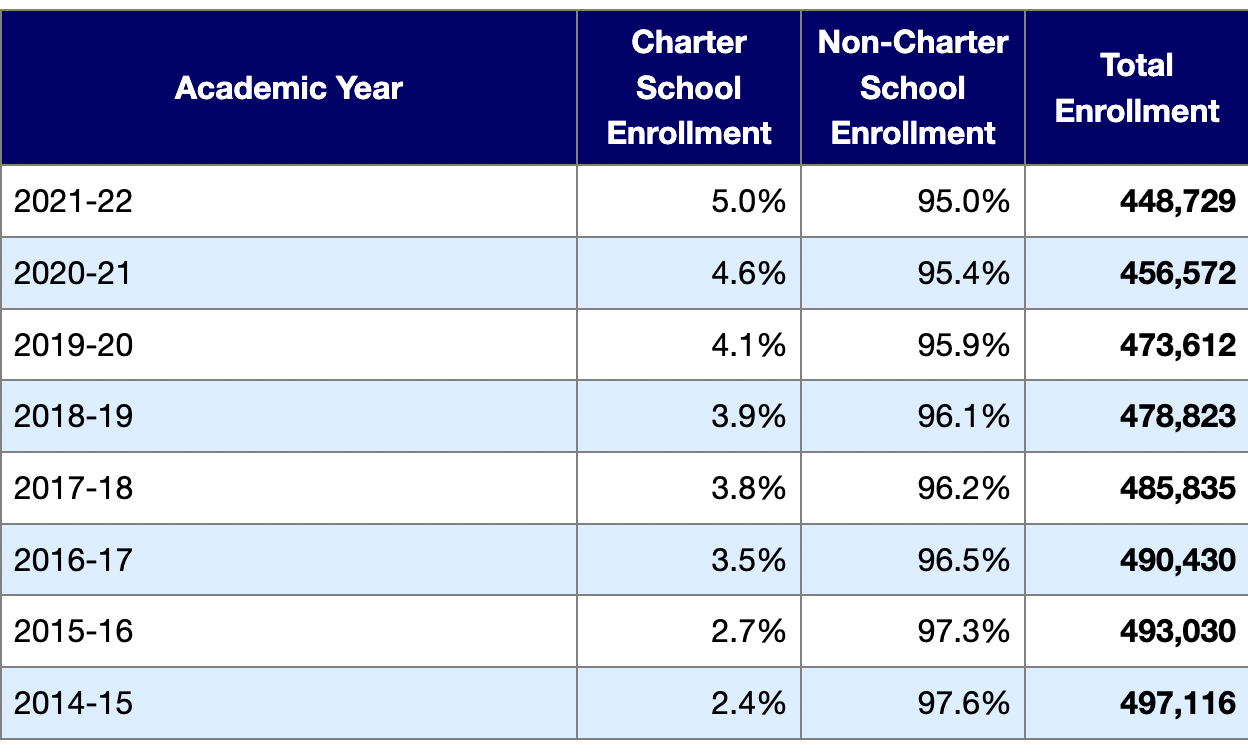 California Department of Education data show that while public school enrollment has been dropping for several years, charter schools in Orange County have been steadily gaining students. Image from CDE website.
And that's also while total public school enrollment in O.C. dropped by more than 48,300 students over the same time period. That means while some local public school districts are facing the prospect of downsizing, charter schools have been growing.
Such is the case for the award-winning charter schools of Oxford Preparatory Academy (OPA) in Orange County which has a wait list of 1,000 people, according to OPA's Executive Director, Amy Kernan, Ed.D.
OPA's first K-8 campus opened in 2011 in the Capistrano Unified School District, the county's largest and also the one with the most charter schools. Roughly 14% of Capo Unified's nearly 50,000 students attended a charter school in 2021-22.
OPA created a second Saddleback Valley K-8 campus in the 2016-17 school year. In October, OPA received authorization from the Orange County Board of Education to expand again, and is planning to open a middle school campus in the fall of 2023.
"We're excited that we have the interest that is allowing us to expand even at a time where most everybody else's [enrollment] is declining," Dr. Kernan said in a recent phone interview with Spotlight Schools. "We feel very lucky that we have that ability, and we want to just make sure that we keep serving our students and our families and … keep providing a great option for families here in South Orange County."
OPA's campuses are among the 39 charter schools authorized to operate in Orange County. Some are overseen by local school districts. Others are under the oversight of the Orange County Department of Education.
The trustees on the Orange County Board of Education are vocal advocates for expanding charter schools locally. The board hosted a forum in September titled: "Strengthening California's Charter Schools at a Local and State Level."
OCBE has granted five charter schools countywide status, meaning the schools can more easily establish a campus anywhere in O.C. That includes Orange County Classical Academy, Samueli Academy, Orange County Workforce Innovation High, Scholarship Prep Orange County and Explore Academy.
Read more about the growth of charter schools in O.C. here.
SECOND BELL
Other Stories We're Following
Parents told to 'Run, Hide, Fight' if facing active shooter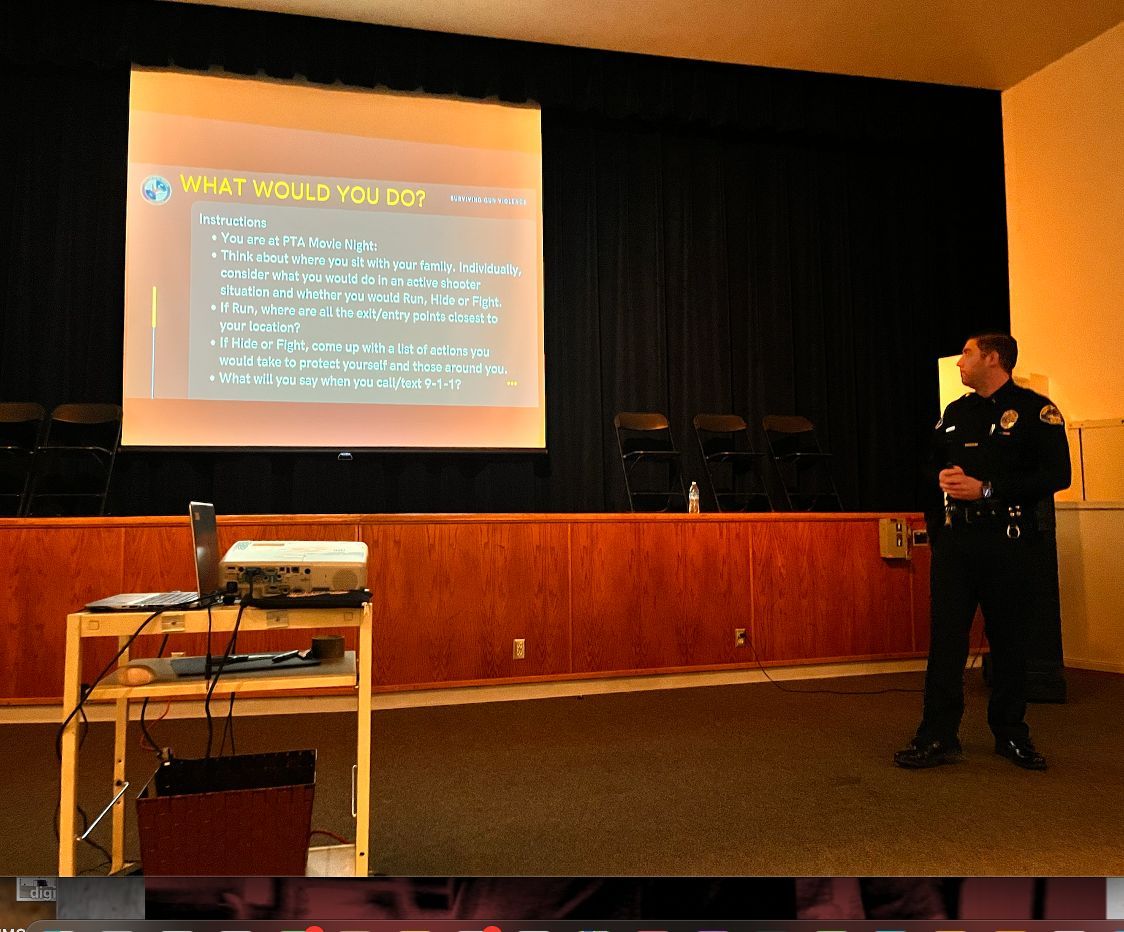 Seal Beach Police Department Lt. Nick Nicholas during his 'Surviving Gun Violence' presentation held at J.H. McGaugh Elementary School in Seal Beach on Dec. 8, 2022. Photo by Jeannette Andruss.
Parents that attended a "Surviving Gun Violence" event last week were advised to follow the "Run, Hide, Fight" response if confronted with an armed person threatening harm.
The goal of the presentation was to give people tools and strategies to prepare for a worst-case scenario involving a shooter.
In 2021 there were 61 active shooter incidents nationwide, a 52.5% increase from 2020, according to the FBI. An active shooter is defined as "one or more individuals actively engaged in killing or attempting to kill people in a populated area," according to the FBI.
"It's unfortunate we have to live in a world where we have to arm ourselves with this kind of information," newly named Seal Beach Police Department Chief Michael Henderson told the crowd of around 30 people. He added that his hope was attendees would "learn something hopefully you'll never have to use."
The presentation was given by SBPD Lt. Nick Nicholas and held at J.H. McGaugh Elementary School Auditorium on Dec. 8. It was co-hosted by McGaugh PTA partly in response to a recent incident when a man was arrested after he jumped a fence onto campus during a PTA-sponsored movie night leaving some parents rattled and wondering how to react.
While the presentation was held at the school and was attended by McGaugh PTA President Jennifer Katz, McGaugh Principal Wendy Wood, and Los Alamitos Unified School District Board of Education member Marlys Davidson, it was not specific to gun violence on a school campus.
In fact, with graphic detail the Seal Beach Police Department showed attendees why it's important to be prepared for anything to happen at any location. Lt. Nicholas reminded attendees that the deadliest mass shooting in Orange County history happened in Seal Beach in 2011.
"I don't want anyone to think this is 'Mayberry by the Sea,' it couldn't happen here. It did happen here," Lt. Nicholas said.
"Run, Hide, Fight" is the recommended response
Lt. Nick Nicholas delivered an informative presentation that focused on the "Run, Hide, Fight" response to an active shooter. He noted that most of these tragedies unfold in a matter of minutes. Even with a quick response time from law enforcement, in those first minutes, you will have to protect yourself and your loved ones.
RUN: As soon as you see or hear a threat, you should run away from it as fast as you can. To help, before you enter a building or environment, note where the exits are so you would know where to leave in a hurry. Call or text 911 if you can.
HIDE: If you cannot run away and escape the violence, find a secure hiding place. Look for ways to conceal and cover yourself, block windows and doors and stay quiet.
FIGHT: The last resort is to fight the shooter with anything you can. Look for items that could be turned into a weapon, like a fire extinguisher. "You have to fight like your life depends on it because your life depends on it," Lt. Nicholas said.
Attendees saw the "Run, Hide, Fight" response illustrated in a graphic video created by the L.A. County Sheriff's Department. While a chilling watch, it details strategies in different active shooter incidents.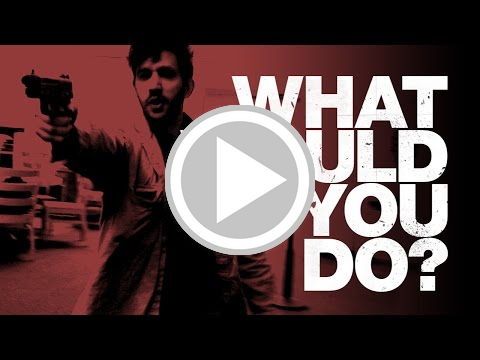 WARNING: Contains violent images. A video from the L.A. County Sheriff's Department shows people how to respond to an active shooter incident.
"Their presentation was such an invaluable learning opportunity for everyone, and it really puts things into perspective if we were ever faced with making a decision in such a horrible situation. I definitely feel more prepared," McGaugh PTA President Jennifer Katz wrote in a text message to Spotlight Schools.
Read more about the "Surviving Gun Violence" event here.
California schools could be required to have opioid overdose treatment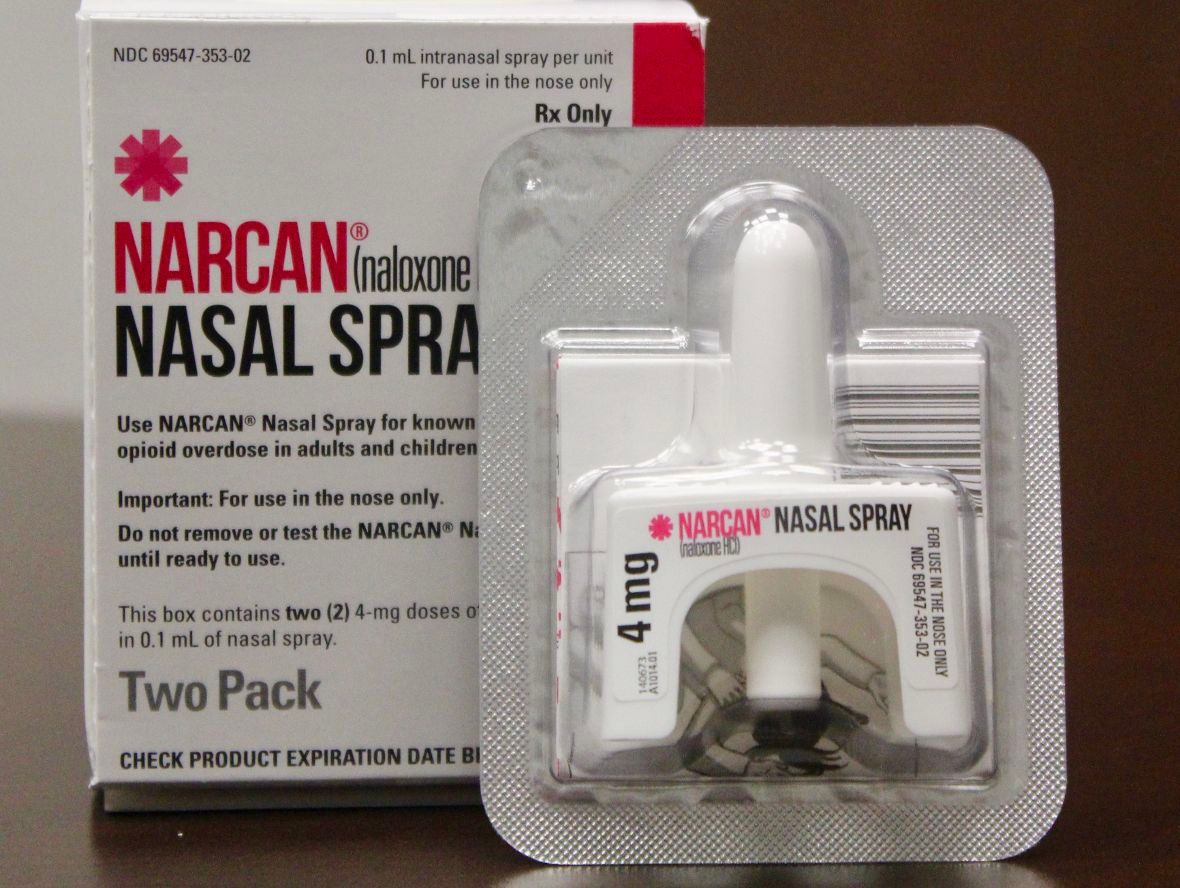 A dose of Narcan at the Seal Beach Police Department. The treatment can reverse the effects of an opioid overdose. Photo by Jeannette Andruss.
California lawmakers are working to address the increase in young people overdosing and dying from taking potent synthetic opioids such as fentanyl.
At a forum last month, Orange County Sheriff Don Barnes said that fentanyl overdoses are now the number one cause of death among youth in O.C., the OCDE Newsroom reported.
A State Senate bill introduced this month would create a statewide framework to help prevent young people from opioid overdoses. An assembly bill would require California's public K-12 schools to have at least two doses of a treatment that can reverse opioid overdoses such as Narcan on campuses.
Some schools already have the treatment, including in the Los Alamitos Unified School District. The California Department of Public Health created guidance for other districts to set up an overdose protocol and obtain the treatment through the state's Naloxone Distribution Project.
Meanwhile, a program for treating Orange County youth suffering from substance abuse got a funding boost. As part of his Kids' Mental Health Master Plan, Governor Gavin Newsom announced $480.5 million in grants.
That includes a $27.6 million grant to treat kids in O.C. suffering from substance use disorder. With the money, the Orange County Health Care Agency "will expand adolescent residential treatment facilities for youth suffering from substance use disorder (SUD) with 32 beds, perinatal residential SUD with 24 beds, and community mental health clinic outpatient with 2,626 slots," reads the press release from the governor's office.
Other Stories We're Reading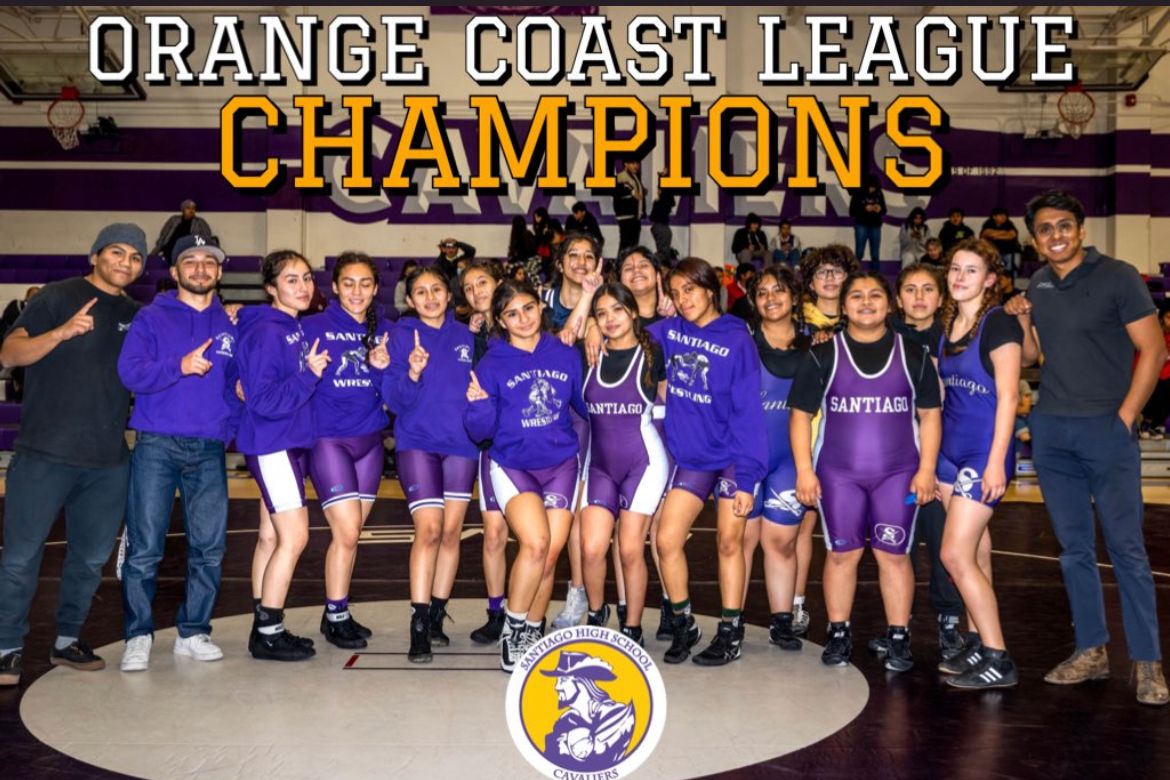 Congratulations to the Santiago High School girls wrestling team. They recently were named Orange Coast League Champions, their first title in program history. Photo courtesy of Garden Grove Unified School District Athletics Twitter account.
EXTRA CREDIT
Meetings // Events // Opportunities // Resources
MEETINGS
HAPPENING TODAY: The Los Alamitos Unified School District Board of Education is scheduled to meet at 10293 Bloomfield Street in Los Alamitos.
The board is scheduled to hold a workshop at 4:00 p.m. and a meeting at 6:00 p.m.
On the agenda for the workshop:
McAuliffe Middle School will make its annual presentation to the board and honor its 2022-23 Hero of the Heart award recipient, Bud Jones.
You can watch the workshop streaming live on YouTube here.
On the agenda for the meeting:
OATH OF OFFICE: After winning their races in the Nov. 8, 2022 General Election, incumbents Diana Hill and Marlys Davidson will take an oath of office for a new term. The board will also vote on a new Board President and Vice President to preside over meetings in 2023.
SCHOOL SECURITY CAMERAS: Agreement with ConvergeOne to install security cameras at the district's campuses that currently do not have them including: Weaver Elementary, Rossmoor Elementary, Lee Elementary, Los Alamitos Elementary, McAuliffe Middle School, and Oak Middle School. This will cost approximately $110,000 and will be paid from state Covid-19 relief funds.
You can watch the meeting streaming live on YouTube here.
HAPPENING TODAY: The Cypress School District Board of Trustees is scheduled to meet at 6:45 p.m. at 5816 Corporate Avenue in Cypress.
On the agenda:
RECOGNITION FOR BONNIE PEAT: Outgoing Board President Bonnie Peat will be recognized for her service as president in 2022.
OATH OF OFFICE: Following the Nov. 8, 2022 General Election, the Supt. will administer the oath of office for incumbent Trustee Lydia Sondhi (Trustee Area D) who ran unopposed; for Sandra Lee who was re-elected to represent Trustee Area C and for Troy Tanaka who won the race to represent Trustee Area B.
SALARY INCREASES: A 6% salary increase for Superintendent Anne Silavs, district employees with the California School Employees Association, Chapter 325, certificated management employees, classified management and confidential employees that would be retroactive to July 1, 2022. The CSEA raise comes with the ratification of a new contract.
You can watch the meeting via Zoom at this link.
HAPPENING TOMORROW: The Orange County Board of Education is scheduled to meet at 4:00 p.m. at 200 Kalmus Drive in Costa Mesa.
On the agenda:
BUDGET: A presentation on the 2022-23 First Interim Budget.
PROFESSIONAL DEVELOPMENT: Board Policy on professional development for OCBE members. At the Nov. 2, 2022 meeting, OCBE approved establishing a $30,000 fund to pay for professional development for board members.
You can watch the meeting streaming live on YouTube here.
RESOURCES
AFTER-SCHOOL PROGRAMS: Enrollment is now open for the Los Alamitos Education Foundation's after-school enrichment programs for the Spring of 2023. The session will run from January 30 to May 15, 2023. Visit Laef4kids.org for more details.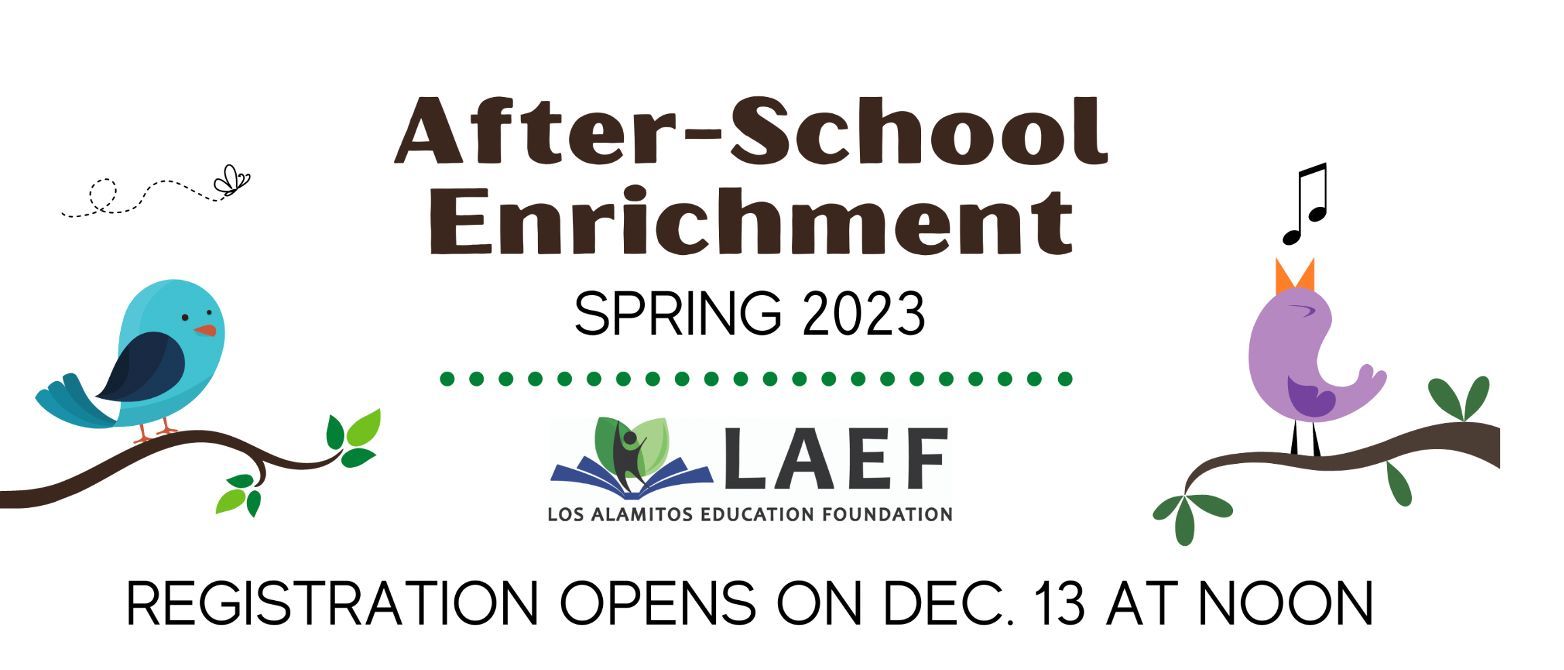 RECESS
Your Dose of Good News
🚸 For years she helped students cross one of California's busiest highways
Seal Beach crossing guard honored for 28 years of service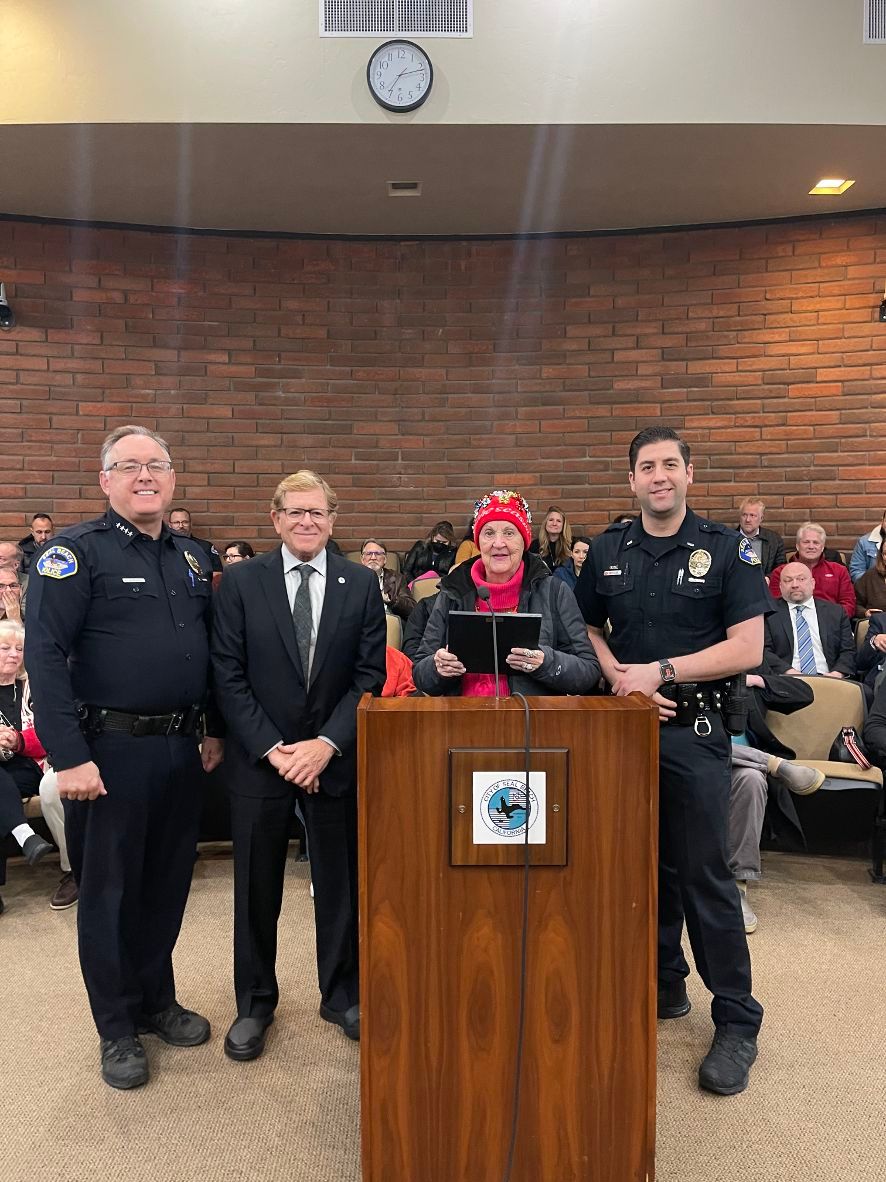 Retiring crossing guard Betty Camacho is honored at the Seal Beach City Council meeting on Dec. 12 for her 28 years of service. Pictured left to right: Seal Beach Police Chief Michael Henderson, Mayor Joe Kalmick, Camacho, SBPD Lt. Nick Nicholas. Photo by Dana Engstrom.
Betty Trudeau Camacho was a heroine on Pacific Coast Highway.
Recently retired in October, Camacho was the longest serving school crossing guard in Seal Beach history.
Over her 28 years with the city, she worked at every school crosswalk and spent the last 22 years at 12th Street and PCH.
She helped families attending J.H. McGaugh Elementary School in Seal Beach cross one of the busiest roadways in California. That includes my own family.
Camacho has been nearly hit by vehicles more times than she can count. But she never shied away from stepping into the street with her bright red STOP sign glaring at impatient drivers.
She always ensured the kindergartners through fifth graders, and even some middle and high schoolers heading to the nearby school bus stop, made it safely to their destination.
On Dec. 12, the Seal Beach City Council and Seal Beach Police Department took a moment to honor Camacho for her many years of service. Seal Beach Mayor Joe Kalmick presented Camacho with a plaque containing a City of Seal Beach tile at the meeting.
She stopped working this fall after she was forced to move from her Seal Beach apartment to Huntington Beach. The drive is too far to make it to her old job, she said.
"I miss all of you so much. I miss all the families and all the people that I met over the 28 years," Camacho said in brief remarks during the council meeting. "I will come to visit Seal Beach as much as I can. I now live in Huntington Beach in a condo, but I still have my heart here in Seal Beach."
During the recognition, McGaugh Principal Wendy Wood thanked Camacho.
"From all of our families at McGaugh Elementary who already miss you dearly, we just want to say thank you. Because crossing guards are more than just a crossing guard. You're part of our family. So thank you so much. We really, really deeply appreciate you," Wood said.
The SBPD is in the process of hiring an additional two school crossing guards with hopes of finding a permanent replacement for Camacho at 12th and PCH. But for many local families, there will never be another Miss Betty.
Read more about Camacho's honor here.
Thanks for reading!
Forwarded from a friend? Subscribe to the Spotlight Schools newsletter here.
Follow us on Instagram @SpotlightSchools.
Our mailing address:
P.O. Box 164
Seal Beach, CA 90740

Copyright © 2022 Spotlight Schools, All rights reserved.