California Hints at Update to Mask Mandate for K-12 Schools; How Parents can Participate at the District Level; Los Al H.S. Song & Cheer Team are National Champions... again!
What's Happening at Today's Los Al USD Board of Education meeting; Free N95 Masks Arrive for Schools; and The story of a Trailblazing Pilot for Black History Month.
What's Happening at Today's Los Al USD Board of Education meeting; Free N95 Masks Arrive for Schools; and The story of a Trailblazing Pilot for Black History Month.
Spotlight Schools
In this week's newsletter...
Feb. 8, 2022
Want to get involved? How parents can participate at the school district level.
California health officials hint at possible update for mask rules for K-12 schools.
What's happening at tonight's Los Al USD Board of Education Workshop and Meeting.
Los Alamitos High School Song & Cheer team is #1 at National Dance Team Championships!
Photo by Element5 Digital on Unsplash
Spotlight Schools is here to help you better understand, navigate and participate in the TK-12 public school experience in Orange County.
Please send feedback/story ideas/questions to hello@spotlightschools.com.
Yours in knowledge,
Jeannette Andruss, Spotlight Schools Founder and parent of two students in the Los Alamitos Unified School District
FIRST BELL
This Week's Top Story
How Parents Can Get Involved at the School District Level
Running a public school district requires input from the community but it's not always obvious how people can participate beyond speaking at a school board meeting.
At the Los Alamitos Unified School District Board of Education's January 11 meeting, President Diana Hill shared that district parents had told her they felt unheard, lamenting that they had no way to get involved.
"And that makes me very sad because I know that there are so many ways that the parents can get involved," Hill said during her President's Report. "And so what the problem must be is that we must not be doing as effective a job of communicating that. And staff does a great job and principals do a great job, but I think that sometimes you can't communicate enough."
She shared a slide and briefly went over some of the opportunities.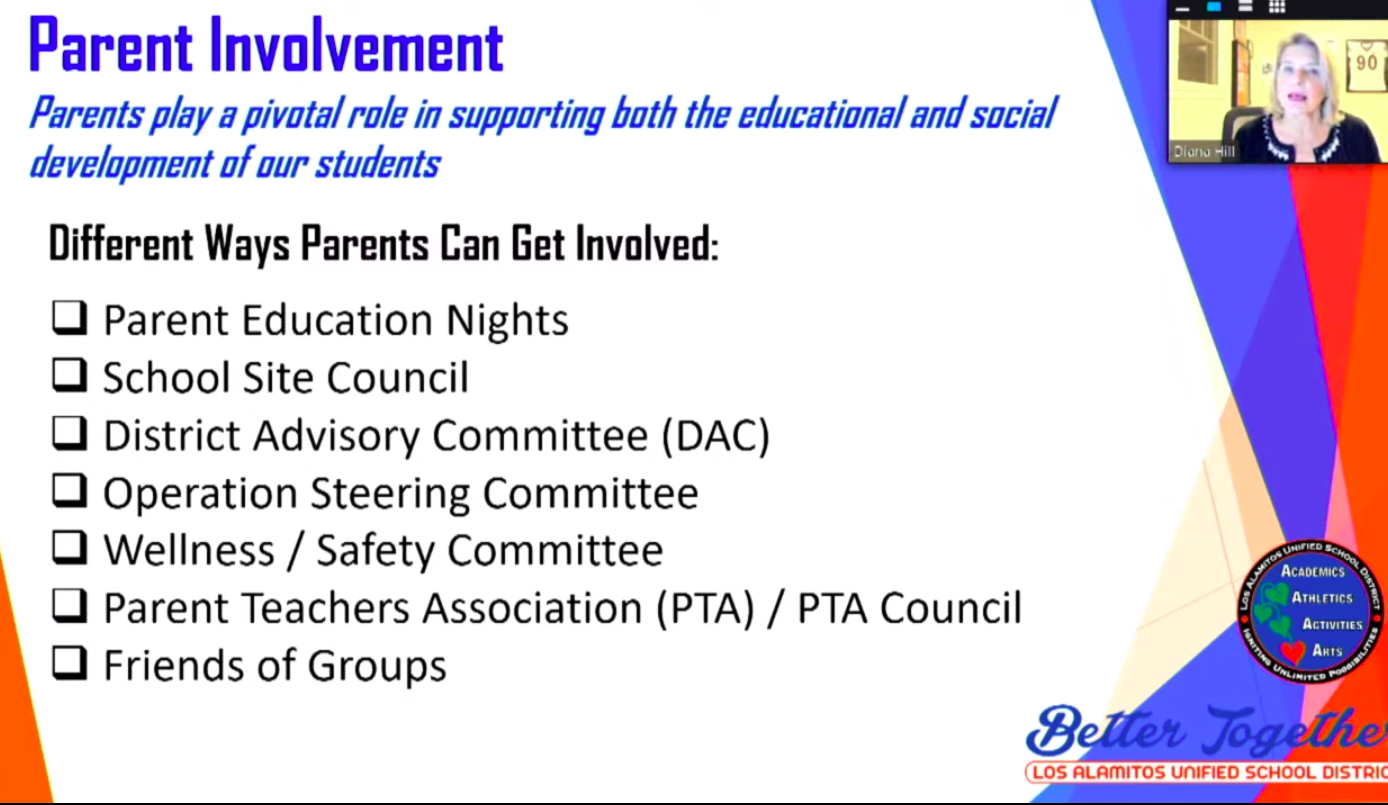 Board President Diana Hill gives overview of opportunities for parents to get involved during the Jan. 11 board meeting.
Spotlight Schools wants to help you participate in the TK-12 school experience so we're providing more information about some district-level opportunities.
Some of the committees listed below require parents or guardians to apply for appointment, so be sure to look at the individual links for details and contact administrators with questions. Most of this information is from the LosAl.org website.
SECOND BELL
Other Stories We're Following
An Update to California's Mask Rules for K-12 Campuses Could Be Coming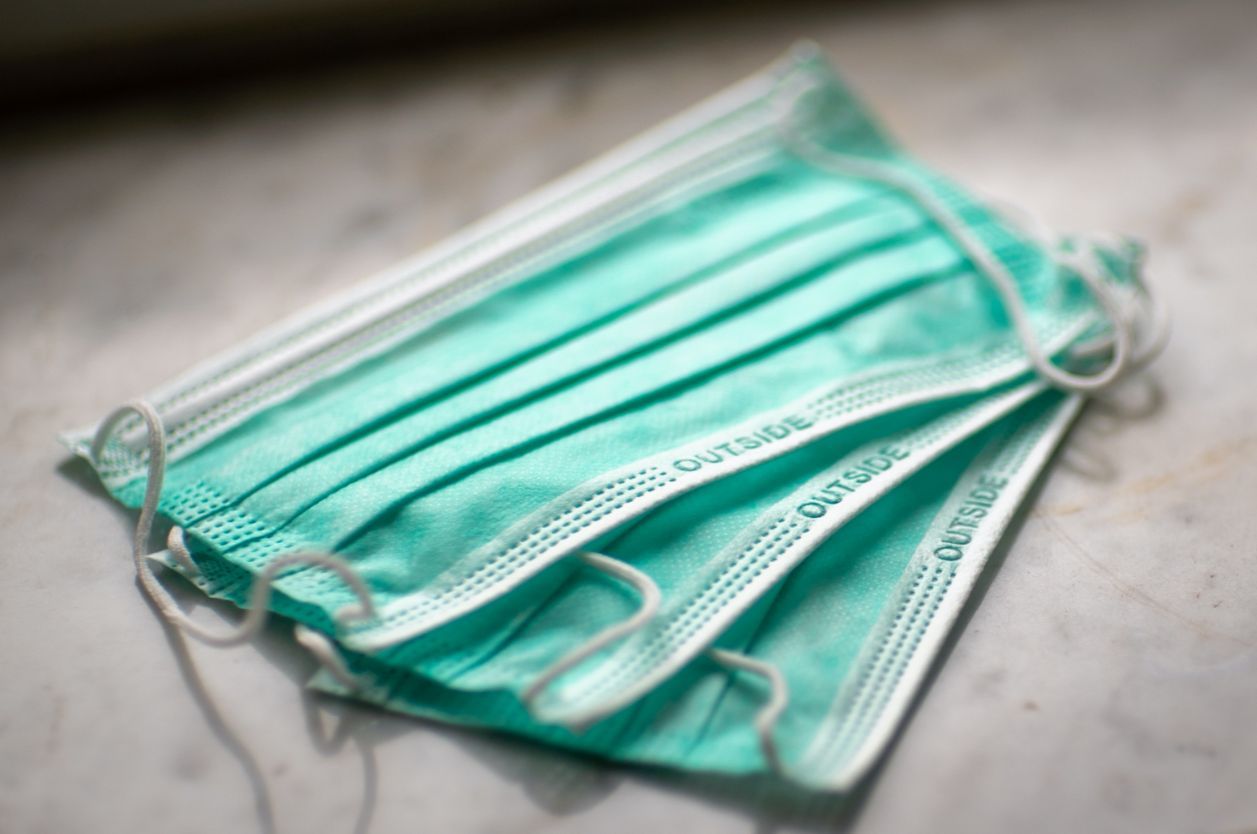 California public health officials announced Monday that they are continuing to work with education officials 'to update masking requirements at schools to adapt to changing conditions and ensure the safety of kids, teachers, and staff." Photo by Mika Baumeister on Unsplash
Citing a drop in Covid-19 cases statewide, California public health officials announced yesterday that the state's mask mandate at indoor public spaces would be lifted for vaccinated individuals in most settings on February 15.
This does not apply to schools. All students and staff are still required to wear a mask indoors at K-12 campuses.
But in the announcement, officials hinted at possible changes to the rules requiring masks at California schools.
"The state is continuing to work with education, public health and community leaders to update masking requirements at schools to adapt to changing conditions and ensure the safety of kids, teachers, and staff. Additional adjustments to the state's policies will be shared in the coming week," reads Monday's press release from the California Department of Public Health.
If California Governor Gavin Newsom does end up relaxing the universal mask mandate at schools, he would not be the only Democrat to do so. Yesterday, the governors of New Jersey, Connecticut, Delaware and Oregon unveiled timelines to ease school mask mandates in the coming weeks.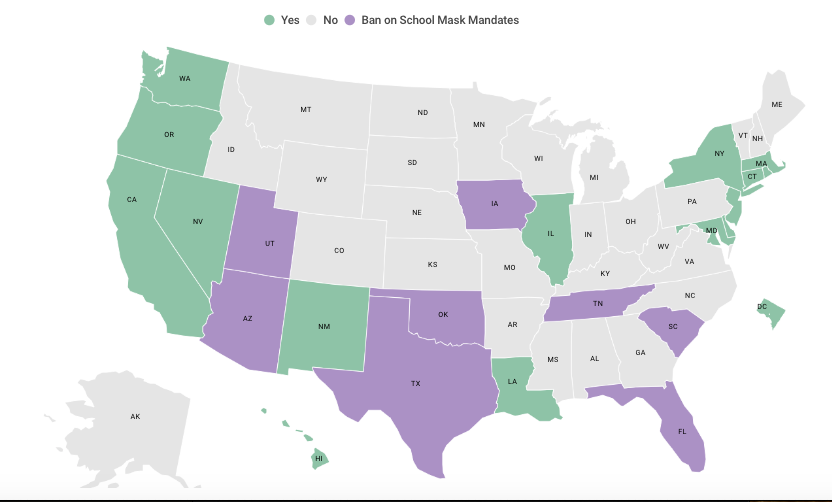 A map from the National Academy for State Health Policy shows which states have a mask mandate for schools.
Some physicians from U.C. San Francisco cautioned against lifting mask mandates at K-12 schools too soon, reports the L.A. Times. The concern is the potential for disruption to in-person learning if cases rise again and the need to protect immunocompromised students.
Right now, Orange County Health Care Agency guidance for schools says a student deemed a close contact of a Covid-19 positive person indoors on a K-12 campus can continue to attend in-person classes if everyone involved in the exposure was wearing a mask, they don't develop symptoms and the exposed person gets tested for Covid-19.
Before the start of this school year, some Los Alamitos USB board members and Supt. Dr. Andrew Pulver expressed frustration with California's indoor mask mandate for schools. It's also sparked debate at school board meetings among parents that support or oppose masks being required for students.
Recently, students have been showing up to some California campuses (none in O.C. that we know of) refusing to wear a face covering to protest the state's mask mandate. This has happened in Long Beach, San Diego County, San Juan Unified School District near Folsom, and Oakdale Unified near Sacramento.
N95 Masks to Be Distributed by Schools
In other mask-related news, Los Al USD has received a shipment of N95 masks from the California Dept. of Public Health for distribution to its nine schools. In a message to families sent yesterday, Supt. Pulver said the free masks would be handed out this week to staff and students at the campuses.
At the high school and middle schools, staff and students will each receive five N95 masks. The masks are said to fit adults and students from 6th-12th grade.
At the six elementary school campuses, only staff will receive the five N95 masks each.
KN95 masks small enough to fit elementary school-age kids are supposed to be delivered by the state soon, according to Brian Ferguson, a spokesman for the Governor's Office of Emergency Services.
"Orange County has received 1,781,760 one-size fits all N95 respirators and 357,000 child size surgical masks. Additional KN95 masks have been ordered from suppliers and will be rapidly distributed as they are received," Ferguson wrote in an email to Spotlight Schools last week.
Other Stories We're Reading...
EXTRA CREDIT
Meetings // Events // Opportunities // Resources
HAPPENING TODAY: The Los Alamitos Unified School District Board of Education is scheduled to hold a workshop at 4:00pm and a meeting at 6:30pm at the district headquarters at 10293 Bloomfield Street in Los Alamitos.
On the workshop agenda:
Los Alamitos Elementary will present its report to the board and award the "Hero of the Heart" honor to Jennifer Dodson.
Administrator of the Year Richard Larson will be recognized.
Announcement of the hiring of Communications and Public Information Officer for the district, Nichole Pichardo, who recently worked at the Orange County Department of Education.
Watch the workshop live on YouTube here.
On the regular meeting agenda:
Update on facilities and projects financed by voter-approved bond Measures G and K. The latest projects include construction of a second gymnasium and a multistory STEM building at Los Alamitos High School.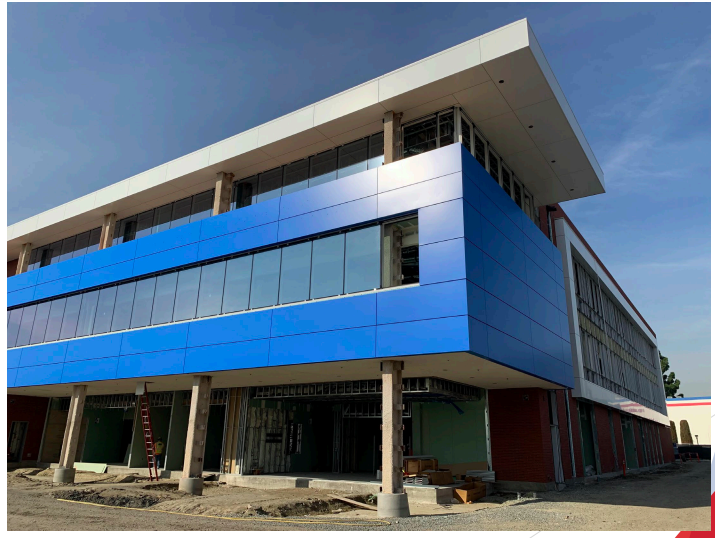 Voter-approved bond measures are financing the construction of a multistory STEM building at Los Alamitos High School. The building is expected to be ready next school year. Courtesy photo.
Approval of Comprehensive Safe School Plans (CSSP) for each of the district's nine campuses. The plans, which are required by California to be updated annually, cover everything from emergency response, reporting of child abuse, discipline and more. You can find your school's plan on the agenda at Item 14.e.
Mid-year update on the district's Local Control Accountability Plan (LCAP)
Approval to spend $330,000 from Covid-19 relief money (ESSER II) to install brand new projectors at sites across the district.
Watch the meeting live on YouTube here.
HAPPENING THIS MONTH: February is National Black History Month. Spotlight Schools is sharing stories that you may or may not know. This week, learn about Bessie Coleman, the first African-American woman to hold an international pilot's license which she earned in France in 1921. Read more about her life story here.
RECESS
Your Dose of Good News
Something to Cheer About: Los Alamitos High School Song & Cheer Team Takes Home Two National Titles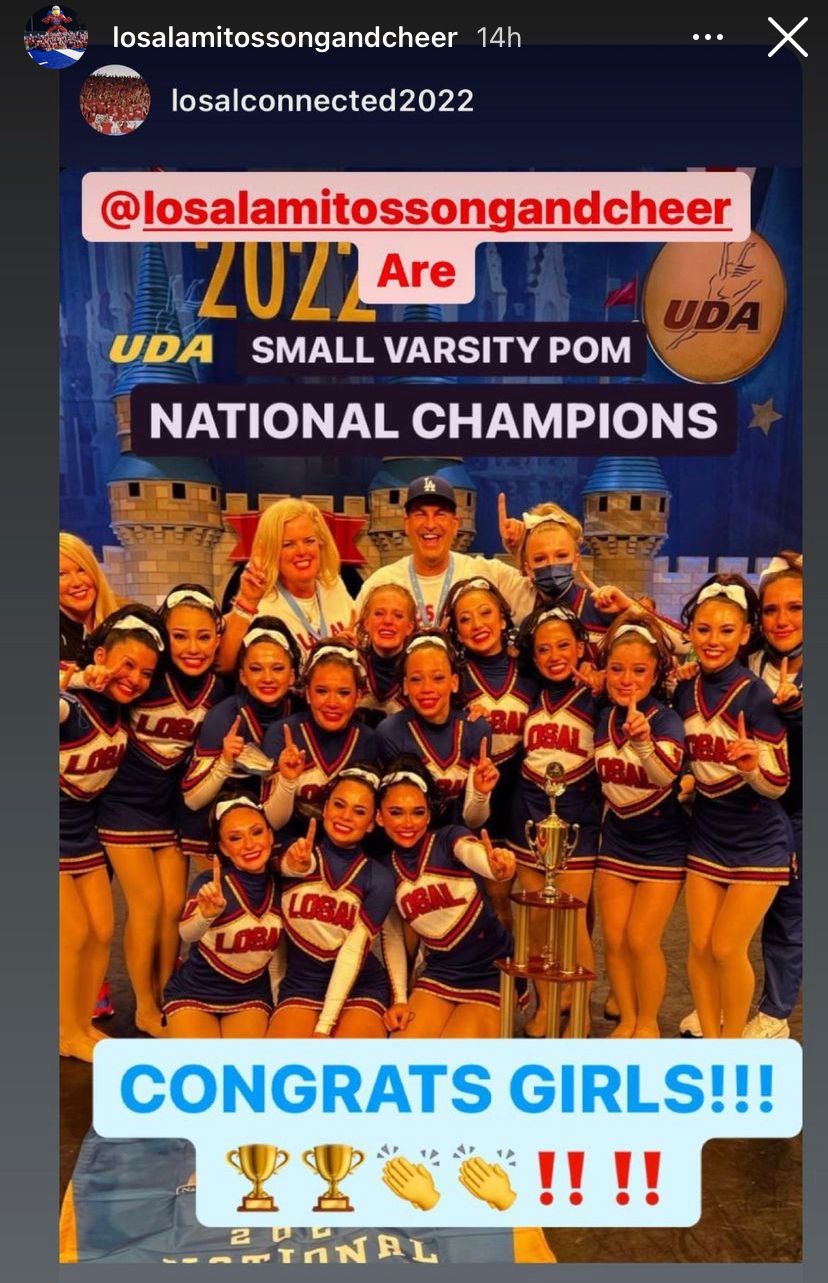 Members of the Los Alamitos High School Song and Cheer team are celebrating after taking top honors at the National Dance Team Championships held in Orlando, Florida this past weekend.
The Varsity Song Team is the National Champion in two categories. They took home first place in both the Medium Varsity Game Day category and the Small Varsity Pom category. If that wasn't enough, the girls placed third in the nation in Small Varsity Jazz.
The program has become accustomed to winning. They were national champions in the Small Varsity Game Day category in 2021.
And congratulations are also in order for Los Alamitos High School's Los Al Locos. This past weekend they were recognized for being named the top football student section of 2021 by the Orange County Register's Student Section Report. Los Al Locos were presented with a banner during halftime at the O.C. All-Star Football game.
BOOSTER DOSE: Find out what happened after the Cypress Police Department challenged the varsity softball team at Cypress High School to a game. Read the story from The Event-News Enterprise.
Thanks for reading!
Forwarded from a friend? Subscribe to the Spotlight Schools newsletter here.
Missed a newsletter? Check out past editions here.
Follow us on Instagram @SpotlightSchools.
Our mailing address:
P.O. Box 164
Seal Beach, 90740 CA

Copyright © 2022 Spotlight Schools, All rights reserved.