🚨CA students' scores drop; How did O.C. districts do? Pickleball club a hit at McAuliffe Middle School
🗳 Who's running for CA Schools Chief?; Custodian saves student; Free webinar on cyberbullying prevention
🗳 Who's running for CA Schools Chief?; Custodian saves student; Free webinar on cyberbullying prevention

Helping you better understand, navigate and participate in the TK-12 public school experience in Orange County.
In this week's newsletter...
October 25, 2022
FIRST BELL 🔔 CA standardized test scores dropped in 2022 compared to pre-pandemic levels. How did O.C. students do?
SECOND BELL 🔔 Election 2022: A look at the candidates running for CA Supt. of Public Instruction. Plus, custodian saves kindergartner from choking.
EXTRA CREDIT 📌 Free cyberbullying awareness webinar this week.
RECESS 👏🏼 Pumped up for pickleball at one O.C. middle school.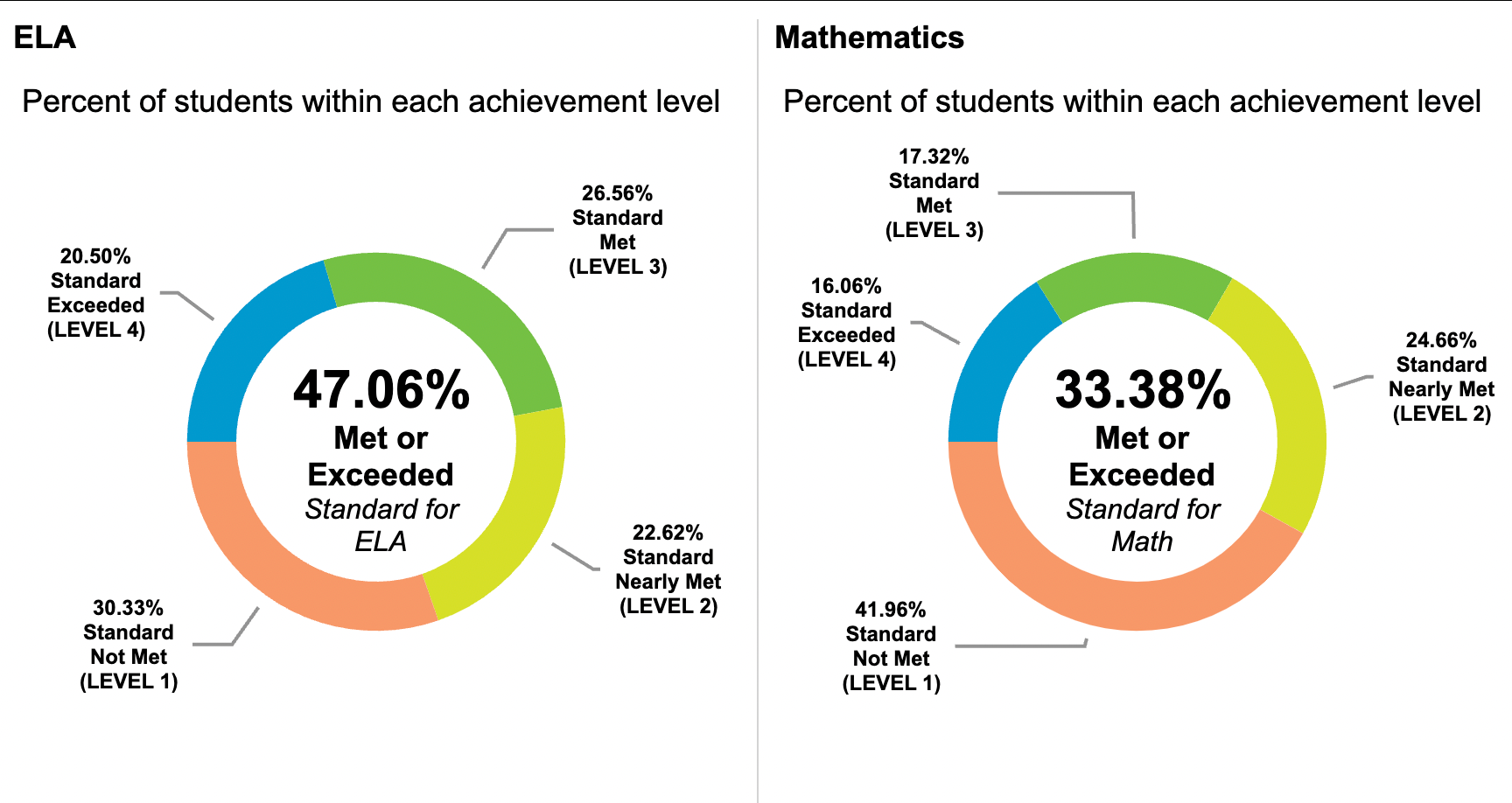 Results from standardized tests taken in the 2021-22 school year showed overall, just 47% of California students that took the tests met or exceeded the state standard for English language arts and 33% met or exceeded the state standard for math. That represents a drop of 4 percentage points in ELA and a decline of 7 percentage points in math compared to tests results pre-pandemic in 2019. Image from the California Department of Education.
Spotlight Schools is a nonpartisan, hyperlocal newsroom covering education in Orange County and this is our weekly newsletter.
If you haven't signed up for our newsletter, click here. And be sure to visit the Spotlight Schools website to read more local education news, check out past editions of our newsletter, learn more about our newsroom and even become a supporter of our journalism. Follow us on Instagram and Twitter for news and updates.
Please send feedback/story ideas/questions to hello@spotlightschools.com.
Yours in knowledge,
Jeannette Andruss, Co-Founder and Chief Editorial Officer
FIRST BELL
This Week's Top Story
2022 California standardized test scores drop from pre-pandemic levels
Orange County school districts see declines, but most fared better than state average
New California test results show declines in student proficiency in some subjects following historic disruptions to TK-12 education caused by the Covid-19 pandemic.
For the first time since 2019, California required that all schools administer the Smarter Balanced assessments to the state's 3-8 and 11th graders last school year.
On Oct. 24, the California Department of Education released the results, after initially announcing scores would not come out until later in the year.
The tests taken by 2.9 million students in the spring of 2022 measured their proficiency in English language arts (ELA) and mathematics based on the state's Common Core standards. Students' scores are reported in four levels that measure if a student has exceeded, met, nearly met or failed to meet the state proficiency standards.
Overall, scores fell for students statewide, and in Orange County, compared to scores from the last time tests were administered in 2019.
California statewide results indicate scores in ELA fell from 51% of students meeting or exceeding the state standard in 2019, to 47% in 2022. In math, just 33% of students tested met the state standard, plummeting 7 percentage points from 2019.
In Orange County, students' scores dipped overall but remained above California's average in most of the 28 public school districts in the county.
For Orange County students, 57% exceeded or met the ELA standards in 2022. That's down from 55% in 2019. Most students in O.C. were not proficient in math, according to the 2022 results. Just 45% of students in O.C. met or exceeded the math standards, falling from 50% in 2019, according to the Orange County Department of Education.
"It's been widely anticipated that this year's student assessment scores would reflect the global upheaval of the COVID-19 era," Orange County Superintendent Al Mijares, Ph.D., said in a press release. "Yet I am extremely proud of our county's schools and districts, which, in addition to being among the first in the state to reopen for in-person learning, have remained laser-focused on quality teaching and learning while modeling the resilience we strive to instill in our students."
Five of the 28 public school districts in O.C. had scores below the state average including Anaheim Union High School District, Anaheim Elementary School District, La Habra City Elementary School District, Santa Ana Unified and Buena Park Elementary School District.
According to OCDE, some of these school districts are already using the historic infusion of federal and state funding to offer more learning opportunities.
In January, the Anaheim Elementary School District lengthened the school day to nine hours at its 24 campuses. Santa Ana Unified is launching its "Engage 360" program to provide free after-school programs to students.
While still recording declines in students' proficiency, the districts with the highest percentages of students meeting or exceeding state standards in ELA and math were Los Alamitos Unified, Fountain Valley Elementary School District, Laguna Beach Unified and Irvine Unified.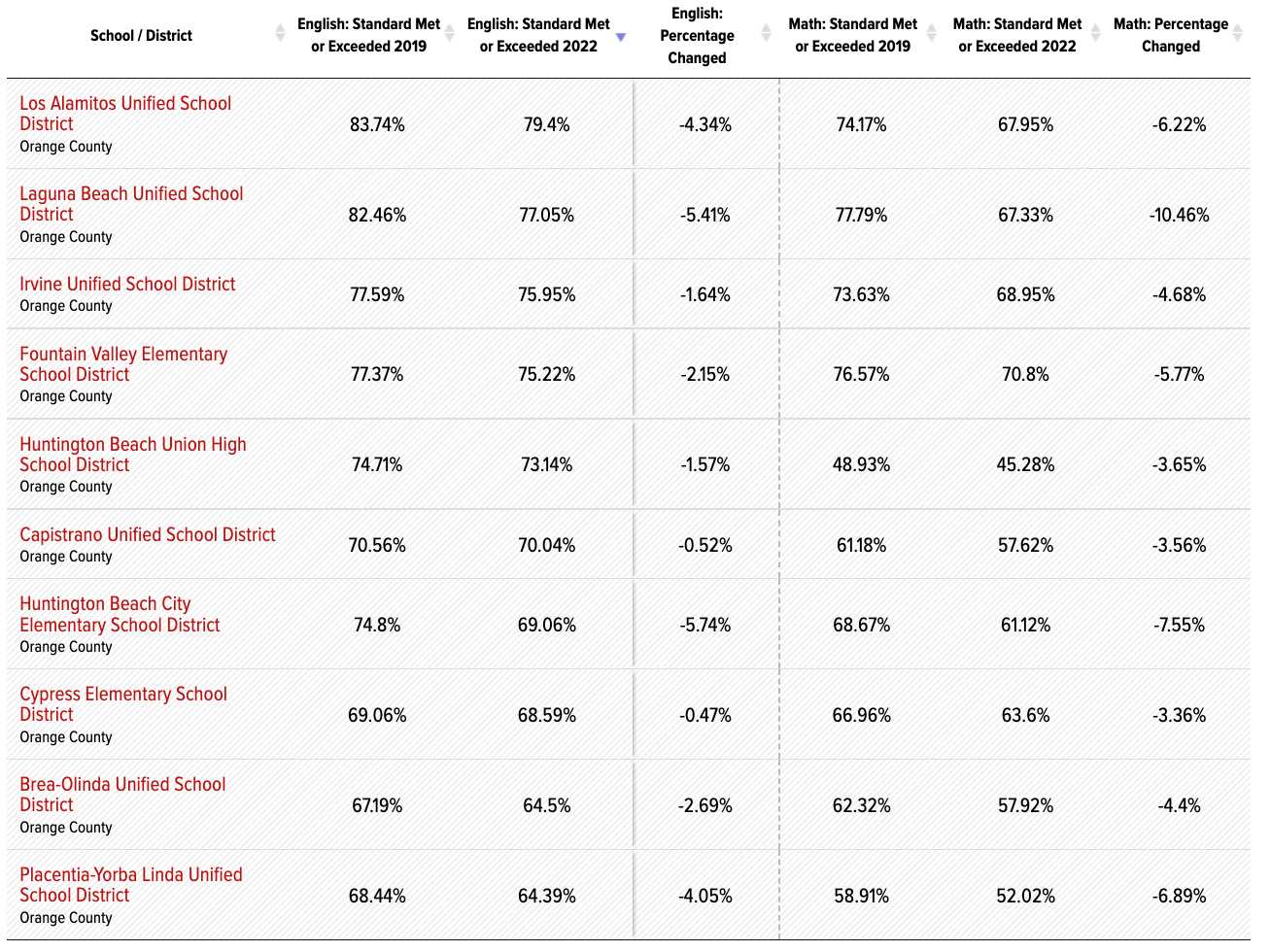 A search tool from EdSource shows Orange County school districts with the highest percentages of students meeting or exceeding state standards in English language arts and math in the latest Smarter Balanced assessments. Image courtesy of EdSource.
Los Alamitos Unified had the highest percentage of students meeting or exceeding ELA standards in any district in O.C. in 2022 with 79%. That is a drop from the 84% of students who met the same standard in 2019. Los Alamitos USD's percentage of students meeting or exceeding math standards was 68% in 2022, a decline from 74% in 2019, and third highest in all of Orange County districts behind second highest Laguna Beach Unified and highest Fountain Valley Elementary.
"This is a true testament to the hard work of our staff and students and the thriving partnership with our parent community," Los Alamitos USD Superintendent Andrew Pulver, Ed.D., wrote of the results in a statement emailed to Spotlight Schools.
Los Alamitos Unified was one of the first districts in California to reopen classrooms to students for hybrid in-person instruction in the fall of 2020, and has historically been a high-performing district with nine campuses in Rossmoor, Los Alamitos and Seal Beach.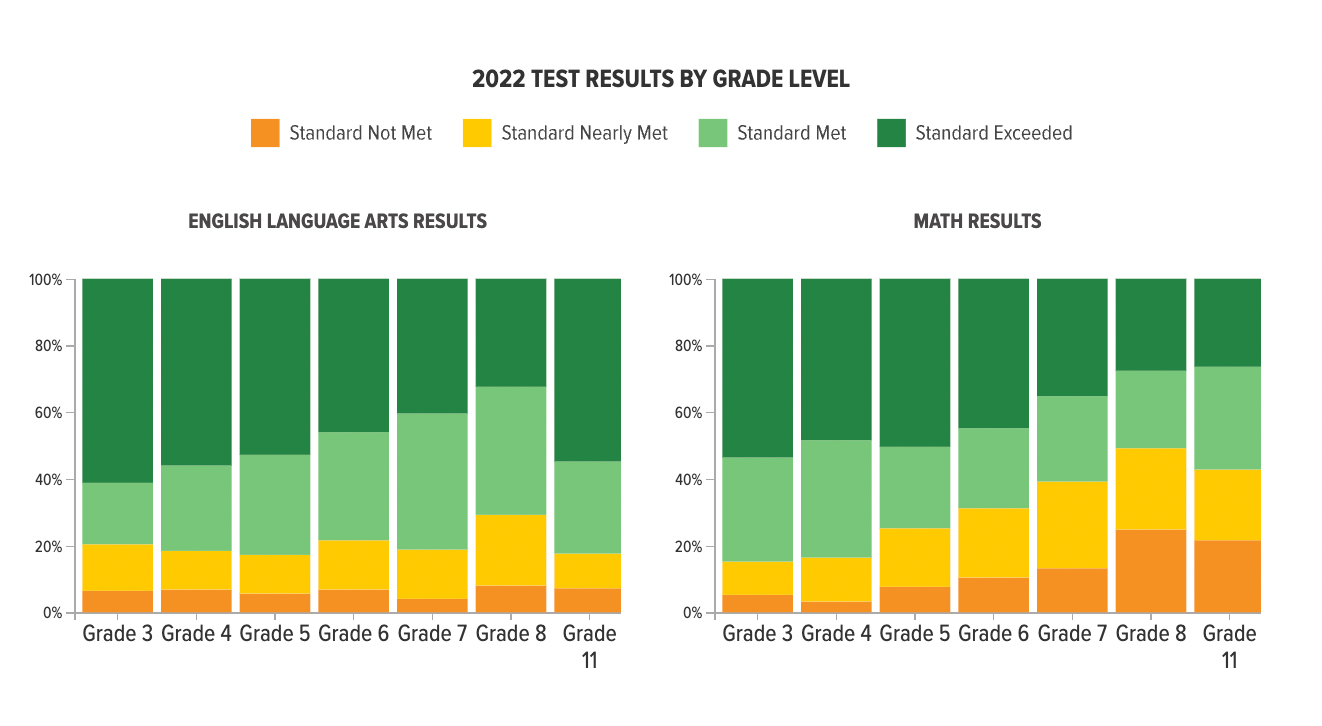 An EdSource graphic shows the 2022 results of California's Smarter Balanced assessments by grade level for the Los Alamitos Unified School District. Image courtesy EdSource.
A closer look at school site data offers some insight about what's happening at the campus level. Some data points that stand out in Los Alamitos USD are plummeting proficiency in math for eighth graders and declines among third graders in ELA, something also seen in statewide results.
Los Alamitos USD's two middle school campuses, Oak and McAuliffe, appeared to suffer the biggest declines overall in student scores districtwide, especially for eighth graders in math.
At both Oak and McAuliffe, 50% of eighth graders met or exceeded math standards in 2022. That's down from 65% that met the standard in 2019 districtwide. This dip is also seen in statewide data. California's eighth graders had the lowest proficiency in math of any grade level with just 29% overall meeting or exceeding the math standards.
Jack L. Weaver Elementary had the highest scores in the district with 91% of its students meeting or exceeding ELA standards and 89% of its students meeting that same threshold in math. But Weaver did see a decline in fifth graders meeting the state standard in math. Eighty-percent of the fifth graders tested last year at Weaver met the math standards; a drop from 92% in 2019.
J.H. McGaugh Elementary had the district's lowest percentages of students meeting standards in both ELA (68%) and math (74%) in 2022, but that represented no decline in math scores from 2019. McGaugh had the biggest decrease in ELA results for third graders in the district with 54% meeting standards in 2022, down from 75% in 2019. McGaugh's percentages of fifth graders meeting or exceeding state standards in math held steady at 68% in 2022.
Dr. Pulver did not cite specific scores in his statement but stressed that the Smarter Balanced assessments are just one measure that provides some, but not all information, about a student's knowledge and skills.
"The District uses assessment scores in combination with other measures such as in-class assignments, classroom assessments, benchmark data, other forms of national assessment data, and teacher feedback to fully understand the proficiency levels of students," Dr. Pulver wrote, adding that this fuller picture is used to better understand how to respond to a student's needs.
"We have put in place multiple supports and services including, but not limited to, targeted interventions at all levels, free academic tutoring both on campus and remotely, a partnership with Stanford University and Challenge Success, and revising our homework policy. We strongly believe that students thrive and achieve at their best when they are emotionally, socially, and physically safe," Dr. Pulver wrote.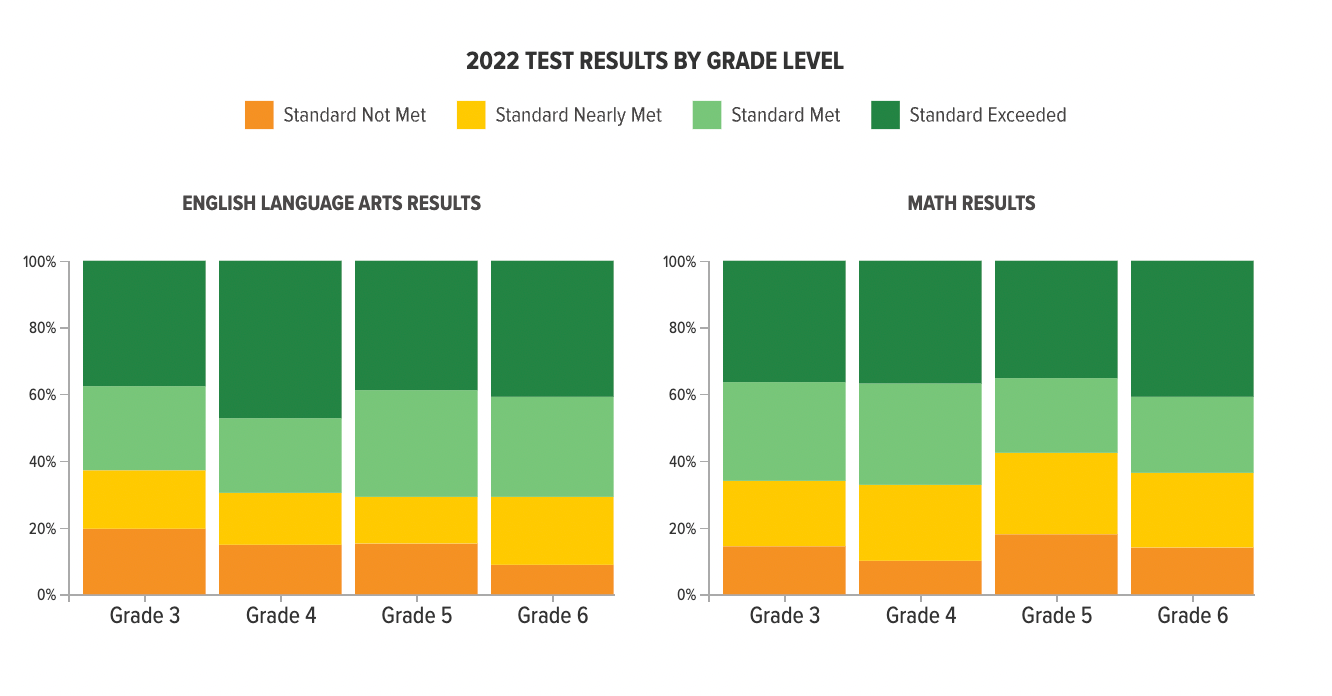 EdSource graphic shows the 2022 results of California's Smarter Balanced assessments by grade level for the Cypress School District. Courtesy: EdSource.
Cypress School District, which oversees six elementary schools, reported 69% of its students meeting or exceeding ELA standards in 2022, no change from 2019 and 64% of its students meeting that same threshold in math in 2022, down 3 percentage-points from 2019.
"When you compare them (test results) with back in 2018-2019, I have to say that, overall, I'm pleased with what I saw," Anne Silavs, Superintendent of the Cypress Elementary School District, said in a phone interview.
Silavs, who claims CSD remained open or functioning for the entire pandemic, said while the district expected a decline, she was "very encouraged" with the actual test results.
"When I looked at our information, particularly looking at reading, we had less than a 1% decrease," said Silavs. "There was a little more of a decline in math," she said, "But again, comparing our levels to what's being reported in the news elsewhere, I feel like we've done a pretty good job."
Silavs said the CSD has implemented plans to address students' needs, including Teachers on Special Assignment working with a small group of teachers. "It's a solid effort to close any gaps that may have developed as a result of the pandemic," she said.
Want to know the scores at your school? Check out the Spotlight Schools website with more information.
David N. Young contributed reporting and writing to this story.
SECOND BELL
Other Stories We're Following
🗳 Election 2022: Race for CA Supt. of Public Instruction
Spotlight Schools has you covered when it comes to learning about the candidates running for TK-12 school boards in Orange County.
✏️ Check out the entire list of O.C. school board candidates on the November 2022 ballot here.
There are other items on the ballot related to education including the race to become the top education official in California, formally known as the Superintendent of Public Instruction.
In the nonpartisan race for schools chief, incumbent Tony Thurmond, who was first elected in 2018 with support from the California Teachers Association, is facing Lance Christensen, a school choice advocate and education policy expert with the Orange County-based California Policy Center.
According to the nonprofit newsroom CalMatters, these are what both candidates say are their top two priorities for the job.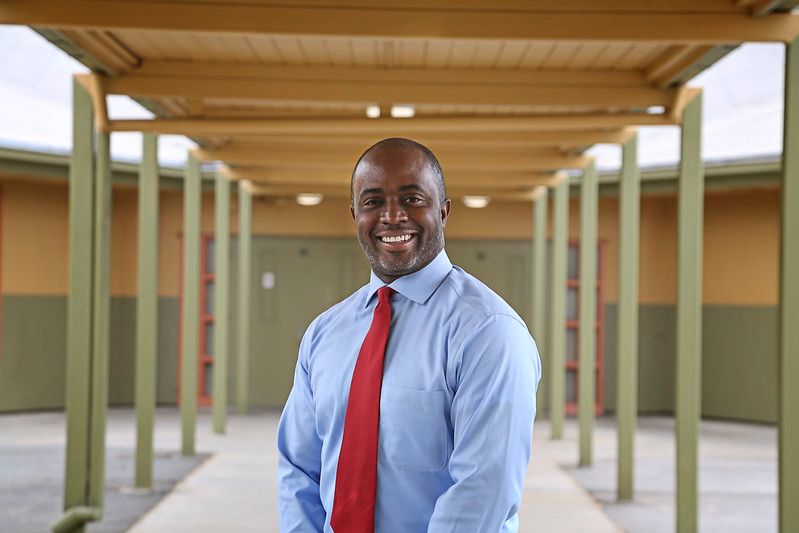 Tony Thurmond: "My top priorities are recruiting and retaining 15,000 teachers and 10,000 new mental health counselors to address staffing shortages in schools and to make sure students have the help they need to recover from learning gaps they have experienced because of COVID-19, and providing preschool education to all four-year-olds while ensuring access to universal school meals, so no child in our public schools goes hungry."
Read what Thurmond had to say about California's 2022 standardized test scores here.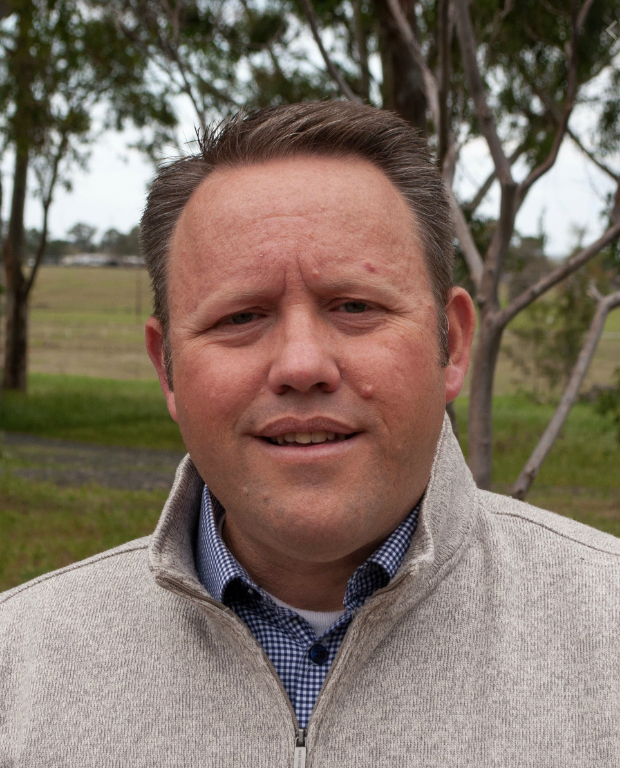 Lance Christensen: "Restoring academic success and preparing kids for the 21st work century are my top priorities. To accommodate that, my first hire would be a Chief Parent Advocate as my deputy superintendent. Parents must have a seat at the table. I would also confirm that our current statutory and fiscal approach is aligned with the state constitution and local preferences as they apply to school site budgets, curricula, and discipline. We need to fund students, not systems."
Read what Christensen had to say about California's 2022 standardized test scores here.
You can read much more from CalMatters about where the candidates stand, their endorsements, and how much money has been spent in this race here.
🗳 For more information about how to cast your ballot, visit ocvote.com.
Griffins clinch Sunset League title in win over Oilers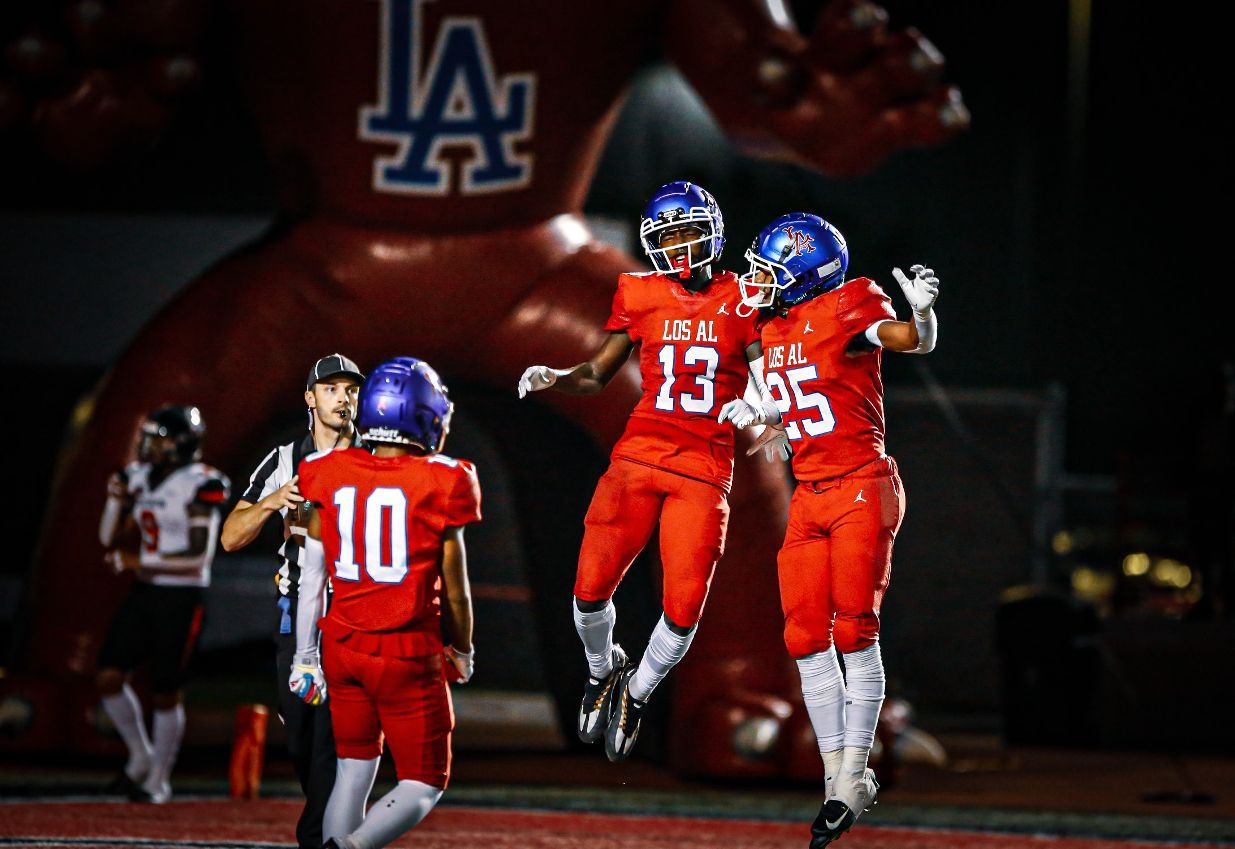 Los Alamitos wide receiver #13 Ja'Myron Baker scored two touchdowns in the team's win over Huntington Beach High School. Photo by Marja Bene.
The Los Alamitos High School varsity football team (6-2) faced off against Huntington Beach High School (4-4) at Veterans Stadium in Long Beach for the Griffins' homecoming game on Oct. 21.
The Griffins limped into week 9 of the season with injuries to starters on both sides of the ball. On offense, they were missing three senior wide receivers, their starting running back, and their starting left tackle. The defense wasn't much better, missing multiple defensive backs.
As if the pressure of clinching the Sunset League championship wasn't enough, University of Southern California Head Football Coach Lincoln Riley was in attendance to watch the game.
The Griffins started out strong, scoring on their opening drive with a passing touchdown from USC commit Malachi Nelson to senior wide receiver Gavin Porch. That was followed by a rushing touchdown by sophomore running back Anthony League, giving the Griffins a 14-0 lead after the first quarter.
Los Al's momentum continued early in the second quarter on a 42-yard touchdown pass from Nelson to freshman wide receiver Ja'Myron Baker. The Oilers' next possession ended with a punt being blocked by senior defensive end Sinn Brennan, which was recovered in the end zone for a Griffins touchdown. On the Griffin's next drive Nelson threw a second touchdown pass to Baker, this one from 17 yards away, giving the Griffins a 35-0 halftime lead.
The third quarter started out with back-to-back scoring drives, which included a 15-yard touchdown pass to Porch and a 69-yard touchdown run by League. With a commanding 48-0 lead, the Griffins replaced all the starters, and the game ended with a final score of 48-7.
The Griffins clinched a Sunset League title on a night they recognized the 2002 CIF Southern Section Division 1 championship team, which included Head Football Coach John Barnes, the winningest coach in Orange County history.
The Los Alamitos Griffins head into the last regular season game against the Fountain Valley Barons (4-5) on Thursday, October 27 at 7p.m. at Veterans Memorial Stadium in Long Beach. The Griffins moved up in both Max Preps polls to #4 in the state and #45 in the nation.
This story was written and reported by Michael Claborn.
For the record: In last week's newsletter, the article on the Los Alamitos versus Edison game had the incorrect caption for the photo misidentifying the athlete. A corrected version of the story is now online.
💡Forwarded from a friend? Subscribe to the FREE Spotlight Schools newsletter here.
Other Stories We're Reading
L.A. County Sheriff's Dept. seizes deadly opioid fentanyl packaged in candy bags //Press release // ABC7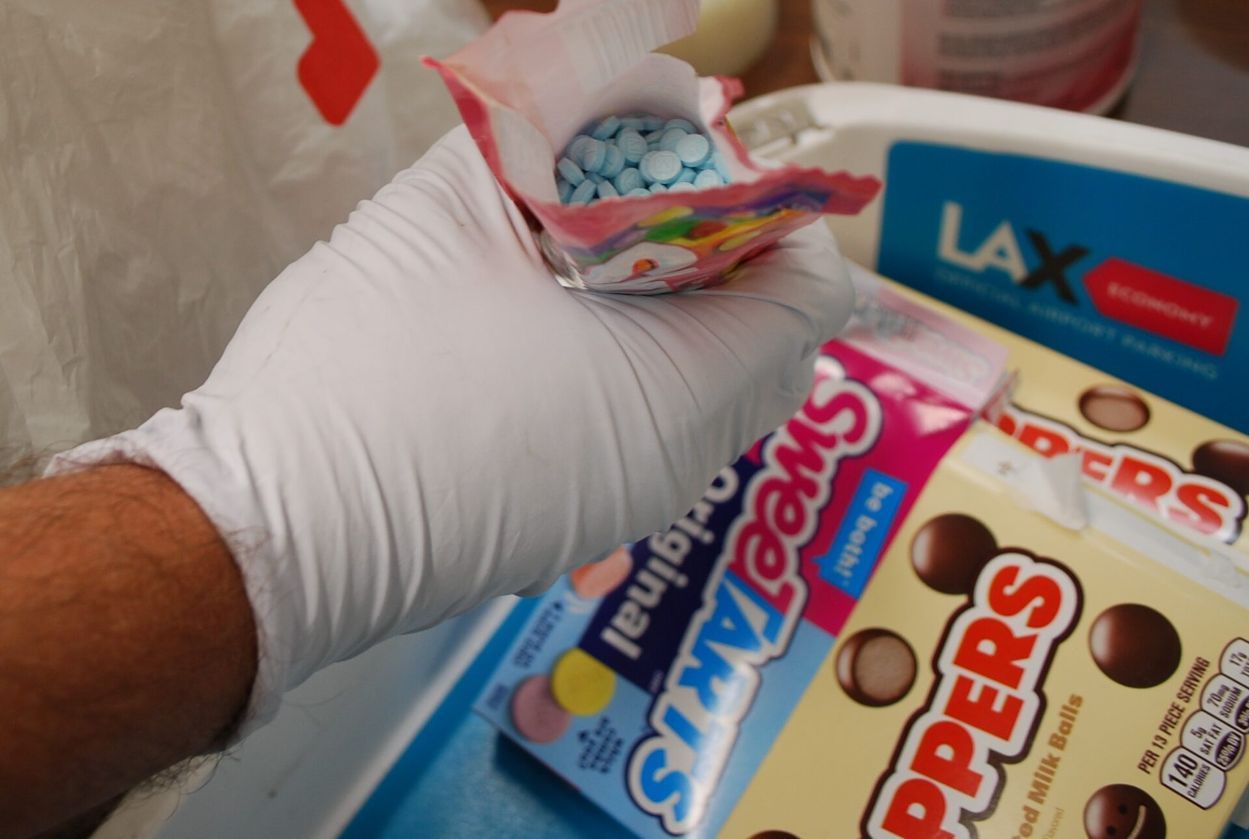 Bag of Skittles containing round blue pills instead of candy. Photo courtesy of L.A. County Sheriff's Dept.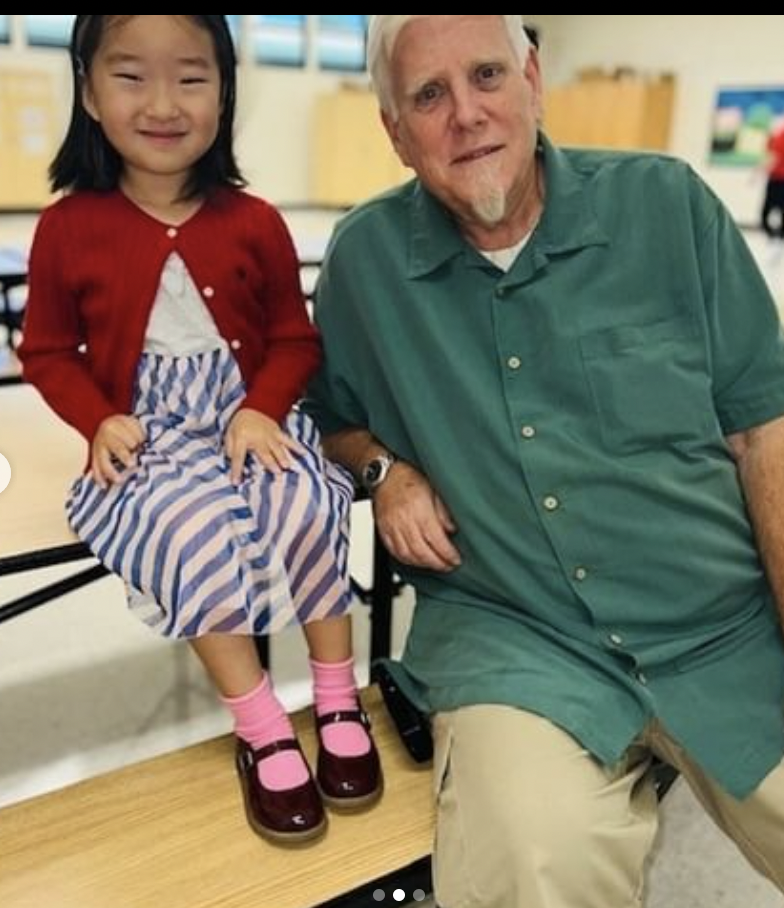 Garden Grove USD custodian Kurt Lucas came to the rescue of kindergarten student Adeline when she suffered a choking incident at lunch recently. Courtesy GGUSD Instagram.
EXTRA CREDIT
Meetings // Events // Opportunities // Resources
EVENTS
CYBERBULLYING WEBINAR: On Thursday, Oct. 27 at 6:00p.m. The Orange County Department of Education Bullying and Prevention Team will host a webinar on cyberbullying for families of students of all ages. Learn what cyberbullying looks like, warning signs to watch for, and more. To register, click on this link or image below.
RED RIBBON WEEK: Students across Orange County are holding campus events to mark Red Ribbon Week which promotes a drug-free lifestyle. Learn more about the history of Red Ribbon Week here.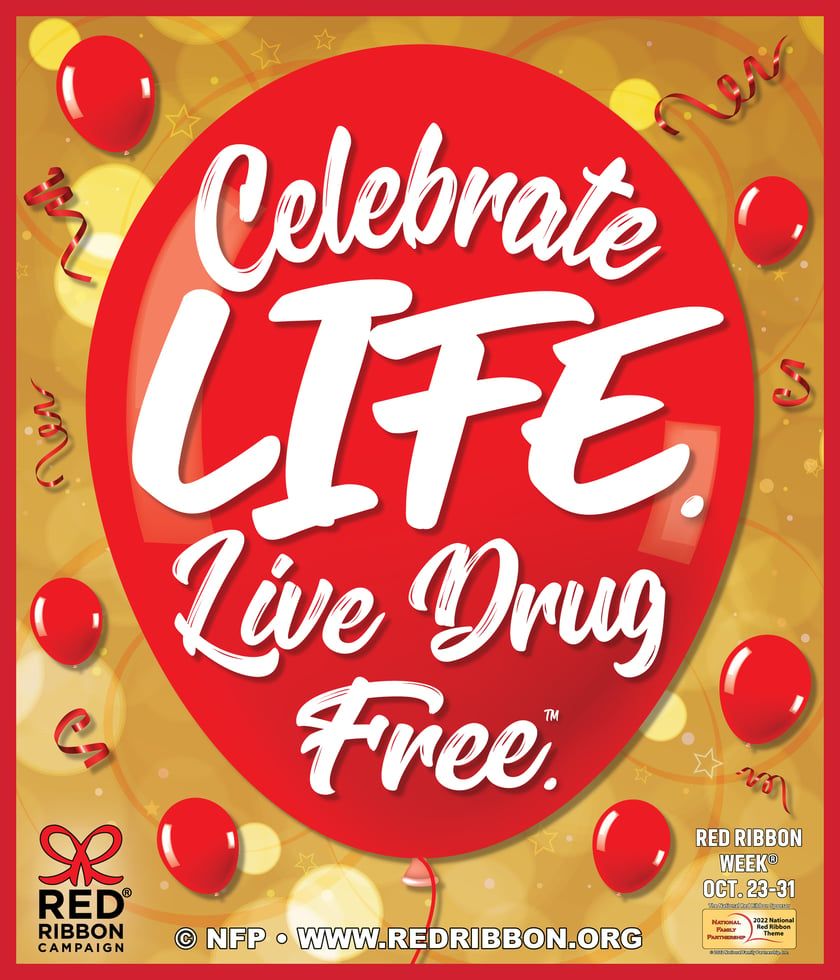 TRICK-OR-TREATING ON MAIN STREET: Businesses on Main Street in Seal Beach will be handing out candy to kids from 10 a.m. until 4:00p.m. on Halloween. More information here.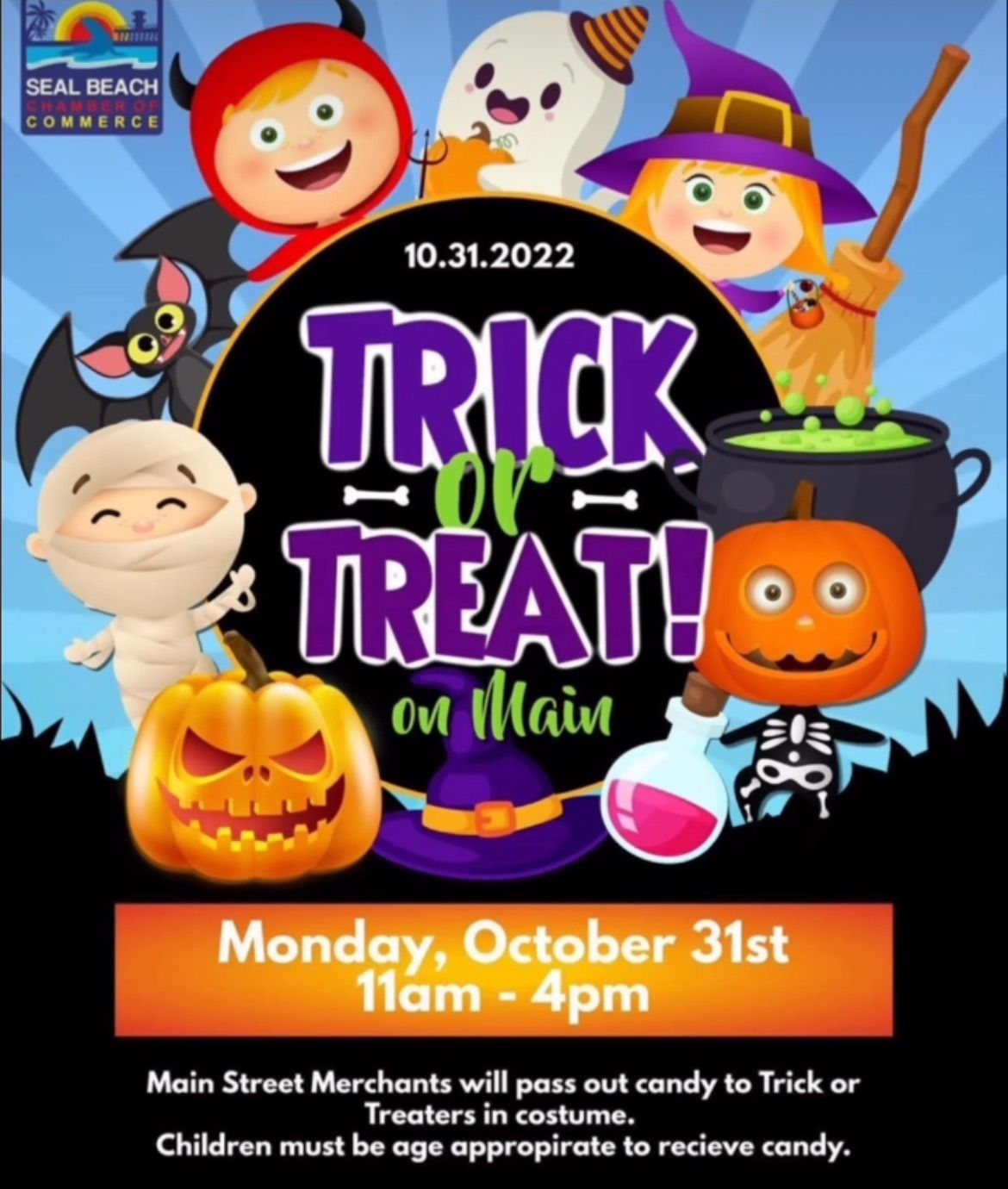 🎃 Don't forget: Students in Los Alamitos USD do not have school Nov. 1, the day after Halloween.
RECESS
Your Dose of Good News
Pickleball fever strikes McAuliffe Middle School
One of America's fastest-growing sports now popular with students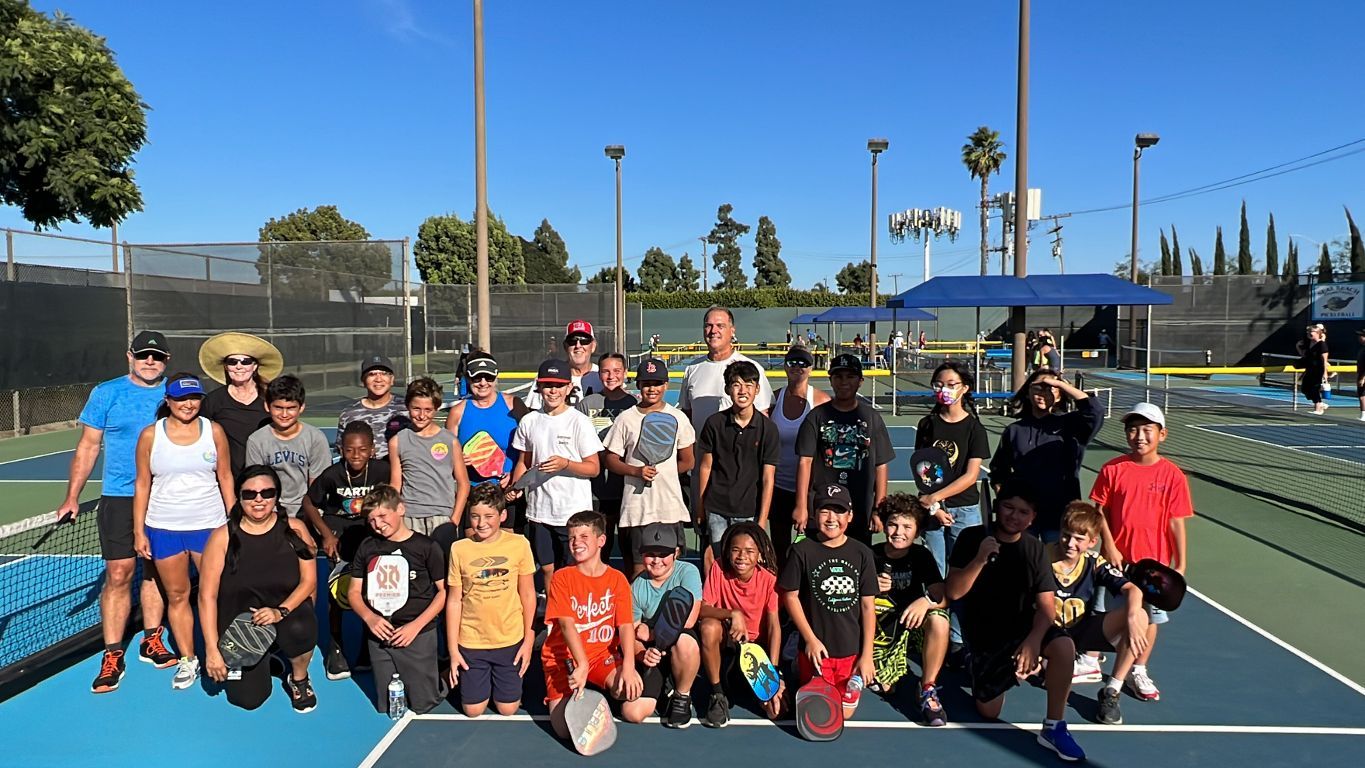 Students from McAuliffe Middle School's pickleball club pose with members of the Seal Beach Pickleball Association after the group offered a free workshop to the middle school students last week. Photo by Nichole Pichardo of Los Alamitos USD.
McAuliffe Middle School students are getting pumped up for pickleball.
Carrie Martin, a sixth grade science and math teacher at the Los Alamitos campus, and a pickleball enthusiast, started a pickleball club on the campus last year and it's been a hit with students.
"I was surprised at how popular the club became in a short amount of time! Students play Tuesdays after school and on average, I have about 30 students participate," Martin wrote in an email. Special education and general education students participate.
Pickleball, described as a cross between tennis, ping-pong and badminton, is usually played on a badminton-size court with a slightly modified tennis net. Pickleball was invented in 1965 in Washington state and was named after a family dog named Pickles, according to USApickleball.org.
"Anyone can play pickleball regardless of skill level," Martin wrote, saying it's an easy sport to learn. "The courts are smaller than a tennis court so there is less running involved," she added.
Played with two or four people, players use paddles to whack a plastic ball with holes in it over the net away from their opponent. Numerous tennis courts in Orange County have been transformed into pickleball courts in recent years to accommodate the sport's growing popularity.
Martin worked hard to bring pickleball to her students and campus. She applied for and received a $250 grant from USA Pickleball to purchase a net. She secured parent donations and ASB funds to buy equipment. With support from McAuliffe's principal, Martin was able to get pickleball courts painted on the school's blacktop.
"We're really grateful for Mrs. Martin and her commitment to this group! She has single-handedly written grants, had courts painted, and created this opportunity for our students to learn pickleball," McAuliffe Principal Ryan Weiss-Wright, Ed.D., wrote in a text message to Spotlight Schools. "It is one of our most popular clubs and we are grateful to have this opportunity for students to connect at school!"
"I am fortunate to have a principal, Dr. Weiss-Wright, who supports the program," Martin wrote.
Martin's club could be the first middle school pickleball club in Orange County. While not an official CIF sport, numerous colleges have pickleball clubs, there is a professional pickleball league, and there's a push to make pickleball an Olympic sport.
Read more about McAuliffe's Pickleball Club including how students took a field trip to the Seal Beach Tennis and Pickleball Center on the Spotlight Schools website.
Thanks for reading!
Forwarded from a friend? Subscribe to the Spotlight Schools newsletter here.
Follow us on Instagram @SpotlightSchools.
Our mailing address:
P.O. Box 164
Seal Beach, CA 90740

Copyright © 2022 Spotlight Schools, All rights reserved.