🗳 Vote counting enters final days; 'Surviving Gun Violence' event planned at local elementary school; 🎁 Grateful after #GivingTuesday
O.C. teacher accused of sending 'lewd' texts to minor; $50,000 college scholarships available; 📚 O.C. business collecting books for L.A. schools
O.C. teacher accused of sending 'lewd' texts to minor; $50,000 college scholarships available; 📚 O.C. business collecting books for L.A. schools

Helping you better understand, navigate and participate in the TK-12 public school experience in Orange County.
In this week's newsletter...
November 30, 2022
FIRST BELL 🔔School PTA and police dept. partner in hosting 'Surviving Gun Violence' event.
SECOND BELL 🔔 🗳 Final days of vote tallying. Plus, update on a trespassing arrest at Los Alamitos High School. 🤧 O.C. extends public health emergency as children's hospitals stay full.
EXTRA CREDIT 📌 Details on $50,000 scholarships for high school seniors.
RECESS 👏🏼 📚 The local business boosting book supplies at L.A. schools.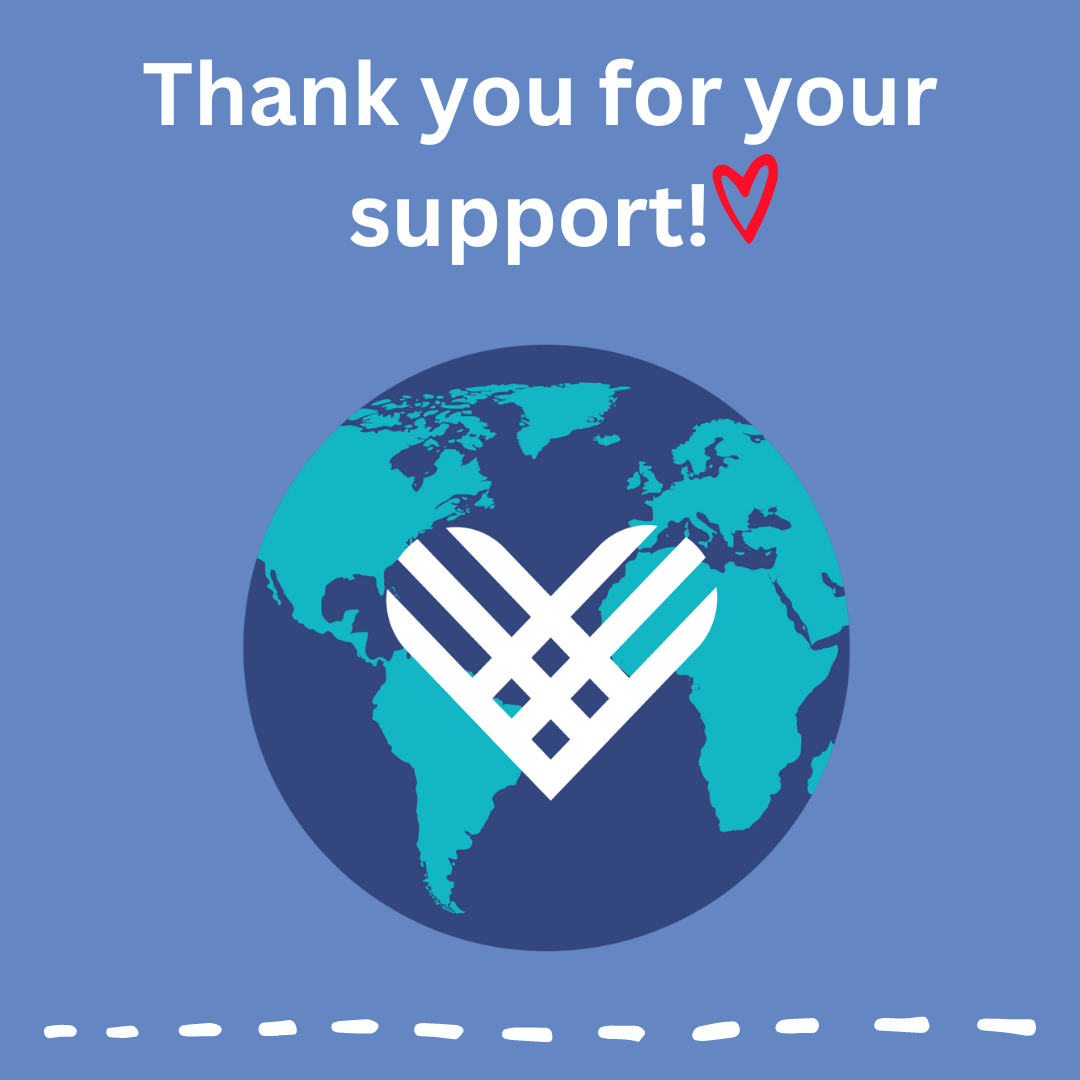 I begin this week's newsletter with a heart swelling with gratitude. Thank you to all of the people who donated to our first Spotlight Schools #GivingTuesday fundraiser.
It was a success because of your generosity!
Not only did we meet our $500 goal to unlock an additional $500 match from a generous donor, we met her second challenge and raised $2,000 to unlock another $500!
We are so thankful for your support. It means more funding to better serve you by expanding our hyperlocal coverage on education issues in Orange County.
We have a lot planned for 2023, including:
A deep dive on tutoring and the strategies that can help students recover academically from the disruptions of the Covid-19 pandemic.
An in-depth look on what declining enrollment means for O.C. school districts.
The launching of a YouTube channel.
🗣 PLUS: We want to know what you want covered! Look for an announcement about upcoming pop-up newsrooms Spotlight Schools will host to engage with the community.
We appreciate your support these last few days and acceptance of all of our emails into your inbox. And if you didn't get a chance to donate, you can always contribute on our website.
A reminder that there are many ways to support Spotlight Schools.
➡️ Forward this newsletter to a friend and encourage them to join our community.
📱 Follow us on Instagram and Twitter and like and share our posts.
📧 Contribute to our coverage by sending story ideas/questions to hello@spotlightschools.com.
Thank you for all you are doing to support our hyperlocal journalism!
With gratitude,
Jeannette Andruss, Cofounder and Chief Editorial Officer
FIRST BELL
This Week's Top Story
Seal Beach Police and PTA hosting 'Surviving Gun Violence' event
Gun violence continues to claim American lives on a daily basis.
A record 45,222 people died from gun-related injuries in the U.S. in 2020, according to the Pew Research Center. Forty-three percent of those firearms-related deaths were murders.
But what would you do if you were caught in the middle of a shooting?
The J.H. McGaugh Elementary School's Parent Teacher Association (PTA) is partnering with the Seal Beach Police Department to host a free public event open to anyone 18 and older to share information about what you can do if threatened by a person with a gun.
"While we hope the community never experiences a violent confrontation, we believe this presentation will provide attendees with strategies to help increase their likelihood of surviving a violent encounter," SBPD Lt. Nick Nicholas wrote in a text message to Spotlight Schools.
The event will take place on Thursday, Dec. 8 from 6:00 p.m. to 8:00 p.m. at the McGaugh auditorium.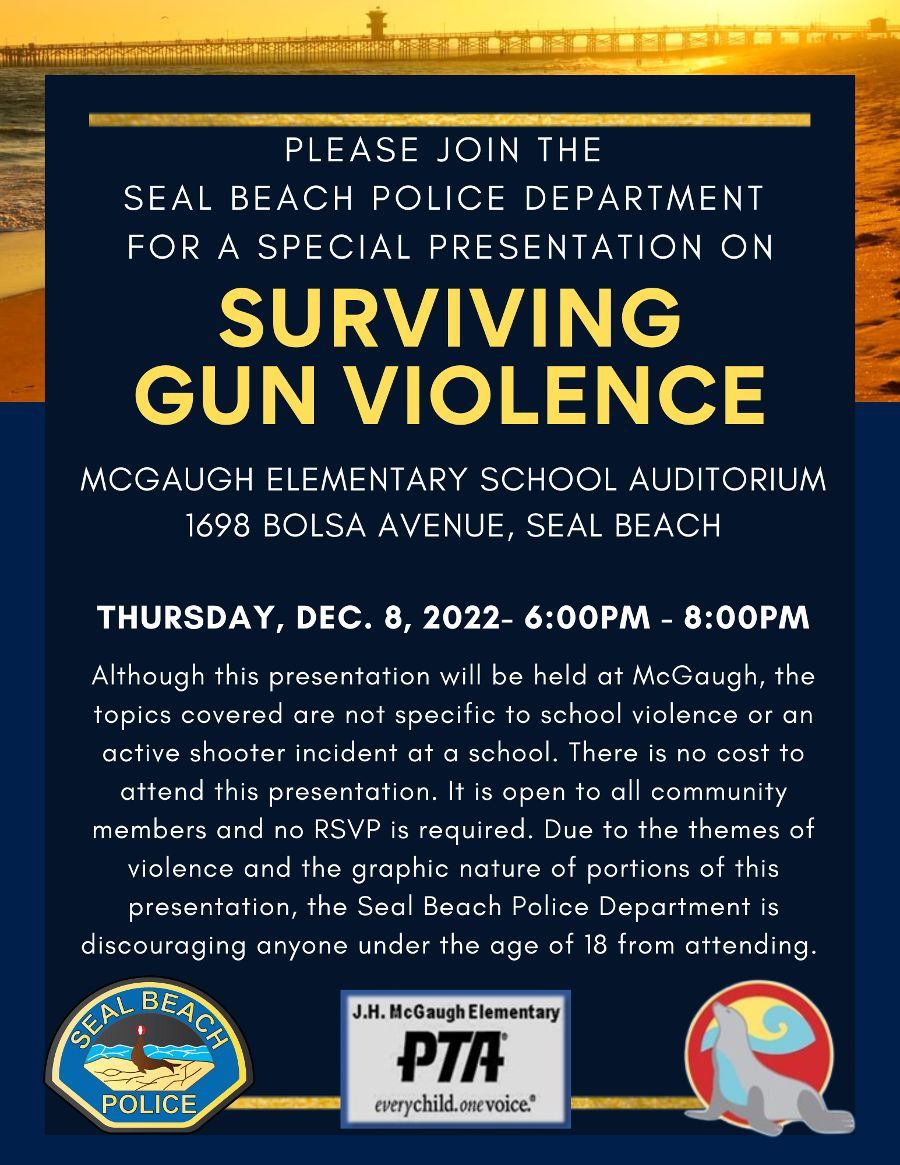 According to a press release from Seal Beach police, attendees can expect to learn what options would enhance survival during a violent encounter, best practices for interacting with responding police officers, as well as tips for how to safely secure firearms at home.
"These days it feels like we can't turn on the news without hearing about gun violence," McGaugh PTA President Jennifer Katz wrote in a text message to Spotlight Schools.
Katz said an incident during a recent PTA-sponsored movie night got her thinking about safety and gun violence. During the October event that was held outside on the McGaugh fields, a man scaled the fence of the school and allegedly threatened to harm children.
Some parents and kids at the movie night were frightened, not knowing what the man was capable of. Rumors spread quickly that the man was going to shoot someone. Police were called and arrived within 60 seconds and the man was arrested. No one was physically injured and no weapons were found.
Parents were left rattled by the experience, according to Katz.
"I received so many questions from parents wondering what is the 'right' thing to do in a situation where you might be fearful of gun violence," Katz said and added, "I realized that as a community we have plans in place to prepare and educate our teachers and children at school, but are we missing an opportunity with the parents and adults?"
The response prompted Katz to ask Lt. Nicholas to plan a presentation for the community. While the event is taking place at a school and being promoted by PTA, it will not be specific to campus violence or an active shooter scenario at a school, according to SBPD.
The Los Alamitos Unified School District has been looped into the planning of the event; but no representatives of the district will be officially part of it, according to Nichole Pichardo, the district's Public Communications Officer.
The district is focused on being prepared should the worst happen at one of its nine campuses. Earlier this month, principals from the four elementary campuses in Rossmoor and other district officials took part in an Active Shooter Response Tabletop Exercise put on by the Orange County Sheriff's Department which has jurisdiction over the unincorporated area of Rossmoor.
"During the exercise, the team discussed a hypothetical active shooter event at one of our school sites. The team walked through such an attack, discussed a unified response plan, communication with staff and families, reunification sites and much more," reads a post on the district's Instagram account.
Read more about the 'Surviving Gun Violence' event on the Spotlight Schools website.
Editor's note: I'm an executive board member of McGaugh's PTA but did not participate in the planning of this event.
SECOND BELL
Other Stories We're Following
🗳 Ballot counting enters final days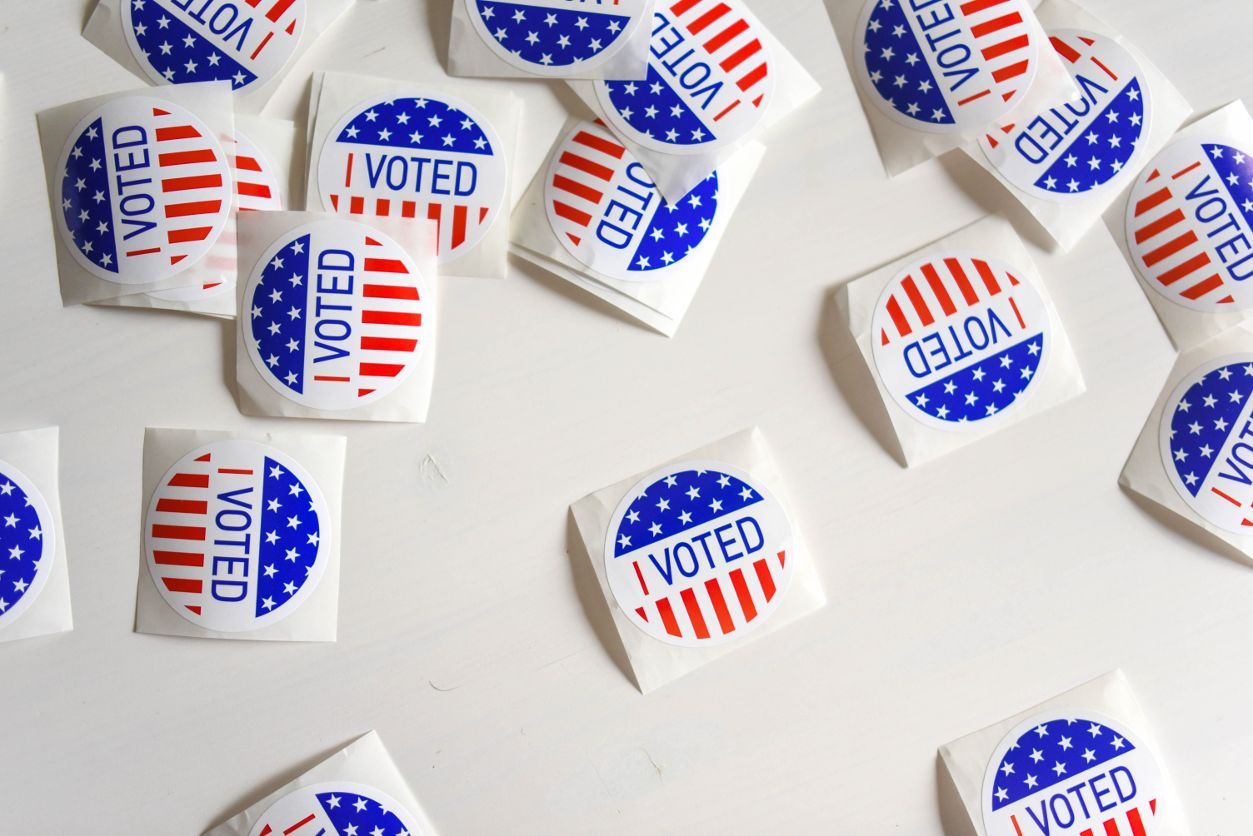 We're entering the final days of processing votes from the Nov. 8, 2022 General Election and things are holding steady in some of the tight races for school boards in Orange County's public school districts.
The Orange County Registrar of Voters must certify the county's election results by Dec. 8.
Spotlight Schools will do a complete wrap-up and hear from the winning and losing candidates in next week's edition of the newsletter.
Here is what we know today.
As of Nov. 30, there were 4,398 ballots left to process by the Orange County Registrar of Voters' office. An estimated 993,861 ballots were cast in O.C. for the Nov. 8 General Election.
SCHOOL BOARD RACES IN O.C.
The closest race for a school board in O.C. continues to be for the third seat on the ballot for the Fountain Valley School District Board of Trustees. Phu Nguyen has been in third place for many days but only ahead by single digits. As of Nov. 30, he had 9 votes more than Megan Irvine who is in fourth place. (Remember these numbers are updated daily at 5:00 p.m.)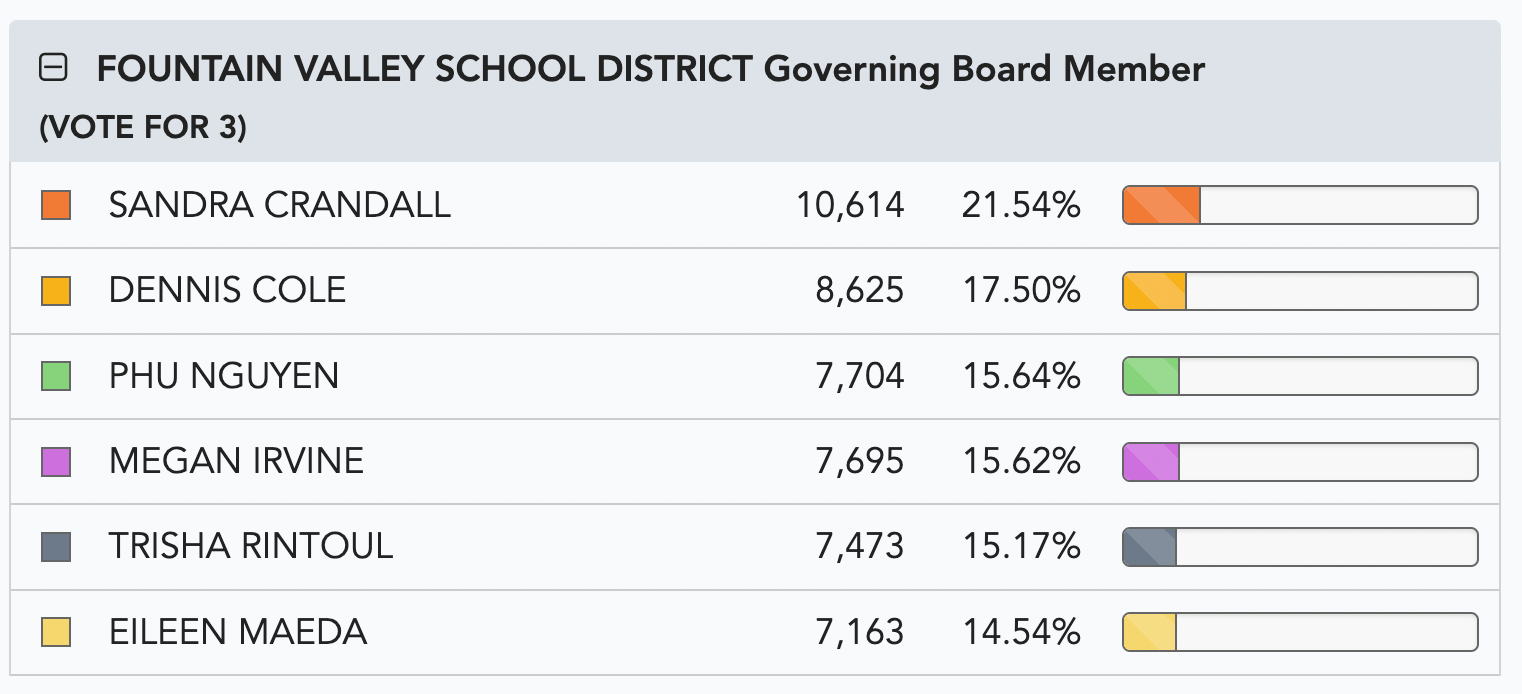 Table from Nov. 30 vote tally from the O.C. Registrar of Voters' website.
In the election for the Ocean View School District Board of Trustees, it's another close race for third place. Morgan Westmoreland has an 82 vote lead over incumbent John Briscoe who is in fourth place.
Another incumbent is currently losing her reelection bid for a seat on the Orange Unified School District Board of Education. Kathy Moffat is within one percentage point of Madison Klovstad Miner, but Miner has been leading for weeks and is ahead by 222 votes.

Table from Nov. 30 vote tally from the O.C. Registrar of Voters' website.
In the Los Alamitos Unified School District, the race for Trustee Area 1 has held steady for several days with incumbent Marlys Davidson maintaining a lead over Colin Edwards. She leads him by 55 votes as of the Nov. 30 tally.
In the race to represent Trustee Area B on the Cypress school board, Troy Tanaka has maintained his lead over Jon Peat. As of today, Tanaka is 57 votes ahead of Peat.
🗳 Be sure to follow the Spotlight Schools Instagram account for more frequent election results updates.
Search warrant denied in trespassing case
We have an update on the arrest of a 23-year-old man accused of trespassing on the Los Alamitos High School campus last month.
The Los Alamitos Police Department said this week that a Superior Court judge denied its request for a warrant to search the man's phone for any evidence that he took pictures while on the campus as classes let out on Oct. 28. That day students quickly alerted authorities of the alleged trespasser and he was arrested.
The judge's decision "was not what we wanted," said Los Alamitos police spokesman Robert Acosta. Acosta said the judge denied the warrant because the suspect did not have a criminal record.
"According to at least one report, the man was seen inside the female bathroom," Acosta said in a previous interview, noting "all this bathroom stuff is uncorroborated."
Following the denial of a search warrant, Acosta said the investigation has ended. The alleged campus intruder was cited for trespassing.
This story was reported and written by David N. Young
🥁LAHS Marching Band caps off competitive season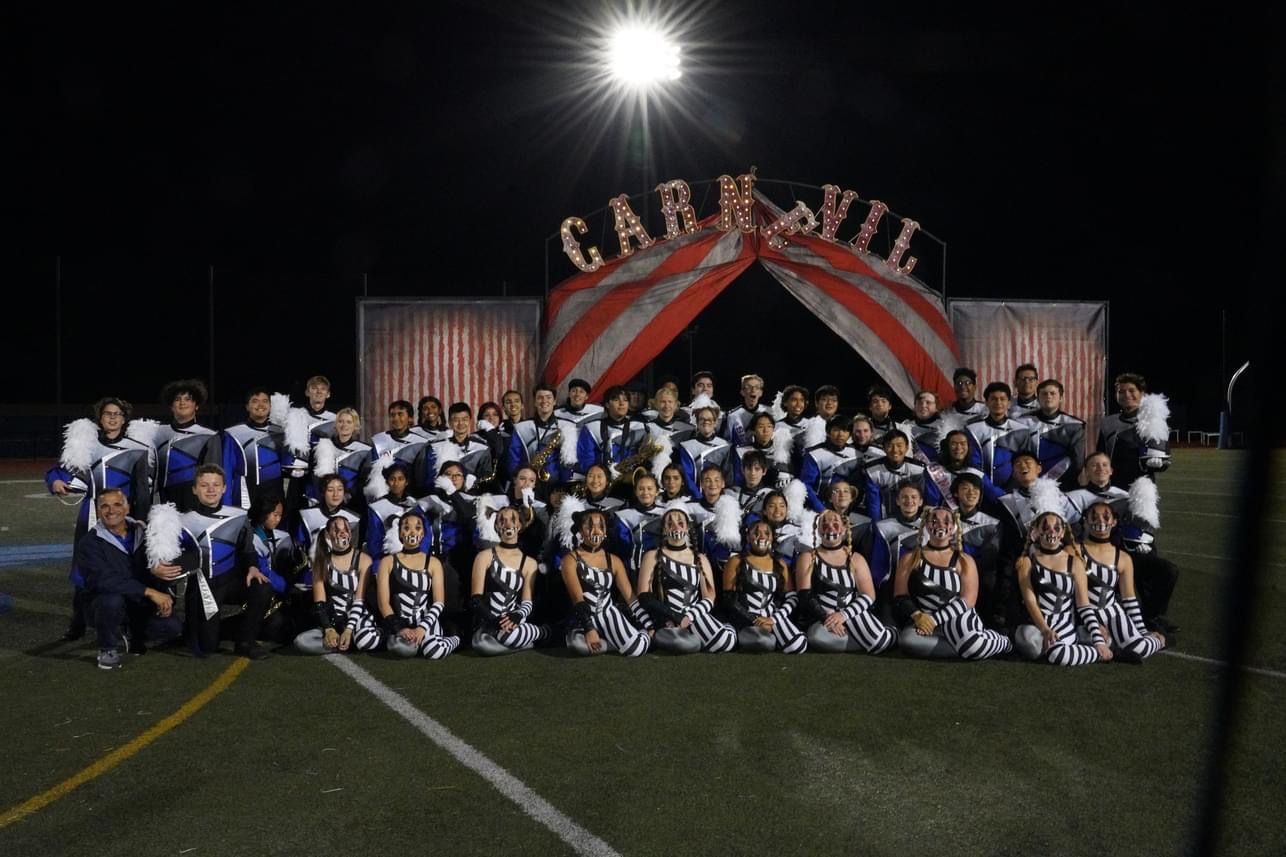 The 2022-2023 Los Alamitos High School Marching Band and Color Guard on Nov. 16. Photo by Ben Wang.
The music from their bass drums, trumpets, and flutes provide the soundtrack to the high school football season. But students in local high school marching bands also take the field to compete during the fall.
The Los Alamitos High School marching band completed its Western Band Association competitions this month and were often the underdogs in some matchups.
"Los Al was punching above its weight this whole season," band booster club co-president Patrick Guggino wrote in an email to Spotlight Schools.
Guggino explained that the 55-member team ended up competing against larger, louder bands after some members left the group. "Even with the smaller numbers, we beat out bands bigger than us," Guggino said, adding that some of the bands Los Al competed against outnumbered them by twenty people.
In the WBA Regional Championships held in Trabuco Hills on Nov. 12, Los Al came in fifth place for their category. During the WBA Class Championships held Nov. 19 in Ontario, the Griffin marching band had a high enough score to secure a wild card spot in the finals. In the championships, Los Alamitos came in 14 out of 20 marching bands. Trabuco Hills High School came in first place followed by Fountain Valley High School in second.
Just days before that final competition, the LAHS marching band treated families, friends and the community to a free performance of their "Carnevil" showcase. (See a video of the Nov. 16 performance here.)
During the band's showcase held at Los Alamitos High School, band director Paul Crockett remarked about the hard work of his students. "It's kind of like…watching a flower blossom…all of a sudden you turn around and there's this remarkable thing in front of you," according to a recent article in the Griffin Gazette.
You can see the LAHS marching band perform this weekend during the Seal Beach Christmas Parade which happens Friday, Dec. 2 at 7p.m.
Other Stories We're Reading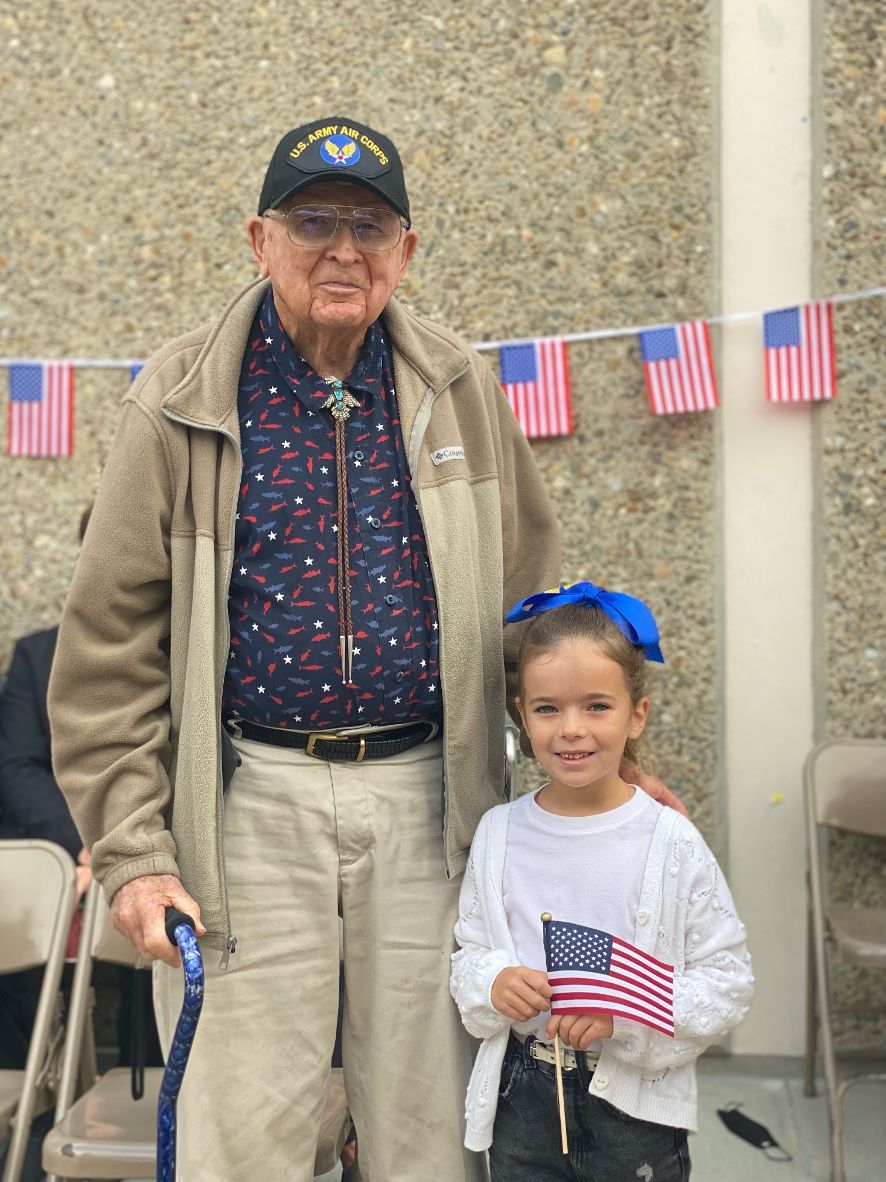 William Kettler, 100, in a recent picture with his great granddaughter, Sloane Prelesnik, 8. Photo courtesy of Lauren Prelesnik.
EXTRA CREDIT
Meetings // Events // Opportunities // Resources
EVENTS
SUPPORTING STUDENT WELLNESS: The Los Alamitos Unified School District is hosting parent education events this week about supporting student wellness. Tomorrow's event is geared toward middle and high school families.⬇️ More information in the flyer below.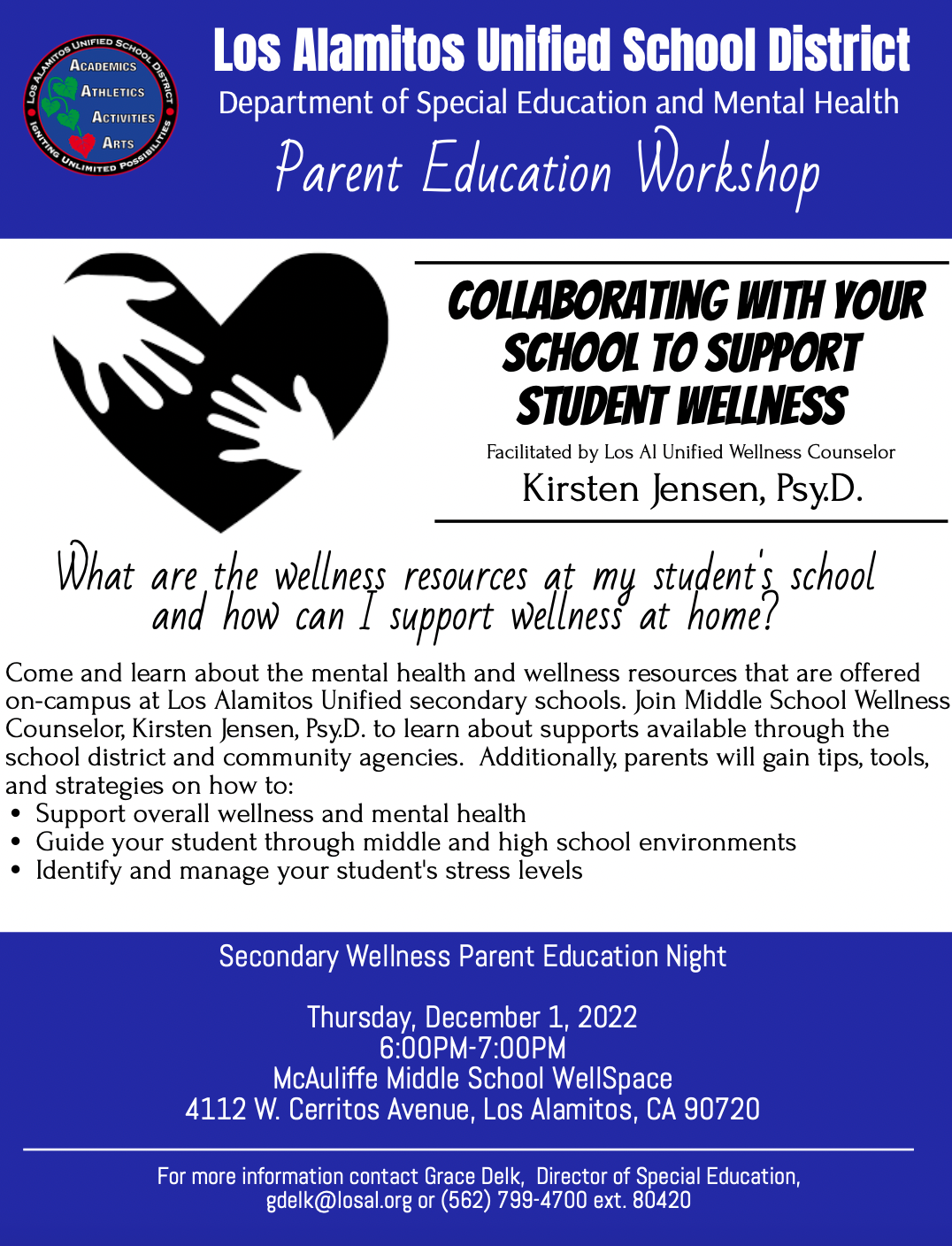 MENDEZ VS. WESTMINSTER PARK GRAND OPENING: On Dec. 1, at 10 a.m. the Orange County Department of Education and the City of Westminster are hosting a grand opening ceremony for a new park located at 7371 Westminster Blvd. The Mendez Tribute Monument park honors the historic Mendez v. Westminster legal case. The decision in the 1947 court case led to the desegregation of California's public schools. More information here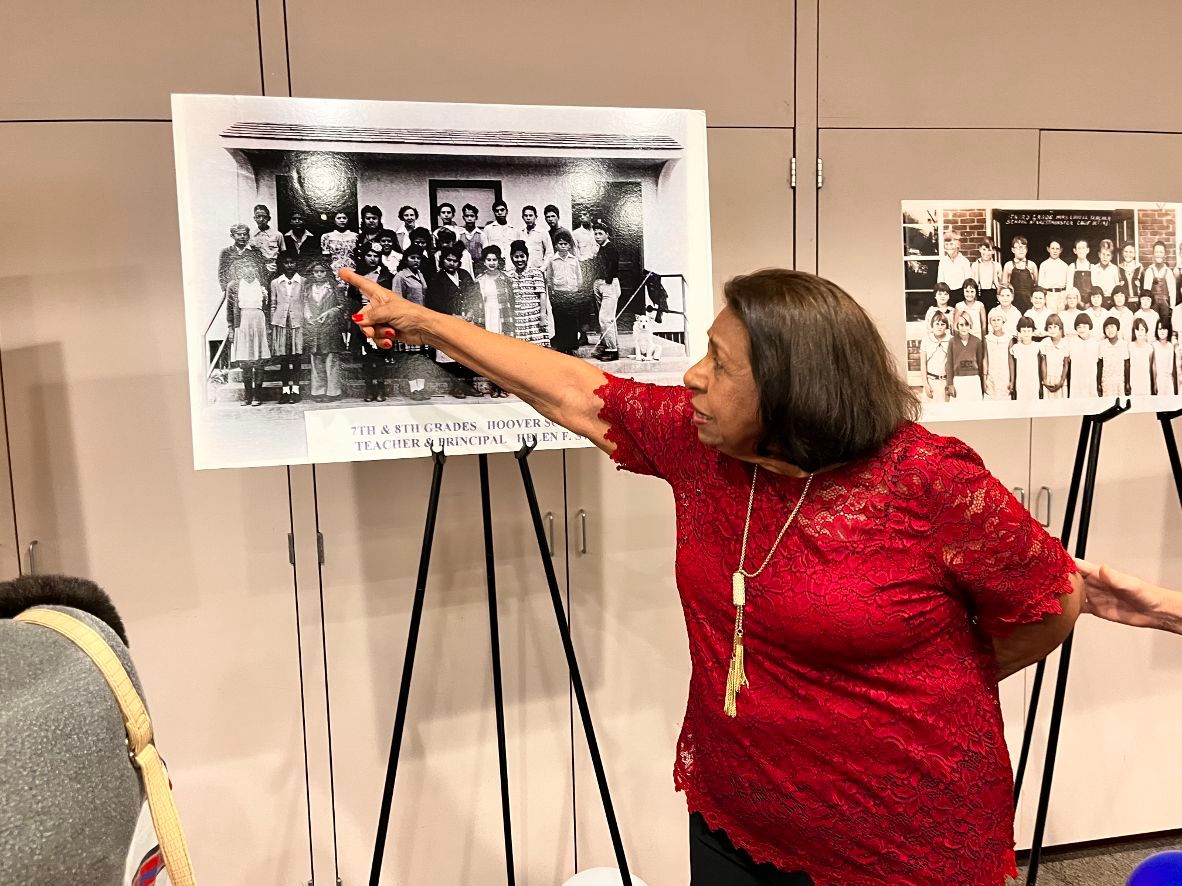 At the Westminster School District's 150th anniversary celebration in October, Sylvia Mendez of the Mendez vs. Westminster court case, points to a picture of her relatives who attended segregated schools in Westminster. Photo by Jeannette Andruss.
'WINTER WONDERLAND' PERFORMANCE: Tickets are on sale for the Los Alamitos Show Choir's Holiday 2022 performance happening Dec. 8 - 10. Purchase tickets here.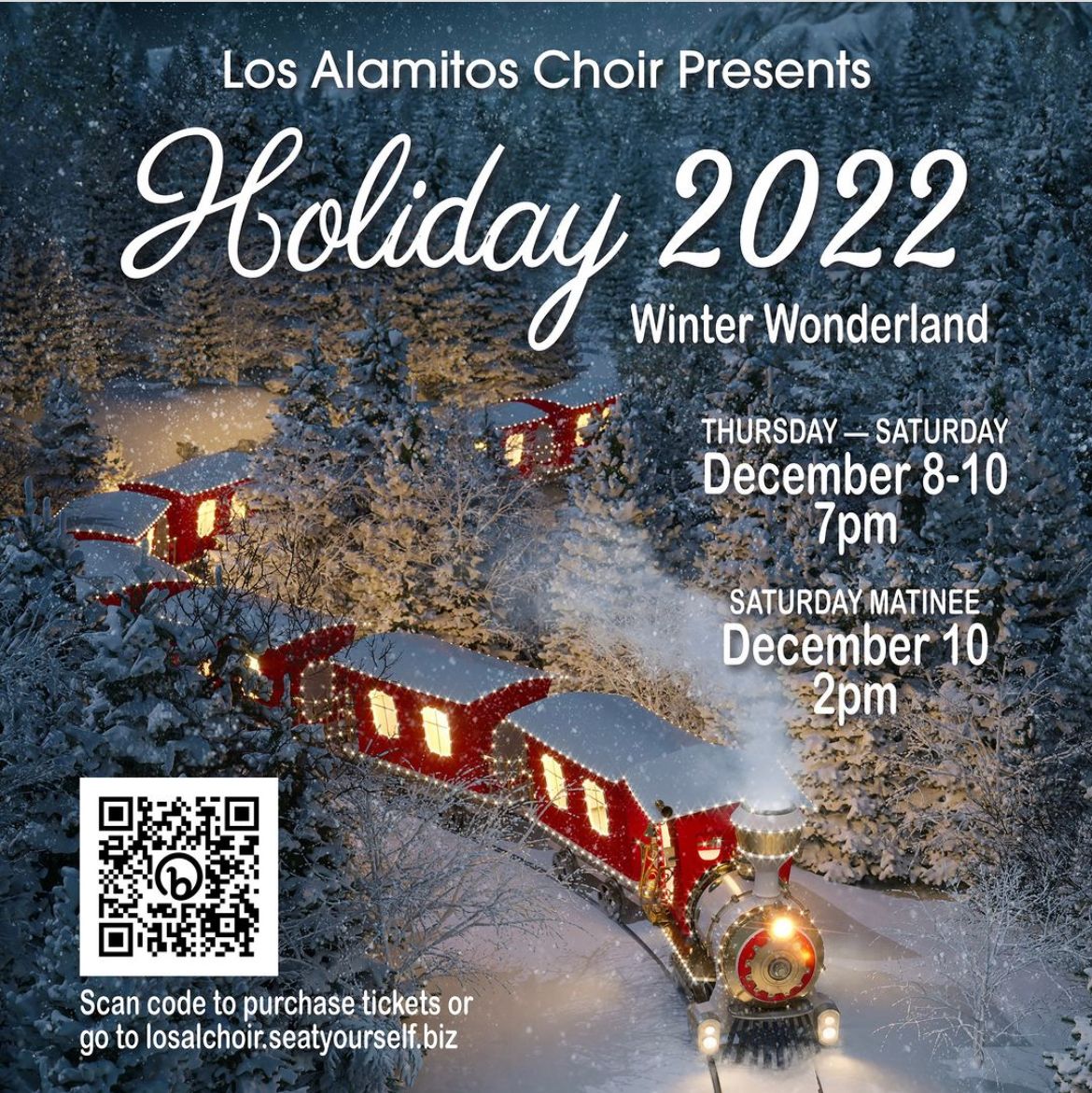 OPPORTUNITIES
$50,000 SCHOLARSHIP: Edison International is awarding 30 local high school seniors with $50,000 college scholarships "to help them follow their dreams in science, technology, engineering or math (STEM) and empower them to change the world." The deadline to apply to the Edison Scholars Program is Dec. 9. More information here.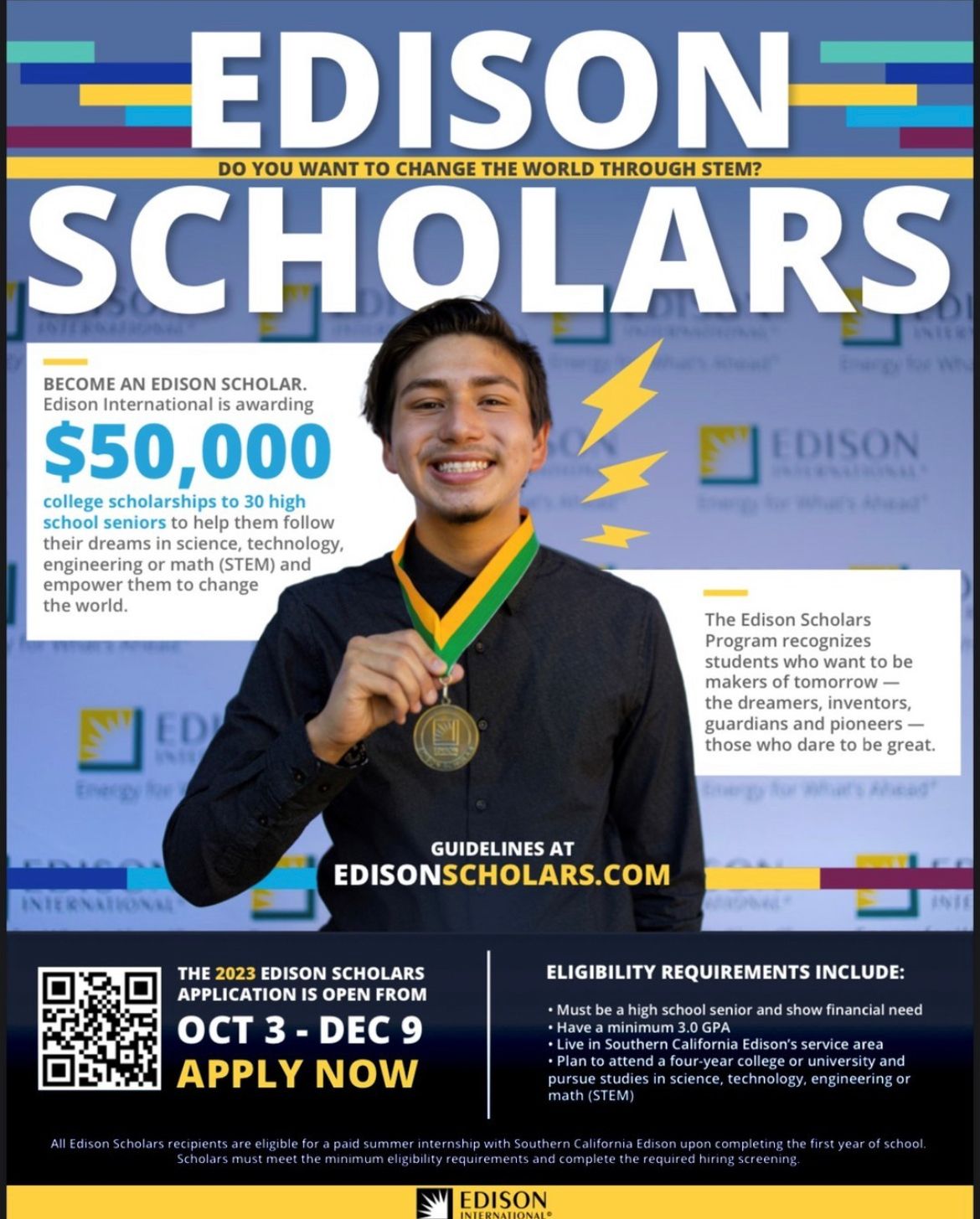 RECESS
Your Dose of Good News
📚 Book donation drive to benefit schools in Los Angeles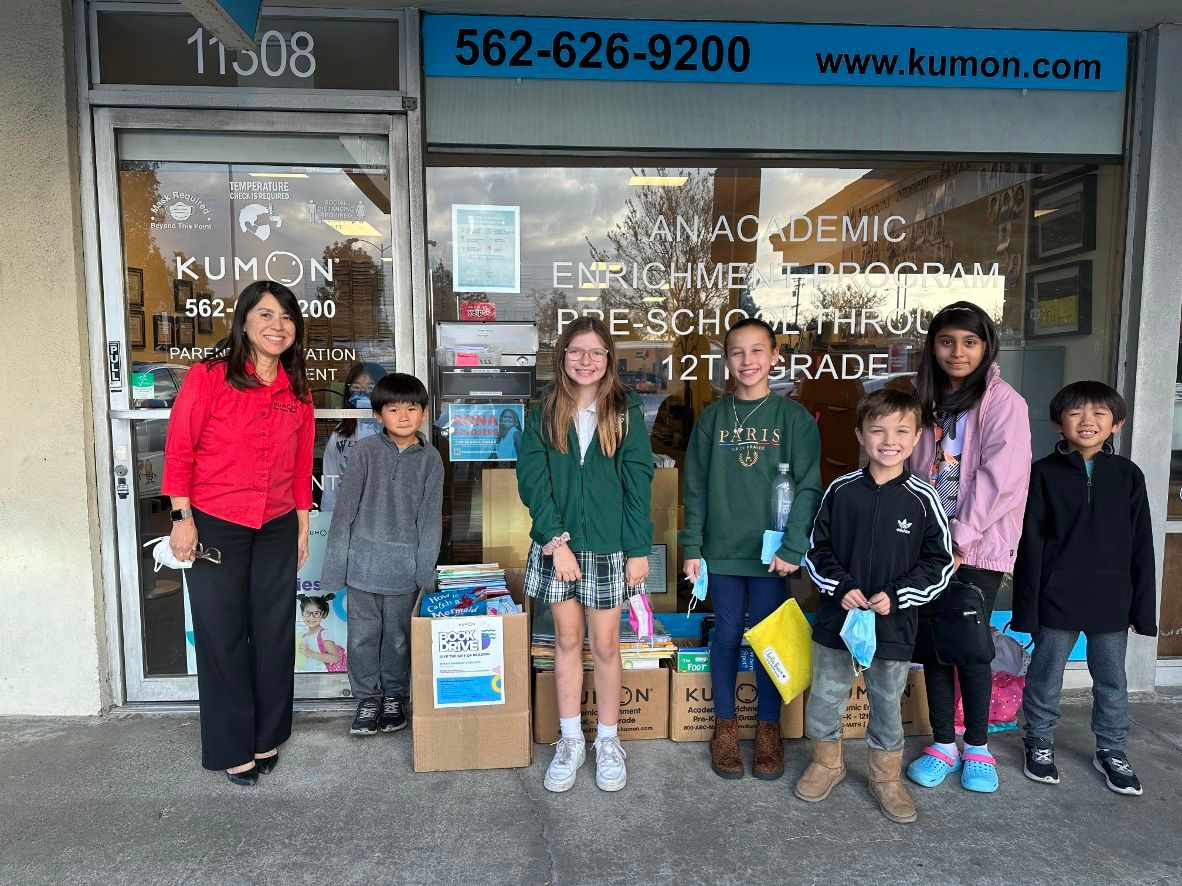 Kumon Los Alamitos owner Naomi Rockenmacher poses with students and book donors Max C., Madeline N., Charlotte S., Tyler S., Kimaya V., and Oliver C. on Nov. 29. Photo courtesy of Naomi Rockenmacher.
Books are a gift that keeps on giving.
This month, one Los Alamitos business owner is proving how true that is by sponsoring a book donation drive aimed at supporting students at several elementary schools in Los Angeles.
Naomi Rockenmacher, the owner of the Kumon Math and Reading Center in Los Alamitos is collecting gently used and new novels, nonfiction and picture books appropriate for K-5 students. She was inspired by the season of giving.
"When Thanksgiving came around, I thought, what can I do to engage the students to think more deeply about Thanksgiving?," Rockenmacher shared in a recent phone interview. "Kids did come and they were really excited to donate their books," she added.
The book drive has been going on since Nov. 1 and continues until Friday, Dec. 2 at the business located at 11308 Los Alamitos Boulevard. Rockenmacher estimates she has already collected one hundred books.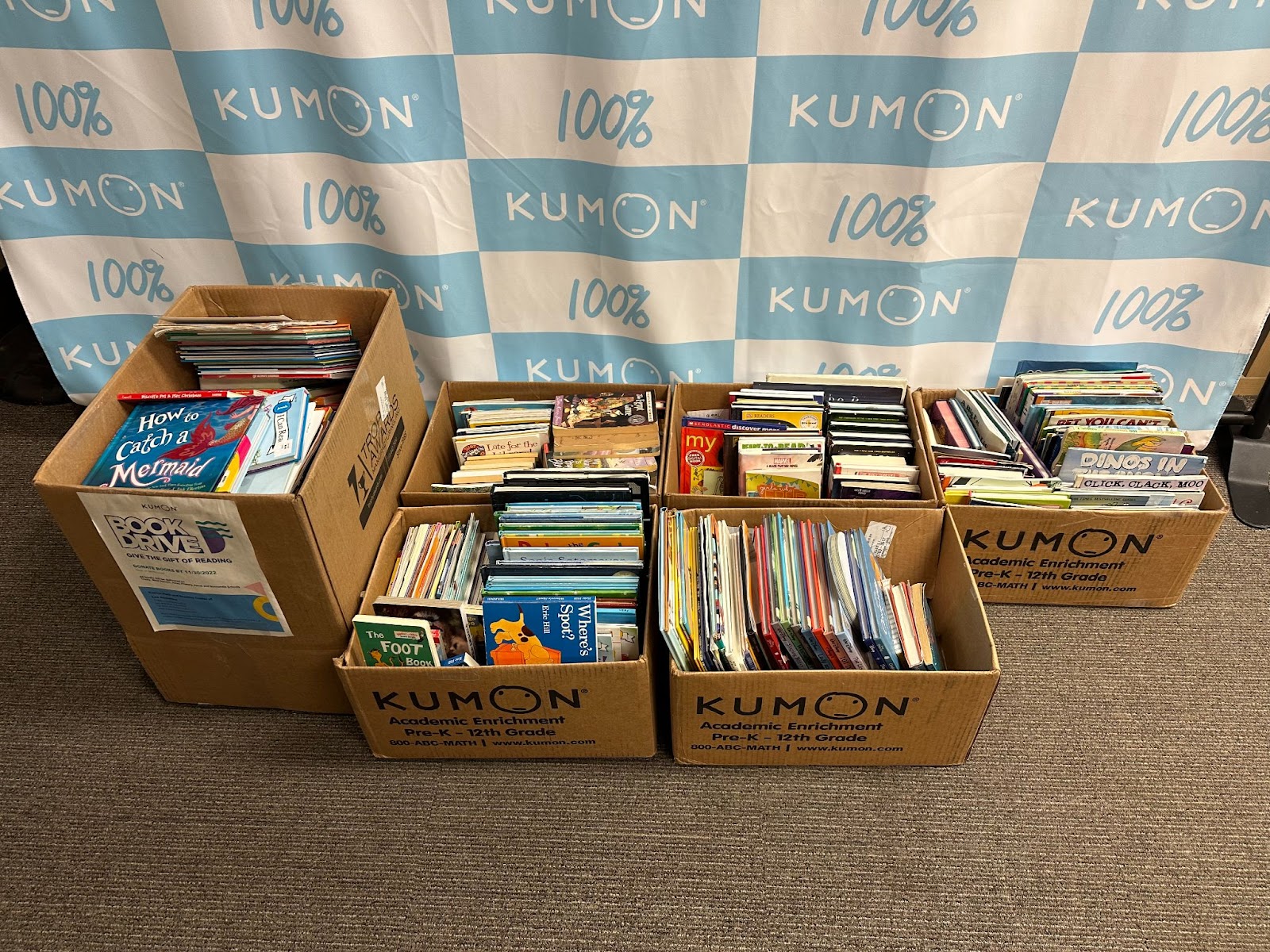 Books collected at the Kumon Los Alamitos that will benefit five elementary schools in Los Angeles. Photo courtesy of Naomi Rockenmacher.
This isn't the first book drive Rockenmacher has sponsored. In the past she has teamed up with a representative from the group Reading is Fundamental or RIF, a nonprofit dedicated to children's literacy.
This year she connected with the same contact, who is now retired but still involved in book drives. The books donated through the Los Alamitos Kumon will go to students at five elementary schools in the Los Angeles Unified School District.
The L.A. schools that will be receiving the books include:
Normandie Avenue Elementary school
"We have some really nice books to donate which is nice," Rockenmacher said.
Anyone interested in contributing to the book drive can contact Rockenmacher at her business at (562) 626-9200.
BOOSTER DOSE: See how other students celebrated the season of giving with food drives across Orange County courtesy of the OCDE Newsroom.
Thanks for reading!
Forwarded from a friend? Subscribe to the Spotlight Schools newsletter here.
Follow us on Instagram @SpotlightSchools.
Our mailing address:
P.O. Box 164
Seal Beach, CA 90740

Copyright © 2022 Spotlight Schools, All rights reserved.