? The Spotlight Schools website is live!; WellSpace coming to Los Alamitos High School; Principal takes a pie in the face.
Pandemic impact: Nine-year-olds suffered severe learning loss; Cypress teachers head back to mediation; Charter School forum planned.
Pandemic impact: Nine-year-olds suffered severe learning loss; Cypress teachers head back to mediation; Charter School forum planned.

Helping you better understand, navigate and participate in the TK-12 public school experience in Orange County.
In this week's newsletter...
September 6, 2022
FIRST BELL 🔔 WellSpace being built at Los Alamitos High School.
SECOND BELL 🔔 Pandemic's impact: New test results show depths of learning loss for America's nine-year-olds. Plus, When will CA release its statewide test results?
EXTRA CREDIT 📌 O.C. Board of Education planning forum on "strengthening support" for charter schools.
RECESS 👏🏼Principal dresses up as Pillsbury Doughboy.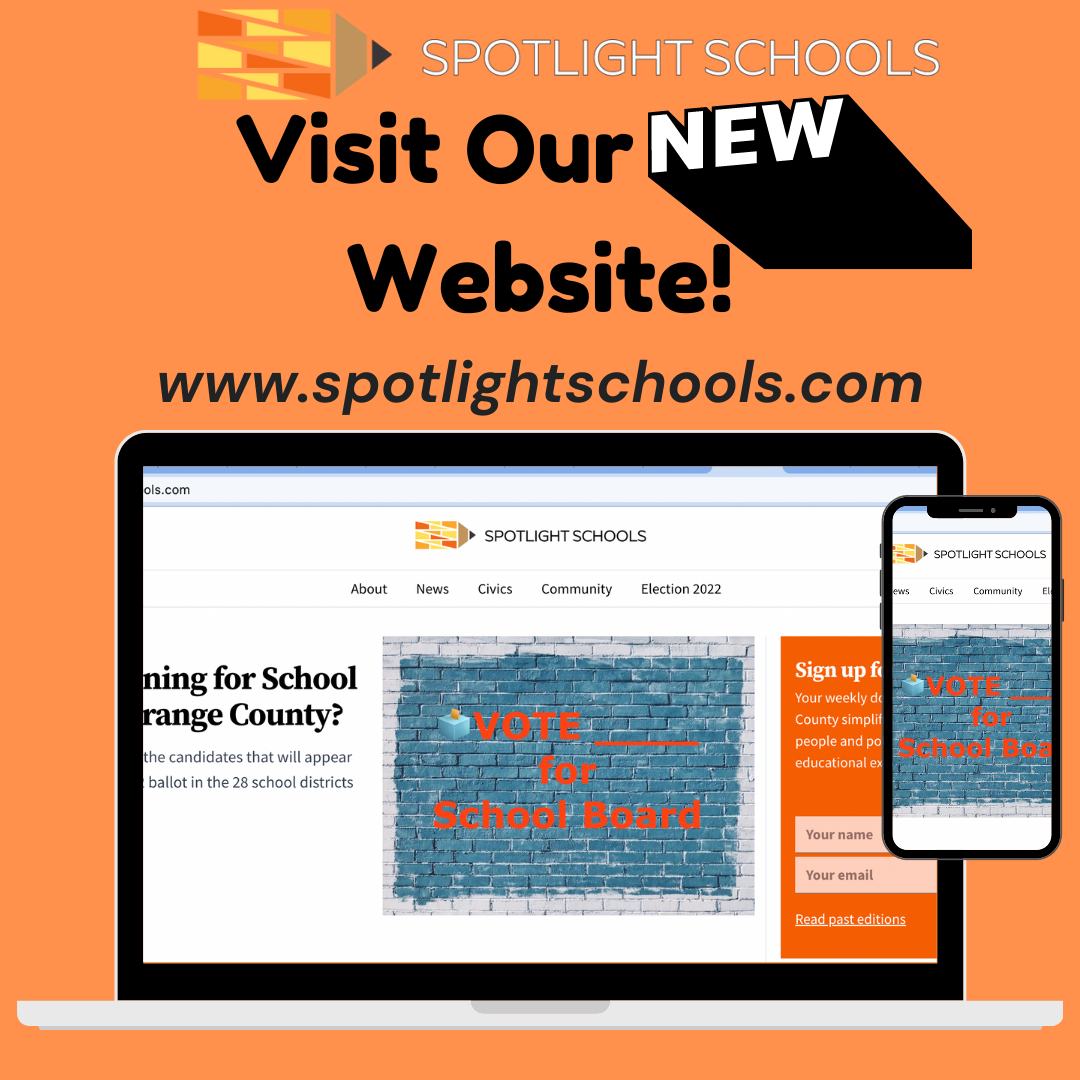 Spotlight Schools is a nonpartisan, hyperlocal newsroom covering education in Orange County and this is our weekly newsletter.
But before we get to the news this week, we have an exciting milestone to celebrate: the Spotlight Schools website is now live! Visit www.SpotlightSchools.com to read more local education news, check out past editions of our newsletter, learn more about our newsroom and even become a supporter of our journalism.
We will continue to add stories to the website on a weekly basis. We hope to continue to grow to better serve readers like you. With your support, we can expand our coverage so please consider making a tax-deductible donation today.
If you haven't signed up for our newsletter, click here. And be sure to follow us on Instagram and Twitter for news and updates.
Please send feedback/story ideas/questions to hello@spotlightschools.com.
Yours in knowledge,
Jeannette Andruss, Co-Founder and Chief Editorial Officer
FIRST BELL
This Week's Top Story
WellSpace being built at Los Alamitos High School
Los Alamitos Education Foundation funding construction of student wellness center that will be staffed by mental health professionals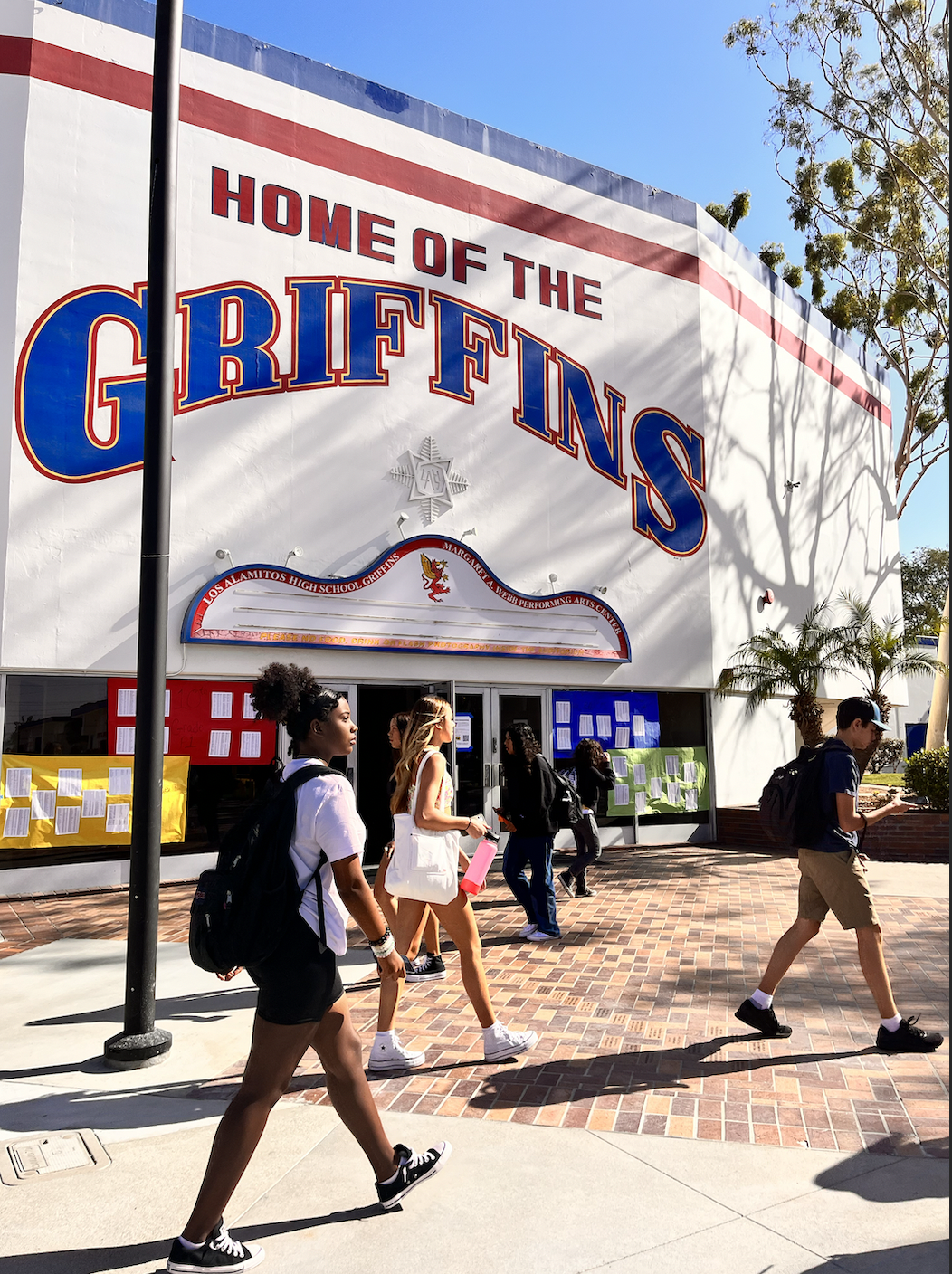 Students walk between classes at Los Alamitos High School last month. Construction begins today on a WellSpace on campus which will offer students a place to reset and visit with wellness counselors. Photo by Jeannette Andruss
A new space for students to relax, recharge and seek guidance from mental health and wellness professionals is being built at Los Alamitos High School.
Construction is expected to start today on the new WellSpace at LAHS, according to Nichole Pichardo, Public Information Officer for the Los Alamitos Unified School District. Griffins could be able to access the space by November.
"When we talk about students thriving here in Los Alamitos Unified, we know that it just can't be academically. We must take a deeper look at their social emotional needs as well," Superintendent Andrew Pulver, Ed.D., wrote in part of a statement to Spotlight Schools.
The Los Alamitos Education Foundation (LAEF), the non-profit partner of Los Al USD, is expected to cover the cost to construct and furnish the WellSpace which is estimated to be between $230,000 to $245,000.
Students and parents may best know LAEF as the provider of after-school and summer enrichment programs. But thanks in part to LAEF's fundraising efforts, it has also donated tens of thousands of dollars toward student wellness in the district including paying to construct WellSpaces at Oak and McAuliffe Middle Schools in 2021, the first of their kind in Orange County. LAEF has also helped pay salaries for mental health professionals in the district in 2017, 2018 and 2021.
"It was just becoming apparent that it was the new need," LAEF Executive Director Carrie Logue said in a recent interview explaining how LAEF came to include supporting student wellness in its mission.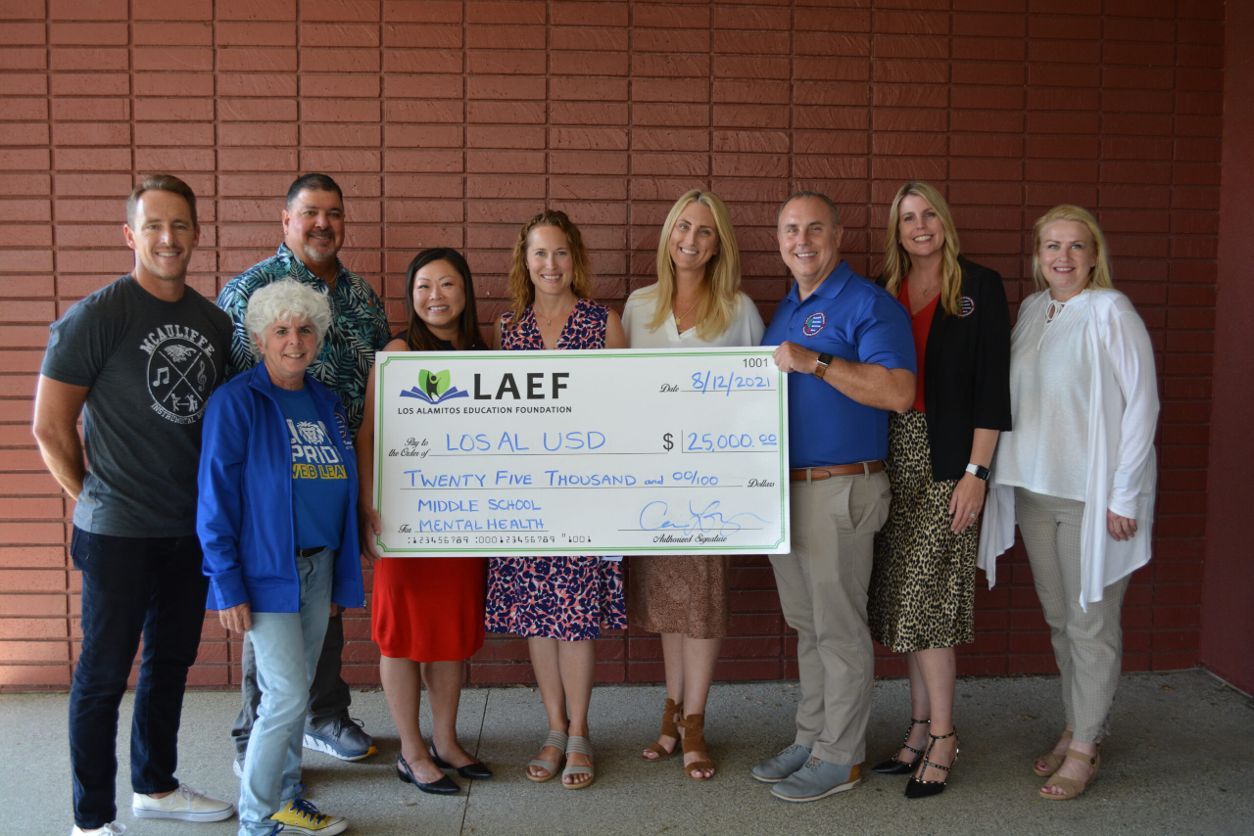 Since 2017, LAEF has donated more than $150,000 to support student wellness and mental health including helping pay for salaries of counselors and for the construction of WellSpaces at the district's campuses. Courtesy photo.
For the past five years, students have increasingly struggled with mental health issues including anxiety and depression. The Centers for Disease Control and Prevention report that suicide is the second leading cause of death for 10 to 14-year-olds.
The social and emotional needs of students grew during the Covid-19 pandemic as young people dealt with isolating lockdowns, financial hardship and, in some cases, the death of a loved one. Last December, the U.S. Surgeon General declared a mental health crisis among America's youth.
California's elected officials and educators are trying to meet the demand from young people for mental health services, but in some school districts, students are left waiting for help, reports The L.A. Times.
WellSpaces are believed to help provide an outlet for young people. They are staffed by mental health professionals including counselors and school psychologists. For the past two school years, Los Al USD has increased its wellness staff by hiring more counselors and social workers.
WellSpaces look more like a relaxing lounge in a spa than a traditional public school classroom. With plush furniture, soft lighting, peaceful decor and calming activities, WellSpaces can offer students a break from the stress of daily life in a supervised setting.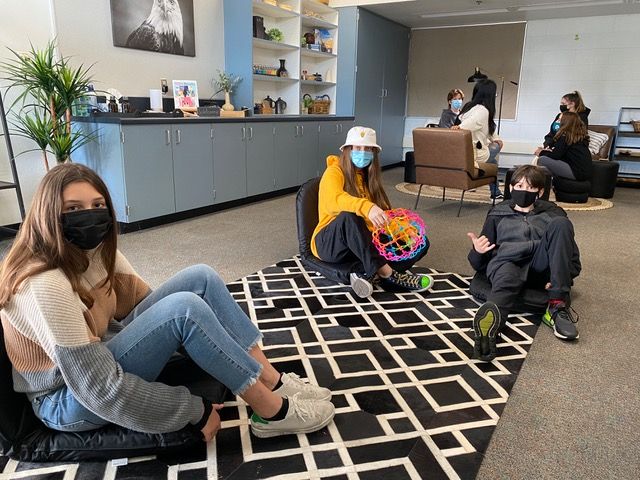 Students visit the WellSpace, also known as The Corner, at McAuliffe Middle School in Los Alamitos in 2021. Courtesy photo.
Students can make appointments with counselors, get permission from their teachers to make a short visit to the WellSpace during class or stop by during breaks between classes or during recess or lunch.
"Over the past year we've seen the positive impacts our WellSpaces have had for our middle school students and with the generous support from our Los Alamitos Education Foundation, we are now bringing this space to our high school students," Dr. Pulver said.
The LAHS WellSpace will transform a former preschool site on the campus into a calming oasis where students can decompress and visit with wellness counselors. There are also plans to create a "Zen garden" outdoor space in what used to be a playground area.
"It's a signature project for us," Logue said, stressing that she wants students to know about the new resource at LAHS.
"There is a place of peace and solace on campus so students do not just have to bottle up" their emotions, Logue said. "There is a place for them to process and feel better."
Logue believes that building WellSpaces can also help change the narrative about mental health in our community. "The fact that this space exists opens up those conversations about mental health and reduces the stigma and that is critical."
LAEF is also helping create WellSpaces for the district's youngest students. It recently donated $3,000 to each of the six elementary schools in the district to help pay for decor and furniture for the TK through 5th graders.
"We want our students of all ages to have the freedom to know that it's OK to need a break. It's OK to ask for help and it's OK to seek support. These are things that a lot of times, as adults, we learn on our own, but we are embedding this important work into our district goals, priorities and culture and teaching our students these skills," Dr. Pulver wrote in his statement.
Read more about the WellSpace at LAHS including how it could serve families beyond school hours at our website.
👉🏼 For Los Alamitos USD families – you can find contact information for the mental health professionals on your campus here. And be sure to follow the district's wellness counselors on Instagram.
SECOND BELL
Other Stories We're Following
Pandemic Impact: New test results show learning losses in math and reading for nation's most vulnerable students
Last Thursday the "Nation's Report Card" was released and it showed that many American students suffered severe learning losses following disruptions to education during the Covid-19 pandemic, as reported by The L.A. Times, The 74, and The N.Y .Times.
"This is the largest average score decline in reading since 1990, and the first ever score decline in mathematics," reads the National Center for Education Statistics website which administers the National Assessment of Educational Progress (NAEP) benchmark tests.
The results, comparing tests taken by nine-year-olds in 2022 to those taken by nine-year-olds in 2020, offer a large-scale look at how the pandemic has affected student learning. America's most vulnerable students who were already struggling pre-pandemic suffered the biggest declines.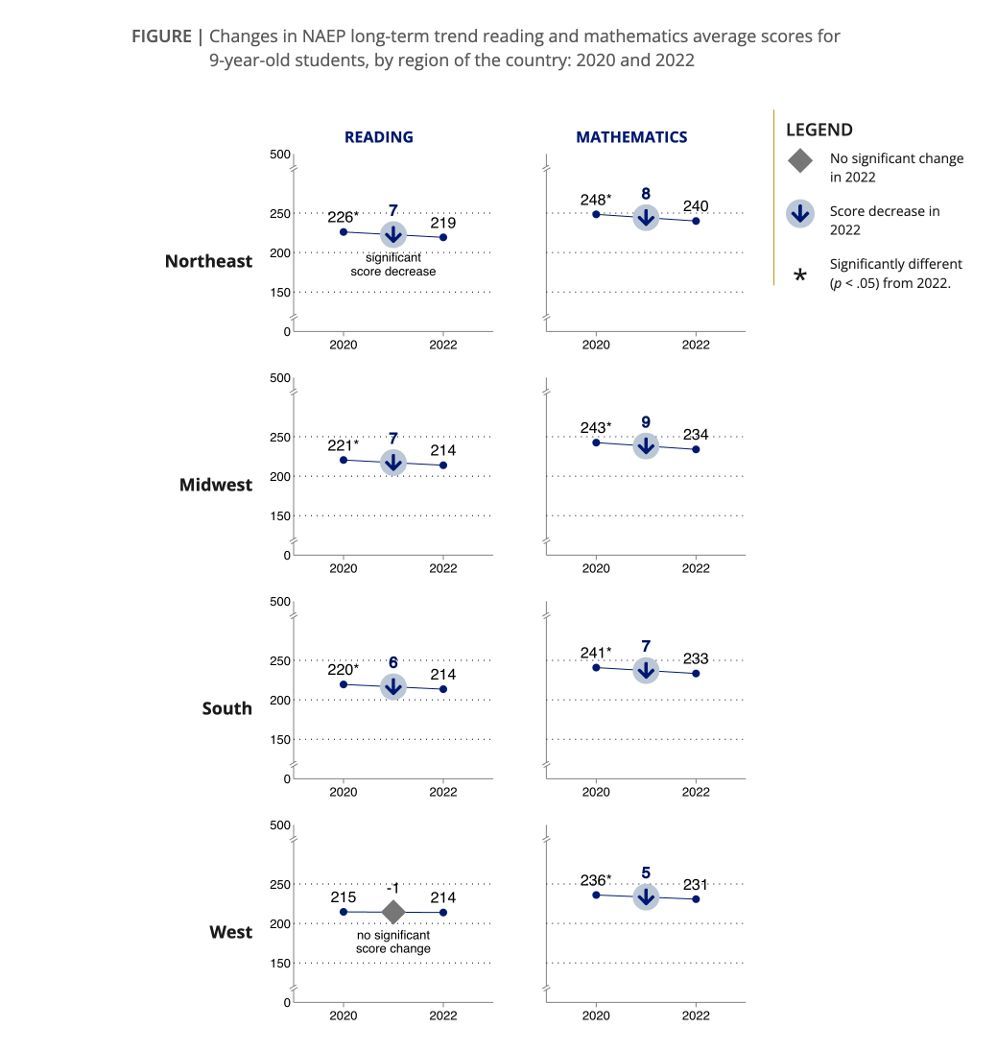 Graph from the NAEP tests show declines in math and reading scores for students in 2022 compared to pre-pandemic in 2020. The West region includes: Alaska, Arizona, California, Colorado, Hawaii, Idaho, Montana, Nevada, New Mexico, Oregon, Utah, Washington, and Wyoming. Courtesy NAEP.
While the NAEP can spotlight national or regional trends, it's harder to ascertain what this means at a state or local level.
We're still waiting for results from California's statewide testing. Last school year marked the first required administration of statewide testing since the pre-pandemic 2018-19 school year. Testing took place in May of 2022 for 3rd through 8th and 11th graders and measured students' knowledge of math and English language arts/literacy.
The California Department of Education is expected to release the results of its California Assessment of Student Performance and Progress or CAASPP tests later this Fall or in early December. The results will be posted on the CAASPP Reporting webpage and will give us more insight into how the pandemic has impacted students in Orange County.
But families with students who were in 3rd-8th or 11th grade last year can get individual student scores from their schools right now. If you haven't received yours yet, ask your principal or school administrator.
Cypress Teachers and School District to meet Thursday
This will be the second mediation session over contract negotiations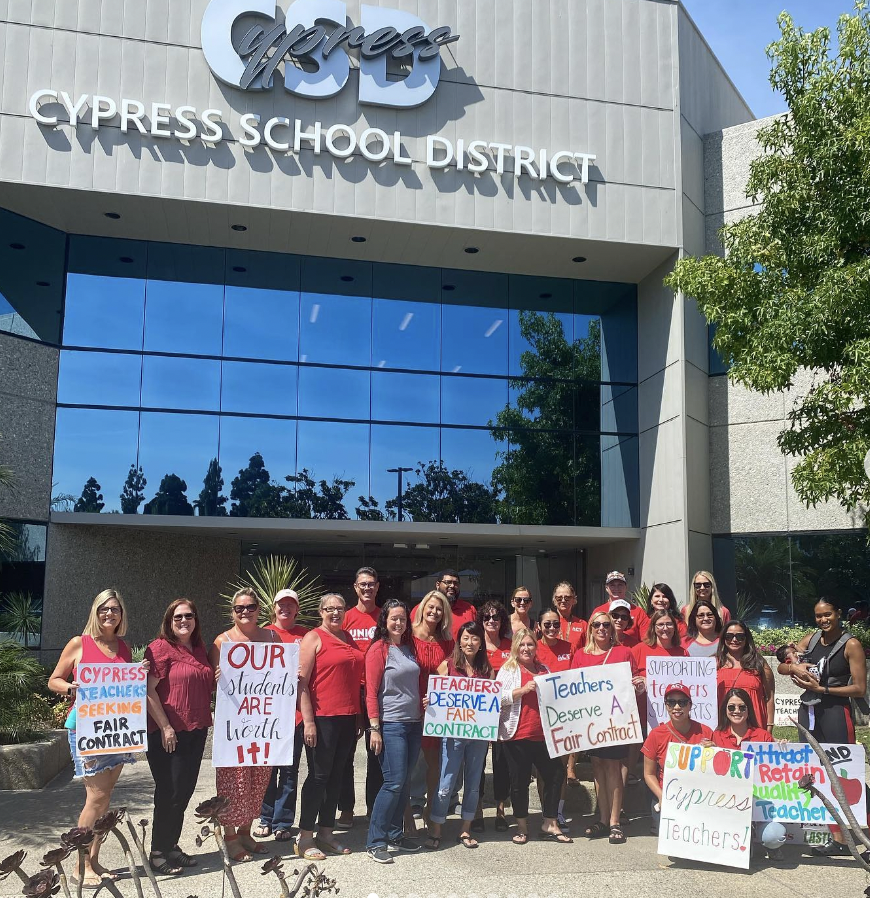 Cypress teachers rally before their first mediation meeting with the school district over contract negotiations in July. Photo courtesy of ACT Instagram account.
Cypress School District and representatives from the Association of Cypress Teachers are due to meet again this week in ongoing contract negotiations that hit an impasse in May.
According to Dr. Tim McLellan, Assistant Superintendent for Business Services, the district plans its second mediation meeting this Thursday, Sept. 8.
"It's been a great start to the new school year," said McLellan, and "we're hopeful about Thursday and look forward to soon bringing closure to last year's negotiations."
"So far the teachers have been working hard to get the school year off to a successful beginning," lead teacher negotiator Elizabeth Dunagan wrote in an email to Spotlight Schools. "We remain hopeful that the mediator will be able to work with us to procure a fair settlement, and that by the end of the week we will have good news to report," she continued.
The district and its teachers have been working since last school year to agree on terms for a contract. Sticking points include the amount for pay raises after California increased its Cost of Living Adjustment and terms for healthcare benefits.
David N. Young wrote and reported this story.
🏈 LAHS Griffins fall to Basha Bears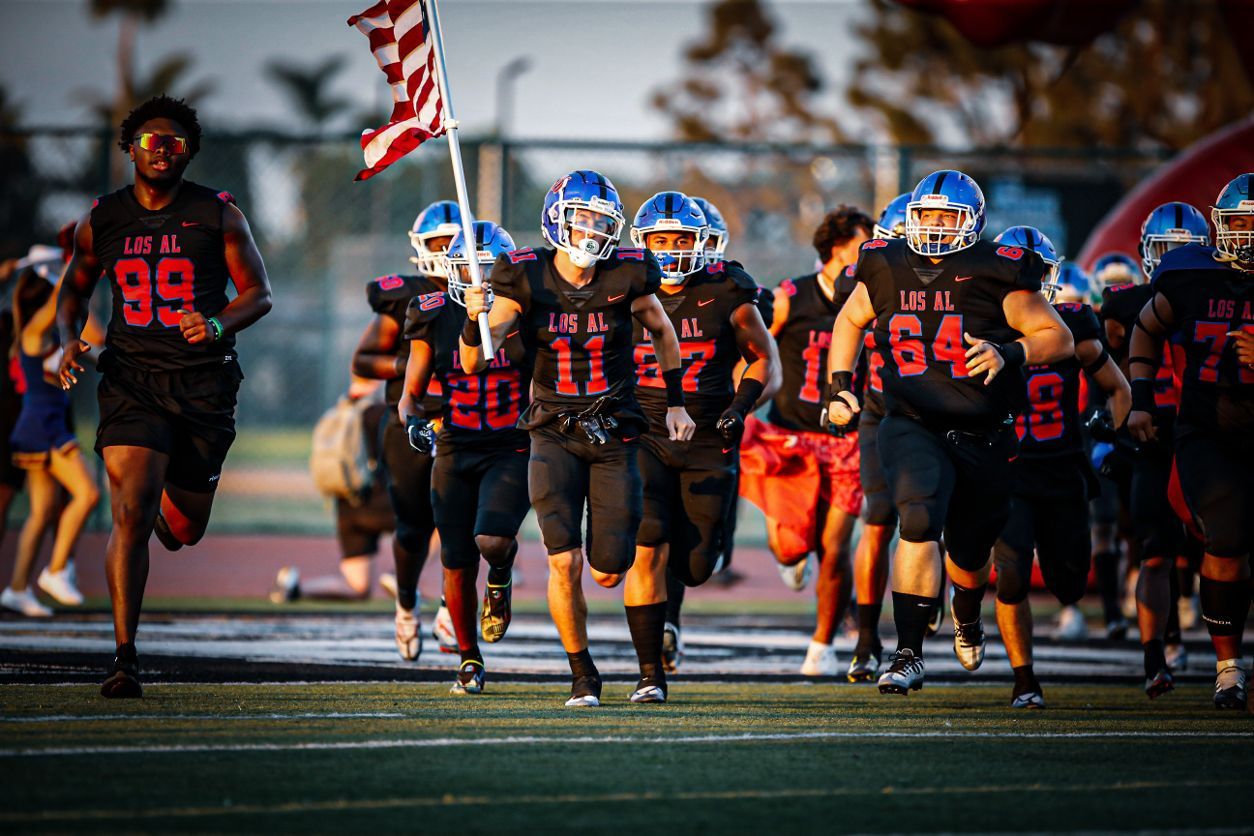 The Los Alamitos High School Varsity football team played against Arizona's Basha Bears on Sept. 2. Photo by Marja Bene.
The Los Alamitos High School Griffins hosted their first home game of the year as they welcomed the Basha Bears, from Chandler, Arizona on Friday, September 2 at Westminster High School.
Both teams held a national ranking coming into the game, with Los Alamitos at #53 and Basha at #62. If you looked at the final score, you would think it was a close game between two high-scoring offenses.
However, that would not be an accurate account of how this game unfolded.
Los Alamitos jumped out to an early 21-0 lead and left everyone in the stadium thinking that the Basha Bears were no match for the Griffins. However, for the second game in a row, penalties would have a significant impact on the outcome.
Wide receiver Makai Lemon had a monster game last week and was on pace to have another one this week. He had two early touchdowns and Oregon commit defensive back Cole Martin could not stop him. He had the Bears' defense on their heels, allowing for the Los Alamitos offensive line to establish a running game, behind senior running back Damian Henderson.
After Lemon's first touchdown, he spun the ball in front of Martin drawing an unsportsmanlike conduct penalty. After his second touchdown, Lemon pointed at Martin, drawing a second unsportsmanlike conduct penalty which resulted in his being ejected from the game.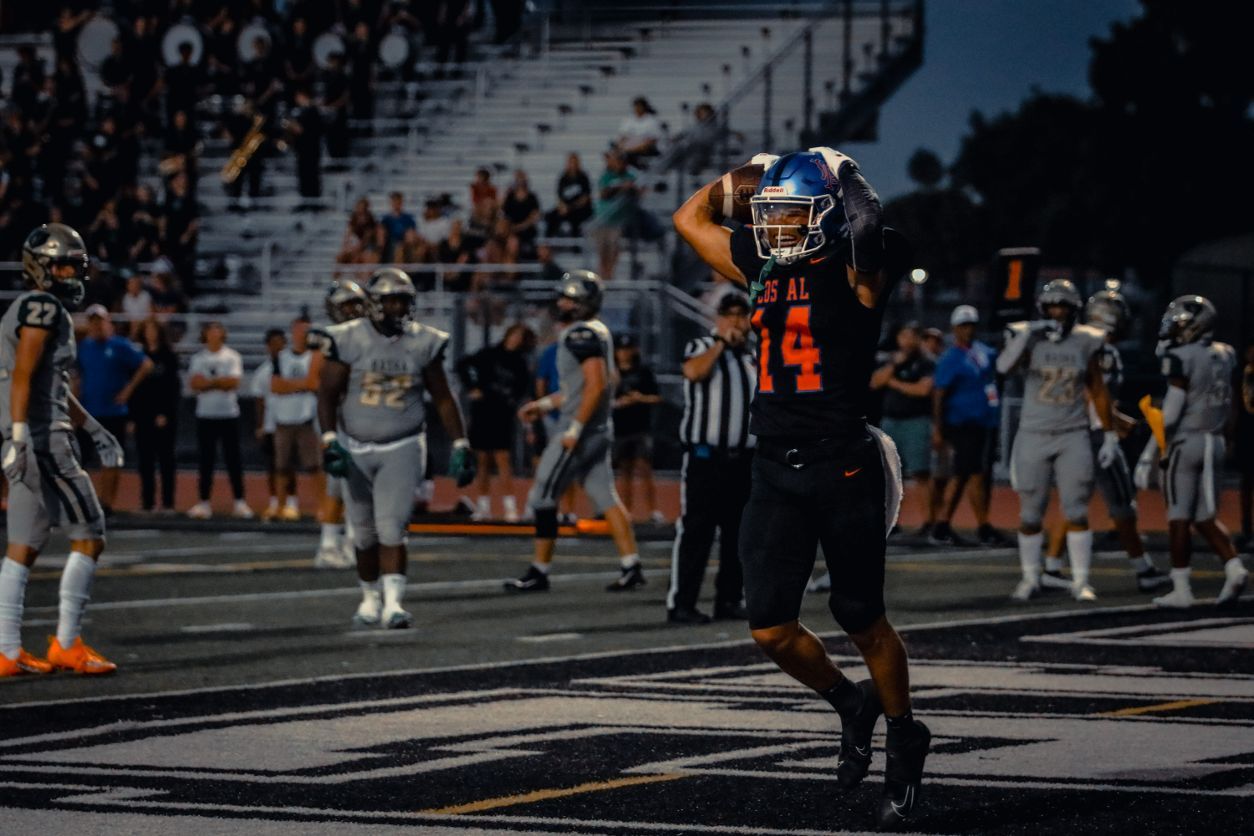 Griffins wide receiver Makai Lemon scored two touchdowns in the Sept. 2 loss to Basha before being ejected for two unsportsmanlike conduct penalties. Photo by Marja Bene.
The momentum in the game shifted, allowing the Bears to have the break they so desperately needed.
The Bears' offense went up-tempo as they scored 27 unanswered points, 21 in the second quarter and 6 in the third. Down 27-21 in the third quarter, Los Alamitos was able to mount a drive, which was capped off by a beautiful pass from Malachi Nelson to Kassius "Cash" Ashtiani in the corner of the endzone.
The lead was short-lived, as the Bears would score three minutes later and take a 33-28 lead. The Bears would lean on their running game the rest of the way; a running game that gained 233 yards on 28 carries for Idaho commit Deshaun Buchanan.
So where does Los Alamitos go from here? Individually, the Griffins have been able to accumulate some decent statistics. However, they have yet to have every player eligible and play a complete game as a team.
T.A. Cunningham still has not been cleared by CIF-SS, with no timeline given. Cunningham is a dominant defensive lineman that would undoubtedly help a defensive front that has been giving up gaudy numbers on the ground. Griffins Quarterback Malachi Nelson continues to put very respectable numbers, ending this game by going 17-27 for 189 yards and three touchdowns.
The Griffins' next game is at home against Servite (1-2) in Veterans Memorial Stadium in Long Beach on Friday, September 9 at 7:30 PM. Be sure to come out and support the Griffins as they look to get back on track.
This story was written and reported by Michael Claborn. The Los Alamitos Chief of Police is a self-described football fanatic and has agreed to give readers of Spotlight Schools a sideline view of the high school football season. Let us know your thoughts at hello@spotlightschools.com.
🏈 Week 2: See a recap of other school football games from the O.C. Register here and a preview of Week 3 games here.
📩 Forwarded from a friend? Subscribe to the FREE Spotlight Schools newsletter here.
Other Stories We're Reading
EXTRA CREDIT
Meetings // Events // Opportunities // Resources
MEETINGS
HAPPENING TODAY: The Los Alamitos Unified School District Board of Education is scheduled to hold a workshop at 4:00 p.m. and a meeting at 6:00 p.m. at 10293 Bloomfield Street in Los Alamitos.
On the agenda for the 4:00 p.m. workshop:
Presentation on the textbook adoption cycle.
Presentation on enrollment.
Watch the workshop streaming live on YouTube here.
On the agenda for the 6:00 p.m. meeting:
The Student Board representative will deliver her first presentation of the 2022-23 school year.
Consideration of the board's meeting schedule for 2023.
Presentation and adoption of revised 2022-23 budget.
Watch the meeting streaming live on YouTube here.
HAPPENING TOMORROW, SEPT. 7: The Orange County Board of Education is scheduled to meet at 4:00p.m. at 200 Kalmus Drive in Costa Mesa.
On the agenda:
CHARTER SCHOOL FORUM: Vote on an O.C. Board of Education-sponsored public community forum entitled "Strengthening California's Charter Schools at the Local and State level." The forum is to be held on Tuesday, September 20 at 6:00 p.m. at 200 Kalmus Drive in Costa Mesa and is to be moderated by Republican congressional candidate Scott Baugh.
LOBBYING CONTRACT: Vote on a contract with Sacramento-based lobbying firm Sheehy Strategy Group for a $9,000-per-month retainer to provide legislative monitoring, lobbying and government affairs services. Last month the OCBE voted to no longer be part of the California School Boards Association which also monitors legislation and provides advocacy services for school boards in the state.
You can watch the OCBE's Sept. 7 meeting streaming live on YouTube here.
EVENTS
HAPPENING MONDAY, SEPT. 12: The Los Alamitos Unified School District is offering a virtual workshop on how elementary school parents and guardians can support a well-balanced student. ZOOM link here. Passcode: 500114. More information below.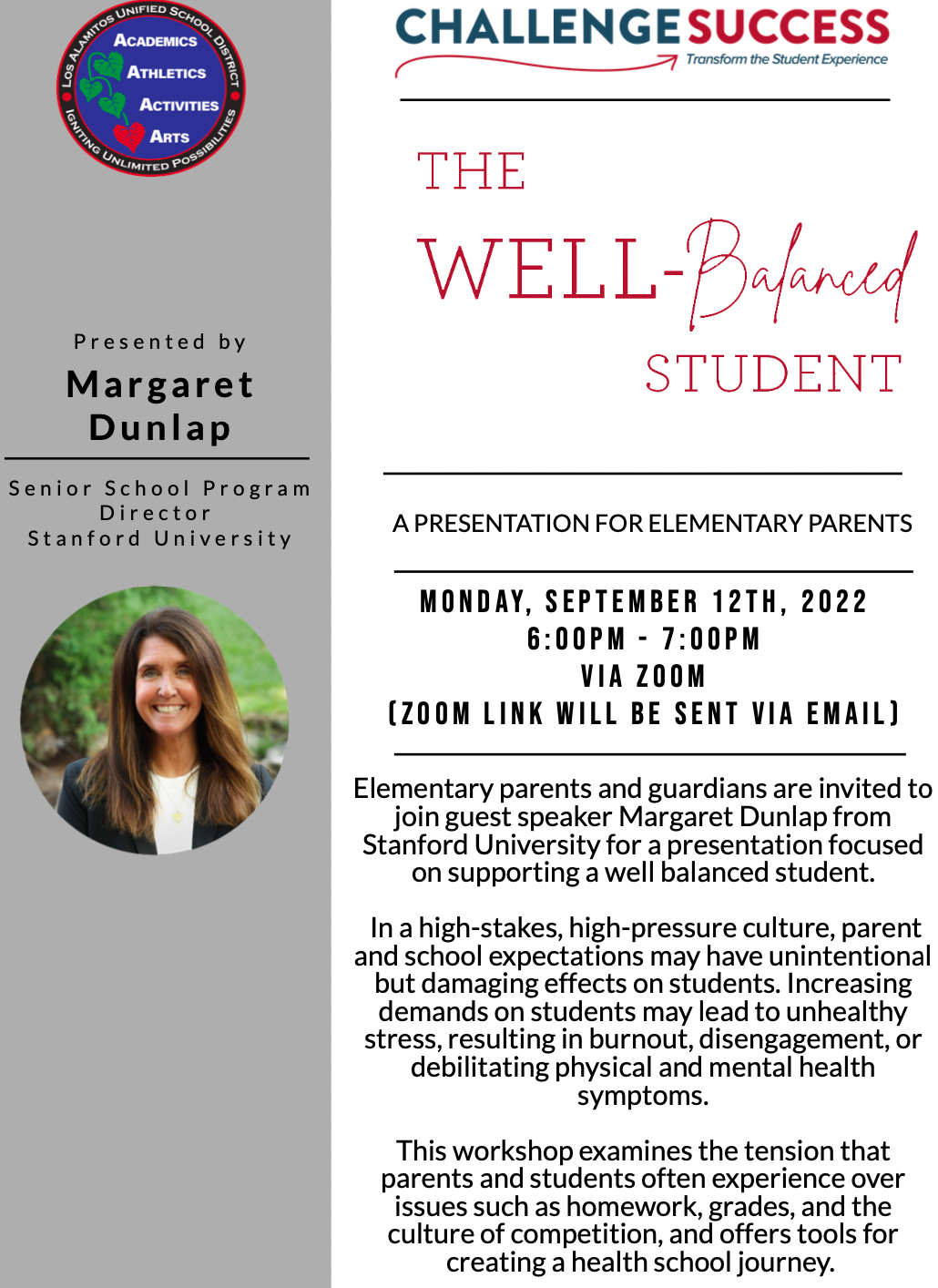 HAPPENING NOW: Tickets are on sale for the Los Alamitos Choir's first show of the school year. More information here.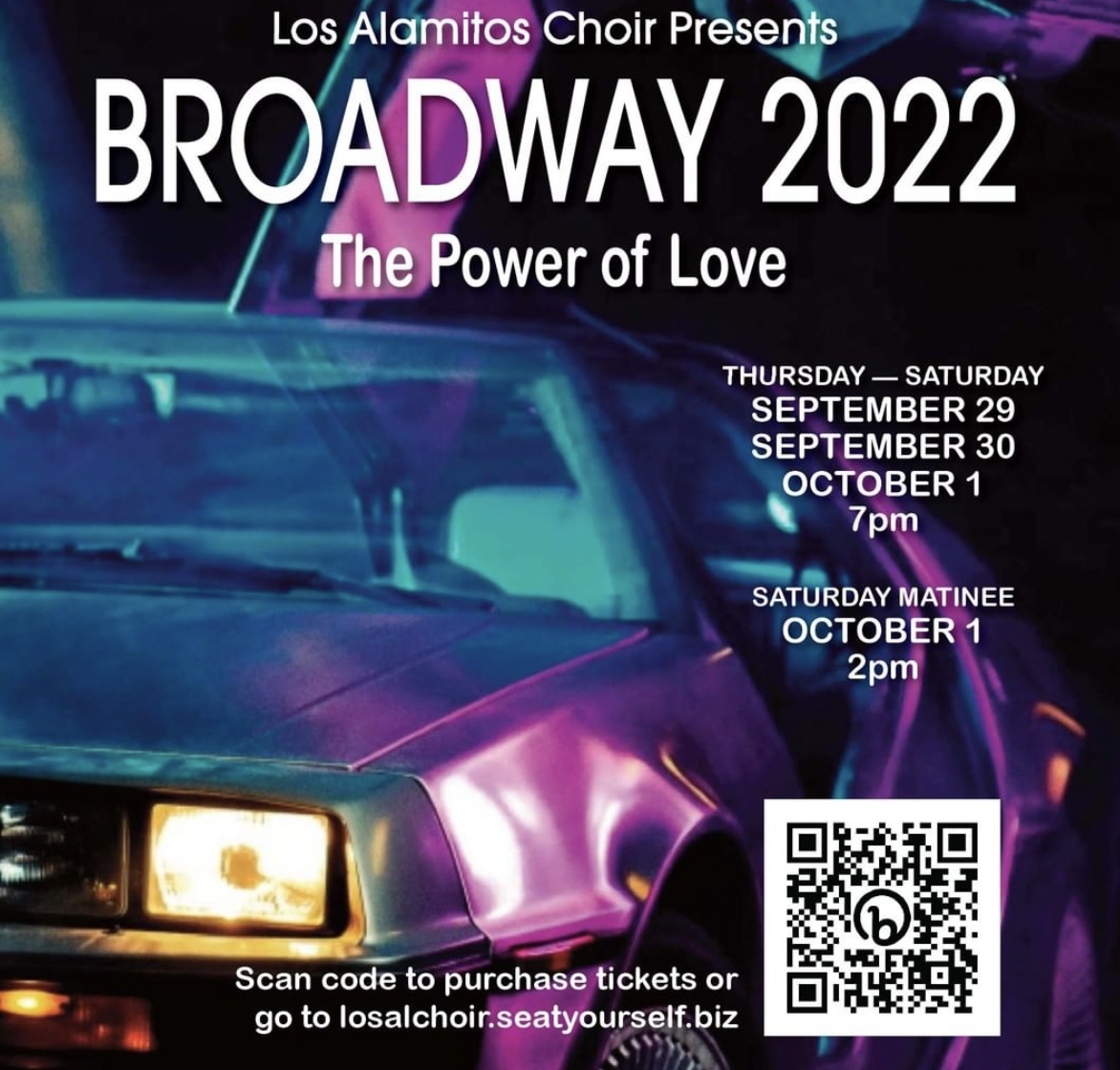 RECESS
Your Dose of Good News
Principal takes a Pie in the Face for Fundraiser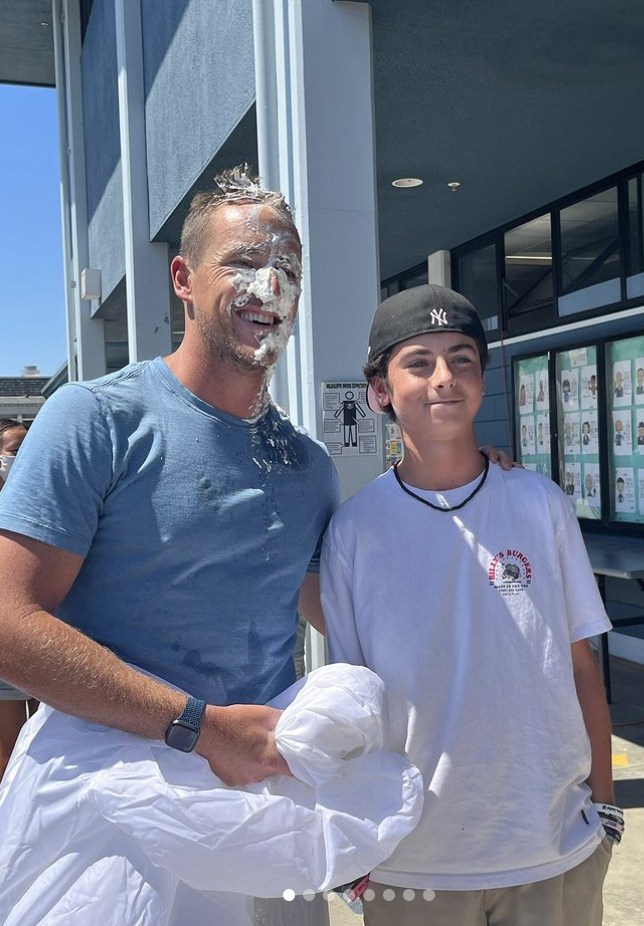 McAuliffe Middle School Principal Ryan Weiss-Wright, Ed.D., poses with a student after getting a pie in the face, the reward for a campus fundraiser going on now. Photo from McAuliffe Instagram account.
McAuliffe Middle School Principal Ryan Weiss-Wright, Ed.D, knows how to put the FUN in fundraiser. The middle school is currently working to raise $75,000 for its 99 Pledges fundraiser to support campus activities for students.
Last week, Dr. Weiss-Wright challenged Eagle families to reach the $15,000 milestone. His incentive? The student who raised the most money would be able to throw a pie at their principal! On Friday Dr. Weiss-Wright got to taste the sweetness of his successful fundraiser.
Did we mention he did all this while wearing a Pillsbury Doughboy costume?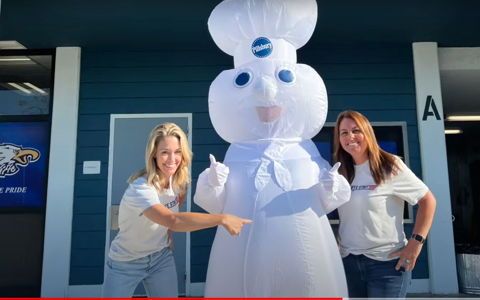 McAuliffe Principal spent the day on Friday dressed up as the Pillsbury Doughboy as part of a FUNdraiser on campus.
Check it all out (including dancing with the choir in the doughboy costume) on the the McAuliffe Instagram page and in the district's weekly video recap, the Wrap-Up from Sept. 2.
The fundraiser continues until Sept. 9. More information here.
Thanks for reading!
Forwarded from a friend? Subscribe to the Spotlight Schools newsletter here.
Follow us on Instagram @SpotlightSchools.
Our mailing address:
P.O. Box 164
Seal Beach, CA 90740

Copyright © 2022 Spotlight Schools, All rights reserved.