🏈 Los Alamitos Pop Warner team needs help getting to Super Bowl; 🗳 Candidates pulling ahead in some school board races ❤️ Survivor of tragedy named school's 'Hero of the Heart'
🦃 Free Thanksgiving dinner; New Well Space almost ready at Los Alamitos High School; 🍎 Nominate your teacher as one of the best in O.C.
🦃 Free Thanksgiving dinner; New Well Space almost ready at Los Alamitos High School; 🍎 Nominate your teacher as one of the best in O.C.

Helping you better understand, navigate and participate in the TK-12 public school experience in Orange County.
In this week's newsletter...
November 22, 2022
FIRST BELL 🔔🏈 Local athletes qualify to play in the Pop Warner Super Bowl, but they need your help to get to the game.
SECOND BELL 🔔 🗳 Some races remain close; other candidates widen lead in latest vote tally for school board contests in O.C.
EXTRA CREDIT 📌 Popular bar and grill serving free turkey this Thanksgiving.
RECESS 👏🏼 Volunteering helped her recover from a tragedy. Meet the parent named Los Alamitos Elementary school's "Hero of the Heart"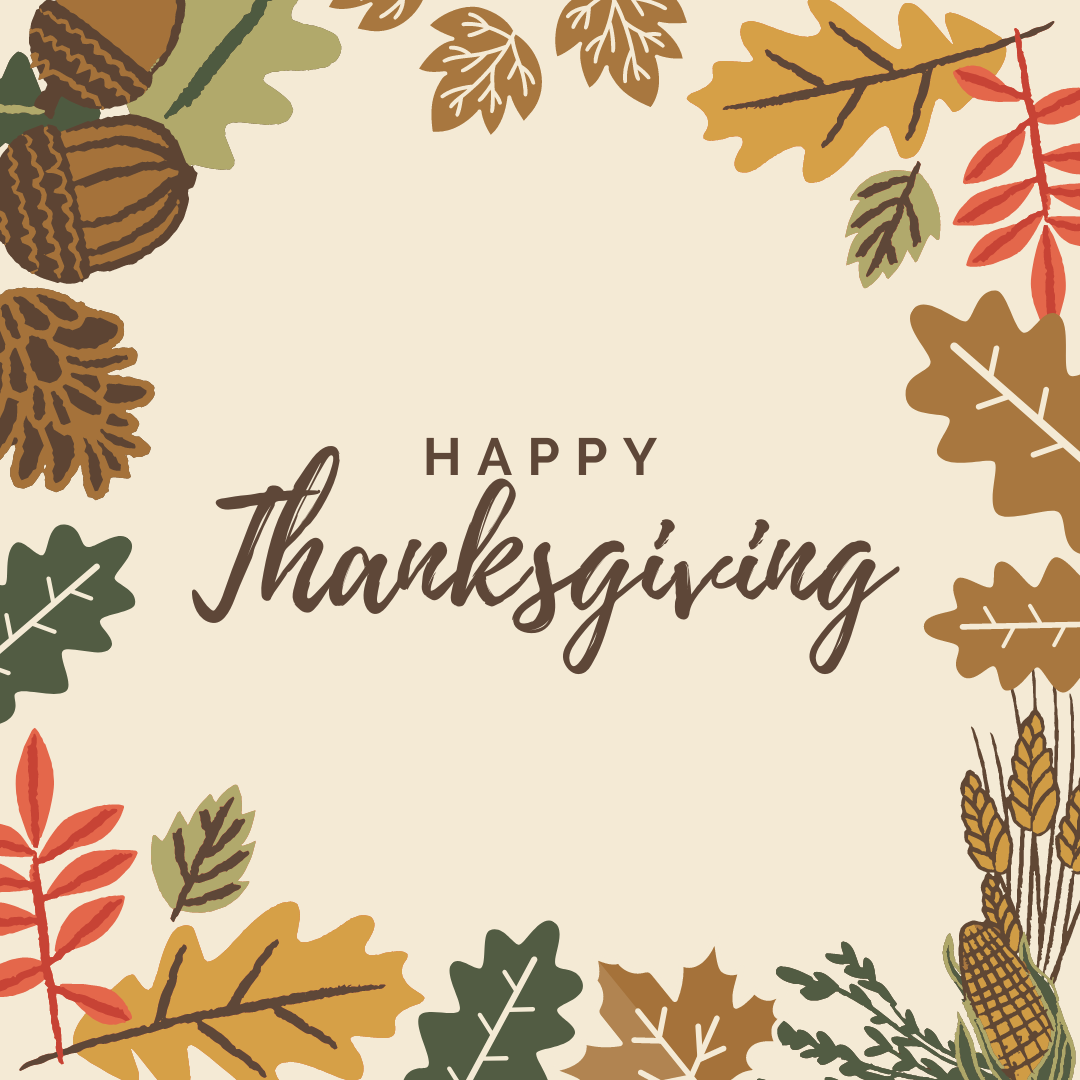 Spotlight Schools is grateful for you, readers! Thank you for your support of our nonpartisan hyperlocal newsroom covering education in Orange County.
We wish you and yours a happy, healthy holiday! In this week's newsletter, we tried to focus on stories that remind us of what we can be thankful for. We hope you enjoy them.
If you haven't signed up for our newsletter, click here. And be sure to visit the Spotlight Schools website to read more local education news, check out past editions of our newsletter, learn more about our newsroom and even become a supporter of our journalism. Follow us on Instagram and Twitter for news and updates.
Please send feedback/story ideas/questions to hello@spotlightschools.com.
Yours in knowledge,
Jeannette Andruss, Co-Founder and Chief Editorial Officer
FIRST BELL
This Week's Top Story
🏈 Local Pop Warner football team advances to championship
Los Alamitos 13U Division II seeks help to travel to Florida for game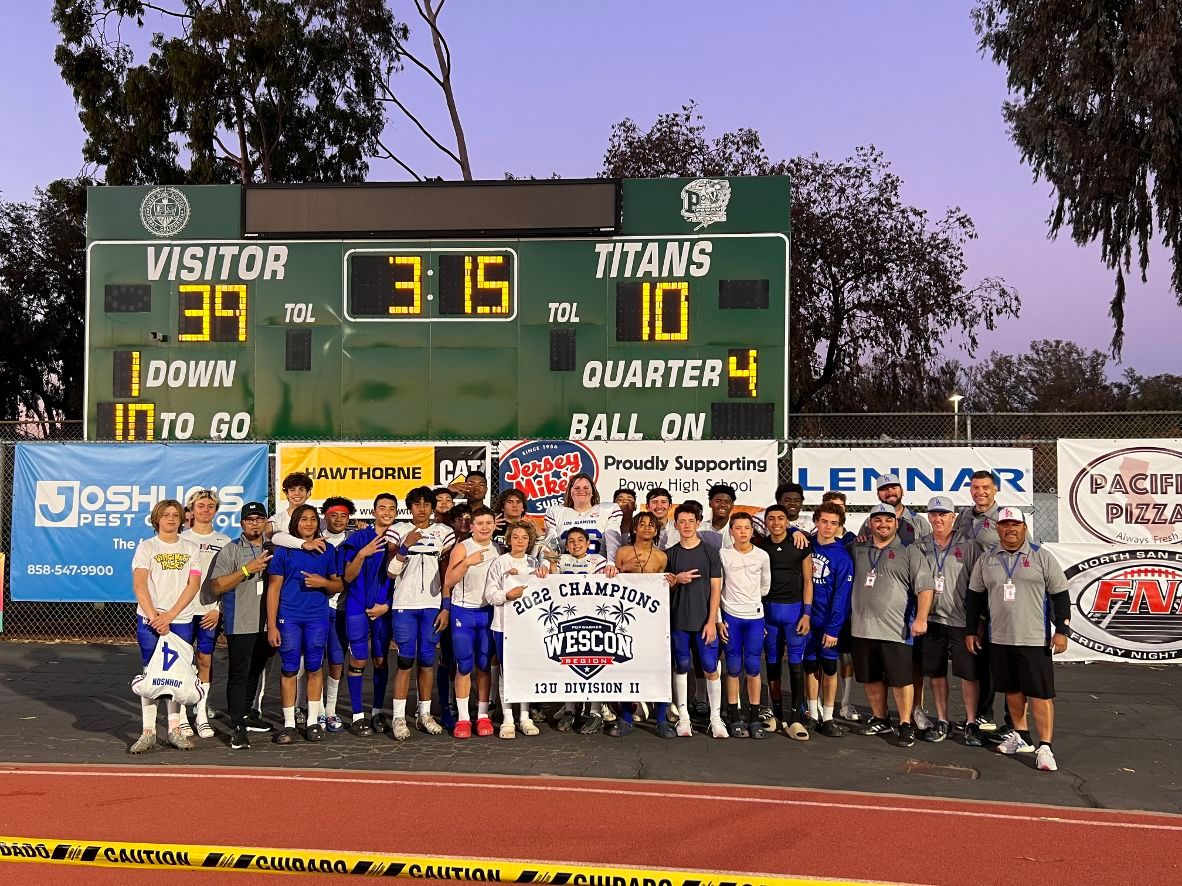 The Los Alamitos Pop Warner 13U Blue Griffins have secured a spot to compete for the championship in Florida. But they need help getting there. Photo courtesy of Breanna Dickison.
It's something youth football players dream about – playing in the National Pop Warner Super Bowl. And now, a group of local athletes has the chance to make it a reality.
But they need some help getting there.
The Los Alamitos Pop Warner 13U Blue Griffins qualified for a chance to play in the championships taking place in Florida during the first week of December.
On Nov. 19, the team of thirty seventh and eighth graders from Los Alamitos, Rossmoor, Long Beach and surrounding areas beat the Temecula Valley Fighting Bears to win the Wescon Division II Regional Championship for their age division.
"This is something a lot of these boys have been working towards since they were little," head coach Jonathon Dickison wrote in a recent email to Spotlight Schools. "Making it to Florida is rare and something a Los Alamitos team has not done since 2019, so it is a very special feeling. I am proud of these boys."
Coach Dickison noted that this year's team is a unique group of boys that includes his son, Zackery. While some of his players have been teammates for as long as seven years, others are playing football for their first time. One thing they all have in common? Not one has ever played in the Pop Warner Super Bowl.
"They worked very hard to get here and I am very excited to see what we can do on a national level," Dickison wrote. The team has a record of 10-1.
To make it to the Pop Warner Super Bowl a team has to win its league championship as well as its regional championship. More than seventy football teams from different divisions will compete from Dec. 3 through 10 to be crowned the best in the nation.
While the Blue Griffins skills on the field secured them a shot at the 13U Division II national title in Orlando, the cost to get there has created a hurdle. The cost for each player is between $750 and $860 and that does not include airfare, according to team manager Breanna Dickison.
In response, the team set up a GoFundMe page in hopes of raising enough money so every player is able to go. They have a goal of $10,000 to reach in a matter of days.
"Please help us get there! This is something these boys will never forget," reads the GoFundMe page.
For some of the players, this could be their last season of Pop Warner before moving onto high school teams next year.
"Our boys have gone out and faced tough teams and never gave up. They are full of will and heart and will do whatever it takes to win," coach Dickison said. He added that while football is the focus, it's not the only thing on his mind during the season.
"When I coach a group of boys my goal is to not only to help them grow as players on the field, but to develop them into responsible and respectful young men off the field," he wrote noting his players have to maintain their grades to compete, saying football has given some of them a reason to keep up with their school work.
You can read more about the Blue Griffins on the Spotlight Schools website.
CIF-SS FOOTBALL CHAMPIONSHIP GAMES SET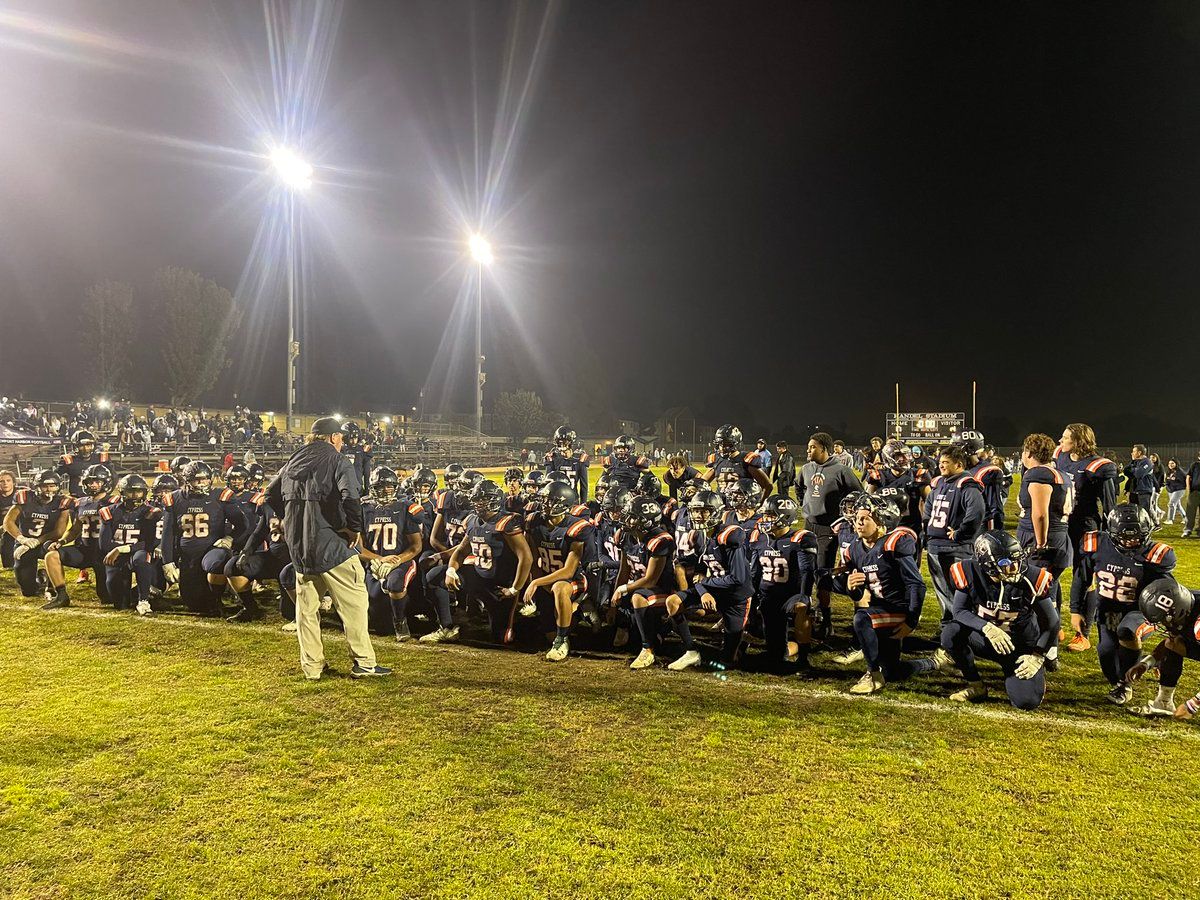 The Cypress High School varsity football team will play for the CIF-SS Division 4 Championship this weekend against Downey High School. Photo courtesy of Cypress Centurions Twitter account.
In high school football news, this weekend the championships will be held for CIF-SS football. Competing for the Division 4 title on Friday will be the Centurions of Cypress High School who will face the Downey High School Vikings.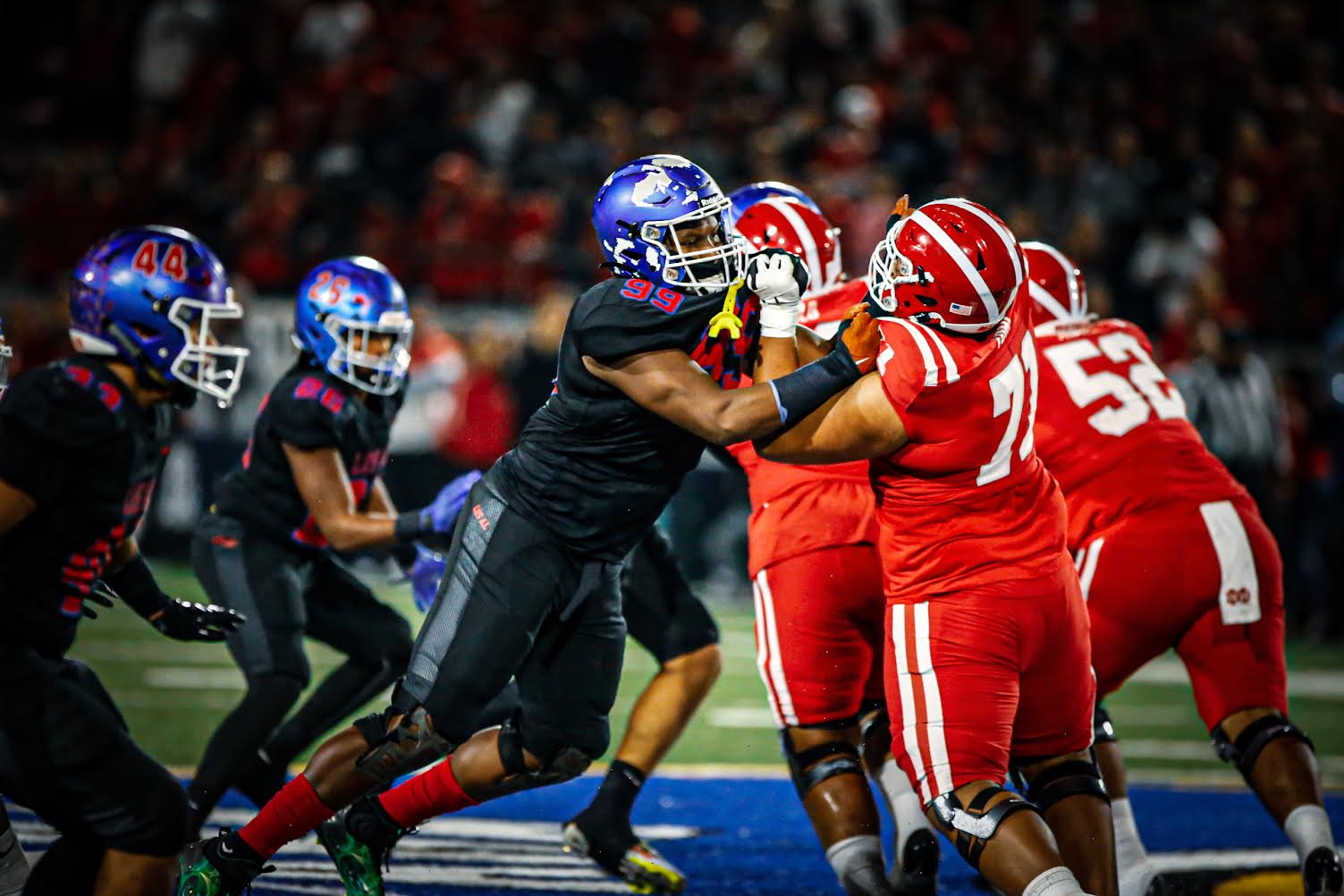 The Mater Dei Monarchs were too much for the Los Alamitos Griffins in their Nov. 18 CIF-SS Division 1 semifinal game that ended with the Monarchs winning 52-0. Photo by Marja Bene.
Meanwhile, the season has ended for the Los Alamitos Griffins varsity football team after they lost to the Mater Dei Monarchs on Nov. 18 in a CIF-SS Division 1 semifinal.
🏈 Read contributor Michael Claborn's complete recap of the Los Al vs. Mater Dei game here.
You can see the complete schedule for the rest of CIF-SS high school playoff games in The O.C. Register.
📣 Plus, which student section was named the best in O.C. for 2022? The answer is here.
SECOND BELL
Other Stories We're Following
🗳 Election Results: Races still tight for several school boards in O.C.
The vote tallying continues at the Orange County Registrar of Voters' office and it appears there are still a handful of races for local school boards from the Nov. 8, 2022 election that remain incredibly close.
As of Nov. 21, there were 14,491 votes countywide left to process. It's not known how many, if any, of these are from voters casting ballots in these close contests.
(Note: election results are updated here daily at 5:00 p.m. by the O.C. ROV's office.)
As of Nov. 21 at 5:00 p.m., the tightest school board race in Orange County was for the third and final seat on the ballot for the Fountain Valley School District Board of Trustees. In this contest, Phu Nguyen is in third place but only ahead of Megan Irvine by six votes.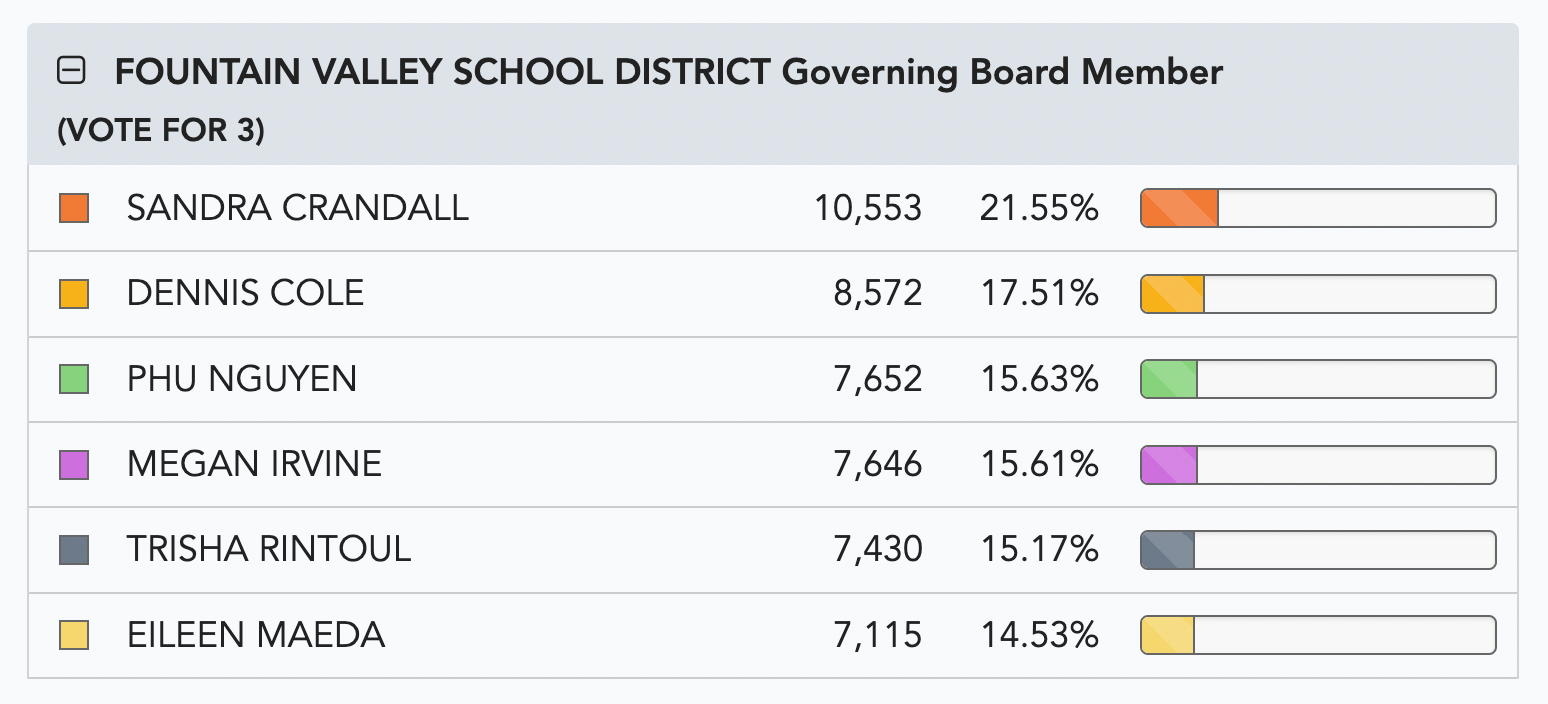 Table from the Nov. 21 election results update from the O.C. Registrar of Voters' office website.
It's also close in the race for La Habra City School District Board of Education with incumbent Emily Pruitt in third place ahead of Rocio Carmona by just 43 votes. In the contest for the third and final seat on the ballot for the Ocean View School District Board of Trustees, Morgan Westmoreland is 57 votes ahead of incumbent John Briscoe.
In other races where candidates were once separated by single digits – and even tied – the current leaders are widening their lead.
In the race for Trustee Area 1 in the Los Alamitos Unified School District, incumbent Marlys Davidson has been ahead for the last several days and now leads Colin Edwards by 56 votes.

Table from the Nov. 21 election results update from the O.C. Registrar of Voters' office website.
In the race for Trustee Area B for the Cypress school board, Troy Tanaka leads Jon Peat by 58 votes.
In the race for Trustee Area 4 for the Orange Unified School District, Madison Klovstad Miner's lead on incumbent Kathy Moffat has shrunk in recent days, but she's still 260 votes ahead.

Table from the Nov. 21 election results update from the O.C. Registrar of Voters' office website.
It could still be days before we know the official results of these close contests. Orange County must certify its election results by Dec. 8.
🗳 Be sure to follow the Spotlight Schools Instagram account for frequent election results updates.
Well Space almost ready at Los Alamitos HS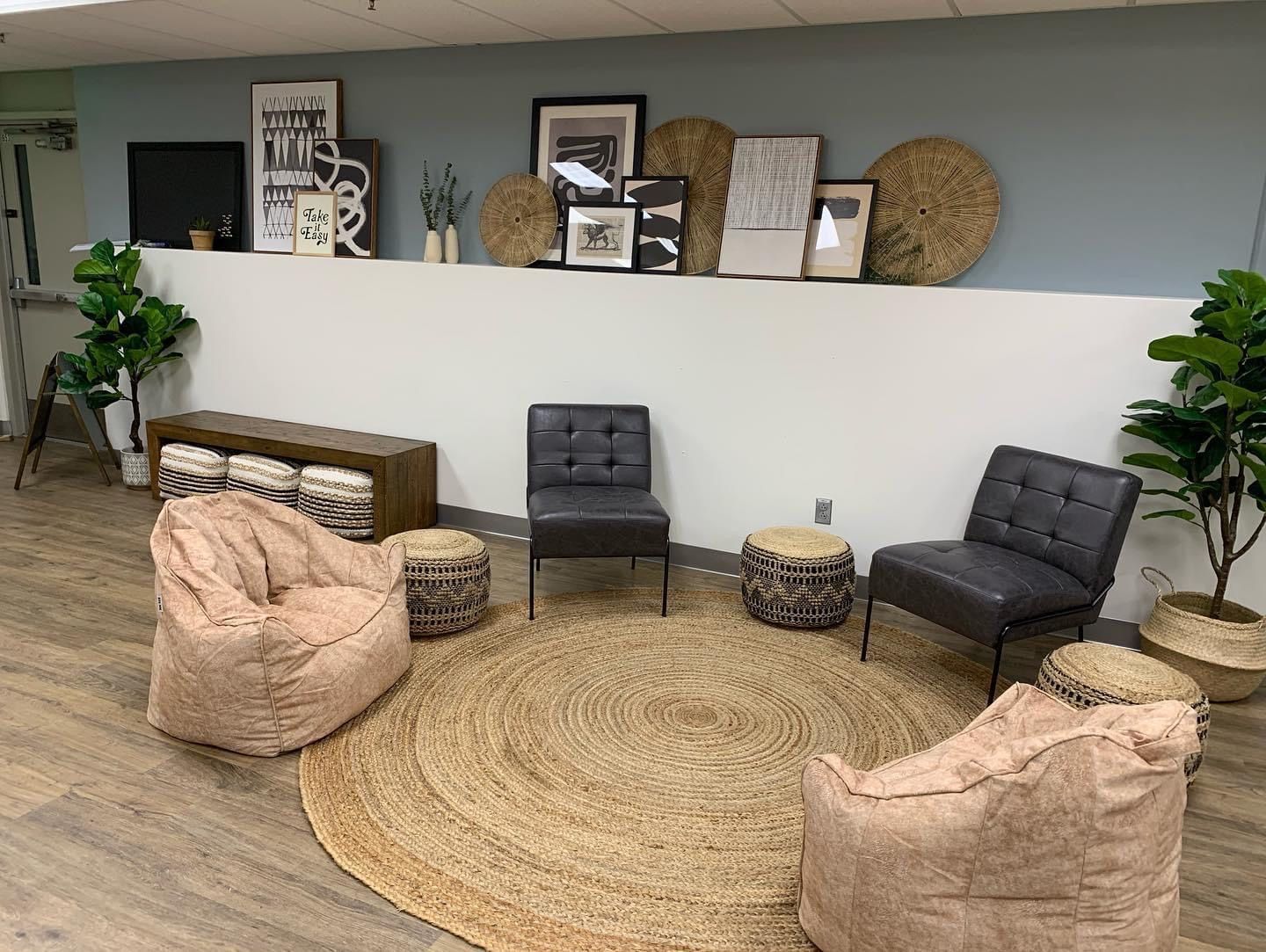 An image shows part of the new Well Space at Los Alamitos High School that was built with a $245,000 donation from the Los Alamitos Education Foundation. Photo courtesy of Carrie Logue, LAEF Executive Director.
You could call it the storm before the calm.
Last week at Los Alamitos High School, there was a flurry of activity as workers and volunteers were busy setting up and furnishing the brand new Well Space at the campus.
The area is intended to serve the school's 9th through 12th graders with mental health and wellness services. It was made possible through a $245,000 donation from the Los Alamitos Education Foundation, the nonprofit partner of the Los Alamitos Unified School District.
Construction first started on the Well Space in early September. Once the site of a preschool at LAHS, the space has been reimagined as a peaceful oasis on campus where students can relax and recharge.
It will also house offices for the LAHS wellness counselors and school psychologist. Griffins could start accessing the space, furnished with comfortable furniture and calming decor, in a matter of weeks.
"The counselors will be moving in the week of Nov. 28 and I'm hopeful students will be utilizing the space by Dec. 1," Carrie Logue, Executive Director of the Los Alamitos Education Foundation wrote in an email to Spotlight Schools.
Thanks in part to financial support from LAEF, the district was among the first in Orange County to build and staff Well Spaces at its two middle schools. LAEF also recently donated $18,000 to transform classrooms into wellness centers at the district's six elementary schools.
A ribbon cutting event and public unveiling for the LAHS Well Space is scheduled for January, 2023. Spotlight Schools will be there to cover it.
Read more about the LAHS Well Space in this past Spotlight Schools story.
Other Stories We're Reading
Fifth grade teacher Vladimir Figueroa is one of the many staff members of the Placentia-Yorba Linda Unified School District featured in the #ThankfulforPYLEmployees campaign on social media this month. Image from the PYLUSD Instagram account.
COMING SOON: A chance to support our work!
On Nov. 29, Spotlight Schools is participating in our first fundraiser for nonprofits known as Giving Tuesday. We're grateful for your support! Stay tuned for details on how your contributions can help Spotlight Schools grow and expand our coverage.
EXTRA CREDIT
Meetings // Events // Opportunities // Resources
EVENTS
HAPPENING THURSDAY: For the second year in a row, Griffins Grill in Los Alamitos is hosting a free Thanksgiving meal. Free turkey will be served up this Thursday at the bar and grill at 11272 Los Alamitos Boulevard starting at 2 p.m. until it runs out.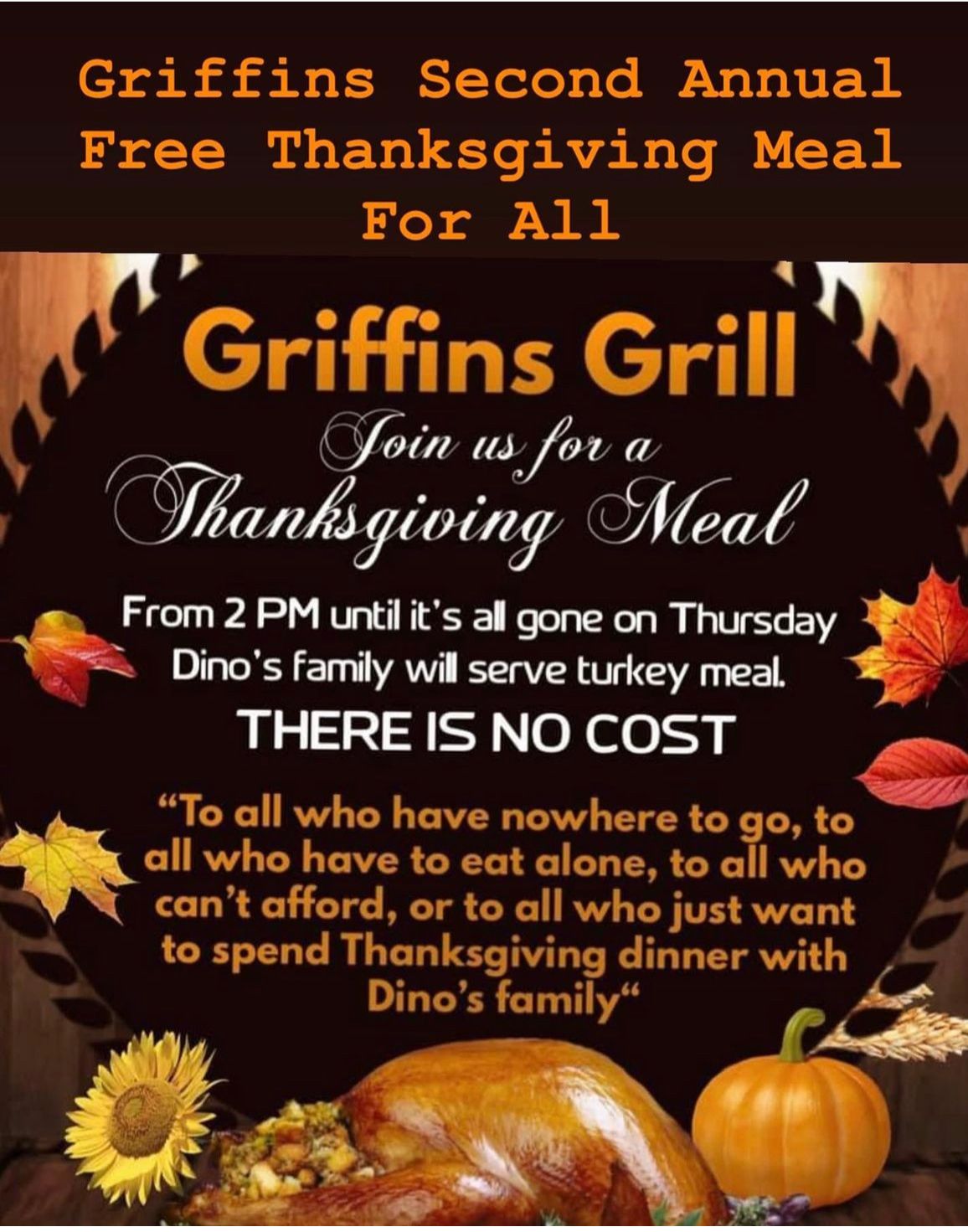 OPPORTUNITIES
NOMINATE A SCHOOL EMPLOYEE: ParentingOC Magazine is holding its annual nominating process to recognize the stellar people working at Orange County schools. You can nominate teachers, administrators or any staff working at a campus in the region. The deadline is Nov. 28. More information here.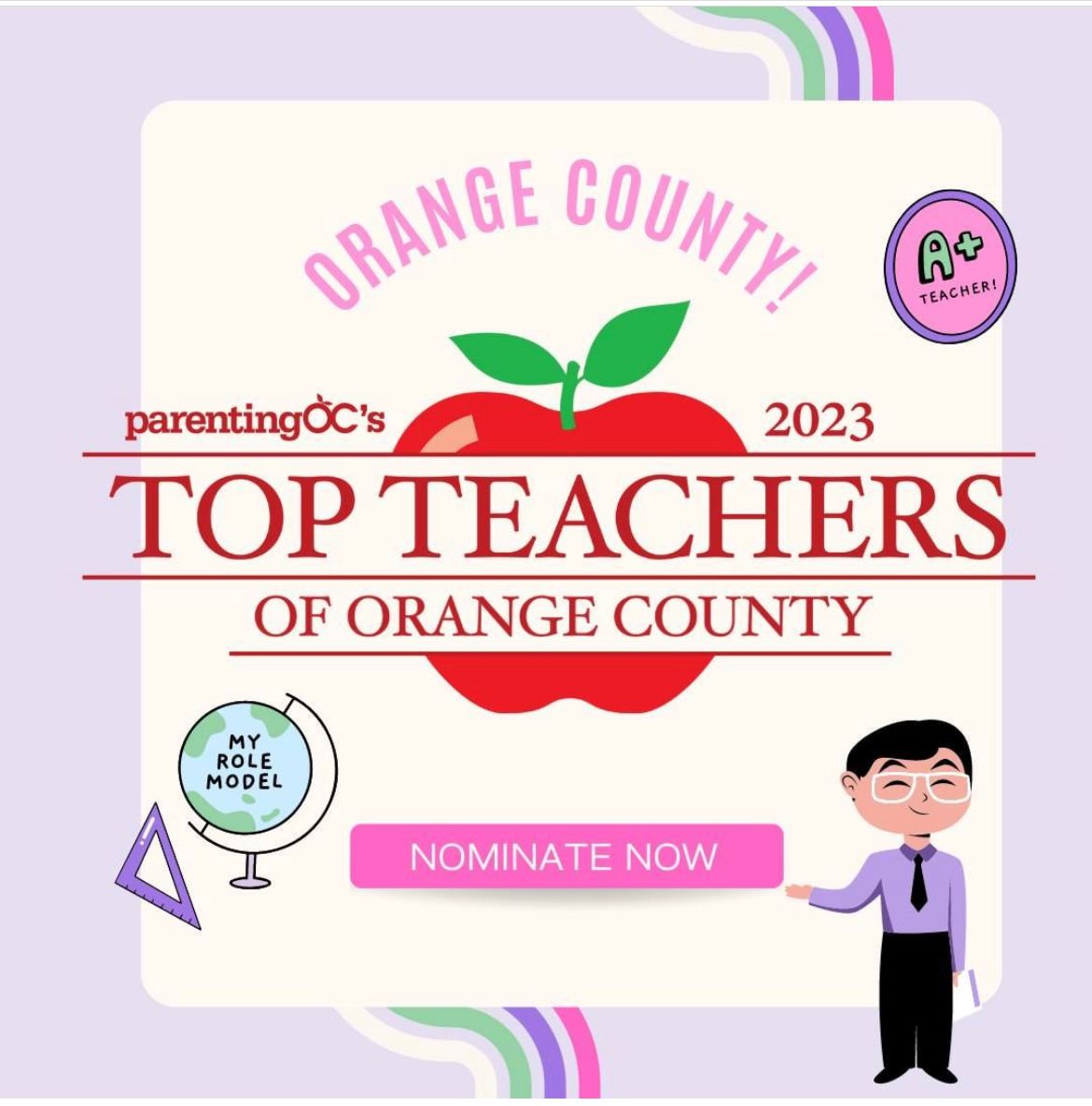 🎅🏽 SBPD "SANTA COP" PROGRAM: The Seal Beach Police Department is preparing for its fourth annual "Santa Cop" community outreach event and wants to hear from you. Officers are looking for families who might be in need this holiday season. If you know someone who could use some assistance, contact SBPD with your name, phone number, and the nominees' name(s), phone number, address, along with the reason for the nomination. Send your nominations to Officer Kendra Owen (kowen@sealbeachca.gov ) or Officer David Rael-Brook (draelbrook@sealbeachca.gov) by Sunday, December 11, 2022, by 5:00 p.m.
RECESS
Your Dose of Good News
Survivor of tragedy is named school's "Hero of the Heart"
Los Alamitos Elementary honors parent volunteer Autumn Bignami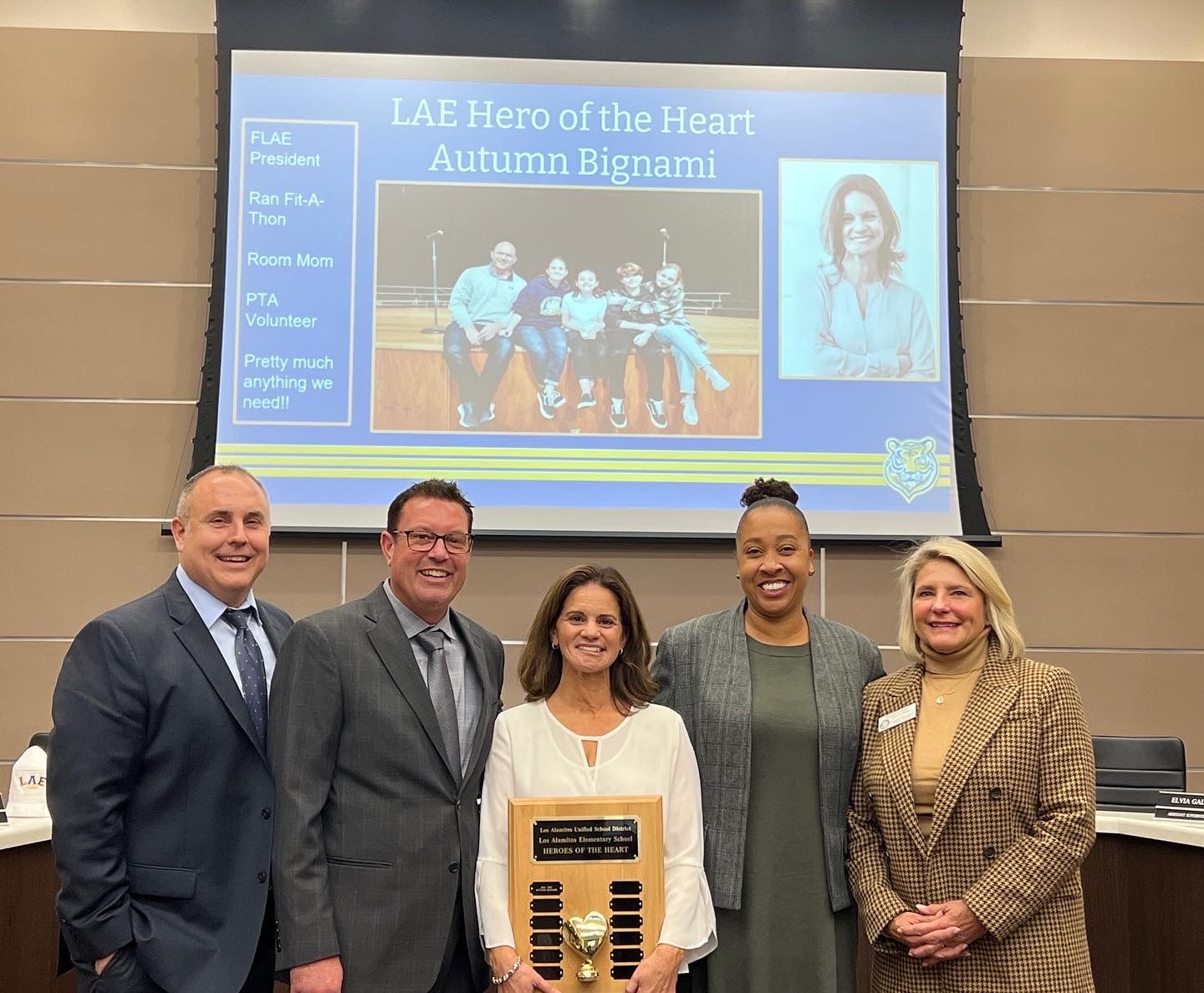 Parent volunteer Autumn Bignami was named L.A.E."s 'Hero of the Heart' for 2022-23. Pictured from left to right: Los Al USD's Supt. Andrew Pulver, Ed.D., L.A.E. Principal Gary Willems, Bignami, L.A.E. Asst. Principal Nadia Williams, Board President Diana Hill. Photo by Nichole Pichardo, Los Al USD Public Information Officer.
"I'm gonna try to get through this without crying," Los Alamitos Elementary School Principal Gary Willems said during the Nov. 15 workshop of the Los Alamitos Unified School District Board of Education.
His school had just made its annual presentation to board members, district leaders and an audience of L.A.E. teachers, students and families gathered in the board's meeting room.
As Willems recognized the school's "Hero of the Heart" recipient for the 2022-23 school year, parent volunteer Autumn Bignami, his eyes welled up with tears.
"Autumn is the quintessential hero of the heart," Willems said.
Bignami, a mother of three, including a fifth grader at L.A.E., was lauded for her dedication to the campus community. She was described as a daily presence at the school, the head of the school's nonprofit, Friends of Los Alamitos Elementary, and a prolific fundraiser for student programs, including heading up this year's successful Fit-A-Thon that raised almost $72,000 for interventions, P.E. equipment and the purchase of Chromebooks and iPads.
But what makes her story particularly moving is what came before all that stellar volunteer work. In 2017, Bignami and her husband were among the more than 500 people injured in a mass shooting during The Route 91 country music festival in Las Vegas.
She suffered severe injuries to her jaw and back and would undergo at least ten surgeries and a long recovery process. A beloved teacher and activities director at Paramount High School, Bignami would end up having to leave the job she loved.
"The most amazing thing about Autumn is that this event did not leave her bitter, mad or angry. She instead took this as an opportunity to get more involved in her students' education and as an opportunity to help all of our Tigers get the best educational experience possible," Willems said.
Willems thanked Bignami for her many years of service to L.A.E. families and even joked about holding back her daughter, Morgan, for another year so the campus community didn't have to say goodbye to the woman he said has been so much more than just a volunteer.
"I truly consider her a friend who has helped me become a better leader," Willems said, visibly emotional.
When it was Bignami's turn to speak, she thanked everyone else; describing her experience as a volunteer at L.A.E. as an "important part" of her recovery that helped her "feel again like a very productive, normal human."
"After the incident that [Willems] had mentioned, I was hospitalized for a long time. And my children really had a second family at L.A.E.," she said.
She credited the teachers and staff including Principal Willems, and former Assistant Principal Rick Larson with supporting her family in their time of need. She made it a point to recognize her kids' teachers saying they had "created a very safe and secure place for my children at a time when they weren't feeling very safe and secure."
Bignami added: "They really did sort of fiercely rally behind our family and they continue to support them and rally behind them every time something else comes up."
Her daughter is headed to McAuliffe Middle School next year and Bignami predicted she would be back there volunteering.
Read more about Autumn Bignami on the Spotlight Schools website.
Thanks for reading!
Forwarded from a friend? Subscribe to the Spotlight Schools newsletter here.
Follow us on Instagram @SpotlightSchools.
Our mailing address:
P.O. Box 164
Seal Beach, CA 90740

Copyright © 2022 Spotlight Schools, All rights reserved.