🐖 In the spirit of a principal who kept his promise and kissed a pig.
Our #GivingTuesday fundraiser is almost here!
Our #GivingTuesday fundraiser is almost here!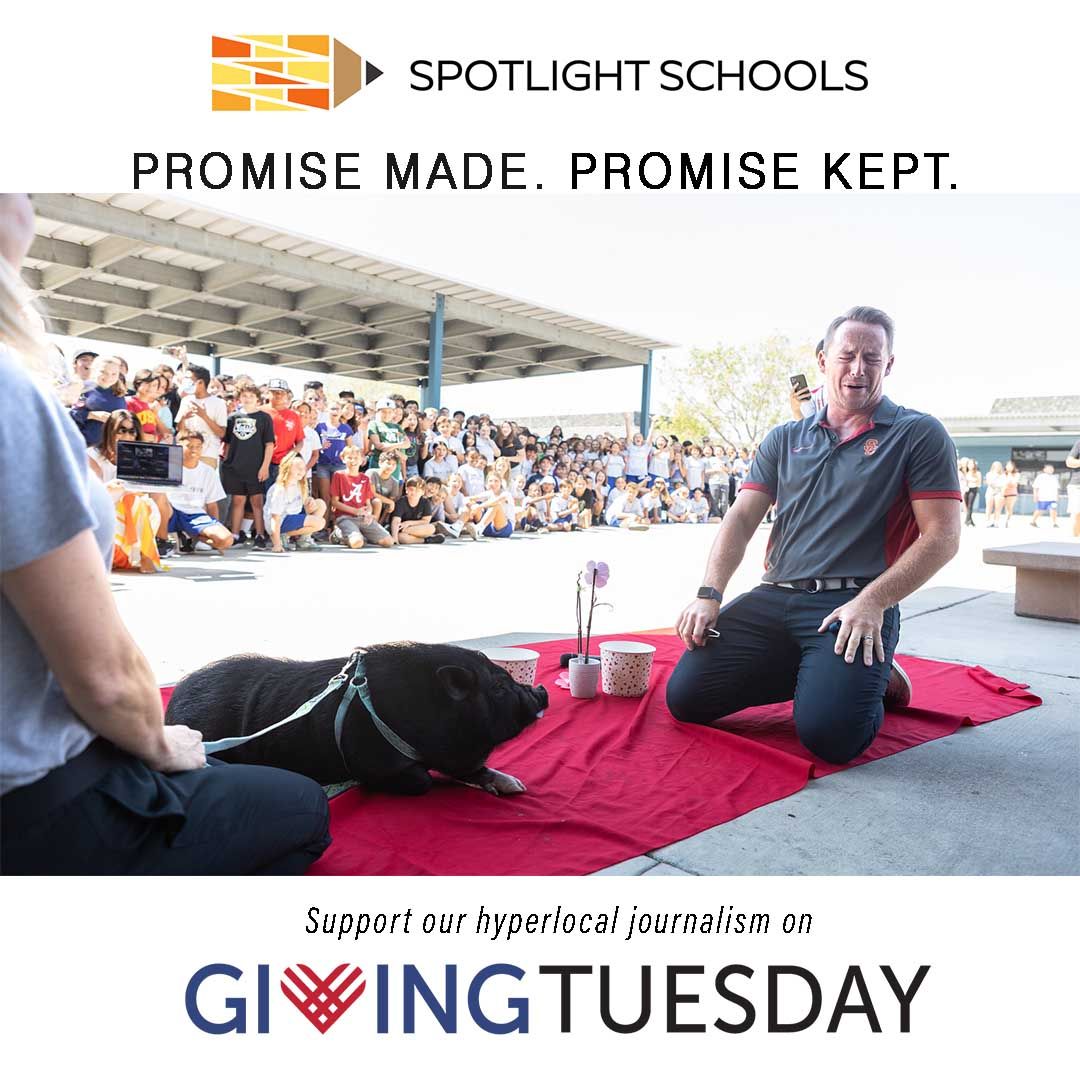 Photo by Andrew Ficke
When McAuliffe Middle School Principal Ryan Weiss Wright, Ed.D., makes a promise, he keeps it. He vowed to kiss a pig if his 6th, 7th and 8th graders raised $35,000 in their annual school FUNdraiser. Guess what? They did and yes, he smooched the sow as the kids looked on.
Spotlight Schools was there to capture this memorable moment this school year.
It's an example of one of the many stories we've covered this past year as Spotlight Schools became the most active education-focused newsroom in Orange County.
We reported on shifting Covid-19 policies, school board races, campus security, student test results and more.
In the spirit of Dr. Weiss-Wright, Spotlight Schools is raising money to fund our hyperlocal high-quality journalism by participating in Giving Tuesday, an annual worldwide fundraising effort where nonprofits seek donations from supporters.
Our goal is to raise $500 by the end of the day on Nov. 29. (Sorry, there will be no kissing of pigs if we reach it!)
We've kept our promise to provide hyperlocal impactful journalism to readers like you. Your support now can help us continue that commitment. Your donation can fuel our growth so we're able to deliver deeper insights, additional coverage and an even better resource to navigate the TK-12 public school experience in Orange County.
DONATE HERE NOW!
Keep an eye out for another email tomorrow on Giving Tuesday with a surprise announcement!
We appreciate your support!
With gratitude,
Jeannette Andruss
Cofounder, Spotlight Schools
P.S. 👀 Look for this week's Spotlight Schools email newsletter on Wednesday, Nov. 30.
Our mailing address:
P.O. Box 164
Seal Beach, CA 90740

Copyright © 2022 Spotlight Schools, All rights reserved.