Your School's Report Card is In; New Bill would Require CA Students to be Vaccinated Against Covid-19; Free N95 Masks Promised for OC Schools; TK-K Enrollment Deadline Nears
A Look at Student Assessment Scores at Los Al USD's six Elementary Schools; The SAT is going totally digital; Plus, LAHS Students Honored for Achievement in Vocational Education
A Look at Student Assessment Scores at Los Al USD's six Elementary Schools; The SAT is going totally digital; Plus, LAHS Students Honored for Achievement in Vocational Education
Spotlight Schools
January 25, 2022
In this week's newsletter...
FIRST 🔔: Schools are issuing their annual report cards featuring test results, per pupil spending and more. Plus, we look at test scores from 2020-21 across Los Al USD elementary schools.
SECOND 🔔: CA lawmaker unveils bill that would require Covid-19 Vaccine for K-12 students.
🚛 The latest on the State's shipment of Free N95 Masks for OC Schools.
🏆 Two Los Alamitos High School students honored for achievement in vocational education classes.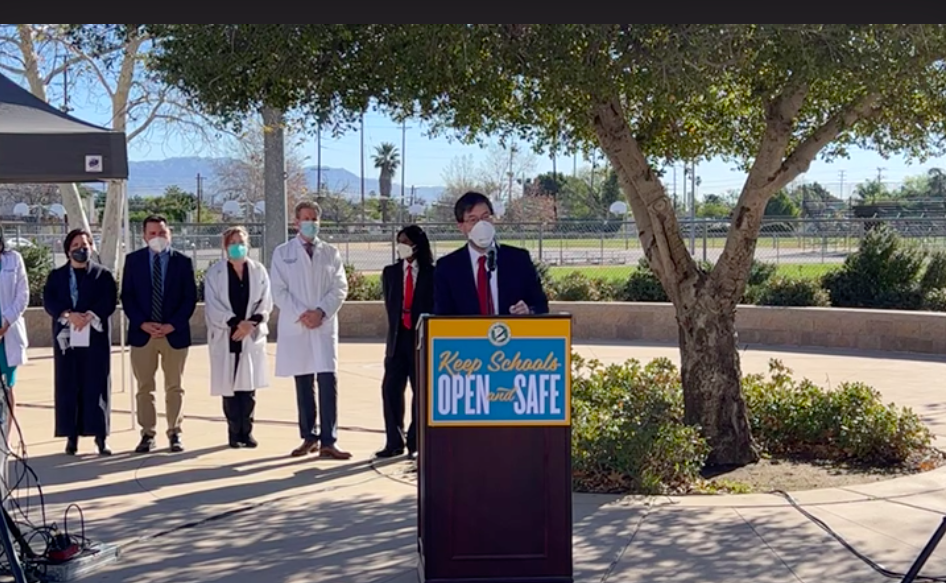 State Senator Richard Pan (D-Sacramento) discusses his bill that would require California's K-12 students to be vaccinated against Covid-19. Screenshot of livestream of press conference on Jan. 24.
Spotlight Schools is focused on delivering hyperlocal journalism that helps Orange County families better understand, navigate and participate in the TK-12 public school experience.
Please send feedback/story ideas/questions to hello@spotlightschools.com.
Yours in knowledge,
Jeannette Andruss, Spotlight Schools Founder and parent of two students in the Los Alamitos Unified School District
FIRST BELL
This Week's Top Story
It's School Report Card Season
We know students receive report cards regularly. But did you know your public school also produces a report card once a year?
It's called a School Accountability Report Card or SARC. It must be made publicly available by Feb. 1, according to the California Department of Education. Any school that receives taxpayer dollars must provide one.
A school's report card provides an overview of important markers including demographic data, academic achievement, class sizes, teacher salaries and per pupil spending. (See the entire list of what's required by State law here.)
"A SARC can be an effective way for a school to report on its progress in achieving goals. The public may also use a SARC to evaluate and compare schools on a variety of indicators," reads the California Dept. of Education website.
You can search for your school's most recently filed SARC here.
LOS ALAMITOS USD SCHOOLS TO RELEASE REPORT CARDS
The Los Alamitos Unified School District Board of Education is set to approve the release of the 2020-21 report cards for its nine campuses at tonight's regular board meeting which starts at 6:30p.m.
You can find links to the SARCs for the Los Al USD schools on the agenda for tonight's meeting at Item 14.f.
The report cards for the Los Al USD campuses located in Seal Beach, Los Alamitos and Rossmoor are roughly 20 pages each and contain a lot of tables and information about each school.
Spotlight Schools decided to look at one indicator – pupil achievement at the district's six elementary schools. This is represented by assessments done in 2020-21 for 3rd through 5th graders.
Students in grades 3 through 8 and high school juniors are generally tested every year to see if they are meeting standards for their grade level in math and English language arts, which covers literacy and reading comprehension. Due to the Covid-19 pandemic, districts did not have to administer standardized testing in 2019-20. Schools were required to resume testing last year. Districts could use the CAASPP standardized test or use their own version, which is what Los Al USD did for its 3rd through 5th graders.
Student scores are defined in achievement levels that reflect if a student is above, at, nearly at, or not meeting the standards.

All of the Los Al USD elementary schools' scores were much higher than the averages reported for California students who took the state's version of standardized tests last academic year.
We caution that these test scores show just one aspect of student achievement. But they do provide some insight into the 2020-21 school year which was impacted by the Covid-19 pandemic with students in hybrid and virtual instruction.
A school's most recent SARC can be found on the Los Al USD website.
SECOND BELL
Other Stories We're Following
COVID-19 RECAP
California Lawmaker Introduces Bill to Require Covid-19 Vaccine for K-12 Students
California lawmakers could soon consider legislation that would add the Covid-19 vaccine to the list of shots required for students at K-12 schools.
During a press conference yesterday, State Senator Richard Pan (D-Sacramento) unveiled the Keep Schools Open and Safe Act (Senate Bill 871) which would require students to be vaccinated against Covid-19 to attend in-person classes, reports the L.A. Times. The bill would also prohibit families from claiming a personal belief exemption; an option that existed under Governor Gavin Newsom's proposed student vaccine mandate that was announced last October.
Pan, a pediatrician, is known for sponsoring legislation that tightened rules regarding childhood vaccine exemptions. The move was welcomed by the President of the California Medical Association.
The legislation could face legal challenges, reports the O.C Register, and anti-vaccination groups are already gearing up to fight it, according to Kaiser Health News.
Earlier this month, the Los Al USD Board of Education adopted a resolution urging state lawmakers to keep medical, religious and personal belief exemptions to the vaccine mandate.
This is the latest action from a group of California lawmakers regarding vaccinations and school-age kids. Last week, Sen. Scott Wiener (D-San Francisco) introduced a bill that would let kids age 12 and older get vaccines without parental consent, reports the L.A. Times.
State Distributing N95 Masks to School Districts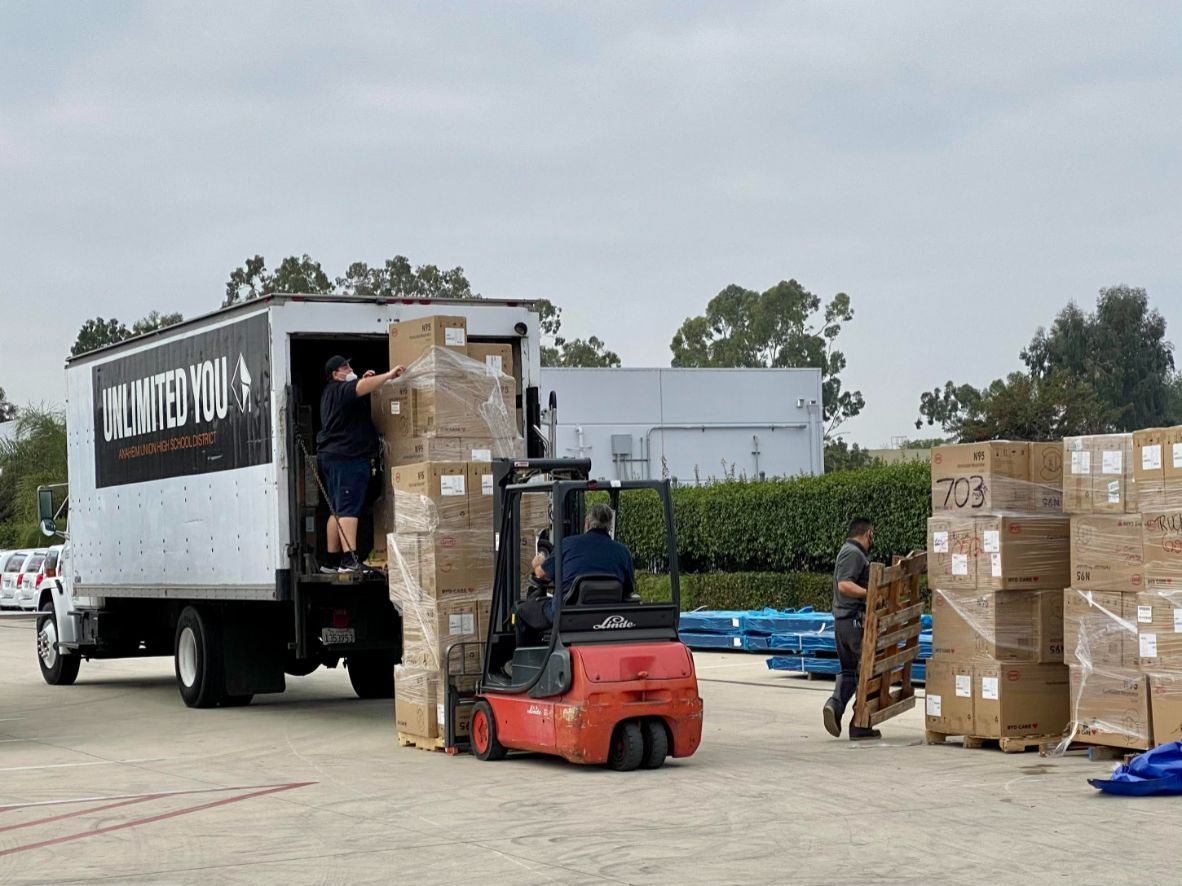 A truck from Anaheim Union High School District picks up masks from the Orange County Dept. of Education last week. Photo Courtesy: OCDE
The California Governor's Office of Emergency Services is in the process of shipping millions of high-quality N95 masks to school districts across the state, reports KCRA.
Last week, the Orange County Department of Education received a shipment of adult-sized N95 masks for school districts and charter schools.
A shipment of 356,000 child-sized N95 masks was expected this past weekend, according to Ian Hanigan, Chief Communications Officer for the OCDE. As of Monday evening, Hanigan said he was still awaiting word from the state about the latest mask delivery. So far OCDE has received 1.7 million masks from the state.
It's not exactly clear how the masks will be handed out by each district but it could mirror the recent distribution of at-home rapid Covid-19 tests that the state delivered to school districts earlier this month.
This comes after federal public health officials recently clarified guidance to say cloth masks provide less protection against Covid-19 transmission than N95 respirators or surgical masks. When worn properly, N95 respirator masks can filter out 95% of particles in the air.
California has a universal indoor mask mandate on K-12 campuses but N95 masks are not required.
However, starting this week at Los Angeles Unified campuses, students are required to wear non-cloth masks with a wire nose. No matter what your mask, the Centers for Disease Control and Prevention say make sure it's well-fitting.
RELATED: The White House says it will ship 400 million N95 masks to pharmacies for Americans to get for free by early February. More info here.
The Orange County Department of Education Issues Report on Charter School Seeking to Expand
Last month, Orange County Classical Academy (OCCA), a K-6 charter school in the Orange Unified School District, submitted a petition seeking approval from the Orange County Board of Education (OCBE) to expand to other school districts.
On January 18, the OCDE Charter Schools Unit issued its report on the school's request to become what's called a countywide benefit charter.
OCCA was co-founded by former Los Alamitos USD Board of Education member Jeff Barke, M.D. His wife, Mari Barke, is a member of the OCBE and said she will recuse herself from voting on the school's petition.
OCDE staff recommend that the Board "approve with conditions" OCCA's petition for a term of five years from July 1, 2022 to June 30, 2027. The report states that it "contains findings of fact reflecting areas of concern to be addressed in an Agreement by the parties should the Board approve the charter petition with conditions."
The report flags around a dozen items, some of which have already been addressed by OCCA. One unresolved issue is a request that the school acquire a "fully executed contract" with Barney Charter School Initiative (BCSI) of Hillsdale College. Right now, OCCA is an affiliate and uses the curriculum from BCSI but is not considered a member of the BCSI network.
"Our team is reviewing the OCDE staff report and will be formally responding," Dr. Barke wrote to Spotlight Schools in an email this week. "We remain optimistic that our petition will get a fair consideration."
The OCBE is expected to vote on the petition at its meeting on Feb. 2.
UPDATE: School Start Times Revised for Oak Middle School
Last week, Spotlight Schools reported on the new later school start times for Los Al USD's secondary schools that will begin in Fall of 2022 due to new legislation.
It has since been updated. Starting in the 2022-23 school year, students at Oak Middle School will start at 8:50am and conclude at 3:10pm.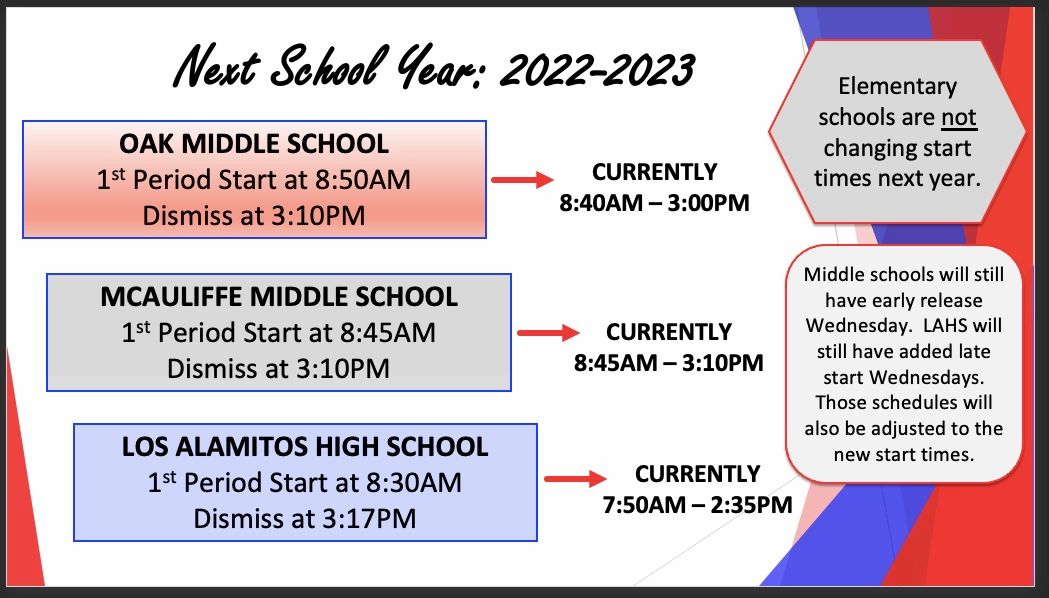 Slide shows later school start times for secondary schools for 2022-23 school year. Courtesy Los Al USD
Deputy Supt. Ondrea Reed told families about the change during a presentation at Middle School Information night last week.
Other Stories Worth Reading
EXTRA CREDIT
Meetings // Events // Opportunities // Resources
MEETINGS
HAPPENING TONIGHT: The Los Alamitos Unified School District Board of Education is meeting. Closed session begins at 3:00pm. After that concludes, a workshop will start.
On the workshop agenda:
McAuliffe Middle School students and Principal Dr. Ryan Weiss-Wright will present a report on their campus. McAuliffe's Hero of the Heart honor will be given to parent volunteer Elke Schreiner.
Classified Employee of the Year Lisa Clarke will be recognized.
You can watch the workshop streaming live here.
The Board will go back into closed session and the regular meeting will resume at 6:30pm. On the regular meeting agenda:
Public hearings and presentations on Class Size; Evaluation Procedures
Report on Universal Transitional Kindergarten
Approval to issue School Accountability Report Cards
2020-21 Financial Audit
You can watch the Regular Board meeting streaming live here.
HAPPENING THURSDAY, JAN. 27 @ 6:00p.m.: Kindergarten Information Night at Los Alamitos High School Performing Arts Center.
Enrollment for district residents with children entering kindergarten or transitional kindergarten (TK) in the 2022-23 school year happens Jan. 31 - Feb. 4.
There are new dates for TK enrollment eligibility. If your child turns 5 on or before Feb. 2, 2023, they are eligible for TK. If your child turns 5 on or before Sept. 2, 2022, they are eligible for kindergarten.
ICYMI: California is rolling out universal TK over the next few years.
HAPPENING THURSDAY, JAN 27 @ 6:00p.m.: Virtual Special Education Meeting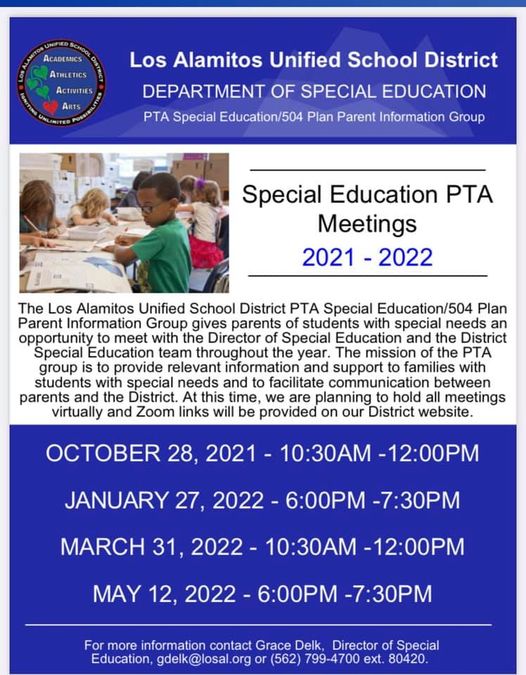 Wondering if your child may benefit from special education resources? The Los Al USD PTA Special Education Group is holding the latest virtual meeting in a series for parents to learn about what's available, how to get your student assessed for an Individualized Education Program (IEP) and more.
Zoom link here. Meeting ID: 883 3247 5709 Passcode: 525525
HAPPENING JAN. 24-28: NATIONAL NEWS LITERACY WEEK

Spotlight Schools is committed to helping stop the flood of misinformation. And you can help! This week is the third annual National News Literacy Week, a program of the News Literacy Project, a nonpartisan education nonprofit, and E.W. Scripps Company. The theme is "Care before you Share," meaning, before you share information online with others, take the time to check if it's accurate. Wondering how to vet your news sources? You can find tools and resources here.
AND FINALLY, ICYMI: Los Alamitos High School hosted a virtual Community College Night last week. You can watch the video presentation here.
RECESS
Your Dose of Good News
Los Alamitos High School Students Recognized by the Los Alamitos Rotary Club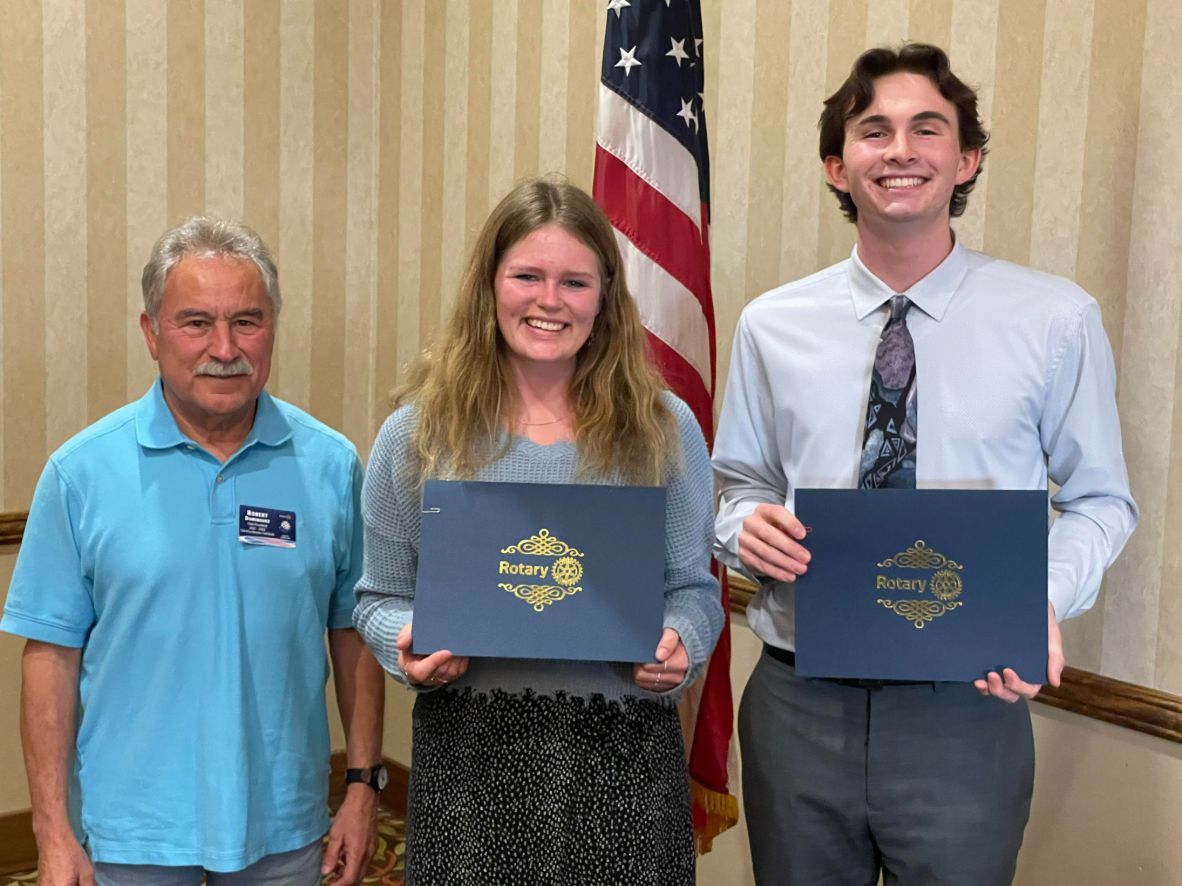 Los Alamitos Rotary Club President Robert Dominguez with Los Alamitos High School students Elizabeth Schmidt and Alexander Cannizzaro. Courtesy photo.
The Los Alamitos Rotary Club recently honored two Los Alamitos High School students for their achievement in vocational education.
Alexander Cannizzaro was named the club's student of the month for December for his work in the Advanced Placement Computer Science course. It's part of Los Al High School's Career and Technical Education (CTE) program, which offers classes that "specialize in skilled trades, applied sciences and evolving technologies." That includes the fields of Engineering, Sports Medicine, Video production and more.
Elizabeth "Lizzy" Schmidt was recognized as the club's student of the month for January for her achievement in the Technical Theatre program which is part of the LAHS Drama department.
Alexander and Lizzy were nominated by their instructors and each received a Certificate of Recognition and $200.
The Los Alamitos Rotary Club has a tradition of recognizing students. "The betterment of our youth is a focus for our Rotary Club," President Robert Dominguez said in a press release. The club hosts monthly recognitions and also awards the Rotary Youth Leadership Awards in the Spring to two high school juniors.
"We also have a major scholarship award, named in honor of a former club member, which is presented during grad awards just prior to graduation," Dominguez said.
You can find out more about the Los Alamitos Rotary Club on its Facebook page.
You can read more about Los Alamitos High School's Career and Technical Education program here.
BOOSTER DOSE: Read more about the Los Al USD parent volunteers who have been named "Hero of the Heart" for their elementary schools: Allison Isle of Hopkinson Elementary and Tanya Doby of Rossmoor Elementary.
Thanks for reading!
Missed a newsletter? You can find past editions here.
Forwarded from a friend? Subscribe to the Spotlight Schools newsletter here.
Follow us on Instagram @SpotlightSchools.
Our mailing address:
P.O. Box 164
Seal Beach, 90740 CA

Copyright © 2022 Spotlight Schools, All rights reserved.