Will Tropical Storm Hilary impact school Monday? O.C. districts are watching this weekend
Newport-Mesa Unified is set to start the 2023-24 school year on Monday, when Tropical Storm Hilary could still be soaking the area.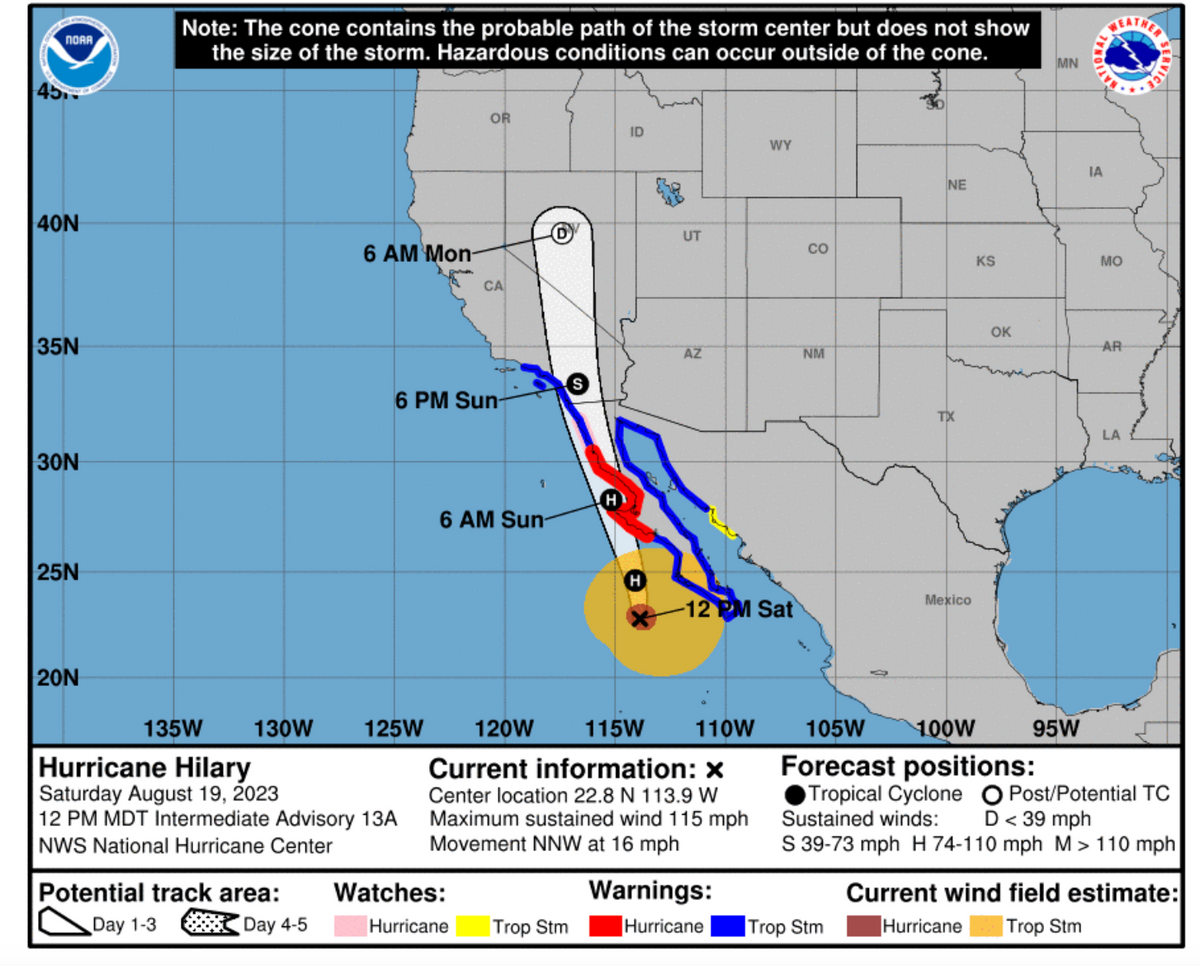 This is a developing news story and will be updated.
As Hurricane Hilary churns off the coast of Mexico on a path that includes California, Orange County's public school districts are preparing and notifying families about the possibility of disruptions the storm's rain and winds could cause for students and teachers on Monday.
As of Saturday, a tropical storm warning was in effect for parts of Southern California including Orange County, a first for the area. There's also a flood watch in effect for Orange County coastal and inland areas through Monday, according to ABC7.com.
Government forecasters predict Hilary will arrive in our area on Sunday as a tropical storm, bringing heavy rain and winds, and will continue to soak the area through Monday.
Monday is also when the Newport-Mesa Unified School District is scheduled to welcome students back to school for the 2023-24 academic year.
On its website, the district assured families it is prepared and expects the start of the school year at its 32 TK-12 campuses will not be delayed, saying it has taken "proactive steps to mitigate storm impacts." That includes having plastic tarps, sandbags and other equipment and maintenance teams on standby to check schools and offices for roof or other leaks.
"This team will continually monitor conditions throughout the weekend, and we will update you if we believe anything will impact the start of school," NMUSD wrote.
Families are advised to keep track of alerts and messages from local emergency management officials from Ready OC and encouraged to sign up for AlertOC, the county's mass notification system.
For schools that are already in session, administrators say they will also keep families informed.
"As we monitor the conditions over the weekend with our local and state agencies, we remain prepared to make and communicate any adjustments to one or more of our school's schedules if needed to ensure the safety of our entire school community," read part of an email message sent to families of the Los Alamitos Unified School District.
Capistrano Unified, the largest public school district in O.C., wrote on its website on Friday, "We will be monitoring the weather conditions and impacts to our schools this weekend to ensure the safety of our students and employees when we return to school next week. Please know that we will communicate any changes to normal school operations prior to the start of school Monday morning."
On Friday, the Anaheim Union High School District posted on Instagram that it will monitor the situation closely and provide updates.
"As of now, we intend to have school on Monday, however, if there are any changes based on damages to our sites, please stay connected through our official communication channels, including emails, as we will have another update on Sunday afternoon."
In a message released Friday, the Saddleback Valley Unified School District stressed the safety of its students and staff remains its top priority, but anticipated the storm wouldn't impact classes on Monday.
It also offered this advice: "For families we encourage you to leave for school a little earlier than usual on Monday in anticipation of longer drop-off lines."
Meanwhile, the Orange County Department of Education said it is following its emergency protocols and is prepared to assist local school districts as needed.
"While we're unaccustomed to experiencing such storms, especially in August, we're closely monitoring the situation and are ready to provide support to our local school districts," Ramon Miramontes, Ed.D., deputy superintendent for OCDE said in an OCDE Newsroom post.
The post noted that schools are required to prepare for emergencies as part of their Comprehensive School Safety Plans, which must be updated annually.
For more updates on this story, check the Spotlight Schools Instagram account.