?Who's running for School Boards in O.C.? ?How does Jiji fit into Los Al USD's new homework policy? Dodgers player donates $500K to O.C. alma mater
🏈 LAHS readies for national TV spotlight; STEM building Open House this week; OCBOE fills vacancy
🏈 LAHS readies for national TV spotlight; STEM building Open House this week; OCBOE fills vacancy

Helping you better understand, navigate and participate in the TK-12 public school experience in Orange County.
In this week's newsletter...
August 23, 2022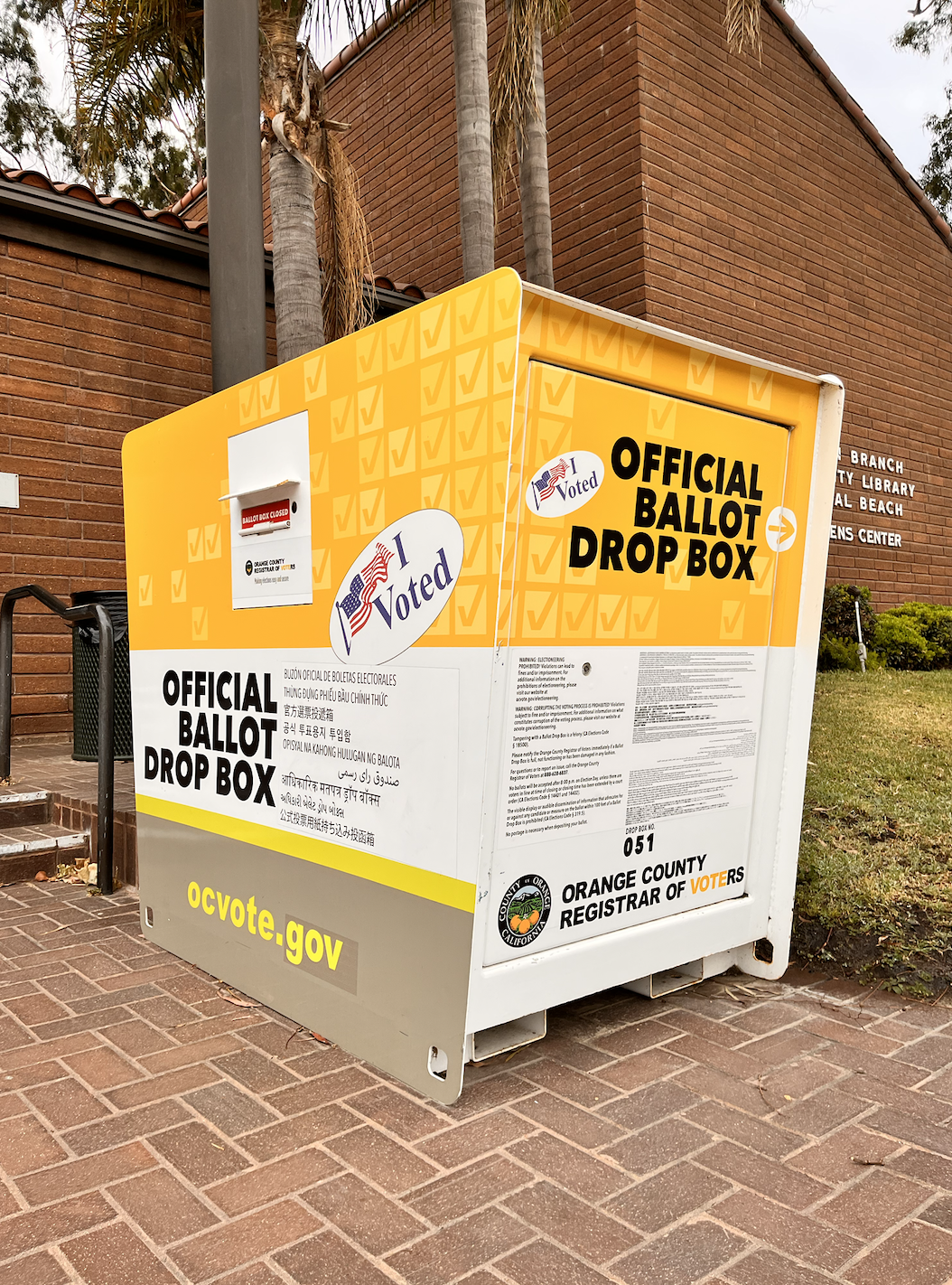 In a matter of weeks, Orange County voters will begin casting ballots in local school board races for the November 2022 election. Spotlight Schools has a comprehensive list of the candidates.
Spotlight Schools is a nonpartisan, hyperlocal newsroom covering education in Orange County and this is our weekly newsletter.
Not a subscriber yet? Sign up here! And be sure to follow us on Instagram and Twitter for news and updates.
Please send feedback/story ideas/questions to hello@spotlightschools.com.
Yours in knowledge,
Jeannette Andruss, Spotlight Schools Founder and parent of two students in the Los Alamitos Unified School District
FIRST BELL
This Week's Top Story
🗳 Who's Running for School Board in Orange County?
Spotlight Schools compiles comprehensive list of candidates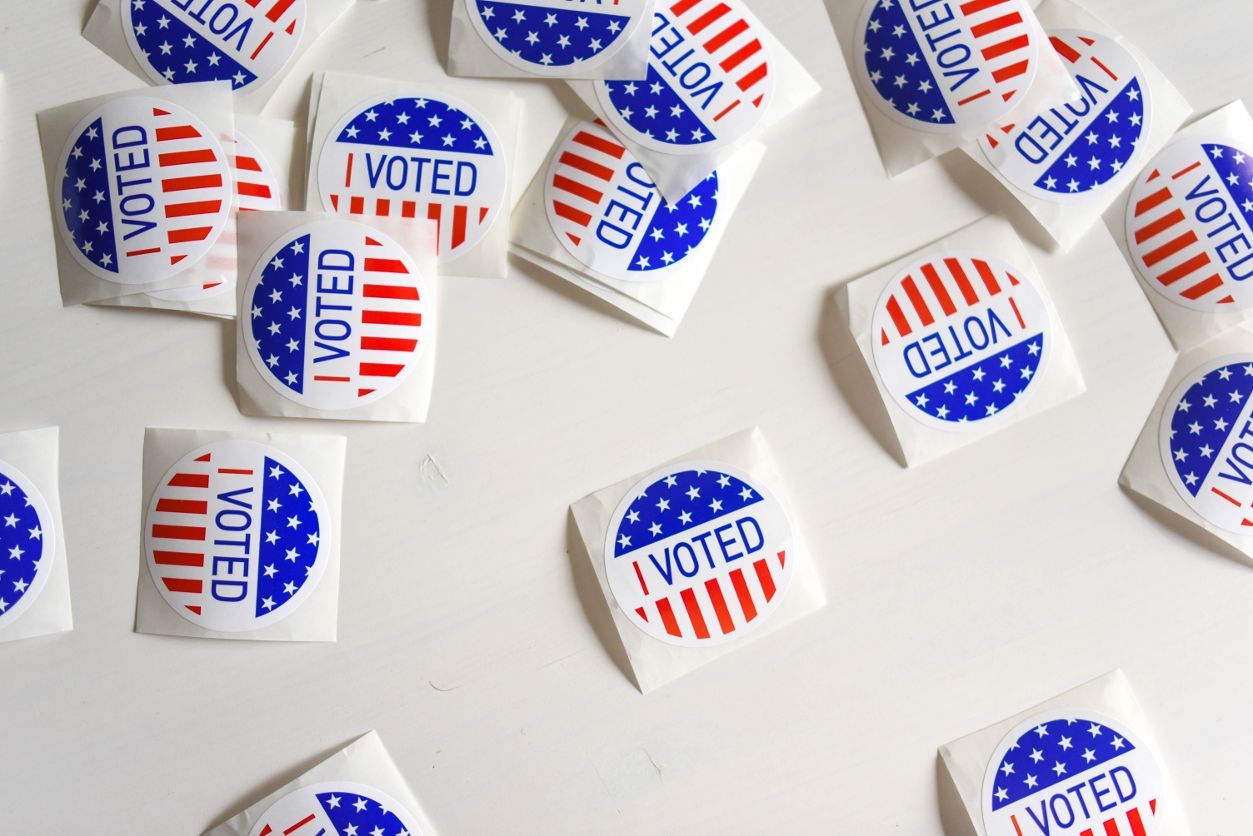 Image by Element5 Digital via UnSplash
The candidates for the November 8, 2022 Statewide General Election are now set.
Spotlight Schools is committed to providing insightful and hyperlocal coverage on the races for school boards across Orange County's 28 public school districts. We want to make it easier for you to find out who is running for your school board and what they stand for.
We've created a page with a comprehensive list of the candidates in these nonpartisan contests. You'll find links to candidates' statements that were submitted to the Orange County Registrar of Voters' office. If a candidate has a campaign website, you can connect to it by clicking on their name.
Please note that some seats that were scheduled to be considered in November 2022 will not appear on the ballot. That's because "the number of candidates that qualified for the ballot is equal to or less than the number of seats up for election in that office," according to the O.C. Registrar of Voters, Bob Page. In these cases, the candidates will be appointed to the seat per election law.
Here's a look at the candidates in some contests in a handful of districts. Again, you can find the complete list here.
See the map.
Trustee Area B
Trustee Area C
In Trustee Area D, only the incumbent, Lydia Sondhi, turned in qualifying paperwork to run for the seat; therefore, she will not appear on the ballot and will be appointed to the seat per election law, according to the O.C. Registrar of Voters.
See the map.
Trustee Area 2
In Trustee Area 4, only incumbent Robert Harden filed qualifying paperwork to be a candidate for the seat. Therefore, the contest will not appear on the November ballot and Harden will be appointed to the seat per election law, according to the O.C. Registrar of Voters.
See the map.
Trustee Area 1
Trustee Area 3
See the map.
The incumbents in Trustee Area 2 (Tina Gustin-Gurney), Trustee Area 3 (Khanh Nguyen) and Trustee Area 5 (Jeremy Khalaf) were the only people to file paperwork to qualify as candidates for the Nov. 8 election. Therefore, the contests will not appear on the ballot and these candidates will be appointed to the seats per election law, according to the O.C. Registrar of Voters.
Our goal is to interview as many candidates as possible to dig deeper into what they hope to accomplish if elected to serve on the board that governs TK-12 schools in your neighborhood.
🙋🏽Do you have a question for your candidates? Are you a candidate that wants to be interviewed? Email hello@spotlightschools.com.
SECOND BELL
Other Stories We're Following
New school year, new homework policy
Presentation offers more details about Los Al USD's revised homework policy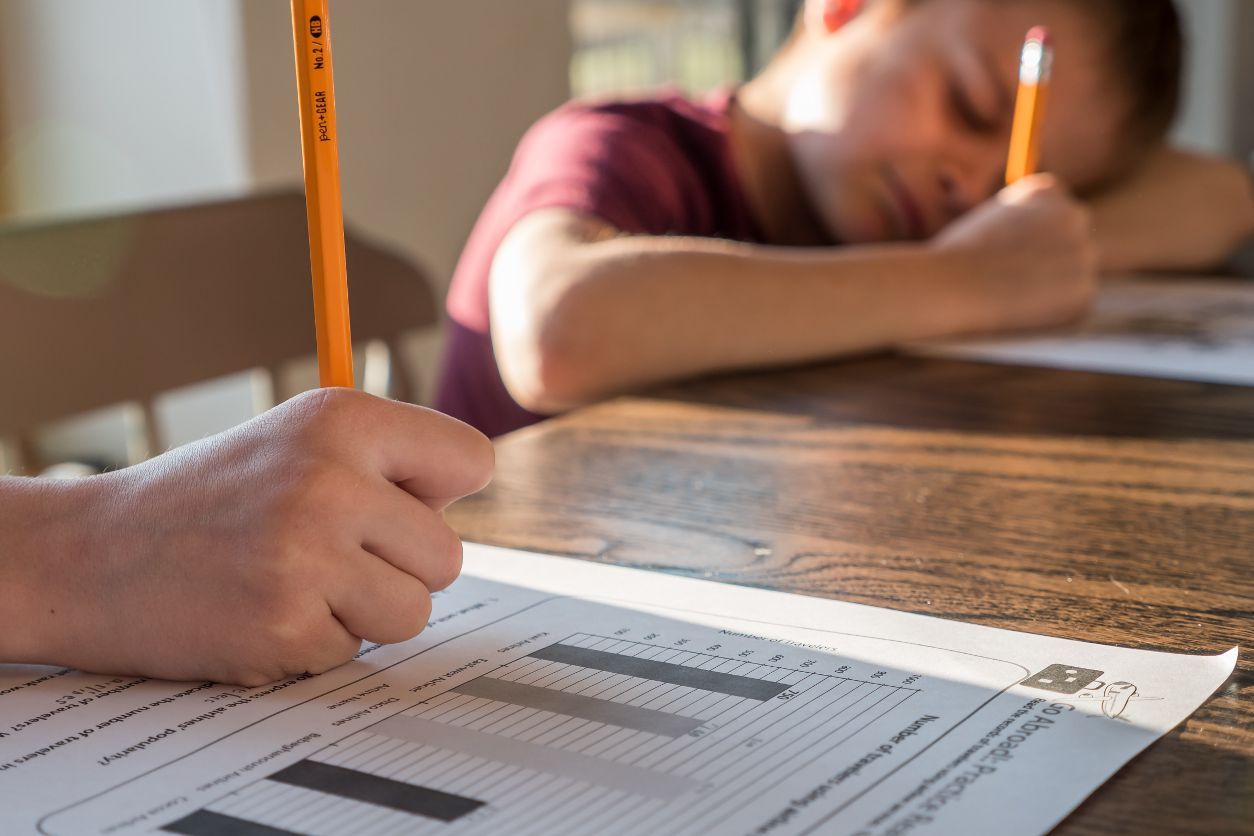 Parents in Los Alamitos USD are encouraged to make sure their children are completing homework in an environment free from social media and other potential distractions. Photo by Jessica Lewis on Unsplash
It's the second week of class across most of the Los Alamitos Unified School District and students may be getting their first homework assignments of the 2022-23 school year.
But this year, the workload could be lighter than in previous years. That's because the district adopted a new homework policy over the summer that aims to strike a balance between student wellness and academic rigor.
After months of looking at research, reviewing feedback from students and staff, and consulting with Challenge Success, a Stanford University-affiliated program, the district concluded that 6th-12th grade students were spending between 3.5 to five hours a night on homework. That resulted in students experiencing more academic stress and a lack of balance between school and other parts of their lives.
Spotlight Schools previously reported on the new policy in June, but new details came out at last week's Los Alamitos Unified School District Board of Education meeting.
Deputy Superintendent Ondrea Reed gave an overview of the new policy at the August 16 meeting. (See presentation here from the 39 minute mark through the one hour and 18 minute mark.)
"We're not eliminating homework," Reed said. "We're really following research to make sure that our students still keep the competitive edge, are gaining all the knowledge from the courses that we offer … but at the same time keeping student wellness, learning and engagement at the forefront of our thinking."
"There's a lot of false information out there," Los Al USD Superintendent Dr. Andrew Pulver said at the meeting. "We have to break down these myths that more homework means smarter kids ... the research just doesn't support that."
Here are some notable changes in the new policy:
During the presentation on August 16, Reed detailed what homework should consist of for different grade levels in the slides picture below.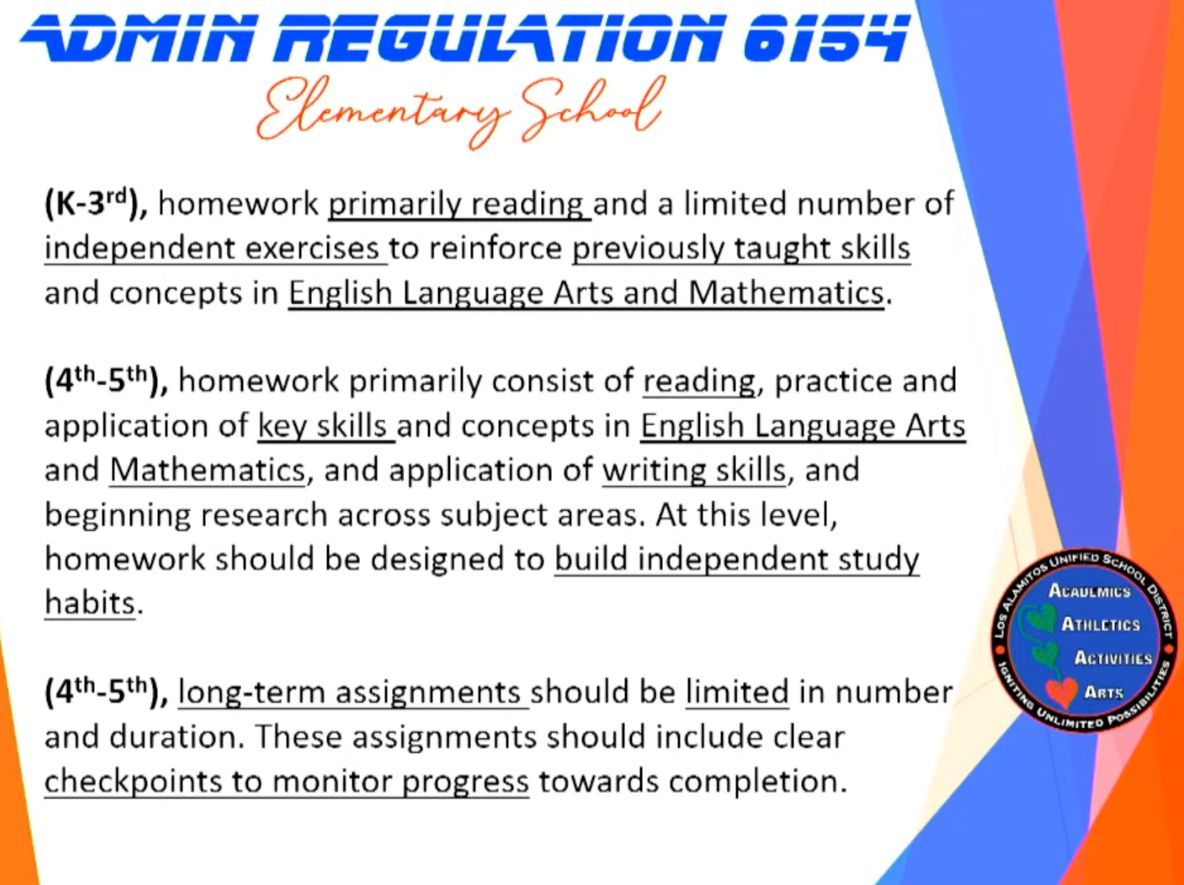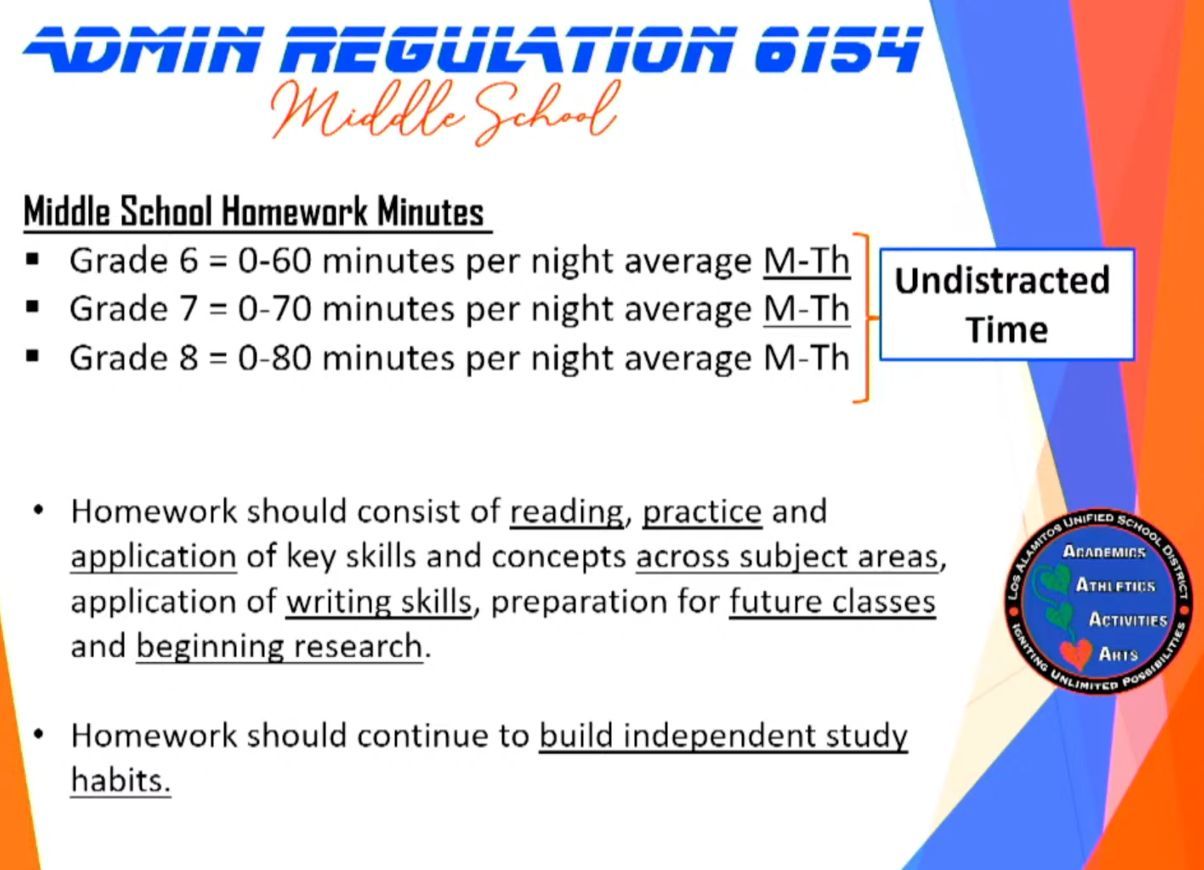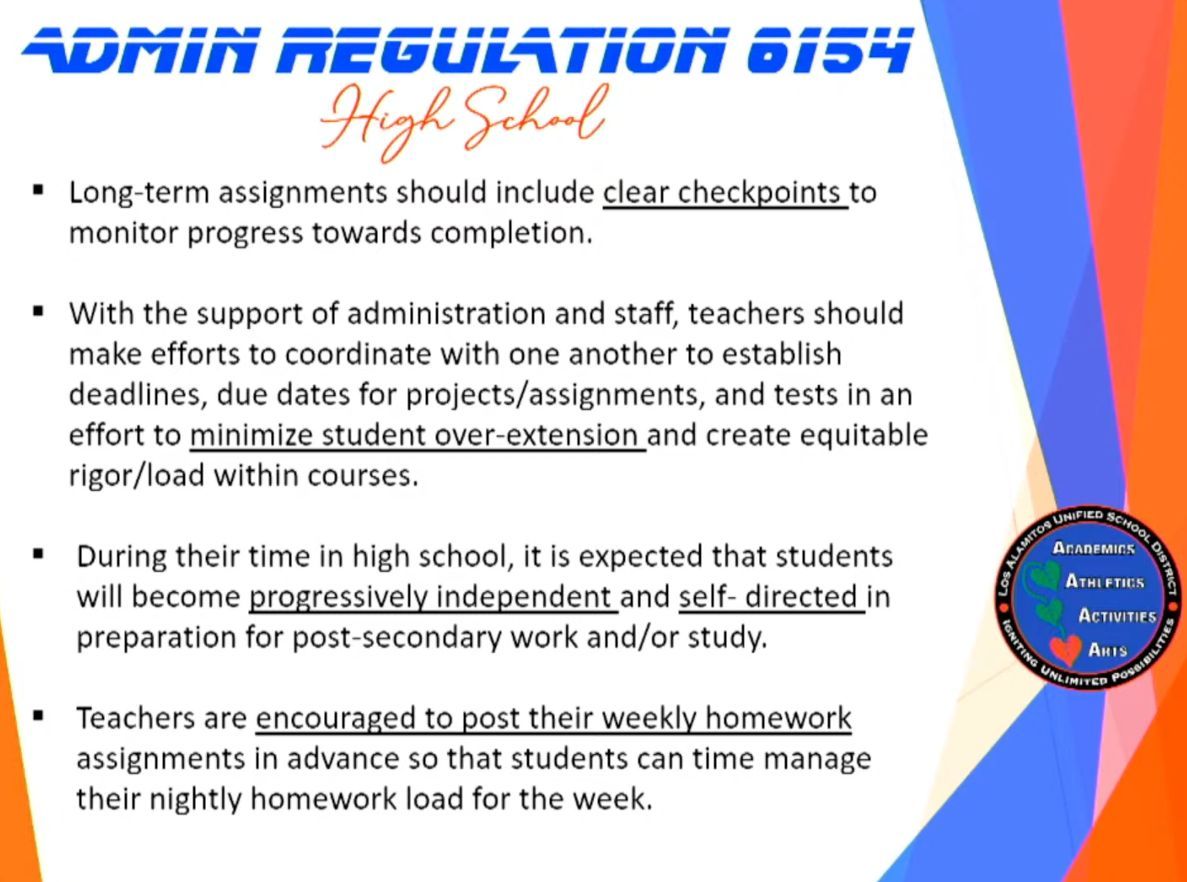 One point Reed made was the importance of students completing their homework in an environment that is free from distractions. That means students unplugging from things like TikTok, Minecraft, and YouTube.
"So this is where we're really calling our parents as partners, to really help us provide that at home learning space, where a child can be free of the TV, be free of their phone," Reed said and suggested setting a timer to break up a 60 minute homework assignment into 20 minute increments.
Reed also stressed the district realizes every student is different and what may work for one person, may not be a good fit for another child. "We know there's not a one-size fits all approach and will rely on parents to guide the process," Reed said.
Reed said the big picture goal of the homework policy isn't just to create consistency across classrooms and campuses in terms of the amount of time students spend on homework.
"More than the minutes, it's to reframe how we think about the options for our kids and their schedule," Reed said in a phone interview and added later that parents need to "be realistic about what we want for our kids to thrive."
Parents can expect to get more information from their principals and teachers at upcoming back-to-school nights.
Reed expects the homework policy to develop and change with parent, student and staff input. "We're in year one," she said. "This will be an evolving process."
👀Read the new homework policy in its entirety here.
After numerous votes, O.C. Board of Education fills vacancy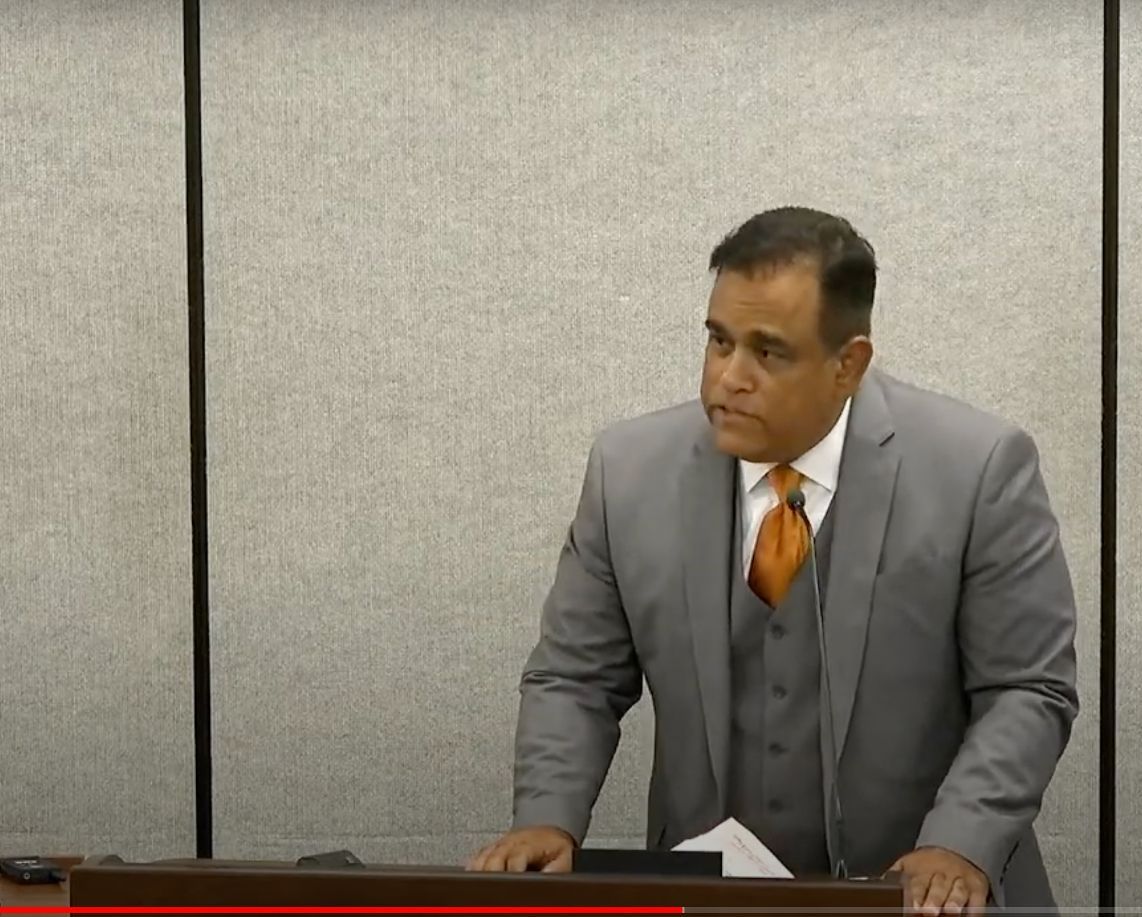 The Orange County Board of Education appointed Jorge Valdes to a vacancy on the board. Screenshot from YouTube video of August 17 meeting.
The Orange County Board of Education has selected its newest trustee. Last week, the board voted to appoint Jorge Valdes, a Tustin attorney, to fill out the remainder of the term of Rebecca "Beckie" Gomez representing Trustee Area 1.
Gomez stepped down in July amid legal action claiming it was illegal for her to serve as a trustee and as a Tustin city council member.
According to The O.C. Register, the process to appoint her replacement was "unusually divided." The board went through nine nominations and six different votes, with many abstentions, before selecting Valdes over the other two applicants, Cecilia Iglesias, a former Santa Ana City councilwoman and Marlene Barba, a Tustin resident.
Valdes will serve in the seat representing Fountain Valley, Santa Ana and parts of Garden Grove and Tustin until 2024.
🏈 LAHS readies for national TV spotlight
The Los Alamitos High School varsity football team practices on August 22 in preparation for this weekend's game against American Heritage in Florida which will be televised on ESPN2. Photo by Jeannette Andruss
The Los Alamitos High School varsity football team led by Coach Ray Fenton was busy on the practice field yesterday preparing for what could be one of the team's highest-profile games.
Fenton warned his athletes to prepare for opposing players to be in their faces. They should also be prepared for the eyes of a national television audience.
This Saturday, the Griffins will be in Ft. Lauderdale, Florida facing off against American Heritage in a matchup that's part of the GEICO ESPN High School Football Kickoff.
The game will air live August 27 on ESPN2 at 1:00 p.m. California time.
It's a fitting stage for the Griffins and their star quarterback, senior Malachi Nelson, to play their second game of the season. Nelson has been wowing fans and coaches since he was in middle school and has committed to playing next year at USC and dreams of playing in the NFL.
On Friday, he led the Griffins to a 41-0 win against Garces Memorial High School.
"I really just want to make a difference for my team and community while I'm still [at Los Al]," Nelson in an interview following the first game of his senior season.
Nelson claims that he would not be where he is now without the help of God and the support of his family and teammates. He hopes to make a positive impression on viewers and anyone else watching who wants to pursue sports as a career by working hard, being dedicated, and overcoming adversity.
"Inspiring people in the stands is what I like to do," Nelson, 18, said.
This Saturday, Nelson, and his teammates, have the chance to inspire people across the country.
Sofia Youngs contributed reporting and writing to this story.
Influential music educator remembered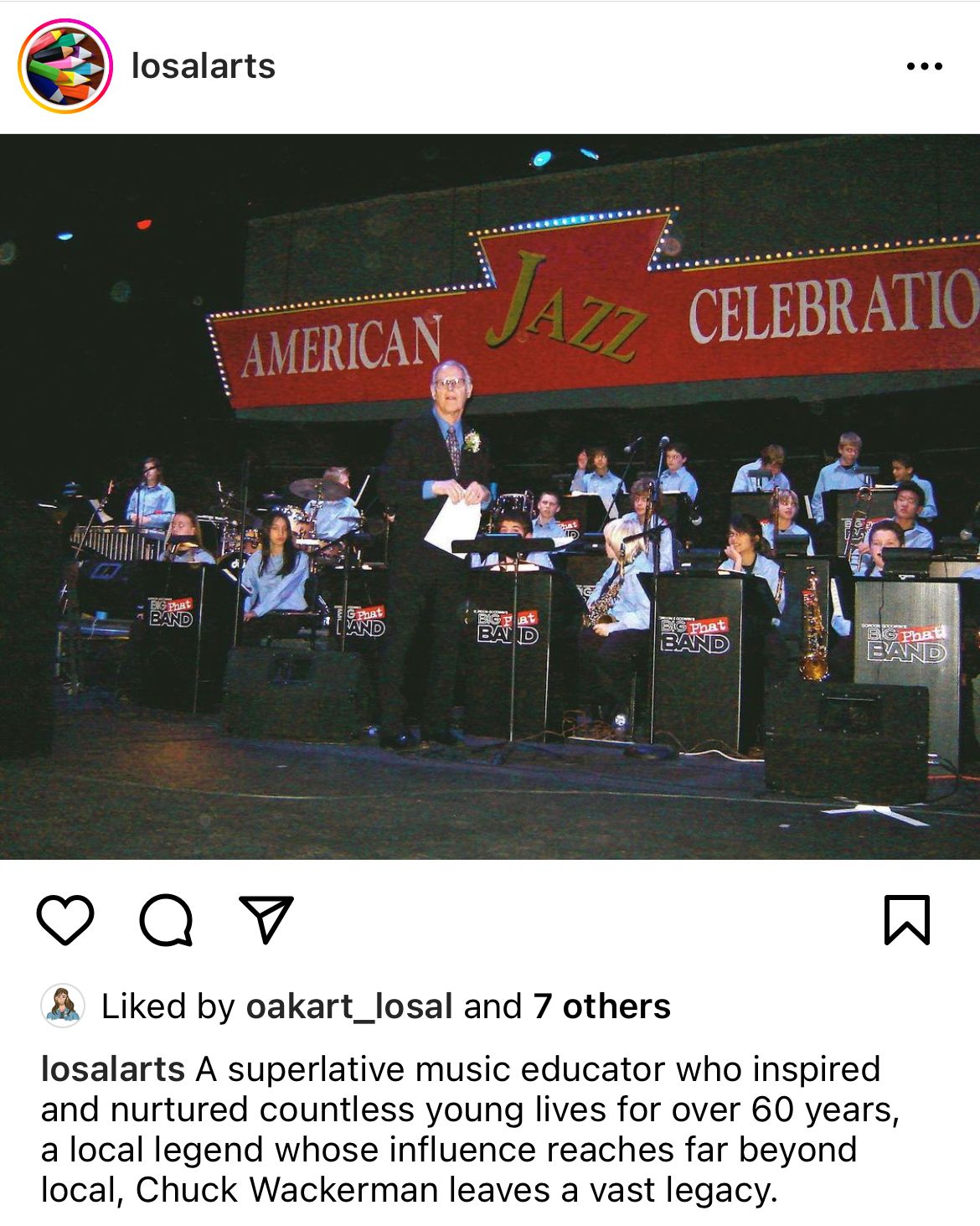 Over the weekend, the community learned of the passing of 91-year-old Chuck Wackerman, a pioneering educator who spent decades teaching music in public schools. He started the first elementary school jazz program in California for students in the Los Alamitos Unified School District.
A post on his son Chad's Instagram page shared the news. "He literally taught generations and introduced so many kids to music," the post reads. Tributes were posted to social media from McAuliffe Music Program and others praising Wackerman's decades of work in Los Al USD.
If you were a student or colleague of Wackerman, Spotlight Schools would love to hear from you for an upcoming story. Email hello@spotlightschools.com.
For more on Wackerman's life and legacy, check out this article that appeared in The Event-News Enterprise in June.
📩 Subscribe to the FREE Spotlight Schools newsletter here.
Other Stories We're Reading
EXTRA CREDIT
Meetings // Events // Opportunities // Resources
EVENTS
HAPPENING TOMORROW, AUGUST 24: A Community Open House will let the public tour Los Alamitos High School's new multistory STEM building which was built using Measure G bond money. The building will be open from 6:15 p.m. until 7:30 p.m.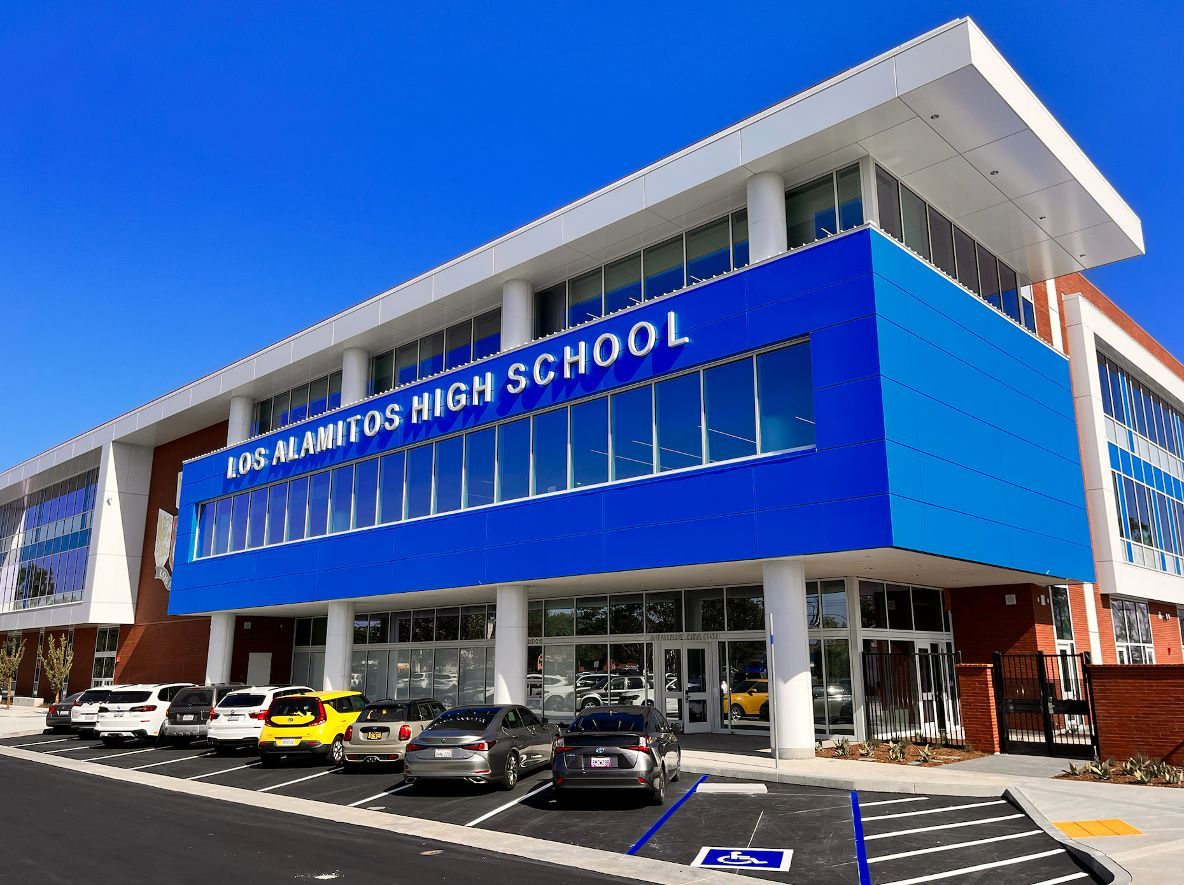 Los Alamitos High School's new STEM building photographed on August 15. Photo by Jeannette Andruss.
HAPPENING MONDAY, SEPTEMBER 12: The Los Alamitos Unified School District is offering a virtual workshop on how elementary school parents and guardians can support a well-balanced student. ZOOM link here. Passcode: 500114. More information below.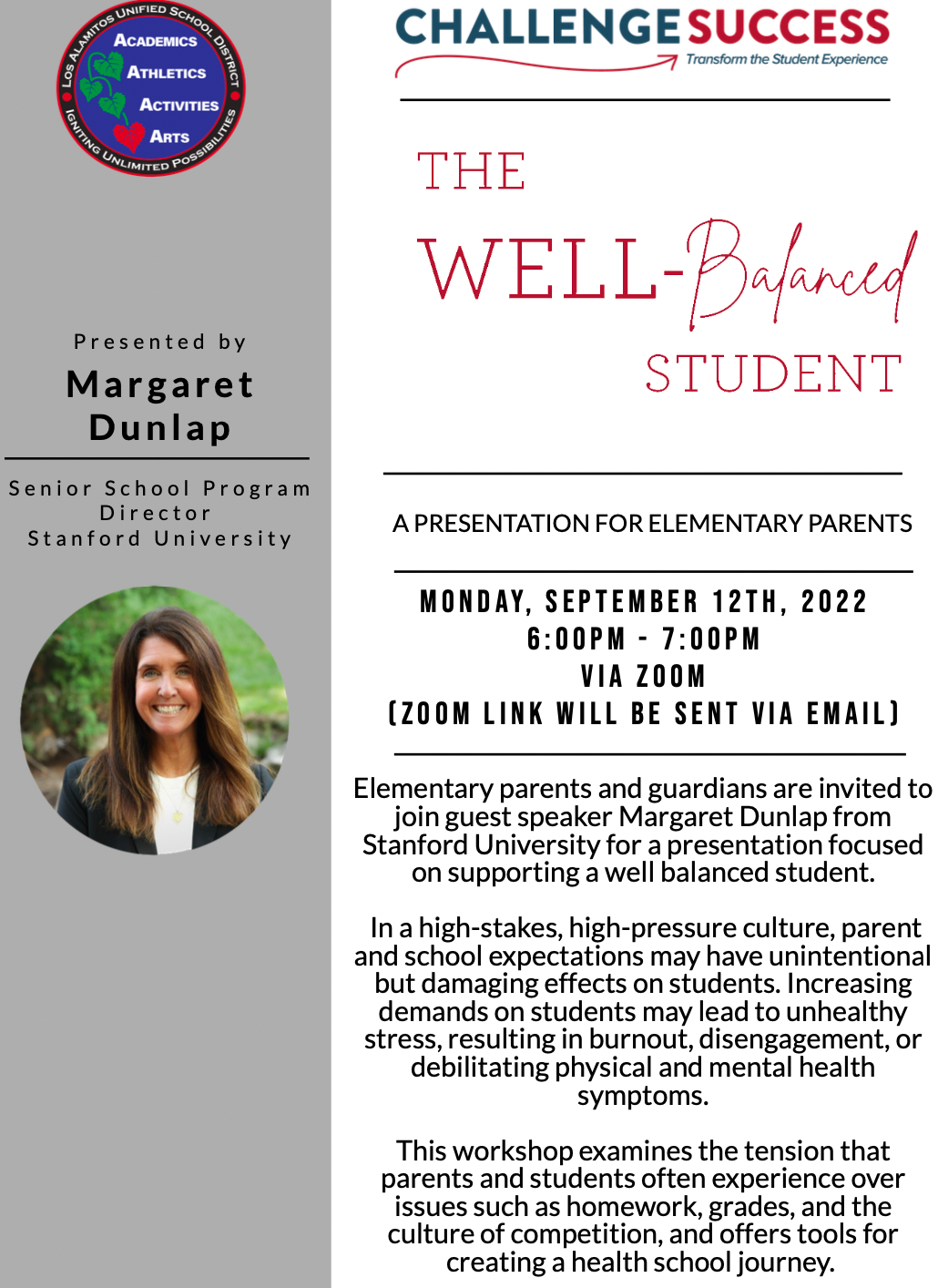 HAPPENING FRIDAY, SEPTEMBER 23: Tickets are now available for purchase to the Los Alamitos Education Foundation's State of the District featuring Los Al USD Supt. Andrew Pulver, Ed.D., sharing the vision for the nine schools in Rossmoor, Los Alamitos and Seal Beach. More information here.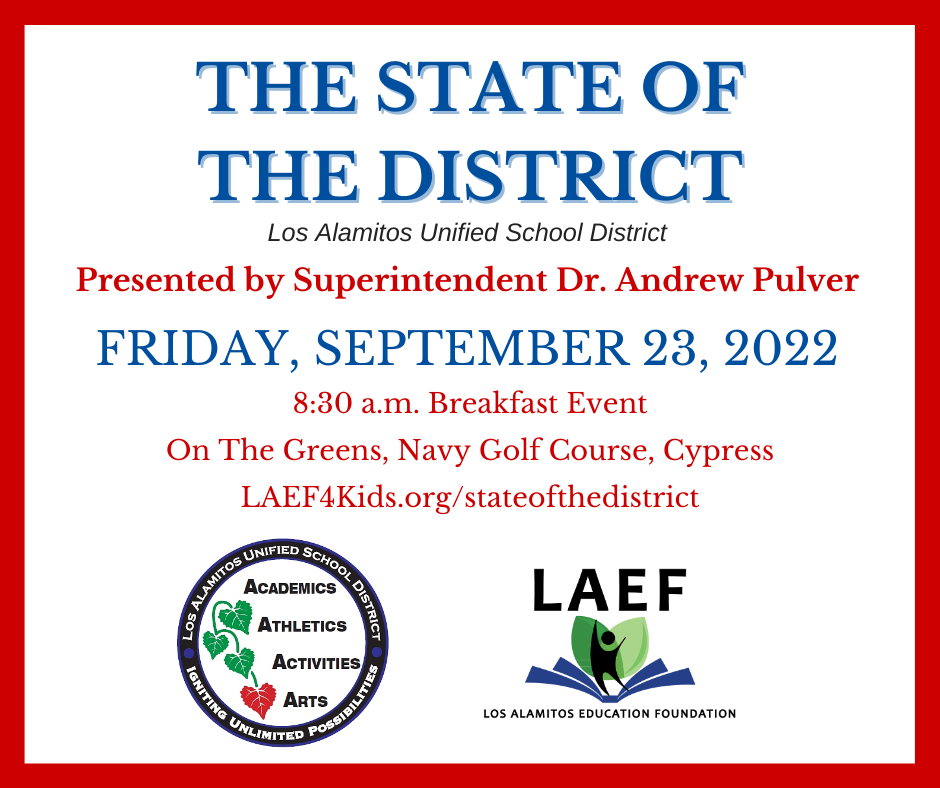 OPPORTUNITIES
PERFORMING ARTS SCHOLARSHIPS: The Music Center is offering $100,000 in cash scholarships to high school students interested in performing arts. Applying is free and students with all skill levels are encouraged to apply. The application deadline is October 17, 2022 More information here.
BECOME A STUDENT BOARD REPRESENTATIVE: Every summer, California's Governor appoints one high school senior to the State Board of Education (SBE) for a one-year term. The student member functions as a regular voting member of the SBE. Applications must be received by 5:00 p.m. on Friday, October 7, 2022. More information here.
RECESS
Your Dose of Good News
Dodgers star donates $500,000 to El Modena High School
Freddie Freeman sets record with pledge to his alma mater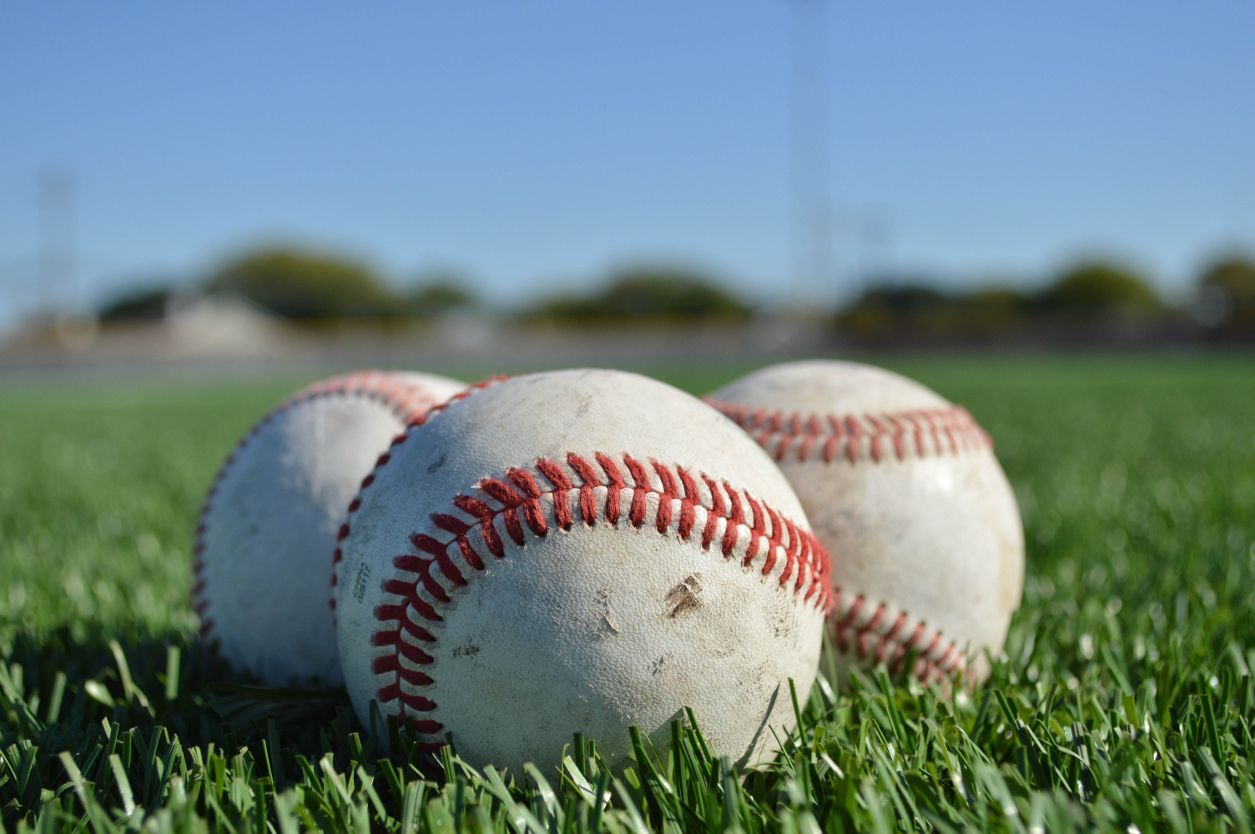 Photo by Caitlin Conner on Unsplash
Dodgers player Freddie Freeman is giving back to his alma mater in Orange County.
The first baseman and all-star recently pledged to donate $500,000 to boost the baseball team's facilities at El Modena High School in the Orange Unified School District.
"I want to help them build a clubhouse and bring kids that hopefully want to come to El Modena," Freeman told The O.C. Register last week.
The money will be used to buy and install a new 1,440 square foot modular baseball clubhouse complete with a locker room, team meeting area and coach's office, as well as new, extended batting cages, according to a press release from the OUSD. The school board accepted Freeman's charitable donation at its meeting on August 18.
"Mr. Freeman's pledge to donate $500,000 is the most generous contribution the district has received from a private donor. We appreciate his support of our students and his alma mater, El Modena High School," Deputy Superintendent/CBO David A. Rivera said. "We are very proud of the wonderful example he is to our community and young people, and the kind of individual we hope to nurture in Orange Unified."
"It is something that we are super excited about, it is something that you don't see everywhere," Vanguards baseball head coach Josh Kliner told the Register. "It is huge."
The $1.1 million project is expected to be completed by the summer of 2023.
Read more about Freeman's generosity on ABC7.com // The O.C. Register
Thanks for reading!
Forwarded from a friend? Subscribe to the Spotlight Schools newsletter here.
Follow us on Instagram @SpotlightSchools.
Our mailing address:
P.O. Box 164
Seal Beach, CA 90740

Copyright © 2022 Spotlight Schools, All rights reserved.