'Wellness Warriors' boosting students' mental health; Elementary school-age entrepreneurs; Who's donating to O.C. Board of Education candidates?
Update on the search for two school principals; Plus, O.C. teachers surprised with checks for $20,000
Update on the search for two school principals; Plus, O.C. teachers surprised with checks for $20,000

Helping you better understand, navigate and participate in the TK-12 public school experience in Orange County.
In this week's newsletter...
May 17, 2022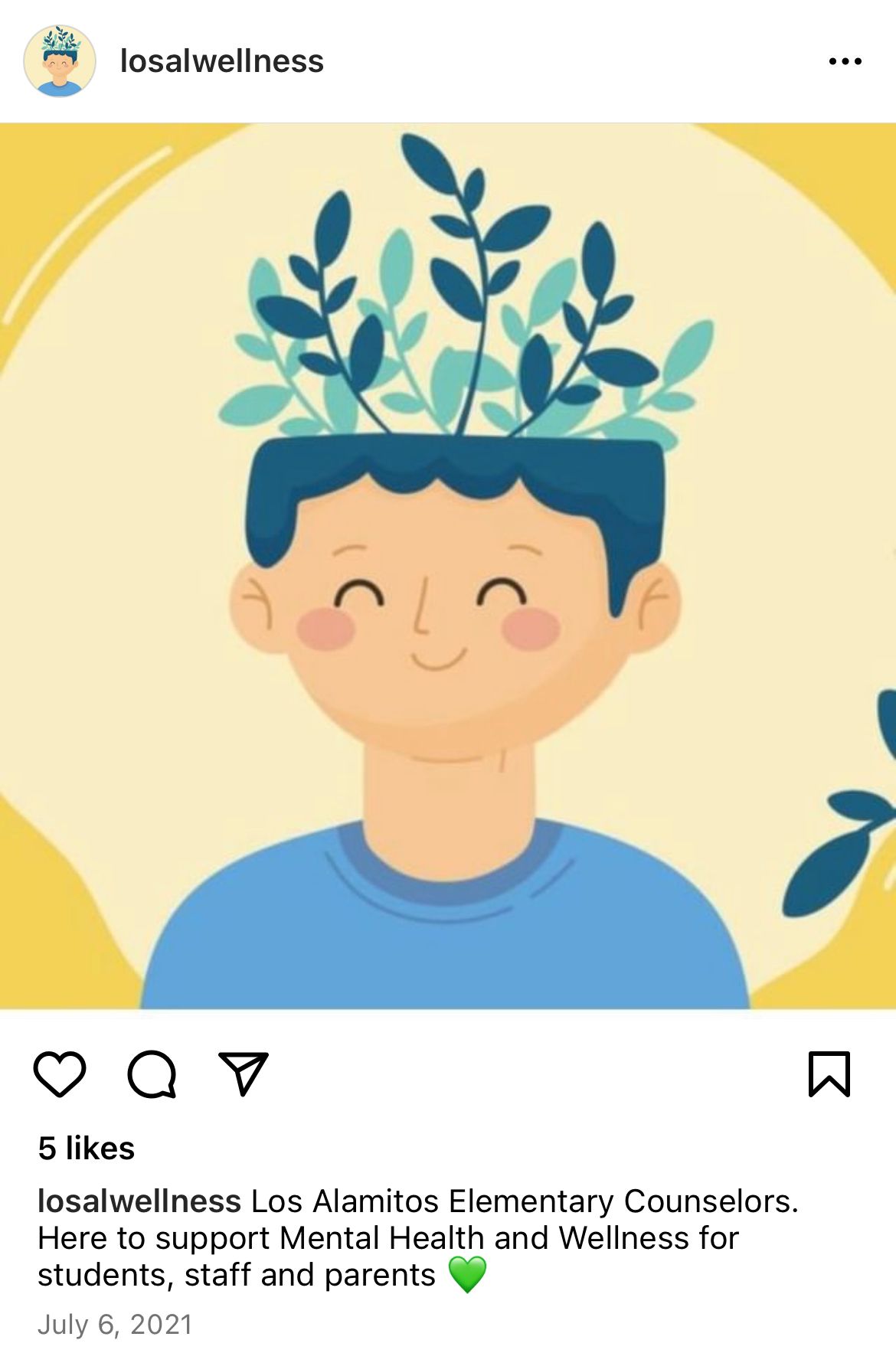 A post on the Instagram account for the Wellness Counselors staffing the six elementary schools of the Los Alamitos Unified School District.
Spotlight Schools is a nonpartisan, hyperlocal newsroom covering education. We are part of the Tiny News Collective, an effort to launch local newsrooms across the nation, and supported by a grant from The Google News Initiative.
We're shining a light on the stories, people and policies impacting you.
Yours in knowledge,
Jeannette Andruss, Spotlight Schools Founder and parent of two students in the Los Alamitos Unified School District
FIRST BELL
This Week's Top Story
'Wellness Warriors' helping students with mental health
May is Mental Health Awareness Month. You may have seen headlines about the U.S. Surgeon General declaring a mental health crisis among America's youth. Or perhaps your family is experiencing it in your own home.
This month, The New York Times and 60 Minutes reported on how young people are overwhelmed with depression and anxiety, some ending up in emergency rooms seeking help.
Los Alamitos Unified School District Superintendent Andrew Pulver, Ed.D, said students' mental health struggles started before Covid-19 became a part of our lives, but he noted the pandemic has amplified the problem.
The district prioritized mental health and well-being before the pandemic with district efforts increasing in the 2021-22 school year. This school year, the Board of Education made providing mental health and wellness to staff and students part of its #2 District Goal.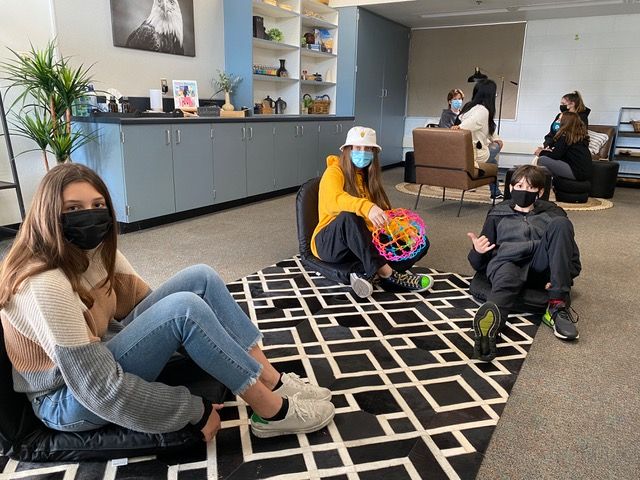 Students hang out at the McAuliffe Middle School Well Space in August 2021. Courtesy photo.
To meet that goal, the district beefed up its mental health staffing bringing on wellness counselors to assist school psychologists and guidance counselors. A first in Orange County, student Well Spaces at Oak and McAuliffe Middle schools became fully operational with the return to full-time in-person instruction. The district's Wellness Warriors team launched and has engaged students with individual and group counseling as well as pushing into elementary school classrooms for monthly lessons on subjects like kindness, wellness and mental health.
"Our wellness counselors provide direct social and emotional support for students, staff and parents, at every grade level throughout the district. They bring information, resources, activities, to the classrooms, lunchtime activities, and through our monthly wellness initiatives for students and staff to actively participate," district special education coordinator Kayley Peacock wrote in a statement to Spotlight Schools.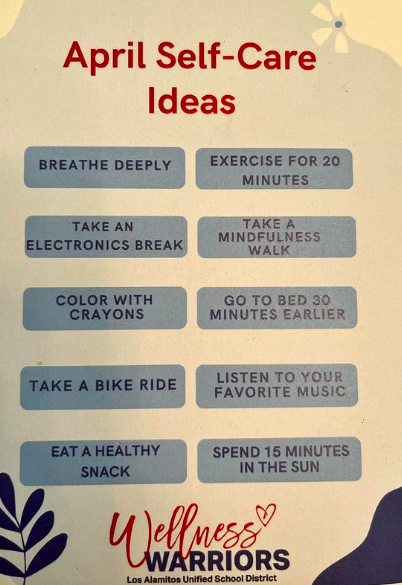 For example, in April classroom lessons focused on self-care. A flier was also sent home to reinforce those lessons with suggestions which included to: breathe deeply, take an electronics break, take a mindfulness walk, and go to bed 30 minutes earlier.
The Los Alamitos Education Foundation has been a crucial supporter of these efforts providing $145,000. Some of that money was spent creating and staffing the middle school Well Spaces. LAEF is also spearheading the building of a Well Space at Los Alamitos High School which should open next school year.
A preview of the LAHS Well Space was included in a brief overview of the district's mental health efforts during a presentation at the May 10 Board of Education workshop by Deputy Superintendent Ondrea Reed and Grace Delk, Director of Special Education and Mental Health. (It starts at time code 56:40)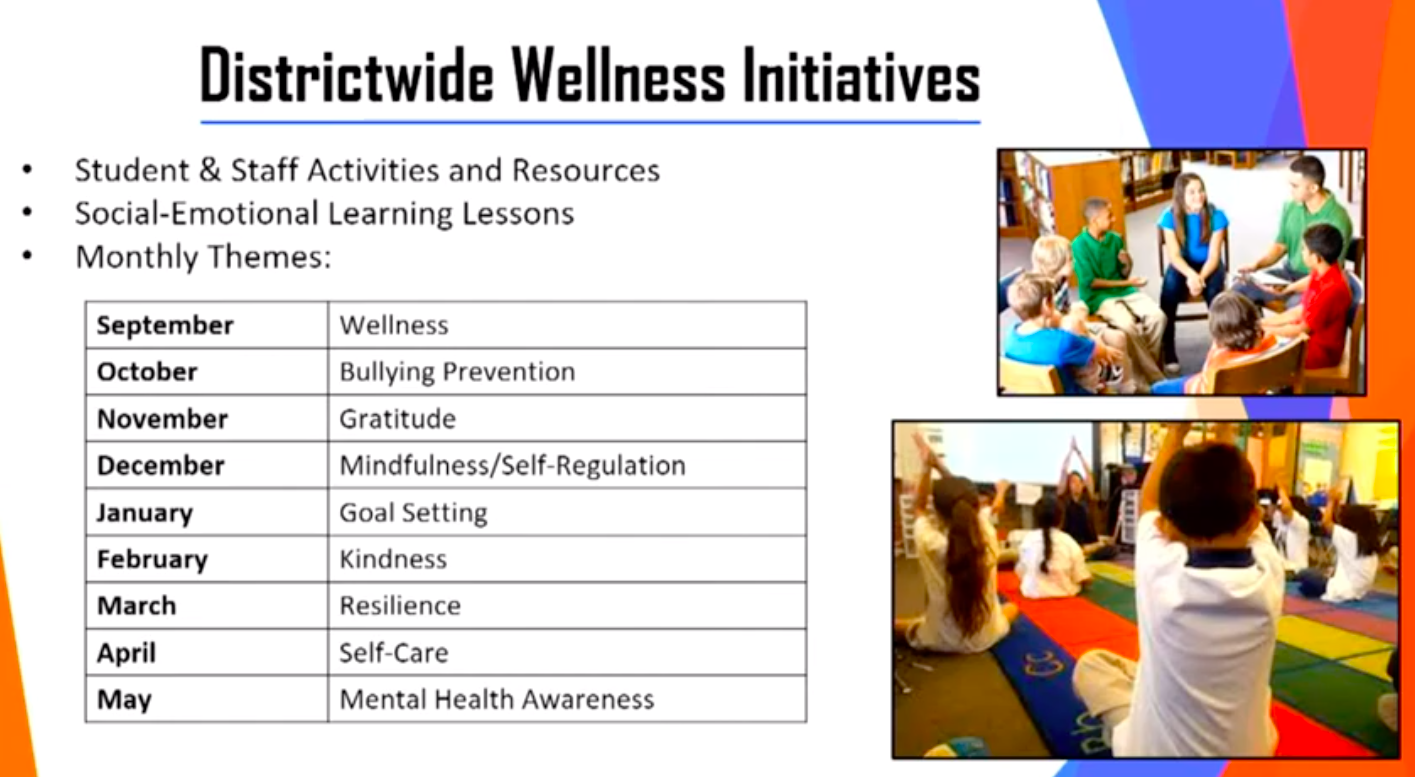 Slide from May 10 presentation on Mental Health efforts at Board of Education workshop.
WELLNESS COUNSELOR SHARES DETAILS ON EFFORTS
For more detail on the district's mental health efforts, Spotlight Schools interviewed wellness counselor Emily Ledterman this week. She works with students and staff at Los Alamitos, Rossmoor and Weaver elementary schools.
What are you seeing among students?
Ledterman said she sees a lot of students dealing with anxiety.
"I will say that's probably the biggest thing that I see is little kiddos with a constant state of worry," Ledterman explained, saying the worries are broad ranging from anxiety over being late to fear of a tornado striking the area.
She also said kids are struggling to communicate with one another. Ledterman cites the disruption to students' social and emotional learning brought on by the pandemic saying students missed out on developing skills to navigate interacting with other kids.
"We're seeing our teachers work extremely hard to be able to catch [students] up in terms of social emotional pieces. …How do you deal with friendships and how do you deal with conflict resolution if you haven't ever had those experiences? And that goes all the way up through high school," Ledterman said.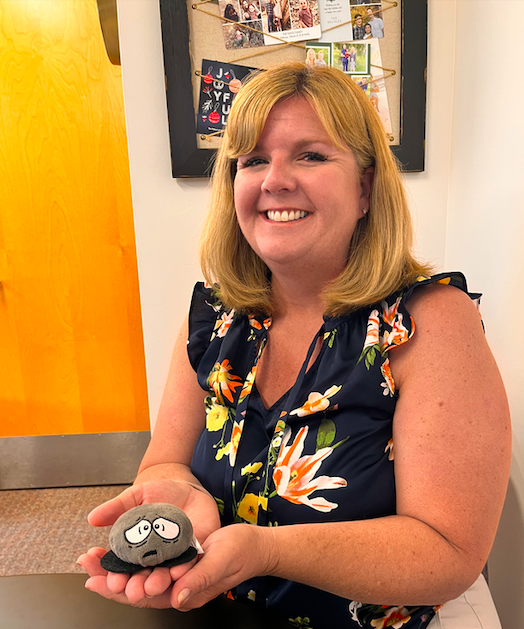 Elementary school Wellness Counselor Emily Ledterman holds a toy prop representing the emotion anxiety used to teach TK-2 grade students about managing their worries.
How is the district meeting the needs of students in 2022-23?
Wellness counselors have been working with students to give them tools by utilizing social-emotional curriculum from Second Step at the primary level and Base Education in the middle schools.
Ledterman, who has a calm voice and a warm smile, explained how this month, her lesson for the TK - 2nd grade classrooms was on a book from the series A Little Spot of Emotion. She brought in the book and a "spot," a small, gray plush toy, representing the emotion of anxiety.
"It's a great little story and it talks about what is worrying and what is anxiety and how it makes your body feel," Ledterman explained, saying some kids remarked that it can give them a stomach ache, a common manifestation of anxiety in kids. She worked to help kids recognize the worries that they have control over and what they cannot control.
She then described an exercise students did.
"The students put up their hand and at the end of their fingertips is a gray spot and that's their little worry or their anxiety spot," Ledterman said. She then said the palm of hand represented the peaceful, calm spot. "That's where we all want to be. Don't we feel better when we're in a calm, peaceful spot? And so we drag our little worries to our peaceful spot," she said, moving her finger toward her palm one finger at a time. Then students say a little something to their palm, take a deep breath and blow the worries away.
Ledterman said the lessons are sinking in. During state testing this month, fifth graders told her they used a five-finger breathing technique learned earlier this year.
Ledterman said parents are notified for consent before any individual counseling begins. Children are assured of confidentiality in their discussions with counselors. If a student needs additional resources, families can be connected to more services.
What's ahead for the 2022-23 school year?
The district plans to add more staff to their Wellness Warriors team, including another wellness counselor at the elementary school level.
The Well Space at Los Alamitos High School is being planned and is slated to have both an indoor and outdoor space for students.
Peacock said the district will continue to focus on prevention efforts by providing tools and resources to grow resiliency in students with lessons that can be built upon as they continue their years in school.
"​​I really do think it's that preventative measure of really trying to touch as many students as we possibly can within a school day of whatever they might need in that moment."
Want to learn more?
Have a question, suggestion or want to share your experience? Email us at hello@spotlightschools.com for a future story on mental health.
Did someone forward you this? Please subscribe to our FREE newsletter today at spotlightschools.com.
SECOND BELL
Other Stories We're Following
Who's Funding the Campaigns for O.C. Board of Education?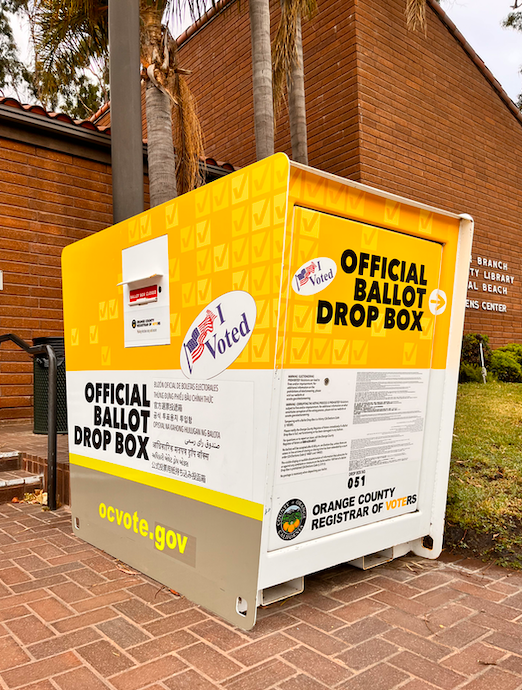 A ballot drop box in Seal Beach. Voters can now cast ballots for the June 7 Primary Election.
We're learning more about the people and groups supporting candidates for the Orange County Board of Education. A recent story from Voice of OC discussed the candidates and their campaign fundraising for 2022.
Here's a brief look at where the money is coming from.
Trustee Area 2
Trustee Area 4
Trustee Area 5
Wondering where and how you can cast your ballot? Find out your options here.
Update on search for two new principals
The Los Alamitos Unified School District is in the process of recruiting candidates to replace two elementary schools principals and we're learning more about the hiring process.
In case you missed it, the principal at McGaugh Elementary, Issaic Gates, Ed.D, and the principal at Hopkinson Elementary, Evelyn Garcia, will not return to their positions for the 2022-23 school year.
Garcia is staying in the district and will become principal of Oak Middle School replacing the retiring Erin Kominsky who has been with the district for 27 years. Gates has not publicly said what's next for him but his two children are current students at McGaugh.
(Full disclosure: I'm a McGaugh parent and PTA volunteer and have worked with Dr. Gates and our children are in the same class.)
At the May 10 Board of Education meeting, Board President Diana Hill talked about the process for hiring staff showing the many steps for for bringing on a principal.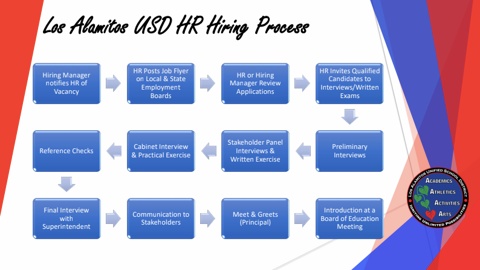 Slide from May 10 Board of Education meeting where President Diana Hill explained some of the steps the district takes when hiring a new principal.
The district is currently seeking input from families and staff via surveys and in-person meetings. In the survey, parents were asked to describe "qualities, education, experience and skills you believe are needed in the next" principal.
Last night was the meeting for McGaugh parents and four parents attended (including me) at the district office.
Superintendent Andrew Pulver, Ed.D., told parents they are interviewing for both positions in this single process.
According to Pulver and the outline on the job posting, the hiring process will move quickly.
The deadline to apply is May 23. Preliminary interviews will be held the next day. Panel interviews with representatives from the school site including leaders of campus parent volunteer groups are slated for May 26 and cabinet interviews are scheduled for May 31.
Pulver said he expects there to be roughly 20 to 30 applicants for the positions and is confident the district will attract talented candidates.
"I'm really optimistic," he said last night. The qualities he looks for in a principal are that they are a great instructional leader, an excellent communicator and listener, a collaborator, someone who is "buoyant" and can bounce back from challenges and can motivate and inspire students, staff and families.
Pulver expects an announcement on the new hires before the end of this school year.
Cypress Teachers and Supporters Show up & Speak at Board Meeting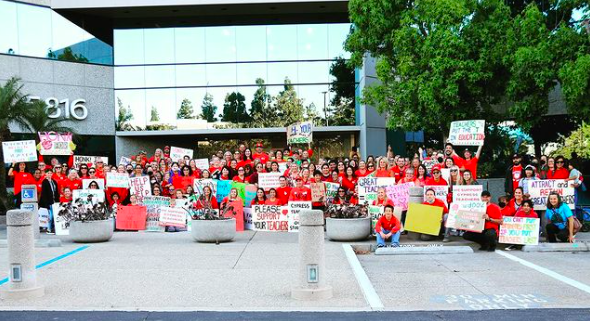 Teachers and supporters attend the May 12 Cypress School District Board of Education meeting amid an impasse with the district over pay raises. Photo from ACT Instagram account.
As the Cypress School District and its teachers' union wait for mediation to start in July, members of the Association of Cypress Teachers (ACT) and their supporters showed up in force at the May 12 Board of Education meeting.
The two sides can't agree on the amount for a salary increase and costs and coverage for health and welfare benefits.
You can read more about what speakers said in tomorrow's edition of The Event-News Enterprise with original reporting by editor David N. Young.
Other Stories Worth Reading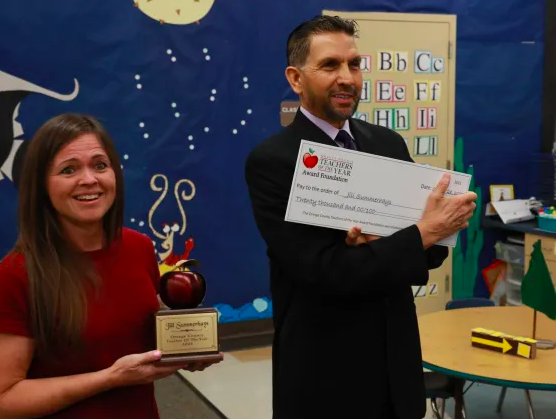 Plavan Elementary teacher Jill Summerhays with County Superintendent Dr. Al Mijares after he surprised her with the news she was named one of six finalists for O.C. Teacher of the Year. Courtesy Photo.
EXTRA CREDIT
Meetings // Events // Opportunities // Resources
EVENTS
HAPPENING MAY 16-21: Districts are making Classified School Employee Week honoring the men and women who are vital to the function of campuses nationwide.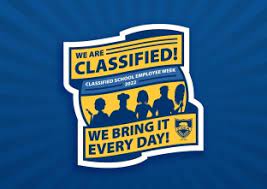 ICYMI: Check out California's Classified Employees of the Year here. And the Orange County Classified Employees of the Year here. Both lists include Los Al USD district database specialist Armando Gomez. Congrats! 🎉
HAPPENING MAY 21: Seal Beach Be More Healthy Expo will offer plenty of family-friendly activities.
HAPPENING MAY 21: Bicycle safety event hosted by the CHP and Rossmoor Community Services District.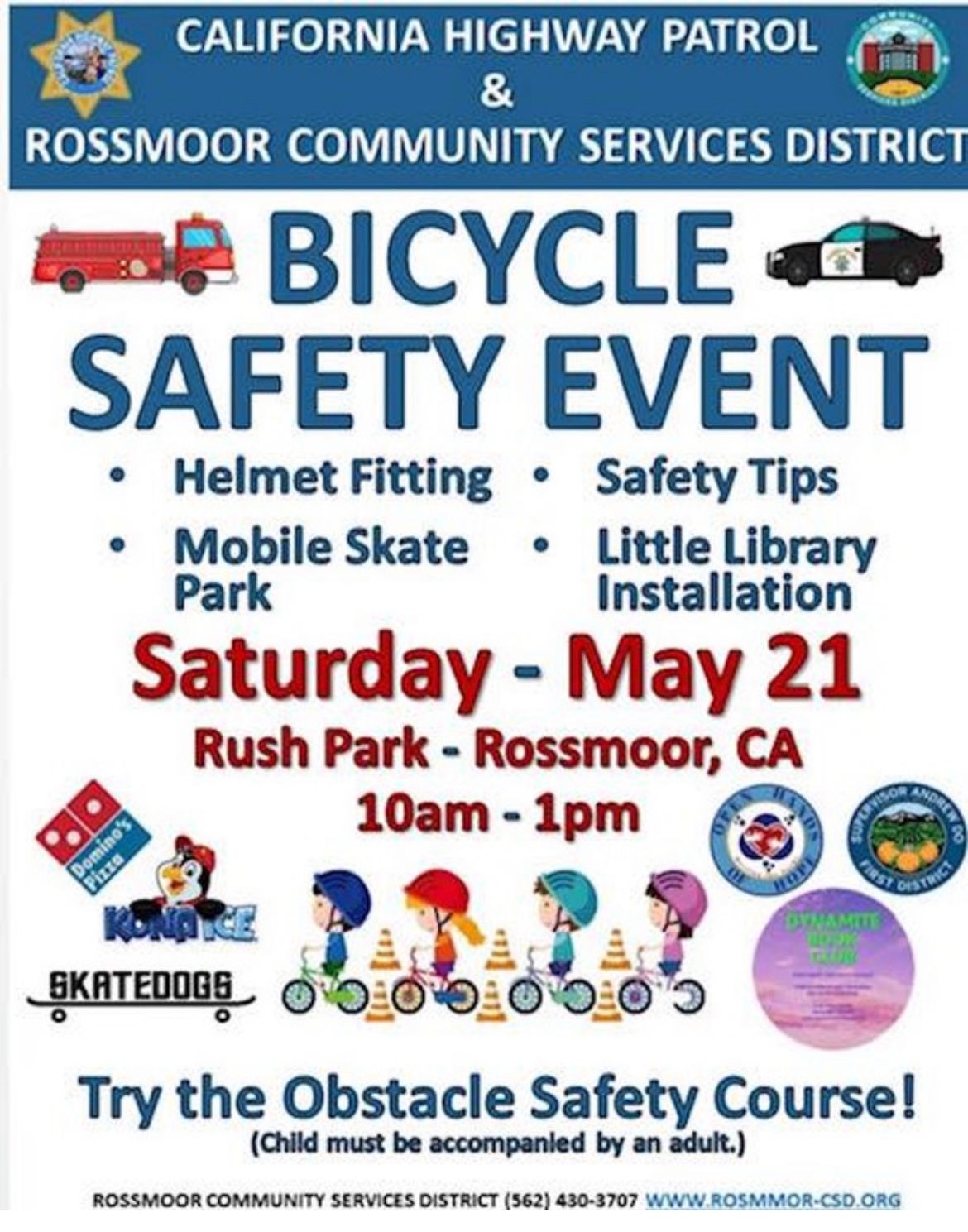 HAPPENING MAY 19-21: Tickets are still available now for the Pops 2022 performances of the award-winning Los Alamitos Choirs. Buy tickets here.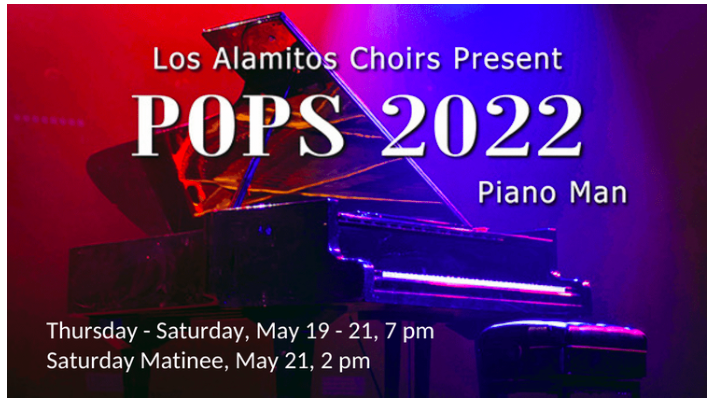 RESOURCES
ICYMI: On May 10, Los Alamitos High School delivered its presentation to the Board of Education and announced LAHS parent volunteer Rachael DeMarco as the school's Hero of the Heart award recipient.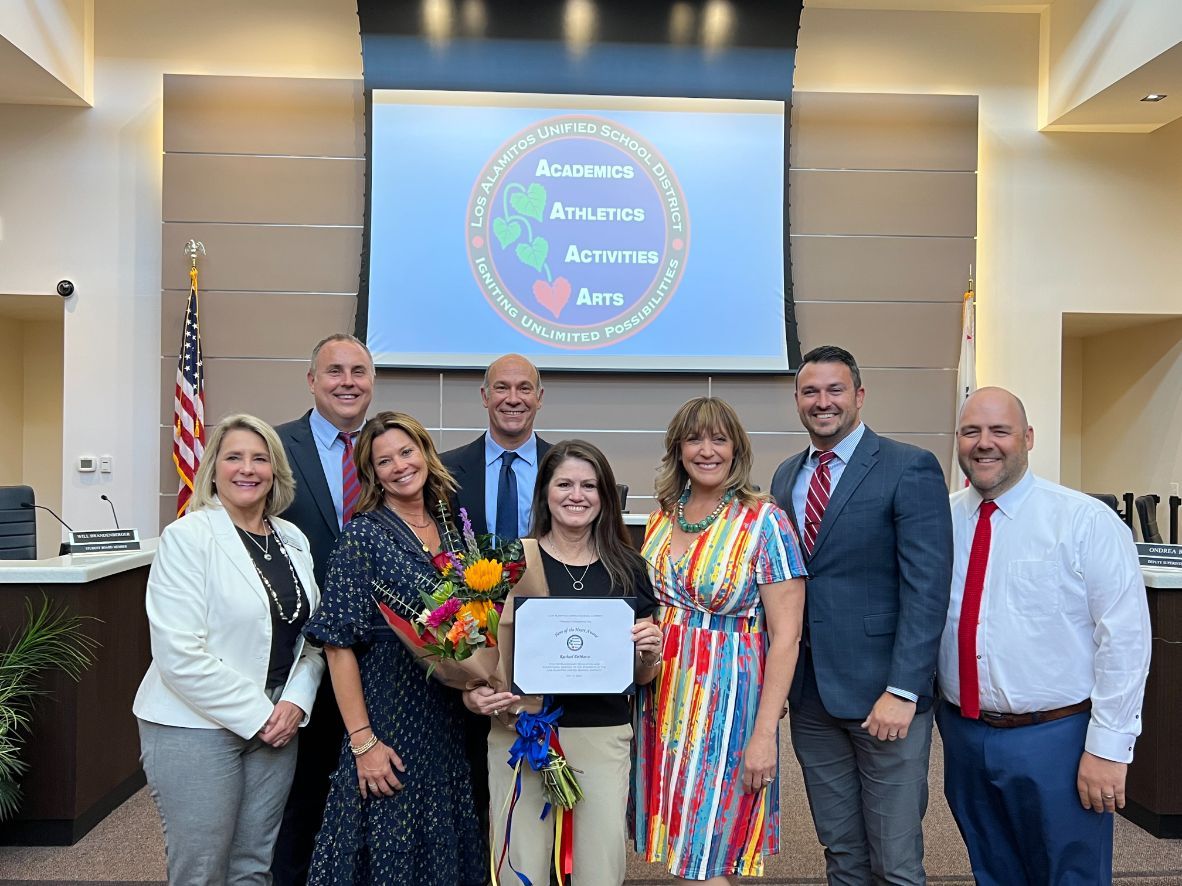 LAHS Hero of the Heart recipient Rachael DeMarco stands with Board President Diana Hill and district and high school administrators at the May 10 Board of Education workshop. Courtesy photo.
Find out more in the district's weekly video recap "The Wrap-Up" from May 13.
💃🏻🕺🏽 The Los Alamitos High School Prom was on May 14 and judging by this video it looked like students had a blast!
RECESS
Your Dose of Good News
Little entrepreneurs at Lee Elementary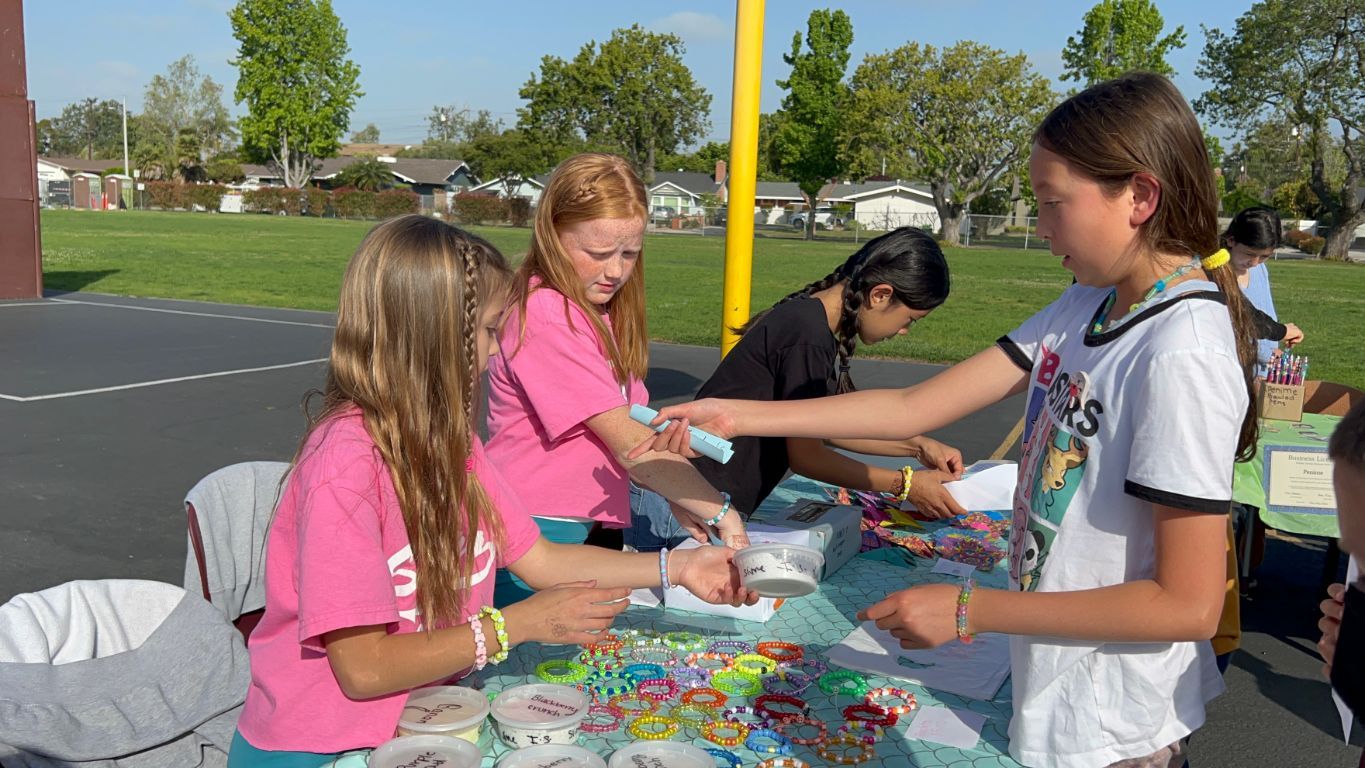 Students at Lee Elementary school in Rossmoor take part in Business Day where fifth graders launch their own businesses. Courtesy photo.
Could an appearance on the reality TV show Shark Tank be in the future for some local fifth graders?
Earlier this month, students at Lee Elementary school in Rossmoor were showing off their entrepreneurial skills in the school's annual Business Day.
A campus tradition for more than 20 years, it features fifth graders working in teams to launch a business. Students must discuss product options and conduct market research by surveying other fifth graders, according to Lee Principal Amy Vento.
"From what they gather, they determine if the product is viable and set the cost based on students' interest. They select a business name and 'buy' a business license. They must advertise their product via eye-catching signs and video commercials," Vento wrote in an email to Spotlight Schools.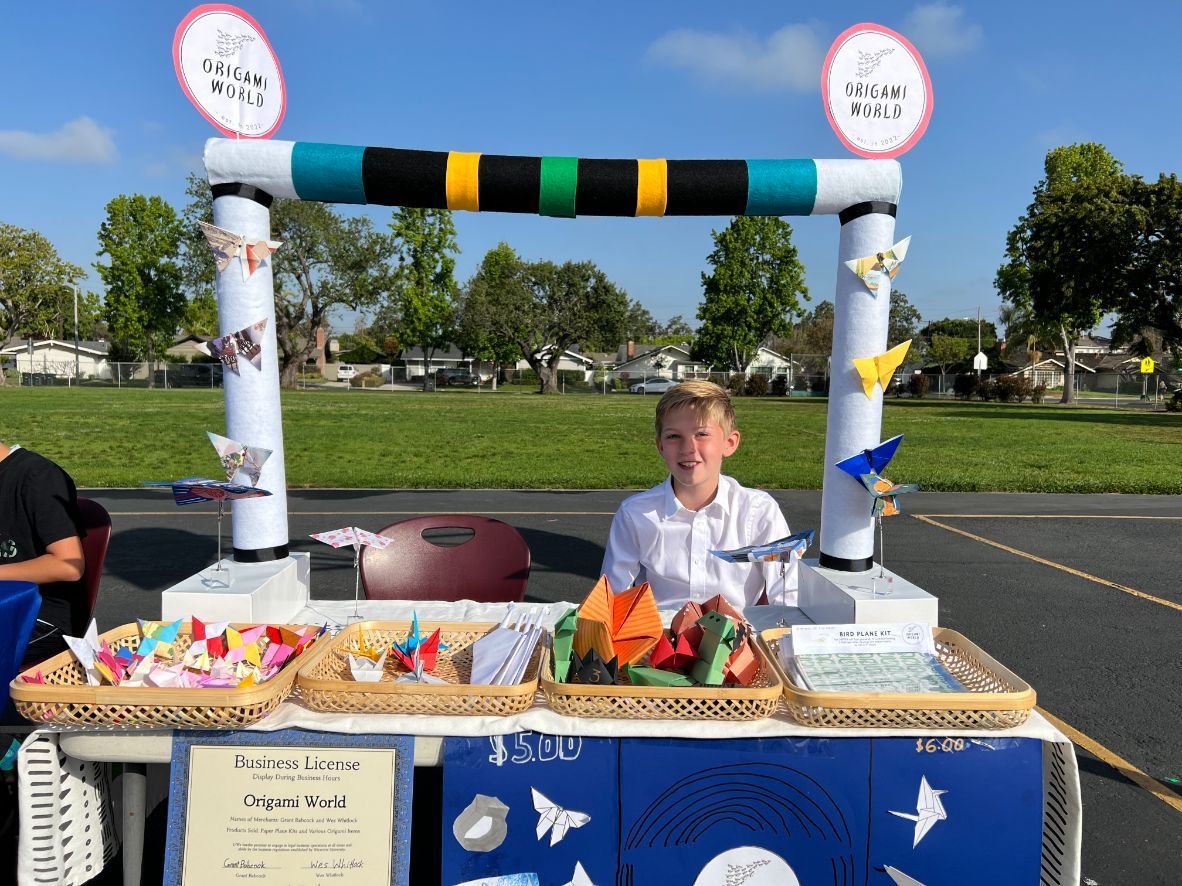 Student sells origami during Business Day at Lee Elementary school. Courtesy photo.
And it's something other students and families can take part in. Second to fourth graders and all parents are invited to "shop" for products with pretend money at a marketplace set up on campus.
"This helps our younger kids 'budget' their money to buy the items they really want!," Vento said. She admitted she refills her envelope "like 20 times because I want to buy an item from every student!"
So what was available? Home-made tie-dye bags, marshmallow shooters made from PVC pipes, art products like sketchbooks, bookmarks and origami as well as homemade jewelry.
After Business Day ends, the fifth graders must pay taxes on their income and calculate their profit to split between business partners.
"Business Day is an event our entire community looks forward to each and every year!," Vento wrote. "It develops creativity, collaborative skills, and critical thinking --- all the skills needed to be a successful 21st-century learner!! We are proud of this opportunity we provide our fifth graders."
BOOSTER DOSE: Check out the innovation displayed at Weaver elementary school's S.T.E.A.M. fair put on by LAEF.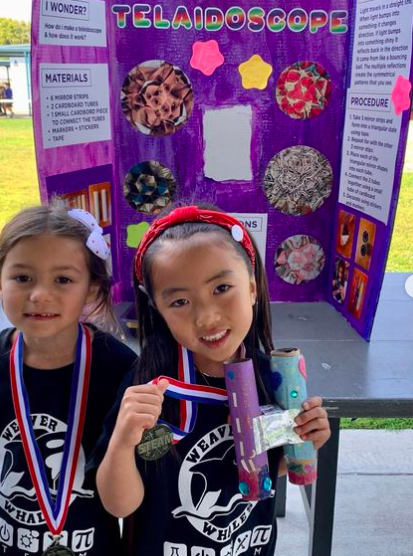 Photo from LAEF's Instagram account.
Thanks for reading!
Forwarded from a friend? Subscribe to the Spotlight Schools newsletter here.
Follow us on Instagram @SpotlightSchools.
Our mailing address:
P.O. Box 164
Seal Beach, CA 90740

Copyright © 2022 Spotlight Schools, All rights reserved.