Waldorf Charter school can't expand into Cypress; O.C. students stranded by snowstorm; Artist Wyland's latest mural is at O.C. school
Parenting OC Magazines names Top Teachers for 2023
Parenting OC Magazines names Top Teachers for 2023
Helping you better understand, navigate and participate in the TK-12 public school experience in Orange County.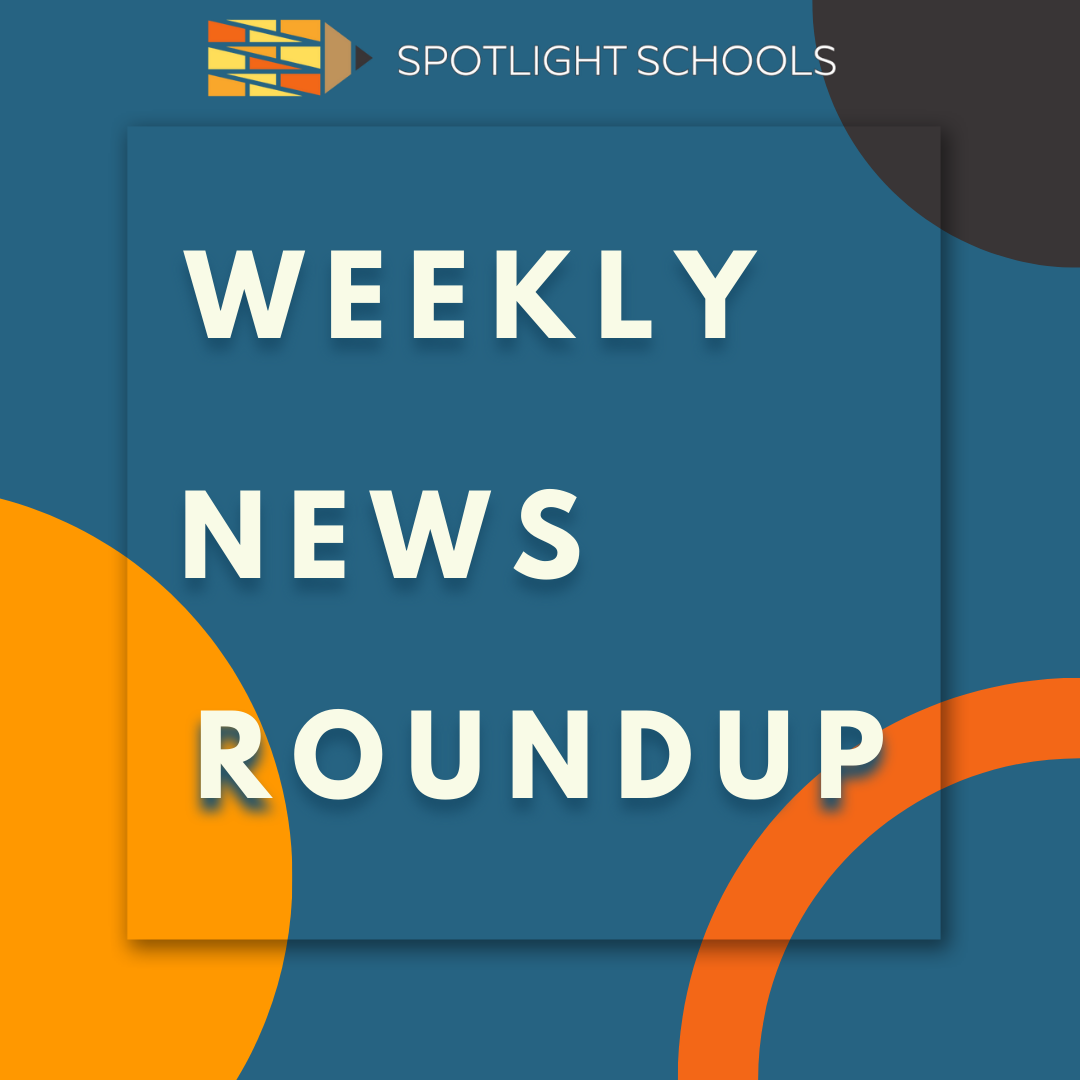 Spotlight Schools is a hyperlocal newsroom covering education in Orange County and this is the Weekly News Roundup newsletter.
You'll find original reporting from Spotlight Schools in addition to curated links to articles from a variety of newsrooms, education agencies and more to keep you on top of what's happening.
Let us know what you think! Email hello@spotlightschools.com.
Follow Spotlight Schools on Instagram and Twitter.
Don't forget to visit our website to view all of our stories or support our coverage at SpotlightSchools.com.
Yours in knowledge,
Jeannette Andruss, Cofounder and Chief Editorial Officer
SPOTLIGHT SCHOOLS SPONSOR

WEEKLY NEWS ROUNDUP
Waldorf charter school cannot expand to Cypress but can add high school grades within current district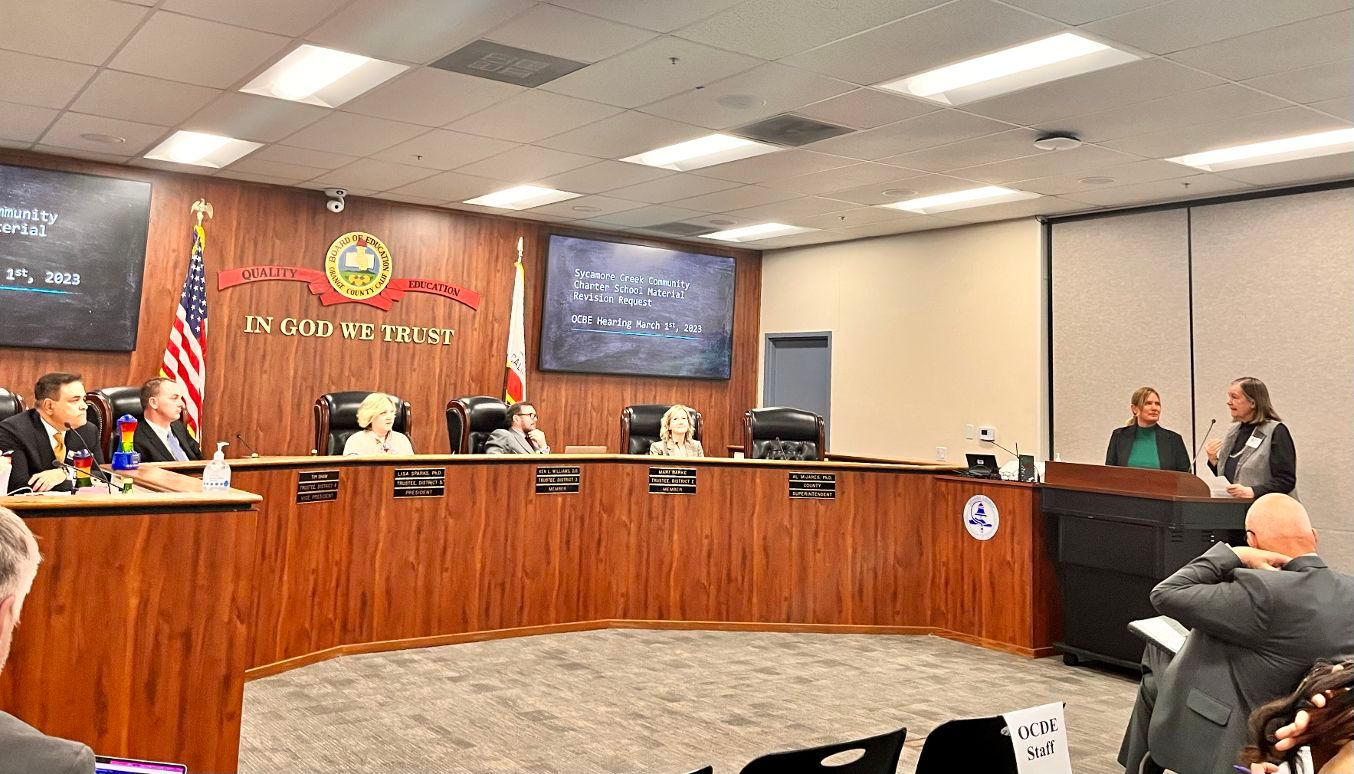 Orange County Board of Education trustees listen to representatives from Sycamore Creek Community Charter School during the board's March 1 meeting. Photo by Jeannette Andruss
A Waldorf public charter school in the Ocean View School District seeking to expand will be able to add more grade levels to its Huntington Beach campus. However, for now, Sycamore Creek Community Charter School will not be allowed to establish campuses outside the boundaries of its current district.
That's the result of a vote made by the Orange County Board of Education (OCBE) at its March 1 meeting.
In December 2022, the four-year-old TK-8 public charter serving roughly 160 students sought permission from the OCBE to become a countywide benefit charter, which would allow it to open campuses anywhere in Orange County. Sycamore also asked to add high school grades 9-12, to open a site in Cypress, and to change some enrollment preferences.
At this week's meeting, the pro-charter school trustees appeared willing to green-light all of Sycamore's requests in its latest petition for a material revision to its charter. But trustees were advised by their attorney that the information needed to warrant full approval wasn't part of the school's submission.
"There is a method by which countywide benefit charters are usually sought. They (Sycamore) just went about it a different way. That doesn't mean that their different way is wrong. But we didn't do the full analysis on whether it meets the conditions of a countywide benefit charter," OCBE legal counsel Gregory J. Rolen told the board at the March 1 meeting.
Ultimately, the board voted five to zero to approve two parts of Sycamore's request – to allow the charter to add grades 9 - 12 within the Ocean View School District boundaries and to add additional enrollment preferences including for students who reside in Orange County.
The board's approval of adding high school grades went against the recommendation of staff in the Orange County Department of Education Charter Schools Unit which argued Sycamore's "currently available academic performance data does not indicate that the charter school presents a sound education program for the students currently being served."
OCBE trustee Mari Barke supports Sycamore's expansion and characterized the outcome as a "win-win for everyone."
"It is important to put kids first and make sure that they have options, but we must follow the law and sometimes we must compromise in order to achieve our goals," Barke wrote in an email to Spotlight Schools.
After the meeting, Sycamore's executive director expressed gratitude to the board. "We value and appreciate the OCBE for allowing a healthy discussion regarding our request and exhibiting thoughtfulness in their approach to considering it," Sarah Bach, Ph.D., wrote in an email to Spotlight Schools.
She said the school is "concentrating on the logistics" of expanding to include grades 9 - 12.
CYPRESS SITE NOT WITHIN LOS ALAMITOS USD
We also learned at the March 1 meeting that Sycamore's proposed site to expand, a facility in Cypress, is not actually located within the Los Alamitos Unified School District, despite being just blocks away from Los Alamitos High School and McAuliffe Middle School.
Orange County Department of Education staff confirmed the location at 4321 W. Cerritos Avenue is within the boundaries of the Cypress School District and Anaheim Union High School District, not Los Alamitos USD as Sycamore had indicated in its original petition.
Nevertheless, Los Alamitos USD officials expressed support for the OCBE's denial of Sycamore's request to expand countywide. In a statement to Spotlight Schools, Los Alamitos USD Superintendent Andrew Pulver, Ed.D., wrote:
"We appreciate the County Board of Education acknowledging that a request for a charter petition to receive county wide operation cannot be done through a material revision and that there is a specific process outlined within the education code for a charter petition to gain countywide operations which the Sycamore Creek Community Charter failed to do."
Read more on this story, including the discussion about Sycamore students' standardized test scores, at SpotlightSchools.com.
Ocean View School District postpones discussions on school closures and consolidation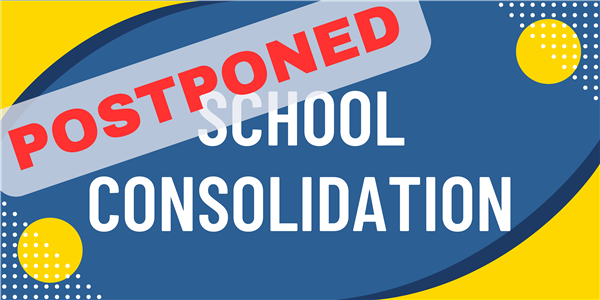 An image from the Ocean View School District's website informs families that the board of trustees will not consider closing or consolidating schools for the 2023-24 school year. Image from ovsd.org.
Ocean View School District officials are postponing planned community meetings on closing or consolidating some of its campuses for the next school year but said the district is continuing to listen to families.
After the district held two of four planned community meetings in late February, the OVSD Board of Trustees President Patricia Singer announced she would not agendize any Board action regarding potential school consolidation or school closure for the 2023-2024 school year.
The consolidation effort was first discussed earlier this year as the district faces continued declining enrollment. The initial proposal from district staff was to turn Spring View Middle School into an elementary school and close Circle View, Village View and Golden View elementary schools, relocating all impacted students, reports The O.C. Register.
In a statement sent to OVSD families, President Singer wrote:
"Among the many thoughtful points and ideas that have been shared thus far, these are some of the strong take-aways:
- Don't close my child's school
- Slow the process down and evaluate other options
- Give parents more opportunities to participate, and
- Consider the impacts on children who have just had to go through the COVID disruptions.
I have taken these sentiments to heart and agree that the process for evaluating school consolidation is moving too fast," Singer wrote. She added that she was asking Superintendent Michael Conroy to work with stakeholders "to develop a range of future options for the Board to consider as it determines how to deal with the District's ongoing declining enrollment."
Read more on the district's plans here.
Snowstorm strands O.C. students attending science camp in mountains
The recent winter storms stranded hundreds of Orange County students from Irvine, Garden Grove, and other school districts at science camps in the local mountains. Students had to stay extra days at the camps, including in the San Bernardino Mountains because roadways were blocked with snow. All students were reunited with their families earlier this week, according to The O.C. Register
"All the kids were so happy to see their parents," a parent of one of the students told the Register.
While some students' science camp trip went on longer than planned, for fifth graders at J.H. McGaugh Elementary school, the severe weather forced the postponement of their annual Outdoor Science School trip.
The students at the Seal Beach campus* were scheduled to visit CODES camp this week. The Los Alamitos Unified School District told Spotlight Schools it is looking at ways to reschedule the trip for McGaugh's fifth graders.
*My children are McGaugh students but are not in fifth grade.
Teacher suspected of recording students in bathroom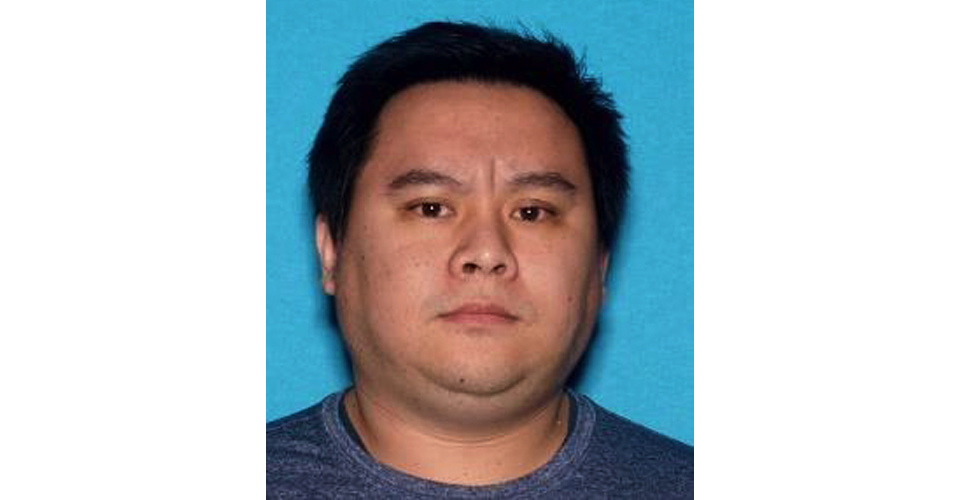 Photo courtesy of Irvine Police Department
A teacher at Arnold O. Beckman High School in Irvine was arrested Monday after police accused him of recording students in a campus bathroom. NBC4 reports that 37-year-old Siu Kong Sit of Santa Ana was arrested at the campus after "a maintenance worker found hidden recording devices in an all-gender bathroom near the swimming pool, the Irvine Police Department said." Beckman is part of the Tustin Unified School District.
O.C. Board of Education asks for investigation into Orange County School of the Arts
After months of hearing requests from the public to investigate allegations of sexual abuse against students at Orange County School of the Arts, the Orange County Board of Education adopted a resolution at a special meeting on Feb. 17 requesting the O.C. Superintendent of Schools to conduct an independent investigation.
The resolution asks Supt. Al Mijares to "conduct an investigation of OCSA's hiring, supervision and safety procedures" and report back on its findings. OCSA is a charter school under the O.C. Department of Education's oversight.
At the March 1 meeting of the OCBE, former OCSA students and others thanked trustees for taking this step but demanded more be done. Numerous speakers asked trustees to form an independent committee to oversee the investigation into OCSA. They also asked that former students and alleged victims be among the members of the committee that will help set the parameters of the investigation.
Read more on this story from The O.C. Register.
Magazine names top teachers in O.C.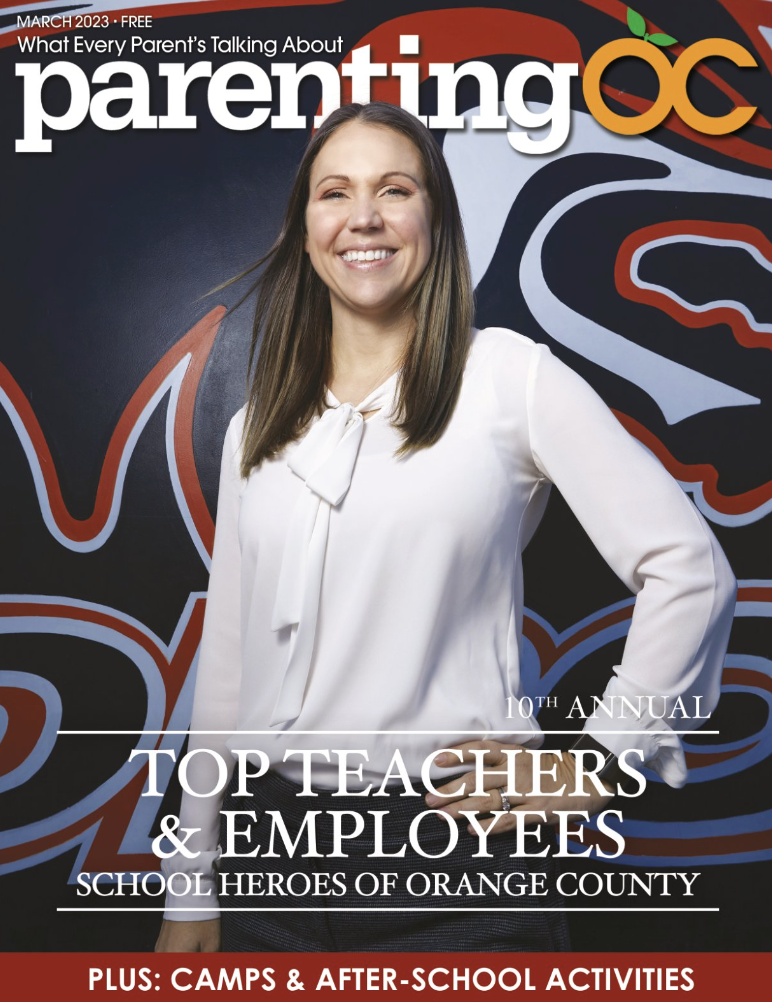 Parenting OC Magazine has named its top teachers and employees of local schools for 2023.
Rebeca Martinez, an economics teacher at Los Amigos High School located in Fountain Valley in the Garden Grove Unified School District, was named the magazine's Top Teacher winner. Martinez was nominated by her husband for the honor.
Who else received the honor? Find out on the Parenting OC website here.
Artist Wyland teaches O.C. students a lesson in conservation
Students at Marblehead Elementary School in San Clemente got a special lesson in water conversation recently with a big surprise.
The Wyland Foundation brought its Clean Water Learning Lab to campus and artist and conservationist Wyland himself showed up to take part in the lesson, according to the Capistrano Unified School District. Wyland also created an original mural on campus featuring the school's mascot, which is a dolphin. 🐬
See Wyland's artwork and learn more on the CUSD's Instagram account.
Share Spotlight Schools
Like what you're reading?
Forward this newsletter to a friend and tell them to sign up today at SpotlightSchools.com.
Copyright © 2023 Spotlight Schools, All rights reserved.
P.O. Box 164, Seal Beach, CA 90740