UPDATED to include omitted Recall story; Resolution on State's Covid-19 Vaccine Mandate; School Safety Resources; O.C. 15-year-old to Graduate from College
Board could discuss urging State to keep exemptions for Covid-19 vaccine mandate for students.
Board could discuss urging State to keep exemptions for Covid-19 vaccine mandate for students.
Spotlight Schools
In this week's newsletter...
Los Al USD Board of Education Could Vote on Resolution on State's Covid-19 Vaccine Mandate for Students Tonight
A Look at Campus Safety Resources After Last Week's Social Media Threat Involving LAHS
Recall Petitions Returned for Revisions, Again* (UPDATED: The story on the recall effort was inadvertently omitted from the Second Bell section of the newsletter sent this morning.)
The Orange County 15-year-old Graduating from College Today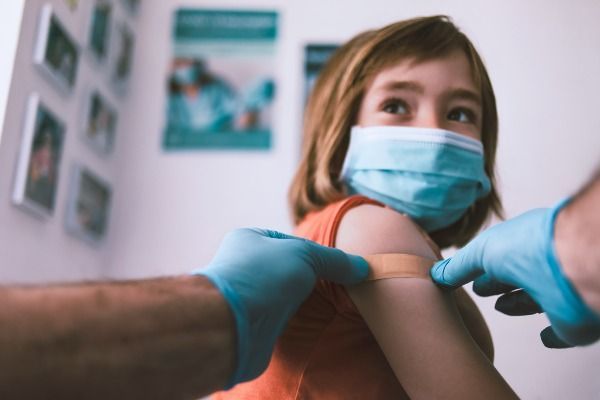 A resolution responding to California's Covid-19 vaccine mandate for students could be discussed by The Los Alamitos Unified School District Board of Education at its meeting tonight.
Spotlight Schools is here to help you better understand, navigate and participate in the TK-12 public school experience in Orange County.
Please send feedback/story ideas/questions to hello@spotlightschools.com.
Yours in knowledge,
Jeannette Andruss, Spotlight Schools Founder and parent of two students in the Los Alamitos Unified School District
FIRST BELL
This Week's Top Story
Los Al USD Board of Education could Consider Resolution on Covid-19 Vaccine Mandate
California's proposed Covid-19 vaccine mandate for students has triggered passionate comments at school board meetings and protests from parents.
Tonight at its regular meeting, the Los Alamitos Unified School District Board of Education is expected to discuss the issue and consider a resolution that calls on California to keep the defined Covid-19 vaccine exemptions in place for students and school employees.
The student mandate, announced Oct. 1 by Governor Gavin Newsom, would require eligible children to be vaccinated against Covid-19 to attend in-person classes at K-12 schools. It would take effect only after the shots receive full approval from the Food and Drug Administration for the student's age group.
So far, only the Pfizer/BioNTech vaccine has full F.D.A. approval for people 16 and older. It has emergency authorization for use in 5-15-year-olds. The mandate could take effect for 7th-12th graders by July 2022.
As it stands now, the mandate has exemptions for medical reasons and religious and personal beliefs.
Board Vice President Diana Hill asked to put a Covid-19 vaccine mandate resolution on the agenda during the Nov. 9 board meeting after hearing from parents and community members.
"Our goal with the resolution is to let our local lawmakers and the governor know that we have many parents who would like to see the exemptions kept as this process from the governor moves forward," Hill wrote in a text message.
Adoption of the resolution would not enact or change any policy or rule regarding the state's proposed Covid-19 vaccine mandate.
What Does the Resolution Say?
Item 14.a. on tonight's agenda is measured. The resolution steers clear of asking the Governor to rescind the mandate as some local school boards have done, including Capistrano Unified.
Instead, the resolution states: "This Board strongly urges the State of California, and its elected officials and regulatory agencies, to keep Covid-19 vaccination medical, religious and personal belief exemptions in place for students and employees."
The resolution also recognizes the community's differing perspectives on this highly debated topic.
One part of the resolution reads: "...both parents and employees have expressed a desire for exemptions to be in place." Then later, it says: "The District additionally acknowledges the view of parents and employees who have expressed support to adopt requirements that all eligible non-exempt students and employees receive the Covid-19 vaccination."
Governor Affirms Exemptions
Gov. Newsom has spearheaded California's first-in-the-nation student vaccine mandate stressing that vaccines are safe and will stop the spread of Covid-19.
But some school districts, including Los Angeles Unified, are dealing with the reality of possibly excluding thousands of students from campuses who have not yet met their district's stricter mandate deadline for next month. Los Angeles Unified is set to push back the deadline to Fall 2022, reports the L.A. Times.
In a Dec. 8 appearance on "Good Morning America" to promote his new children's book, Newsom said districts might need to "fine tune" vaccine mandates to accommodate keeping students in class, CalMatters reported.
He also specifically mentioned the exemptions implying they offer options for families.
"The mandate we put in place for the state of California includes personal exemptions, not just religious and or medical exemptions. So there's plenty of latitude for families to make decisions," Governor Newsom said.
This might put him at odds with fellow Democrat and state Senator Richard Pan, a pediatrician who said he is considering authoring legislation to eliminate the personal belief exemption for the Covid-19 vaccine requirement.
Assemblywoman Janet Nguyen represents the 72nd District which includes Seal Beach, Rossmoor and Los Alamitos. During the Nov. 9 Rossmoor Community Services District meeting, when asked about the mandate, Nguyen, a Republican, said she was waiting to learn more and anticipated discussions once lawmakers returned to Sacramento in January.
"I know that across my district, lots of parents are not very happy with [the mandate]. And I'll be honest, … I mean, I'm a parent who has an eight-year-old, a 10-year-old and I have to go through that dilemma with my children as well. And so I think you're going to have quite some movement when the rest of us go back to Sacramento," Nguyen said.
Spotlight Schools has repeatedly reached out to Assemblywoman Nguyen's office and has not been able to secure an interview.
Health Officials Encourage Vaccination
Meanwhile, Orange County health officials continue to encourage everyone who is eligible, including children, to get vaccinated.
"With over 90% of COVID hospitalizations occurring in those who are unvaccinated, vaccination remains the most effective way to reduce the likelihood of getting sick, being hospitalized or dying from COVID-19," Dr. Regina Chinsio-Kwong, Deputy County Health Officer, said in a Dec. 9 press release.
As of Dec. 6, about 18% of Orange County's 5-11-year-olds have received at least one dose of the Covid-19 vaccine, according to the Orange County Health Care Agency. For 12-17-year-olds, that figure is 71%.
For more information on the pediatric Covid-19 vaccine, visit the OC Health Care Agency website.
SECOND BELL
Other Stories We're Following
Focus on Campus Safety after Social Media Threat involving LAHS
Last week, a threat was circulating on social media involving Los Alamitos High School.
ICYMI: On Dec. 8, LAHS Principal Christiana Kraus sent out a message to families stating that the district and campus first learned of the threat on Dec. 6.
"We have been working closely with the Los Alamitos PD to actively investigate. We are aware of the new Snapchat post reiterating a similar threat and have been in constant communication with local law enforcement who are also actively investigating. Law enforcement currently does not feel this to be a credible threat but it is being taken seriously by law enforcement, Los Alamitos High School, and Los Alamitos School District," the message said.
That day, Seal Beach Police Chief Phil Gonshak confirmed that two SBPD officers were sent to patrol the LAHS campus for the entire day out of an abundance of caution.
Unfortunately, we did not hear back from Los Alamitos police detectives with an update on their investigation.
But on Dec. 9, Spotlight Schools did interview Dr. Jerry Friedman, Director of Safety & Student Services for Los Al USD. He said that although not a "credible" threat, the social media post did provide an opportunity to reflect on what the district is doing.
"Whenever there is an incident or a social media post or a threat, we reexamine and reconsider our practices and fine tune them," Dr. Friedman said in a phone interview. He credited local law enforcement for being responsive. "We have great partnerships with our local law enforcement," he said.
Similar threats of violence have confounded administrators and parents at schools across Southern California, according to recent stories in the O.C. Register and the L.A. Times. It's even happening across the nation, reports the Wall Street Journal.
Dr. Friedman offered some more information on other safety protocols and resources in the district.
They include:
Safety Tipline: The district has a Tipline at 562 344 5498. "That's an anonymous tip line that students can access to report things like bullying, cyberbullying, or potential threats. If there's anything that's an emergency … call 911," Dr. Friedman said.
Drills: Dr. Friedman said students prepare for emergencies monthly with regular campus drills on lockdowns, earthquakes, fires, or a violent intruder situation.
Staff training: COVID impacted the ability to do some training but Dr. Friedman said that all new teachers were offered violent intruder training in October.
O.C. Sheriff's Dept. SMART: The School Mobile Assessment and Resource Team (SMART) is another resource that is available to O.C. schools. Made up of O.C. Sheriff Deputies and a clinician from the OC Health Care Agency, the team can be used to handle threat assessments.
School Resource Officer: LAHS has not had a School Resource Officer on campus since the 2019-20 school year, according to Dr. Friedman. Previously, the Los Alamitos Police Department had one of its officers assigned to the campus. Dr. Friedman said that without the SRO, students may miss out on that "daily positive interaction" with law enforcement but stressed that when Los Al PD is needed, they respond immediately.
Recall Effort Update
Another round of revisions is underway in the effort to recall Los Alamitos USD Board of Education trustees Megan Cutuli, Chris Forehan and Scott Fayette.
In an email this week, the Orange County Registrar of Voters' office, which oversees elections, wrote that the office had returned the third draft of the petitions to the proponents on Dec. 7 and the revised versions are due back by this Friday, Dec. 17.
Why the revision? The Registrar's office stated the petitions were returned due a few minor formatting issues.
This means recall supporters cannot yet gather the roughly 6,000 signatures from registered voters across the three targeted trustee areas needed to get a recall on the ballot. Once the petitions are approved by the Registrar, proponents will have 90 days to collect signatures.
Other Stories Worth Reading
EXTRA CREDIT
Meetings // Events // Opportunities // Resources
MEETINGS
HAPPENING TONIGHT: The Los Alamitos Unified School District Board of Education meets tonight.
The 4:30pm workshop will feature a presentation from Rossmoor Elementary School Principal Amy Coltey and the awarding of Rossmoor's Hero of the Heart to Tanya Doby.
The 6:30pm meeting agenda lists the resolution on the vaccine mandate, as mentioned above, and:
Vote on a new President and Vice President of the Board.
Revision of Homework Policy.
Salary increases for staff and some district administrators including Supt. Andrew Pulver.
You can watch the meeting livestream on YouTube.
OPPORTUNITIES
HAPPENING THIS MONTH: Los Al USD's Human Relations Advisory Council is entering its next phase. Community members, parents and staff are being asked to join subcommittees that are now forming and will meet 3-4 times a school year, according to an email message from Deputy Supt. Ondrea Reed.
The subcommittees include:
Community Outreach & Programs
School Site Roundtable
Student & Staff Resources
Human Resources & Student Service
Interested? Fill out the form here by Dec. 23, 2021
VOLUNTEERS NEEDED: Los Alamitos Unified School District is seeking people for its Citizens Bond Oversight Committee which oversees spending and projects related to Measure G and Measure K, bond measures passed by voters. The measures are currently financing projects including the building of a 3-story STEM building at Los Alamitos High School. Applications are due by Jan. 7, 2022. More information here.
ENRICHMENT OPPORTUNITY: Enrollment in the The Los Alamitos Education Foundation's after-school enrichment classes for Spring 2022 opens tomorrow, Dec. 15, at noon. Find out more on LAEF's website.
RECESS
Your Dose of Good News
O.C. Teen to Graduate from UNLV Today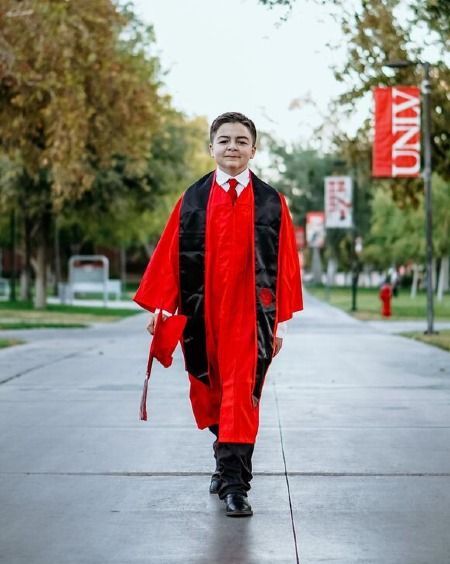 Huntington Beach resident 15-year-old Jack Rico is due to graduate today from the University of Nevada, Las Vegas. Photo Courtesy of UNLV
At just 15, Jack Rico will become one of the youngest people ever to earn a degree from the University of Nevada, Las Vegas. The Huntington Beach resident earned his degree in history this year and his commencement ceremony is today.
How does it feel to achieve this accomplishment?
"It feels awesome! I worked really hard but I also had a lot of support. All my professors and classmates have been awesome. A huge thank you to my mom for driving me back and forth from California to UNLV every week so that I could take classes on campus," Jack told UNLV.
Jack is used to making history. In 2020, he became the youngest person to graduate from Fullerton College and earned four degrees in just two years.
You can learn more about Jack's remarkable story in the O.C. Register and from ABC7.
Creative Mind Behind Graphic Recording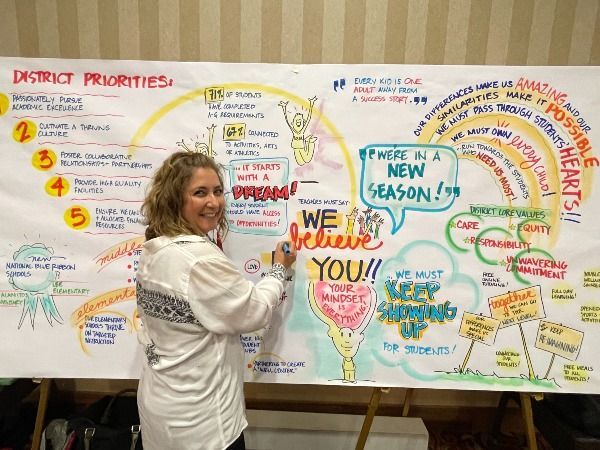 Michelle Boos-Strong working on her "graphic recording" at last month's State of the District. Photo: David N. Young
​​Meet the creative mind behind the engaging drawings that captured the most memorable messages from Los Alamitos USD's State of the District last month.
Michelle Boos-Strong calls her work "graphic recording." The Long Beach businesswoman has a gift that guides her to sketch a speech into a work of art.
"The images I draw are basic, but they trigger your brain to REMEMBER the important points," says Boos-Strong. "I'm listening for the most important SENTENCE in the paragraph of what someone is saying...not the whole paragraph," she said.
What began in grade school as a neat way to remember her lessons has become a global consulting practice. Her clients vary from local chambers, school boards, and even include luminaries like Bill Clinton, Peter Drucker, Jane Goodall and more.
See more of David N. Young's profile of Boos-Strong in this week's Event News Enterprise.
Congrats to LAHS Song and Cheer Teams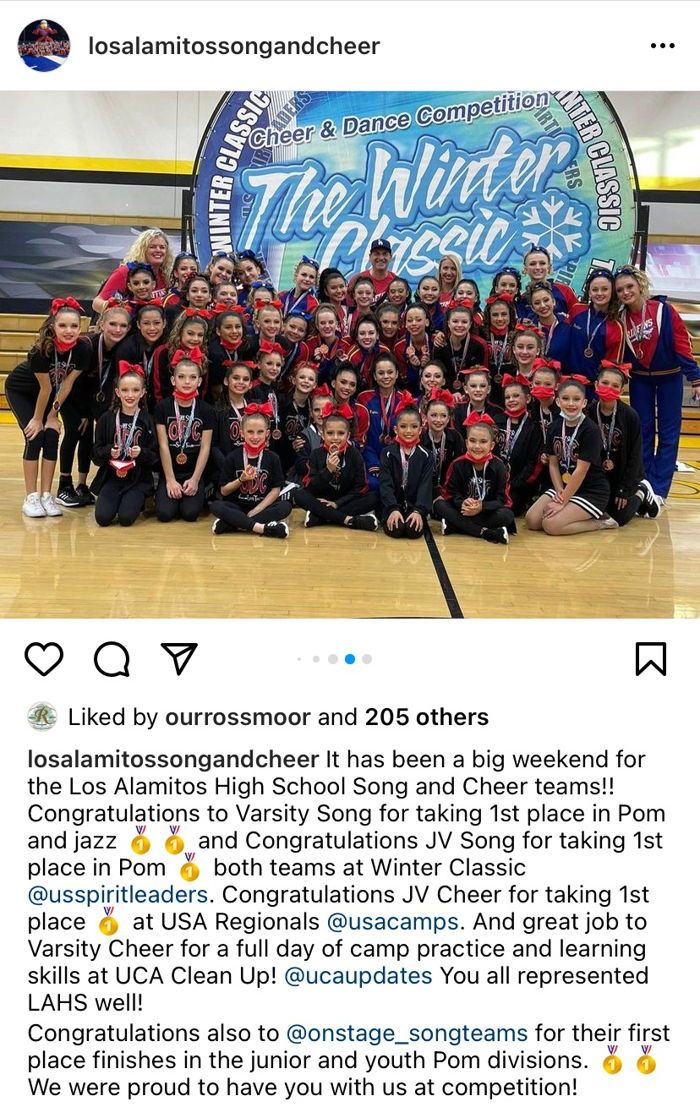 New playground coming to LAE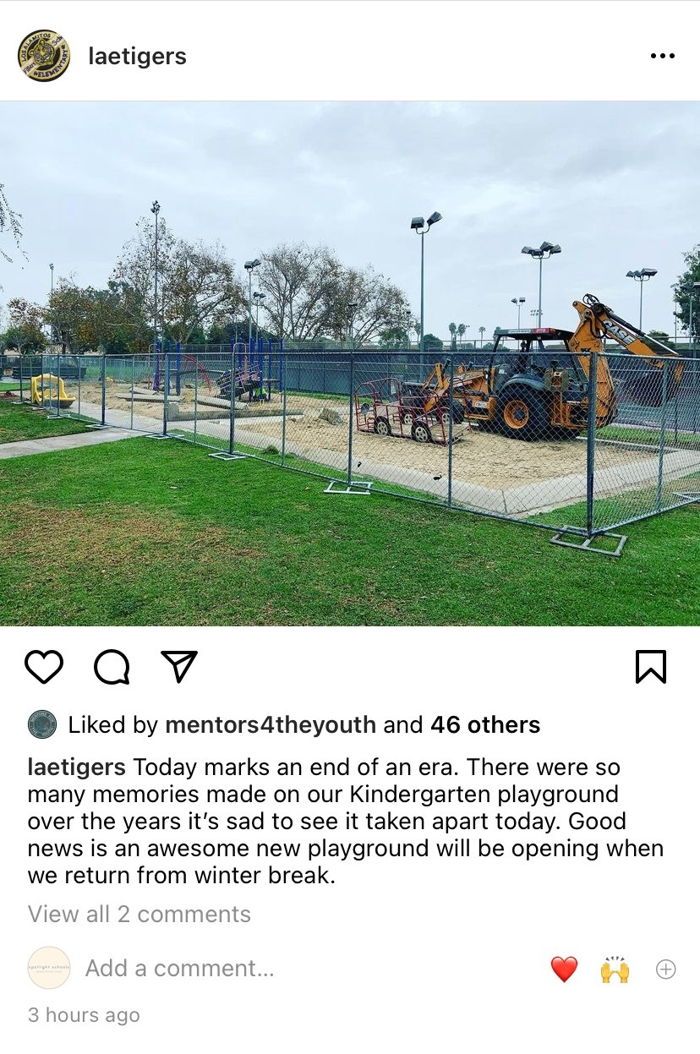 Thanks for reading!
Forwarded from a friend? Subscribe to the Spotlight Schools newsletter here.
Follow us on Instagram @SpotlightSchools.
Our mailing address:
P.O. Box 164
Seal Beach, CA 90740
Copyright © 2021 Spotlight Schools, All rights reserved.