New details on building of second gymnasium at Los Alamitos High School
Project's cost are exceeding what was budgeted but district is looking at options for bond-financed facility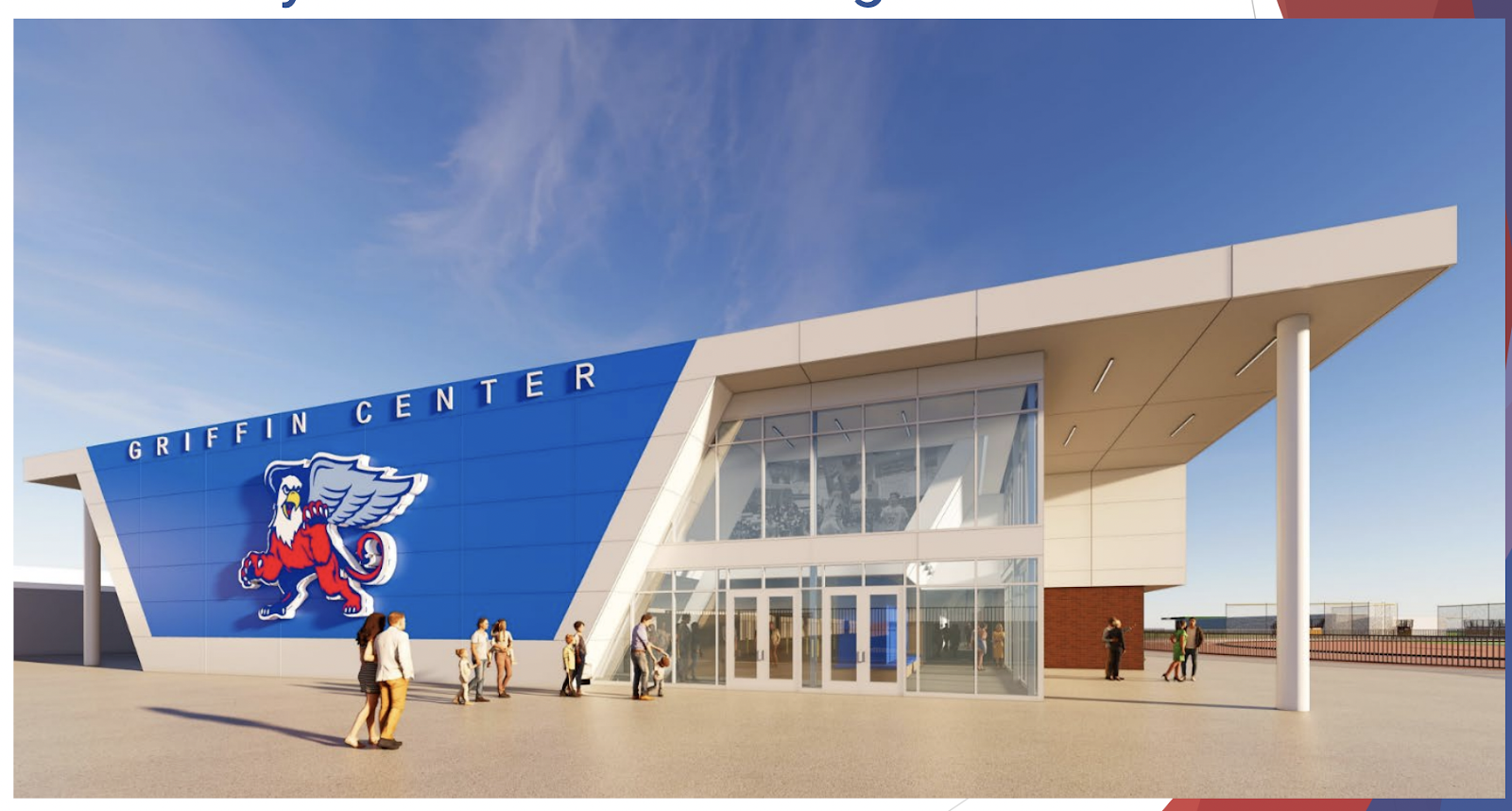 We're getting a better idea of what a new, second gymnasium on the Los Alamitos High School campus could look like and how much it might cost.
Currently in its design phase, the public got an update on the project during the September 20 Los Alamitos Unified School District Board of Education workshop. C.J. Knowland, the district's Director of Facilities, Maintenance and Operations and Transportation,  outlined the latest developments on the construction of the second gymnasium that is intended to serve basketball, volleyball and other sports teams as well as host assemblies and events.
It's slated to be the final large-scale construction project paid for with  Measure G bond money. That's the $97 million bond measure local voters in Rossmoor, Seal Beach and Los Alamitos passed in 2018. Measure G already financed a new  aquatics facility and the new multistory  STEM building at LAHS. Funds from the 2008-approved  Measure K bond measure were also used.
After a previous board meeting in March, it was clear that the board was going to have to make some  tough decisions regarding the scope of the gymnasium project. The hope was to build a roughly 38,000-square-foot competition facility with three courts, bleachers for 2,000 people, multiple team rooms, a weight room, a ticket window and concession stand.
But with construction costs skyrocketing, the original $21 million budget is no longer enough. Board members ended the March discussion by asking for more consultation with high school staff before making decisions.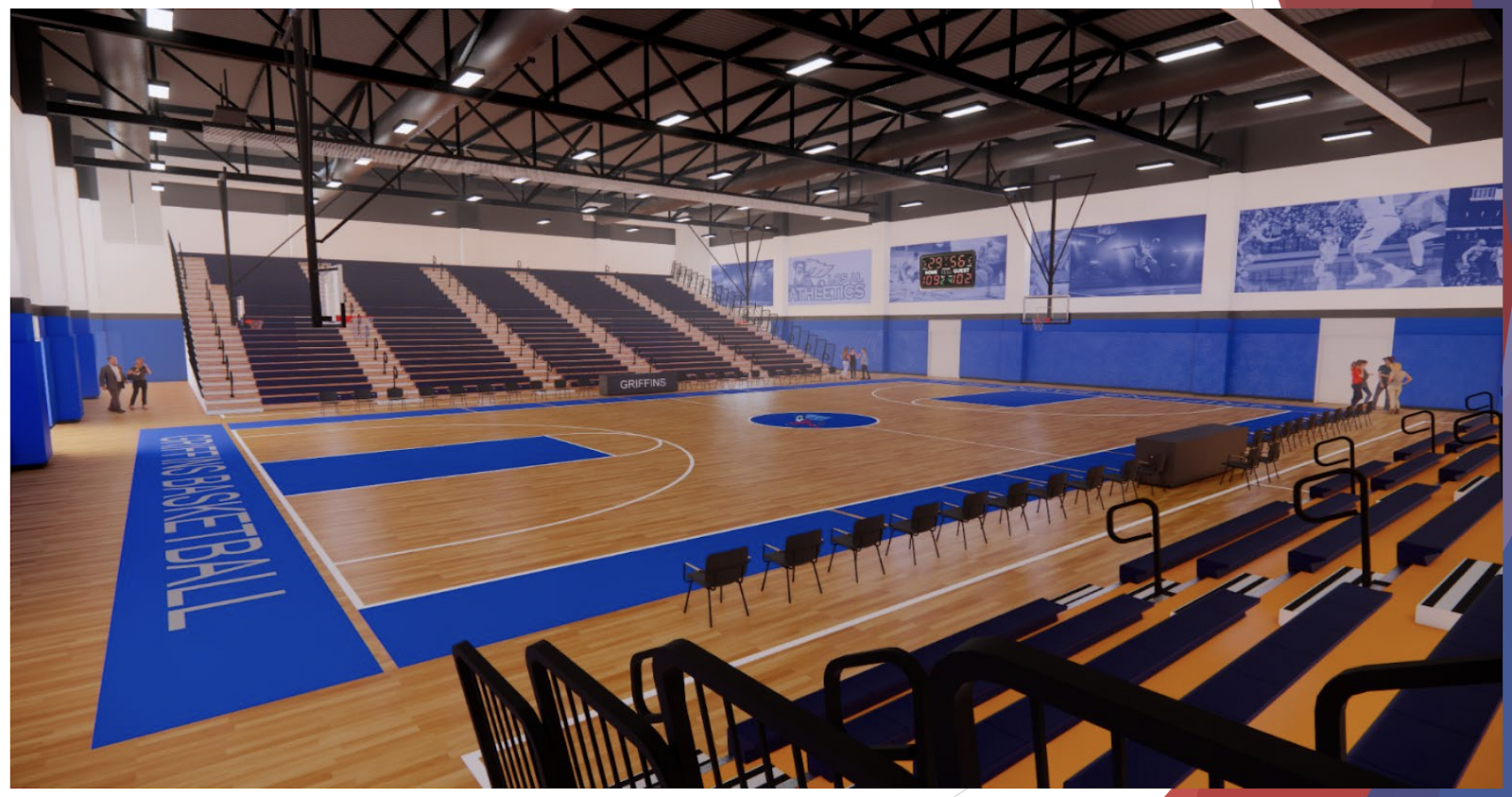 At the Sept. 20 meeting, Knowland had an update on what was called the Griffin Center. He said construction costs have continued to rise and increased by 35.6% since the start of the Covid-19 pandemic in 2020.
"That really makes things a little bit difficult as we're trying to whittle our price down," Knowland said and added, "It's a constant battle. We're hoping it improves. It looks like it's plateauing but only time will tell."
After speaking with stakeholders and looking at cost  estimates from three general contractors and an estimating firm, Knowland said the plan is to reduce the overall size of the gymnasium and to break the project into two phases. The first phase would be the bulk of the project building a roughly 30,000-square-foot facility with the three courts, team rooms, restrooms and a concession stand. Phase two would add the weight room and outdoor fitness areas to bring the total size to around 33,300-square-feet.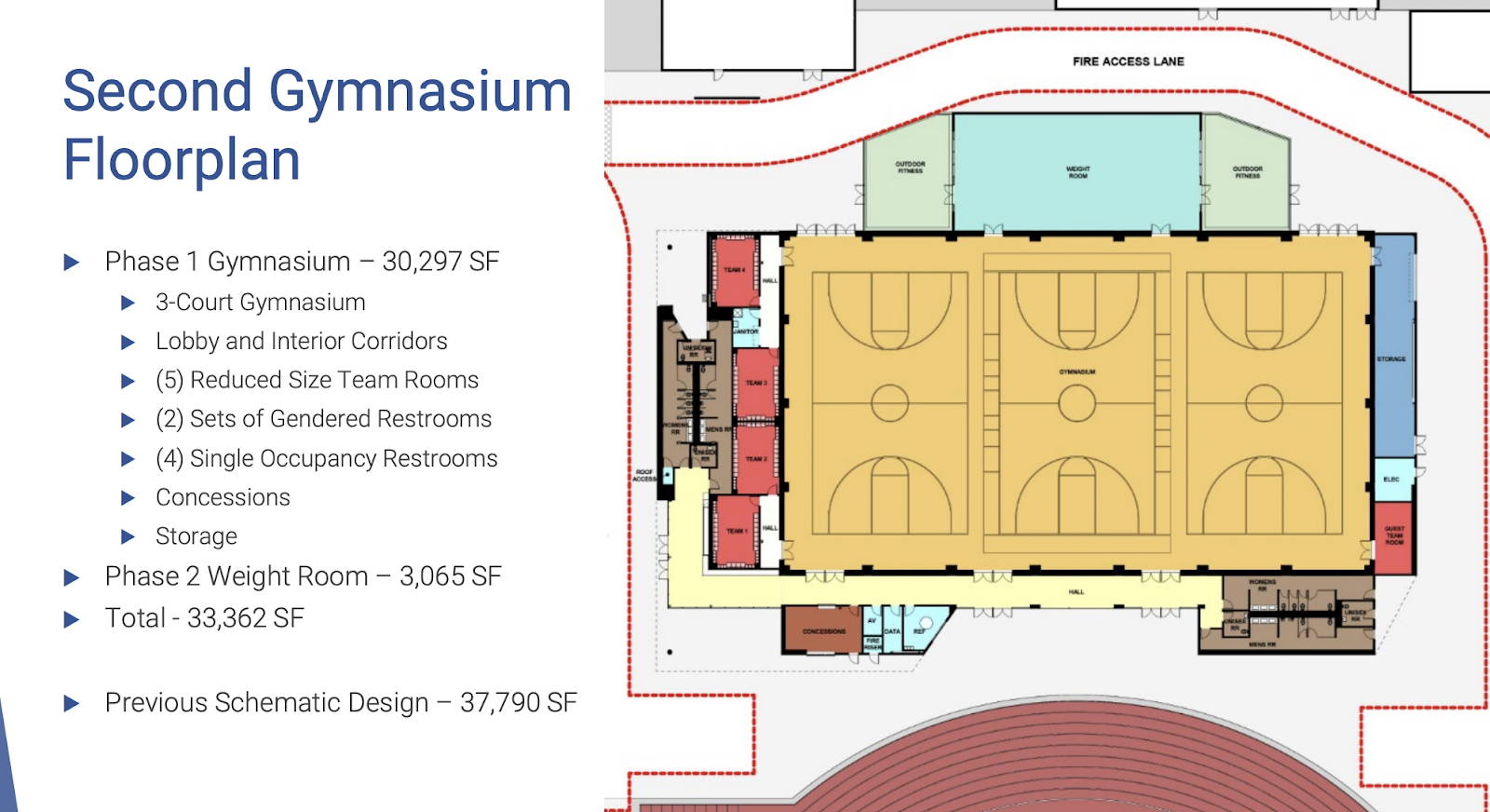 The total projected cost for both phases of the project, including with estimated contingencies, is around $28,500,000, according to Knowland.
Superintendent Andrew Pulver, Ed.D., said it was hard to make any decisions about the costs until a cash flow analysis is completed, which is expected soon. He anticipated perhaps $500,000 being rolled over from the other big bond-financed projects once they are closed out. And he also talked about the possibility of getting matching funds from other government sources.
"We don't know anything about matching funds yet but we certainly are applying for all of that as much as possible," Pulver said.
Construction on the second gymnasium could start by the summer of 2023 with a possible duration of 18 months, according to Knowland.