The School District as a "Dream Maker"; Rossmoor Elementary Gives Back; Los Al Locos are OC Champions
How many OC kids got COVID-19 shots? Plus, highlights from The State of the District
How many OC kids got COVID-19 shots? Plus, highlights from The State of the District
Spotlight Schools
Nov. 23, 2021
In this week's newsletter :
Highlights from the Los Alamitos USD's State of the District
Acts of Kindness from Rossmoor Elementary School Students
Los Al Locos are OC Champs!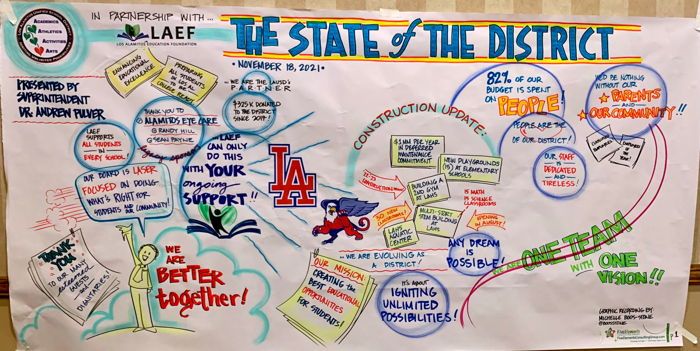 Graphic recording of last week's State of the District for Los Alamitos Unified School District. Photo by Jeannette Andruss; Art by Michelle Boos-Stone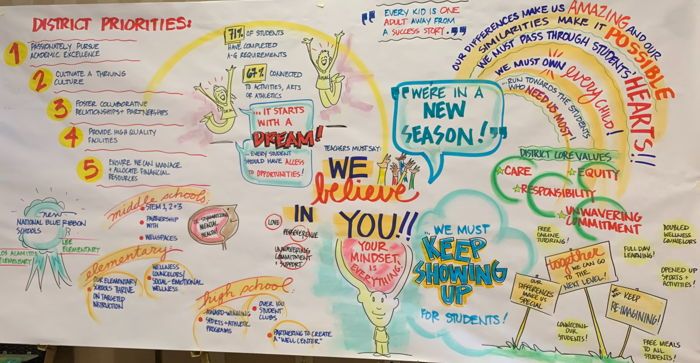 This is the weekly newsletter from the hyperlocal education newsroom Spotlight Schools. Our goal is to help you better navigate, understand and participate in the TK-12 public school experience in Orange County.
Don't miss an edition of Spotlight Schools. Please add us to your email contacts or safe list. You can find out how to do that by visiting https://www.whitelist.guide/.
Got feedback? Please email hello@spotlightschools.com.
Yours in knowledge,
Jeannette Andruss
Founder, Spotlight Schools and parent to two kids in Los Alamitos USD
FIRST BELL
This Week's Top Story
District as "Dream maker" for Students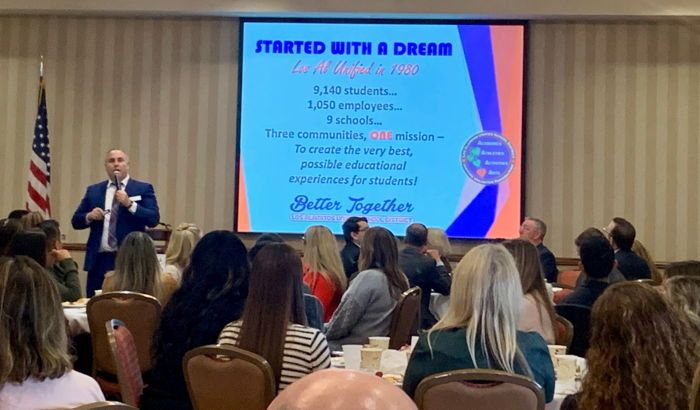 LAUSD Supt. Dr. Andrew Pulver speaks at The State of the District on Thursday.
"We're in a new season."
"We are dream makers."
"We're one team with one big dream and one vision."
These are some of the optimistic words Los Alamitos Unified School District Superintendent Dr. Andrew Pulver said in his enthusiastic presentation at last Thursday's annual State of the District address where he provided an overview of the district as well as highlighted its achievements, goals and vision for the future as we continue to live through a pandemic.
"What we're really focused on is believing in our kids. 100%. That has to be the goal," Dr. Pulver said. "Every kid should be able to have access and opportunities and then let them choose."
He added later: "When we talk about a big bold vision, we want our students to be seen, having a culture of feeling cared about, seen, and valued."
Dr. Pulver's energetic 45-minute talk was to a supportive crowd of more than 200 people including district parents, district staff, elected officials, and local business owners at On the Greens at the U.S. Navy Golf Course in Cypress.
All five Board of Education trustees were also there.
Notably absent was the tension of recent Board of Education meetings which have been marked by heated public comments. The community's divisions were on display at the Nov. 9 board meeting where board supporters and opponents spoke about President Marlys Davidson's remarks toward two parents said under her breath but audible on the livestream of the Oct. 26 meeting. There's also an effort underway to trigger a recall election of three trustees.
Before starting his presentation, Dr. Pulver referenced controversy that was going on but said that was not going to be the focus of the event.
Here's what was the focus:
"We currently have 9,140 students, over 1000 employees, nine schools, three beautiful communities [Seal Beach, Rossmoor and Los Alamitos], with one mission: to create the very best educational opportunities for our students," Pulver said.
Here's the brief look at what he shared:
The district has a $120,982,963 budget of which 80% goes toward employee salaries and benefits.
Of the 9,140 students: 10.8% receive Special Education services; 16.3% are socioeconomically disadvantaged; 5.5% are part of military families; 2.3% are English learners; and 0.1% are foster youth.
The demographics of the study body: 42.4% are White; 28.2% are Hispanic or Latino; 14.1% are Asian; 10.4% are two or more races; 2.4% are African American and 1.9% are Filipino.
Of the district's five Priority Goals, #1 is to "passionately pursue academic excellence from all students." The district adopted Core Values this year which are: Care, Responsibility, Equity and Commitment.
Pulver stressed that these core values are what grounds the district to develop what he said is a thriving, inclusive culture that helps families achieve their educational goals while "igniting unlimited possibilities."
"Our job, as a team, is really to serve the dreams that all of you have for your kids here in this community," the superintendent said.
"I think any dream starts with a belief. We have to believe that things are possible for our kids and for one another," said Pulver. "And we really believe that we are dream makers, that we must help students develop dreams, and a belief that they can achieve them," he added.
To illustrate this point, Dr. Pulver shared the story and video of Jeremy Anderson, a motivational speaker who struggled in school until he found a group of teachers that showed up for him and believed in him.
Anderson said teachers at his new school reminded him that he was in a new season and it was that support that helped him believe in himself and excel.
Dr. Pulver said we are also in a new season as the district lives through the third academic year impacted by Covid-19.
"I think with this pandemic, that we don't necessarily always bring the old things into the new," he said. "So, we are in this new season, and I think we're going to be in the new season for several years to come," he said. "Next year is going to be completely different than this year, but we're going to have to just constantly take a look," he said.
Dr. Pulver highlighted specific district efforts and achievements over the past two years. That included being the first school district in Orange County to open to in-person instruction during the pandemic while also offering an online option to families called LosAl@Home.
Other items include:
Dr. Pulver lauded teachers, staff and parents as well for their collective ability to pivot during the pandemic and said this nimble behavior will be helpful in the future.
"For the students and families we serve, we have to constantly keep evolving," he said. The demographics of the district have changed, he noted, but said "the board continues to stay laser focused on what's best for students and really how to represent and serve our community."
"We know there are differences of opinion and diverse concerns," Pulver acknowledged, but he predicted this "amazing community and talented students will find a way to come together."
"We will come together as a people, we will come together as a nation, we will come together as a state, we will come together as a city, we will come together as a district and we will come together as schools," said Pulver.
And, he said, "we will come together as a class and we will value each other."
The State of the District was put on by the Los Alamitos Education Foundation or LAEF, the district's nonprofit partner that provides after-school enrichment classes as well as fundraises for district needs.
LAEF Executive Director Carrie Logue told the crowd it had raised more than $325,000 for the district since 2015. LAEF recently gave $60,000 to support Wellspaces at the two middle schools. LAEF's next fundraising focus will be building a Wellness Center at Los Alamitos High School.
David N. Young contributed writing and reporting for this story. For more on the State of the District, see this week's edition of the Event-News Enterprise, published on Wednesday.
SECOND BELL
Other Stories We're Covering
How many kids in OC are getting COVID-19 shots?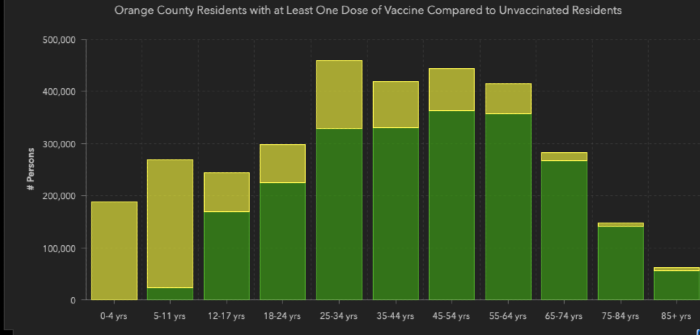 A graph from the Orange County Health Care Agency shows roughly 9% of children age 5-11 have received at least one dose of the Covid-19 vaccine.
Between Nov. 8 and Nov. 15, a total of 23,792 kids between the ages of 5-17 got at least one dose of the Covid-19 vaccine, according to the Orange County Health Care Agency.
The Pfizer-BioNTech vaccine was given emergency use authorization for 5-to-11-year-olds earlier this month.
"Getting this newly eligible population vaccinated will help reduce transmission in this age group, keeping schools going and keeping schools safe – leading to a safer winter and start to 2022," Dr. Clayton Chau, County Health Officer and HCA Director, said in a press release.
Among Southern California's largest counties, Orange County had the highest percentage of children in the elementary school-age group getting their first dose of the vaccine at 9%, according to The O.C. Register. That is 22,674 kids out of a total of 268,283 5-to-11-year-olds in OC. Still, Orange County lagged behind Bay Area counties which were in the 20-30% range. When it comes to kids 12-17, nearly 70% in OC have had at least one dose of the vaccine.
ROSSMOOR ELEMENTARY SCHOOL STUDENTS HELP WILDLIFE CENTER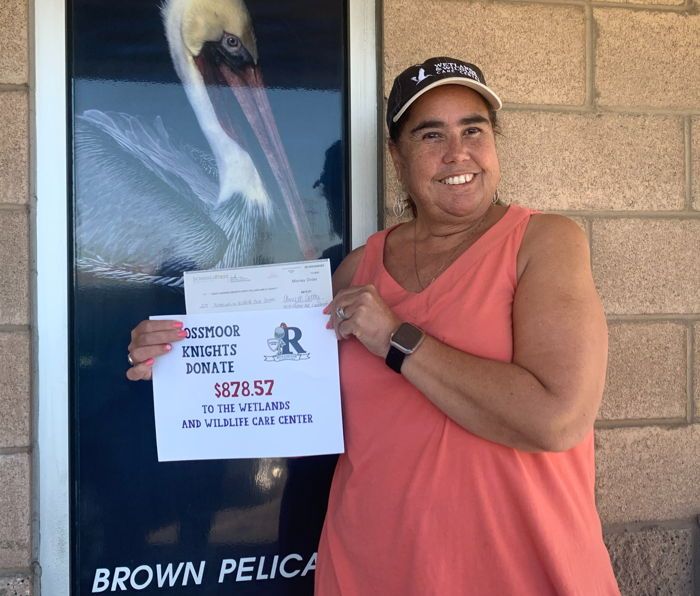 Debbie Wayns, Operations Manager at the Wetlands and Wildlife Care Center in Huntington Beach shows the donation from Rossmoor Elementary. Students held a coin collection drive to raise funds for animals injured in the recent oil spill off Orange County's coast. Photo courtesy of Rossmoor Principal Amy Coltey
Rossmoor Elementary school students are making a difference.
Last month, students launched a coin donation drive to support wildlife injured in the recent oil spill off the coast of Huntington Beach. Fifth graders involved in the campus-based Knight Leadership Council came up with the idea, Rossmoor Principal Amy Coltey explained in a phone interview last week.
"At Rossmoor, we're thrilled to help those in need in our world and in our community and all around us," Mrs. Coltey said in a recent video for students discussing the effort.
Rossmoor's mascot is a knight. The school's #KnightPRIDE values are the inspiration for community service projects. "That's what KnightPRIDE is all about. Thinking of others and helping others," Mrs. Coltey said.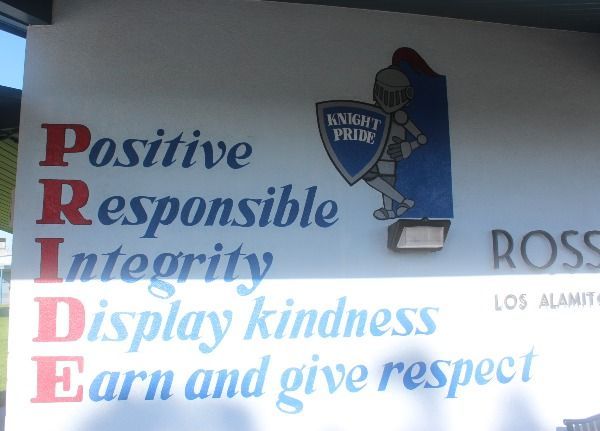 As Knights, Rossmoor students of all grade levels are assigned to one of four houses. They are similar to the ones popularized by Harry Potter, but Rossmoor's are inspired by King Arthur and His Knights of the Round Table. Rossmoor Elementary's houses are: Percival House, Galahad House, Lancelot House and Gawain House.
For the coin donation drive, each house had a jar where students engaged in a friendly competition to collect as many coins as possible for about two weeks. And all of that spare change really added up.
This month, Mrs. Coltey delivered the $878.57 the students raised to the Wetlands and Wildlife Care Center.
"Thank you so much. We really appreciate this," Debbie Wayns, Operations Manager and Board Member at the center told Mrs. Coltey in a video the principal shared with students. Wayns said the nearly $900 would go toward supporting the many animals the center helps year round, not just the ones impacted by the oil spill. That includes pelicans, seagulls, squirrels, raccoons and more.
"We have animals here that need food, that need medical care, that need our assistance. This is going to help with that project," Wayns said.
And the Knights aren't done helping. Their next community service project is to collect donations for children and teens at Casa Youth Shelter in Los Alamitos. Each classroom is sponsoring one child at the shelter to get them clothing, gift cards and other needed items. Students will also write encouraging holiday cards.
"We're really trying to teach the kids that there are a lot of people out there that need help. It teaches them compassion," Mrs. Coltey said on Friday and added, "It really does fill your bucket when you fill someone else's."
Other stories we're following...
EXTRA CREDIT
Meetings // Events // Reports // Opportunities
REPORT
JUST IN: On Monday afternoon, Orange County released the 27th Annual Report on the Conditions of Children in OC, which measures indicators across four areas to assess how children are doing. The four interdependent areas are: Good Health, Economic Well-Being, Educational Achievement and Safe Homes and Communities. You can see the full report here.
PARENT EDUCATION OPPORTUNITY
HAPPENING MONDAY, NOV. 29: Youth Suicide Awareness Webinar 6:00-7:30pm
It's the second leading cause of death among school-age kids, but suicide is preventable. The Greater Anaheim Special Education Local Plan Area(GASELPA) is hosting a webinar that aims to help parents and guardians notice the warning signs of distress. "This training will cover suicide warning signs, risk factors, protective factors and strategies/tools on how to work with students who may be thinking of suicide." A Zoom link will be provided following registration via RSVP to Jennifer Cox at jcox@gaselpa.org.
REMINDER: Los Al USD is reminding families that the district provides the service CareSolace to connect to mental health resources.
CareSolace is available 24/7/365 in any language.
Call 888-515-0595 or visit www.caresolace.com/losalfamilies.
Click "Book Appointment" for assistance by video chat, email, or phone.
You can also find additional mental health resources at losal.org.
HAPPENING TUESDAY, NOV. 30: Virtual Forum on Native American Heritage Month 3:30 to 5 p.m.
The Orange County Department of Education is holding a virtual forum to "celebrate the deep histories, dynamic cultures and enduring contributions of Native Americans and explore how educational systems can more purposely meet the needs of Indigenous students," according to a press release. The free forum will feature a panel of speakers sharing personal stories and perspectives on the first peoples of Orange County. Register here.
RECESS
Your Dose of Good News
🏈 LOS AL HS WINS STUDENT SECTION TITLE IN OC🏈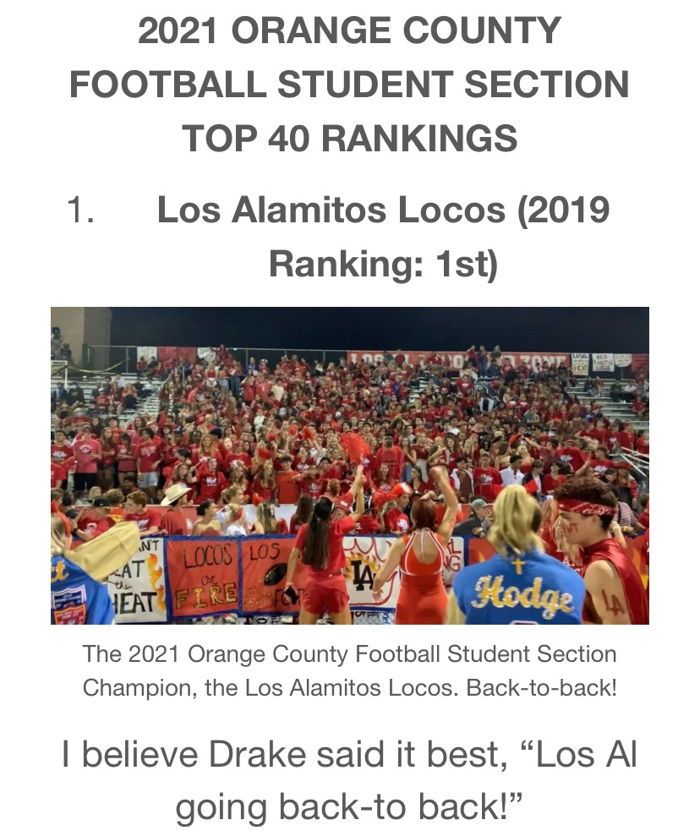 These fans are the heart of Los Alamitos High School athletics. Now, the students in the Los Alamitos Locos Student Section are champions in their own competition.
Los Al Locos were named the #1 Football Student Section in Orange County by the Student Section Report last week. It ranks student sections from around Southern California on a weekly basis.
"The Locos stayed on point and rocked it in the stands! You can see the Locos surfing, parting the Red Sea, throwing large beach balls as well as getting Loco for their Griffins!," the website wrote.
Los Al Locos won this title back in 2019 and since there wasn't a traditional 2020 football season, this means Los Al Locos are back-to-back winners.
"Being able to support our football team in-person for the 2021 season was really special to all of our Los Al Locos," The Loco leaders said in a statement to Student Section Report. "Specifically our seniors. Our season featured many memorable moments such as our Los Al Locos AC/DC Back in Black game against the Edison Chargers, parting the Loco Red Sea at our pirate-themed homecoming, and raising money for St. Jude's Children's Hospital at our annual yellow game. The Los Al Locos brought their A-game week after week, while constantly having a great time. We are proud to be ranked with so many other talented student sections."
Want to see highlights from the stands from this year's football season? Check out the Los Al Locos on Instagram.
HAPPY THANKSGIVING
In celebration of the spirit of thankfulness happening during this week's holiday, I've included some some images from local schools via Instagram. Students shared what they are grateful for by writing on a leaf and adding it to a Gratitude Tree.
Spotlight Schools is thankful for readers like you!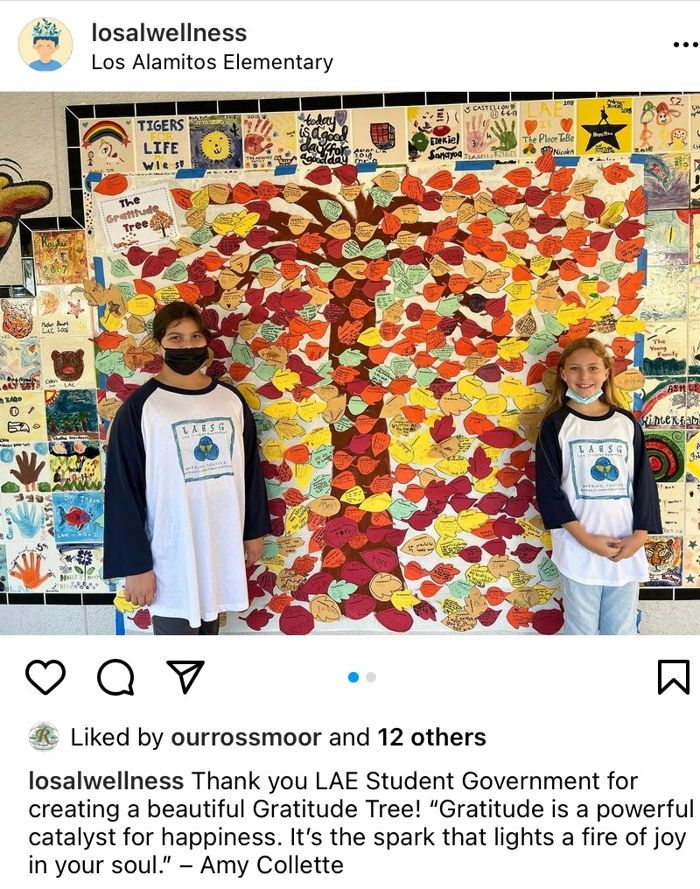 Los Alamitos Elementary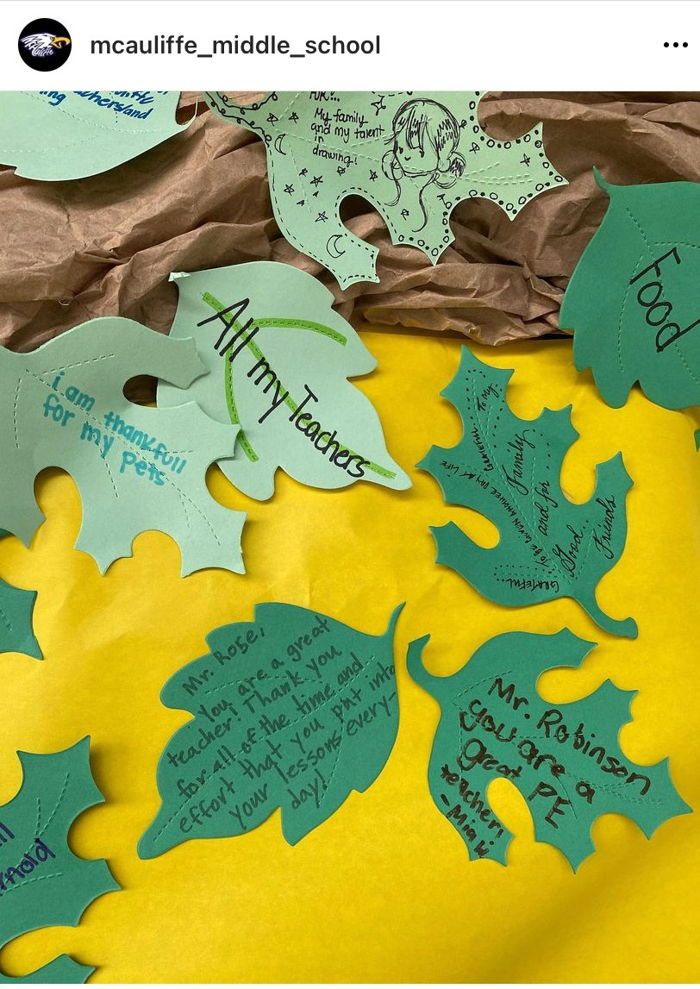 McAuliffe Middle School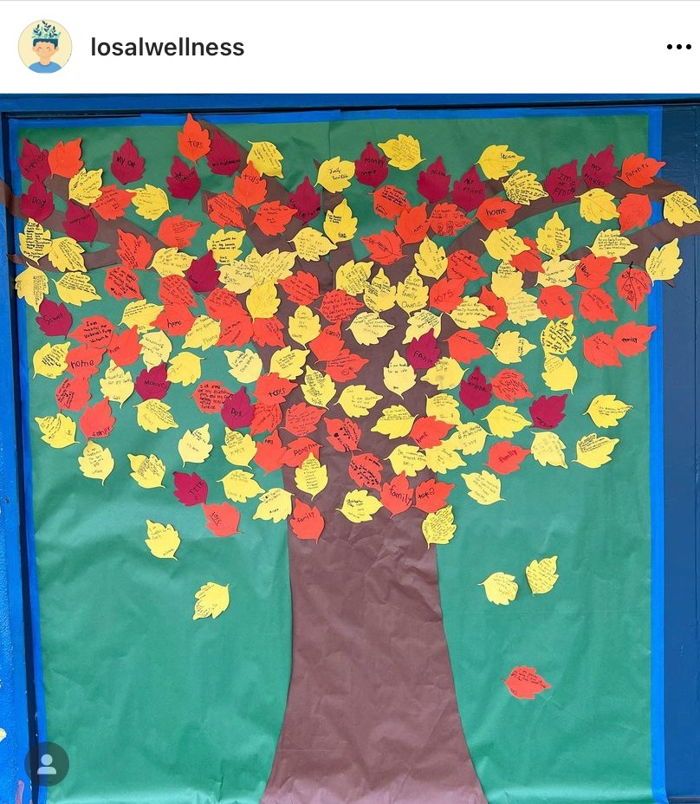 Weaver Elementary
Thanks for reading!
Forwarded from a friend? Subscribe to the newsletter here.
Follow Spotlight Schools on Instagram @SpotlightSchools
Our mailing address:
P.O. Box 164
Seal Beach, CA 90740
Copyright © 2021 Spotlight Schools, All rights reserved.