Sunny seat at Seal Beach school honors beloved teacher
'Caring Bench' at McGaugh Elementary dedicated to Cari Crevda McQuiston who passed away in 2021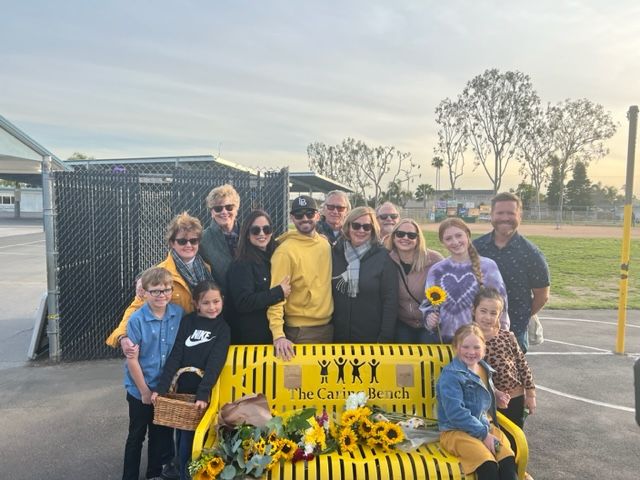 "Mrs. McQuiston is my hero."
That's how McGaugh Elementary School fifth grader Max Gregory described his former first grade teacher, Cari Crevda McQuiston, during a recent ceremony honoring the beloved educator who passed away from cancer last school year at the age of 34.
"She was the greatest teacher and always made everyone feel special and wanted in her class. I will always miss her and it was the best year I've ever had at McGaugh," Max shared.
On February 16, McGaugh students, teachers, staff, family, friends, and community members gathered at the school in Seal Beach to remember the ray of sunshine that was McQuiston and to dedicate a bright yellow bench on campus in her honor.
"We dedicate this  'Caring bench ' to our sweet, amazing, beautiful, McGaugh teacher Mrs. McQuiston, which symbolizes all the love and care she had for her students, her colleagues, her friends, and her family," McGaugh Principal Wendy Wood told the crowd of more than one hundred people at the ceremony.
McQuiston's husband, Brandon, their son, Finnley, 9, and daughter, Harper, 7, who are current McGaugh students, were there. McQuiston's extended family was also in attendance including her parents, Mike and Lori Crevda; her brother Brett Crevda, his wife Jenna and their two daughters; her sister Katie Crevda and her daughter; her aunt Angela Avery with wife Joan Caterino; and her uncle, Jack Crevda.
With input from the family, a committee of McGaugh teachers came up with the idea of installing a bench to memorialize McQuiston.
"The McGaugh teachers wanted to find a way to honor her dedication and commitment to those she cared for and served so generously," Wood explained. "We loved the idea of the bench being near her last two classrooms, looking onto the playground, the McGaugh flag deck, and the McGaugh seal."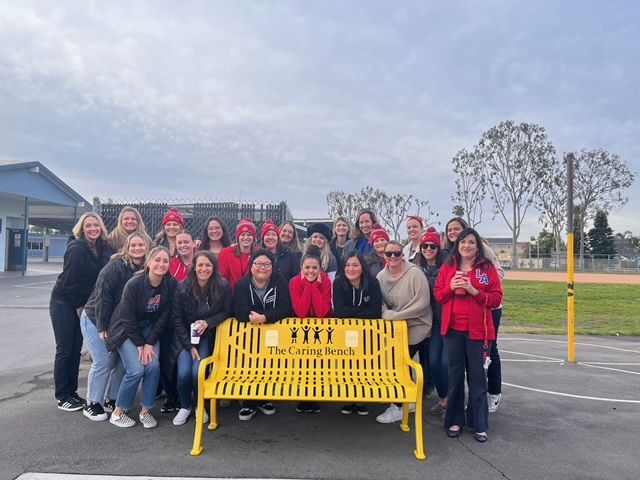 The metal bench includes two small golden plaques with hearts around the words "Dedicated to Cari Crevda McQuiston" and "Beloved McGaugh teacher and friend, 2021." Its bright yellow hue is a reference to the sunflower, McQuiston's favorite bloom, according to Wood.
Former McGaugh principal Roni Ellis was one of many people at the ceremony wearing yellow to honor McQuiston. In prepared remarks, Ellis explained how she brought McQuiston to the school around six years ago for what ended up being a fortuitous last-minute job opening.
Just days before the school year was to start, Ellis learned she would need to create a new kindergarten class. McQuiston, then a teacher in a neighboring school district whom Ellis had previously met, was the first person Ellis thought of to hire.
Within days, McQuiston was on McGaugh's campus working with students.
Ellis praised McQuiston during the ceremony. "She also inspired all of us to be better teachers, role models for children and friends to one another. … No challenge was too great and no child's needs were too small for Cari McQuiston."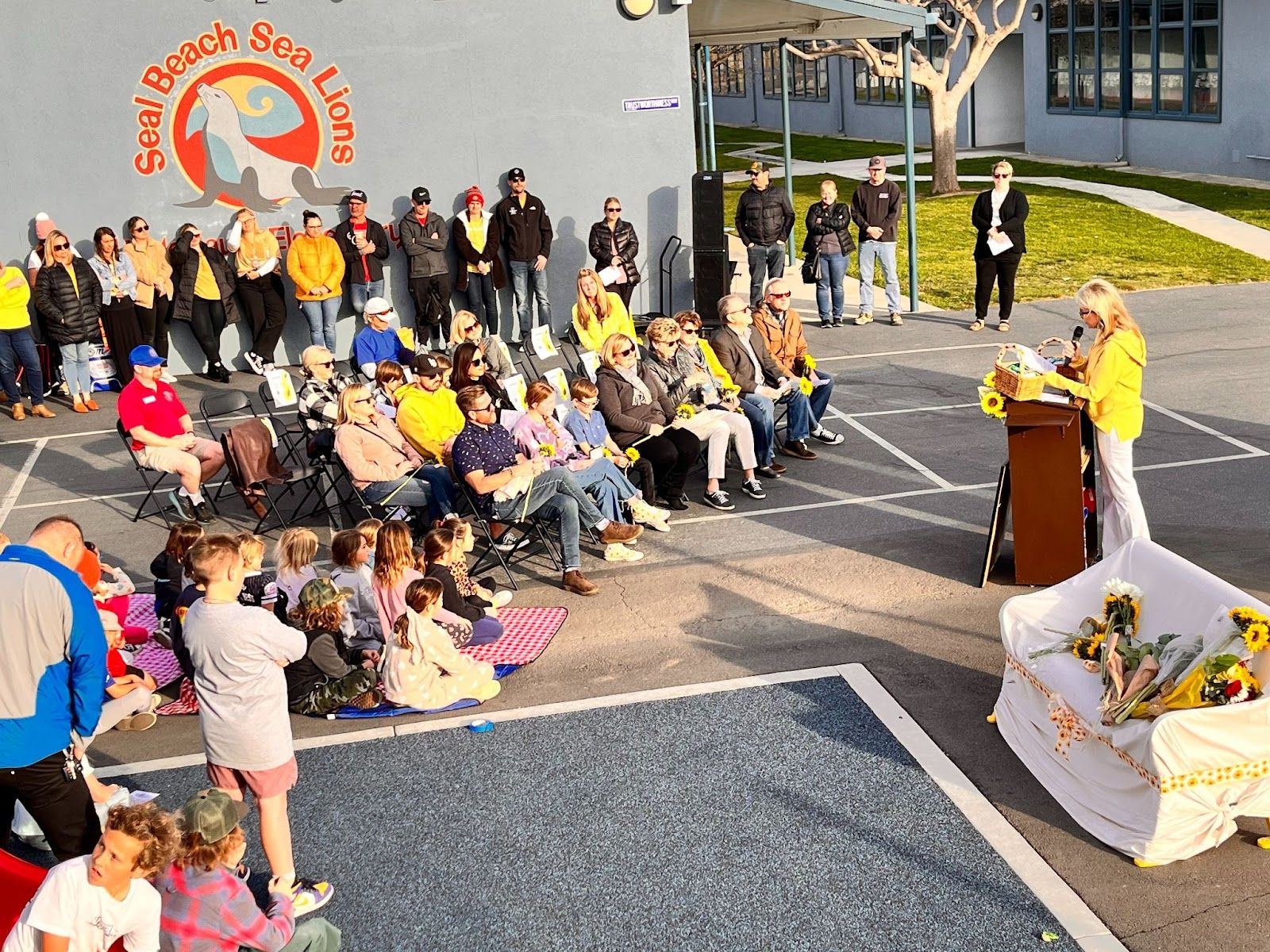 According to Brandon, teaching was a job his wife loved doing. It was the career she had dreamed of pursuing since she was a kid after being inspired by one of her own elementary school teachers.
"Cari dedicated her life to this. Her first priority was family but teaching was a very close second," Brandon explained in a recent phone interview adding, "I think it's important to note that it really was her passion in life. She loved it to her core. It was everything to her."
McQuiston had been battling adenoid cystic carcinoma, a rare form of cancer that affects the salivary glands. Her condition worsened as the 2021-22 school year was about to begin and the school community she loved showed up to support her and her family.
"As my world was starting to fall apart, this community began to pick up the pieces," Brandon said during the ceremony.
"Needless to say, the kids made it through their first day [of school] and then their second and before you knew it, we were here. And I know there is no possible way that that could have happened without the overwhelming support of McGaugh. Its students, the faculty and all of these beautiful families that are here to support," he said.
Brandon shared that numerous people sent letters to his family, made financial donations, and stepped up to help before and after McQuiston passed away in September of 2021.
"I want you all to know how much we appreciate all that you've done to carry us through this very difficult time," he told attendees at the ceremony.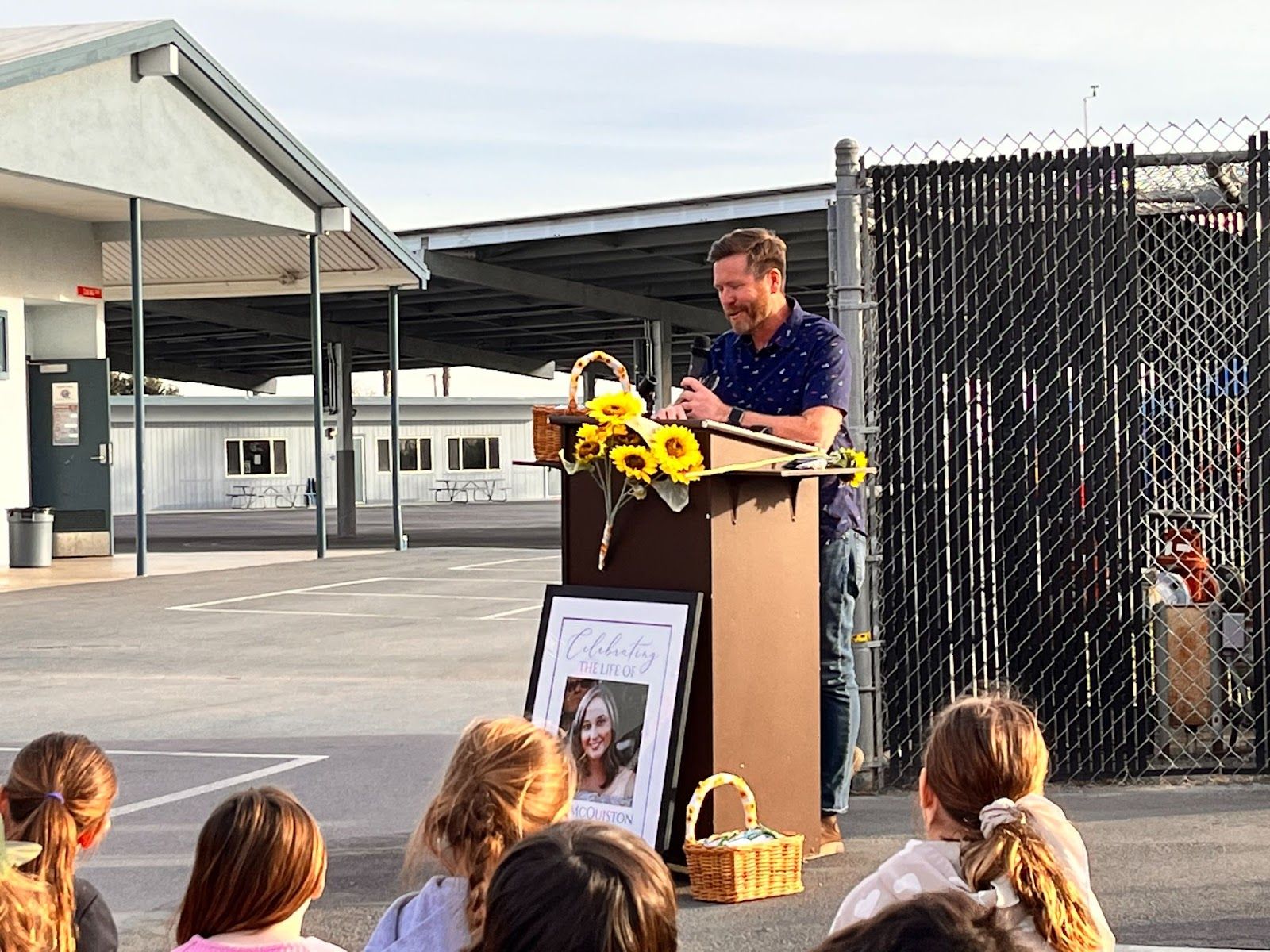 A staff member at the school also created a book for the family with pictures and letters, chronicling McQuiston's time at the campus and showcasing her positive impact on students and families. "It was really touching to see all of the things that she did and all the people that she interacted with and how many lives that she changed just in the course of those days," he said of the keepsake.
Brandon expressed gratitude to the McGaugh staff for creating the bench, which he called a "special gift," and said he appreciates the thought that went into it, including where it is located.
"This was the school that Cari never wanted to leave and this bench is going to ensure that her memory here lives on," he said at the ceremony.
According to Wood, the bench is also intended to inspire kindness in students. "When you see someone sitting on this bench and they could use a friend, be that friend, the same way Mrs. McQuiston made everyone she met feel cared for," she said.
Brandon sees the bench every school day when he drops off his daughter at her classroom. He shared that it was emotional the first time he saw a student sitting on it in the days after the dedication.
"It was very touching," he said of the moment. "I think if I believe that she's still present, and she's still here, I can only imagine that her spirit lives on there and that she gets to see her life's work every day, right there."
Editor's Note: The author is the parent of two students at McGaugh Elementary School.