Students Encouraged to Get Tested for Covid-19 as they return from Winter Break; New Laws Impacting Schools in 2022; The O.C. Teacher Competing to be National Teacher of the Year
CA officials committed to keeping in-person instruction at schools as winter wave of coronavirus cases hits. And the O.C. Board of Education issues a White Paper on Ethnic Studies
CA officials committed to keeping in-person instruction at schools as winter wave of coronavirus cases hits. And the O.C. Board of Education issues a White Paper on Ethnic Studies
Spotlight Schools
January 4, 2022
In this week's newsletter...
TESTING ENCOURAGED: California suggests students should take at-home Covid-19 tests as they return to schools after winter break, but the State's free tests are still being delivered to districts.
NEW LAWS IN 2022: We look at California's new laws taking effect this year that will impact TK-12 schools.
TEACHER OF THE YEAR: Meet the Orange County teacher competing for National Teacher of The Year.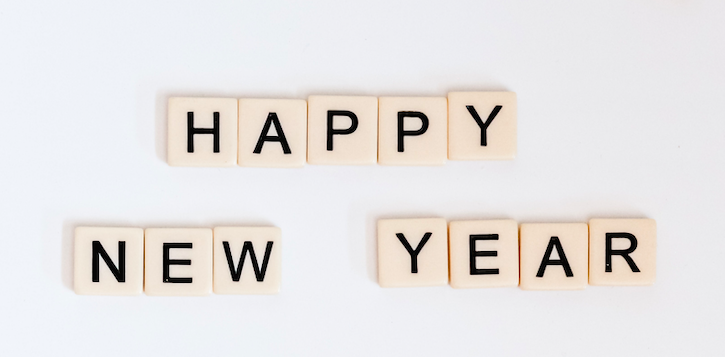 Photo by Sincerely Media on Unsplash
Happy 2022! Before we get to the news, we have our own news to share. We're growing beyond our weekly newsletter and launching a website.
Since sending out our first newsletter in August of 2021, Spotlight Schools has been focused on delivering hyperlocal journalism to help Orange County families better understand, navigate and participate in the TK-12 public school experience.
Thanks to sponsorship from the Tiny News Collective and funding from the Google News Initiative, in 2022 Spotlight Schools will bring you even more vital coverage with an expanded website. Stay tuned for updates.
In the meantime, please show your support for our work by forwarding this to a friend and asking them to subscribe.
Missed a newsletter? You can find past editions here.
Thank you for your support!
Yours in knowledge,
Jeannette Andruss, Spotlight Schools Founder and parent of two students in the Los Alamitos Unified School District
FIRST BELL
This Week's Top Story
Covid-19 Testing Encouraged for Students as Schools Reopen after Winter Break
It's 2022 and the new year is starting with a surge in Covid-19 cases due to Omicron, the latest coronavirus variant that is believed to be highly contagious but less severe.
In Orange County, more than 15,000 infections were reported over the New Year's holiday weekend. Compare that to early December when the county's daily case count was about 250, according to the Orange County Register.
The wave is hitting as students, teachers and staff return to Orange County's K-12 campuses, some this week, after winter break.
In California, state and local education officials are focused on keeping K-12 schools open for in-person instruction.
Governor Gavin Newsom, numerous teachers unions and other education groups issued a joint statement on Dec. 22 that read, in part: "As we approach the new year, we reaffirm our shared commitment to one another, to our parents and to our students: to keep each other safe and to keep our classrooms open."
For some of the nation's public school districts, the spike in cases and Omicron's spread has disrupted a return to campus in 2022. A small but increasing number of school districts are pushing back school start dates or temporarily switching to remote instruction, including in Atlanta and Newark, NJ. (See more at the website Burbio, which is tracking school closures.)
Push for Increased Testing of Students but State's Free Tests are Still 'en route'
California plans to keep classrooms open and limit on-campus transmission with a continued focus on getting people vaccinated (vaccines are authorized for people ages 5 and up) and keeping the universal indoor mask mandate on K-12 campuses.
New in 2022 is the state's push for widespread testing of students.
The California Department of Public Health is encouraging families to perform at-home Covid-19 tests on students before they return to school following the holiday break and during their first weeks back.
IMPORTANT NOTE: There is NO statewide mandate that a student be tested to attend school.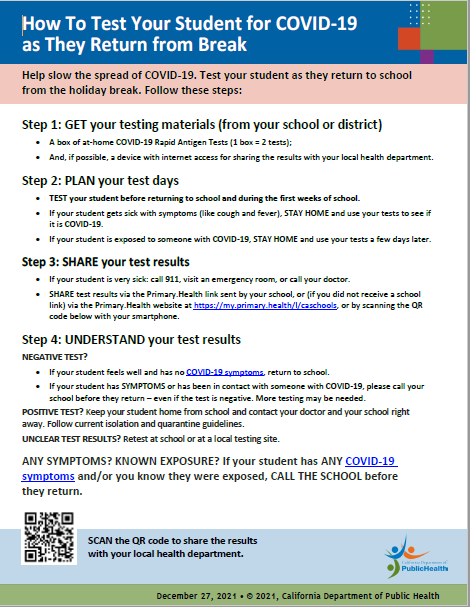 The California Department of Public Health issued this guidance for testing students for Covid-19 as they return to public school campuses following winter break. There is no statewide mandate that students be tested.
To make testing easier, the state committed to giving each K-12 public school student 1 to 2 rapid antigen at-home tests.
While the Governor's office reported delivering two million tests to schools in early December, millions of free test kits appear to still be in transit.
"Supplies were said to be en route to the Orange County Department of Education, where they'll be picked up by district staff," according to a Jan. 2 post on the OCDE Newsroom website.
The delay comes as some public schools already welcomed students back on campus yesterday, including in Cypress, Huntington Beach, and Santa Ana.
Other districts, including Los Alamitos Unified, do not resume classes until next week.
In a message sent to families yesterday, Los Al USD Superintendent Dr. Andrew Pulver suggested the state's free tests could arrive before class is back in session at the district's nine campuses.
"...We anticipate being able to make [tests] available to students prior to their return from winter recess. We will update families later this week when we have more information about when the kits will be available for families to pick up for students," he wrote.
Los Angeles Unified is going a step further for when its campuses reopen next week. Students and staff will be required to show proof of a negative Covid-19 test to be allowed on campus, reports the L.A. Times.
Refer to messages from your own district and school for specific guidance.
State officials are asking families to report test results on this website from CDPH.
Looking for a test in Orange County? The Orange County Health Care Agency offers free testing options for people who live or work in the county. More information here.
Could Remote Learning Happen in Los Al USD?
Last winter, Los Alamitos High School briefly switched to remote learning after a spike in the number of students placed in quarantine. A similar scenario is not possible in 2022, according to Los Al USD Supt. Dr. Pulver.
"The state does not currently allow for us to switch to remote instruction," Pulver wrote in an email to Spotlight Schools. "The only options are in-person learning or an independent study learning option through Assembly Bill 130."
In its most recent posting on Dec. 22, Los Al USD reported 28 Covid-19 cases among staff and students. The district's dashboard will be updated with the number of individuals who reported testing positive over the winter break on Jan. 7. The district does not report the number of students in quarantine.
Do you have questions about students going back to school after the winter break? Share your thoughts by emailing hello@spotlightschools.com.
By The Numbers: Snapshot of Covid-19 Cases/Vaccinations among Children in Orange County
Cases and Deaths
Cumulative Number of Covid-19 Cases in 0-17 year olds: 42,502
Covid-19 Deaths in 0-17 year olds: 2
Vaccinations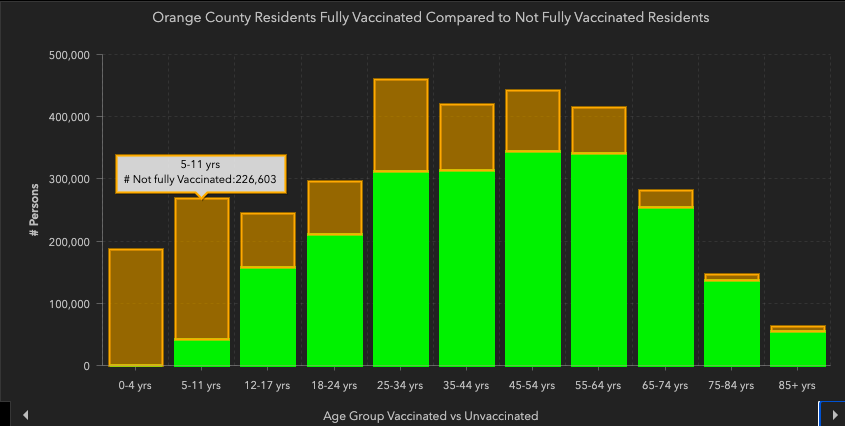 Screenshot from the Orange County Health Care Agency's website shows vaccination rates by age group. The green shows how many people have been fully vaccinated.
16% of 5-11 year olds in O.C. are fully vaccinated.
65% of 12-17 year olds in O.C. are fully vaccinated.
Vaccination rates among kids living in the Los Al USD boundaries
35% of 5-11 year olds in 90740 zip code (Seal Beach) have had at least one dose of the vaccine.
50% of 5-11 year olds in 90720 zip code (Los Alamitos) have had at least one dose of the vaccine.
74% of 12-17 year olds in 90740 zip code (Seal Beach) are fully vaccinated.
84% of 12-17 year olds in 90720 zip code (Los Alamitos) are fully vaccinated.
Source: OCHCA as of 1/03/22; Vaccination by zip code numbers updated 12/27/2021
SECOND BELL
Other Stories We're Following
The New Laws Impacting Students in 2022
It's a new year and that means new laws in California.
Here's a brief look at some of the laws taking effect in 2022 that will impact schools and students.
Universal TK Rollout Starts: Beginning this summer, the rollout begins in the expansion of transitional kindergarten (also known as TK) statewide. Right now, many public school districts offer the steppingstone to kindergarten to four-year-olds who will turn five between September and December. The $2.7 billion program is slated to cover all four-year-olds by the 2025-26 school year.
Later School Start Times: Signed by Governor Newsom in 2019, the law will take effect in the 2022-23 school year and requires classes at California middle schools to start no earlier than 8 a.m. At high schools, classes must start after 8:30 a.m. There is an exemption for "zero periods."
Feminine Hygiene Products in School Bathrooms: The Menstrual Equity for All Act of 2021 requires public colleges and schools serving students in grades 6-12 to offer free feminine hygiene products in 50% of the school's restrooms. It takes effect in the Fall of 2022.
Here's a look at some bills related to education that were signed into law in 2021:
Ethnic Studies/AB 101: California students will be required to take an Ethnic Studies course to graduate from high school starting with the graduating class of the 2029-30 school year.
Mental Health/AB 309, SB 14, SB 224: Assembly Bill 309 requires the development of model protocols for addressing a student's mental health concerns including how to connect them with services. SB 14 allows for a student to have an excused absence "for the benefit of the pupil's mental or behavioral health." SB 224 requires mental health to be included in health education classes at middle and high schools.
Homeless Students/AB 27, SB 400: Following an audit that showed schools undercounting homeless students, AB 27 and SB 400 require school districts and charter schools to do more to identify and help homeless students.
See some of the other laws signed into law in 2021 by Gov. Newsom via the L.A. Times // CalMatters
Other Stories Worth Reading
EXTRA CREDIT
Meetings // Events // Opportunities // Resources
MEETINGS
HAPPENING TOMORROW (1/5) @ 3:30PM: The Orange County Board of Education holds its first meeting of 2022.
On the agenda:
The Board's proposed meeting schedule for 2022.
A White Paper summarizing the OCBE's two forums held last summer on Critical Race Theory and Ethnic Studies. The White Paper (which is in the agenda packet) also tells local school boards to review "guardrails" when implementing Ethnic Studies courses to meet the state's new graduation requirement; warns of potential legal exposure related to how Ethnic Studies courses are developed; and points out the California Education Code that prohibits the advocacy of Communism or Marxism.
An update on last month's appointment of Tim Shaw to fill the 4th District seat he resigned from in November.
You can attend in person at the Board Room in Costa Mesa or watch the meeting streaming on YouTube.
OPPORTUNITIES
STUDENT SCHOLARSHIP: The Rossmoor Woman's Club is offering scholarships between $500 to $1,000 to 8-10 Los Alamitos High School seniors. Applications are due Jan. 14. More information here.
RECESS
Your Dose of Good News
O.C. Teacher Representing California in National Teacher of the Year Contest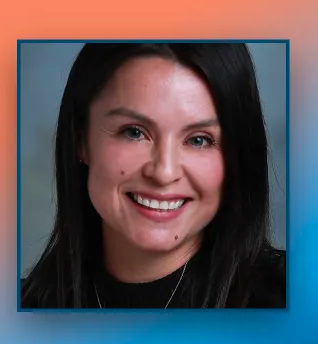 Third grade teacher Alondra Diaz will represent California in the National Teacher of the Year competition. Photo from the OCDE Newsroom.
Alondra Diaz teaches third-grade general education and dual immersion at Ralph A. Gates Elementary School in the Saddleback Valley Unified School District.
Last October, Diaz was named one of five 2022 California Teachers of the Year. But the competition isn't over yet. (Fellow O.C. teacher Sovantevy "Sovey" Long-Latteri, from the Fullerton Joint Union High School District was also named a 2022 California Teacher of the Year.)
Diaz was selected to represent California in the National Teacher of the Year program. The winner will be named in the spring.
Diaz's accomplishment is remarkable. But it's even more touching when you hear her own life story. Diaz grew up in poverty and faced a time where she and her family were homeless. But educators changed her life trajectory, starting with her fifth grade teacher who made her feel safe and smart.
The teacher inspired her to go to college, get a masters degree and become an educator herself.
"Every step of the way in my educational journey, I have found people who have believed in me so much, that I was able to continue to feed that hunger to be successful and to be a fantastic educator," Diaz told the Orange County Register. "And so, in my teaching, I try to carry a little bit of all these people who have contributed in some way to my journey as an educator."
Diaz was named by the Register as one of O.C.'s Top 125 Most Influential People in 2021. You can read more about her inspiring story here.
Thanks for reading!
Please send feedback/story ideas/questions to hello@spotlightschools.com.
Forwarded from a friend? Subscribe to the Spotlight Schools newsletter here.
Follow us on Instagram @SpotlightSchools.
Our mailing address:
P.O. Box 164
Seal Beach, 90740 CA


Copyright © 2022 Spotlight Schools, All rights reserved.