State's Mask Mandate in Schools to Stay through Feb. 28; Asst. Principal Named Los Al USD's Administrator of the Year; How Your Student Can Become a Mentee or Mentor in a New Club
Kindness Week Kicks Off; Students Stage a Protest for More Chocolate Milk; Plus, How you can Enter the Google Doodle Contest
Kindness Week Kicks Off; Students Stage a Protest for More Chocolate Milk; Plus, How you can Enter the Google Doodle Contest
Spotlight Schools
In this week's newsletter...
Feb. 15, 2022
FIRST🔔: California's Indoor Mask Mandate at TK-12 Schools to remain in effect until at least Feb. 28.
SECOND 🔔: Los Alamitos Education Foundation Raises $85,000 toward effort to Build WellSpace at Los Alamitos High School
📌Save the Date for the Parade for Los Al High School Seniors
👏🏼 Mentorship Club Connects Students Across Campuses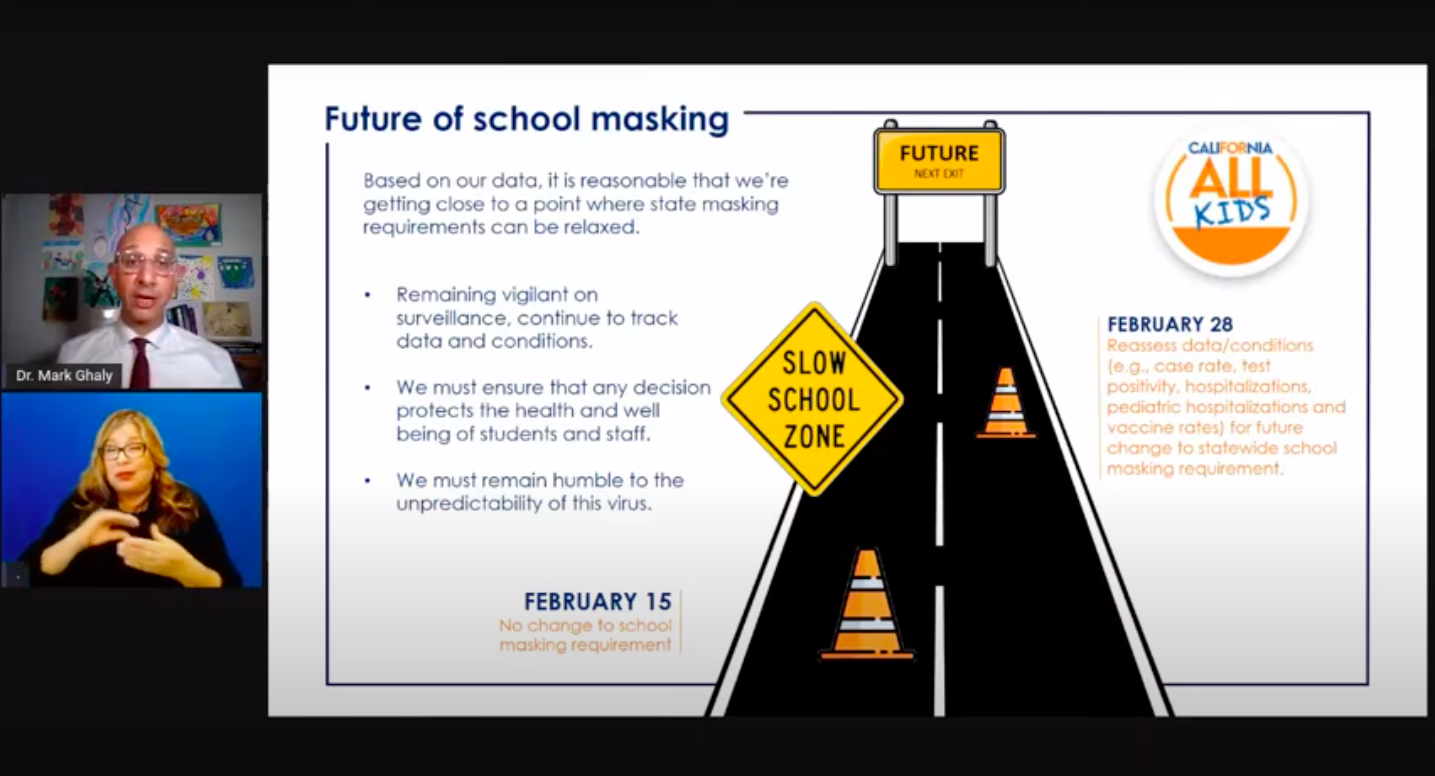 California Health and Human Services Secretary Dr. Mark Ghaly discusses plan for easing mask mandates at TK-12 schools.
Spotlight Schools is here to help you better understand, navigate and participate in the TK-12 public school experience in Orange County.
Before we get into this week's news, please note there will be no newsletter emailed next week. Spotlight Schools will be taking the week off just as many schools have their February break. We'll be back the first week in March with all the latest news you need to know about education in your community.
Please send feedback/story ideas/questions to hello@spotlightschools.com.
Yours in knowledge,
Jeannette Andruss, Spotlight Schools Founder and parent of two students in the Los Alamitos Unified School District
FIRST BELL
This Week's Top Story
California to Reassess Indoor Mask Rules for TK-12 Schools After Feb. 28
California's indoor mask mandate for most public spaces will end this week for vaccinated individuals after a drop in the number of Covid-19 cases statewide.
But face coverings are still required indoors at the state's TK-12 schools until at least Feb. 28.
"On February 28, we anticipate being able to share what the next period of time will look like and, with some specificity, give a date when the masking requirement will move to a recommendation," Dr. Mark Ghaly, California's Health and Human Services Secretary, said during a Feb. 14 news conference.
Dr. Ghaly said officials will take the next two weeks to assess data. They will look at the trajectory of coronavirus cases, positivity rates, pediatric and adult hospitalizations and vaccination rates. Dr. Ghaly said they are not setting any specific threshold that needs to be met to relax Covid-19 protocols.
"Masking requirements were never put in place to be there forever," Dr. Ghaly said. "It's not a question of if; it's a question of when."
Local school districts and health agencies will be able to keep stricter protocols even if the mask mandate is lifted.
Just hours after Dr. Ghaly's news conference, the Los Alamitos Unified School District emailed families.
"We recognize this news may be frustrating to parents and staff who were expecting the [California Department of Public Health] to announce a definitive timeline today for when the state will permit the easing of indoor school masking requirements," Superintendent Dr. Andrew Pulver stated in the message sent to families Monday evening.
Last week, Dr. Pulver joined other Orange County superintendents in sending a letter to state officials asking for a timeline for easing Covid-19 protocols like masking in schools.
Masks have been the most visible tool in the state's multi-layered approach to reducing transmission of Covid-19 on TK-12 campuses since in-person instruction resumed during the coronavirus pandemic in 2020. Other measures include vaccinations, improving ventilation and a heightened focus on hand washing.
"With lower vaccination rates among students compared to the general population, masking remains an important measure needed to provide a safe environment for all students, especially students who are vulnerable or at high risk," reads a Feb. 10 press release from the Orange County Health Care Agency.
Some parents, especially those with immunocompromised family members, have backed face coverings for students. Other parents have been adamantly opposed with some expressing concerns about the impact of long-term masking for children in regards to students' social and emotional development, specifically in reading facial expressions.
Now that masks won't be required for vaccinated people in most of California's indoor public places, some are asking if students will be given the same option at school.
People fumed on social media after seeing celebrities unmasked at this weekend's Super Bowl at Inglewood's SoFi Stadium while the state's mask requirement was in place.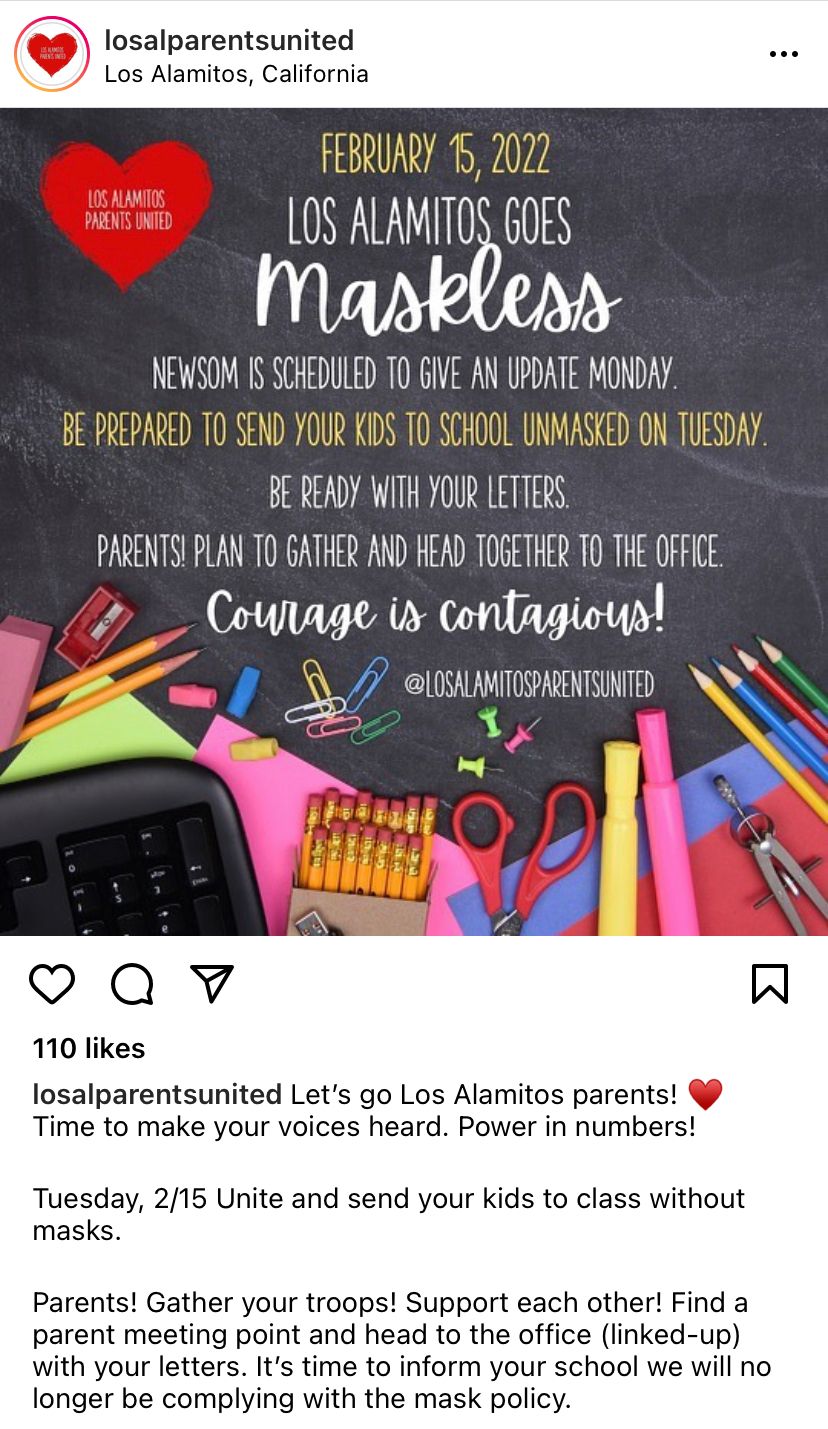 An Instagram account with 238 followers called LosAlParentsUnited is encouraging parents to send their kids to school unmasked today. It's not clear how many families will participate but a post promoting "Los Alamitos Goes Maskless" had 110 likes as of last night.
Asked what would happen to students who show up to school and refuse to wear a face covering without an exemption, Dr. Pulver told Spotlight Schools: "We will provide outdoor space for them." Masks are optional outdoors.
In the message to families, Dr. Pulver noted Los Alamitos USD is required to follow CDPH guidance for schools and cited an OCHCA press release stating "schools must continue to follow universal masking directives or face legal and financial risk."
Dr. Pulver stressed that the district will continue to share information. "We know this is urgent and on the minds of our families," he wrote in a text message.
SECOND BELL
Other Stories We're Following
Los Alamitos Education Foundation Gala Raises $85,000 toward WellSpace at LAHS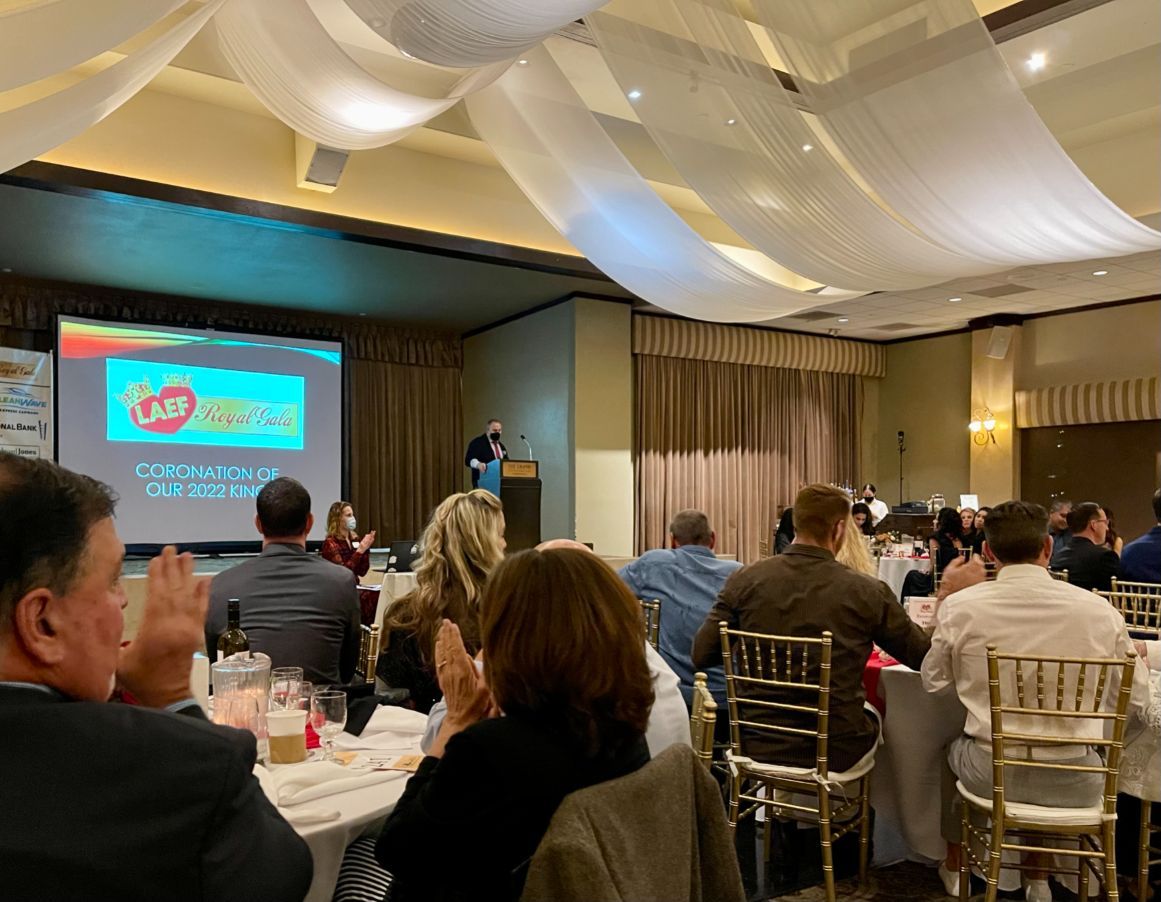 Supt. Dr. Pulver speaks during the Los Alamitos Education Foundation's Royal Gala on Feb. 11 in Long Beach. Photo by David N. Young
Supporters of the Los Alamitos Unified School District gathered Friday, Feb. 11 at the Grand Hotel in Long Beach for the Los Alamitos Education Foundation's 2022 "Royal Gala" fundraiser.
Carrie Logue, LAEF's executive director, welcomed back the first in-person crowd since the pandemic of 2020. Attendees included board of education members, district staff, parents, community and business leaders.
With Supt. Dr. Andrew Pulver looking on, 2021 King Dr. Gregg Stone passed the titular crown to Dave Appling, who was named the organization's king for 2022.
Proceeds from this year's fundraiser for the district's nonprofit partner will go toward the creation of a student WellSpace at Los Alamitos High School.
The LAHS WellSpace will cost approximately $150,000 to construct, Logue said, reassuring contributors that once built, it will yield student mental health benefits for a lifetime.
LAEF has already contributed $60,000 toward the establishment and operation of WellSpaces at the district's two middle schools.
"As we know, things have gotten worse for student mental health during COVID," said Logue, noting the Centers for Disease Control and Prevention reported an increase in suicide attempts among adolescents during the pandemic.
Logue said approximately $85,000 was raised during the event but the fundraising effort continues through Feb. 28. Visit LAEF's online auction site here.
Reporting and writing by David N. Young. You can read more about LAEF's Gala in this week's edition of the Event-News Enterprise.
Los Alamitos Elementary School Shares Highlights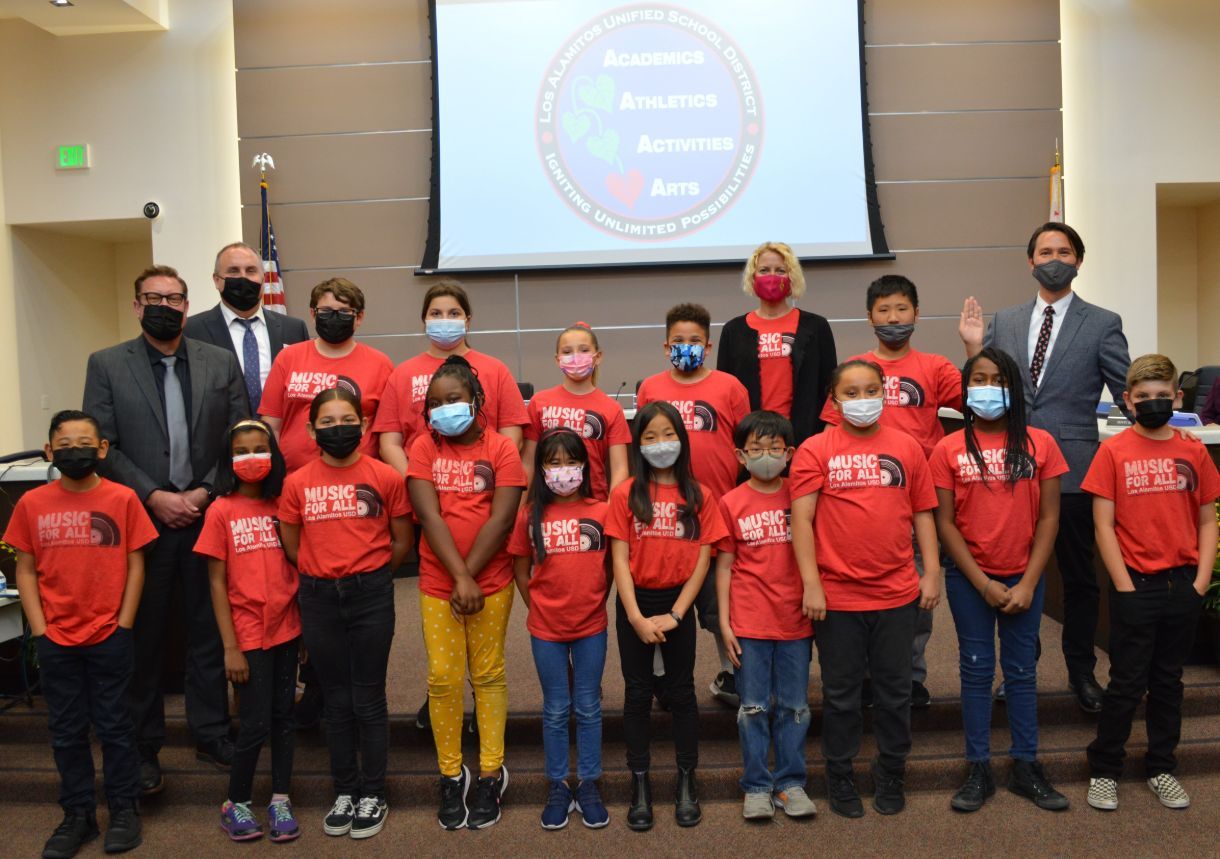 The Los Alamitos Elementary School Choir performed during the school's presentation on Feb. 8, 2022. Courtesy Photo.
Los Alamitos Elementary School made its presentation to the Los Alamitos Unified School District Board of Education during the board's workshop last week.
Each of the district's nine schools makes an annual presentation to the board highlighting what's happening on their campus.
Principal Gary Willems and student speakers shared why they think "LAE is the place to be."
Willems reported that LAE was named a National Blue Ribbon School for closing the achievement gap, raised students' test scores during the pandemic, and is helping address students' social and emotional needs with the transformation of a classroom into a wellness space.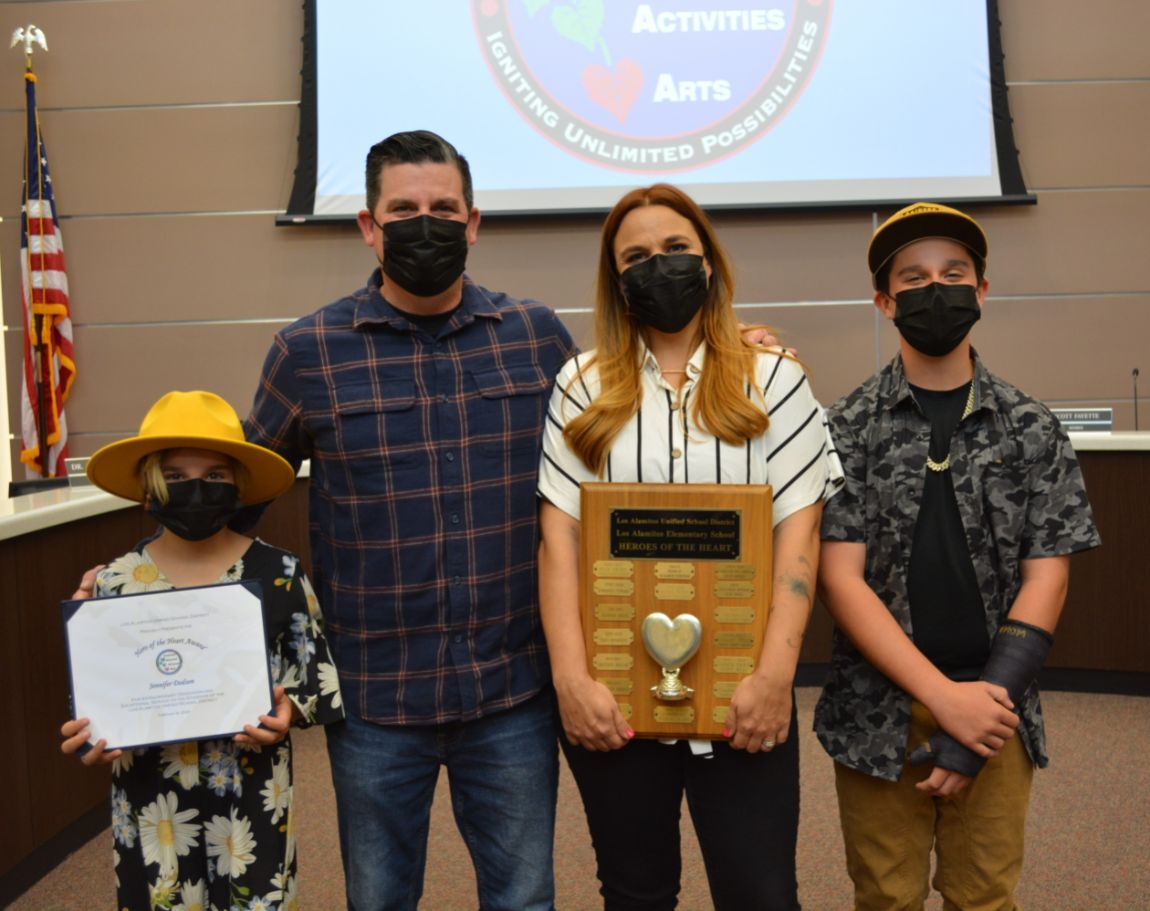 LAE named parent volunteer Jennifer Dodson this year's "Hero of the Heart" for her many contributions over the years.Courtesy Photo.
LAE Asst. Principal Rick Larson Named Administrator of the Year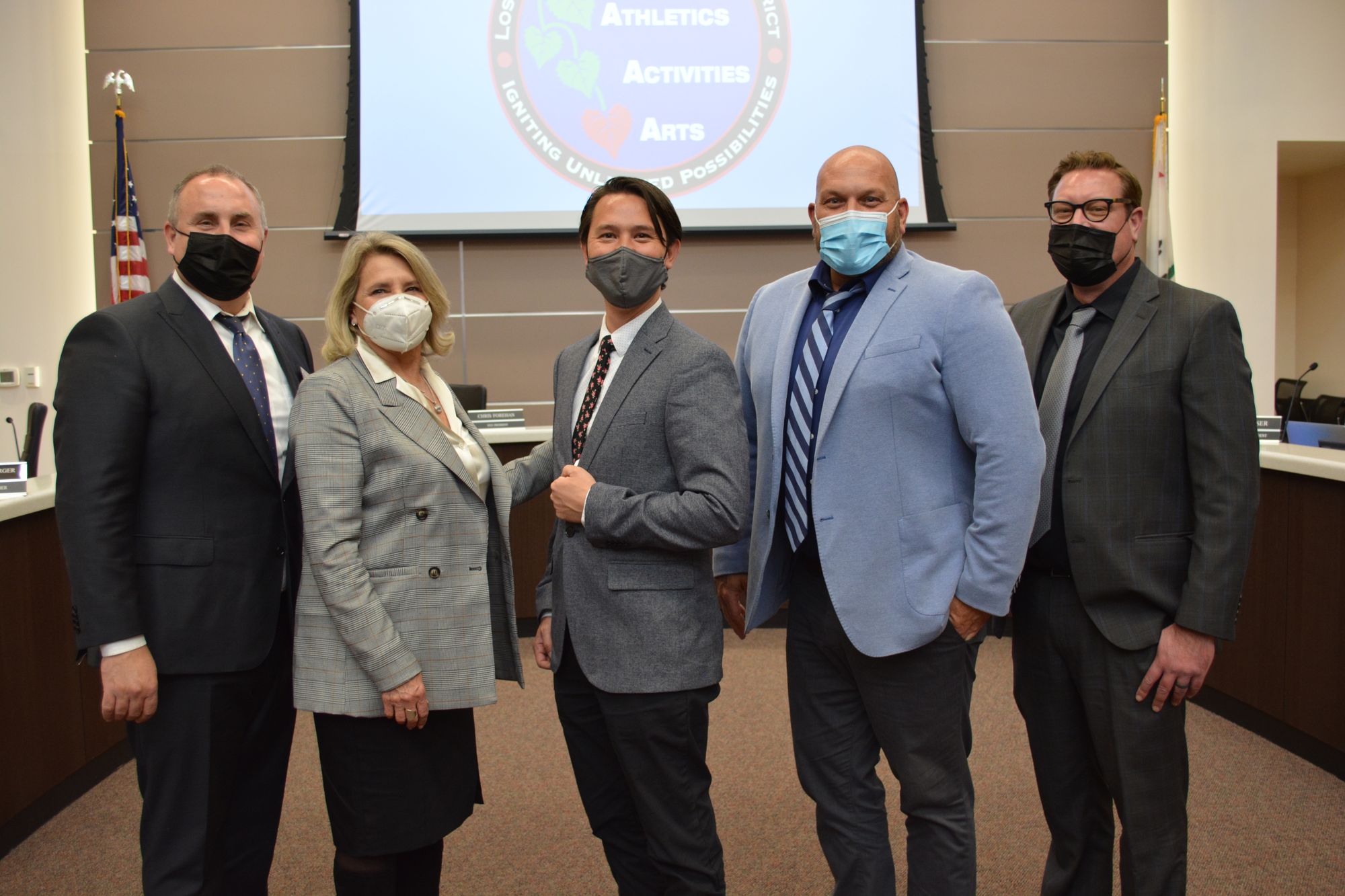 Pictured from left to right: Supt. Dr. Andrew Pulver, Board President Diana Hill, Administrator of the Year Richard Larson, Asst. Supt. Dr. Joe Fraser, and Los Alamitos Elementary school Principal Gary Willems. Courtesy Photo.
Los Alamitos Elementary's Assistant Principal Rick Larson was named the district's administrator of the year. At the Feb. 8 workshop, he was recognized for the positive impact he's had on families during his nine years in the district.
Last school year, Larson was tapped to oversee the 1,200 students enrolled in the district's online learning pathway, LosAl@Home. Students from schools across the district were part of the online school during one of the most challenging years due to the pandemic.
Larson turned LosAl@Home into a thriving community in part by making videos to connect students, including a series where he explored different states of the U.S.
"For the first time, students had something that [bound] them together, even though they were at home staring at a screen by themselves," LAE Principal Gary Willems said of Larson.
"And that's truly the power of Rick. He's somebody that brings people together. He's somebody that brings a community together."
District Hires Public Information Officer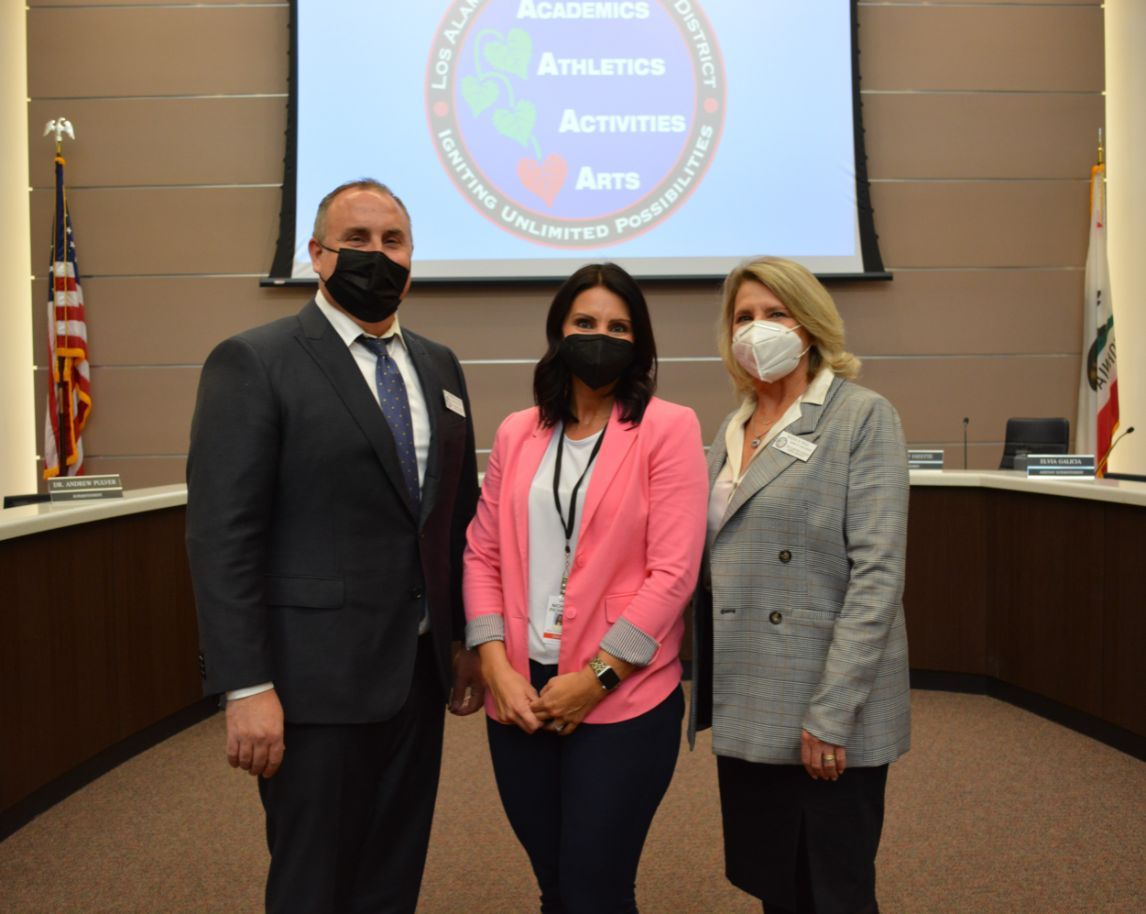 Dr. Pulver, Los Al USD's new Public Information Officer Nichole Pichardo and Board President Diana Hill. Courtesy Photo.
The district's new Public Information Officer, Nichole Pichardo, was introduced at the Feb. 8 workshop. She most recently worked in communications for the Orange County Department of Education. Pichardo has already fired up the district's social media feeds again. Check out the Los Al USD's Instagram and Twitter accounts for updates from all of the campuses.
Other stories we're reading...
EXTRA CREDIT
Meetings // Events // Opportunities // Resources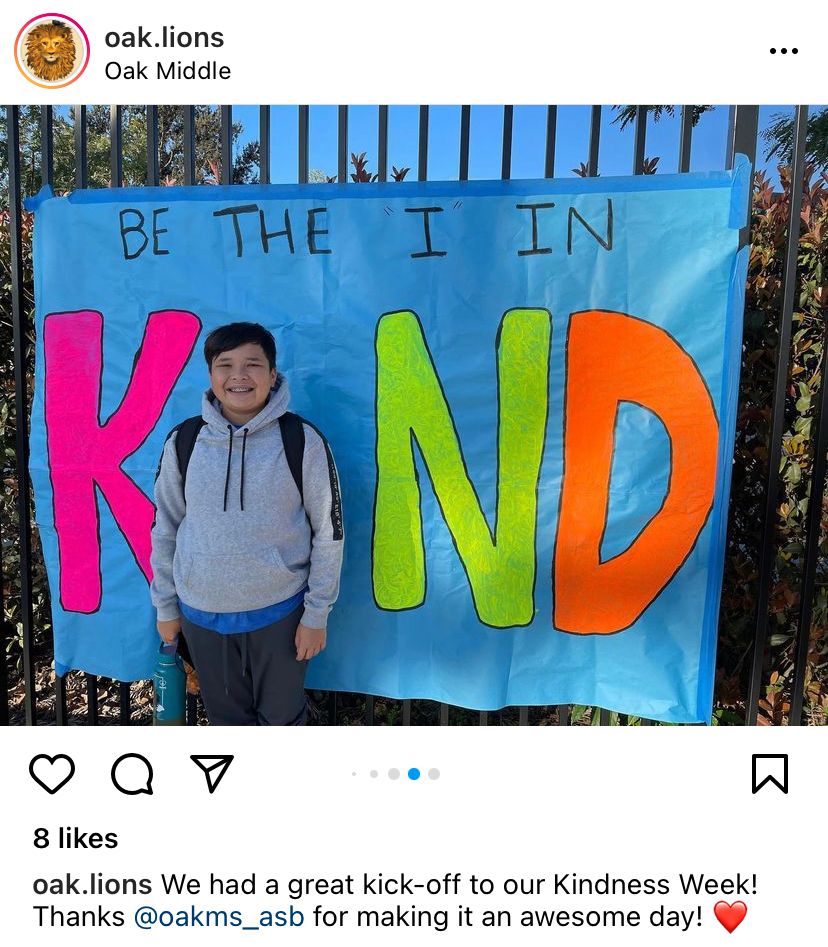 HAPPENING THIS WEEK: On Feb. 14-18, Oak Middle School is marking Kindness Week with daily dress-up days including Pajama Day with the theme of "Dreaming of a kind world" and Neon Day to "shine bright with kindness" as well as activities like picking up trash or doing a chore without being asked. Check out this video from Oak meant to spread kindness.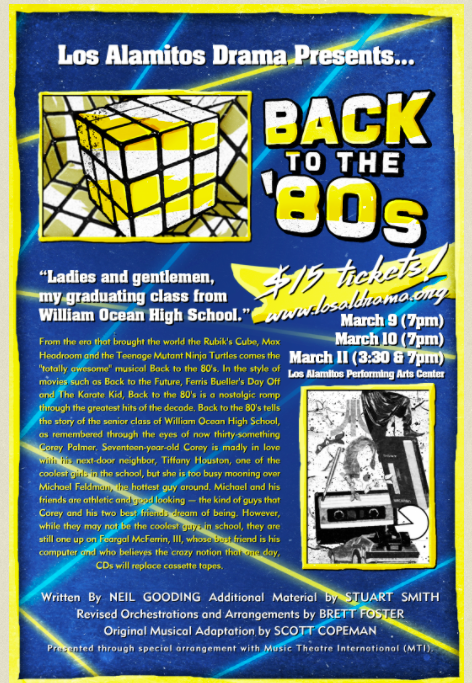 HAPPENING NEXT MONTH: Tickets go on sale Feb. 28 for the Los Alamitos High School drama program's new show: "Back to the '80s." It the first mainstage musical since 2019. Shows are scheduled for March 9, 10 and 11. More information at www.losaldrama.org.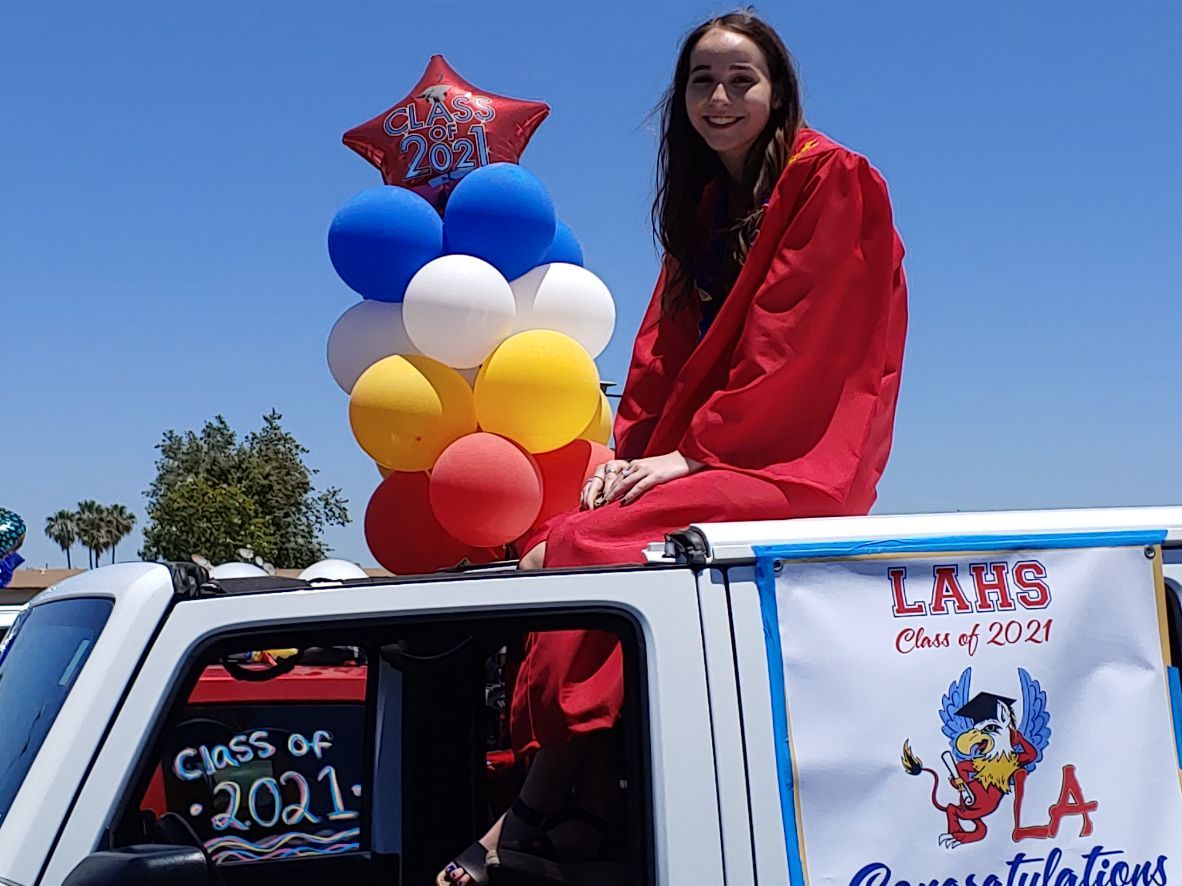 SAVE THE DATE: JUNE 4, 2022 for the Rossmoor Homeowners Association car parade for graduating seniors from Los Alamitos High School. Started during the pandemic, the parade has become a much-loved tradition.
HAPPENING THIS MONTH: To mark Black History Month, Spotlight Schools is sharing stories that you may or may not know. This week we're recognizing Toni Stone, who was the first woman to play professional baseball regularly in a major men's professional league. When she joined the Negro American League, she replaced the legendary Hank Aaron. Read more about her story from MLB.com.
HAPPENING THIS MONTH: Google Doodle Contest. Students from kindergarten through high school can enter the Google Doodle contest. Winners will see their creations at Google.com, get a $30,000 scholarship and more. This year's theme is "I Care for Myself By…" The deadline to enter is March 4, 2022. Details here.
RECESS
Your Dose of Good News
LAHS Mentorship Club Holding Events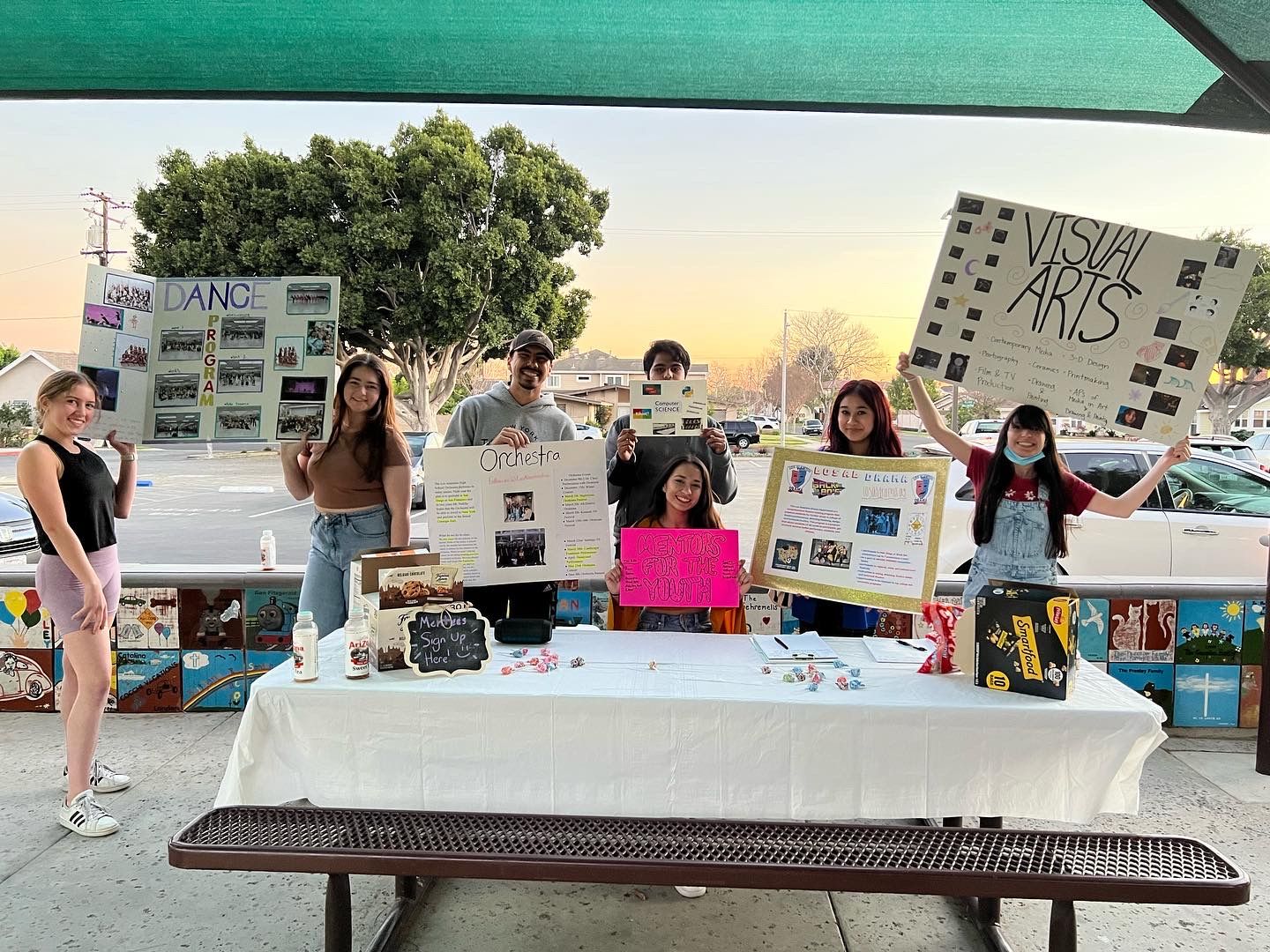 Students take part in the Mentors for the Youth event last weekend. The club based at Los Alamitos High School aims to pair student mentors with student mentees from local schools. Courtesy Photo.
There's a club at Los Alamitos High School that aims to connect students from across Los Al USD's nine campuses.
This past weekend, Mentors for the Youth, held an event to bring mentors, high school students, together with mentees, students at the district's elementary and middle schools.
On Saturday, students involved in dance, orchestra, and other activities were able to connect with younger kids interested in learning more about what Griffins are doing when it comes to the arts, athletics, and more.
If you missed Saturday's event, don't worry. Mentors for the Youth is hosting another event happening tomorrow, Feb. 16, from 4-5pm at Rush Park in Rossmoor.
Students from basketball, choir, football, tennis and volleyball will be on hand to connect with younger students interested in learning more about these activities.
Even if you cannot make it, be sure to sign up on the Mentors for the Youth website to get connected and find out more.
BOOSTER DOSE: Football players from California School for the Deaf - Riverside are honored during the Super Bowl broadcast. Watch the story from NBCLA.
Thanks for reading!
Forwarded from a friend? Subscribe to the Spotlight Schools newsletter here.
Missed a newsletter? Check out past editions here.
Follow us on Instagram @SpotlightSchools.
Our mailing address:
P.O. Box 164
Seal Beach, 90740 CA

Copyright © 2022 Spotlight Schools, All rights reserved.