Spotlight Schools Newsletter Oct. 19, 2021: Pushback on COVID-19 Vaccine Mandate; K-8 School Rankings & Local Teen Helping Navajo Nation
Our goal is to help you better navigate, understand and participate in the TK-12 public school experience.
Our goal is to help you better navigate, understand and participate in the TK-12 public school experience.
Spotlight Schools
IN THIS WEEK'S NEWSLETTER
Pushback on California's Plan for a COVID-19 Vaccine Mandate for Students
Who's #1 in OC? K-8 School Rankings Released
Local Student's Mission to Help Indigenous families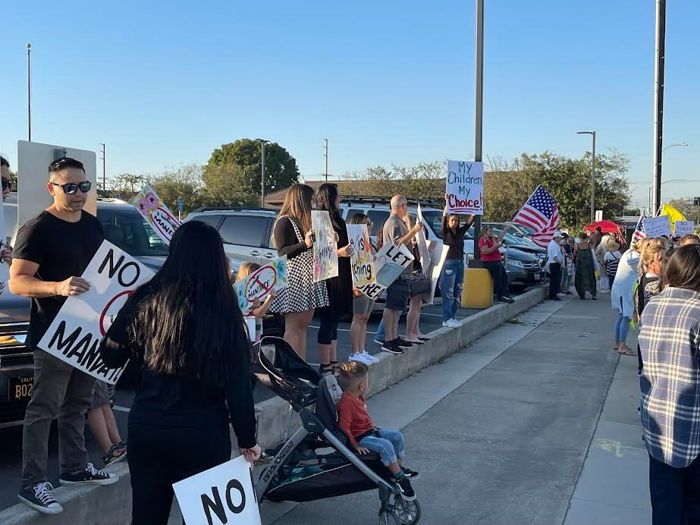 A protest against California's COVID-19 vaccine mandate for students was held outside the Los Alamitos Unified School District offices on Oct. 12, 2021. (Photo by David Young)
This is the weekly newsletter from Spotlight Schools, a hyperlocal newsroom covering education in Orange County. This is Jeannette Andruss, founder of Spotlight Schools and parent of two students in Los Al Unified. Our goal is to help you better navigate, understand and participate in the TK-12 public school experience.
Got feedback? Please respond to this email message.
FIRST BELL
This Week's Top Story
Parents Protest Over Student Vaccine Mandate
California parents are pushing back on Governor Gavin Newsom's first-in-the-nation requirement that all eligible students be vaccinated for COVID-19 to attend in-person classes.
Yesterday, spurred by a social media campaign, parents in Sacramento, Los Angeles and Orange County, held rallies and kept their children home from school to protest the mandate. Teachers and school staff were also encouraged to walk out.
"We know that if our children stay home from school that that will impact the funding that schools will get for that day," a parent supporting the protest told ABC7 in San Francisco. "And we want them to know that we're serious about not being forced to vaccinate our children."
"The state already requires that students are vaccinated against viruses that cause measles, mumps, and rubella – there's no reason why we wouldn't do the same for COVID-19," Governor Newsom said in a press release regarding his Oct. 1 announcement. "Vaccines work," Newsom said. "It's why California leads the country in preventing school closures and has the lowest case rates."
STUDENT VACCINE MANDATE BASICS
California's student vaccine mandate would not take effect until after the COVID-19 vaccine receives full approval from the U.S. Food and Drug Administration for each age group. It's estimated shots would be required for 7th-12th graders by July 1, 2022, according to the Governor's office.
Medical, religious and personal belief exemptions are permitted but state lawmakers are reportedly eyeing removing the personal exemption as they did for the other vaccine requirements to attend school.
Right now, the Pfizer/BioNTech vaccine has full F.D.A approval for people 16 and older. It's approved for emergency use for 12-15 year olds. On Oct. 26, an F.D.A. advisory panel is due to discuss granting emergency authorization of a lower-dose version of the Pfizer vaccine for use in kids 5-11.
LOCAL IMPACT OF PROTEST
It's not clear how many families and staff at Los Al Unified's nine campuses participated in Monday's protest.
Supt. Dr. Andrew Pulver told Spotlight Schools in an email on Monday: "Four of our schools experienced about a 10% increase in absences today. We had two schools with an increased absence rate between 7-8% and three schools with similar absences to a slight absence increase."
Los Alamitos High School teacher Drew Sells said 17.5% of his students were absent Monday. On a normal day it's between 3-5%.
"It is sad that parents are trying to penalize our schools for what has been a long accepted practice of mandating vaccines," Sells wrote in a text message. "The politics of this one [vaccine] is sowing division and harming our schools."
"I think that whether we had many or a few students/parents participate, it is very important to ask for more input from our community as we move forward with the issue before us regarding vaccination mandates," Los Al Unified trustee Chris Forehan wrote in an email. "I encourage parents to contact their [state] legislator who ultimately will set the course."
Monday's actions came less than a week after parents opposed to the mandate protested outside Los Al Unified's district offices and spoke at the Board of Education meeting.
"People should be able to choose what they want to do with their bodies," said Lauren Roupoli, a parent who helped organize the Oct. 12 protest.
During the board meeting that evening, President Marlys Davidson and Vice President Diana Hill expressed personal views about the vaccine mandate.
Hill stressed that she wants to serve all families and has heard from many concerned parents. She said the Board does not have local control over the vaccine mandate and suggested parents contact the Governor and state legislators to voice their opinion.
"They have to hear what parents really want and feel. And so personally, I plan on writing [to] my representatives every week," Hill said and added:
"Of course, we can ask for no statewide mandate, but I think secondarily, we really need to make sure that the exemptions that currently are in place, which is a personal exemption or religious or medical reason exemptions, we really need to ask those to remain in place no matter what happens."
Davidson shared her reservations about vaccinating her young grandchild. But she said she's not advocating for a position and wants to work with the public.
"That may be the solution we want," she said of the vaccine mandate. "I'm not saying one way or the other but we need to come together and look at solutions rather than standing on opposite sides and just screaming at each other."
During public comment after trustees spoke, a handful of parents shared their views.
"I'm excited to hear that you want to work with us to make Newsom take back this mandate because it is not an American thing to do to force somebody to do something against their strongly held religious convictions," parent Laura Tanner said.
"Stand up for parents who would like to decline this particular medical treatment for their kids," a mother told the board and added, "For many parents, I just want to tell you that this is their hill. This is their hill [to die on]."
A mother and Los Al graduate told the board she got a COVID-19 vaccine but does not want to vaccinate her young child. "It needs to be a choice. It does not need to be mandated. There are other things that we could do as far as mitigating the risks."
It's not clear how many Los Al Unified students have already been vaccinated against COVID-19. The Orange County Health Care Agency reports 67% of people aged 12-17 in the county have received at least one dose of the vaccine.
"Widespread vaccination is a critical tool to help stop the pandemic," reads The Centers for Disease Control and Prevention website. The CDC encourages eligible children to get vaccinated and says although fewer kids have been sickened by COVID-19 compared to adults, kids can still be infected, get sick and spread the virus to others.
Three More Things from the Oct. 12 Los Al USD Board of Education Meeting:
Student Board Representative Will Brandenberger shared details about Los Al High School's pirate-themed Homecoming Dance dubbed "Hoco on the High Seas." His student spotlight was on Reece Yoshizawa, a senior who recently won three gold medals at the World Karate Championships. And don't forget about Will's Halloween tradition: the WaxWorks Home Haunt that already started scaring visitors last week.
LAHS graduate and fallen soldier U.S. Army Ranger Sgt. Thomas R. MacPherson was remembered at the meeting by Dr. Pulver and others. MacPherson was killed in combat on Oct. 12, 2012 in Afghanistan. Nine years later, a ceremony was held at Los Al High School to designate the 605 Freeway and Katella Avenue as the U.S. Army Ranger Sgt. Thomas R. MacPherson Memorial Highway.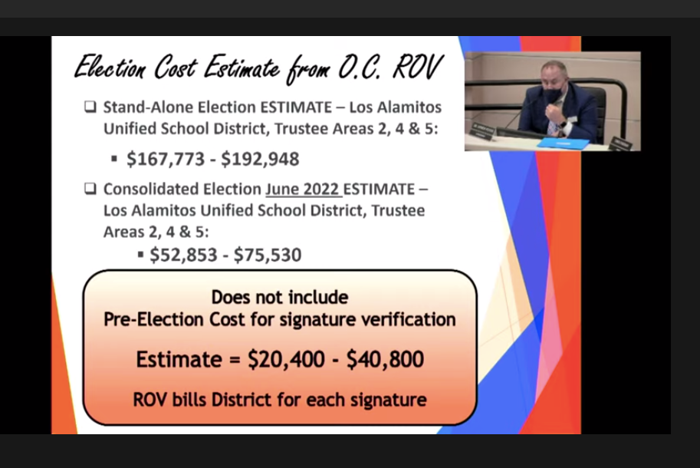 In his Superintendent's report, Dr. Pulver noted the estimated costs for a recall election that were generated by the Orange County Registrar of Voters' office. Pulver said that the district would also need to pay for signature verification at a cost of $3.40 per signature. That estimate was confirmed by the Registrar.
ICYMI: Last month, three trustees were served with notices of intention to circulate a petition to trigger a recall. A total of 6,000 signatures from registered voters across trustee areas 2, 4, and 5 are needed to get the recall on a ballot.
SECOND BELL
Other Stories We're Following
First Meeting of Los Al USD's Human Relations Collaborative
The Human Relations Collaborative (HRC) held its first meeting last week on Critical Wellness.
BACKGROUND: The HRC is the latest iteration of an organized district-wide effort to address inclusion, diversity and equity in Los Al Unified. It started with a Human Relations Task Force that formed in early 2019. That was in response, in part, to criticism from students and the community about the district's record on handling incidents of intolerance. The effort was re-named The Human Relations Advisory Council in 2020 which included subcommittees working on hiring practices, discipline and parent education.
Last month, Deputy Superintendent Ondrea Reed announced the Human Relations Collaborative and its aim of bringing in more voices.
The first HRC meeting was held Oct. 14 with speaker Elianny C. Edwards, a UCLA doctoral student, teacher and member of The Howard Group,.
IN BRIEF: Edwards asked the 40 or so attendees to think about the role schools and community members can play in supporting the district's most vulnerable students to achieve equity.
Her definition of equity was illustrated by dinner for a family with six kids. How can the parents feed everyone with different allergies, food preferences, etc.? You have to give each child what they need to be nourished, she said.
In a school setting, Edwards pointed to using Critical Wellness: a mindset that addresses the needs of the most vulnerable for the greater good of the entire community so all students can thrive.
Edwards also talked about trauma and the dangers of toxic stress. That's when stress becomes prolonged and overwhelming without the help of a positive relationship to restore balance. She said meaningful relationships are the primary buffer against the effects of trauma.
She left attendees with these "Food for Thought" questions: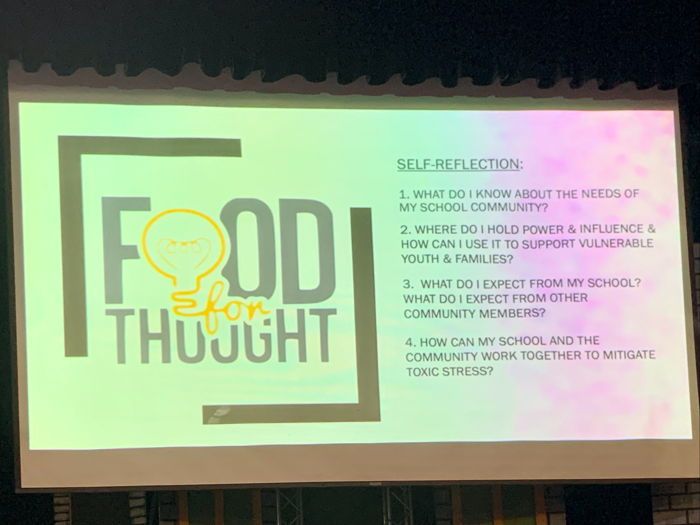 Attendees were given this survey for feedback and to get involved.
Other Stories We're Reading
Five 2022 California Teachers of the Year named by the state's Dept. of Education including two from Orange County via OCDE Newsroom
CDC reports decline in youth vaping for second year in a row, reports the N.Y. Times
Sophomore becomes second girl to score a Varsity touchdown in OC, via OC Register
EXTRA CREDIT
Reports // Events // Opportunities
K-8 SCHOOL RANKINGS
For the first time ever, U.S. News & World Report released rankings for K-8 schools nationwide.
"Scoring was almost entirely rooted in students' performance on mathematics and reading/language arts state assessments," reports U.S. News & World Report. It's based on U.S. Department of Education-sourced data from the 2018-19 school year, before COVID-19.
Here's how Los Al USD's elementary schools fared among the 5,534 in California.
The Weaver Elementary Instagram page shared the news of being ranked #1 in Orange County and said:
"This type of recognition showcases what those of us in the #WeAreWeaver family already know...we have extraordinary, dedicated and innovative teachers and staff who work collaboratively with one of the most wonderful and supportive parent communities around."
Here's how Los Al USD's middle schools fared among the 2,319 middle schools in California.
In case you're wondering, Los Alamitos High School is ranked 160th in the state, according to U.S. News & World Report.
EVENTS
THURSDAY, OCT. 21: Schools will participate in the Great California Shakeout, a statewide earthquake drill happening around 10:21am. Need tips for getting your family ready for an emergency? Check out this guide from L.A. Times.
OPPORTUNITIES
The Youth Center of Los Alamitos is looking for volunteers for its Christmas tree lot Visit theyouthcenter.org or call 562-493-4043
Deadline extended to Oct. 25: The California Department of Education is looking for students to be on its Youth Advisory Council. Details are on its Instagram page.
RECESS
The Dose of Good News We All Need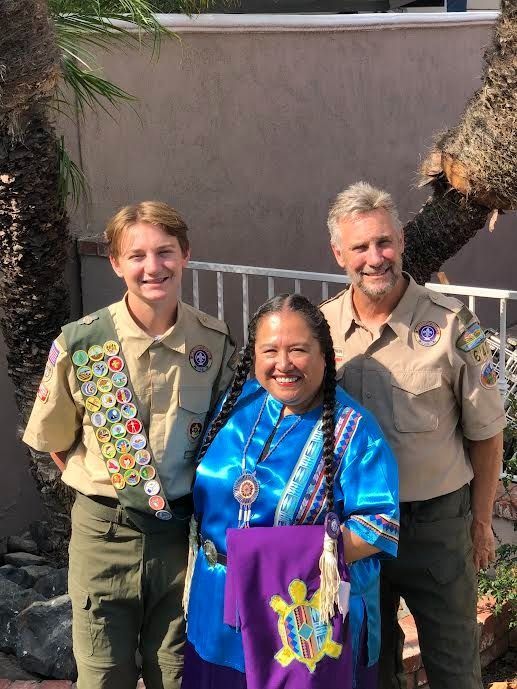 Local Teen Aims to Help Indigenous Families
Los Alamitos High School junior Andrew Baldwin is on a mission to help people in need on the Navajo Nation Reservation in Tohatchi, New Mexico.
And you can help!
For his Eagle Scout Project, the 16-year-old from ​​Troop 642 Rossmoor/Seal Beach recently launched a fundraiser aimed at supporting St. Mary's Mission Community.
Its residents have been hit hard during the COVID-19 pandemic. Andrew is accepting donations to buy and assemble care packages for families that include basic necessities like flour, sugar, masks, and hand sanitizer. He's also packing up knapsacks with school supplies for children. He's due to deliver them Nov. 12-13.
"I personally would like my Eagle Scout Project to have a big impact," Andrew said in an interview.
In addition to monetary donations, Andrew is accepting donations of supplies including canned goods and office supplies.
Andrew's stepmother, Gloria Littlemouse, is Navajo and has been helping him in this effort he said he's been planning for months. This past weekend at their home, she was cooking up Navajo frybread, what she calls a staple for Native Americans, and selling it as part of a fundraiser to help Andrew's effort.
"I am so grateful and proud that he chose to help my people," Gloria said.
There's still time to support Andrew. Visit his GoFundMe page to donate and find out more.
STUDENT PERFORMERS RETURN TO THE STAGE
Students in the Dramatic Art programs at Los Al Unified's secondary schools are ready for the spotlight. Performers at all three campuses are taking the stage this month.
Oak Middle School Drama is performing Law & Order: Fairy Tale Unit by Jonathan Rand Oct. 19 and 20. Purchase tickets here.
McAuliffe Middle School Drama will stage the comedy The Day the Internet Died on Oct. 20 and 21. Purchase tickets here.
Thanks for reading!
Forwarded this from a friend? Subscribe to this newsletter here.
Be sure to follow us on Instagram @SpotlightSchools for more news.
Copyright © 2021 Spotlight Schools, All rights reserved.
Our mailing address:
P.O. Box 164
Seal Beach, CA 90740