Spotlight Schools Newsletter: Nov. 2, 2021 Reaction to Board Pres. Curse Caught on 'Hot Mic'; Public Debate on COVID Vaccine Mandate; 'Tears' as Home Haunt Ends
Stories that help you better navigate and participate in the K-12 public school experience
Stories that help you better navigate and participate in the K-12 public school experience
Spotlight Schools
In this week's newsletter...
Trustees Support Discussion on CA's Student Vaccine Mandate
Fallout from Board President's Expletive toward Parent Caught on 'hot mic'
End of an era for Los Al HS Student's Halloween Tradition
Protesters outside the Los Alamitos USD offices on Nov. 1 called for Board President Marlys Davidson to step down after she was caught on a 'hot mic' making a disparaging remark toward a parent. Davidson has since apologized. Photo by David Young
This is the weekly newsletter from Spotlight Schools, a hyperlocal newsroom covering education in Orange County. Our goal is to help you better navigate, understand and participate in the TK-12 public school experience. This is Jeannette Andruss, founder of Spotlight Schools and parent of two students in the Los Alamitos Unified School District.
Got feedback? Please respond to this email.
FIRST BELL
This Week's Top Story
The Latest on Covid Vaccines for Youth
We start with an issue that could affect a lot of families: The Covid-19 vaccine for elementary school-age kids.
In this issue:
Approval process update: Kids could be vaccinated by winter holidays
School board members support debate on state's student vaccine mandate
Parents share perspectives
When will the Vaccine be Available? A few steps remain before a Covid-19 vaccine is available for 5-to-11-year-olds.
Today and tomorrow an advisory panel to the Centers for Disease Control and Prevention is meeting (livestream link here) to discuss the safety and efficacy of the lower-dose version of Pfizer/BioNTech's Covid-19 vaccine for elementary-school age kids. This comes after the U.S. Food and Drug Administration approved emergency use authorization for the Pfizer vaccine for 5-to-11-year-olds.
In its approval, the FDA said the vaccine was 90.7% effective in preventing symptomatic Covid-19 and found no serious side effects among the roughly 3,100 kids in the ongoing study. If approved, the pediatric vaccine would be given in two shots administered three weeks apart. The youth dose is one-third the amount of the adult dose.
Pending CDC recommendations, Pfizer's vaccine for younger kids could be available in a matter of days. But in California, the vaccine has one more review from the Western States Scientific Safety Review Workgroup, a team of experts from California, Nevada, Washington and Oregon that issues recommendations to "ensure public confidence in vaccine safety, efficacy, and implementation efforts."
"California will be ready to administer vaccines immediately once the review process is complete," read a joint statement from the state's top public health officials issued last week. "This will be just in time for parents to get their eligible kids protected before the Winter holidays," state epidemiologist Dr. Erica Pan was quoted by Voice of OC.
The Orange County Department of Education said it will not host school-based vaccination clinics for students and recommended families seek the vaccine from medical professionals.
"For families who choose to get their children vaccinated, we believe the safest manner is through licensed and fully-staffed facilities," OC Supt. of Education Al Mijares said. School districts can work with the Orange County Health Care Agency (OCHCA) to host clinics.
In a call with the media on Friday, Deputy County Health Officer Dr. Regina Chinsio-Kwong advised parents to talk to their health care providers if they have questions about the vaccine. "Please, if you have not already, seek advice from a medical professional," she said.
Will Covid-19 Vaccine Be Required to Attend School? Some school districts including Los Angeles Unified are requiring students to be vaccinated, but in general, California students won't be required to get a Covid-19 vaccine to attend in-person classes until it receives full FDA approval for their age group. That's according to Governor Gavin Newsom's Oct. 1 student vaccine mandate announcement that outlined a phased-in approach. Pfizer's vaccine has full FDA approval for people 16 and older. The estimated deadline for vaccination for 7th-12th graders could be July 2022.
Right now, medical and personal belief exemptions are allowed but that could change.
State Senator and pediatrician Richard Pan authored the 2015 law that eliminated personal belief exemptions for vaccines against viruses like measles and mumps, which are among the shots required to attend California's K-12 schools. Dr. Pan said lawmakers are looking at how to limit personal belief exemptions for the Covid-19 vaccine but noted there are unique challenges since it would require more frequent checks on vaccination status.
"We are identifying a variety of issues that need to be addressed to ensure we get high vaccination rates in schools and that we keep schools safe," Pan said in EdSource.
Los Al USD Trustees Support Discussion on Student Vaccine Mandate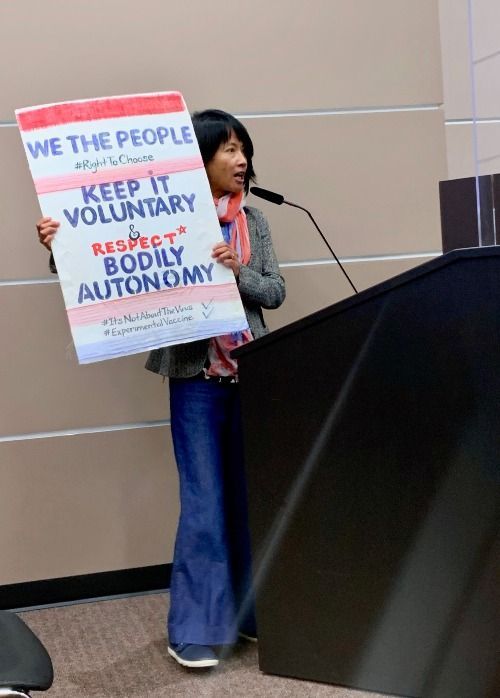 Speaker at the Oct. 26 Los Alamitos USD Board of Education meeting.
Some California parents have pushed back on the state's proposed vaccine mandate saying they think it should be the parent's choice.
At the Oct. 26 Los Alamitos Unified School District Board of Education meeting, parents asked the board to take a public stand against the mandate. One suggested the board issue a resolution. The Capistrano Valley Unified School District Board of Trustees recently approved a resolution urging Newsom to reconsider the vaccine mandate, according to Voice of OC.
In recent interviews, some Los Al USD trustees expressed support for a public debate about the state's planned student vaccine mandate.
"We need to have a discussion as a board about it and we need to have the public let us know how they feel," Vice President Diana Hill said in a recent interview. She said she would recommend an agenda item for a future meeting.
Hill said she has been writing to Governor Newsom and state lawmakers asking them to reconsider the mandate citing the relatively lower risk children have faced for severe complications or death from Covid. "Parents should have a choice at this stage, those who feel it is best for their child can get them vaccinated now, and those who have concerns should have the right to wait," she wrote.
In an email, Board Member Chris Forehan said he would also push the legislature to ease off a mandate.
"Allow it to be a parent choice, and then, if the virus takes an ugly turn, work through a mandate (if needed)," Forehan wrote.
Board Member Scott Fayette said he's pro-vaccination but thinks there has to be a "more open and freer discussion" about the Covid-19 vaccine mandate. He questioned if it's appropriate to make the Covid-19 vaccine a requirement for kids to attend school. He said he's planned meetings with parents to hear more. "I'm figuring out what the best choice is for the community," he said.
Governor Newsom said the mandate "is about protecting our children and school staff, and keeping them in the classroom" and stressed "vaccines work."
Parents Share Perspectives
Spotlight Schools reached out via a Facebook post to Los Al USD parents. While some parents are eager to get their younger kids vaccinated, others are hesitant and some say they will choose not to vaccinate.
A recent Kaiser Family Foundation poll found 33% of parents surveyed said they would wait and see before getting their 5-to-11-year-old vaccinated while 30% said they would not vaccinate their young kids and 27% said they'd vaccinate right away.
"Counting the days to Ella's vaccine," wrote Olaina Anderson whose daughter is eleven and attends a district middle school. "We'll be so relieved when she gets her vaccine-- then we can all do stuff together." Anderson said her parents are hesitant to hang out with their granddaughter while she's unvaccinated so a jab would mean a return to normal visits.
"We'll have our 10-year-old vaccinated as soon as it's available. We had our 12-year-old vaccinated with zero side effects," wrote district parent Jennifer Rohdenburg. "We feel it's our responsibility to keep our children healthy and to help prevent the spread of COVID. As a physician, my husband believes COVID vaccines are safe and effective."
"Our answer is simple, we will absolutely not, under any circumstances, give the Covid vaccination to either of our children," wrote Bret Hudzietz who has two kids at Weaver Elementary. He said the shot is too new and its long-term effects are unclear. He said he and his wife both went through Los Al schools and want their kids to do the same but said, "if need be, we will pull [the kids] out of school and explore other options, even possibly leaving the state."
"We are not an anti-vaccine family. We are an anti-mandate without the option for exemption family," Rachel Sandoval wrote. She said she and her husband both got the Covid-19 vaccine and they have four kids in the district. Sandoval shared that she had conversations with her kids and respects their choices. Her 15-year-old chose to get the shot, but her 13-year-old wants to wait, while her 18-year-old is strongly opposed. She said her 11-year-old will not be getting the vaccine for at least a few years. "When it is an appropriate time for our children as individuals, they will get the shot, but not by government force or social bullying."
District parent Lisa Wallace said her 12-year-old and 14-year-old are already fully vaccinated against Covid-19 but that she's taking a pause before getting her nine-year-old vaccinated. "We are pro-vax," Wallace wrote saying she is typically all in with doctors and scientific data but said after looking at the sample size for the trial of Pfizer/BioNTech, she wants more information. "I will ask my kids' various doctors as our appointments are on the docket."
OC Deputy County Health Officer Dr. Regina Chinsio-Kwong said she would vaccinate her elementary-school age child as soon as possible after seeing data from the vaccine trials and some of the long-term health issues occurring in kids who had Covid. "​​I'd rather take the risk of any side effects of the vaccine over getting my kid sick with Covid," she said.
According to the American Academy of Pediatrics, in the U.S., 1.9 million children ages 5-11 have been infected with Covid-19; 8,300 have been hospitalized and 94 have died. For more information about the pediatric vaccines, and Covid cases in children, visit the CDC website.
SECOND BELL
Other Stories We're Following
Calls for Resignation After Board President's curse caught on 'hot mic'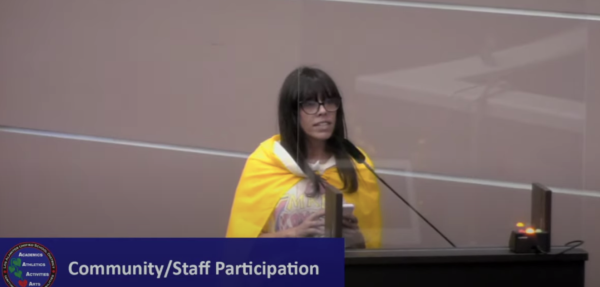 Parent Lauren Roupoli speaks at the Oct. 26 Board meeting. Board President Marlys Davidson cursed under her breath following Roupoli's comments. The expletive was caught on a 'hot mic' and audible on the meeting's livestream.
Spotlight Schools is tracking the fallout and response after Los Alamitos USD Board President Marlys Davidson cursed under her breath at parent Lauren Roupoli following the mother's comments at the Oct. 26 board meeting.
Yesterday, around one hundred people protested outside the school district headquarters, some holding signs calling for Davidson to step down.
At least one school board trustee is calling for forgiveness.
Here's What Happened: Roupoli was speaking against Covid-19 vaccine mandates and criticizing trustee Scott Fayette's earlier remarks at last Tuesday's meeting when her time limit expired.
Staff cut off the podium microphone and Davidson banged the gavel, telling Roupoli her time was up. Davidson is then heard muttering the disparaging remark. The expletive was audible to people watching the livestream of the meeting but was not heard at the in-person meeting.
Controversy erupted after video clips were shared online, including by proponents of an effort to recall Fayette and two other board trustees, but not Davidson, who is up for re-election in 2022.
Recall supporters also circulated a second video clip in which Davidson appears to utter, "Oh my God, here we go," before another parent spoke at last Tuesday's meeting.
"It's sad that it took a hot mic to see how, to catch her real feelings and to see what these school boards are really thinking about us parents," Roupoli told AM870, one of many conservative media outlets she and the pro-recall campaign spokesperson have appeared on in the past week.
Davidson has publicly apologized and is making no excuses for her behavior. "My love is for the kids and the community," said Davidson. "I should not have said it and I must do better," she added. "Trust is built through actions over time. I know I have broken trust with many of you. For that, I am deeply sorry."
"[Resignation] is the only acceptable apology for parents," Roupoli said.
"It was much more than an inappropriate comment, it is an entire attitude that allows somebody to say that to a member of our community," read a letter signed by recall organizer Donna McGuire, parent Staci Muller and former board trustee Dr. Jeff Barke, who lost his seat in 2018 when Davidson won.
Davidson said she does not plan to resign.
Ladell "Del" Clark, who has served on both the Orange County Board of Education and the Los Alamitos Unified School District board, says Davidson should "absolutely not resign."
Clark said for the recall group to call for the board president's resignation is "hypocrisy at its greatest." The former education official said anti-mandate protestors shared the sidewalk with a booth selling T-shirts that had expletives all over them.
Board Members Speak Out
In an interview, Vice President Diana Hill said she did not condone Davidson's behavior and called it "not acceptable," but is advising forgiveness at this stage.
"I know Mrs. Davidson made a regrettable mistake and I know that she is extremely sorry. I believe that we all make mistakes and we're all due the grace of forgiveness," Hill said.
Hill lamented the circumstances but said she doesn't think Davidson should resign. "From what I have seen of [Davidson] as a governing board member, she has always cared about parents and students and staff. This was a moment that came out of a lot of frustration."
Fayette, who Roupoli was addressing during her comments which garnered applause, said he felt bad for Davidson. "I feel responsible because she was expressing frustration for how I was being treated," Fayette said and added, "I would hope that many people would have grace and compassion."
He said the board has been under intense pressure for nearly two years amid the pandemic and heated debates over ethnic studies and mask mandates. "Everyone has a breaking point," he said.
For much more on this story, check out tomorrow's Event-News Enterprise.
David Young contributed writing and reporting to this story.
Other Stories We're Reading
EXTRA CREDIT
Meetings // Events // Opportunities // Resources
The Orange County Board of Education meets tomorrow, Nov. 3, in the Board Room of the Orange County Department of Education at 200 Kalmus Drive in Costa Mesa.
Meetings generally start at 4pm but this meeting's agenda lists 3pm. You can watch it live on YouTube here.
On the agenda:
"Resolution Opposing Tyranny of the United States Government and Intimidation of its Citizens" which refers to a recent memo from U.S. Attorney General Merrick Garland regarding incidents at school board meetings nationwide.
Public hearing and presentation on proposed redistricting maps for the OCBE.
Presentation of Board establishing the salary for the OC Superintendent of Instruction.
PARENT EDUCATION OPPORTUNITY:
What: Online webinar ADHD, A to Z
When: Wednesday, November 3, 5:00PM-6:00PM
The Los Alamitos USD is publicizing a webinar with CHOC Child and Adolescent Mental Health expert, Ryan Lyft. He will "talk with parents about the current research on ADHD, separating the myths about the disorder from the facts, so parents can get their children the support they need." Register at this link.
RESOURCE: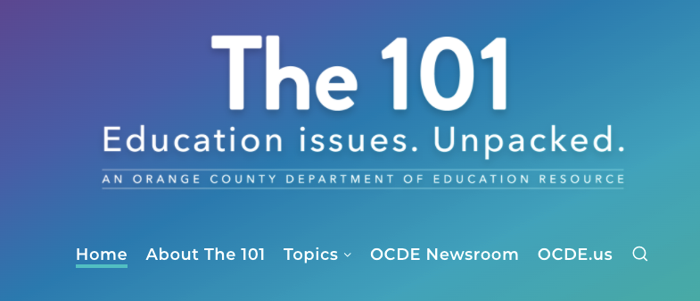 The Orange County Department of Education has unveiled The 101, a new website aimed at helping OC residents better understand complex education issues. The website reads: "On this site, we'll do our best to unpack complex topics and explain who has oversight in posts that can be read quickly and shared easily with friends and neighbors."
Some of the topics include: school district governance, ethnic studies, and mental health. It's offered in seven languages and has a form for you to submit questions.
RECESS
Your Weekly Dose of Good News
A Halloween Story to Warm Your Heart
Los Al High School students Blake Brennan, left, and Will Brandenberger, right, pose in front of WaxWorks Home Haunt on Halloween. Courtesy Photo
This past Halloween, Los Alamitos High School senior Will Brandenberger transformed the front of his family's Rossmoor home into an eerie attraction for the final time.
"It was amazing! Lots of tears on both me and my entire family as we say goodbye," Will wrote in an email. After about six years of staging a Halloween experience, Will said he will stop since he is due to graduate and head to college.
He estimated around 800 people stopped by on Sunday to check out WaxWorks Home Haunt, the eye-popping display that has its origins in Will's elementary school days and is also inspired by his many trips to Knott's Scary Farm.
Will and his friend and fellow Griffin Blake Brennan were the masterminds of the WaxWorks and even dressed up as creepy characters guiding visitors through the fake corpses, simulated flames, and fog machines around Will's front yard and driveway.
Will has been hooked on haunted houses since he was a kid at Rossmoor Elementary school watching his neighbor Mike Hearn set up his storied cemetery-themed display.
Inspired by Hearn, Will was determined to stage his own Halloween experience and began piling up gory animatronics and macabre props in his parents attic.
"I would ask for Halloween decorations for Christmas," Will shared.
Hearn also helped Will, giving him some decorations.
Hearn stopped doing his own Halloween attraction in 2013, a few years after his wife's death. The couple loved decorating together and it just wasn't the same, Hearn said.
"I do miss it," Hearn said but added he's loved seeing Will carry on the Halloween tradition.
"When I first came over, it just gave me chills," Hearn said of seeing Will's decorations.
"You're the reason why it's here," Will said to Hearn.
Will hopes his years creating spine-tingling memories for neighbors will motivate someone else to carry on the tradition.
"It's a legacy I hope to leave to inspire another kid, like Mr. Hearn inspired me."
Read more about Will's story here.
See more pictures on Instagram: WaxWorks Home Haunt
Thanks for reading!
Forwarded from a friend? Subscribe to the newsletter here.
Copyright © 2021 Spotlight Schools, All rights reserved.
Our mailing address:
P.O. Box 164
Seal Beach, CA 90740