Spotlight Schools Newsletter: Nov. 16, 2021: Divided Crowd at Board meeting; Trustee Sits in on Ethnic Studies Class; Signing Day for Student Athletes
Stories that help you better navigate and participate in the K-12 public school experience
Stories that help you better navigate and participate in the K-12 public school experience
Spotlight Schools
In this week's newsletter...
A recap of public comments from the Nov. 9 Board of Education meeting
Trustee Chris Forehan sits in on the LAHS Ethnic Studies class
Another round of revisions in the recall effort
National Signing Day for student athletes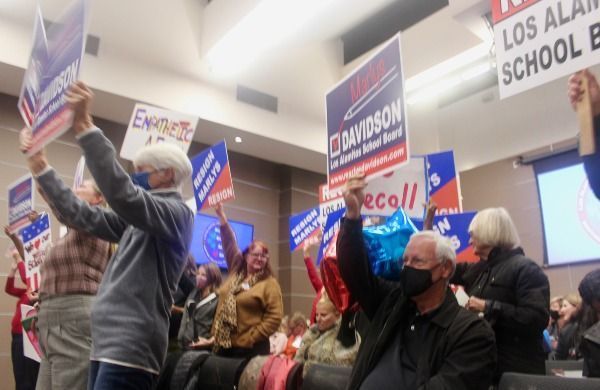 Attendees show opposition to or support for Los Alamitos Unified School District Board President Marlys Davidson before the start of the Nov. 9 board meeting.
This is the weekly newsletter from the hyperlocal education newsroom Spotlight Schools. Our goal is to help you better navigate, understand and participate in the TK-12 public school experience in Orange County.
Please send feedback/comments/story ideas to hello@spotlightschools.com. We want to cover the issues you care about so please reach out!
Yours in knowledge,
Jeannette Andruss
Founder, Spotlight Schools and parent of two students in Los Alamitos USD
FIRST BELL
This Week's Top Story
Divided Discourse at School Board Meeting
A divided crowd packed into the Los Alamitos Unified School District Board of Education Meeting Room last Tuesday evening.
When Board President Marlys Davidson entered the room, the audience erupted. "Resign!" shouted some people. "We love Marlys!" yelled others. Many got out of their seats, waved their signs and raised their voices creating a raucous start to the night.
The mood mellowed after Supt. Dr. Andrew Pulver reminded attendees that people cannot yell when someone else has been recognized to speak and that the gavel would be used if someone is out of order to maintain "decorum at our meeting." Seconds later, Davidson officially started the meeting.
A large turnout was expected. That's because it was the first meeting since a video from the last meeting revealed Davidson cursed at a parent under her breath following the parent's public comment and muttered "Oh God here we go" before another parent spoke. Picked up by a hot mic, the remarks were only audible on the livestream of the Oct. 26 meeting. Clips were shared online including by proponents of an effort to recall three trustees. The incident fueled many segments on conservative media outlets and made national and international headlines.
It also sparked calls for Davidson's resignation. She has apologized and said she does not plan to step down.
During Board communications at the Nov. 9 meeting Davidson said, "I make no excuse for my actions and I deeply regret the turmoil I caused, specifically to the two women most hurt by my words. I'm deeply sorry for the pain I caused each one of you."
Nevertheless, Lauren Roupoli, the parent who last spoke before Davidson cursed, remained committed to her position that she should step down.
"You are not a role model," Roupoli said during public comment at the Nov. 9 meeting. "You're an embarrassment to the school board and to this community. And I demand that you resign today because the parents standing behind me will no longer settle for anything less."
Many speakers echoed Roupoli's sentiments. But others, including fellow trustee Diana Hill, showed support for forgiving Davidson. The other board members did not comment on it during their communications.
PUBLIC COMMENT BY THE NUMBERS
The 43 speakers at the Nov. 9 meeting can be grouped into three rough categories.
People for or against: President Davidson's resignation; the broader recall effort and board and district policies in general. (27 speakers total)
Covid-19 topics including vaccine and mask mandates and safety protocols. (Three speakers)
Supporters of a Los Alamitos High School counselor who was put on administrative leave earlier this school year. (Nine speakers)
Four speakers did not fit neatly into the above categories including two who spoke generally about people making mistakes and two who talked about the divided community.
We caution that the commenters at the meeting only reflect the people who showed up and chose to speak. This is an attempt to concisely present what happened at the meeting. You can watch all of the comments here starting at the 57-minute mark through the 2:27 mark.
SPLIT OVER DAVIDSON
Fourteen people spoke in support of the board and its policies. Eight of them specifically mentioned Davidson.
Thirteen people spoke out against the board, its policies and in support of efforts to recall trustees. Of those, 11 specifically asked Davidson to resign.
Gerri Mejia, a former mayor of Los Alamitos, was one of them.
She said: "I don't have anything against you personally. I just think that you should do the honorable thing and step aside because it has been something that's negatively impacted this community. And it isn't fair to all of us because we don't run around saying those things because you represent us that makes it look like we're condoning what you did."
"I've been involved in political campaigns since Robert Kennedy's in 1968. And I'm telling you that if you don't resign now, your F-you clip will be heard in every conservatives' campaign ad in 2022. If you really cared, then set your ego aside and spare us that embarrassment and humiliation and show your real respect for this community by simply resigning now," said Hope Horning.
"Marlys has no place in this board because of her disrespect and complete contempt for the parents. No apology can erase her true attitude. That is the problem. It's her attitude," Kim Francke said.
Other speakers were more forgiving and supported Davidson staying on.
"Although I agree that no one should be cussing at people under their breath, we all have our limits," one parent named Nicole S. said. She spoke about how critical public comments at board meetings have been over the past twenty months. "Marlys has apologized and I hope we can all agree that she is a fallible human just like the rest of us and I hope we can move forward so she can continue to help to do what is best for the students and the community."
"We've all made mistakes. But what's been lost here is that you are a great example of what to do when you make a mistake. You own it and you apologize," parent Leland Jay said.
"I voted for Marlys Davidson. I would continue to vote for Marlys Davidson," said Tara Farayian, who praised Davidson for apologizing and admitting her flaws. "That's what we tell our children to do when they make mistakes, not to let that define them, but allow that to be a learning point to continue to grow."
At least two speakers lamented the division in the air that night. That included the final public speaker, a mother named Julia B. who said it was her first board meeting.
"I'm listening to everybody speak. There is such a separation, which is not something I want my child to grow up in, nor do I want to be in," she said and added that she thinks it's the parents' voices that should matter most.
COVID-19 VACCINE MANDATE RESOLUTION TO BE ON FUTURE AGENDA
In other news from Tuesday's meeting, Vice President Hill asked for a resolution on Gov. Gavin Newsom's proposed Covid-19 vaccine mandate for students to be placed on a future meeting's agenda so it can be discussed.
"I do want to make it very clear that this is not a political agenda," Hill said during board communications. She said she's heard from many parents with opinions and concerns about the mandate. "This is supporting a wide range of parents who have asked that we support them in this."
California's vaccine mandate would be phased in once vaccines receive full approval from the Food and Drug Administration for student groups. That could be as early as July of 2022 for 7th-12th graders, according to the Governor's office. Vaccines have emergency authorization for kids ages 5 to 15. Under current rules, medical and personal belief exemptions would be allowed.
Parents have spoken out against the vaccine mandate but some have expressed support for it. At the Nov. 9 meeting, a handful of speakers thanked Hill for saying it would be added to a future agenda.
That includes Dan Brandt, a father who said he's not comfortable with the vaccine for his kids right now and he said parents agree with him.
"I can guarantee you that the conversations that are out there, they want to send a resolution [to the Governor]. They do not want the mandate."
He suggested the district survey parents to see how they feel about the mandate.
Parent Emily Hogenboom told the crowd that her children already got their first dose of the vaccine.
"Science saves lives. Science tells us that the COVID vaccine is safe and effective," she said.
A majority of board trustees have publicly expressed reservations about the mandate. They also said that it is a state order and have encouraged people to contact state lawmakers to voice their concerns.
It's not clear when the item will be on an agenda. The next board meeting is scheduled for Dec. 14.
RELATED: A few California school districts say they will defy Covid-19 vaccine mandate via San Francisco Chronicle
Like what you're reading? Share it with a friend! Forward this newsletter or share this link.
SECOND BELL
Other stories we're following
Trustee's Take on Ethnic Studies Lesson
Last year, high school students and community members began publicly asking the Board of Education to offer an ethnic studies class. After months of planning from staff, amid passionate public comment and debate, the school board approved an ethnic studies elective curriculum with unanimous votes during a meeting held online due to safety concerns last June.
At that meeting, trustee Chris Forehan said he believed the course would be "closely monitored by our extremely competent staff."
The elective course named ​​Ethnic Studies: Cultural Experiences in the United States is in its first semester at Los Alamitos High School and is offered to juniors and seniors. Last week, Forehan sat in on a lesson. Here is what he told Spotlight Schools about the experience.
"I felt it imperative that I take time to visit this class and spend a period listening to the instruction as well as the conversation of the students. On Monday November 7th I was able to attend this class. The focus of this class was working on a definition of stereotyping. The outstanding teacher used a resource from the Board-adopted curriculum for Unit Two - Where do Stereotypes Come From and How do They Affect Society - to engage us inconversation on what is stereotyping."
"It seemed very important to come to an agreement on what is stereotyping to continue learning and discussing. I got to hear the thoughts of my table group as well as thoughts of others in the class."
"This elective we have approved will ensure that we are prepared to deliver a very meaningful class to our students that examines the histories, experience and cultures of various racial and ethnic groups and explores race and ethnicity in various, cultural, historical, political and economic contexts. I am looking forward to attending this class again."
Numerous parents and speakers at board meetings have criticized the ethnic studies course saying it's an example of critical race theory, a college-level discipline that examines racism as part of systems and laws in the U.S. Opponents say it divides students into oppressors and victims.
The district has repeatedly said it is not teaching CRT, including in a FAQ sent out to families last April. Dr. Pulver reiterated it again at the Nov. 9 board meeting.
Beginning with the class of 2029-30, California will require a one-semester course in ethnic studies to graduate from high school.
Wondering about the LAHS ethnic studies elective? See the course overview here and the curriculum here.
RELATED: Inside two Ethnic Studies classes in Los Angeles County via L.A. Times
RECALL EFFORT UPDATE
The effort to recall Board of Education trustees Megan Cutuli, Chris Forehan and Scott Fayette has to go through another round of petition revisions.
In an email on Monday, the Orange County Registrar of Voters' office, which oversees elections, wrote that the office had returned the second draft of the petitions to the proponents and a third draft is due back by Nov. 29.
This means recall supporters must continue to wait to gather the roughly 6,000 signatures from registered voters across the three targeted trustee areas needed to trigger a recall election.
Once the petitions are approved, they will have 90 days to collect signatures.
Other stories worth reading...
EXTRA CREDIT
Meetings // Events // Opportunities
STATE OF THE DISTRICT
HAPPENING THURSDAY: The Los Alamitos Unified School District State of the District is this Thursday, Nov. 18. It's SOLD OUT. At the annual breakfast, the Superintendent and other district officials present goals and accomplishments. It's put on by the Los Alamitos Education Foundation. Spotlight Schools will have highlights in next week's newsletter.
PARENT EDUCATION OPPORTUNITY
HAPPENING THURSDAY, NOV. 18: Delivering a Happy Holiday webinar 5:30pm-7:30pm
The holidays can be stressful for everyone with travel, disrupted routines, gift giving and more which can all lead to behavioral challenges. This online workshop will "identify ways that can help reduce some of the stressors that come with these changes" to help keep celebrations celebratory. Email jcox@gaselpa.org to register.
2022-23 CALENDAR: The tentative school calendar for the 2022-23 academic year was released. See it here.
VOLUNTEER // JOB // CAREER OPPORTUNITIES
HAPPENING TOMORROW, NOV. 17: SKILLED TRADES FAIR @ Los Al High School During lunchtime tomorrow in Room 500, students can stop in and learn about apprenticeship and college certificate programs including in Automotive Technology, Medical Assisting, Fire Science, Plumbing and Pipe fitting and more.
LAEF SEEKS INSTRUCTORS: The Los Alamitos Education Foundation is hiring after-school elementary instructors for itsSpring Session.For each 12-week class section, teachers are paid $800 (1.25 hours per class) and $610 (55 minutes per class). Email your resume to programdirector@laef4kids.org by Nov. 22
VOLUNTEER: The Youth Center needs help supporting its Tree Lot.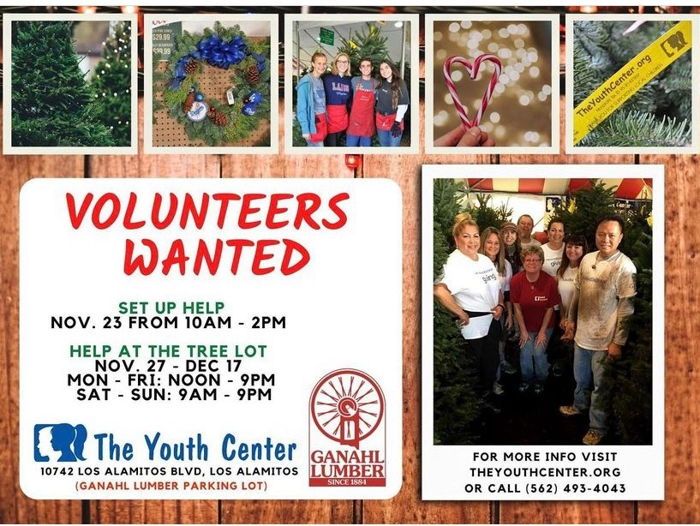 PLUS: Check out the Youth Center's programs being offered for children during their days off of school for Thanksgiving break.
RECESS
The dose of good news we all need
LAHS Football Player's Fight off the Field
Don't miss the inspiring story of Los Alamitos High School student and long snapper Carson Fox. He's getting support from his football teammates as he battles a rare form of cancer that was discovered after he suffered an injury on the playing field. Story from The OC Register
National Signing Day for Student Athletes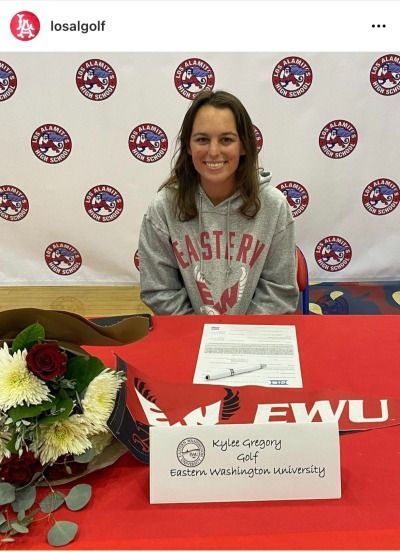 LAHS Senior Kylee Gregory commits to playing golf at Eastern Washington University. Photo from @losalgolf on Instagram
November 10 was the first day high school seniors playing sports other than football could sign a National Letter of Intent to play collegiate athletics. Los Alamitos High School marked the occasion with 19 students, according to the Long Beach Press-Telegram.
Los Alamitos HS Seniors that signed letters of intent to play sports at colleges and universities next year as reported by the Orange County Register
Summer Allen, soccer, Cal Baptist University
Ryan Grace, soccer, Cal Poly Pomona
Kylee Gregory, golf, Eastern Washington University
Lindsey Harris, water polo, Cal
Emma Haygood, softball, Utah State
Taylor Johnson, softball, University of San Diego
Carly Limosnero, softball, Cal Baptist University
Sofia Munatones, water polo, UCSD
Sydney Munatones, water polo, UCSD.
Teryn Newkirk, soccer, Boise State
Michael Pirrello, baseball, UC Irvine
Ally Robbins, softball, Cal Poly San Luis Obispo
Noah Roberts, volleyball, USC
Sydney Saldana, softball, Utah State
Jazzy Santos, softball, UC Santa Barbara
Aurora Schuck, soccer, Washington State
Aidan Schulten, volleyball, UC Irvine
Diamond Sefe, softball, Texas Tech
Olivia Villalba, soccer St. Mary's University-San Antonio
Holiday Fun in Seal Beach
The Christmas Tree lighting takes place this Saturday from 4-7pm.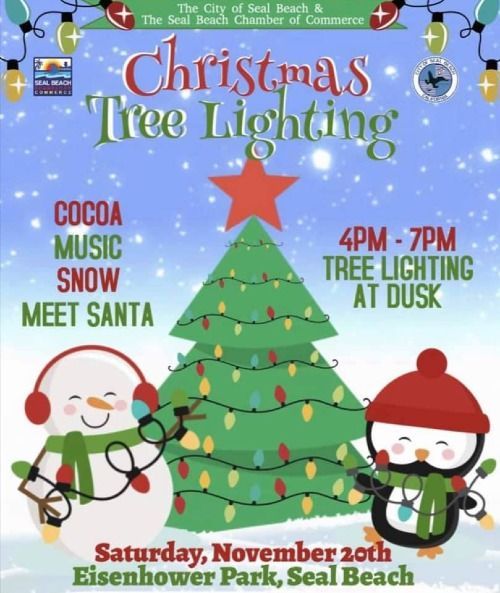 The Annual Pre-Chanukah Menorah Lighting is Sunday Nov. 21st at 5pm
Enjoy free live music, Chanukah foods and the grand lighting of a 9-foot Menorah at Eisenhower Park in Seal Beach. More info: www.SealBeachMenorah.com
Thanks for reading!
Forwarded from a friend? Subscribe to the newsletter here.
Our mailing address:
P.O. Box 164
Seal Beach, CA 90740
Copyright © 2021 Spotlight Schools, All rights reserved.