Spotlight Schools Newsletter #9 Oct. 12, 2021: Los Al's Inclusion Efforts; Cost Estimates for Recall & Carnivals Return to Campuses!
Our goal is to help you better navigate, understand and participate in the TK-12 public school experience by delivering reliable information about your school district and beyond.
Our goal is to help you better navigate, understand and participate in the TK-12 public school experience by delivering reliable information about your school district and beyond.
Spotlight Schools
IN THIS WEEK'S NEWSLETTER:
A look forward and back at Los Al Unified's human relations effort
How much could the recall election of three school board members cost?
Fall carnival season returns to Los Al Unified schools
A screenshot from an Instagram post promoting a past meeting of Los Al Unified School District's Human Relations Advisory Council. The effort to foster inclusion on the district's nine campuses is being relaunched as the Human Relations Collaborative which holds its first meeting this Thursday.
This is the weekly newsletter from Spotlight Schools, a hyperlocal newsroom covering education in Orange County. This is Jeannette Andruss, founder of Spotlight Schools and parent of two students in Los Al Unified. Our goal is to help you better navigate, understand and participate in the TK-12 public school experience.
Got feedback? Please respond to this email.
FIRST BELL
This Week's Top Story
Los Al Unified's Human Relations Effort
The Los Alamitos Unified School District is entering a new phase in its effort to address diversity, equity and inclusion at its nine campuses across Seal Beach, Rossmoor and Los Alamitos.
On Thursday evening, district families are invited to the first of three meetings of the Human Relations Collaborative (HRC), the newest iteration of a district-wide effort with roots dating back to 2018 when the district was hit with a groundswell of public criticism.
In an interview last week, Deputy Superintendent Ondrea Reed said the HRC meetings will "focus on education and awareness" and are meant to be "more of a learning opportunity" for families. Elianny C. Edwards of The Howard Group will speak about Critical Wellness to Support Students.
"The idea of a collaborative, by definition, is a structure designed to bring parties together in a long-term relationship to achieve a common goal, which best describes the committee's work," Reed wrote in a message to families announcing the HRC.
What is the common goal? In an interview last week, Los Al Unified Superintendent Dr. Andrew Pulver explained the goal goes to the core of what human relations is all about: "How do we interact as a diverse group of individuals?" he said and invoked The Golden Rule. He added it's to ensure "all of us are treated with respect" and that everyone feels safe.
"Students should be provided with opportunities to gain an understanding of, and respect for individual and cultural differences, live enriched lives, and be better prepared to work in a global economy and live cooperatively in a diverse society," reads part of a message sent to families earlier this year about the district's inclusion efforts.
Of the district's roughly 9,300 students, about 48% are non-white, 43% are white and 9% are two or more races according to state enrollment data from the last school year.
HUMAN RELATIONS TIMELINE
Wondering what led up to the Human Relations Collaborative? This is a broad overview of some key district actions from 2018 to today.
Spearheaded by then-Superintendent Dr. Sherry Kropp, a Human Relations Task Force (HRTF) was formed in the aftermath of the community's response to a Facebook post from the then-principal at McGaugh elementary school in September of 2018. The post referred to former NFL quarterback Colin Kaepernick, known for kneeling during the national anthem to protest police brutality, as an "un-American thug." It sparked debate among McGaugh families on social media, and garnered local and national media attention.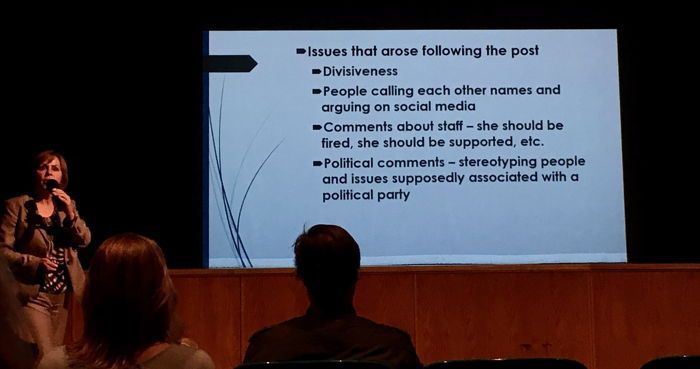 In Sept. 2018, then-Supt. Dr. Sherry Kropp addresses McGaugh parents at a meeting following a private Facebook post by the school's principal.
What's next? Reed said the new Human Relations Collaborative is aimed toward involving more people and fostering conversations.
"This school year, we want to engage more stakeholders, hear more voices, and continue to invest in the work of inclusion," Reed wrote in a message announcing the HRC to LAUSD families.
People involved in the past human relations efforts were sent a survey asking what should be the focus moving forward. Attendees at Thursday's meeting will also be given a chance to provide feedback, according to Reed.
The first HRC meeting takes place 10/14 at 6p.m. at the Performing Arts Center at Los Alamitos High School.
SECOND BELL
Official Estimate on Cost for Recall Election
ICYMI: At their Sept. 28 meeting, three Los Al Unified School District Board of Education trustees were served with notices of intention to collect signatures for a recall election. The targeted board members are: Chris Forehan (Trustee Area 2), Scott Fayette (Trustee Area 4) and Megan Cutuli (Trustee Area 5).
Opponents of the recall effort have cited its potential cost, which would be paid for by the district, according to the Orange County Registrar of Voters office which oversees elections.
Last week the Registrar sent me the following cost estimates:
$167,773 - $192,948 for a stand-alone recall election, what you could think of as a special election, in the three trustee areas.
$52,853 - $75,530 for a consolidated election for the June 2022 primary (that means adding the recall to the ballot for the June 2022 statewide primary).
These estimates were generated by the Registrar's office at the request of the school district. It did not request an estimate for adding the recall to the November 2022 midterm ballot even though that's the election organizers were eyeing to have the recall. It's also when Board President Marlys Davidson and Board Vice President Diana Hill are up for re-election.
In an email, Hill had this to say about the cost estimates:
"The money this recall election could cost the district would be better spent on students, than trying to remove three student-centered and dedicated trustees."
Pro-recall spokesperson Robert Aguilar, Jr. did not respond to a request for comment but the recall website states:
"The cost of having a recall vote during an already scheduled election ... is minimal. In fact, it would cost less than just the Superintedent's [sic] salary."
Donna Barron-McGuire is heading up the recall effort in Trustee Area 4. In a text message, she estimated the cost for that to be around $4,000 with "lots of volunteer time."
Recall organizers will have 90 days to collect the 6,000 signatures from registered voters (2,000 from each trustee area) needed to trigger a recall election.
EXTRA CREDIT
Meetings, Events & Stories Worth Checking Out
TONIGHT: The Los Al Unified School District Board of Education meets at 6:30pm.
On the agenda:
Introduction of Ripple Effects social and emotional learning supplemental curriculum for 9-12 graders.
Approval of resolution in support of the annual drug-use prevention effort Red Ribbon Week happening Oct. 25-29.
Also expected: updates from Supt. Dr. Andrew Pulver, Student Board representative Will Brandenberger and Board President Marlys Davidson.
You can attend in person at the District Board Room at 10293 Bloomfield Street, Los Alamitos or watch the meeting live on YouTube here.
On Our Radar: Social media posts say a protest against California's planned student vaccine mandate will be held at Los Al Unified's district headquarters before today's meeting. Spotlight Schools could not confirm who is organizing it.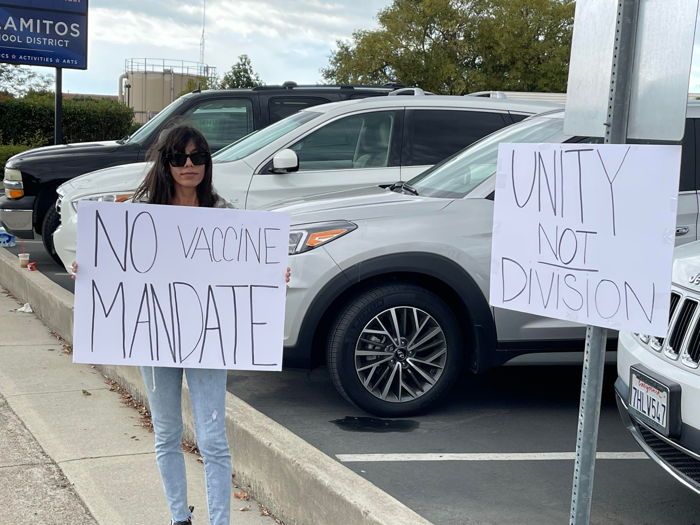 On Friday, parent Lauren Roupoli stood outside LAUSD headquarters with signs and got some "honks" from cars driving by. She told my colleague David Young that she is not anti-vaccine but is anti-mandate.
On Oct. 1, Governor Gavin Newsom announced that once fully approved for use by the F.D.A., students eligible for the COVID-19 vaccine would need to get it to attend in-person classes in the state, similar to required vaccines for measles and polio. For information about the COVID-19 vaccine and kids, visit the CDC website.
Ethnic Studies Requirement & Other Stories
RECESS
The Good News Break We All Need
Student Cast in Whitney Houston Biopic//Carnival Season Returns//Successful School Fundraisers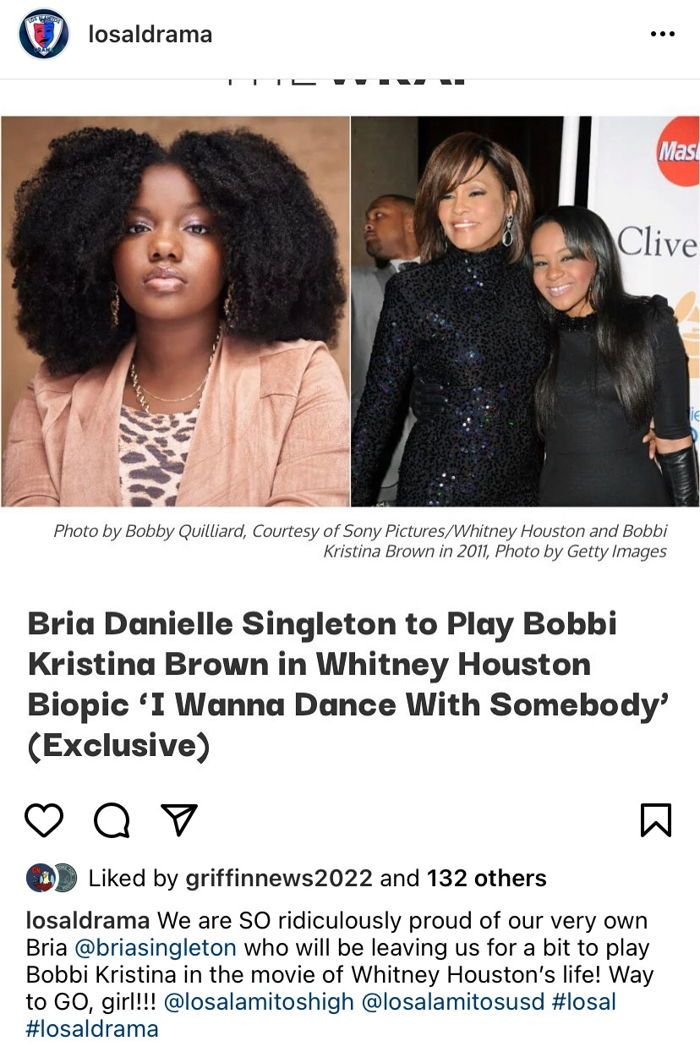 According to The Wrap, Los Al High School student Bria Danielle Singleton has been cast in the Whitney Houston biopic "I Wanna Dance with Somebody." In a post on its Instagram account, the Los Al High School Drama Department wrote: "We are SO ridiculously proud of our very own Bria ... who will be leaving us for a bit to play Bobbi Kristina in the movie of Whitney Houston's life! Way to GO, girl!!!" According to her IMDB page, Singleton booked her first TV pilot at age 4 and her biggest role to date was in the Netflix movie "Thunder Force" starring Melissa McCarthy and Octavia Spencer.
Fall Carnival Season is Back at Los Alamitos Unified!
After being canceled due to COVID-19 last school year, an annual fall tradition returns to Los Al Unified. The Fall carnivals and fundraisers are back at numerous elementary school campuses. Get your fill of inflatables, games, treats and more. They are all taking place on different dates so you can take part in each one!
Los Alamitos Elementary is hosting its carnival in May but it recently held its Fit-A-Thon fundraiser and raised a record $72,000 for the school!
Also worth noting, McAuliffe Middle School will be hosting its own Carnival this week just for students during school after its FUNdraiser netted more than $75,000! Thanks to McAuliffe student Ella Pardasani for the tip.
Thanks for reading!
Forwarded this from a friend? Subscribe to the newsletter here.
Copyright © 2021 Spotlight Schools, All rights reserved.
Our mailing address:
P.O. Box 164
Seal Beach, CA 90740