Spotlight Schools Newsletter #7 Sept. 28, 2021: Recall Notices to be Served; McGaugh in Mourning and Q&A with the Student Rep.
Our goal is to help you better navigate, understand and participate in the TK-12 public school experience.
Our goal is to help you better navigate, understand and participate in the TK-12 public school experience.
Spotlight Schools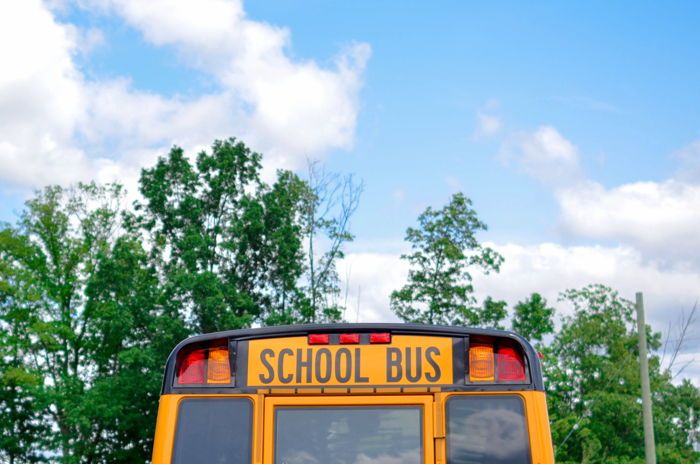 This is the weekly newsletter from Spotlight Schools, a hyperlocal newsroom covering education in Orange County. Our goal is to help you better navigate, understand and participate in the TK-12 public school experience by delivering reliable information about your school district and beyond.
In this week's edition: Notices to be served in recall effort against Los Al Unified's Board of Ed; Mourning at McGaugh and don't miss our Q&A with Los Al's Student Board Representative, Will Brandenberger.
Got feedback? Please respond to this email message.
Yours in knowledge,
Jeannette Andruss, founder of Spotlight Schools and parent of two students in Los Al Unified
FIRST BELL
This Week's Top Story
Recall Petition Notices to be Hand Delivered
Organizers of the nascent effort to recall three Los Alamitos Unified Board of Education members could take their first official step tonight.
The plan is to deliver notices of intention of a recall to board members Megan Cutuli, Chris Forehan and Scott Fayette at tonight's board meeting, according to recall spokesman Robert Aguilar, Jr, a parent in the district and former school board candidate who says he will not run again. Forehan and Fayette gained their seats in 2020, while Cutuli was re-elected for her fifth term.
"I just want it to be civil," Aguilar said in an interview yesterday explaining he'll give the three trustees the notices during the public comment period at the meeting. "It's not going to be overly dramatic. …We're not going in there with torches and pitchforks," he added.
He said he expects people from local religious groups and senior Republican groups to attend in support of the recall effort.
Meanwhile, the Democratic Club of Seal Beach sent out an email message asking people to attend tonight's meeting in support of the school board.
Aguilar described recall proponents as "parents at their wit's end" who have not gotten the responses they want after speaking out against board policies regarding masks mandates, an ethnic studies elective at Los Alamitos High School and adoption of social justice standards.
These are topics that have generated passionate comments at board meetings for the past several months both from supporters and opponents.
What's on the notices? The campaign's reasons for the recall and signatures from 10 registered voters. Notices of intention to circulate a recall petition can be delivered to elected officials in-person or by certified mail.
What are the reasons for the recall? There are four listed on the notices. One includes the argument that California Governor Gavin Newsom's emergency declaration in response to the COVID-19 pandemic has gone on so long that it violates the state's Constitution therefore enforcing the indoor mask mandates at schools is illegal. It's a similar argument made in a failed legal effort from the Orange County Board of Education. Last month, that petition was rejected by the California Supreme Court, reported Fox11 and Voice of OC.
There's no legal requirement for the reasons for a recall. All that's required on the petition notice is a written reason that's no more than 200 words. "The sufficiency of this reason is not reviewable," reads the state's guidebook to recall elections.
What's Next?
Serving the notices is the first of many steps required to gain authorization to start collecting the roughly 6,000 signatures from registered voters needed to trigger a recall election.
The served board members have seven days to file an official response to the notices with the Orange County Registrar of Voters office.
Aguilar says the aim is to get the recall on the November 2022 ballot. That's also when Board President Marlys Davidson and Vice President Diana Hill are up for re-election.
Recall organizers are forming a fundraising committee to pay for things like the requirement to post the petitions in a newspaper, which Aguilar estimates will cost more than $1,000. If it happens, the bill for the actual recall election will go to Los Al Unified. Aguilar has said timing the recall with the 2022 midterm election will reduce the burden to taxpayers but it's not clear by how much.
ALSO NEW: Recall website featuring 'hearsay' from some upset parents
Aguilar said he's updating a newly unveiled recall website regularly. He said he wants to present accurate information, but admits he's posting claims about what's happening within the district before verifying them.
"Everything on there is hearsay from parents in the district," Aguilar explained. He said that he is speaking specifically for parents with grievances that have spoken to him. "I'm repeating things that are being told to me that I believe to be true."
For example, in the press release, Aguilar is quoted as saying "in the past when confronted the board has a history of canceling meetings."
"I can't give you dates," Aguilar said when first asked about the claim. He said it came from parents who told him they were not able to speak at a meeting. After being asked if this was referring to the two meetings that were moved online due to security concerns in May and June, he said that is what he meant. "I believe parents would take that as cancelled meetings."
At these virtual meetings, public comments submitted to the district were read into the record by trustees and Supt. Dr. Andrew Pulver.
One item on the recall site concerns an assignment in a class at Oak Middle school last school year and links to a Fox News article. According to the article, students were asked to read and discuss a 2016 opinion story on HuffPost entitled: "Why I'm a Racist" as part of a lesson related to their reading of the book The Watsons go to Birmingham.
Another part of the site had a link claiming to show evidence that "California Teachers unions have threatened local school boards" over mask mandates. Clicking on it took you to a story that talks about the National Education Association's emails to White House staff. The article's author is listed as Tyler Durden with a thumbnail of Brad Pitt. Tyler Durden is the character Pitt played in the movie "Fight Club."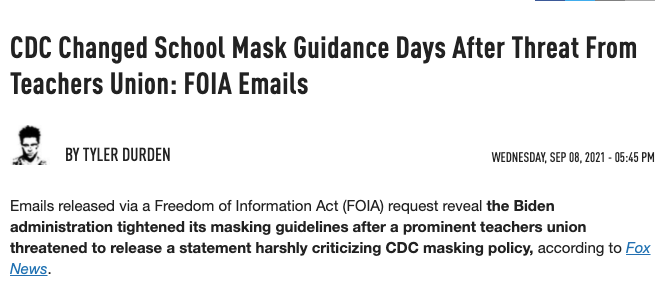 When asked about this, Aguilar said that the Tyler Durden byline is the alter ego of a reporter and blogger he's familiar with. When asked why the story never mentioned anything about California teachers unions, he said he would look into it. As of this morning, the link had been replaced with a Reuters story.
Aguilar said he is working to update the website "little by little" and wants to hear from people. He said the principal of McAuliffe Middle School reached out to let him know that the school does in fact have a Christian Club, despite the recall website's claim to the contrary. Aguilar changed the website to reflect that and called the confirmation of a Christian Club a "victory."
Former Board Trustee Supports Recall
We're also learning more about who is supporting this effort. That includes former LAUSD Board of Education trustee Jeffrey Barke, a physician and the current President of the Rossmoor Community Services District. After serving 12 years as a Los Al Unified trustee, he lost his re-election bid in 2018.
Dr. Barke has publicly criticized the current board's efforts in numerous letters to the editor to The Event-News Enterprise. In the recall's press release, he's quoted as saying he is "disappointed" in his former colleagues.
"A recall election provides parents with an opportunity to be heard when the elected officials otherwise are unresponsive to the community that put them in office," he said. On the recall effort's website, Dr. Barke is quoted as saying that the COVID-19 response is political and not about science. "​​It is time for parents to remove their children from government schools," he said. Dr. Barke is also the co-founder of a charter school in Orange.
Another former board trustee, Del Clark, spoke in support of the sitting trustees at the board's Sept. 14 meeting.
"I want to personally thank and congratulate each and every board member, the superintendent and this entire school district," she said. "This is to support the amazing job you're doing under the most extreme circumstances. … I want you to know we support you out here."
We'll let you know what is said at tonight's meeting in next week's newsletter. And be sure to follow us on Instagram @SpotlightSchools for more news during the week.
SECOND BELL
Community Connection
McGaugh Elementary Teacher Remembered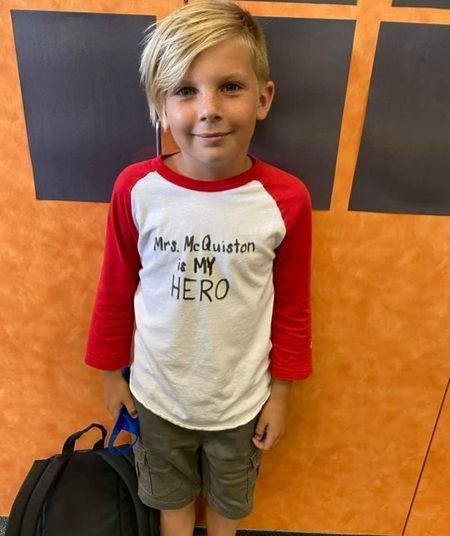 Silas Vecchio Wille wears a shirt to support McGaugh teacher Cari McQuiston who passed away last week.
The McGaugh Elementary community in Seal Beach is in mourning after beloved teacher Mrs. Cari McQuiston passed away last week. She leaves behind her husband and two young kids, who are also students at McGaugh.
In a heartfelt message to McGaugh families, Principal Dr. Issaic Gates wrote:
"Mrs. McQuiston's commitment to students, professionalism, and love of learning have profoundly touched us all. The McGaugh Community deeply loved Mrs. McQuiston, and her passing is sure to raise many emotions, thoughts, and questions for our entire school."
Dr. Gates said wellness counselors and school psychologists are supporting staff and students.
Last week, some students wore shirts that read "Mrs. McQuiston is My Hero" to pay tribute to her. That included the son of McGaugh parent Claudia Vecchio Wille. She described her former colleague this way:
"Cari truly made this world a better place. She brought joy and love to everything she did. And she cared deeply for the world around her. My heart smiled every time I saw her or we spent time together. Her students, colleagues, friends and family are better because Cari was in their life."
Mrs. McQuiston was also the kindergarten teacher for Stacia Walker's son who is now in second grade. He and his former classmates were crying on campus after hearing the news. Stacia praised the educator and friend.
"She was an incredible teacher - positive and patient - and she put so much love into teaching her students. Cari embraced the joy in life, found humor in the littlest things, and had the biggest heart. How lucky were we to know her and to call her a friend."
EXTRA CREDIT
Events and Stories Worth Checking Out
HAPPENING TONIGHT: As mentioned above, the Los Al Unified Board of Education meets tonight. They first meet at 4:30pm for a workshop on how 2020 Census data will impact the boundaries of the district's five trustee areas. ICYMI -- The district switched from an at-large voting system to a trustee area voting system in 2020.
→ You can watch the 4:30pm workshop live via YouTube here.
On the agenda for the 6:30pm meeting:
Revision of board policy on Independent Study. This includes reducing the minimum days for independent study from five consecutive school days to three.
Consideration of field trips to Sacramento and San Francisco for fourth graders at various elementary schools.
Regular reports from the Board President, Superintendent and Student Board Representative.
→ You can watch the 6:30pm live via YouTube here.
Other Stories We're Following...
RECESS
The Good News Break We All Need
LAHS Dance Gets $20K//2021 Blue Ribbon Schools//Meet The Student Board Rep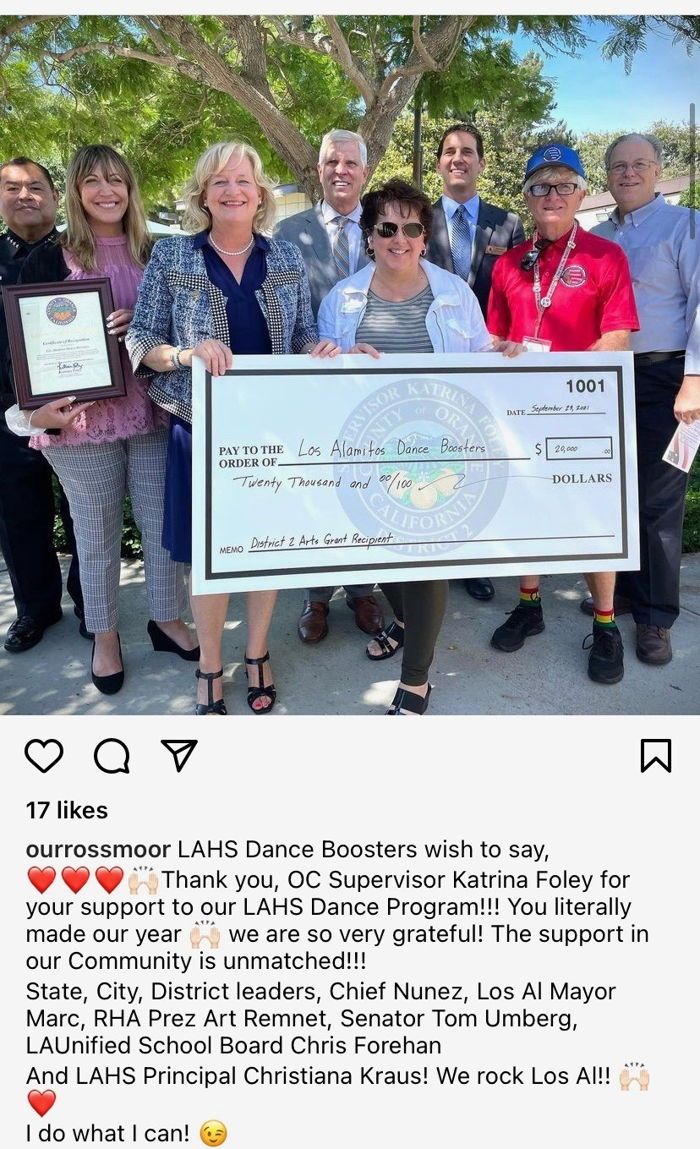 Boost for LAHS Dance
The Los Alamitos High School Dance Booster Club received its own boost recently. The group earned a $20,000 grant from the office of Orange County Supervisor Katrina Foley last week.
2021 National Blue Ribbon Schools Named
Out of 325 schools nationwide, seven in Orange County were named 2021 National Blue Ribbon Schools by the U.S. Department of Education. That includes two in the Los Alamitos Unified School District. Los Alamitos Elementary and Lee Elementary earned the honor. Read more from the Orange County Department of Education.
Q&A with Los Alamitos High School Senior Will Brandenberger
Will Brandenberger is this year's student representative to the Los Al Unified Board of Education. You can catch the Los Al High School senior's lively reports at every board meeting to find out the latest on what's happening with academics, athletics, activities and the arts on campus. Each presentation also features a spotlight on a teacher and a student. "I added teacher time because I really like talking to my teachers," Will said in a ZOOM interview last week.
"I think my job is to really showcase everyone. It's about making people feel special," he added.
He says his family watches his presentations via YouTube and gives him feedback. His worst fear about presenting is having his voice crack during his reports.
He was selected to serve in his post as a member of the high school's ASB. His biggest surprise so far? Being able to sit at the desk with the board members and the superintendent. "That was a little scary sitting next to Dr. Pulver. But he was so nice!"
Although he cannot vote on board policy, Will says he feels supported by the five trustees. He shared that the board members write him letters and cards of encouragement.
Here's what else you might not know about Will:
Career Goal: To be a Disney Imagineer and design rides at theme parks. He is a frequent visitor to SoCal's many theme parks and even holds the record for most rides in one day on the Harry Potter ride at Universal Studios. He rode it 37 times!
Favorite memory in LAUSD: Taking part in the "pie your ASB" event when he got to throw a plate full of whipped cream in his older sister's face. "That was the best day of my life," he said with a huge grin.
Advice to Parents: He wants parents to know that kids are under a lot of stress. What's helped him is having supportive parents that are always asking him how they can help. "That's the best thing I have ever gotten in life," he said of his loving parents.
Quote: "You're never too cool to say hi to somebody."
Fun Fact: Will has been hosting a haunted house every Halloween since he was in kindergarten and it has gotten more spectacular every year.
You made it to the end!
Thanks for reading!
Were you forwarded this from a friend? Sign up for the newsletter here.
Copyright © 2021 Spotlight Schools, All rights reserved.
Our mailing address:
P.O. Box 164
Seal Beach, CA 90740