Source of 'joy' at board meetings is moving on; Fire erupts near two Los Al USD campuses; Plus, a record-setting performance by LAHS AP Chemistry students
Covid-19 cases rises in some CA school districts; 'Controversial issues' policy on tonight's Board agenda; Students raise $29,000 in Jog-a-thon!
Covid-19 cases rises in some CA school districts; 'Controversial issues' policy on tonight's Board agenda; Students raise $29,000 in Jog-a-thon!

Helping you better understand, navigate and participate in the TK-12 public school experience in Orange County.
In this week's newsletter...
May 24, 2022
FIRST BELL 🔔Student board representative to deliver final report tonight.
SECOND BELL 🔔 Fire breaks out at business near two Los Al USD campuses.
EXTRA CREDIT 📌Covid-19 relief money; 'Controversial Issues' policy & more on agenda as Los Alamitos USD Board of Education meets for final time this school year.
RECESS 👏🏼LAHS AP Chemistry students excel in 'brutal' exam.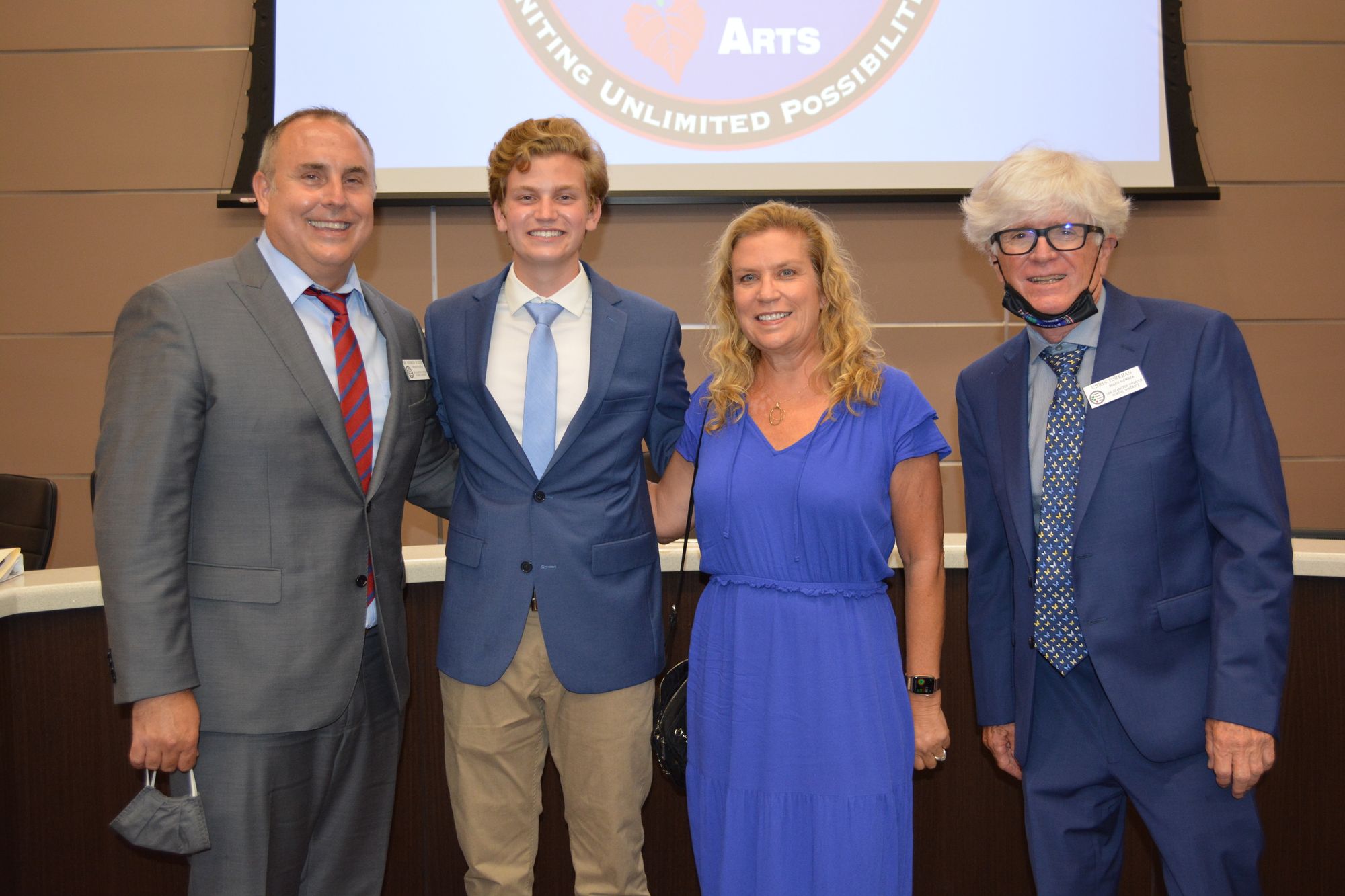 From left to right: Los Alamitos USD Supt. Andrew Pulver, Student Board Representative Will Brandenberger, Will's mother Amy Brandenberger and board member Chris Forehan at the August 17, 2021 board of education meeting. Tonight Will is scheduled to deliver his final report as student board representative. Courtesy photo.
Spotlight Schools is a nonpartisan, hyperlocal newsroom covering education. We are part of the Tiny News Collective, an effort to launch local newsrooms across the nation, and supported by a grant from The Google News Initiative.
We're shining a light on the stories, people and policies impacting you.
Yours in knowledge,
Jeannette Andruss, Spotlight Schools Founder and parent of two students in the Los Alamitos Unified School District
FIRST BELL
This Week's Top Story
Amid divided crowds at school board meetings, high school student provided something everyone could applaud
During the 2021-22 academic year, school board meetings across the country made headlines for being hot spots of polarization.
The Los Alamitos Unified School District Board of Education saw its share of heated moments, protests and passionate public comment with parents and activists divided over Covid-19 safety protocols, efforts to recall board members, an ethnic studies elective and how to best address the needs of LGBTQ students.
But no matter how tense the climate inside the board meeting room became, there was always a reliable lighthearted moment at each meeting thanks to this year's Student Board Representative, William "Will" Brandenberger, a senior at Los Alamitos High School.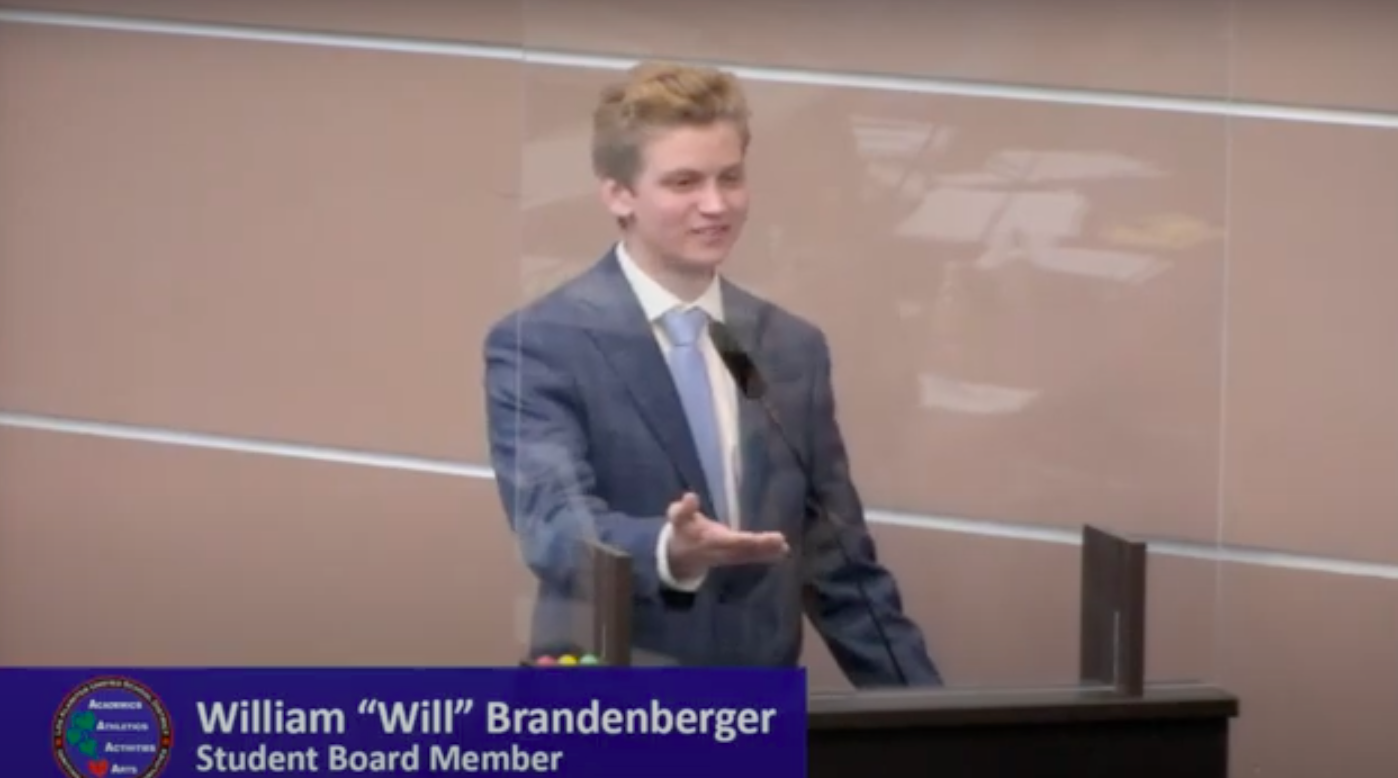 The student board representative's job is to provide regular reports of what high school students are experiencing. Every meeting, with humor and warmth, Will shared positive stories of life on the Griffins' campus. Using picture-filled slides, Will's reports highlighted the district's four A's – Academics, Activities, Athletics and Arts with updates from the playing fields, the performance stage and the classroom.
In each report, his "Student Spotlight" feature introduced the public to a stellar teenager. There was also the "Teacher Time" segment; Will's personal addition to the reports which consisted of profiles of remarkable staff members and teachers.
When Will was at the podium, his smile, humility and earnestness briefly melted away any tension in the crowd. When he finished speaking, everyone applauded.
Tonight Will is due to deliver his final report as student board representative.
"This is like a TV show and it's the last five episodes," Will said in a recent interview reflecting on his final days of high school and his time as board representative. "It's bittersweet but mostly sweet."
Will said he loved being the student board representative and called it one of the best things he's done in high school, in addition to being an active part of the Associated Student Body (ASB) government.
At tonight's meeting the board will adopt a resolution publicly commending Will for "his outstanding representation and service to the Los Alamitos Unified School District."
Will shared he would often go to Disneyland to write his reports. Sometimes he'd write them while waiting in line for rides. Other times, he'd set up his computer at a table outside Flo's V8 Cafe in Cars Land.
His favorite report came last December. Dressed in a festive candy-cane patterned jacket, Will started his presentation joking about crying over the stress of finals. Moments later he was choking back real tears, emotional about his experience giving away $300 that an anonymous donor gifted to each ASB member to pay forward.
Will teared up explaining how he gave some of that money to a little girl to buy a Christmas tree. "This simple act of kindness has really moved me and others in ASB," Will said at the time. "It's a good reminder that any act of kindness is rewarding and can change someone's life."
"You brought so much light and joy and really the things that are so important about what goes on … at the high school to us every meeting that we are just really, really appreciative of you," Board President Diana Hill said at the May 10 board meeting and added, "You are a great young man and a great leader and we look forward to seeing all the things that you do."
Board members also presented Will with a gift he can use when he attends San Diego State University in the fall; a t-shirt and tumbler bearing the SDSU logo.
"Will put his heart and soul into every board report and the board members were receptive and supportive in so many ways. We are very thankful to the board for having such an impact on Will's senior year," Will's mother, Amy Brandenberger, wrote in part of a text message to Spotlight Schools.
Will's parents were fixtures in the audience at each meeting. Will said it meant a lot to him for them to be there. He shared that his father likened it to watching his son participate in sports.
"He told me, 'this is like your football game that I'm coming to watch,'" Will said.
Will and his mother both acknowledged that the experience has taught him a lot.
"It has been a highlight of his high school experience and an amazing in-person civics lesson for him," Will's mom shared. "He saw up close, public discourse, sometimes combative, and how people can view the same issue very differently and, most importantly, to respect everyone's opinion, even if you might not view the issue in a similar manner."
"It's a little bit better than my government class," Will said with a smile. But was quick to note that he seriously valued being able to hear everyone's opinions. "You can't read that in a textbook. You have to experience it."
Tonight, Will's successor will be officially introduced. LAHS junior Alexa Dharmapalan will serve as Student Board Representative for the 2022-23 school year. "She is amazing," Will said of his fellow ASB member. The district describes Alexa as someone who "epitomizes Griffin pride and school spirit."
What's next for Will? He's off to San Diego State University in the fall to study mechanical engineering. His dream is to pursue a career as an Imagineer with the Walt Disney Company. Family, friends and neighbors have been witnessing his creativity for years with his annual Halloween display he's been staging at his family's Rossmoor home since he was in elementary school.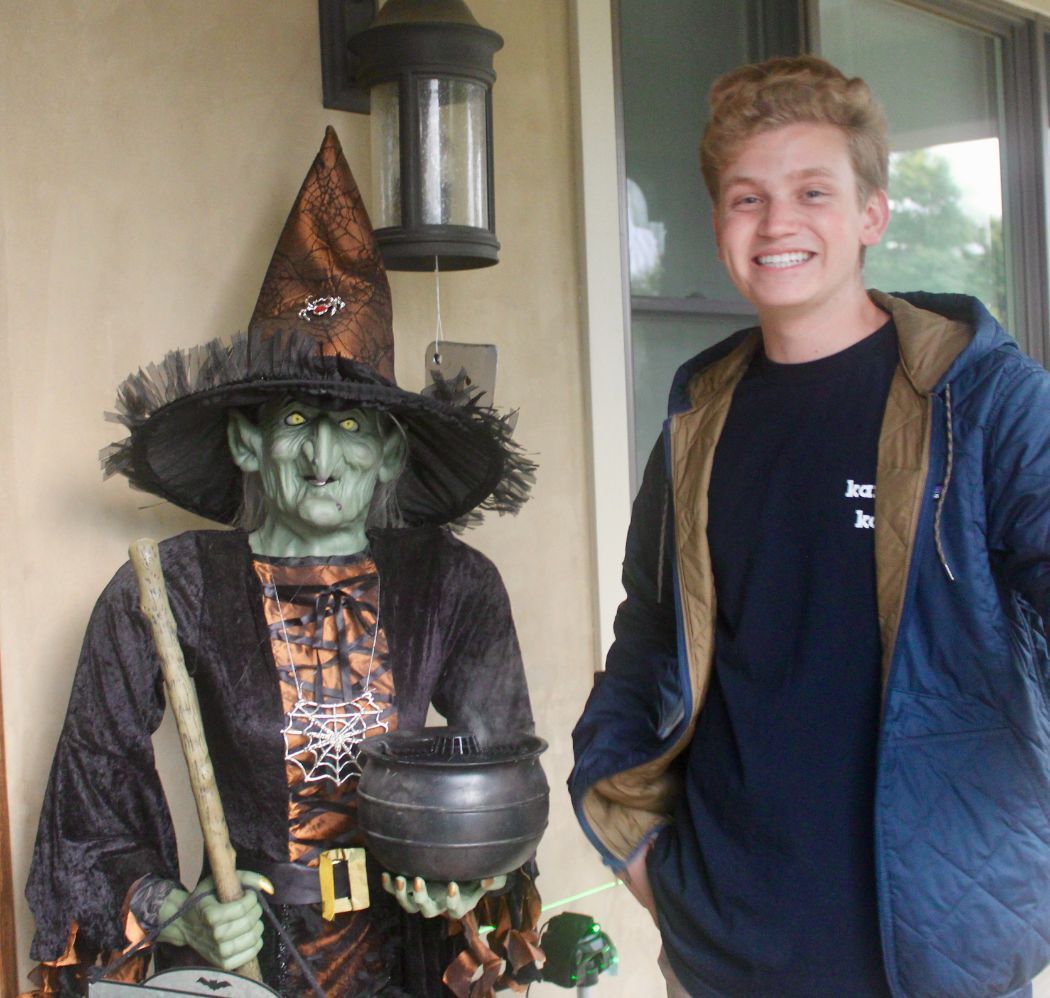 Will poses with one of his many props he used to create his WaxWorks Home Haunt Halloween display at his family's Rossmoor home.
When asked what he'd like to share with the community, Will said his advice is: "You're never too cool to say hi to somebody," and added, "That might make their day."
Did someone forward you this? Please subscribe to our FREE newsletter today at spotlightschools.com.
SECOND BELL
Other Stories We're Following
Fire erupts at business near Los Alamitos Elementary and McAuliffe Middle School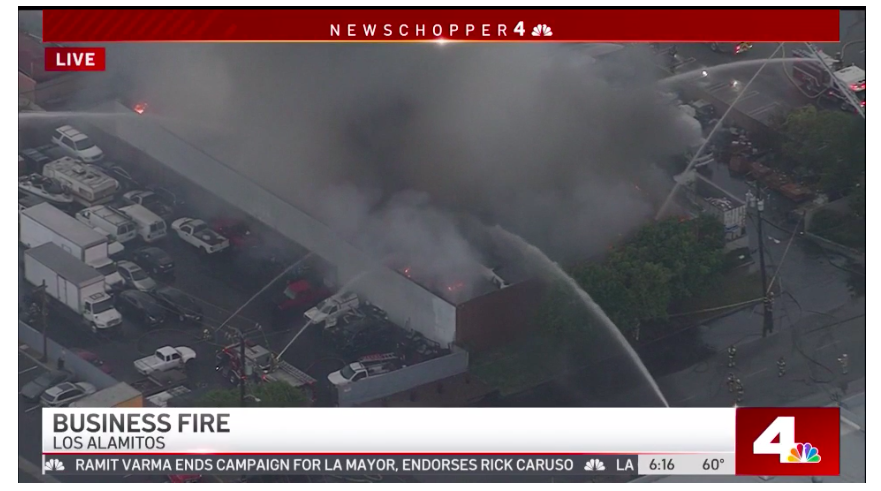 An NBCLA report showed the fire at a commercial building that erupted near Los Alamitos Elementary and McAuliffe Middle School around 6:00 a.m. Tuesday morning. Screenshot from NBCLA.
Students at McAuliffe Middle school and Los Alamitos Elementary may have seen and smelled smoke as they made their way to their campuses this morning.
A fire broke out just before 6 a.m., tearing through a commercial building in the 10500 block of Kyle Street near Katella Avenue and Bloomfield Street, according to Patch. The Orange County Fire Authority's website reported 38 units responded to the incident across the street from LAE.
A live report at 6:15 a.m. on NCBLA showed the OCFA response with multiple fire trucks spraying at least three streams of water on the building as flames shot through its roof. A large plume of gray smoke billowed into the air.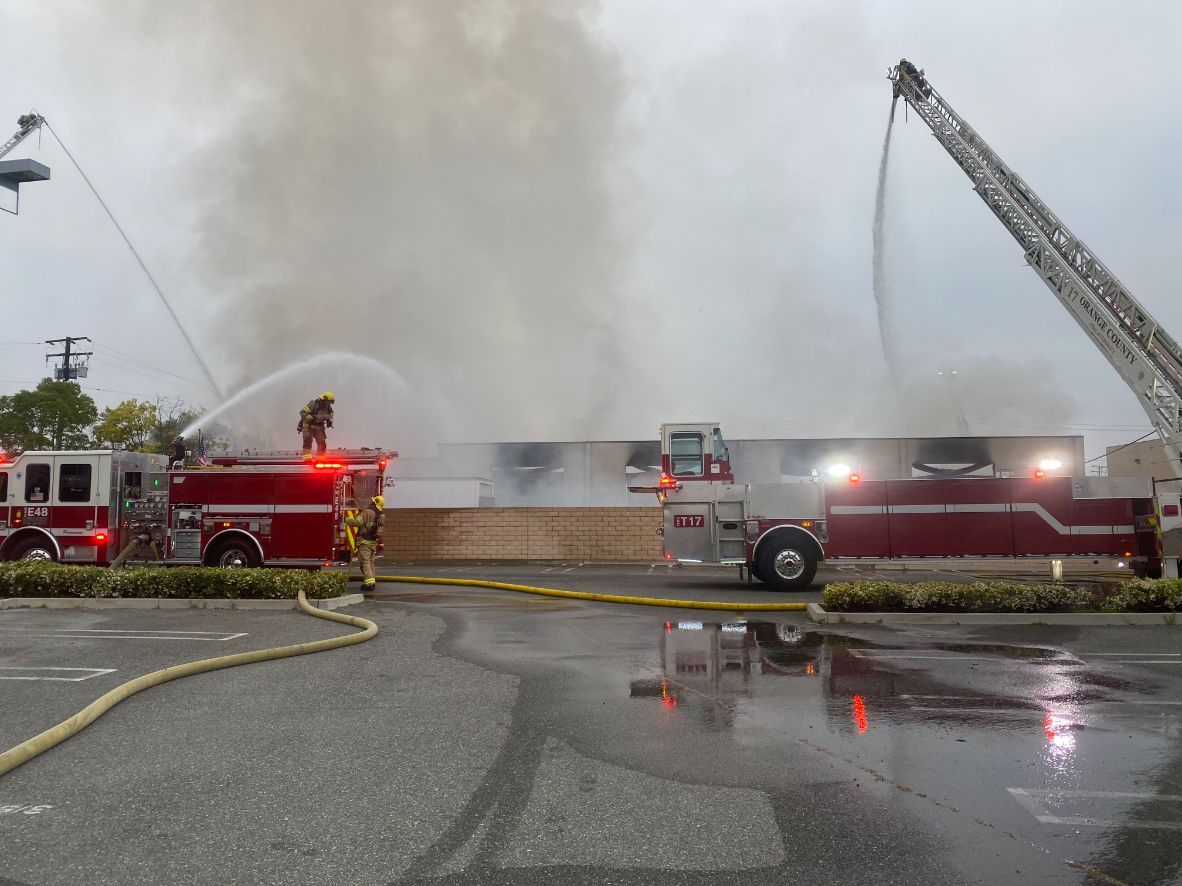 OCFA firefighters on the scene of a fire at a building near two Los Al USD campuses. Photo: OCFA
The Los Alamitos Unified School District emailed a message to families just after 7:00a.m., and posted it to the district website and Instagram, which said the fire would not impact school schedules but roads could be closed in the area as students arrived for the start of the school day. It said district officials were communicating with the fire department and actively assessing the situation.
"We will be monitoring smoke and ash in the area and will be making accommodations for recess and any outdoors (sic) activities to keep children safe," the district statement said.
Reached before noon today, an OCFA spokesperson said the fire had been knocked down but units were still on scene investigating.
Please note this story was still developing as the newsletter was sent out Tuesday.
Covid-19 Cases increasing in some California school districts
Covid-19 cases are rising across California, including at TK-12 schools, but hospitalizations remain relatively low, reports The Los Angeles Times.
This is the first significant uptick in cases since California dropped its indoor mask mandate for TK-12 schools in March.
Cases are highest in the Bay Area and its impacting schools there including creating staffing issues. On Friday, Berkeley Public Schools announced it would reinstate its indoor mask mandate.
IMPORTANT: there are no reports of any issues or restrictions coming to Orange County campuses.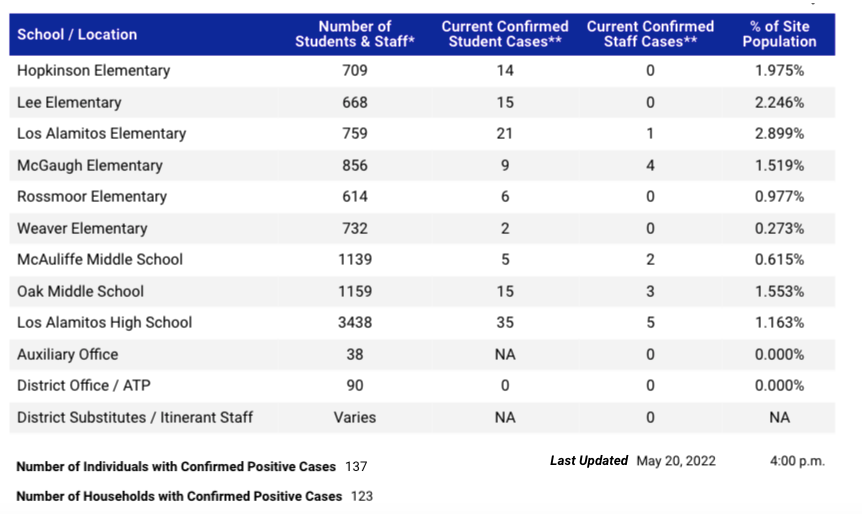 There were 137 current reported Covid-19 cases in the Los Alamitos USD on May 20. That's up from 106 reported on May 17.
The latest update for the Los Alamitos Unified School District Covid-19 dashboard was from May 20. It showed 137 current reported infections among students and staff districtwide. You can find links to Covid-19 dashboards from other O.C. school districts at OC Covid Kids.
Want to keep track of Covid-19 cases in Los Al USD? Spotlight Schools posts a screenshot of the district's Covid-19 dashboard every Friday on our Instagram page.
Other Stories Worth Reading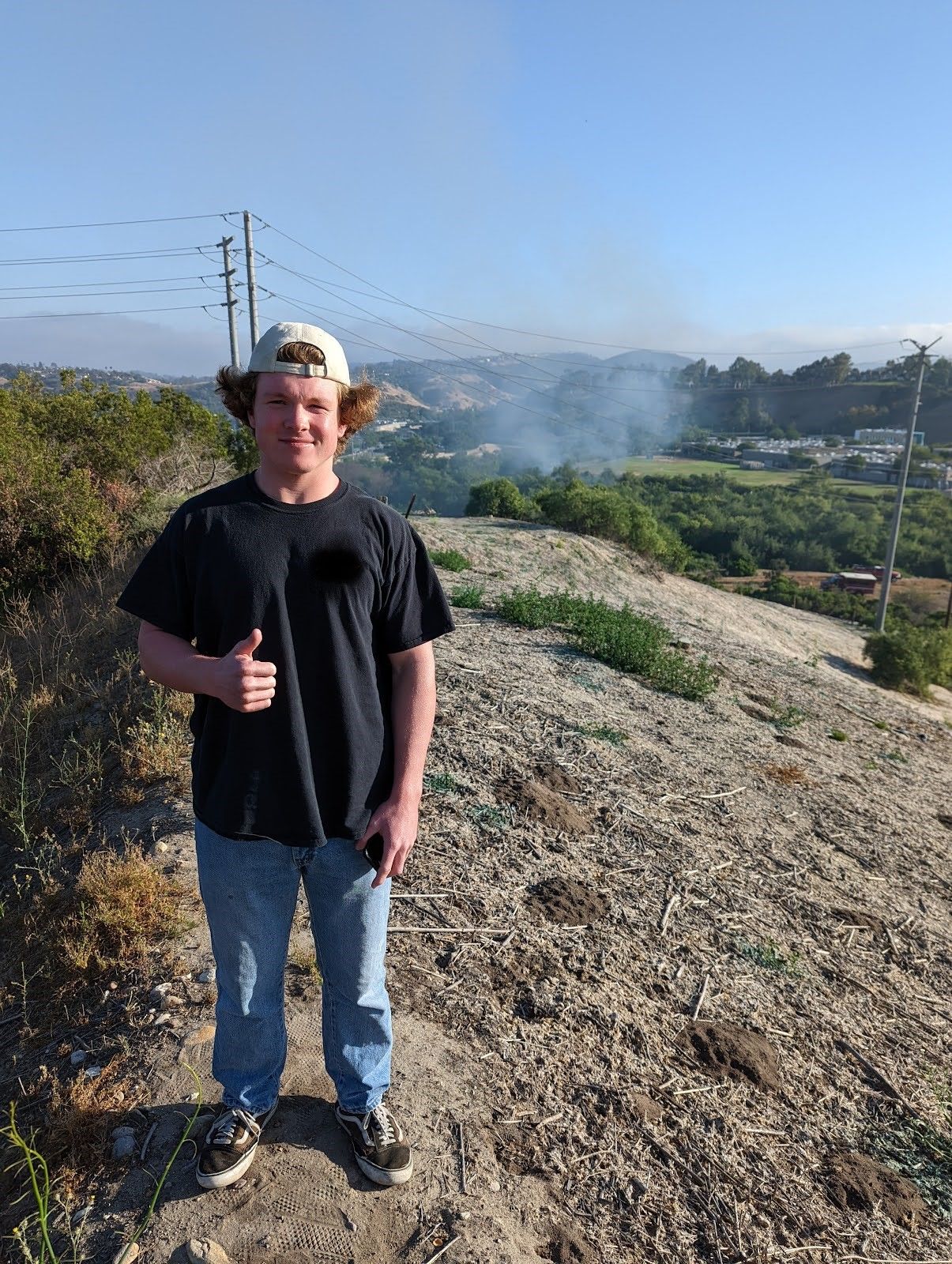 EXTRA CREDIT
Meetings // Events // Opportunities // Resources
MEETINGS
HAPPENING TONIGHT: The Los Alamitos Unified School District Board of Education is scheduled to meet today for a 5:00p.m. workshop and 6:30p.m. regular meeting at the district board room at 10293 Bloomfield Street in Los Alamitos.
On the agenda for the 5:00p.m. workshop.
An update on how federal and state Covid-19 relief money is being spent.
You can watch the workshop streaming live on YouTube.
The agenda for the 6:30 p.m. meeting includes:
Recognition of the district's Hero of the Heart Award - The Youth Center.
Discussion of revision to district's "Controversial Issues" policy. The policy is meant to guide how teachers discuss issues that may "arouse strong reactions based on personal values and beliefs." You can read the proposed policy at Item 14.b. on the agenda.
Resolution "utilizing portions of the 2022-2023 General Fund ending fund balances" which includes spending on pension obligations, declining enrollment mitigation, and technology replacements. You can read the entire resolution at Item 14.c.
And finally… The price of pizza 🍕. A contract to purchase pizza for school lunches for the 2022-23 school year is on the agenda. The estimated cost is $240,000.
You can watch the regular meeting streaming live on YouTube.
EVENTS
HAPPENING TODAY: The Orange County Department of Education is hosting a virtual forum from 3:30p.m-5:00p.m. to mark Asian American and Pacific Islander Heritage month. Details here.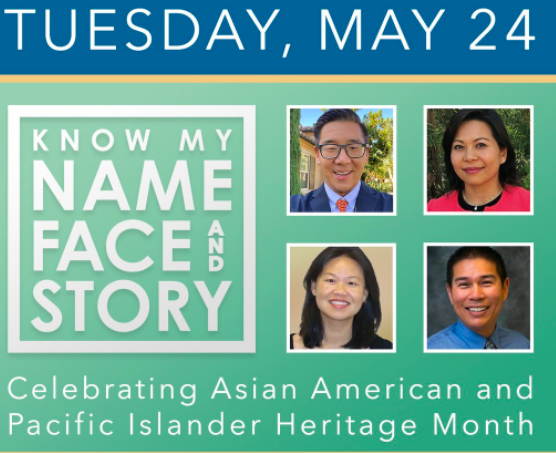 HAPPENING TOMORROW, MAY 25: Performance at Oak Middle School of Game of Tiaras. Details below.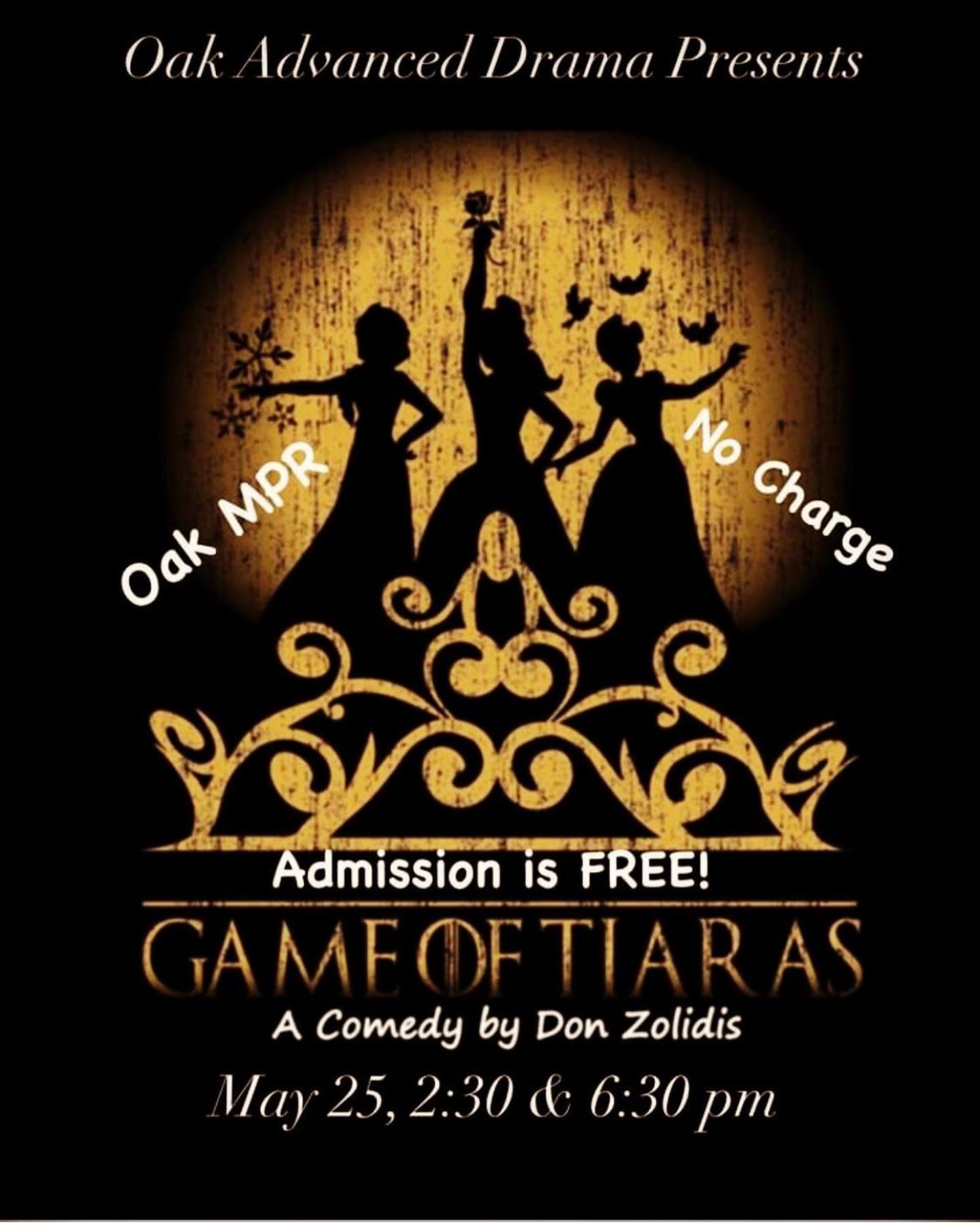 HAPPENING THURSDAY, MAY 26: Los Alamitos Elementary is hosting its annual Big Top Carnival from 1:30p.m. to 6:30 p.m.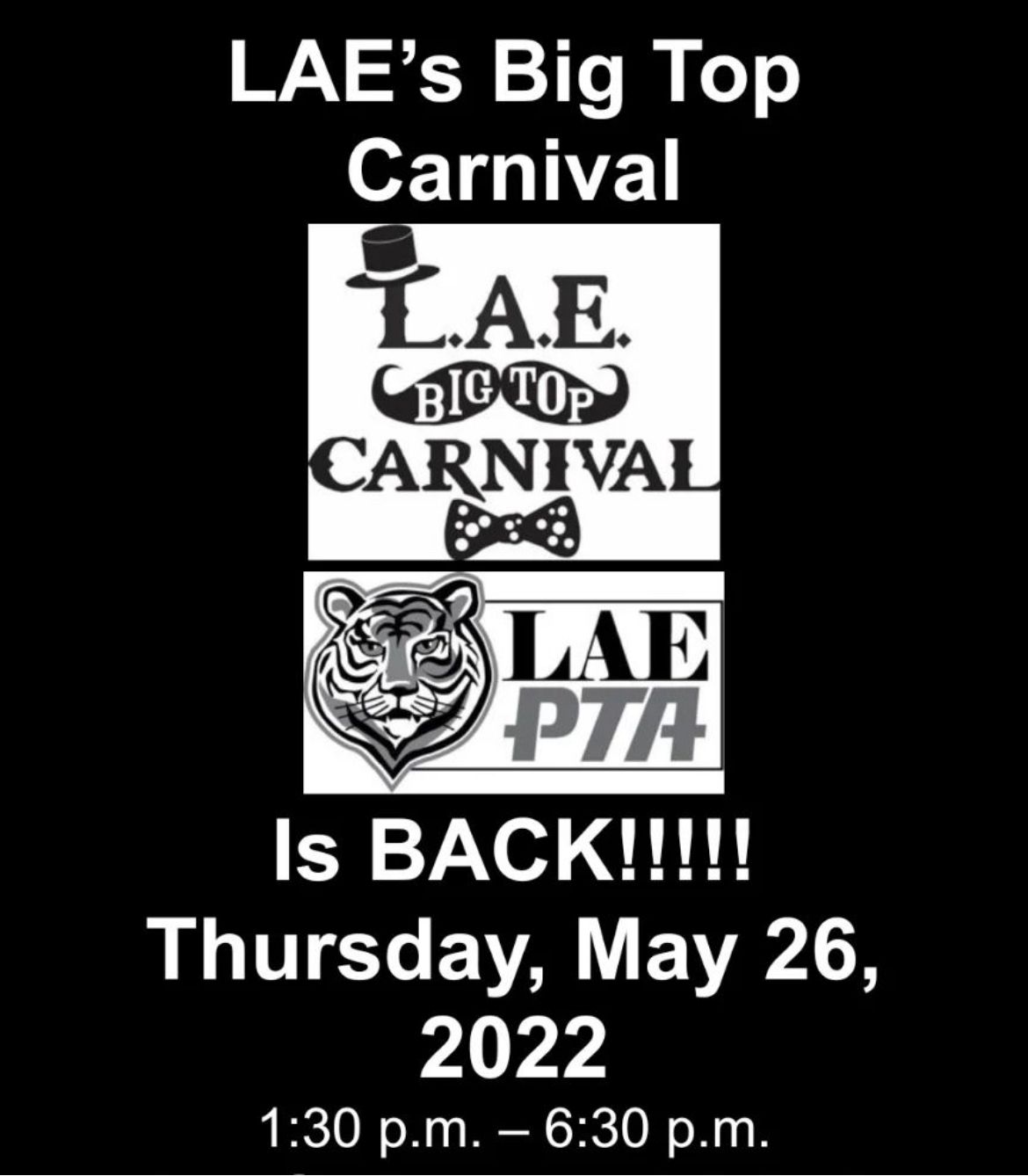 HAPPENING FRIDAY, MAY 27: The student-created short film Left Field will have its premiere at the Performing Arts Center at Los Alamitos High School at 7 p.m.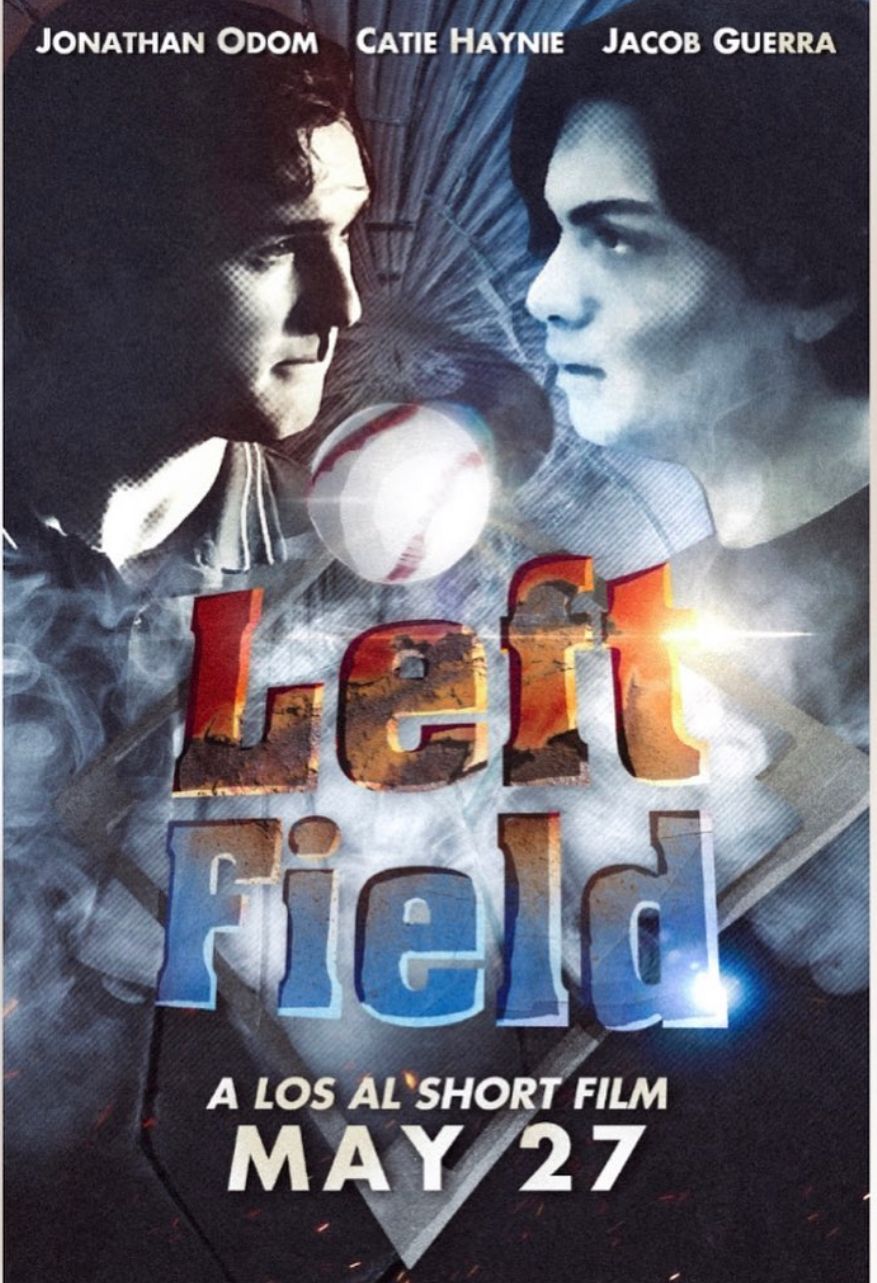 ICMYI: 🎭 Congratulations to all of the Orange County students in dramatic arts who recently earned Cappies (think Tony Awards for high school students) including four students from Los Alamitos High School. See the full list of winners here.
RECESS
Your Dose of Good News
LAHS AP Chemistry students place among Top Ten teams locally in 'brutal' test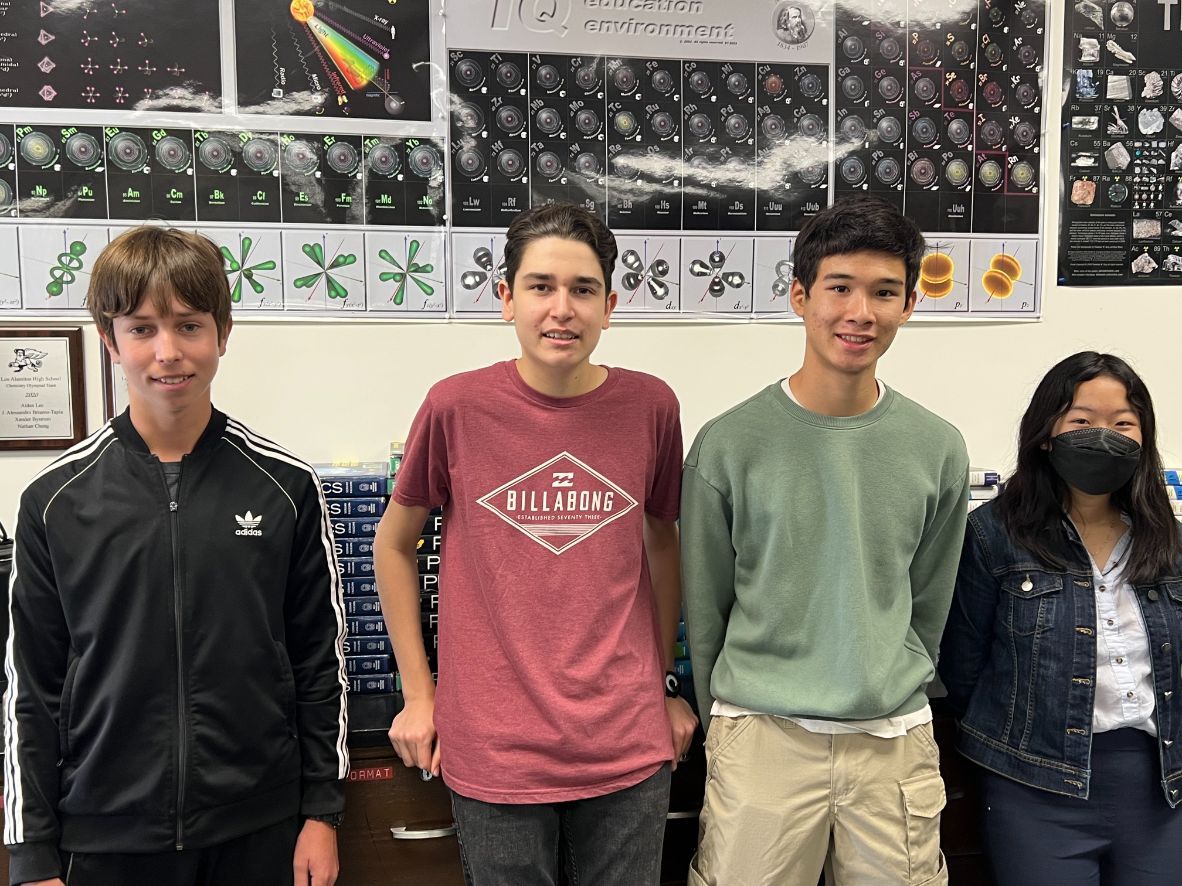 Los Alamitos High School Advanced Placement Chemistry students (left to right) Gabriel Mee, Zachary Zonni, Juan Carrion and Katelyn Ngo. Courtesy photo.
If there is a possible equivalent in high school chemistry to an extreme endurance race, The American Chemical Society's exam competition could be it.
"It's brutal," said Timothy Jones, the Advanced Placement Chemistry teacher at Los Alamitos High School in a recent Zoom interview. Packed with 60 multiple choice questions covering a range of chemistry concepts, Jones said the average score for a student this year was 33.
This year a team of four AP Chemistry students performed the best the school has ever done, earning 5th place in the local competition against teams from 26 other Orange County high schools. That's better than a 6th-place finish earned by an LAHS team in 2019.
Juan Carrion, Gabriel Mee, Zachary Zonni and Katelyn Ngo, all sophomores at LAHS, were honored for their achievement at the Orange County ACS High School Chemistry Awards Banquet in Irvine on May 17.
Juan scored the highest among his team and advanced to a national competition. Results are expected in the coming weeks.
Early in the school year, Jones told students about the ACS exam. Interested students were encouraged to study and participate in a test over a weekend. The students with the top four scores on that test made the team.
Jones remarked that just showing an interest in taking the test reveals a lot about the type of student who is up for this challenge.
"Any kid that's willing to show up on a Saturday morning to take a nasty chemistry exam is already pretty prepared," Jones said.
Excelling on the exam earns students recognition and could help them stand out when applying to colleges like CalTech, UC Berkeley or MIT. "This is the kind of thing that really helps you look that much better" to universities, Jones said.
And there's another benefit to taking the ACS exam. It's given weeks before the AP exam and, according to Jones, it makes the AP Chemistry test seem easier. "It totally changes their perspective."
Jones wants the community to know that in addition to all the achievements among student athletes and student artists at LAHS, his students are also celebrating successes.
"If the kids do well, they should get some credit for that," Jones said. "It shows a lot of dedication on their part."
BOOSTER DOSE: Shout out to McGaugh Elementary students for jogging their hearts out and raising $29,000 for PTA during their first in-person Jog-a-thon. See more in the district's May 20 video summaryThe Wrap-Up. (Note: I'm a McGaugh parent.)
Thanks for reading!
Forwarded from a friend? Subscribe to the Spotlight Schools newsletter here.
Follow us on Instagram @SpotlightSchools.
Our mailing address:
P.O. Box 164
Seal Beach, CA 90740

Copyright © 2022 Spotlight Schools, All rights reserved.