Second Recall Effort Targets School Board Member; LAHS Club Vying for National Title for Hydrogen-Powered RC car Racing!
Recap on Workshop Unpacking Buzzwords of Diversity, Equity and Inclusion; Plus, Nominees for O.C.'s Best High School Artists Announced
Recap on Workshop Unpacking Buzzwords of Diversity, Equity and Inclusion; Plus, Nominees for O.C.'s Best High School Artists Announced
Spotlight Schools
In this week's newsletter...
March 22, 2022
FIRST BELL 🔔 School Board Member Targeted in Second Recall Effort
SECOND BELL 🔔Recap of Human Relations Collaborative Meeting focused on unpacking buzzwords of diversity, equity and inclusion.
EXTRA CREDIT 📌What's on Tonight's Agenda for the Los Alamitos USD Board of Education meeting?
RECESS 👏🏼Los Alamitos High School students headed to National Championships for hydrogen-powered RC car racing!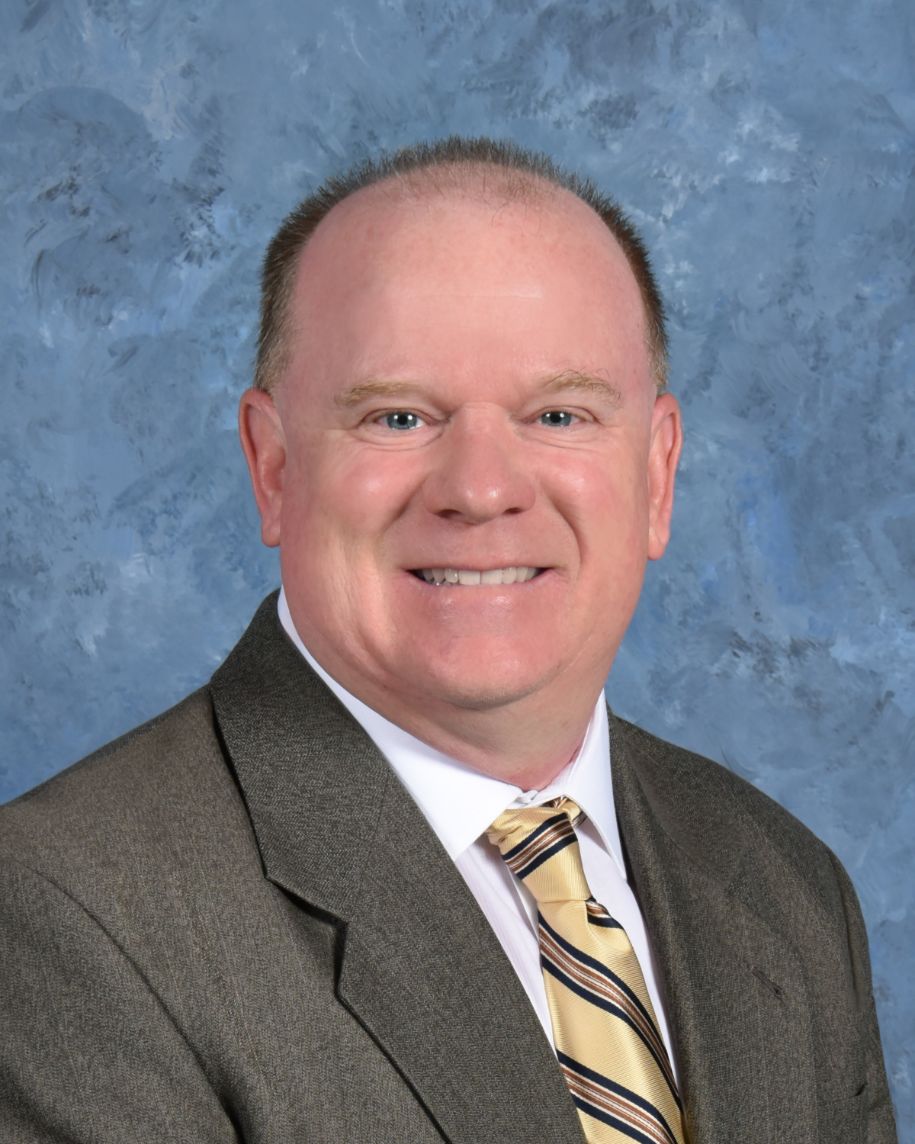 Los Alamitos Unified School District Board of Education member Scott Fayette is being targeted in a recall effort for the second time. Courtesy photo.
Spotlight Schools is here to help you better understand, navigate and participate in the TK-12 public school experience in Orange County.
Please send feedback/story ideas/questions to hello@spotlightschools.com.
Yours in knowledge,
Jeannette Andruss, Spotlight Schools Founder and parent of two students in the Los Alamitos Unified School District
FIRST BELL
This Week's Top Story
Second Recall Effort Launched Against Los Alamitos USD Board of Education Member
For the second time in a matter of months, a recall effort has been officially launched against a member of the Los Alamitos Unified School District Board of Education.
Scott Fayette, who represents Trustee Area 4, was served with a Notice of Intention to circulate a recall petition on March 17, according to organizers of the effort to remove him from office.
"Mr. Fayette has demonstrated by his words and his votes that he does not agree in the fundamental right of parents to direct the care, upbringing, and education of their children as guaranteed by the U.S. Constitution," Hope K. Horning, a Trustee Area 4 resident and a spokesperson for the recall, argued as the reasons to oust Fayette in an email to Spotlight Schools.
Fayette did not respond to multiple requests for comment yesterday.
The Notice of Intention was filed with the Orange County Registrar of Voters' office yesterday, according to the office that oversees local elections. Fayette has seven days to file a written response. A draft of the petition is due back to local elections officials by March 31.
Horning said the goal is to get the recall on the November 2022 ballot. That's also when two other seats on the five member board will be decided. The races are nonpartisan.
To trigger a recall election, organizers must meet many requirements. That includes collecting valid signatures from 25% of the registered voters in Trustee Area 4; approximately 1,800 signatures, according to the Registrar of Voters Recall handbook.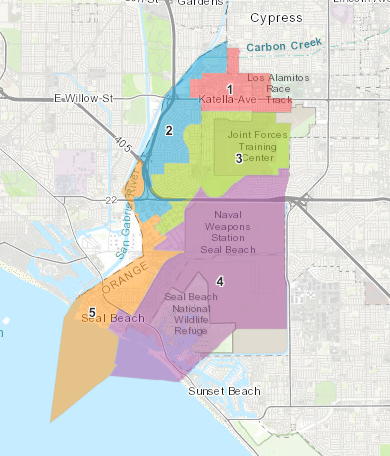 The Los Alamitos Unified School District has five trustee areas. To find out which trustee area you live in, click on the map. A recall effort is being launched against the representative for Trustee Area 4.
Second Attempt to Remove Fayette
Fayette is the first board member to represent Trustee Area 4 following the district's switch from at-large elections to voting by trustee areas in 2020. Fayette was the only candidate to file qualifying paperwork to run for the seat in the November 2020 election.
Accordingly, while his name did not appear on the 2020 ballot, he was duly authorized to be installed in the seat and was sworn into office in December 2020.
Fayette is a former substitute and intervention teacher in the district and the only board member with a child currently attending Los Alamitos Unified schools.
Fayette was targeted in a failed recall effort last year, along with current Board Vice President Chris Forehan and Trustee Megan Cutuli. It ended in December, 2021 after campaign organizers missed a filing deadline with local election officials.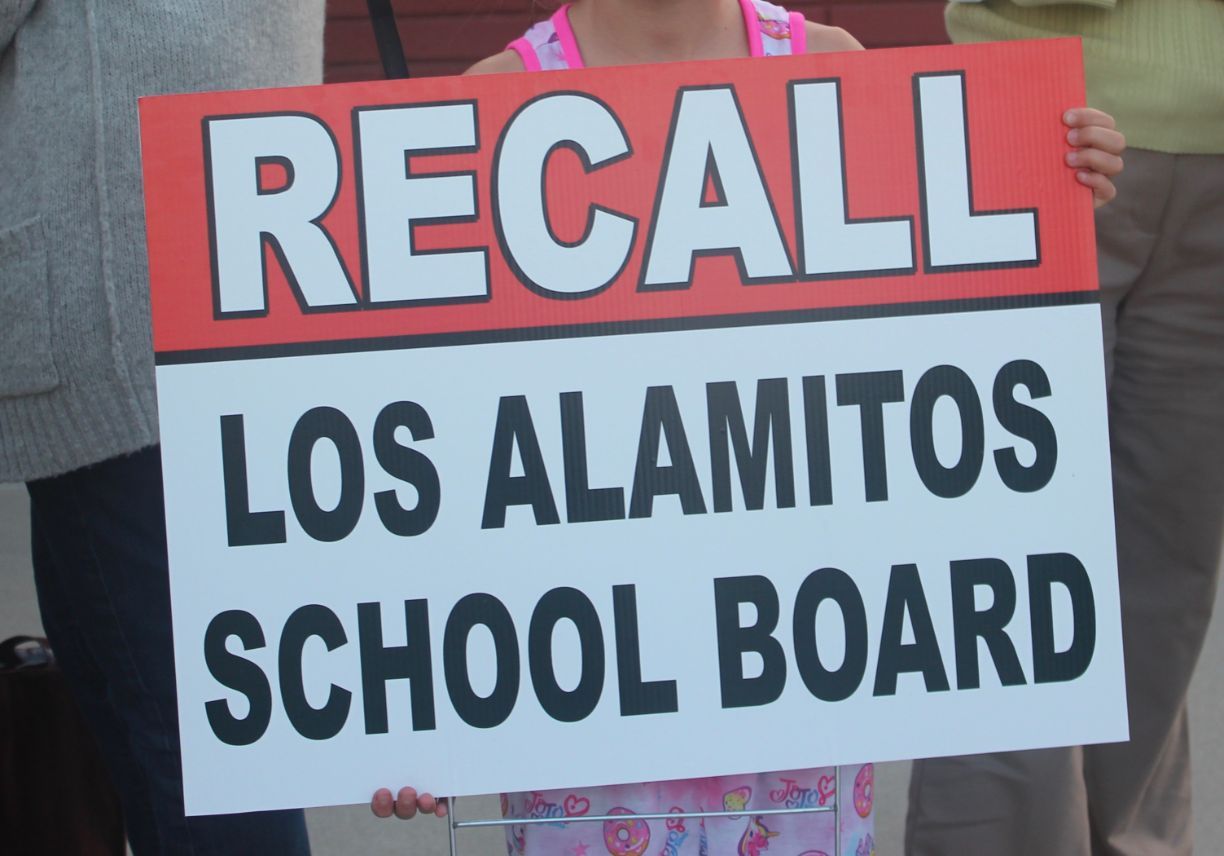 Fayette and two other school board members were targeted in a failed recall effort in 2021.
Many of the same parents and community members that backed the previous recall effort are involved with the latest campaign, yet organizers of the new effort insist there is a difference.
"The previous recall attempt had a different leadership and was overly ambitious given the amount of time, dedication and money required," reads a press release from the current campaign against Fayette.
On its petition, the new recall campaign argues for the removal of Fayette saying he "does not represent our values" in Trustee Area 4.
In a press release, recall supporters describe themselves as "concerned parents, families and taxpayers" in the community with "a wide range of views" on issues. The issues listed include "social justice standards and critical race theory, gender pronouns, as well as vaccine and mask mandates."
These same topics have sparked passionate public comment at board meetings over the past two years including Covid-19 safety protocols, district efforts to address intolerance, and the adoption of an ethnic studies elective at Los Alamitos High School.
Fayette joined the rest of the board in unanimous votes adopting the district's social justice standards and the creation of an ethnic studies class.
If this recall effort qualifies for the November 2022 ballot, other candidates will be able to join the race and Fayette will be able to defend his seat.
An opponent of the last recall campaign is speaking out in support of Fayette.
"I would run through a brick wall for the guy," district parent Leland Jay said of Fayette in an email. He said Fayette inspired him to get involved at Hopkinson Elementary after seeing Fayette volunteer.
"I wish these parents would spend a little more time volunteering at school to make things better instead of spending time attempting another recall," Jay said, adding he hopes no one signs the latest recall petition.
Part of a statement from Los Alamitos Unified Supt. Andrew Pulver, EdD, reads: "Efforts to recall elected officials [are] a democratic right in our county, and while the current effort in our district is personally disconcerting, we assure the community that it is not distracting us from the important work of service to students, families, and staff."
Candidates for Primary Election Set

Image from the website for the Orange County Board of Education which has three seats on the ballot for the June 7 Primary Election.
We now know who's running for the Orange County Board of Education and for the Orange County Superintendent of Schools for the Statewide Direct Primary Election on June 7.
Los Alamitos, Seal Beach and Rossmoor are located in Trustee Area 2 for the Orange County Board of Education, based on the new map redrawn due to 2020 Census data.
Incumbent Mari Barke, a Rossmoor resident, is running for re-election. Read her candidate statement here. Mrs. Barke is the current President of the OCBE, which recently approved the expansion of the charter school co-founded by her husband and Rossmoor Community Services District Director, Jeff Barke, M.D. She recused herself from the vote.
Martha Fluor, a former Newport-Mesa Unified School District Board of Education trustee, is challenging Mrs. Barke to represent Trustee Area 2. Read Fluor's candidate statement here.
Christopher R. Ganiere, who is listed as an architect on the ROV website, is also a candidate for the seat but did not have a candidate statement.
In the race for Orange County Superintendent of Schools, incumbent Al Mijares, PhD, is being challenged by Stefan Bean, EdD, a former superintendent at Aspire public charter schools and current member of the board of directors for Dr. Barke's charter school.
To read about candidates running to represent Trustee Area 5 and Trustee Area 4 on the Orange County Board of Education, see this recent story from The O.C. Register.
SECOND BELL
Other Stories We're Following
Recap of Human Relations Collaborative Meeting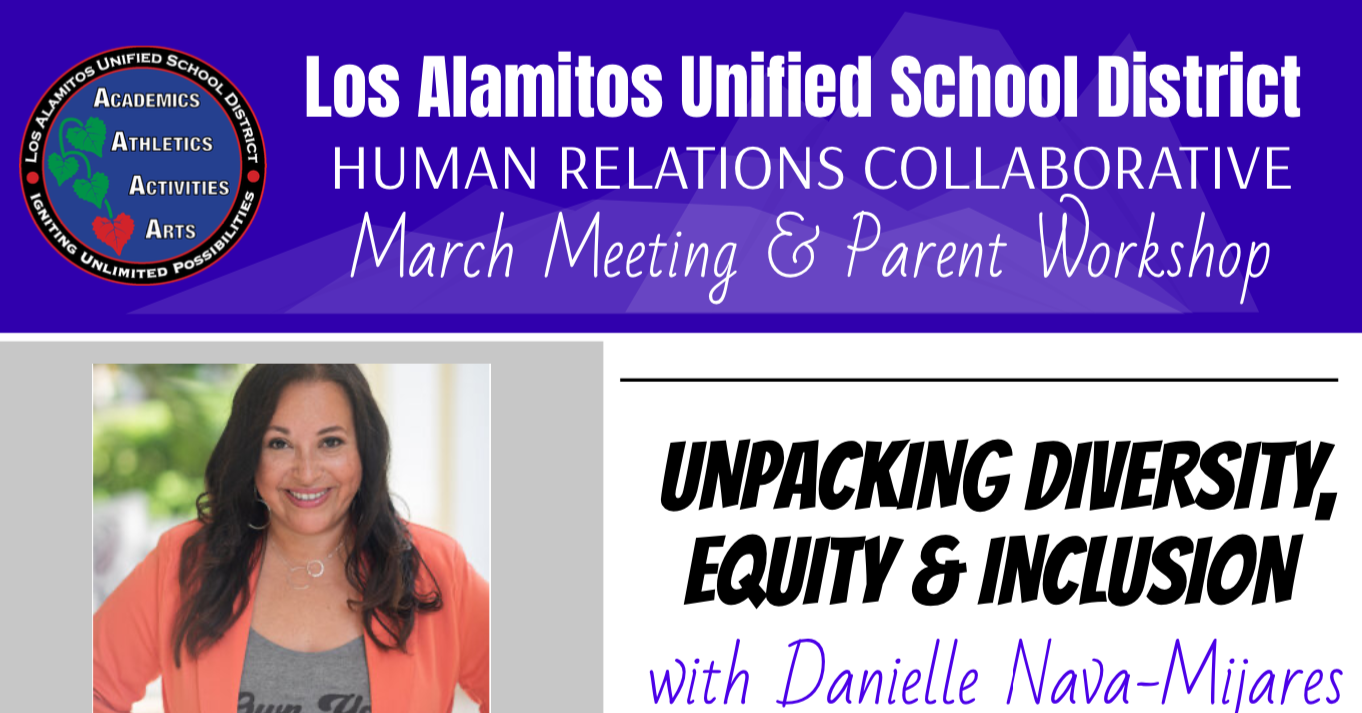 The Los Alamitos Unified School District's Human Relations Collaborative, which first started as a Task Force back in early 2019, held its second parent workshop of the school year on March 21.
Held at the district's offices from 6-7pm, between 40-50 people attended. The district's human relations consultant, Danielle Nava-Mijares, led the presentation focused on unpacking the buzzwords of equity, diversity and inclusion.
Nava-Mijares encouraged attendees to participate with the intention of understanding to make these words "more accessible." She acknowledged and accepted that not everyone would agree with the words or with one another but hoped people would listen.
Joe Fraser, Asst. Supt. of Human Resources, told the audience of parents, staff, community members and board members Marlys Davidson and Chris Forehan, that the room had people with differing points of view but the goal was to look for ways to have civil discourse.
Photos and videos were discouraged in order to create a space where people felt able to speak freely.
Participants were asked to discuss in small groups what the words diversity, equity and inclusion mean to them. They then shared it to the entire group.
One parent shared that she was confused by them. Another said she thought that the terms have been "spun up" to change their connotations. Another said the focus should be on other words such as integrity and community. A teacher said inclusion was on display in her kindergarten classroom this week when a parent explained the tradition of Persian New Year or Nowruz.
Later on, Nava-Mijares showed a slide with a chart outlining different aspects of the terms.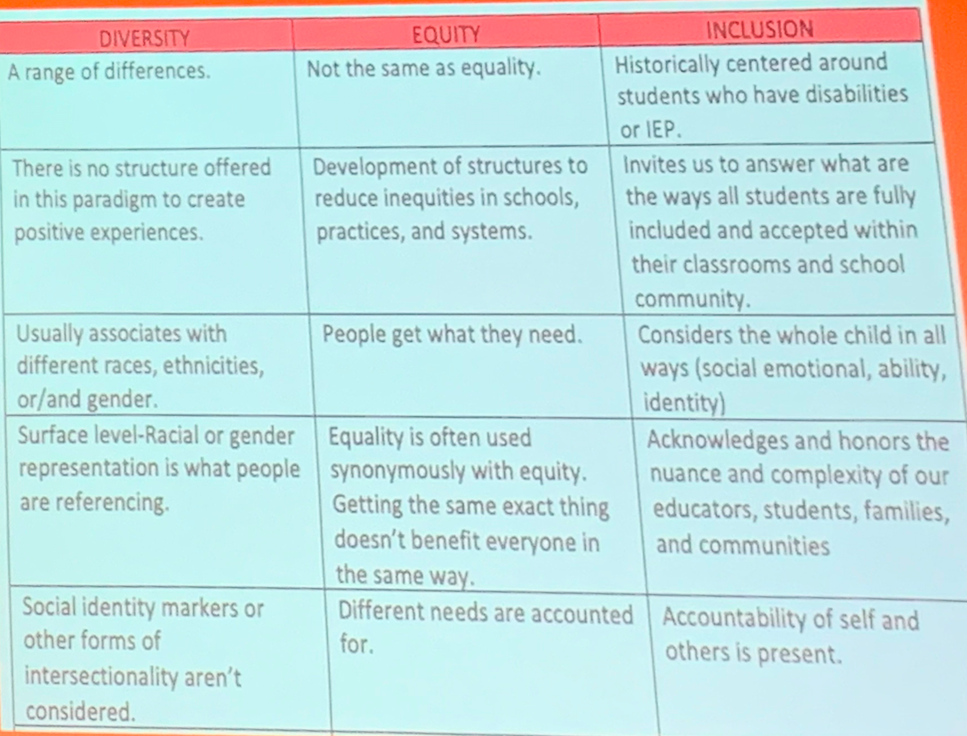 A slide presented at the March 21 Human Relations Collaborative meeting shows the different aspects of the terms diversity, equity and inclusion.
Some attendees questioned the purpose of the event and why Nava-Mijares was working with the district. One woman brought up concerns about ethnic studies, critical race theory and other issues. Nava-Mijares answered the questions that she said she was able to cover, noting critical race theory was not a part of her work, and thanked attendees for sharing.
Administrators respectfully asked that the discussion - which was supposed to be 30 minutes long but ended up being 50 minutes long - stay focused on the topic of exploring the words diversity, equity and inclusion. A group of people with more questions was able to speak with district staff after the meeting.
Administrators also updated attendees on the Human Relations Collaborative's subcommittees and encouraged people to join them. Find out more information here.
Other Stories Worth Reading
EXTRA CREDIT
Meetings // Events // Opportunities // Resources
MEETINGS
HAPPENING TONIGHT: The Los Alamitos Unified School District Board of Education is scheduled to hold a workshop at 4:30pm and its regular meeting at 6:30pm at the Board Meeting room at 10293 Bloomfield Street in Los Alamitos.
On the agenda for the 4:30pm workshop:
J.H. McGaugh Elementary School will give its annual presentation to the board and give parent volunteer Claudia Vecchio Wille its "Hero of the Heart" award.
You can watch the workshop streaming live on YouTube here.
On the agenda for the 6:30p.m. meeting:
Update on construction of a new gymnasium at Los Alamitos High School.
Approval of the 2021-22 Single Plan for Student Achievement (SPSA) reports for each of the district's nine schools. The SPSA report on how campuses plan to use state funding to ensure student achievement. They also discuss campus-specific goals, demographics and testing.
You can download your school's report from the agenda below:
You can watch the 6:30pm meeting streaming live on YouTube here.
ICYMI: The district debuted "The Wrap-Up," a video highlighting some of the week's events around the district. Check it out here.
EVENTS
HAPPENING TOMORROW, WED. MARCH 23: Book signing with former Principal Dr. Gregg Stone at Los Alamitos High School put on by the Los Alamitos Education Foundation. For more on Dr. Stone's inspirational book of positive messages he sent to students and family while Principal at LAHS, read here.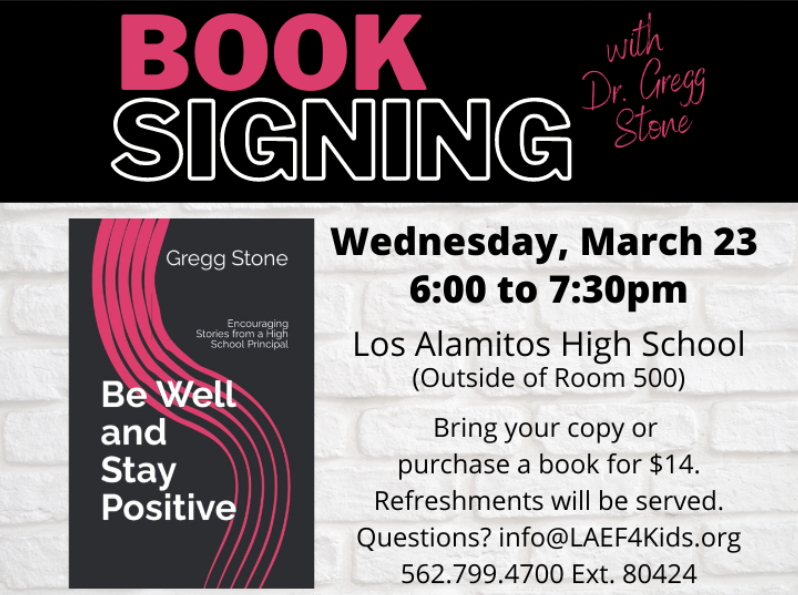 OPPORTUNITIES
FREE MENTAL HEALTH PROGRAMS: The Orange County Department of Education (OCDE) seeks to partner with student clubs and leadership groups to carry out mental health awareness activities during the 2021-2022 school year. ​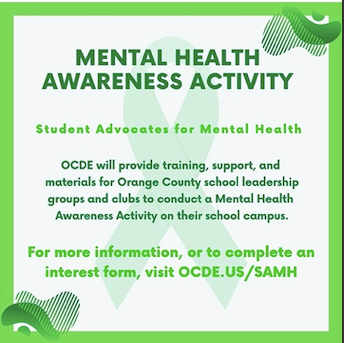 OCDE is offering to provide:​
​Mental Health 101 workshop for middle and high school student groups, or Understanding and Managing Emotions workshop for upper elementary school students (grades 4-6). ​
Activity ideas and online resources
Applications are being accepted through March 31. Details and requirements are here.
GET YOUR HOUSE EGGED: Let the Los Alamitos High School Show Choir Egg Your House this Easter. For this fundraiser, volunteers will hide pre-filled eggs with candy and toys the night of Saturday, April 16 in your front yard if you live in or near Seal Beach or Los Alamitos. For 25 eggs it's $25 and bunny footprints can be added for $10 more. More information here.
RECESS
Your Dose of Good News
LAHS Club Vying for National Title in Hydrogen-Powered Car Racing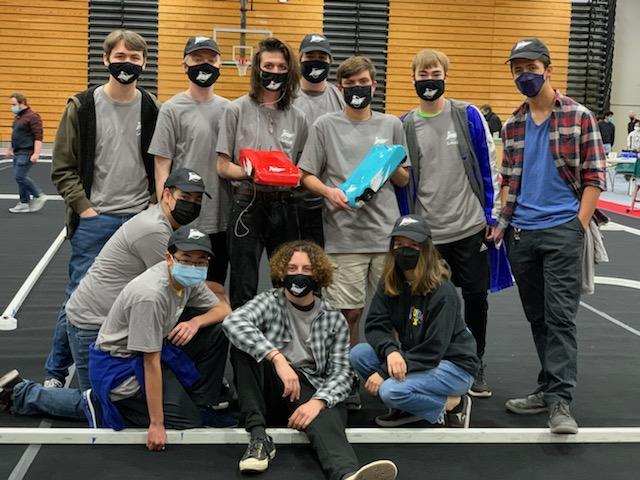 Members of the Los Alamitos High School hydrogen-powered remote controlled car racing team are headed to compete in the National Championships this weekend. Courtesy Photo.
A student club at Los Alamitos High School that creates and races hydrogen-powered remote controlled cars will compete in the national championships this weekend.
A top finish at the March 26 competition at the Pomona Fairplex could send the team to Europe to compete in the World Championships in June.
The club, known as the H2GP Team, is run by LAHS students with engineering teacher Martin Valenzuela as their advisor. Students design, build and drive the small cars in endurance races that can last anywhere from two to six hours long.
"The goal is to get the most laps in a limited amount of time with a limited amount of fuel. The team with the most laps wins," LAHS senior and team captain Zachary Norris explained in a recent Zoom interview.
Team members take on a variety of roles in the building and engineering of the cars. During competition, students take turns driving the cars, using computers to analyze data like lap times, and making repairs and adjustments during frequent pit stops.
The latest ranking from Horizon Hydrogen, the fuel-cell company that runs the competitions with sponsors like Toyota, has the Los Alamitos team in third place.
"I feel really excited because we've never gone this far and I think we do stand a chance of getting to world's," senior Miles Eaton said over Zoom. "But also I'm pretty nervous as one of the drivers."
Miles is one of many team members with the important job of guiding the remote controlled car to navigate a carpeted track. He said the entire competition can end in an instant with a crash.
"One bad slip up and the season is over," Eaton said.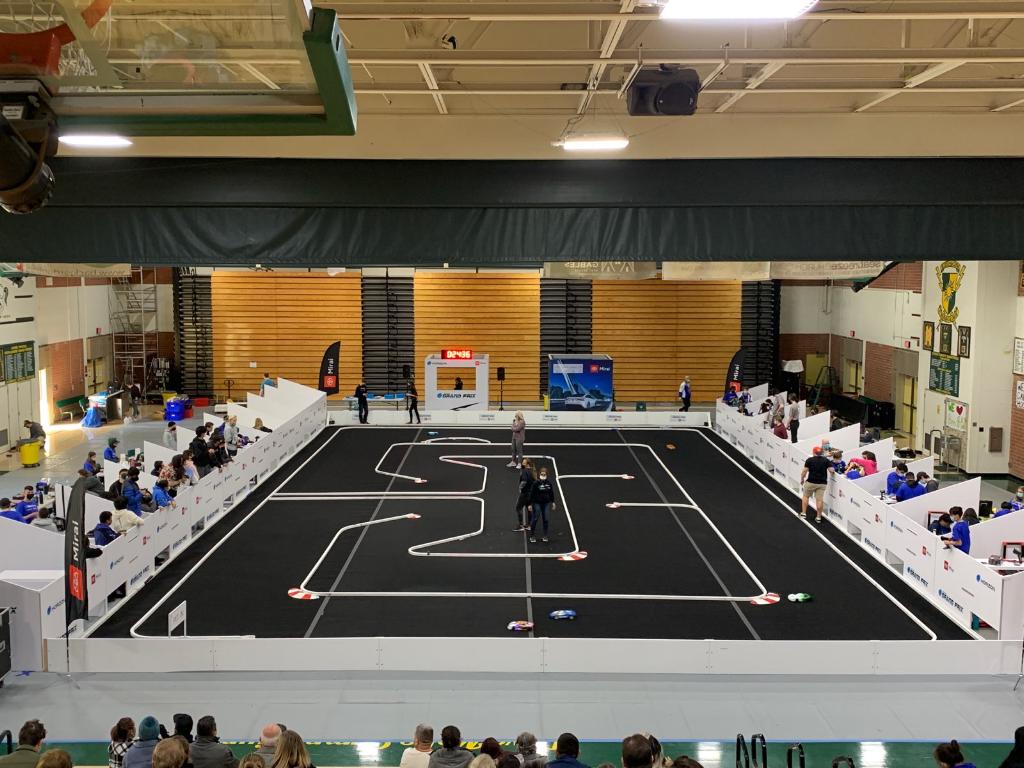 The LAHS H2GP Teams races hydrogen-powered remote controlled cars at a recent competition. Courtesy Photo.
But this season has not been marked by slip ups. Quite the opposite.
Zachary's mother, Rachel Norris, characterized the team as underdogs who are excelling against some challenging odds.
"The three or four schools that have dominated in the past, Los Al just blew them away," she said of the last contest.
What's more impressive is that a lot of the competitors have more resources and even designated class time for their teams, Norris says.
Zachary and Miles shared that their team members spend hours of their own time, and their own money, on the club and its cars.
"They were the little team that could," Norris said, crediting the hard-working teens and their committed advisor Valenzuela for their success.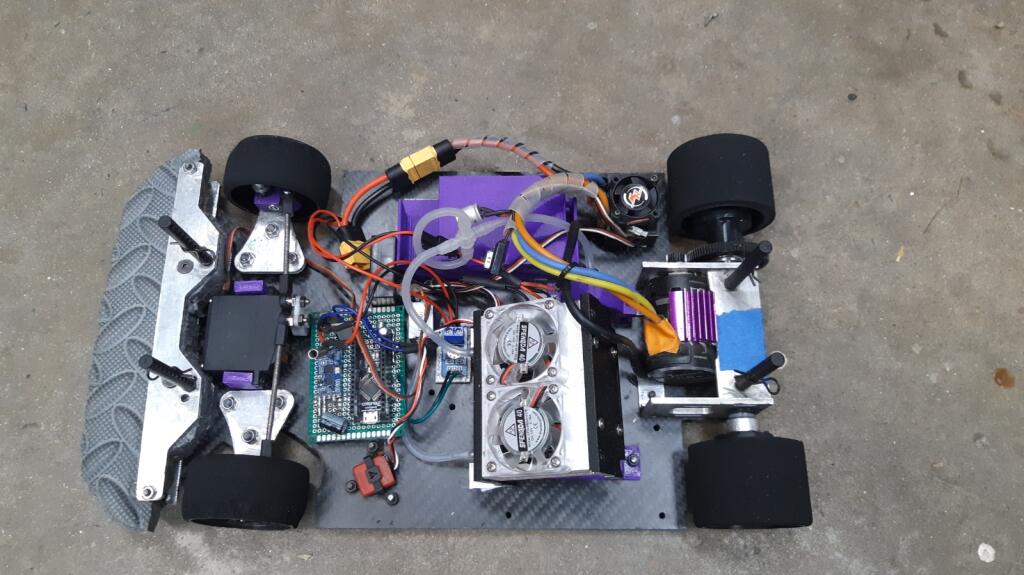 One of the LAHS team's hydrogen-powered cars. Courtesy Photo.
Norris also emphasized the critical support the team has received from the Los Alamitos Education Foundation.
In search of funding, Zachary sought help by applying for grants to help cover the costs of equipment. LAEF stepped up and has provided more than $1,800 since 2019.
"It has been our honor and privilege to come alongside these determined and bright students to turn this start-up club into a nationally competitive team," LAEF Executive Director Carrie Logue wrote in an email to Spotlight Schools. "LAEF wishes them the very best of luck at Nationals!"
Just like professional race cars, the LAEF logo appears on the team's cars and t-shirts in recognition of the nonprofit's support, according to Logue. Norris also acknowledged a recent donation from Pierce Construction Law.
Spotlight Schools will be keeping track of the H2GP Team's progress and report back next week!
Check out the cars action on this YouTube video of a past competition.
BOOSTER DOSE: The Orange County Register has announced nominees for the 2022 Orange County Artist of the Year representing the "artistic excellence" being cultivated in 72 O.C. high schools and arts organizations. That includes several students at LAHS including Nikki Ocampo for theatre and Kendal Villa for dance. See all the nominees here.
Thanks for reading!
Forwarded from a friend? Subscribe to the Spotlight Schools newsletter here.
Follow us on Instagram @SpotlightSchools.
Our mailing address:
P.O. Box 164
Seal Beach, CA 90740

Copyright © 2022 Spotlight Schools, All rights reserved.