Schools in Anaheim closed for one day due to Tropical Storm Hilary
Classes are canceled on August 21 in the Anaheim Elementary School District and the Anaheim Union High School District; other O.C. public school districts are expected to be in session.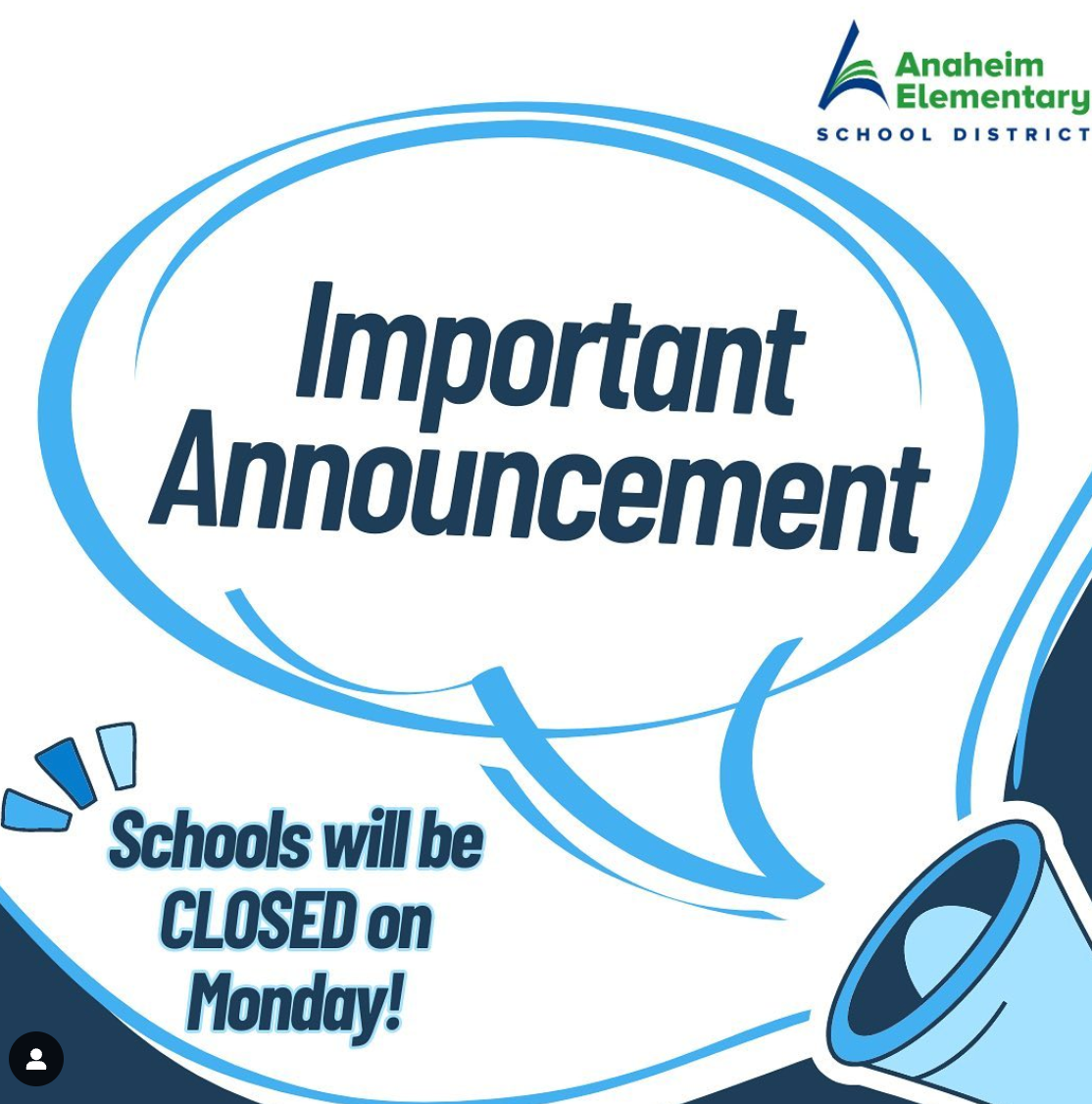 Citing safety concerns stemming from Tropical Storm Hilary, officials canceled classes on Monday, August 21 for students in the Anaheim Union High School District and the Anaheim Elementary School District.
School is expected to be in session in the other Orange County public school districts that have already started the 2023-24 school year.
"The safety of our families and staff is our top priority and there is uncertainty of the conditions that may be in place at our schools, roads and community following this Tropical Storm," read a post from the Anaheim Elementary School District, which has 17,000 students.
Anaheim Union High School District officials stated that the potential risks from the storm were greater than they had initially anticipated.
"We understand that this decision may cause inconvenience, and we sincerely apologize for any disruption it may cause. We believe that taking this precautionary measure is in the best interest of our students, staff, and families," read a statement posted on Instagram from AUHSD. The district has roughly 30,000 students attending campuses in Anaheim, Cypress, Buena Park, La Palma and Stanton.
Both districts said they expect classes to resume on Tuesday, August 22.
The Los Angeles Unified School District, the second largest public school system in the U.S., also closed campuses on Monday due to the impacts of the severe weather.
Tropical Storm Hilary started soaking Southern California on Sunday. It's the first tropical storm to hit the area in more than 80 years, bringing heavy rain and whipping winds to the region. There were reports of cars trapped in flooded streets, falling debris, and downed trees across Southern California.
The storm is expected to dissipate on Monday.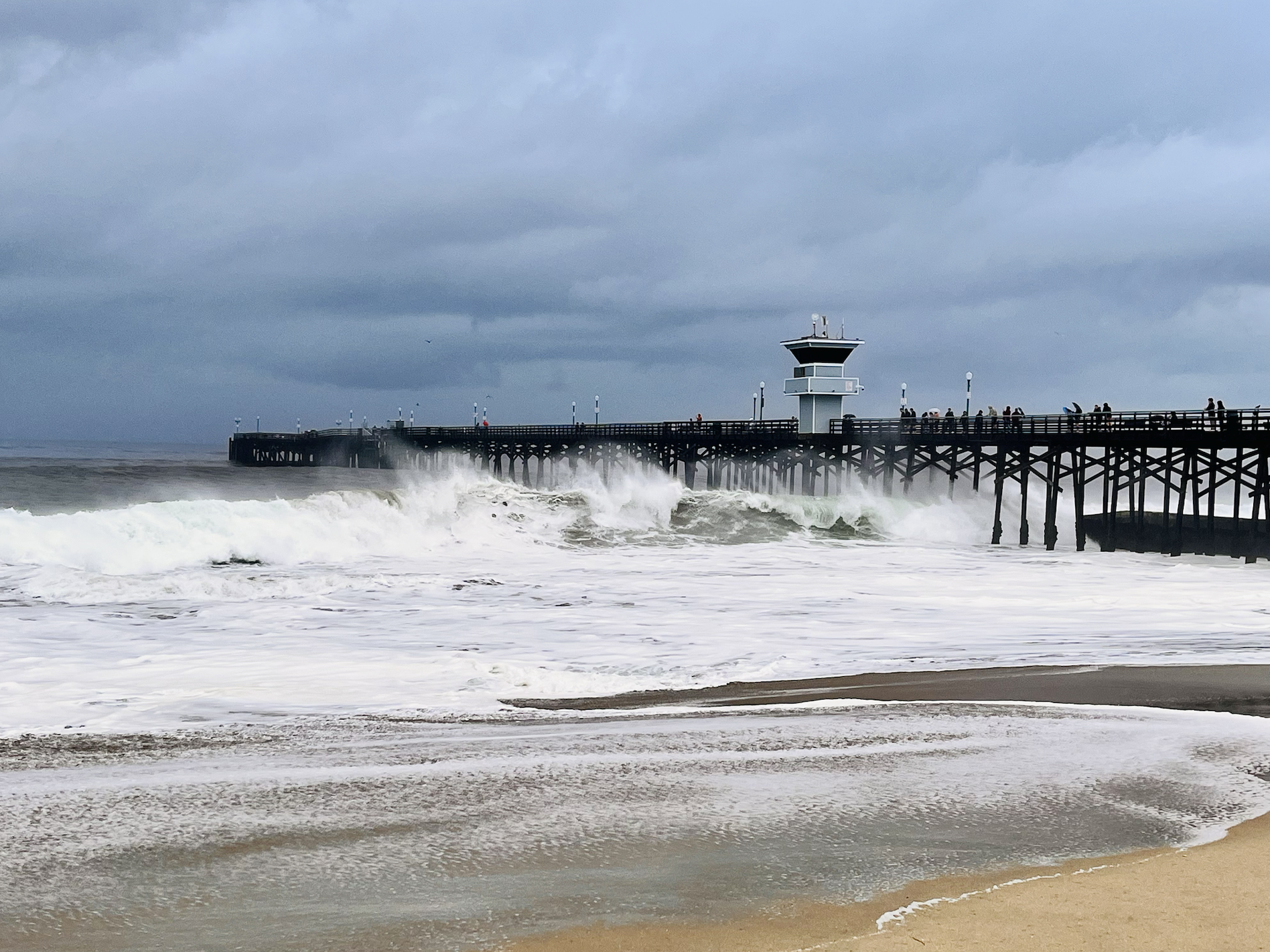 NEWPORT-MESA USD WILL START SCHOOL YEAR ON AUGUST 21
The Newport-Mesa Unified School District confirmed it will start its new school year on Monday as scheduled.
In a message posted online around 6:00 p.m. Sunday, NMUSD said its teams had been checking campuses for any leaks or issues to ensure schools are safe to open.
"We will continue to monitor the weather throughout the evening and overnight and will update you if there are significant changes in the weather that impact our opening of schools," the statement read.
The Capistrano Unified School District, the largest in Orange County serving more than 40,000 students, said classes would go on at its campuses but advised families to keep an eye out for updates.
"...We do ask for your patience and flexibility as conditions could change overnight should we lose power or [experience] flooding," a post on the Capistrano Unified Instagram account read. It said any update would be sent prior to 7:00 a.m. on Monday.
The district also told families that feel they must keep a student home for safety to call in the absence and "be assured their enrollment, scheduling, and standing will not be affected."
The Los Alamitos Unified School District expects its nine campuses across Seal Beach, Rossmoor, and Los Alamitos to be open on Monday. But it also cautioned that things could change and it would notify families of any news.
"As of now, schools are set to proceed as scheduled tomorrow. However, we will continue to monitor the weather throughout the evening and overnight, particularly with regard to the possibility of power outages," read part of a message sent to families on Sunday afternoon.
Orange Unified School District campuses are expected to be open tomorrow, according to a message on the OUSD website. The Garden Grove Unified School District also plans to have classes in session.
The Santa Ana USD told families it will be open for school on Monday, sharing that their campuses continue to be assessed and officials did not foresee any disruptions. Still, the district advised families to be alert.
"Given the nature of unpredictable weather events, we still encourage everyone to remain cautious and vigilant. As you travel to school Monday, please be aware of any potential hazards, including fallen trees, and other debris," read a post on the SAUSD Instagram account.