Saluting students for their 'silent service'
Military-connected students honored during "Month of the Military Child"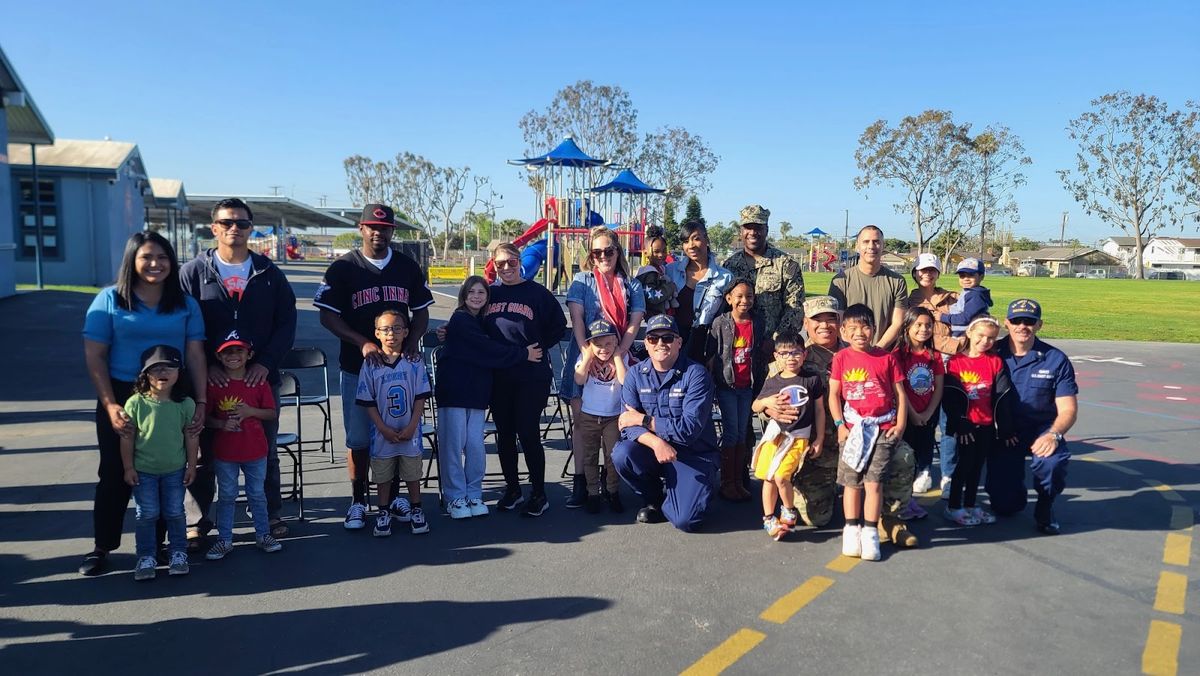 J.H. McGaugh Elementary School fourth grader Christian Deleon remembers feeling sad when his father, a service member in the Navy, was deployed several years ago.
"I missed him," Christian shared in a recent interview. The ten-year-old was quick to explain that he understands why enlisted men and women like his father periodically have to leave their families: "They're going away to help out."
Christian is one of the more than 450 children identified as a military-connected student in the Los Alamitos Unified School District. The  Naval Weapons Station Seal Beach and the  Joint Forces Training Base Los Alamitos are both within the school district's boundaries.
Christian lives in military housing located across the street from the McGaugh campus where 15% of the school's student body is part of a military family.
Last week, McGaugh saluted Christian and his peers during its tenth annual "Week of the Military Child." The event is tied to April being "Month of the Military Child," a nationwide tradition started in 1986 to recognize the unique sacrifices military children make.
"Although they are some of the bravest, most resilient kids out there, they face many challenges that non-military connected kids do not," Cynthia Villa, McGaugh parent and volunteer who headed up this year's "Week of the Military Child," wrote in an email message.
"Frequent relocations, the absence of a parent for months at a time due to deployments, changing schools, and leaving friends behind all have an impact on them," Villa added. (Disclosure: I've worked with Villa as a PTA volunteer and our kids are in the same class.)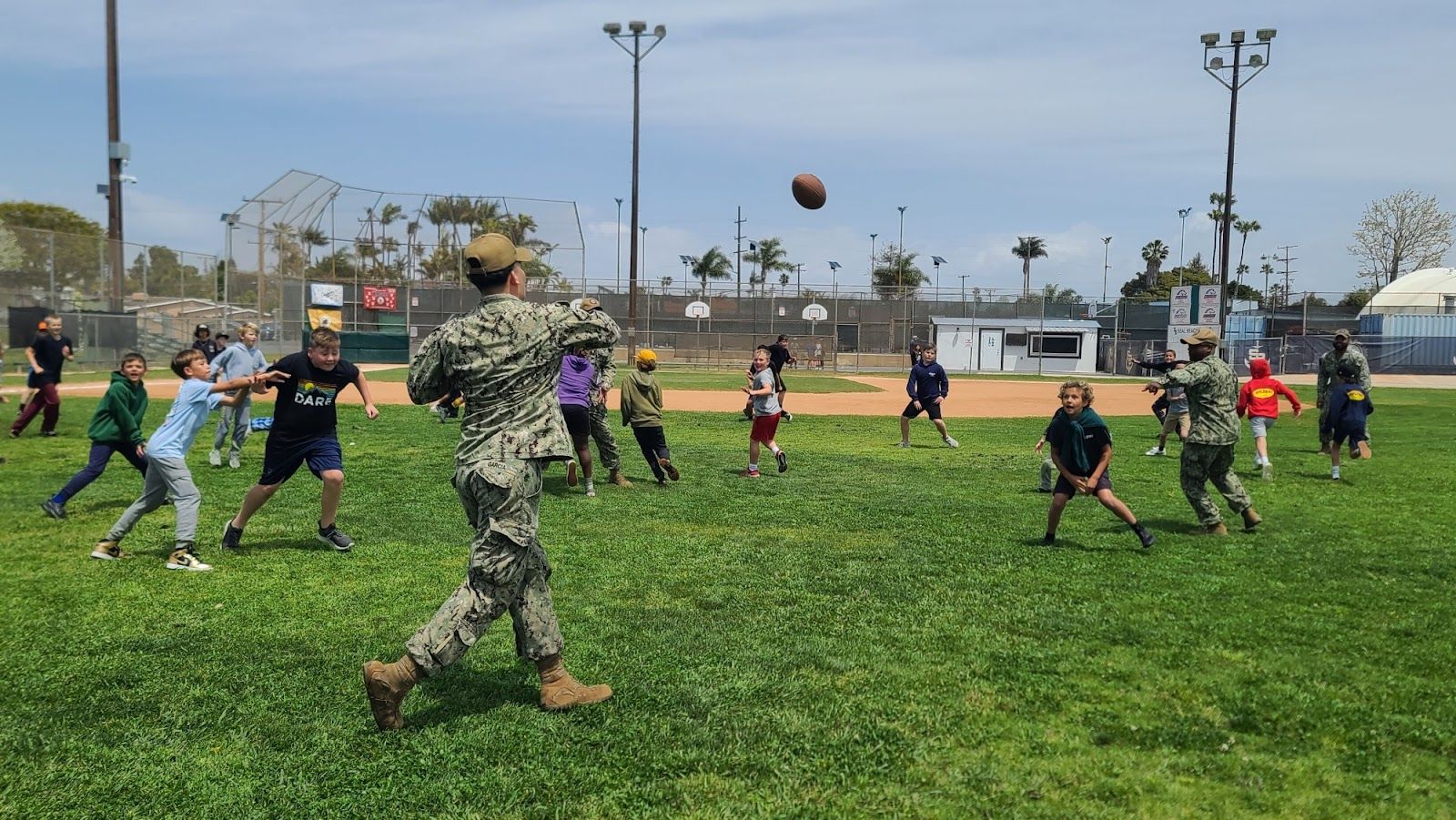 To honor the students, morning announcements broadcast daily to classrooms included facts about the military. Children were encouraged to participate in dress up days, for example, wearing camouflage. Purple ribbons decorated the campus as purple represents what you get when you combine the official colors of the different U.S. military branches.
Two of the school's weekly video reports, known as The Sea Lion Splash, also featured some of the school's military-connected families, including a message from a parent who is currently deployed.
"Our military Sea Lions have felt so special this week," McGaugh Principal Wendy Wood wrote in an email message in the middle of last week. "It has had a huge impact on them."
Last Tuesday, the campus also hosted a static display of some military vehicles, including a Navy harbor patrol boat. During lunch recess, service members also handed out stickers and candy, and helped students try on military gear. Some of the military personnel even played football, basketball and kickball games with the kids.
Armando Deleon, Christian's father and a Senior Chief Master-at-Arms with the Navy, was also on campus last Tuesday. A service member for more than twenty years, he said he and his son have been happy with their experience at McGaugh for the past two years.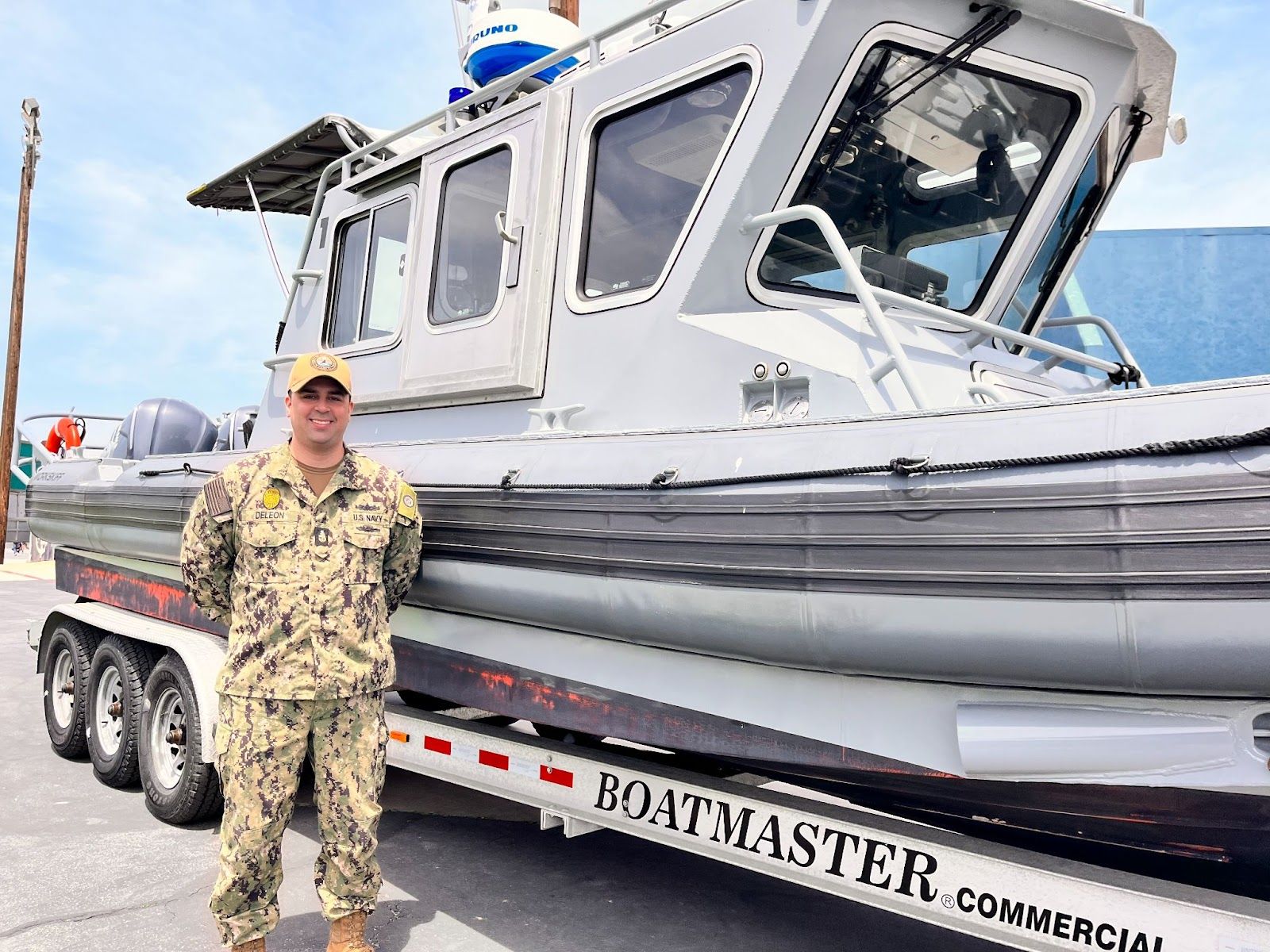 "It takes a lot of courage to be a military kid," Deleon said, noting how children have to take on extra responsibilities when their relatives serve. "Having a good support system, especially when parents are away, is huge," he added.
He said the McGaugh community has been supportive, including with its Military Family Life Counselor, an on-campus staff person hired by the military in partnership with the Los Alamitos Unified School District.
Deleon's son visits with McGaugh's military counselor weekly. "She's been a great support system," Deleon said.
Military Family Life Counselors (MFLCs) also work at the two middle schools in the district and at Los Alamitos High School.
"The MFLCs meet with individual students and families, conduct group lessons/activities that may include non-military families, and communicate with staff regarding the unique situations or needs that our students in military families may experience,"Jerry Friedman, Ed.D, the district's Director of Safety and Student Services wrote in an email.
During his  report at the April 4 Los Alamitos USD Board of Education meeting, Superintendent Andrew Pulver, Ed.D., spoke about the importance of supporting  military families in the district.
"We just wanted to stop and find a way to acknowledge the exceptional commitment that these families make and … the impact that it may have on the youth at the same time," Dr. Pulver said.
The Orange County-based Child Guidance Center sees firsthand the challenges military families face. In 2015, the behavioral and mental health clinic created the  Stronger Families, Stronger Children (SFSC) initiative which specifically serves military-connected families.
SFSC assists military-connected families with veterans services, mental health services, housing and legal assistance and domestic violence prevention, according to the Child Guidance Center's Development Director, Karen Francis.
In a phone interview, Francis said SFSC works with a lot of schools in Orange County, usually through referrals. She stressed that it's very important for school administrators to ask their students if they have a connection to the military so they can better understand their situation.
On April 29, SFSC is hosting its 6th annual "Month of the Military Child Celebration,"a free event for military-connected families.
"This whole event is to celebrate these kids," Francis said. "We do it to thank the kids for their silent service."
FOUNDER OF "WEEK OF THE MILITARY CHILD" RETURNS TO MCGAUGH CAMPUS
The 2023 "Week of the Military Child" concluded at the McGaugh campus last Friday morning with a special ceremony that included all students, staff as well as special guests.
One guest was Brandi Jones, a military spouse and former McGaugh parent who started "Week of the Military Child" at the campus when her two children attended the school ten years ago.
Jones now lives in Monterey with her family and husband who is an active-duty Marine.
In a recent phone interview, Jones reflected on her motivation for starting the tradition. Before coming to McGaugh, her children had only attended schools located on military bases so she was unfamiliar with how public schools operated. She said she was not feeling connected to McGaugh.
"It was very difficult to not feel included," she shared. Rather than turn away, she decided to take a chance and try to build a bridge. She got involved in the Parent Teacher Association (PTA), became its first military liaison, and proposed launching a program to honor military children.
The response, she recalled, was uplifting. Everyone was supportive and quickly asked how they could help.
"It really connected me to the school at that moment," Jones said. She shared that it made her realize, "it's not that people don't care or are trying to be exclusive, they just might not know how to show their support."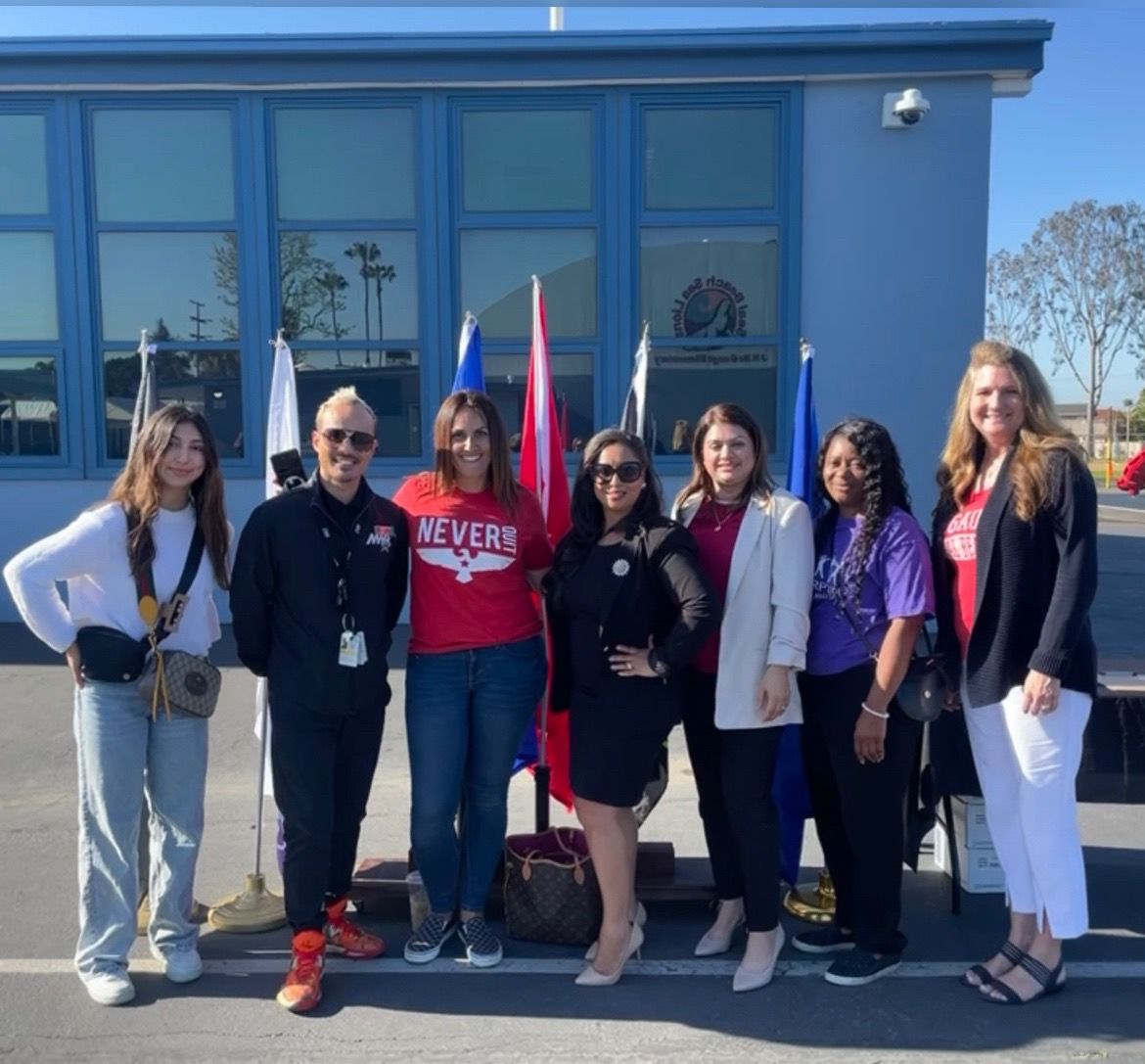 Ten years later the tradition she spearheaded continues at McGaugh. Jones said she was touched by Friday's ceremony.
"It gives me so much joy to see the children recognized and appreciated," Jones said. She said she was grateful "Week of the Military Child" is still happening and continues to connect military families to McGaugh. "I hope that's a testament to how important it is for the kids and families."
Friday's ceremony also featured a speech from the Executive Officer for Naval Weapons Station Seal Beach, Commander Jamie French, herself a mother of three young kids.
She told the students that they can learn something from their classmates who may have traveled to interesting places as a member of a military family.
Commander French also said students can lift up their classmates especially if they are missing a deployed family member. "So in those times, sometimes a friendly face, a smile, a little bit of kindness can go a long way," she said.
The school's chorus also sang the Star Spangled Banner and two military children read the "Dandelion Poem," in recognition of the flower thought to symbolize military children as "it can put down roots anywhere."
Principal Wood summed up the meaning of "Week of the Military Child" in her address Friday morning.
"Military kids serve, too," she told the crowd. "Military children, you are unique and valued and there are so many things to be joyous about in your experiences as military children. We love you!"
Villa and Jones say they will work to get McGaugh designated as a Purple Star School, an honor the California Department of Education bestows on public schools that are "the most committed and best equipped" to meet the unique needs of military-connected children.
"McGaugh Elementary, and the entire Los Alamitos Unified School District, does an absolutely fantastic job of supporting our military families year-round," Gregg Smith, Public Information Officer for Naval Weapons Station Seal Beach, wrote in an email.
Editor's note: The author Jeannette Andruss is a McGaugh parent and board member of McGaugh's PTA.