Report on O.C.'s children shows decrease in high school dropout rate, increase in number of kids missing school, among other findings
28th Annual Report on the Conditions of Children in Orange County assesses kids' education, health, economic well-being and safety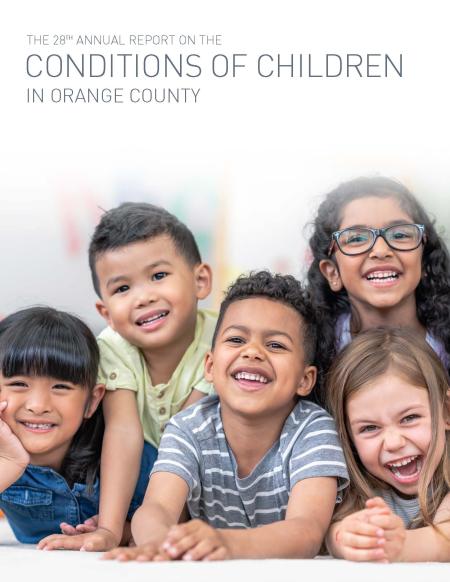 A newly released report shows around half of Orange County's children are considered ready for kindergarten, the high school dropout rate dropped to a ten-year low and the number of high school graduates eligible to apply to California's public universities is at a ten-year high.
These are just some of the takeaways from the 28th Annual  Report on the Conditions of Children in Orange County which was released Dec. 6 by the County of Orange Social Services Agency.
The yearly report focuses on assessing the education, health, economic well-being, and safety of O.C.'s kids.
In terms of education, it measures several achievement indicators. That includes kindergarten readiness, high school dropout rates, college readiness, third graders' achievement in state testing for English language arts and math, and chronic absenteeism.
KINDERGARTEN READINESS
In 2022, 52.5% of students in O.C. were considered developmentally ready for kindergarten. That's down from 2019 when it was 52.9% but up from 51.9% in 2015, when comprehensive data in this category was first collected in Orange County.
This is based on the Early Development Index (EDI); which is a questionnaire teachers fill out for kindergartners in their class. "It tracks five areas of a child's development: language and cognitive development; communication skills and general knowledge; social competence; emotional maturity; and physical health and well-being," according to the report.
The areas in O.C. with the highest percentage of students ready for kindergarten in 2022 were:
Laguna Beach at 78.3% (115 children)
Ladera Ranch at 78.1% (302)
Irvine at 66.1% (2,245)
HIGH SCHOOL DROPOUT RATES
The high school dropout rate in Orange County was 4% in 2021, the year the report references. That's down from 8.9% in 2011-12 and represents a ten-year low, according to the report. It's also much lower than California's dropout rate of 9.4% in 2021.
Dropout rates were highest among the following groups of students, according to the report.
Foster youth (18.3%)
Migrant education students (12.3%)
English learners (10.0%)
Homeless youth (8.3%)
Students with disabilities (6.1%)
Socioeconomically disadvantaged students (5.6%)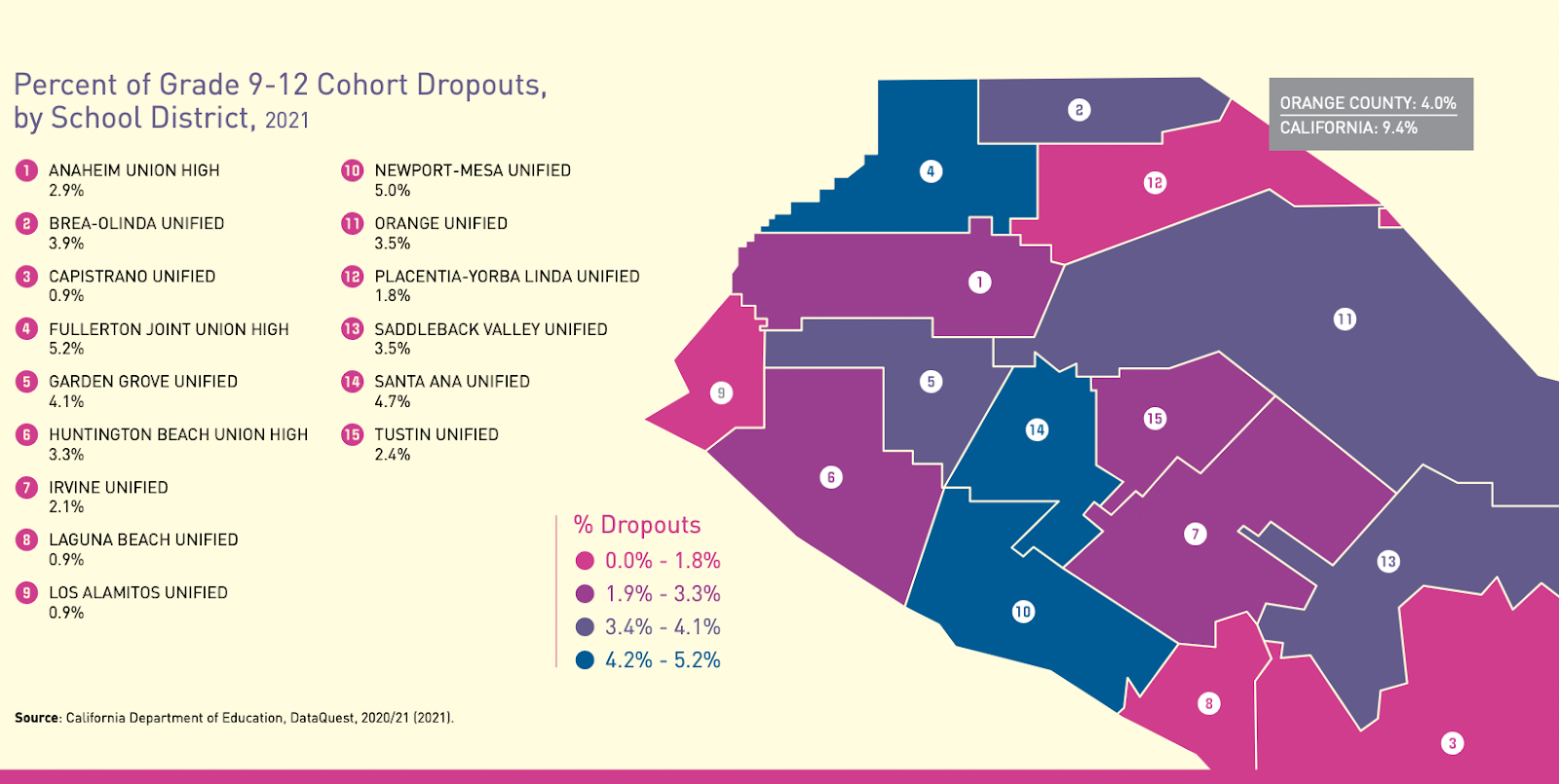 CHRONIC ABSENTEEISM
A student is chronically absent if they miss 10% or more of the enrolled instruction days regardless if the absence is excused or unexcused. That amounts to 18 days in a school year or two days a month, according to the report, which tracked attendance for the county's kindergarten through 12th grade students based on California Department of Education data.
During the 2020-21 school year, Orange County's chronic absenteeism rate increased to 9% from the 2019-20 school year which was 8.8%. Statewide, the chronic absenteeism rate was 14.3% in 2021. The report identified this indicator as an area that "needs improvement."
At 12.4%, O.C.'s kindergarten students had the highest rates of chronic absenteeism in 2021, followed by 9th through 12th graders with a rate of 9.5%. Overall foster youth students had the highest chronic absenteeism rates among all students.
Consequences of chronic absenteeism can include lower test scores and an increased risk of dropping out of school, according to the report.
COLLEGE READINESS
According to the report, 56.9% of the high school students who graduated in 2021 in Orange County had completed the course requirements to be eligible to apply to a University of California (UC) or California State University (CSU) campus. That's a ten-year high that represents roughly 21,000 students.
At 78.6%, Laguna Beach Unified had the highest percentage of graduates meeting the entrance requirements for a UC/CSU followed by Los Alamitos Unified which had 71.4% in 2021.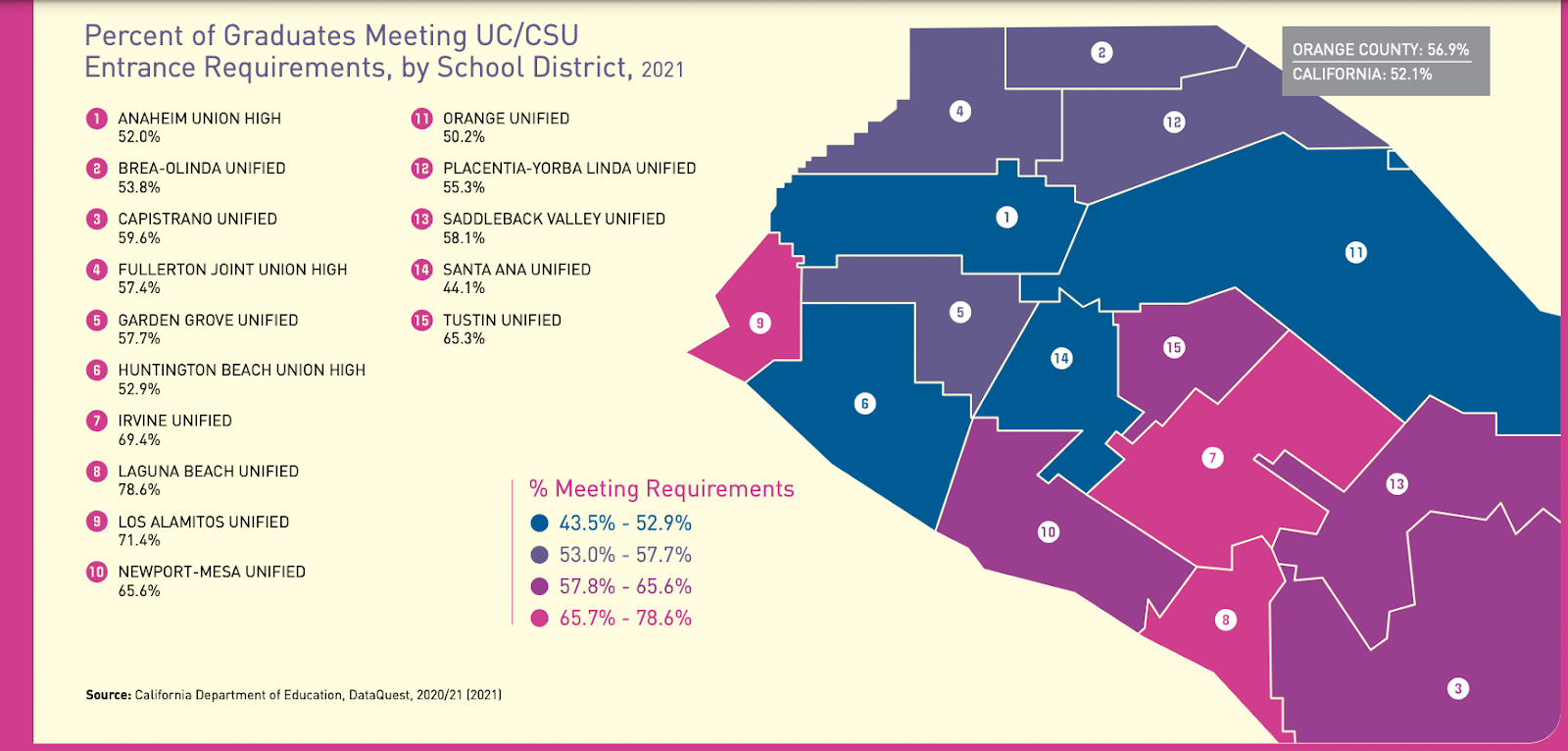 THIRD GRADERS' ACHIEVEMENT IN ENGLISH LANGUAGE ARTS AND MATH
The measurements for these indicators are based on California's standardized tests, known as the California Assessment of Student Performance and Progress (CAASPP).
It assesses 3rd through 8th graders and 11th graders annually in English Language Arts and math.
The Conditions of Children in Orange County report used CAASPP data from 2018-19 for its latest report but California has more  current data from the 2021-22 school year.
This is significant because 2022 was the  first time school districts were required to administer the CAASPP tests since the Covid-19 pandemic caused major disruptions to schools.
While we don't know specifically how Orange County's third graders did last year on the CAASPP tests, we know how students  overall performed in 2022.
For Orange County students, 57% exceeded or met the state's ELA standards in 2022. That's down from 59% in 2019. Most students in O.C. were not proficient in math, according to the 2022 results. Just 45% of students in O.C. met or exceeded the math standards, falling from 50% in 2019, according to the Orange County Department of Education.
Other items of note from the report include:
SAFETY:
"Orange County's injury death rate for children increased 20.0% from a rate of 8.0 per 100,000 children one to 19 years old in 2011 to 9.6 per 100,000 children in 2020."
From 2018-2020, the leading cause of death for children in O.C. age one to 19 was unintentional injuries. The second leading cause of death was suicide.
HEALTH:
"Students who identified as gay, lesbian, or bisexual were more than twice as likely to report depression related feelings than their heterosexual classmates."
In 2021, 96.3% of Orange County kindergartners had up-to-date immunizations. At 91.4%, Savanna School District had the lowest percentage of kindergartners with up-to-date immunizations. Los Alamitos Unified School District had the highest percentage at 99.4%.
ECONOMIC WELL-BEING:
"In 2018/19, 6.8% (29,840) of students in Orange County experienced insecure housing, which was 55.0% greater than in 2009/10 at 4.4% (26,029).
In 2018/19, the school districts with the highest percentage of students experiencing insecure housing were Magnolia School District at 31.2%, followed by Savanna School District at 16.3%, followed by Placentia-Yorba Linda Unified at 13.4%.
You can read the entire report here.