Recall effort against school board members fizzles out; McAuliffe student hospitalized after accident in campus parking lot; O.C. Educators named to 'Most Influential' List
Board members react to failed recall attempt while supporters reorganize. Plus, the O.C. Students competing in the 'Kids Baking Championship'
Board members react to failed recall attempt while supporters reorganize. Plus, the O.C. Students competing in the 'Kids Baking Championship'
Spotlight Schools
In this week's newsletter...
The effort to recall three Los Al USD Board of Education members has fizzled out, for now. Plus, reaction from board members.
An outpouring of support for a McAuliffe student hospitalized after an accident in a campus parking lot.
Find out which O.C. Educators made the 'Most Influential' List for 2021
Local Students Compete in Food Network's 'Kids Baking Championship'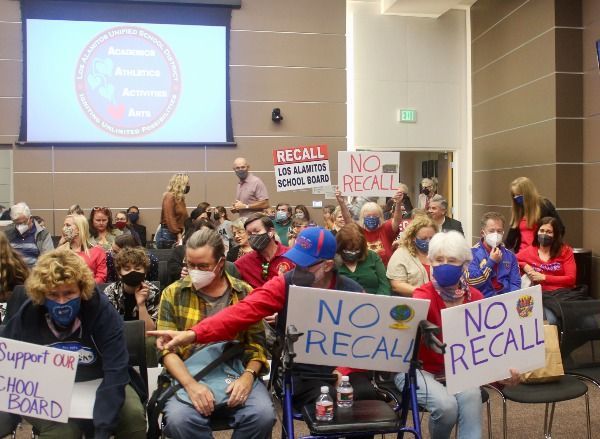 At the Sept. 28 Los Alamitos Unified School District Board of Education meeting, pictured above, three trustees were served with notices that a recall effort was being launched against them.
Spotlight Schools is here to help you better understand, navigate and participate in the TK-12 public school experience in Orange County.
Please send feedback/story ideas/questions to hello@spotlightschools.com.
Yours in knowledge,
Jeannette Andruss, Spotlight Schools Founder and parent of two students in the Los Alamitos Unified School District
FIRST BELL
This Week's Top Story
Los Alamitos School Board Trustees react after recall attempt ends due to missed deadline
An attempt to recall three Los Alamitos Unified School District Board of Education members has failed after Orange County elections officials say the organizers missed a key filing deadline.
Supporters must restart the process if they want to pursue a recall against trustees Megan Cutuli, Chris Forehan and Scott Fayette.
The Orange County Registrar of Voters' office said proponents missed the deadline to file paperwork seeking authorization to collect the thousands of signatures needed to place a recall on the ballot in the three trustee areas.
The campaign had until Dec. 17 to turn in the fourth draft of the recall petitions to the office that oversees elections in the county.
In an email last week, the office confirmed it did not receive the petitions in time and said that proponents would need to "restart the process once again in order to proceed with a recall effort."
Spotlight Schools first reported on the recall in early September. The effort was publicly launched at the Sept. 28 board meeting when the trustees were given notices of intention to start the process.
The recall campaign cited the board's enforcement of California's Covid-19 safety mandates for schools and the adoption of an ethnic studies elective at Los Alamitos High School among the reasons they believe justified a recall effort.
Both topics have sparked passionate public comments from supporters and opponents at school board meetings in 2021.
Board Members React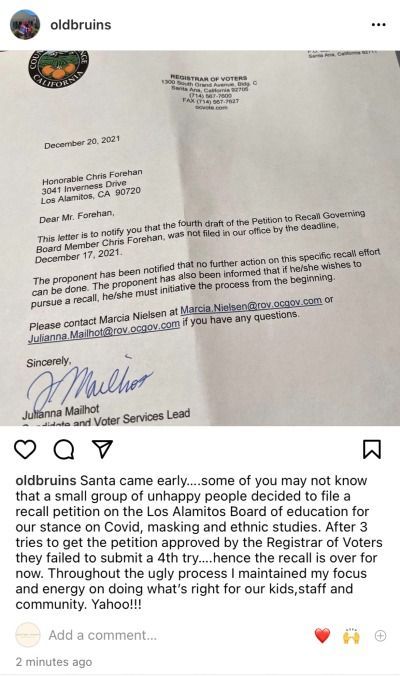 A post on the personal Instagram account for Board Vice President Chris Forehan shows a letter from the O.C. Registrar of Voters' office saying "no further action on this specific recall effort can be done."
Word of the missed deadline came out a few days before the Christmas holiday.
"Santa came early," reads a Dec. 23 post on the personal Instagram account of Board Vice President Forehan. It includes a picture of a letter from the Registrar of Voters' office informing him that "no further action on this recall effort can be done."
"Throughout the ugly process I maintained my focus and energy on doing what's right for our kids, staff and community. Yahoo!!," Forehan's post reads.
In an email, Forehan, who is known for making frequent visits to the district's nine campuses, said he will "continue to support our students, staff and community on what I believe is best for a healthy and successful school year."
Fellow trustee Megan Cutuli welcomed the news saying the recall added to the stress of living through the pandemic and that any reduction in stress is a good thing.
"I was very happy to hear that the recall group did not get their petition approved by the Registrar of Voters. It means that the board can now focus on supporting our students and staff without distractions," Cutuli wrote in part of a statement emailed to Spotlight Schools.
She also thanked supporters who reached out to her and the other board members. While she's looking forward to 2022 being a year of "healing and support," she noted that the recall group could launch a new effort at any time.
"They only need 10 signatures to start the process. It would be wonderful if nothing more happens, but I don't know their plans or thinking," she wrote.
Trustee Fayette said he did not have a comment at this time.
Board President Diana Hill said she is looking to the future.
"I am appreciative that the board can move forward and do the work of the district without any distractions or any cost to the district," Hill said in a phone interview.
Recall Campaign Reorganizing
While their first attempt failed, recall campaign supporters appear to be reorganizing.
"The decision has been made to place the recall on hold. This is NOT a win for either side of the argument," read the home page of the pro-recall website recently.
The website does not mention anything about missing the filing deadline or specify what's next but does say: "This is not the end of the fight" and encourages people to "keep speaking up."
A phone call and text message seeking comment from recall campaign spokesperson Robert Aguilar Jr. were not returned.
But a supporter did reach out to Spotlight Schools.
"I supported the recall and am disappointed it is not moving forward at this time," Los Al USD parent Matthew Simmons wrote in a recent email. "The recall effort was a wake-up call to parents as to what is being taught in the classroom," he added.
Simmons has been an outspoken critic of the state's Covid-19 safety protocols at recent school board meetings and protested against what he says is the teaching of critical race theory in the district, a claim the district has repeatedly disputed.
A recall opponent had a different reaction to the developments.
"I'm glad they couldn't even start collecting signatures. It kept taxpayer money with the students," Olaina Anderson, a parent in the district who supported an organized recall opposition effort, wrote in an email.
The Registrar of Voters' office estimated the cost for recall elections in three trustee areas would be between $52,853 and $192,948 plus the cost of $3.40 per signature for verification. The school district would have to pay for it.
"A regular election is free and the best way to replace elected officials. That's how democracy works," said Anderson, who unsuccessfully ran for the school board in 2018.
Cutuli, Forehan, and Fayette are up for re-election in 2024.
Recall backer Simmons wrote that he thinks people will stay involved. "I believe parents will be more vocal than ever to ensure our school board listens to the parents and protects our children."
SECOND BELL
Other Stories We're Following
McAuliffe Student Injured in Accident in Campus Parking Lot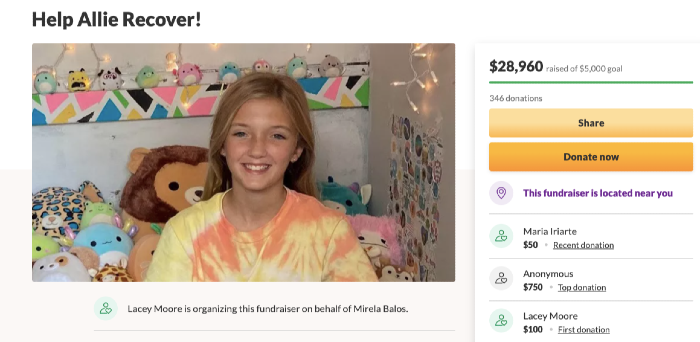 Screenshot from a GoFundMe page set up for Allison "Allie" Balos, a McAuliffe Middle School student hospitalized after an accident in a campus parking lot on Dec. 20.
The local community is stepping up in a big way to support a McAuliffe Middle School student who was injured in an accident involving two cars in a campus parking lot before winter break.
Eleven-year-old Allison "Allie" Balos spent Christmas in the hospital. She underwent multiple surgeries after suffering "traumatic injuries to her legs and knees" in the Dec. 20 accident, according to a GoFundMe page set up for her and her family. The accident happened during dismissal in the Cerritos Parking Lot.
Another student "sustained minor injuries and did not require emergency medical attention," according to one of many messages sent to families from McAuliffe Principal Dr. Ryan Weiss-Wright.
"May the love, support, and prayers of our community continue to support the Balos family during this holiday season," Dr. Weiss-Wright wrote in a message last Wednesday.
So far donors have poured in nearly $30,000 for Allie, far exceeding the $5,000 goal that was established less than one week ago.
More than 350 donations have been made. Some people wrote encouraging messages along with their their monetary support.
"Praying for a speedy recovery. Your McAuliffe family is thinking of you," wrote Denise McGovney.
"So sorry that Allie is going through this! Wishing her a super-fast and complete recovery! We are a sixth-grade and eighth-grade family at McAuliffe thinking of her during this difficult time," wrote Leah Laskan.
"My son goes to school with Allison - we are praying for a speedy recovery," wrote Karen Chastain.
According to the GoFundMe page, Allie will likely remain hospitalized for several weeks.
"The doctors told her mom that an Angel was truly watching over Allison for her to have been able to pull through such a close call," reads the website set up by Lacey Moore.
You can support Allie and her family by clicking here.
Educators Named Among O.C.'s Most Influential
The Orange County Register is out with its list of Orange County's top 125 Influencers for 2021 and two superintendents made the cut. The list is based, in part, on nominations from readers.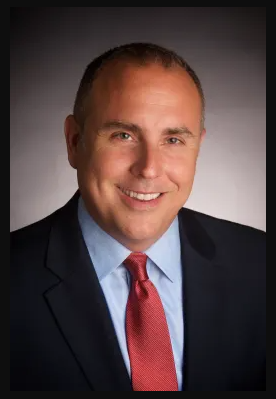 Los Al USD Supt. Dr. Andrew Pulver. Courtesy photo from LosAl.org.
Los Alamitos Unified School District Superintendent Dr. Andrew Pulver made the Register's list for the second year in a row. In 2020, he was lauded for making Los Al USD the first public school district in O.C. to reopen schools for in-person instruction during the pandemic. This year the newspaper wrote:
"As superintendent of the Los Alamitos Unified School District, Pulver dealt with an organized outcry against "critical race theory" in Orange County. Despite hours of passionate and angry comments by people from around Southern California at meetings, the school board unanimously voted for an ethnic studies elective class." – O.C. Register
Orange County Department of Education Superintendent Dr. Al Mijares is also on the list.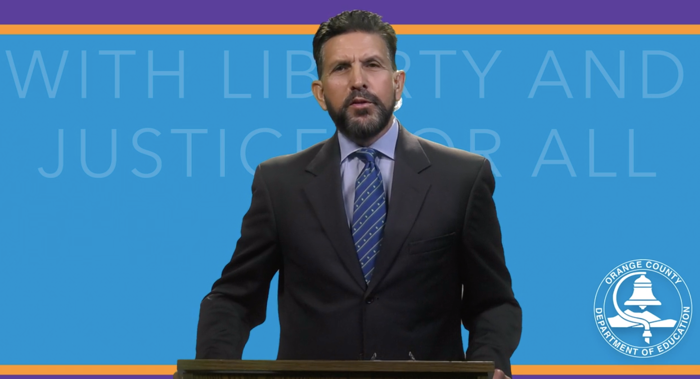 Orange County Superintendent Al Mijares pictured during the O.C. Department of Education's forum on ethnic studies in July. Screenshot from OCDE website.
"The superintendent of Orange County schools kept the county at the lead of reopening while also being sensitive to areas hit harder by the pandemic. Mijares moderated a forum about ethnic studies. "There's been so much confusion and questions about the new ethnic studies model curriculum," he said. "I want to demystify it, debunk myths, and set the record straight." – O.C. Register
See who else made the list, including Seal Beach Police Chief Phil Gonshak, here.
Other Stories We're Reading...
EXTRA CREDIT
Meetings // Events // Opportunities // Resources
OPPORTUNITIES
Parent Education Workshops
The City of Los Alamitos and the Orange County Health Care Agency are providing free classes for parents. The Parenting in Today's Society workshop "will help parents learn about the powerful role they play in reducing risk factors associated with substance use among youth," according to the course description.
The dates are:
Register here.
Become a Drone Pilot
Orange County is teaming up with Fullerton College to offer a new program to teens and young adults. Launching next month, the program will train students ages 16-24 to become drone pilots with enrollment in Fullerton College TECH 150 Basic Piloting Course.
"Drone use is important in a variety of industries, including public safety, real estate, construction, and even patrolling our local natural landscape and beaches," Supervisor Katrina Foley said in a press release. "I am excited that this new drone piloting program will teach a new generation the skills that help our communities and prepare them for the workforce."
An orientation will be held via Zoom on Jan. 6, 2022 from 4-6 p.m. The course starts January 24, 2022.
To register, call the OC Business & Economic Recovery Call Center at (714) 480-6500.
RECESS
Your Dose of Good News
O.C. Kids Compete in 'Kids Baking Championship'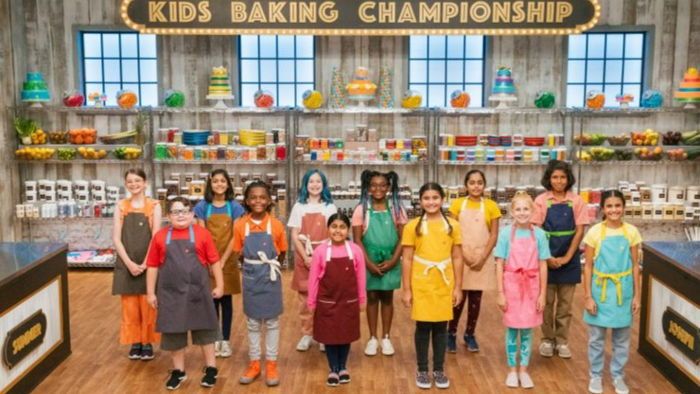 Three Orange County Students are among the contestants on The Food Network's "Kids Baking Championship." Photo from PYLUSD via Food Network.
This is a sweet story!
Three children from Orange County are among the contestants on the latest season of the Food Network show "Kids Baking Championship," which premiered last night.
That includes two students from the Placentia-Yorba Linda Unified School District: Golden Elementary School 5th grader Summer Haque and 4th grader at Travis Ranch School, Ellora Martinez.
The third contestant is Santiago Corso, an 11-year-old attending Dwyer Middle School in Huntington Beach, reports the O.C. Register. The newspaper said the show was filmed last summer.
Summer, 10, has loved baking since she was young, according to a story on the PYLUSD website. She even hosted baking tutorials via Zoom during the pandemic, teaching others how to create desserts and treats in their own kitchens.
We'll be watching as these local students try to whip up cookies, cakes and more as they compete to win $10,000 on the tenth season of the hit show.
Correction: And finally, in last week's Recess we posted the wrong link for a YouTube video showing how Los Alamitos High School ASB members were gifted $15,300 from a local company to give away. The correct link is here. Curious about how some of that money was spent for good? Take a look at this story from the O.C. Register.
Thanks for reading!
Forwarded from a friend? Subscribe to the Spotlight Schools newsletter here.
Missed a newsletter? Check out past editions here.
Follow us on Instagram @SpotlightSchools.
Our mailing address:
P.O. Box 164
Seal Beach, CA 90740
Copyright © 2021 Spotlight Schools, All rights reserved.