Recall effort against school board member fails; ☕️ Free Dunkin' Coffee for teachers; ? Big game recap by Los Al Police Chief
🎂The O.C. school district turning 150; F.A.Q. resource about monkeypox; Students deliver giant surprise for math teacher
🎂The O.C. school district turning 150; F.A.Q. resource about monkeypox; Students deliver giant surprise for math teacher

Helping you better understand, navigate and participate in the TK-12 public school experience in Orange County.
In this week's newsletter...
August 30, 2022
FIRST BELL 🔔 Recall effort against Los Alamitos USD Board of Education member fails.
SECOND BELL 🔔 The O.C. school district marking its 150th anniversary. Plus, public tours new STEM building at Los Alamitos High School.
EXTRA CREDIT 📌 Dunkin' to give free coffee to teachers.
RECESS 👏🏼SoCal math teacher with four-hour daily commute gets big surprise from students.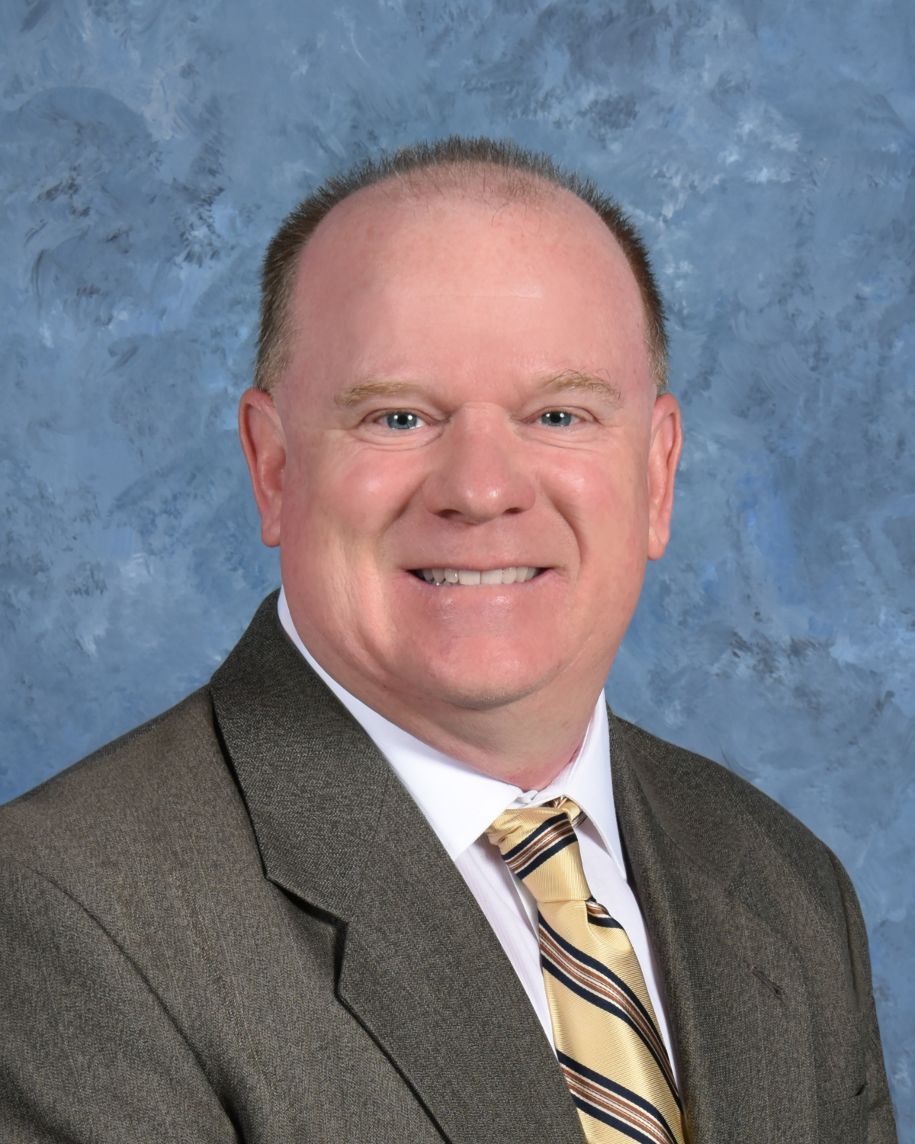 A second effort to recall Los Alamitos Unified School District Board of Education member Scott Fayette has failed to qualify for the ballot, according to the O.C. Registrar of Voters. Photo courtesy of Los Alamitos USD.
Spotlight Schools is a nonpartisan, hyperlocal newsroom covering education in Orange County and this is our weekly newsletter.
Not a subscriber yet? Sign up here! And be sure to follow us on Instagram and Twitter for news and updates.
Please send feedback/story ideas/questions to hello@spotlightschools.com.
Yours in knowledge,
Jeannette Andruss, Spotlight Schools Founder and parent of two students in the Los Alamitos Unified School District
FIRST BELL
This Week's Top Story
Recall effort targeting School Board member fails to qualify for ballot
Recall proponents seek to review rejected signatures
Signatures are gathered by supporters of a now-failed effort to recall Los Alamitos USD Board of Education member Scott Fayette in July. Photo by Jeannette Andruss.
For the second time in less than a year, an effort to recall a Los Alamitos Unified School District Board of Education member has failed.
On Monday, the Orange County Registrar of Voters' office announced that proponents seeking to oust trustee Scott Fayette did not gather enough valid signatures to trigger a recall election against him.
Recall supporters needed to collect 1,846 valid signatures from registered voters living in Trustee Area 4, which Fayette has represented since 2020.
The recall campaign turned in 2,129 signatures but only 1,738 were deemed valid by the Registrar's verification process that inspected every submitted signature.
That put the recall effort 108 signatures short of what was needed to qualify for the ballot.
Of the 391 signatures deemed invalid, 120 were duplicates, 63 signatures didn't match, and 52 were from voters who were not registered. Other signatures were disqualified for reasons including the signer's address was incorrect, not given or out of the district. Three didn't have signatures at all.
"I'm glad that this is over and hopeful everyone can put aside our differences and work together using all of our time, energy and resources into making this school year the best possible and we can get back to focusing on the kids," Fayette said in a phone interview yesterday.
"I feel like a great weight has been lifted off my shoulders," Fayette continued. "This was a very trying and difficult time especially for me and my family."
"I'm surprised because we did vet all of our signatures so we probably will go in and review and see what they disqualified," said recall supporter and organizer Donna Barron after learning of the news in a phone interview yesterday.
In a text message sent later Monday evening, Barron wrote: "Our records show that we had more than the required qualified signers. We carefully vetted every petition. Hopefully we can clear this up next week."
According to the recall petition process handbook, the proponents whose names are listed on the recall petition are allowed to examine the disqualified signatures to ascertain why they were rejected. They have 21 days from the date the petition was deemed insufficient to review the invalid signatures.
The recall handbook does not say if a review of rejected signatures by proponents could in any way impact the already certified outcome of the signature verification process.
The latest recall effort was launched in March and signatures were submitted last month. According to the pro-recall website, the goal was to have Fayette's recall on the November 2022 ballot when two other school board seats will be decided by voters. The group hoped to win all three seats to "have a conservative, curriculum based, school board majority."
This is not the first time Fayette has been targeted by a recall. In December 2021, an effort to recall Fayette, trustee Megan Cutuli and current Board Vice President Chris Forehan failed.
It cost $3.40 to verify each signature, according to the O.C. Registrar of Voters and the $7,238.60 bill will be sent to the school district.
👉🏼To see documents from the O.C. Registrar of Voters' office certifying the failure of the recall effort, see the story on the Spotlight Schools website here.
SECOND BELL
Other Stories We're Following
Public tours new STEM building at LAHS after officials hold ribbon cutting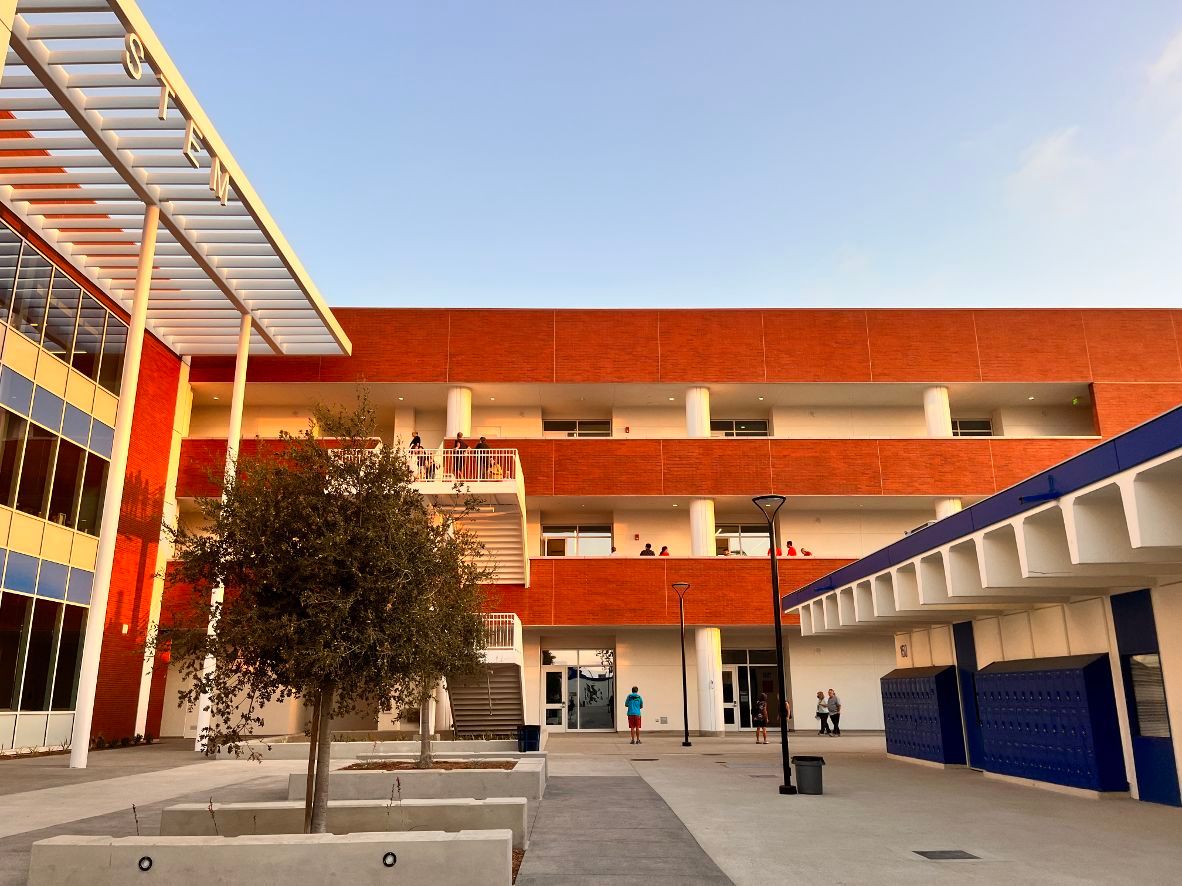 Visitors tour the new STEM building at Los Alamitos High School during a Community Open House on August 24. Photo by Jeannette Andruss.
Last week marked a ribbon-cutting ceremony and Community Open House for the $67 million, three-story, 86,528 square foot Science, Technology, Engineering and Math (STEM) building that houses 30 classrooms and labs at Los Alamitos High School.
The building has chemistry, physics, and biology labs, math classrooms as well as a specialized Career Technical Education fabrication lab for engineering, manufacturing, and robotics and a cutting-edge computer lab.
"This community's passion and investment in our young people's future continues to amaze and inspire me," Los Alamitos Unified School District Superintendent Andrew Pulver, Ed.D., told the crowd at the ceremony on August 24, which included other district administrators, board of education trustees, local elected officials, community members and others.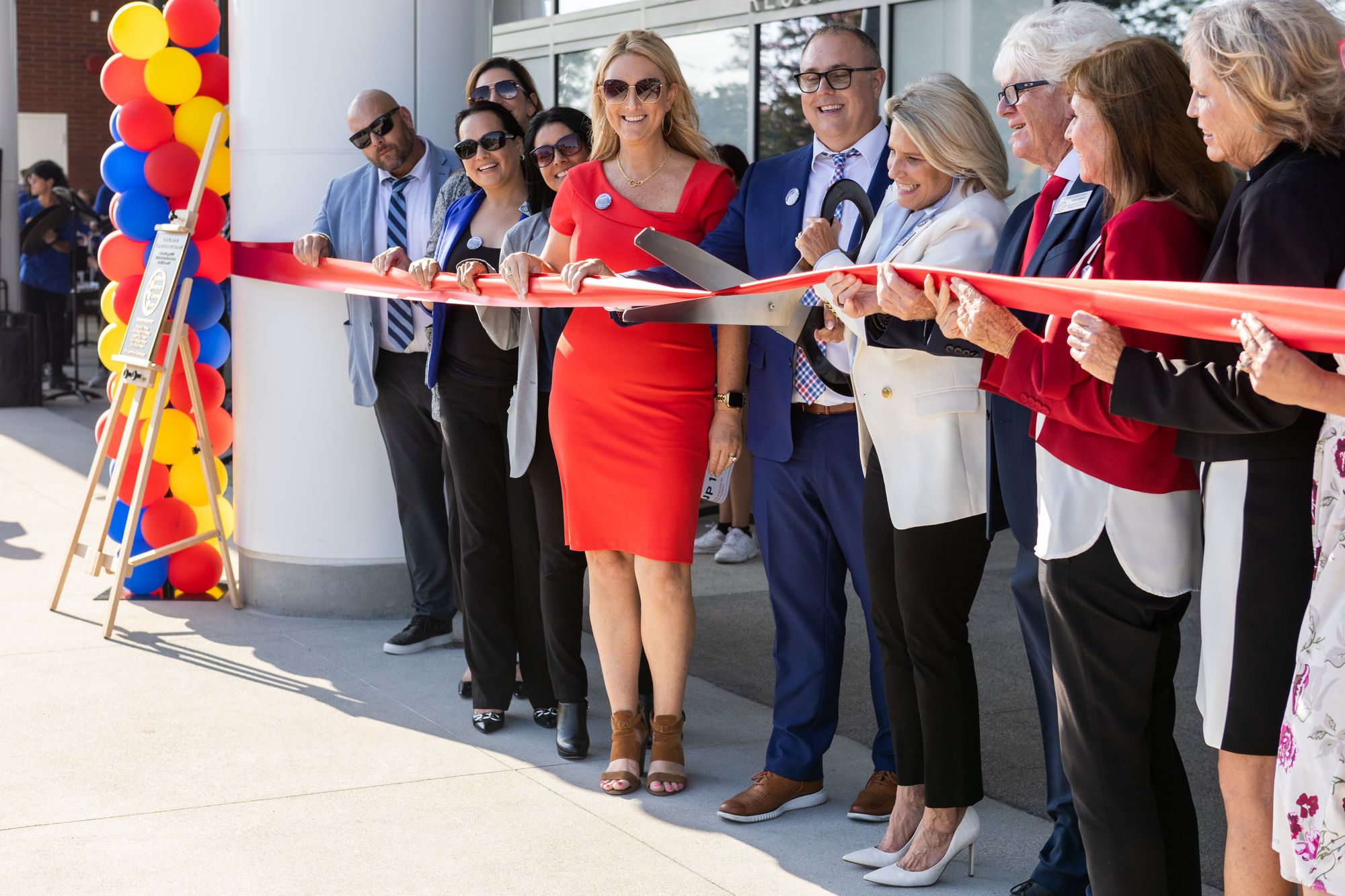 Los Al USD Board of Education President Diana Hill cuts the ribbon at a ceremony marking the opening of the new STEM building at LAHS on August 24. On her right is Supt. Andrew Pulver and to his right is Deputy Supt. Ondrea Reed along with other district administrators. To Hill's left is Board Vice President Chris Forehan, board member Megan Cutuli and board member Marlys Davidson. Photo by Andrew Ficke.
"This building is like a one-stop shop for our families and students," Los Alamitos High School Principal Christiana Kraus told the OCDE Newsroom.
"Everything that a parent or a student would need is housed here from counseling to attendance to academic college and career support, to the media center, along with our classrooms," Kraus said.
After the ribbon-cutting ceremony, the public was invited to check out the building. Dozens and dozens of parents, students, and community members toured the classrooms and labs.
On the second floor, Vinod Vishwakarma, his wife and two children were exploring the chemistry and biology classrooms. "I think the building is exquisite. I have not seen a building like this anywhere else," Vishwakarma said. "We are excited to be a part of this in a few years," added his wife, Kanishka. Their oldest son is a current student at Los Alamitos Elementary school.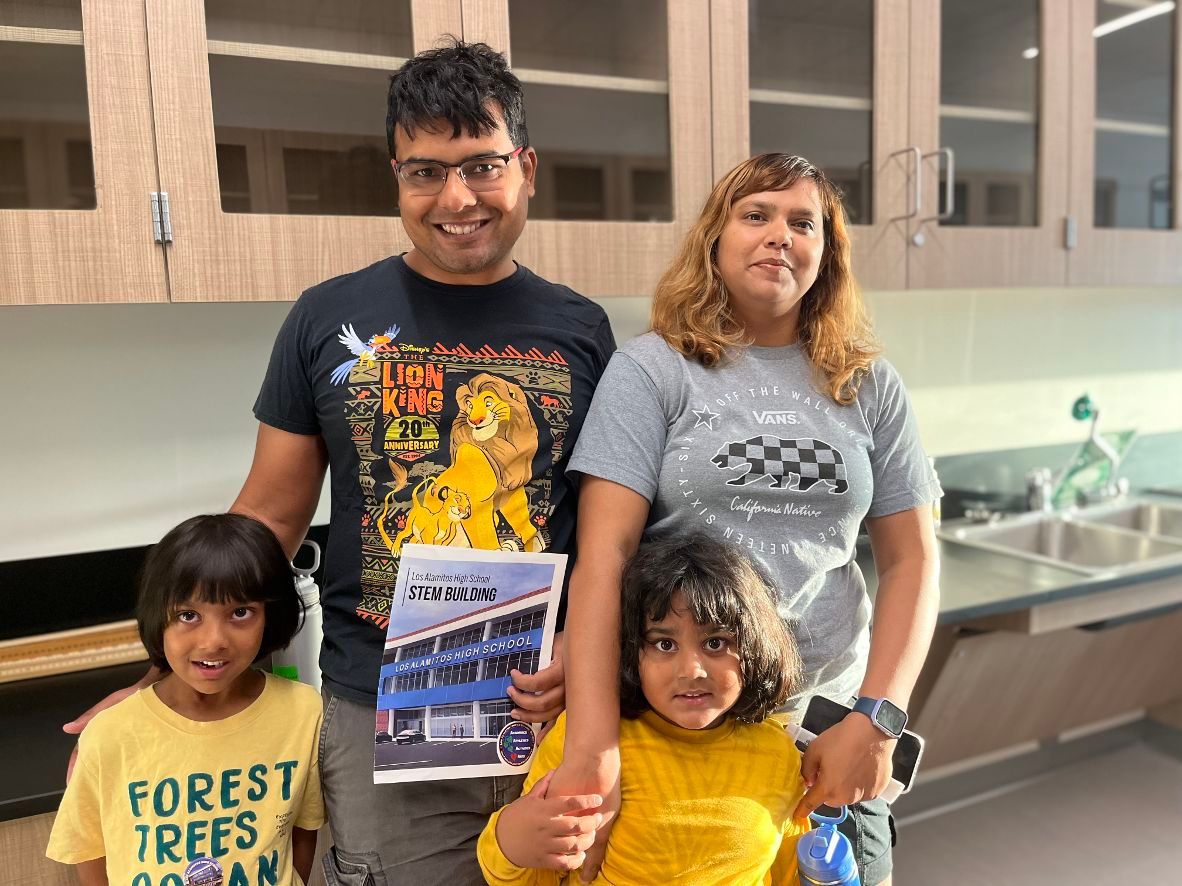 Vinod Vishwakarma, his wife Kanishka and their children Shakya and Sharma tour the new STEM building at Los Alamitos High School during the Community Open House on August 24. Photo by Jeannette Andruss
In addition to the STEM building, bond dollars have funded new playgrounds at the district's six elementary schools and a new aquatics center at LAHS which opened in 2020.
The next and likely final project using Measure G money is a new gymnasium on the LAHS campus.
👀See more pictures of the new STEM building on the Spotlight Schools website.
David N. Young contributed reporting to this story.
Westminster School District starts 2022-23 school year today
District also celebrating its 150th anniversary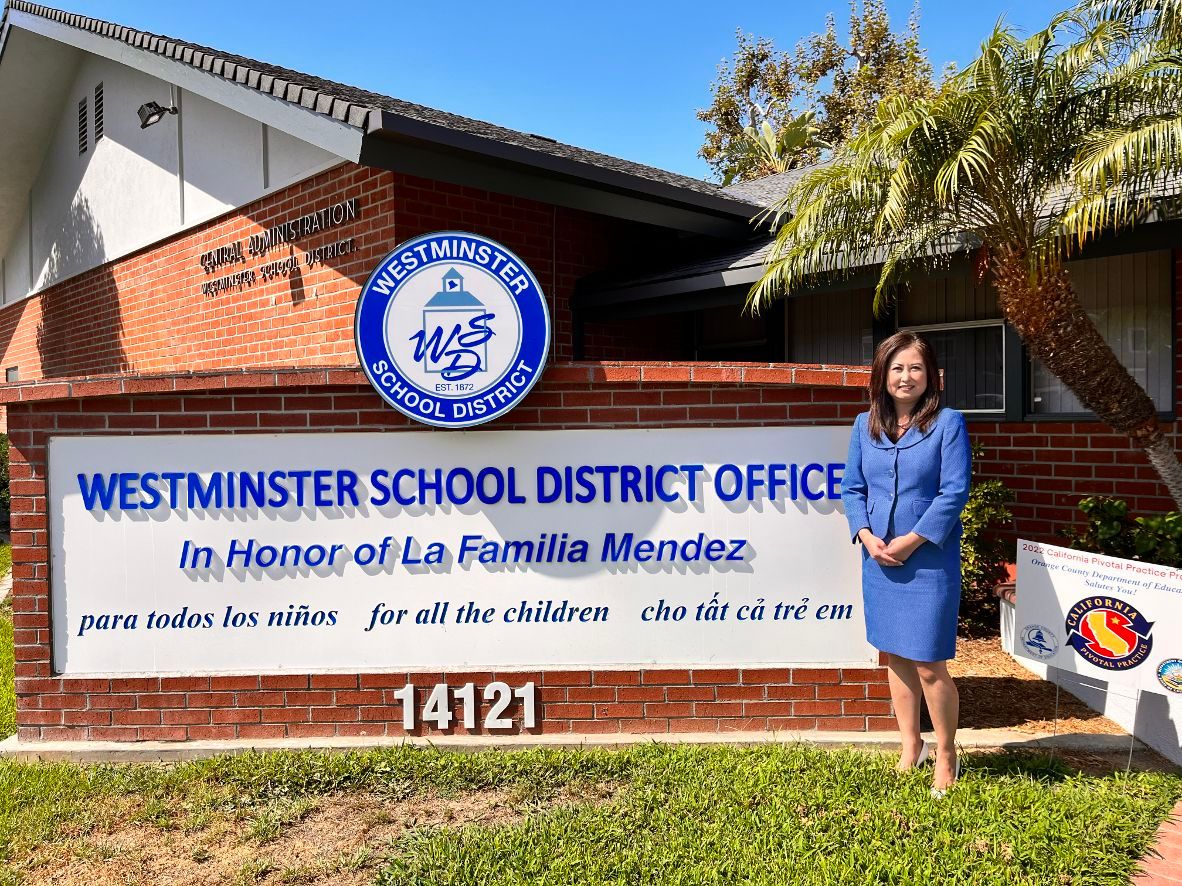 Westminster School District Superintendent Cyndi Paik, Ed.D., is inviting the public to come celebrate the district's 150th anniversary. Photo by Jeannette Andruss
Thousands more Orange County students will be starting the 2022-23 school year this week, including the roughly 8,200 TK-8th graders in the Westminster School District which has campuses in Westminster, Garden Grove, Huntington Beach and Midway City.
Today not only marks the beginning of classes at WSD's 17 schools, but this year also marks the district's 150th anniversary.
The district's history includes being home to the landmark court case Mendez vs. Westminster, which, when it was finally decided in 1947, desegregated public schools in Orange County and laid the legal groundwork for the 1954 U.S. Supreme Court decision in Brown vs. Board of Education, which ruled racial segregation in U.S. public schools was unconstitutional.
More recently the school district made history for its first-in-California Vietnamese dual language immersion program.
"There's a huge evolvement and a remarkable difference between how we're serving our students now from what Sylvia Mendez had experienced," Westminster School District Superintendent Cyndi Paik, Ed.D., said in an August 23 interview.
"We have many different types of options for families, so that our students have access to a variety of services and programs like computer science. We have [Vietnamese and Spanish] dual language immersion [programs] to ensure that they're learning biliteracy. … We also have a GATE magnet for the high achievers to enhance their education. We also have just launched a school to be an environmental school, so they'll be focusing on scientific studies and inquiry to help them prepare for their college and career."
The public is invited to celebrate the district's 150th birthday during an event on September 29. It's taking place from 5:00 p.m. to 8:00 p.m. at the district's headquarters on Cedarwood Street in Westminster.
📌 Read more from our interview with Dr. Paik, including how the district is countering the trend of declining enrollment, on the Spotlight Schools website.
🏈 Griffins back home, looking ahead after loss in nationally televised game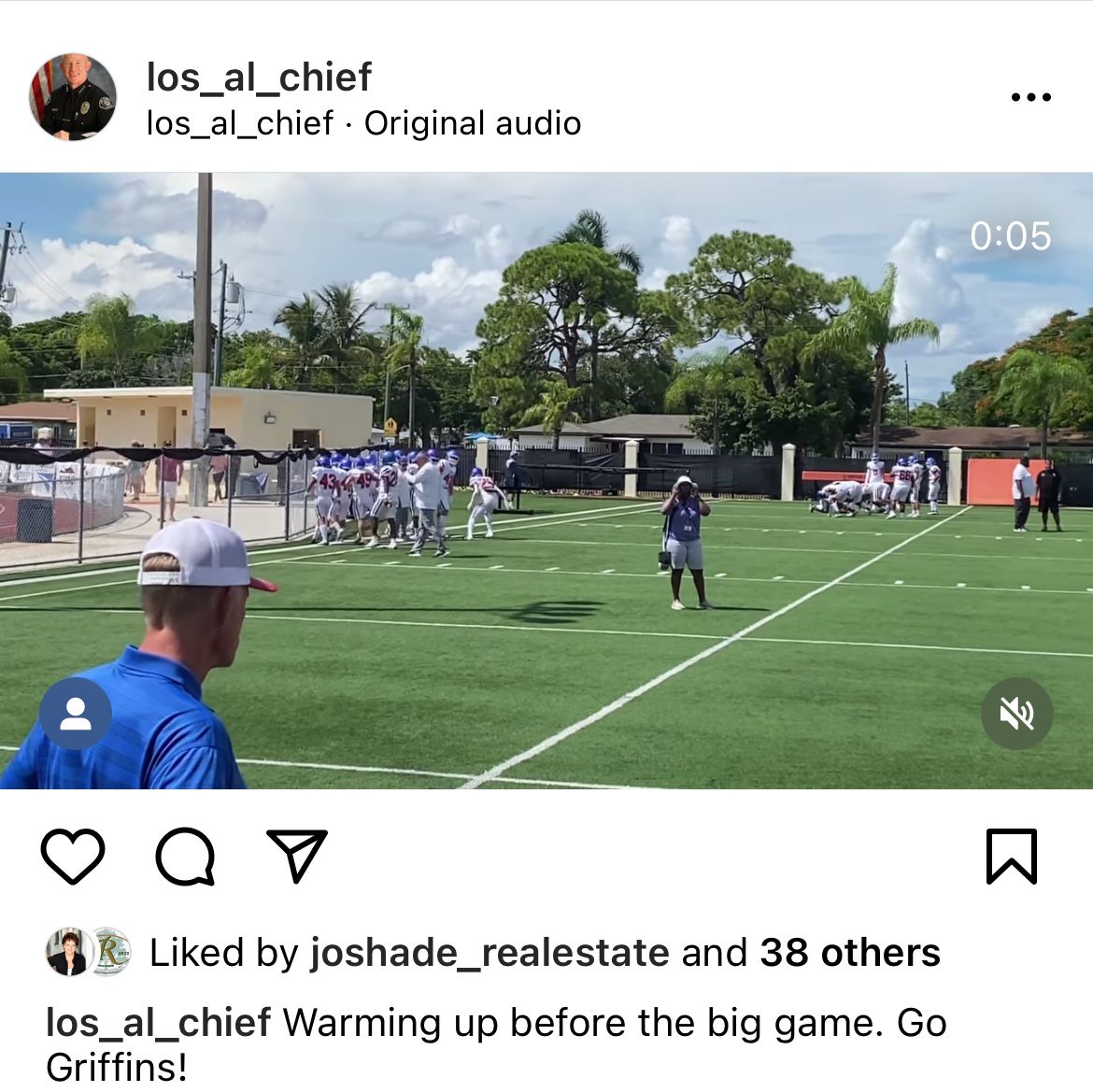 Self-described football fanatic Los Alamitos Police Chief Michael Claborn is giving readers of Spotlight Schools a sideline view of the LAHS Varsity football season.
The Los Alamitos High School varsity football team embarked on the second week of the season with a trip to Ft. Lauderdale, Florida to play in the Geico ESPN High School Kickoff.
This game was broadcast on ESPN2 and showcased two nationally ranked teams, the #19 American Heritage Patriots of Florida versus the #25 Los Alamitos Griffins.
The Griffins are led by five-star quarterback Malachi Nelson and five-star receiver Makai Lemon, both verbally committed to USC. Unfortunately, T.A. Cunningham, the Griffins' highly touted defensive lineman, was not cleared by CIF-SS in time to play in the game. Cunningham is considered the #1 class of 2024 defensive linemen in the country.
This game was billed as a battle between two teams full of scholarship athletes at almost every skilled position on the field. However, the game was ultimately decided in the trenches, by the American Heritage offensive line that was able to establish a ground game that the Griffins could not stop. The Patriots starting running back rushed for 224 yards on 19 carries and two touchdowns.
Nelson ended the game with respectable numbers by any standards, throwing for over 200 yards passing, three touchdowns, and one interception. Makai Lemon, on the other hand, had a game to be remembered. His stat line will read just under 200 yards receiving and three touchdowns.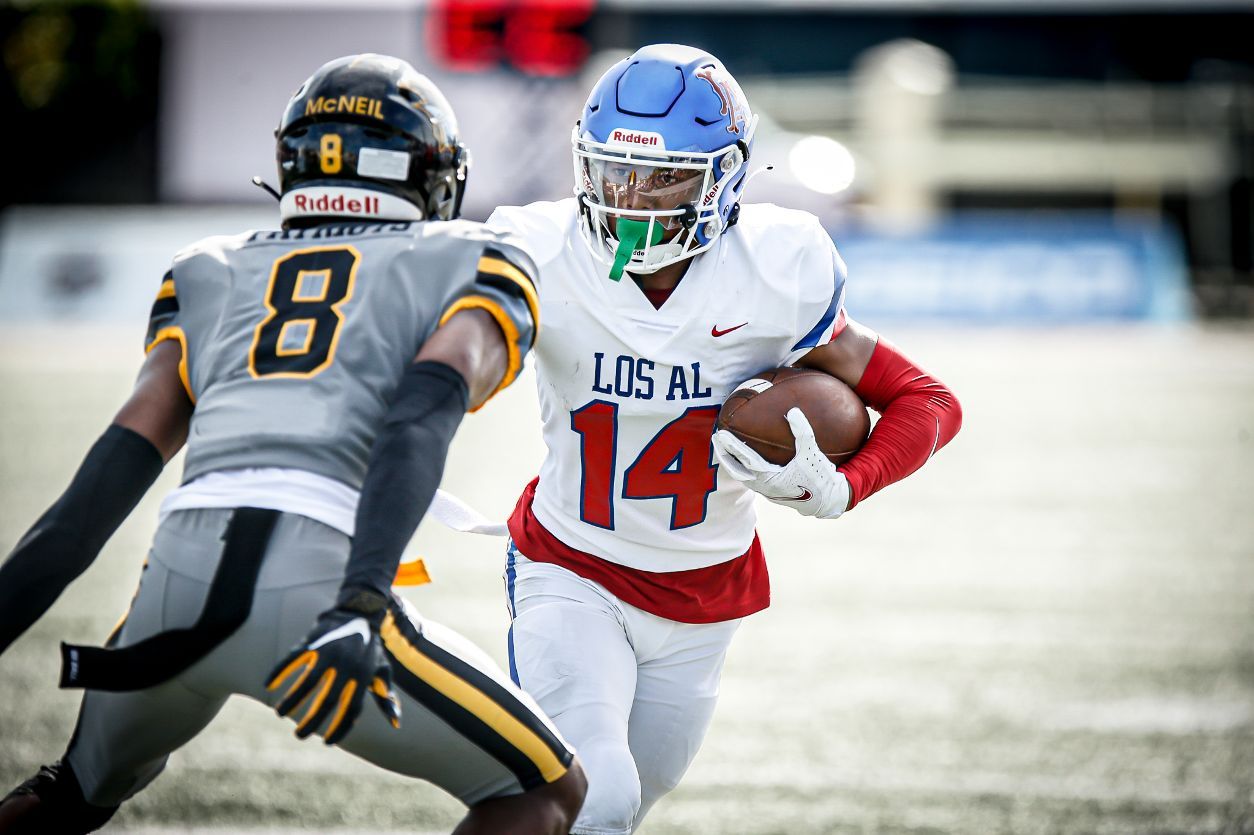 Griffins' wide receiver Makai Lemon scored 3 touchdowns in the 56-27 loss to American Heritage on Aug. 27. Photo courtesy of Marja Bene.
However, consider the fact that the referees had a significant impact on the outcome of this game. Lemon had two potential game-changing plays called back due to a penalty. The first was a 65-yard touchdown reception and the second was a kick-off return for a touchdown.
The final score was 56-27.
The Griffins don't have to wait long for an opportunity to get their season back on track. On Sept. 3 at 7:00 p.m. at Westminster High School, the Griffins host the Basha Bears, the preseason #1 ranked football team in the state of Arizona.
🏈Check out when other O.C. teams are playing this week and the Top 25 rankings in O.C. courtesy of The O.C Register.
🐊 See more of the Griffins' trip to Florida, including their stop to see alligators, on the team's Instagram page.
This story was written and reported by Michael Claborn. The Los Alamitos Chief of Police is a self-described football fanatic and has agreed to give readers of Spotlight Schools a sideline view of the high school football season. Let us know your thoughts at hello@spotlightschools.com.
📩 Forwarded from a friend? Subscribe to the FREE Spotlight Schools newsletter here.
Other Stories We're Reading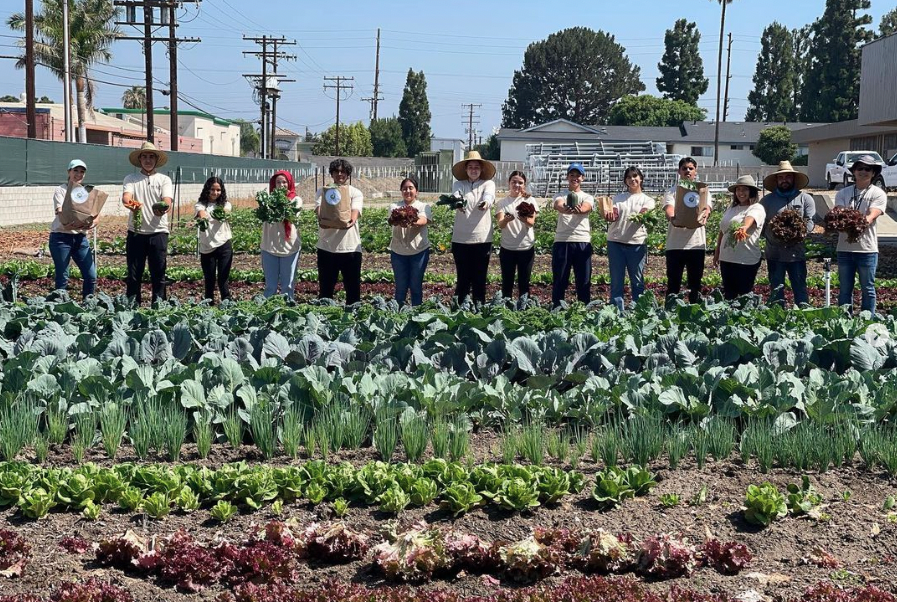 Magnolia High School's Agriscience Community Center provided more than 300 boxes of fruits and vegetables for district families and staff this summer. Photo courtesy of OCDE Newsroom.
EXTRA CREDIT
Meetings // Events // Opportunities // Resources
RESOURCES
MONKEYPOX F.A.Q. ANSWERED: The first case of monkeypox in an Orange County child was reported last week. Children are at low-risk for complications from the virus but if you have questions, the Orange County Health Care Agency developed a page on its website to help.
OPPORTUNITIES
SCHOLARSHIP: The Aquarium of the Pacific in Long Beach will begin accepting applications for its African American Scholar Program starting Sept. 9. The program "supports exceptional African American students pursuing fields of study related to the aquarium," according to its website. More information here.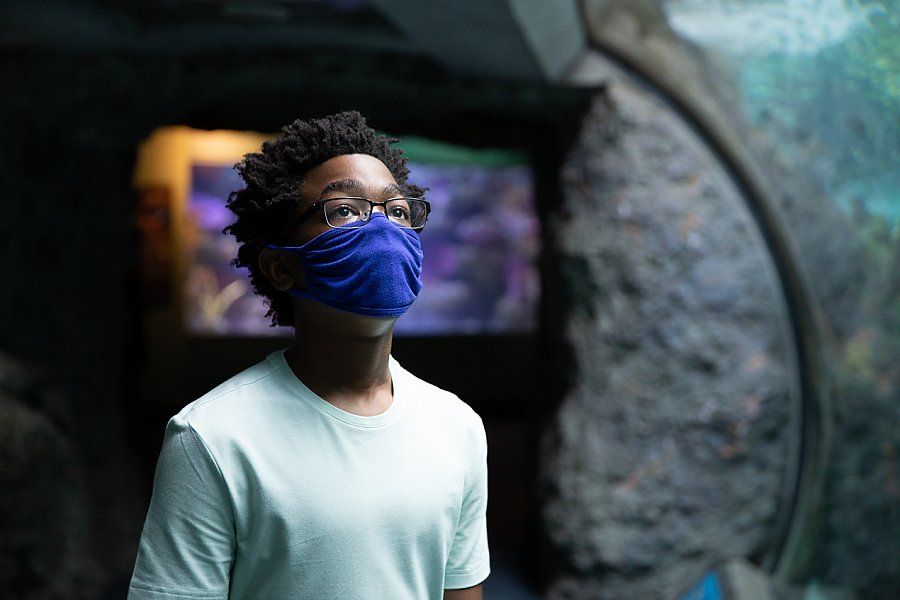 The Aquarium of the Pacific will start accepting applications for its African American Scholar Program on Sept. 9. Photo from website of the Aquarium of the Pacific.
CHARTER SCHOOL COMMISSION SEAT: California's Board of Education is looking to fill positions on its Advisory Commission on Charter Schools. Applicants can be a parent or guardian of charter school students. Applications are due Sept. 23. More information here.
☕️ COFFEE GIVEAWAY HAPPENING THIS THURSDAY:
Teachers across Orange County are able to get a free medium hot or iced coffee this Thursday, 9/1, at participating Dunkin' stores. The chain known for its donuts and coffee is also launching a sweepstakes where people can nominate a teacher for a chance for them to win free coffee for the year and a coffee break for their entire school. Stay tuned for more details on the sweepstakes after Thursday.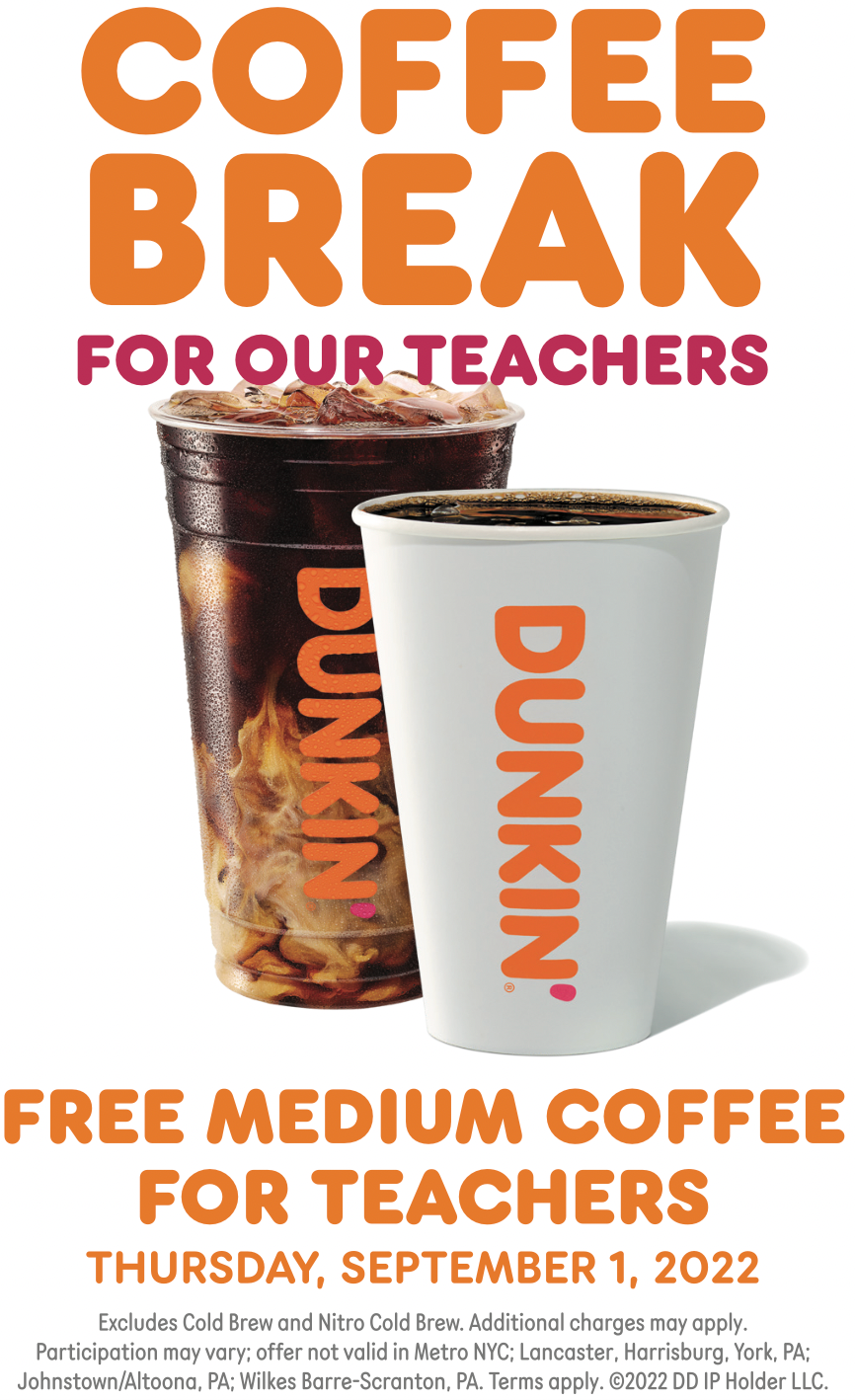 RECESS
Your Dose of Good News
High School Math Teacher surprised with new car for going extra mile for students
Students launched donation drive that will also cover insurance and gasoline for a year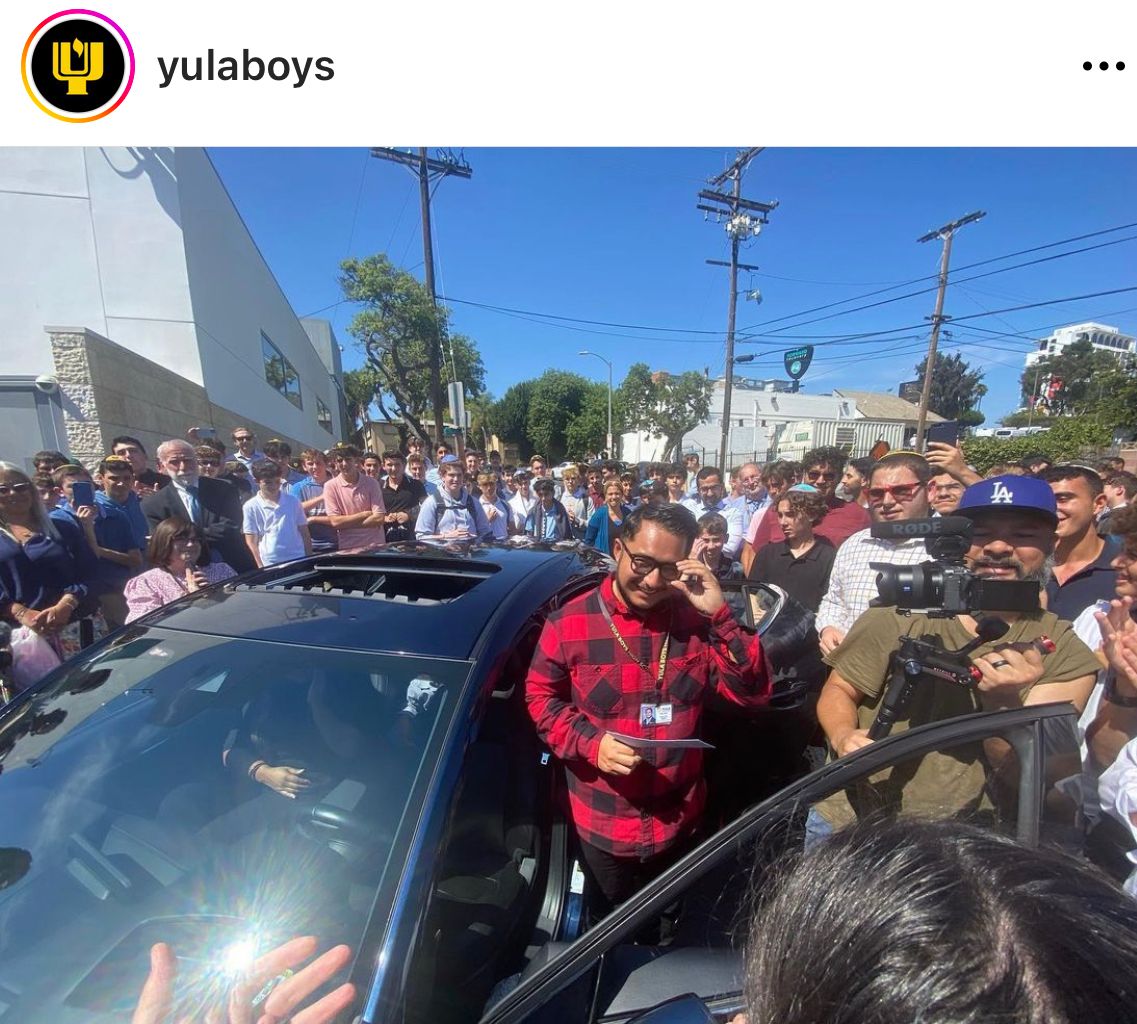 L.A. teacher Julio Castro reacts after receiving a car as a gift purchased by students through a fundraising effort. Screenshot from Yula High School Instagram page.
Students at YULA Boys High School in Los Angeles thought their math teacher Julio Castro was going "above and beyond every day" so they decided to do something to show their appreciation.
"He'll skip his lunch break to help a student and stay after school. He also helps students who aren't in his classes. He's really, really, really devoted to our futures," student Joshua Gerendash told the L.A. Times.
After a summer of fundraising via social media that netted more than $30,000, the students delivered a Mazda 3 hatchback to their beloved math teacher so that he wouldn't have to continue to endure what had become a four-hour long daily commute.
Castro, who lives in the Santa Clarita Valley, had been waking up at 4:30 a.m. to get to his job at the Jewish private school on the Westside of L.A. That commute included a scooter ride and bus trip, according to the L.A. Times.
"Thank you. I feel amazing for my kids, for my students. They are like my kids as well," Castro told ABC7 after receiving the car. Castro said thanks to his new wheels, he'll now be able to drive his own children to and from school and be able to be home in time to eat dinner with his entire family.
🥲You can read more about this amazing act of kindness at ABC7, L.A. Times and on YULA's Instagram account.
Thanks for reading!
Forwarded from a friend? Subscribe to the Spotlight Schools newsletter here.
Follow us on Instagram @SpotlightSchools.
Our mailing address:
P.O. Box 164
Seal Beach, CA 90740

Copyright © 2022 Spotlight Schools, All rights reserved.