Public tours STEM Building at LAHS as Officials hold ribbon cutting
Taxpayers get to visit $67 million structure financed by 2018 Measure G bond money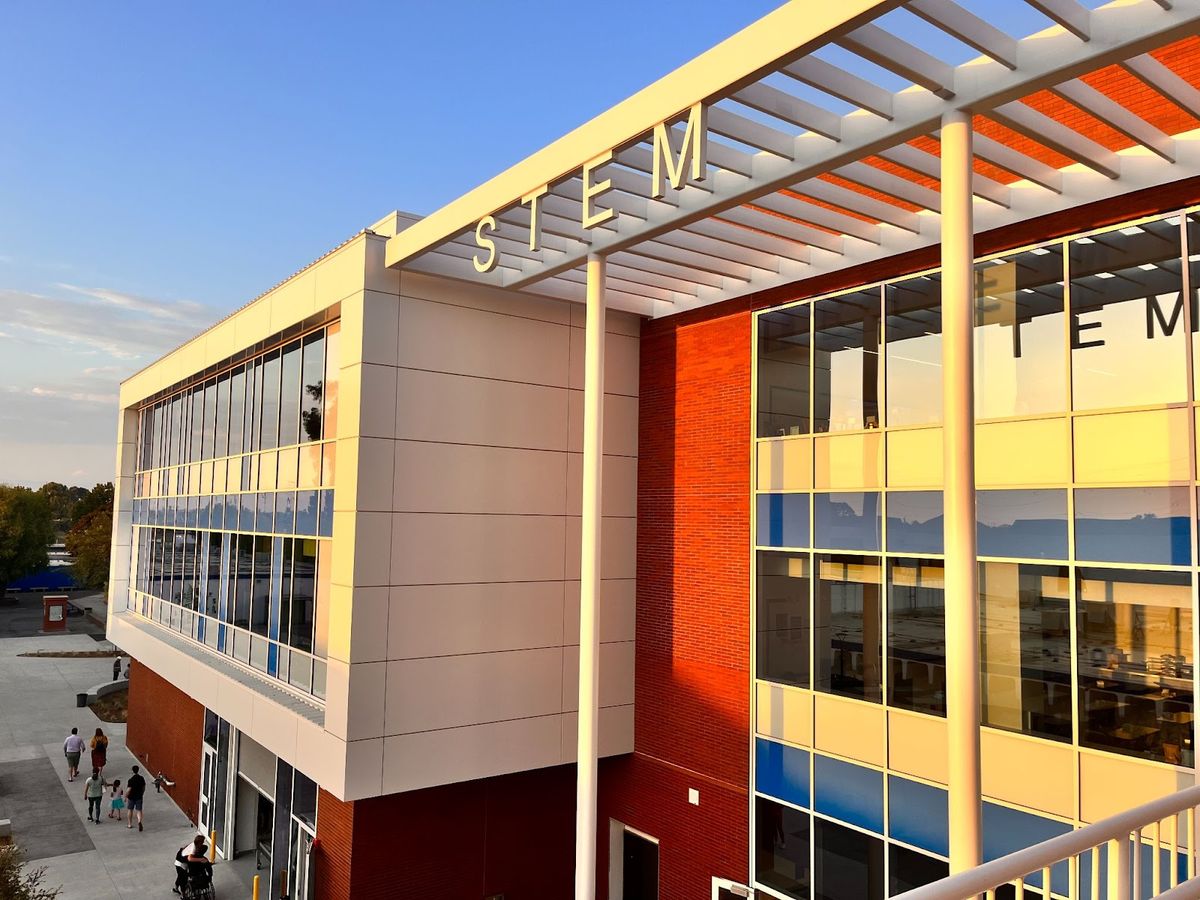 In 2018, Sherry Kropp, Ed.D., then superintendent of the Los Alamitos Unified School District, was making the rounds asking voters to support Measure G.
Dr. Kropp said the $97 million bond measure was needed to improve infrastructure at the district's nine campuses, especially at the aging Los Alamitos High School.
"Right now, we have teachers that don't have a science classroom,"she  told parents at McGaugh Elementary school in Seal Beach in August 2018, explaining LAHS staff and students were forced to rotate rooms for a lab.
Measure G passed that November. Nearly four years later, taxpayers are now able to see where the bulk of the  bond money went.
Last week marked a ribbon-cutting ceremony and Community Open House for the $67 million, three-story, 86,528 square foot Science, Technology, Engineering and Math (STEM) building that houses 30 classrooms and labs at Los Alamitos High School.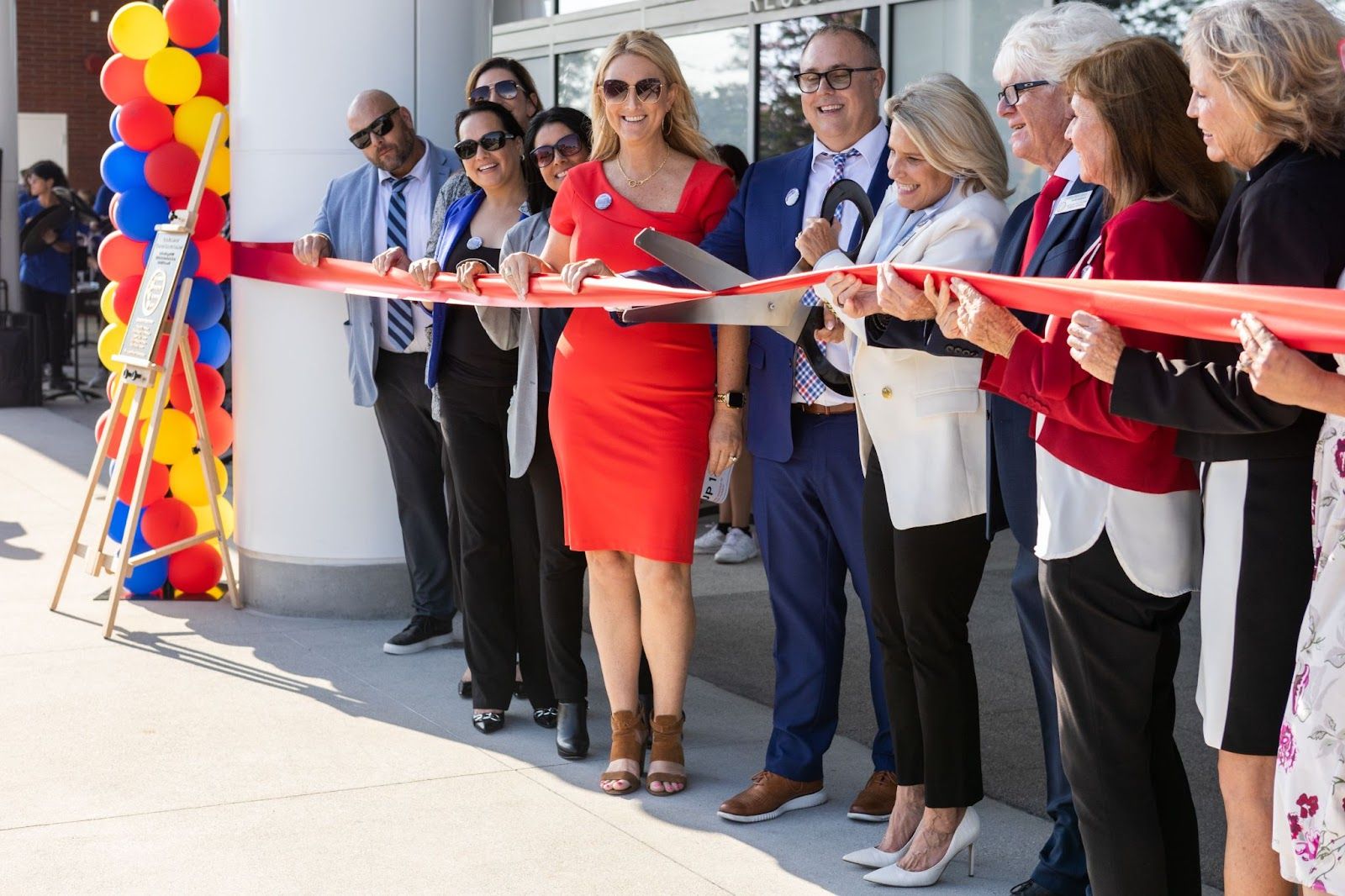 The building has chemistry, physics, and biology labs, math classrooms as well as a specialized Career Technical Education fabrication lab for engineering, manufacturing, and robotics and a cutting-edge computer lab.
"This community's passion and investment in our young people's future continues to amaze and inspire me," Los Alamitos Unified School District Superintendent Andrew Pulver, Ed.D., told the crowd at the ceremony on August 24 which included other district administrators, board of education trustees, local elected officials, community members and others.
"Today's ceremony is a tangible reminder of our mission and our core values to ignite unlimited possibilities for all of our students," Dr. Pulver said.
"This is a major milestone that could only have been achieved through incredible teamwork," Los Alamitos USD Board of Education President Diana Hill said.
Dr. Kropp, who retired in 2019, was present at the ceremony and during a tour of the building called it "unbelievable."
Replacing multiple older buildings and portables, the gleaming structure has become the new gateway to the LAHS campus. Standing 55 feet tall, it's a striking landmark that has reshaped the intersection at Los Alamitos Boulevard and W. Cerritos Avenue.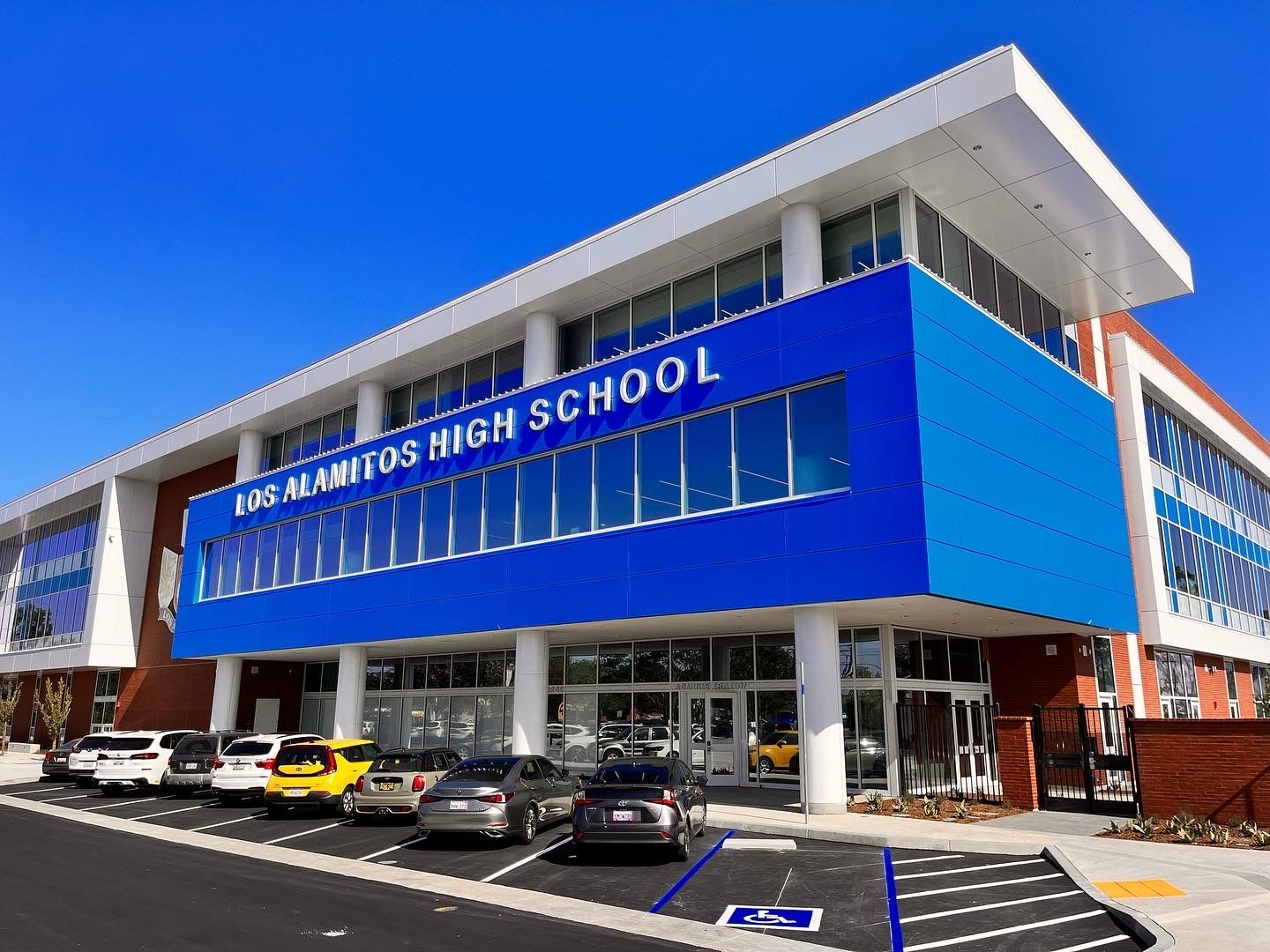 Built during the challenges of the Covid-19 pandemic, the project was headed up by C.J. Knowland, Los Alamitos USD Director of Facilities, Maintenance, Operations and Transportation.
"During the course of construction, we faced many challenges and made consistent efforts to ensure we are able to deliver this building within our timeline," Knowland said at the ceremony.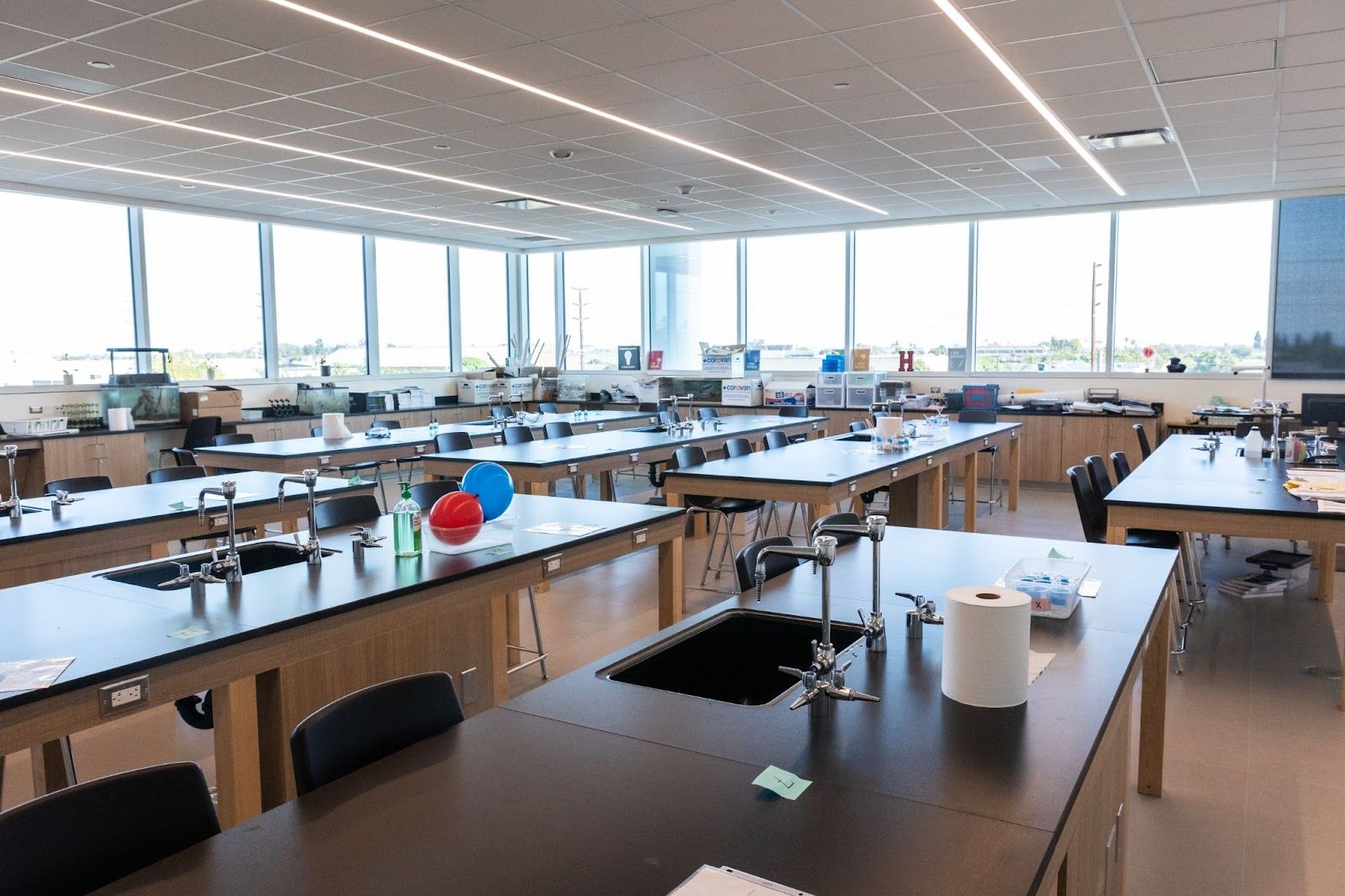 In addition to the STEM classrooms and resources, the building also provides a new home for vital campus services.
"This building is like a one-stop shop for our families and students," Los Alamitos High School Principal Christiana Kraus told the OCDE Newsroom.
"Everything that a parent or a student would need is housed here from counseling, to attendance to academic college and career support, to the media center, along with our classrooms," Kraus said.
The media center on the first floor looks like something you'd see on a college campus. It's a giant room with plush seating where students can study and socialize.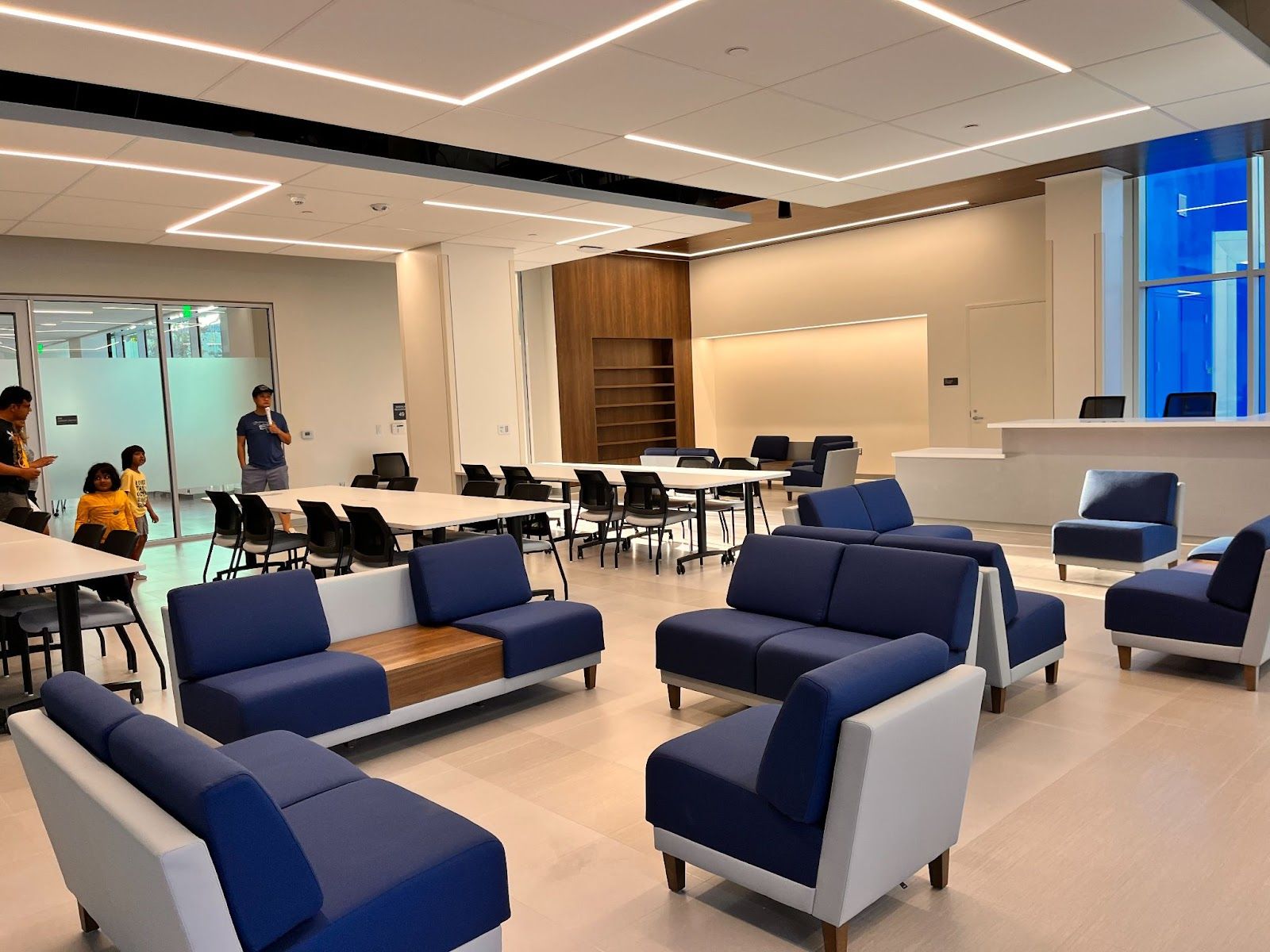 There's also a "grand staircase" that can double as stadium seating for outdoor performances and events. Visitors got to experience it during the Community Open House when they were treated to a performance by the LAHS Jazz band. (You can see more in the district's weekly video recap, The Wrap-Up.)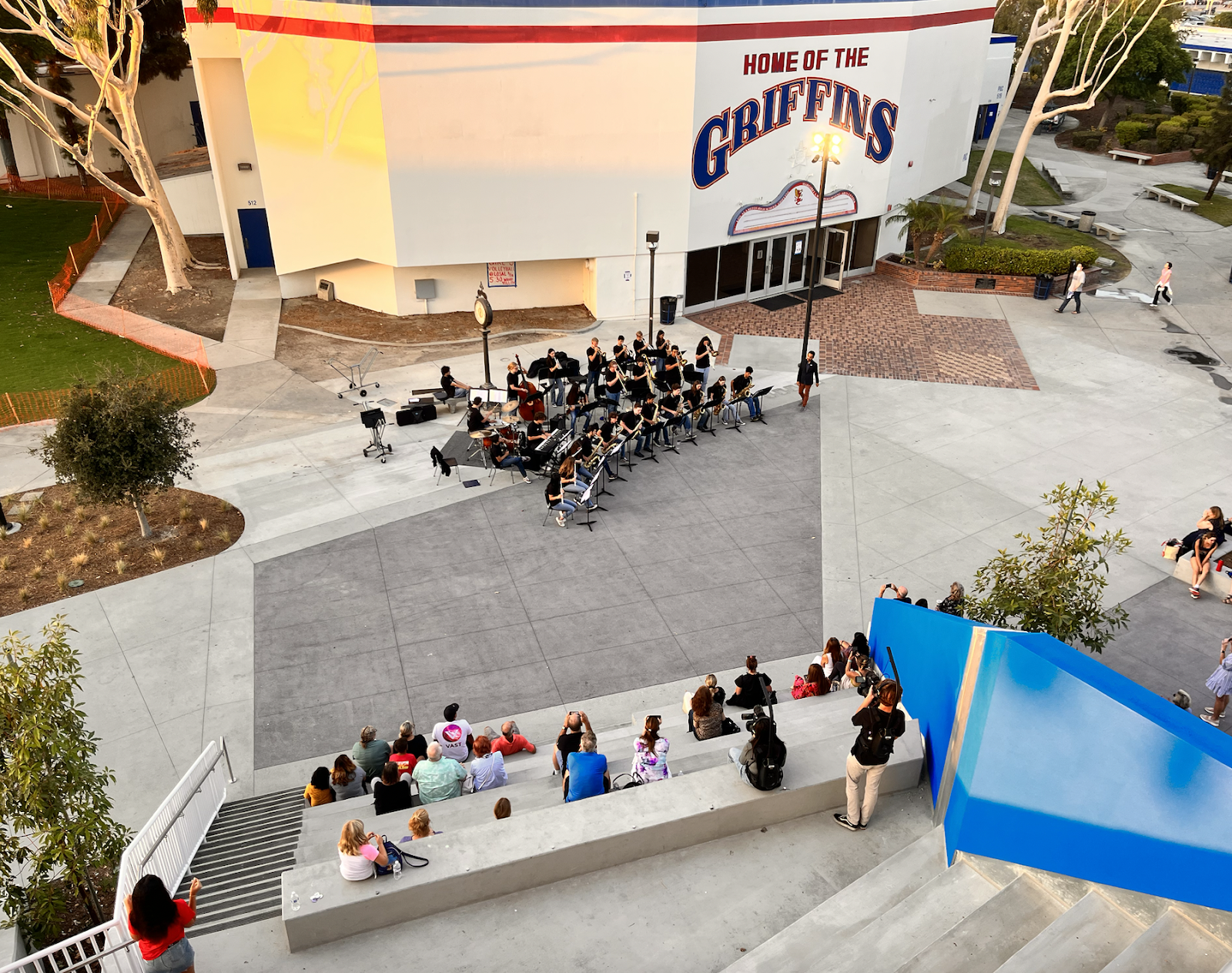 The STEM building will also house the offices of Kraus and other high school staff, including a School Resource Officer from the Los Alamitos Police Department.  Work is still being completed on the administrative parts of the building.
Public Visits Building
After the ribbon cutting in the afternoon, the public was invited to check out the building. Dozens and dozens of parents, students, and community members toured the classrooms and labs, illuminated by the late-afternoon sun shining light through the building's large windows.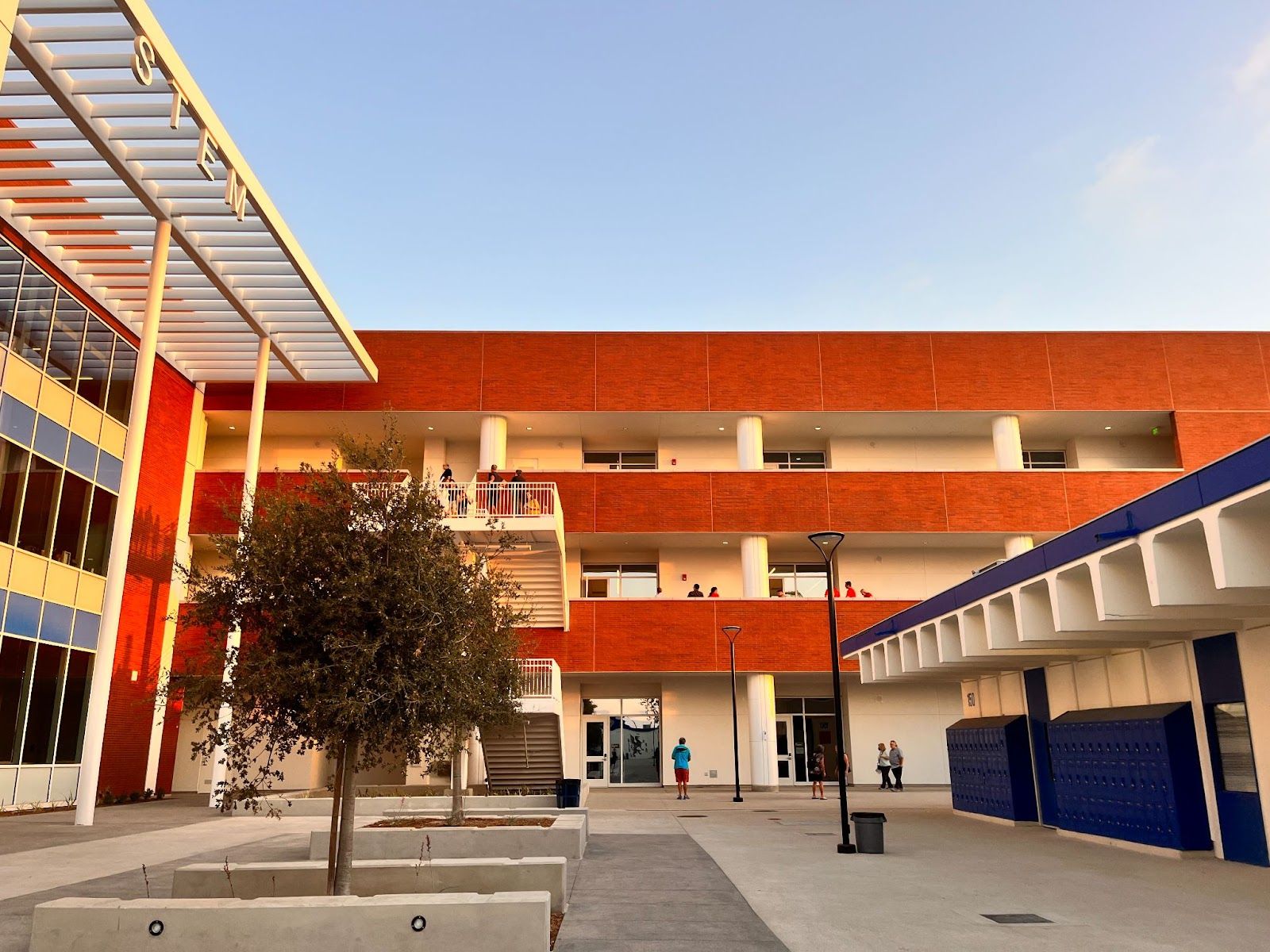 "We have future students here," Carol Chu said as she walked onto the LAHS campus last Wednesday with her grandchildren who are second graders at Hopkinson Elementary school in Rossmoor.
Chu, her son Oliver, and his twin daughters explored the building that Oliver said they had watched being built. "We passed by all the time and saw the construction so we thought we would come take a look," Oliver said.
His review? "It's amazing. It's so great. We can't wait for [my daughters] to go here," he said.
On the second floor, Vinod Vishwakarma, his wife and two children were exploring the chemistry and biology classrooms. "I think the building is exquisite. I have not seen a building like this anywhere else," Vishwakarma said. "We are excited to be a part of this in a few years," added his wife, Kanishka. Their oldest son is a current student at Los Alamitos Elementary school.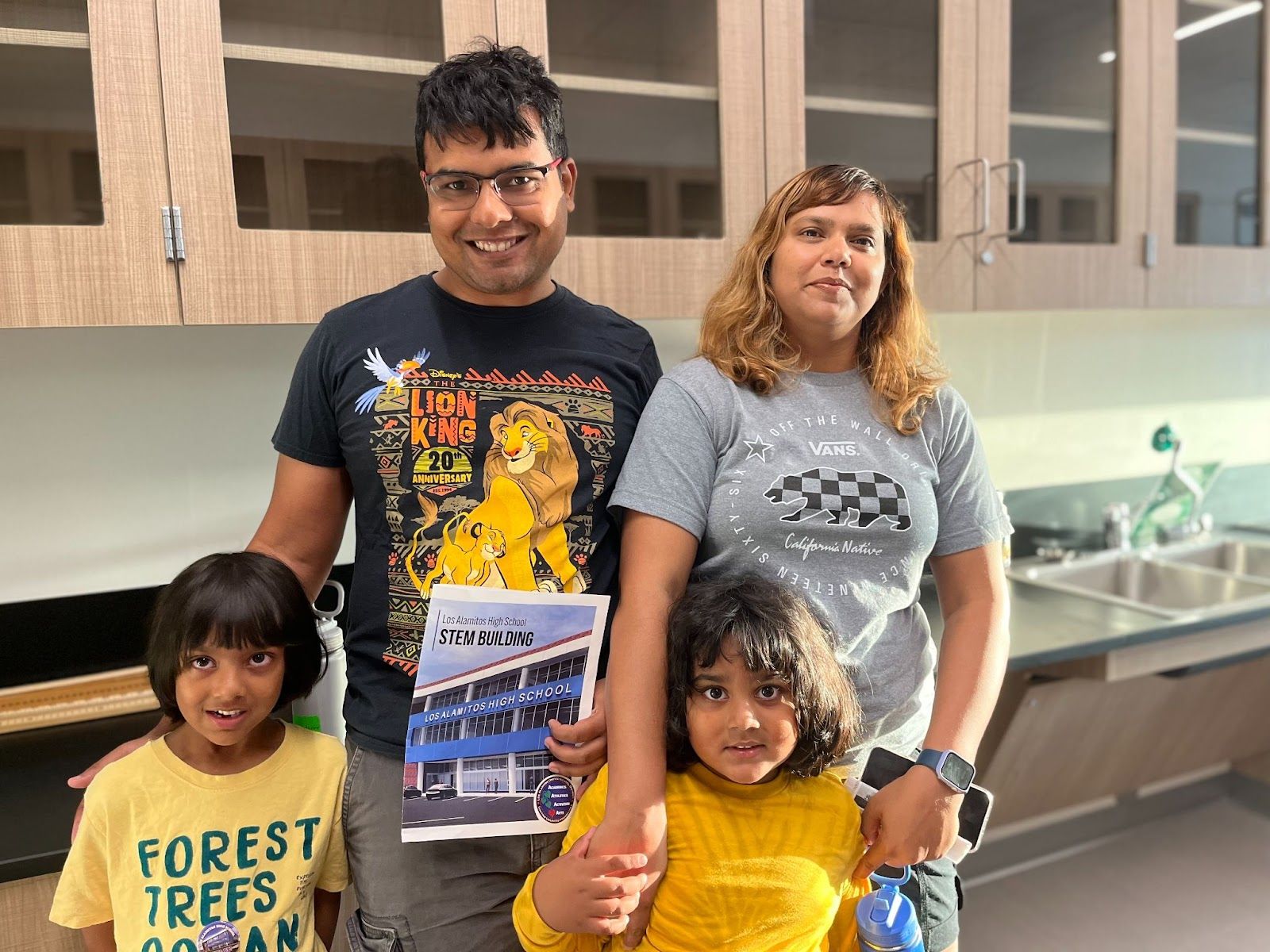 Also on hand during the tour were LAHS Associated Student Body (ASB) members helping guide visitors. That included LAHS junior Saylor Glowaki who said she has a math and chemistry class in the new building.
Saylor and her classmates started attending classes in the building when the school year started on August 15.
"I feel a lot more set up for success this year to get good grades," Saylor said during an interview at the Community Open House. "We have the room and the resources to do more hands-on learning."
In addition to the STEM building, bond money has paid for new playgrounds at the district's six elementary schools and a new aquatics center at LAHS which opened in 2020.
The next and likely final project using Measure G money is a  new gymnasium on the LAHS campus. Measure G is the second bond measure supported by taxpayers in the school district which covers Rossmoor, Seal Beach, Los Alamitos and parts of Cypress and Long Beach. They passed  Measure K in 2008.