Principals leaving Two Los Al USD Elementary schools; Impasse between teachers & Cypress School District; Plus, what's buzzing at one O.C. High School campus
A preview of the June 7 Primary Election; Honoring teachers & school staff; Weaver student gets a police escort to campus
A preview of the June 7 Primary Election; Honoring teachers & school staff; Weaver student gets a police escort to campus

Helping you better understand, navigate and participate in the TK-12 public school experience in Orange County.
In this week's newsletter...
May 3, 2022
FIRST BELL 🔔Two principals leaving Los Al USD elementary schools.
SECOND BELL 🔔Impasse declared in contract negotiations between Cypress School District and its teachers.
EXTRA CREDIT 📌O.C. Board of Education considers expanding reasons for interdistrict transfers. 🍎 Plus, it's Teacher Appreciation Week!
RECESS 👏🏼Weaver student gets a ride to school he'll never forget.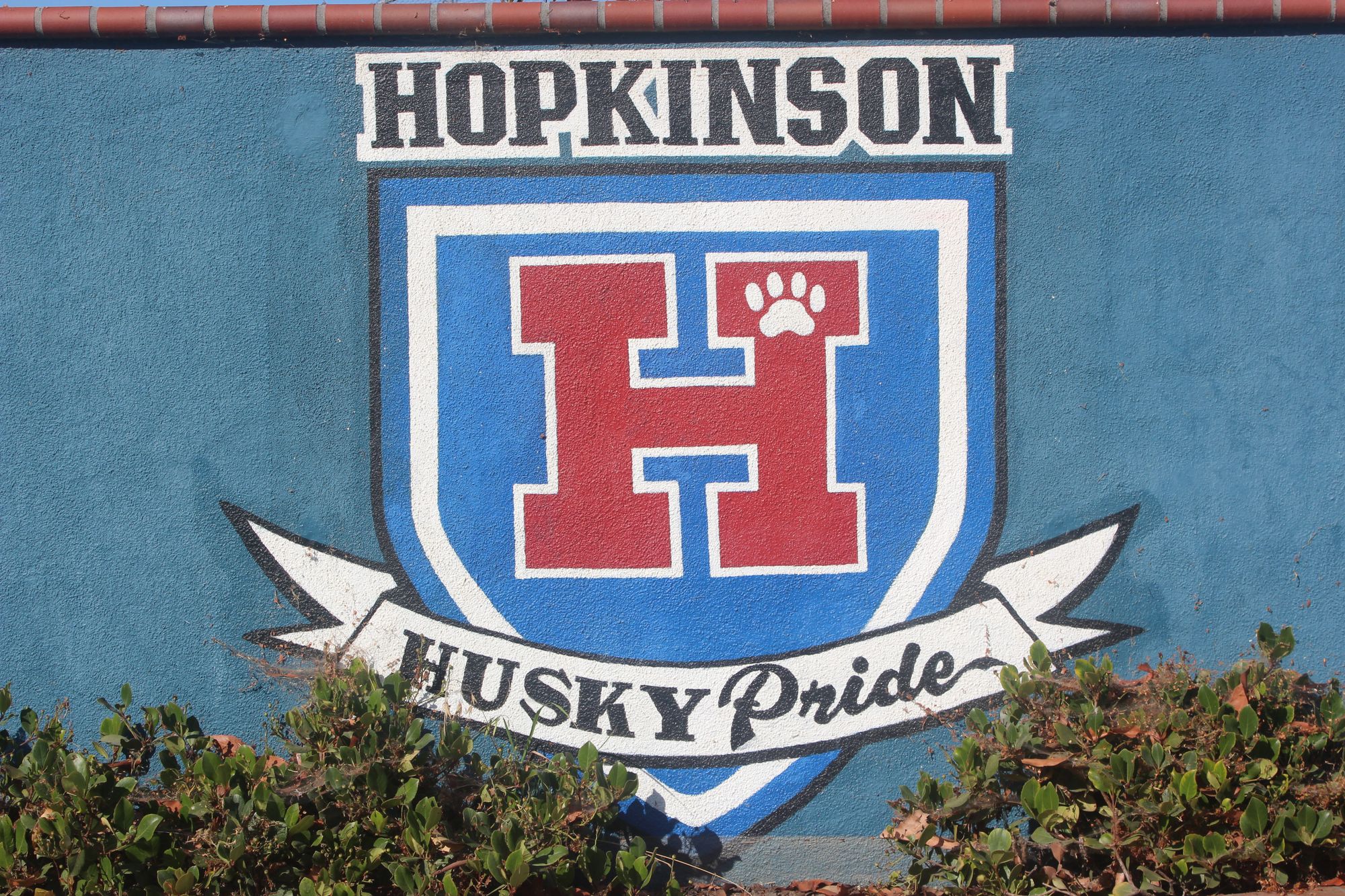 Francis Hopkinson Elementary School will have a new principal for the 2022-23 school year, one of two Los Alamitos USD campuses searching for a new top administrator.
Spotlight Schools is a nonpartisan newsroom that is part of the Tiny News Collective and supported by a grant from The Google News Initiative.
We're shining a light on the stories, people and policies impacting you.
Yours in knowledge,
Jeannette Andruss, Spotlight Schools Founder and parent of two students in the Los Alamitos Unified School District
FIRST BELL
This Week's Top Story
Two Elementary School Principals Leaving
Principals at two of the six elementary schools in the Los Alamitos Unified School District will not be leading their campuses next school year.
After starting at J.H. McGaugh Elementary School in the 2020-21 school year, Issaic Gates, Ed.D. announced on April 29 that he will be leaving at the end of this school year.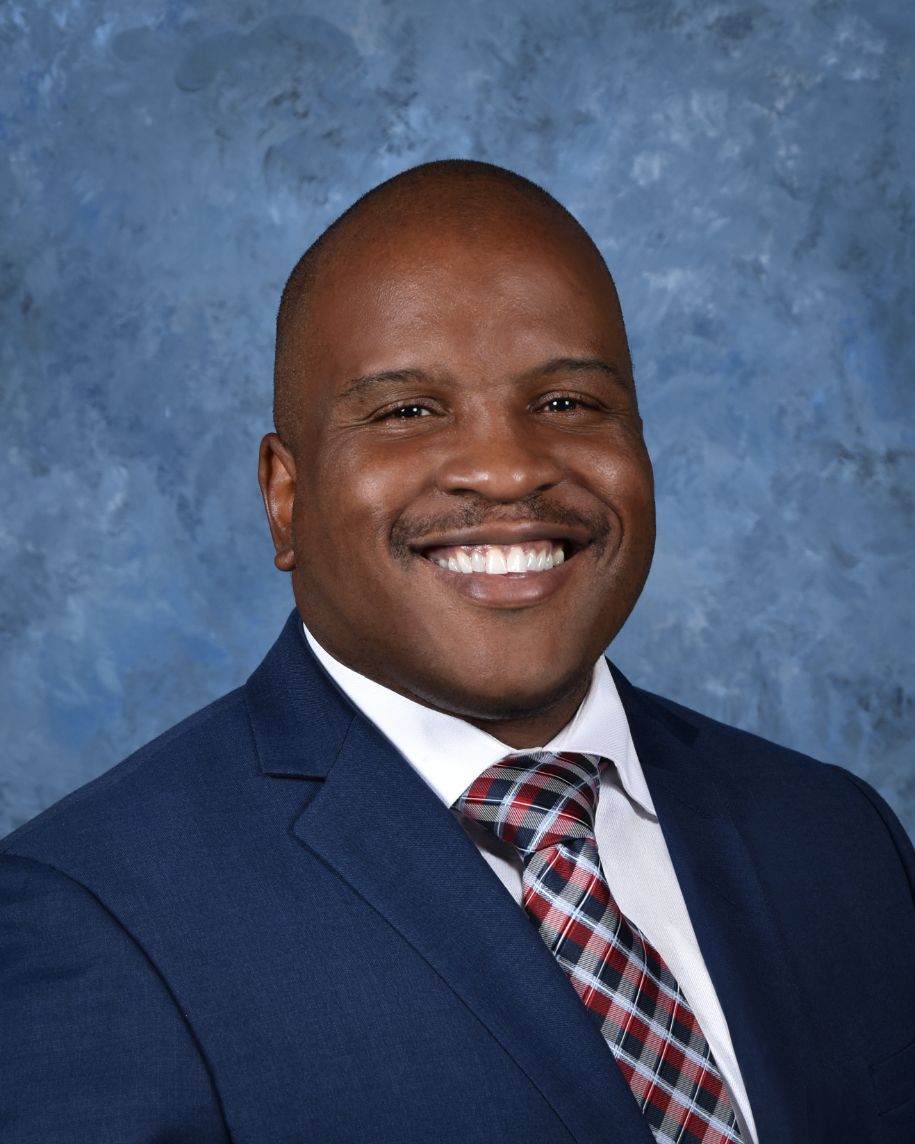 Issaic Gates, Ed.D., became principal at J.H. McGaugh Elementary in Seal Beach in 2020. He will leave the campus at the end of this school year. Courtesy photo.
In a message to families Gates wrote, "[I]t's with both a sad and excited heart that I share that I will not return as McGaugh's principal next year, as I will begin a new adventure. And while I'm not at liberty to share those next steps yet, it has become evident that the next step will take me away from the sea lion family."
Gates was not just the principal at McGaugh but his two daughters are current students on the campus and his family lives in Seal Beach.
(Full disclosure: I am a McGaugh parent and worked with Gates as a PTA executive board member and our daughters are in the same class.)
Prior to coming to McGaugh, he served as principal at San Marino High School in Los Angeles County starting in 2017. Before that he was an assistant principal at Los Alamitos High School.
Spotlight Schools was unable to interview Gates by the newsletter deadline.
Francis Hopkinson Elementary School Principal Evelyn Garcia also announced on April 29 that she would leave her post at the Rossmoor campus. She will stay in the district and replace retiring principal Erin Kominsky at Oak Middle School next school year.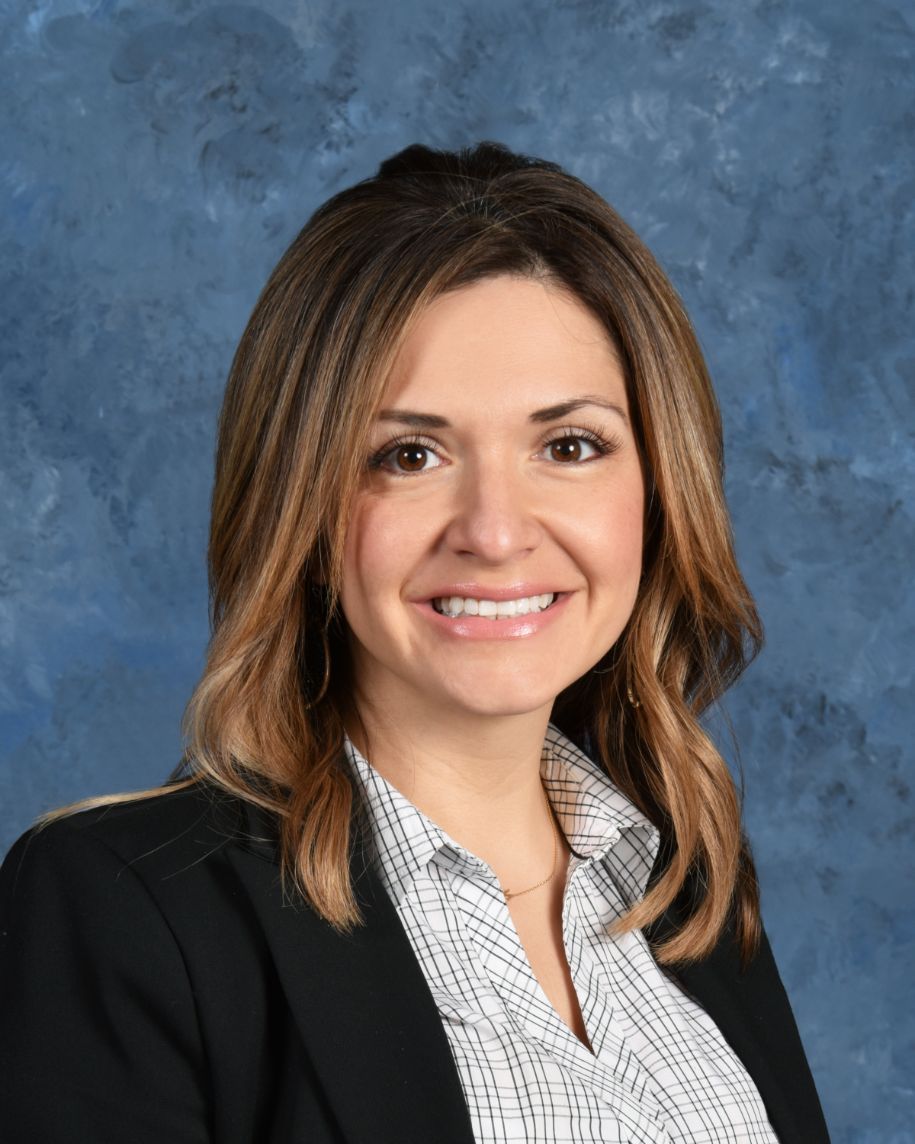 Hopkinson Elementary School Principal Evelyn Garcia is leaving the campus at the end of this year to replace retiring Principal Erin Kominsky at Oak Middle School. Courtesy photo.
Garcia said it wasn't really goodbye since she could see her Hopkinson students again soon.
"As our Huskies complete their elementary journey and advance to the middle school level, I will eagerly await our reunion," Garcia wrote in a message to families.
Garcia has been at Hopkinson for the past seven years and was named the district's administrator of the year in 2021. Prior to that she was a teacher at district schools and a program director at the Los Alamitos Education Foundation, according to a 2015 Event-News Enterprise article.
PARENT INPUT EXPECTED IN SEARCH FOR NEW PRINCIPALS
The district is working to find replacements for Gates and Garcia. A posting for the positions is now on the district's website and lists a start date of July 1. The salary range for the position is $131,682 to $151,794 annually. The deadline to apply for the position is May 23.
According to the district, parents will be involved in the process.
"The district will seek input from families and stakeholders," Nichole Pichardo, the district's Public Information Officer wrote in an email to Spotlight Schools and added that additional information will be sent to families. That could include a survey.
Both Gates and Garcia expressed gratitude to families for their time working with students.
"You should know that greeting you and your beautiful children every morning, seeing the trust in your eyes as you left them under my charge, and creating an environment for them to flourish while going through a historic pandemic has been the honor of my life. I am proud of the work we have done together, and I look forward to seeing what's next for McGaugh," Gates wrote.
While Garcia told families: "It is a cherished privilege to be part of your child's educational journey. It has truly been an honor to serve this community and the children who come into our classrooms. Today and always, I am a Husky4Life!"
SECOND BELL
Other Stories We're Following
UPDATE: Cypress Teachers and District at Impasse over Contract Negotiations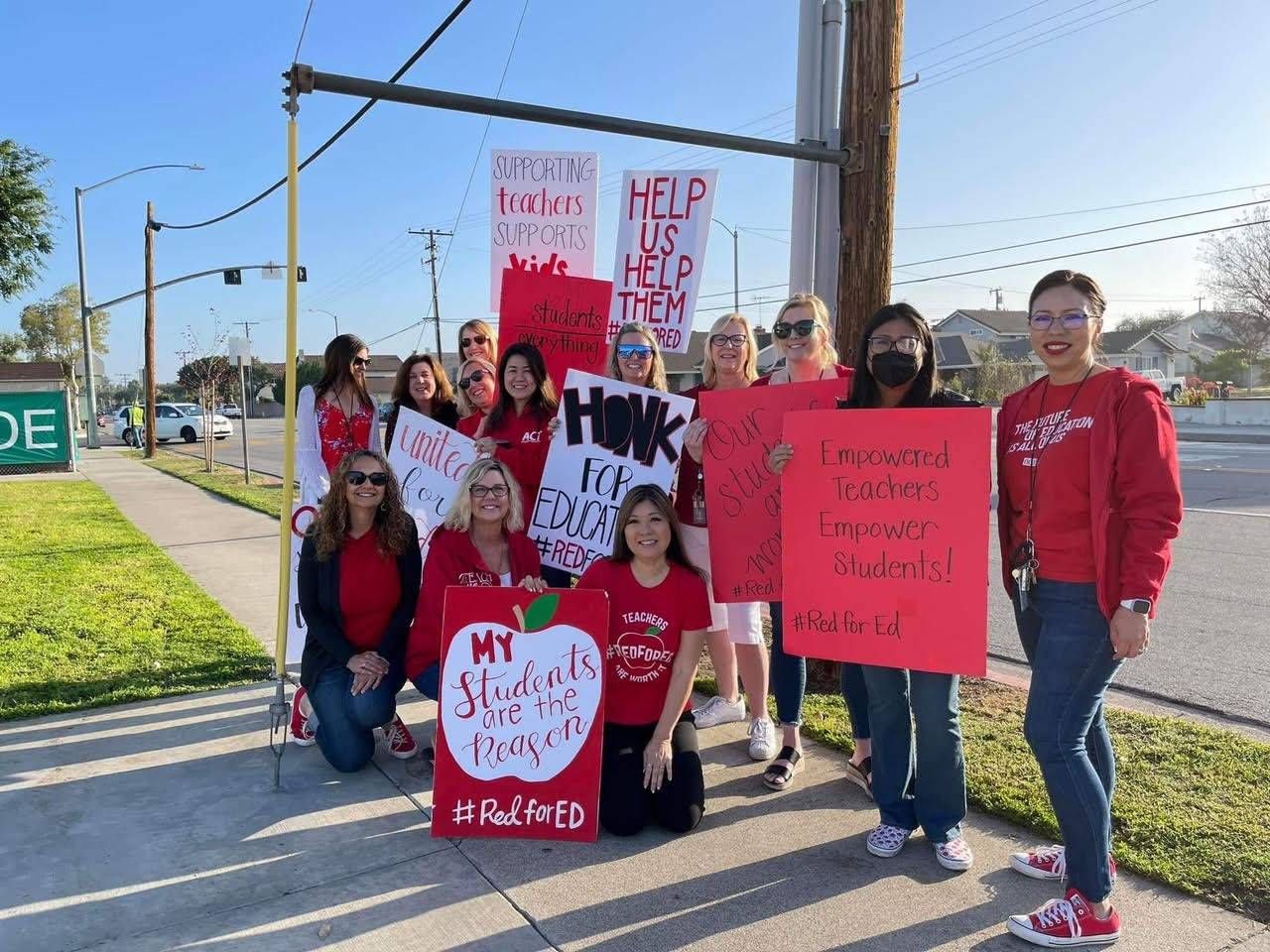 Cypress School District teachers and supporters rally recently for salary increases. Courtesy Photo.
Following the April 28 negotiating session between the Cypress School District and the Association of Cypress Teachers, it is now clear that the school year will end without a contract.
Both sides have acknowledged talks are at an "impasse" marking perhaps the first time since the district was formed that teachers and the administration have failed to reach an agreement.
Assistant Superintendent for Business Services, Tim McLellan, Ed.D., confirmed the district decided to pull the plug on negotiations that began in January.
The two sides can't agree on the amount for a salary increase and costs and coverage for health and welfare benefits.
At Thursday's meeting, teachers lowered their demand to a 4.5% salary increase and the district upped their offer to a 3% increase. McLellan said the district offered what its budget would allow. The district was indeed ready to offer 4.5%, said McLellan, but only with "realistic" caps on health and welfare benefits.
Elizabeth Dunagan, a teacher who has been a Cypress ACT negotiator for sixteen years, said this year's surprise ending is so unusual that teachers were caught flat-footed.
"Frankly," said Dunagan, "I've never been through an impasse, so I honestly do not know what happens next."
Apparently, the district is initiating a formal process to appoint an independent mediator. Mediators will ultimately now decide how much teachers receive in what will have to be a retroactive pay raise, along with health and welfare benefits.
McLellan said he thinks that a third-party negotiator may be able to bring a "fresh perspective" to the negotiations, a characterization with which Dunagan does not totally disagree.
Dunagan, however, said the district has made much of its outstanding performance during the pandemic, which she said is fine, but without the courage of its teachers, would never have happened.
"We were right back in that classroom at the end of our winter break, just like every other regular year, and the teachers who were willing to be in their classroom with 26 students a day for seven hours a day during COVID, that needs to be recognized," said Dunagan.
"For them (CSD) to come to us and say well, we know you did more because we asked you to, but we're not willing to do more for you is just upsetting," she said.
In principle, McLellan said the district acknowledges that the district's 188 teachers need a raise, but he said they must understand "that you can only spend a dollar once."
He said the teacher's original request for a 6% pay raise with no change in benefit structures was simply unworkable. Not only are insurance premiums rising, but so are pension costs and with inflation at near 8%, everything the district needs to operate costs more, said McLellan.
Dunagan and Patton say they will now seek support from the community as they prepare for arbitration.
"I think that we are going to add some community activities where we make the community aware of the fact that our teachers are at an impasse," said Dunagan.
"We really feel like the district can do a little better," she said.
This story was written and reported by David N. Young. You can read more of David's reporting in the May 4 print edition of the Event-News Enterprise.
What you need to know about casting a ballot in California's June 7 Primary Election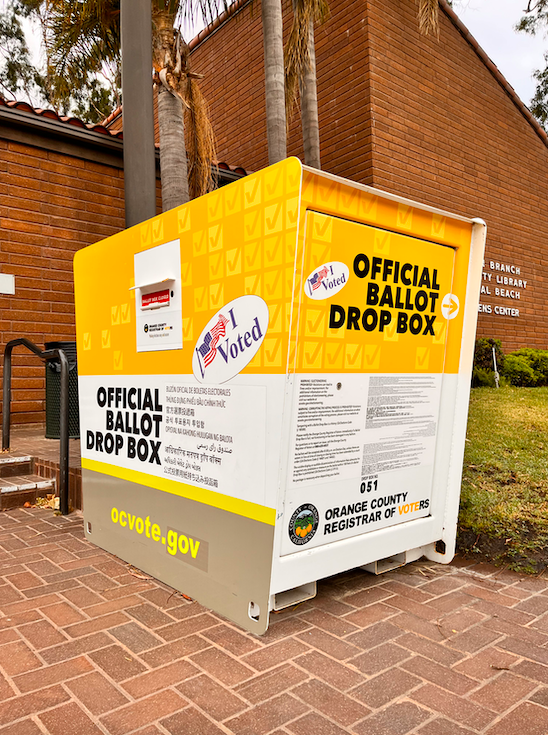 Ballot Drop Box located outside Mary Wilson Library in Seal Beach. Voters can expect to receive a ballot for the June 7 Primary Election by May 9.
You may have seen the campaign signs popping up around your neighborhood. Yes, the 2022 election season is in full swing.
Here's what you need to know.
First, a lot has changed since most of the nation cast ballots in 2020.
Thanks to the 2020 U.S. Census, which documents the nation's population every ten years, the boundaries for some Congressional, state, county and local voting districts have changed.
Find out if your districts have changed by searching your address on this tool from CalMatters.
California's Primary Election takes place on Tuesday, June 7. Wondering what's on the ballot? Find out here. You can read more about the candidates for statewide office in California's Official Voter Information Guide.
Every registered voter in California should receive a ballot in the mail. Ballots will begin to arrive on or before May 9.
There are a few ways to cast your ballot.
Mail it: Send it through the U.S. Postal Service (no need to apply postage; it's already pre-paid) as soon as you get it.
Drop Box: You can also drop it in any secure Ballot Drop Box across O.C. Drop boxes will be open 24/7 starting May 9 through Election Day.
Vote Center: You can also vote in person at any of the more than 180 Vote Centers across the county. Some will open up on May 28 for early voting. All will be open June 4 - June 7.
Find the nearest place to cast your ballot by searching this interactive map.
May 23 is the last day to register to vote for the June 7 election. Register to vote online here. If you miss the deadline you can "conditionally" register to vote at polling locations, including on Election Day.
For some races, the June election will determine the candidates that advance to the Statewide General Election in November. California has a top-two primary for statewide offices. That means for each race, only the two candidates receiving the most votes, regardless of party affiliation, will advance to the General Election.
It's different for seats on the Orange County Board of Education. In those races the top vote getter will be declared the winner in June. And for the O.C. Superintendent of Public Schools, a winner is declared if they receive the simple majority of votes in the primary.
Wondering what happens to your ballot after its cast? You can track its journey by signing up here.
📌 Don't miss next week's newsletter when Spotlight Schools will have the results of interviews with the three candidates for Orange County Board of Education - Trustee Area 2.
Other Stories Worth Reading
EXTRA CREDIT
Meetings // Events // Opportunities // Resources
MEETINGS
HAPPENING TOMORROW, MAY 4: The Orange County Board of Education is scheduled to meet at 3:30 p.m. at 200 Kalmus Drive in Costa Mesa.
On the agenda:
EXPANDED POLICY ON INTERDISTRICT TRANSFERS: The board will consider updating and expanding its policy regarding interdistrict attendance appeals hearings. The OCBE hears appeals from students seeking to change school districts. That's when a student seeks to attend a school in a district other than the one the pupil is assigned to attend based on where they live. The revised policy under consideration on May 4 expands the parameters for justifying an interdistrict transfer. That includes adding a student's "psychological or physical well-being," the existence of "a substantial danger to the pupil's health or safety," and an upcoming move either into or out of a district as possible reasons for a transfer.
You can watch the board meeting live on YouTube.
ICYMI: Last week's meeting of the Los Alamitos Unified School District featured the presentation honoring the district's teacher of the year, Hopkinson Elementary kindergarten teacher Angie Haas, pictured in yellow below.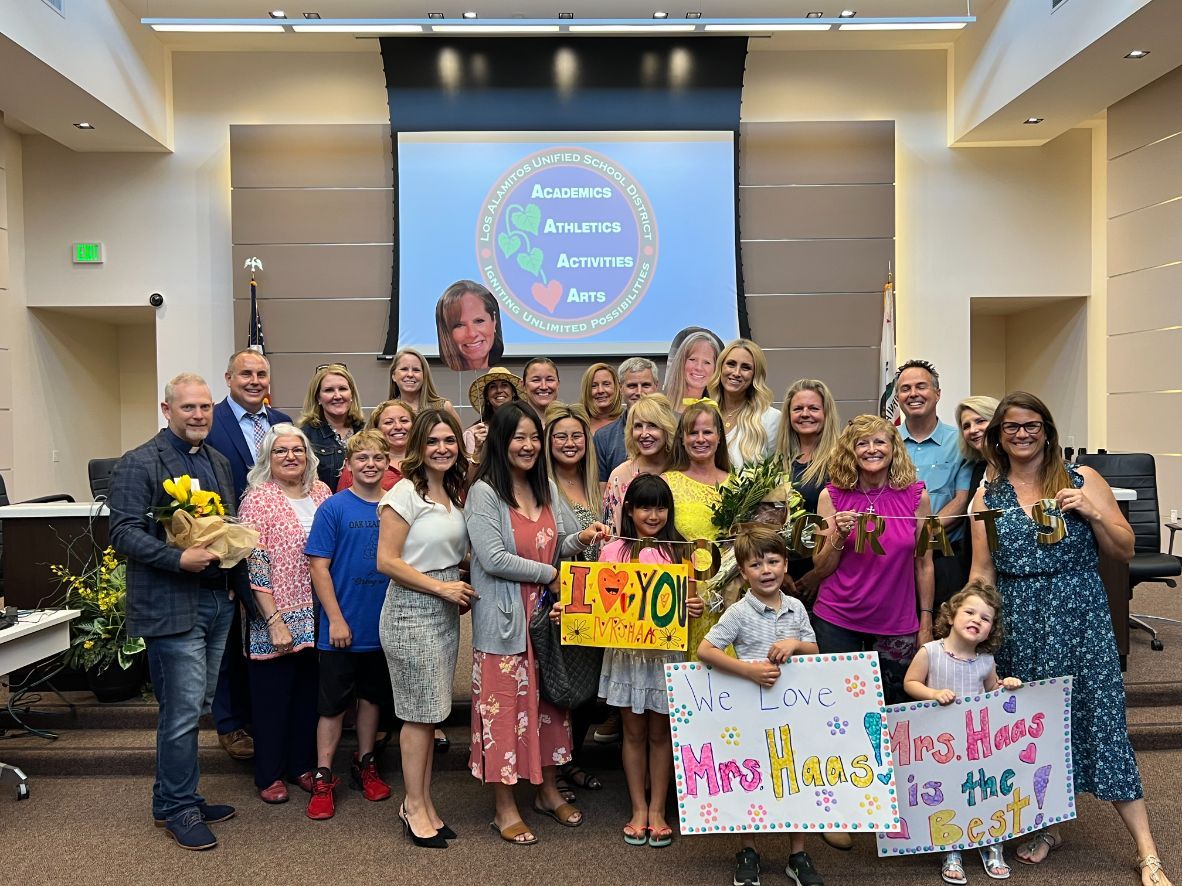 You can find out more about what happened at last week's Los Alamitos USD Board of Education meeting in the district's Board Highlights and in the Los Alamitos USD's weekly video recap "The Wrap-Up" from April 29.
EVENTS
TEACHER AND STAFF APPRECIATION
May is the month to honor and celebrate the people that are vital to schools.
May 1 was School Principals' Day. Students gave McAuliffe Middle School Principal Ryan Weiss-Wright, Ed.D., a poster expressing appreciation.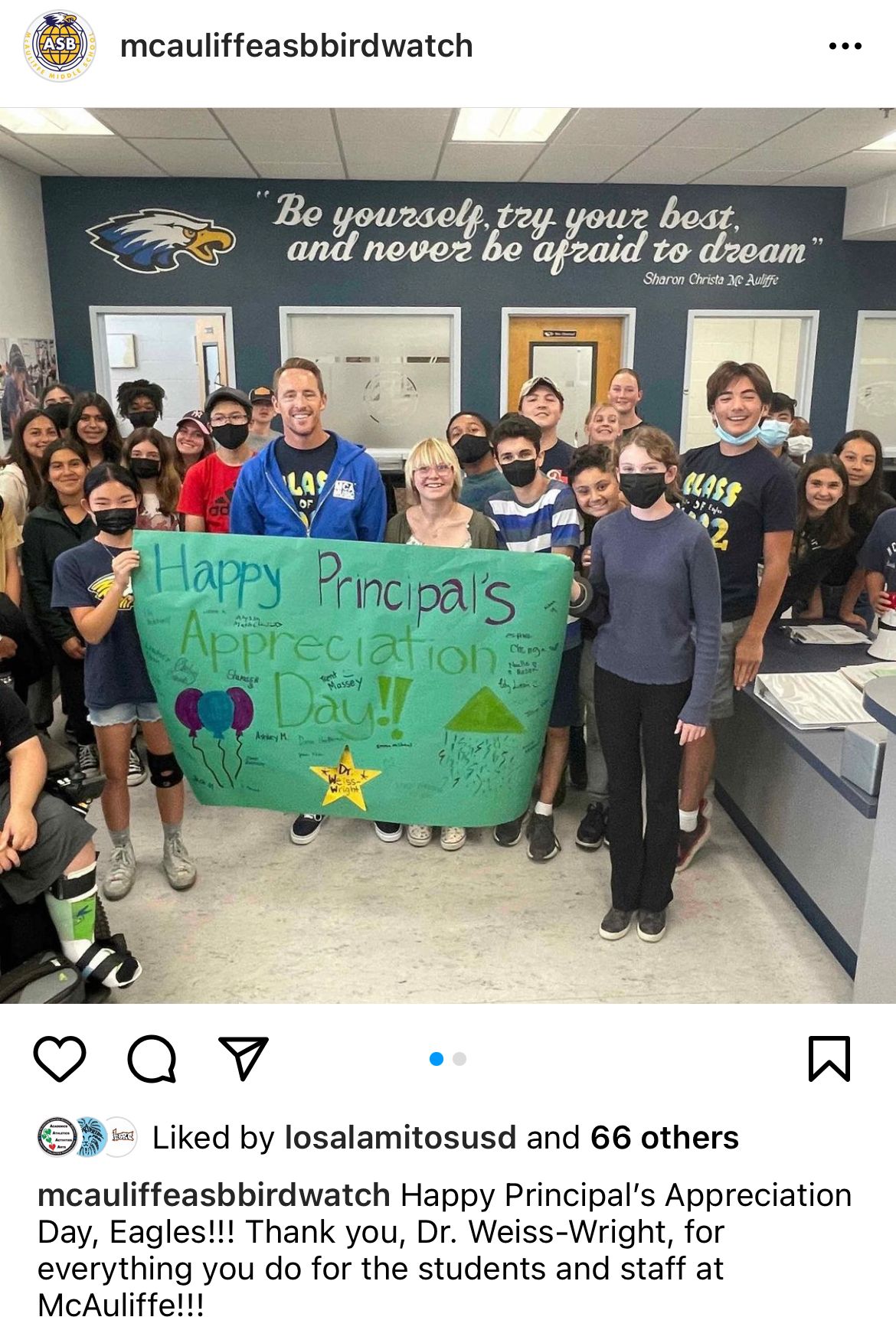 While the California Department of Education (CDE), the National PTA and National Education Association mark the first week of May as Teacher Appreciation Week, schools and districts might celebrate it on other days in May.
At least three Los Alamitos USD campuses are giving special attention to their staff and teachers this week. That includes the Star Wars-themed events at Weaver Elementary. Other schools including Los Alamitos High School and McGaugh will recognize their staff the week of May 23.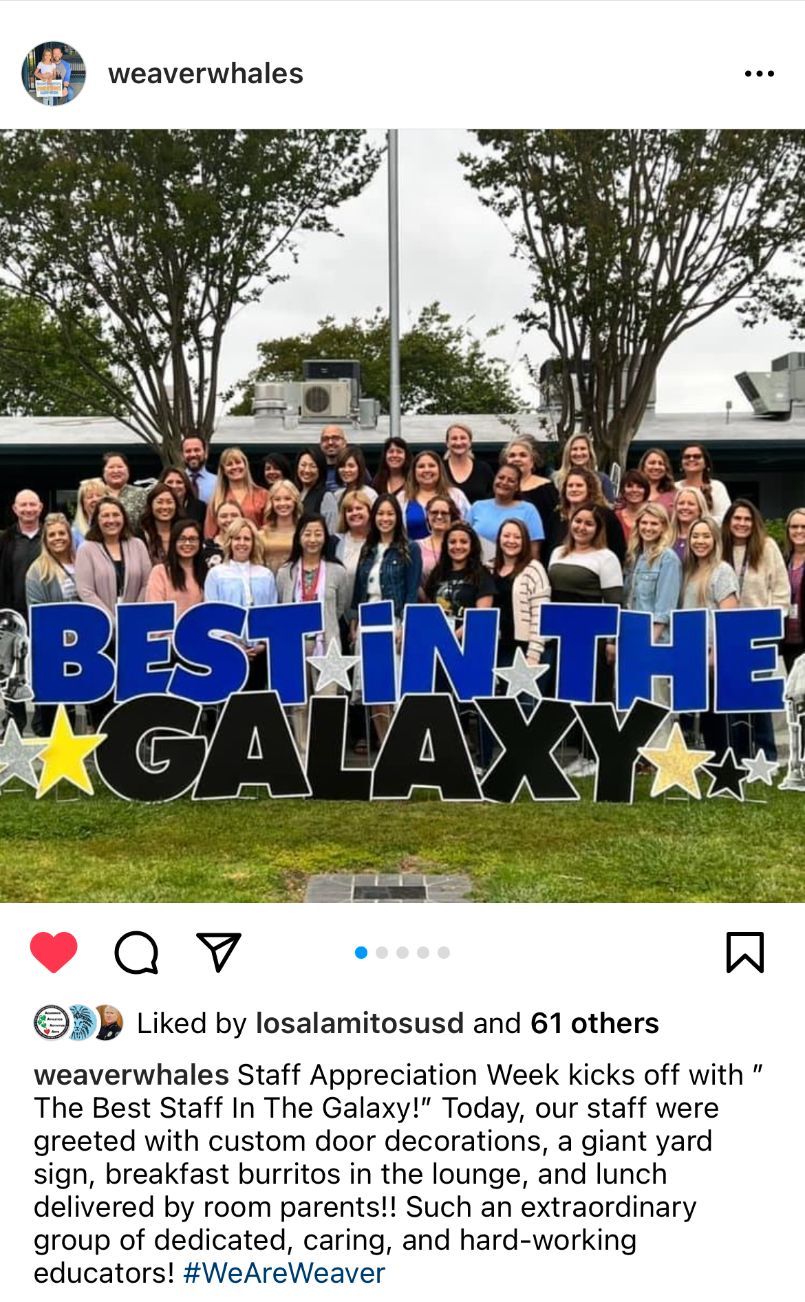 At the April 26 Los Alamitos USD Board of Education meeting, trustees adopted a resolution designating May 11 as Day of the Teacher. The district adopted another resolution recognizing May 15-21 as Classified School Employee Week.
According to the CDE, this week is also School Nutrition Employee Week with May 6 being designated as School Lunch Hero Day.
OPPORTUNITIES
HAPPENING MAY 7: EDUCATION CAREER FAIR The Orange County Department Education and numerous O.C. school districts are hosting a career fair. The Spring Career Fair will be held on Saturday, May 7th, from 8:30 a.m. - 12:00 p.m. at the OCDE Administrative Offices at 200 Kalmus Drive, Building A - Boardroom, Costa Mesa 92626. Register here.
HAPPENING MAY 14-15: OCFA CAMP The Orange County Fire Authority (OCFA) Girls Empowerment Camp is a free two-day camp for 14-18 year olds. It's being held at the OCFA Training Center and will feature hands-on stations for the campers to gain familiarity and experience with fire service functions. For more information, click here.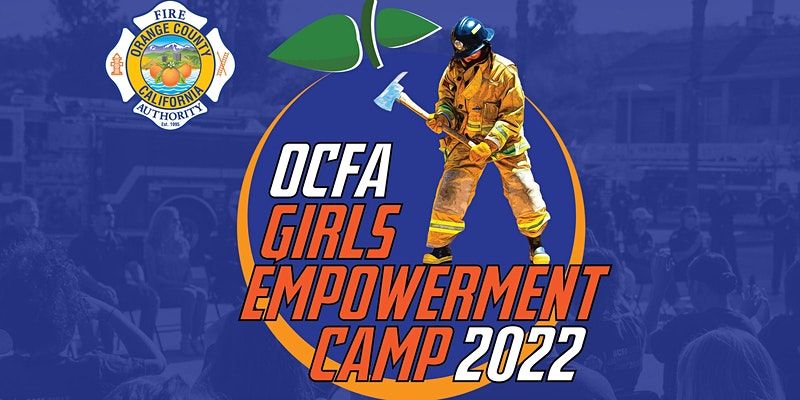 RESOURCES
Student Mental Wellness Coping Cards: May is Mental Health Awareness Month. The O.C. Resource Directory is offering Positive Self-Talk Coping Cards which offer tools for students dealing with anxiety, fear, anger, and more. Free printing and shipping is available.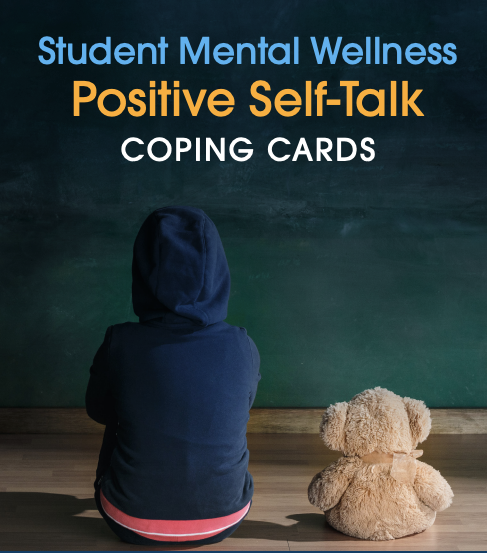 May is Asian Pacific American Heritage month. Find resources for celebrating the histories of Americans from across Asia and the Pacific islands here.
RECESS
Your Dose of Good News
O.C. Schools Honored for Efforts During Pandemic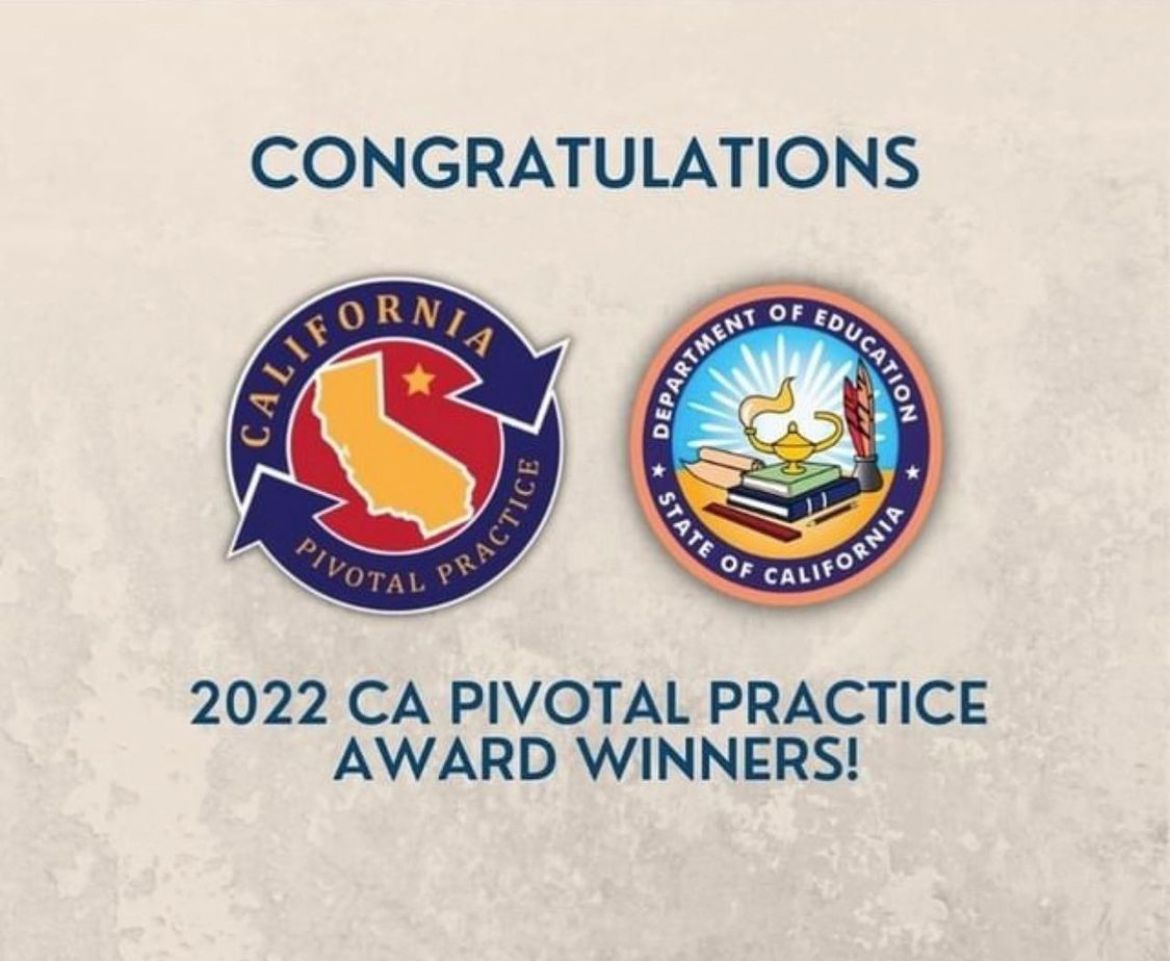 More than 720 schools and 120 school districts across California are being recognized for the efforts they made during one of the most challenging academic years.
They have been awarded the newly created California Pivotal Practice (CAPP) Award which recognizes districts and schools for their work during the 2020-21 school year, when distance learning was required by California due to the Covid-19 pandemic.
The award takes the place of this year's California Distinguished Schools program. The collection of statewide data used to assess schools for that program was disrupted by the pandemic.
Campuses were honored for their innovative approaches in responding to the unprecedented year in four categories including: student engagement, social-emotional well-being of students, distribution of technology and nutrition services.
State Superintendent Tony Thurmond announced the winners on April 26. The Los Alamitos Unified School District and all nine of its schools were among the recipients.
"This award exemplifies what it means to be "Better Together" and is a testament to the resiliency, flexibility and hard work of our entire Los Al USD community," Los Alamitos USD Superintendent Andrew Pulver, Ed.D., wrote in a message to district families and staff.
Los Al USD was the first public school district in Orange County to open for in-person learning during last school year and offered an online-only learning pathway known as LosAl@Home.
A total of 148 schools in Orange County earned the CAPP award, according to the Orange County Department of Education. You can see the entire list of O.C. schools here.
BOOSTER DOSE: Weaver Elementary School student spends memorable morning with Los Alamitos P.D.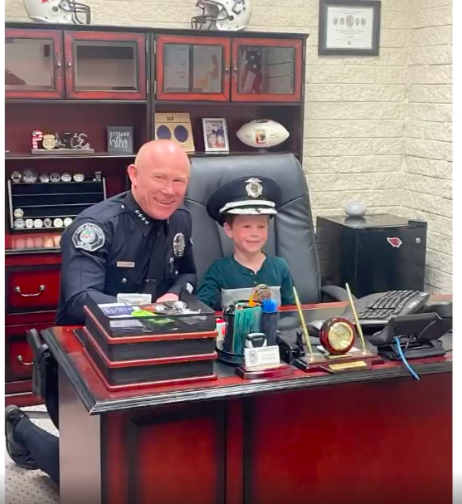 Los Alamitos Police Chief Michael Claborne with Weaver Elementary School student Austin during part of a police ride-along Austin won in a school fundraiser. Photo from the Chief's Instagram account.
A Weaver Elementary School student had quite the outing recently.
Austin not only got picked up from his house by Los Alamitos Police Chief Michael Claborne and his officers, but he was able to get donuts with them, tour the police department, get an escort to campus in a police vehicle and introduce Chief Claborne and another officer to his class.
According to a recent post on the Chief's Instagram account that documents the entire experience, Austin won the ride-along in an auction from Friends of Weaver, a parent volunteer group that fundraises for the Rossmoor campus.
Watch highlights of the day on the Chief's account including a video showing Austin being picked up at his house and having an adorable exchange about breakfast. 🍩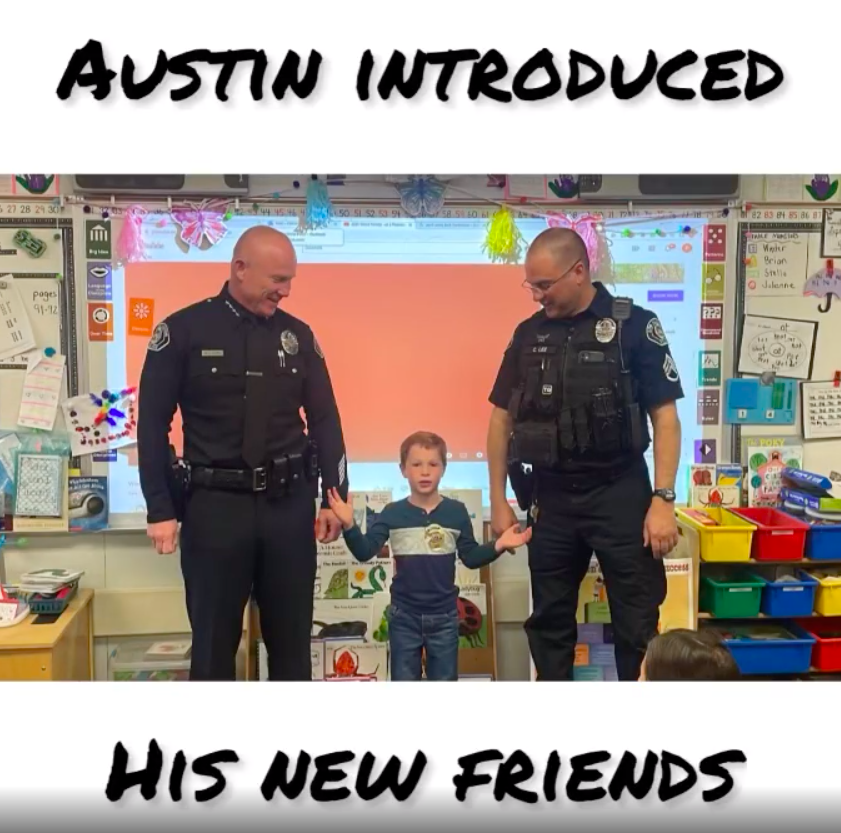 Screenshot from video on the Instagram account of Los Alamitos Police Chief Michael Claborne.
One more thing... Check out the book vending machine that just arrived at Pendleton Elementary School in the Buena Park School District. It delivers free books to students for reaching academic goals. Read the whole story here.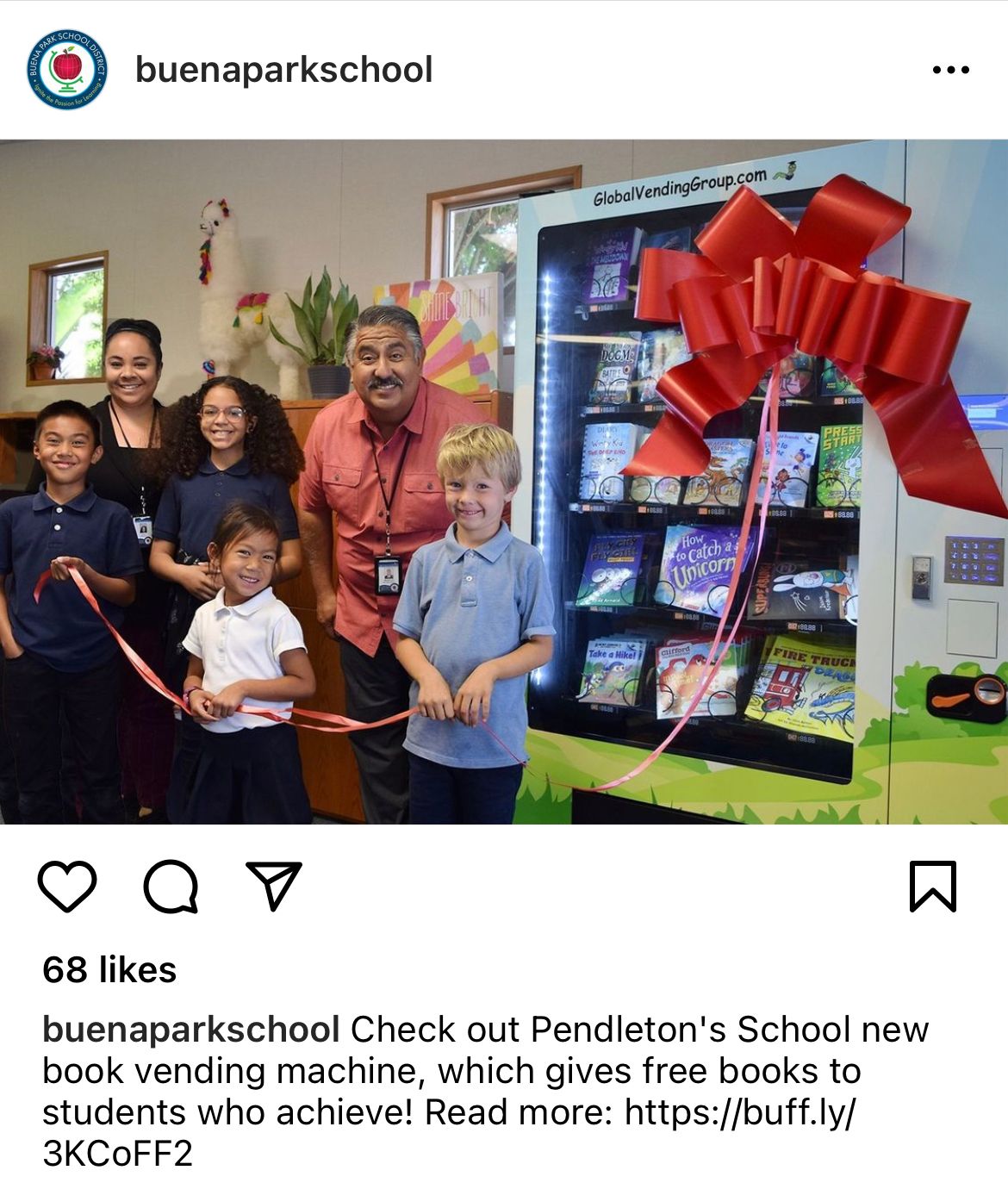 Thanks for reading!
Forwarded from a friend? Subscribe to the Spotlight Schools newsletter here.
Follow us on Instagram @SpotlightSchools.
Our mailing address:
P.O. Box 164
Seal Beach, CA 90740

Copyright © 2022 Spotlight Schools, All rights reserved.