Police and McGaugh PTA hosting free public event on 'Surviving Gun Violence'
Dec. 8 presentation intended for people 18 and older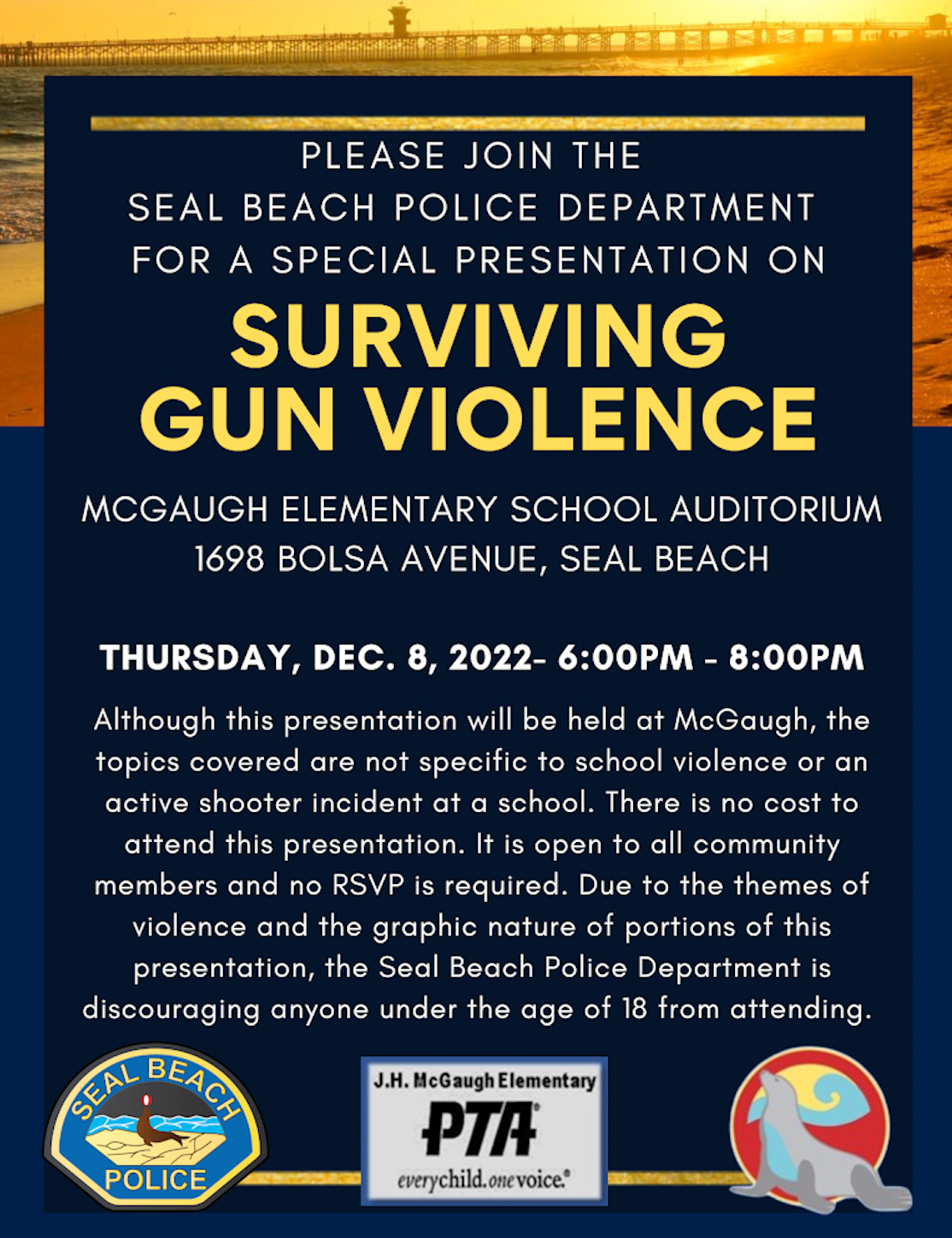 Gun violence continues to claim American lives on a daily basis.
A record 45,222 people died from gun-related injuries in the U.S. in 2020, according to the Pew Research Center. Forty-three percent of those firearms-related deaths were murders.
We see the statistics emerge on what feels like a weekly basis with headlines of the tragedies. Earlier this month, a person  opened fire at an LGBTQ nightclub in Colorado killing five people and wounding more.
But what would you do if you were caught in the middle of a shooting?
The J.H. McGaugh Elementary School's Parent Teacher Association (PTA) is partnering with the Seal Beach Police Department to host a free public event open to anyone 18 and older to share information about what you can do if threatened by a person with a gun.
"While we hope the community never experiences a violent confrontation, we believe this presentation will provide attendees with strategies to help increase their likelihood of surviving a violent encounter," SBPD Lt. Nick Nicholas wrote in a text message to Spotlight Schools.
The event will take place on Thursday, Dec. 8 from 6:00 p.m. to 8:00 p.m. at the McGaugh auditorium.
According to a  press release from Seal Beach police, attendees can expect to learn what options would enhance survival during a violent encounter, best practices for interacting with responding police officers, as well as tips for how to safely secure firearms at home.
"These days it feels like we can't turn on the news without hearing about gun violence," McGaugh PTA President Jennifer Katz wrote in a text message to Spotlight Schools.
Katz said an incident during a recent PTA-sponsored movie night got her thinking about safety and gun violence. During the October event that was held outside on the McGaugh fields, a man  scaled the fence of the school and allegedly threatened to harm children.
Some parents and kids at the movie night were frightened, not knowing what the man was capable of. Rumors spread quickly that the intruder was going to shoot someone. Police were called and  arrived within 60 seconds and the man was arrested. No one was physically injured and no weapons were found.
Parents were left rattled by the experience, according to Katz.
"I received so many questions from parents wondering what is the 'right' thing to do in a situation where you might be fearful of gun violence. I realized that as a community we have plans in place to prepare and educate our teachers and children at school, but are we missing an opportunity with the parents and adults?"
The response prompted Katz to ask Lt. Nicholas to plan a presentation for the community. While the event is taking place at a school and being promoted by PTA, it will not be specific to campus violence or an active shooter scenario at a school, according to SBPD.
The Los Alamitos Unified School District has been looped into the planning of the event; but no representatives of the district will be officially part of it, according to Nichole Pichardo, the district's Public Communications Officer.
The district is focused on being prepared should the worst happen at one of its nine campuses. Earlier this month, principals from the four elementary campuses in Rossmoor and other district officials took part in an Active Shooter Response Tabletop Exercise put on by the Orange County Sheriff's Department which has jurisdiction over the unincorporated area of Rossmoor.
"During the exercise, the team discussed a hypothetical active shooter event at one of our school sites. The team walked through such an attack, discussed a unified response plan, communication with staff and families, reunification sites and much more,"reads a  post on the district's Instagram account.
The district offers violent intruder training for staff and requires students to participate in drills. (To learn more about the district's safety efforts, see the presentation given at the Los Alamitos Unified School District Board of Education  workshop on Oct. 11.)
SBPD has done multiple active-shooter  training drills at McGaugh Elementary, the only public school in Seal Beach. Salon Meritage in Seal Beach is where Orange County's worst  mass shooting took place in 2011.
For more information about the Dec. 8 "Surviving Gun Violence" event, click here.
Editor's note: The author is an executive board member of McGaugh's PTA but did not participate directly in the planning of this event.